Shine for the Holidays with this Luxury Toothpaste
All products are independently selected by our editors. If you buy something, we may earn an affiliate commission.
Luxury Quotidien is our occasional series focusing on everyday items made truly luxurious, either through enhanced technology, more elegant design, or just lots of bling. If you're looking for a micro-dose of lux, look no further. In this edition, we examine luxury toothpaste.
Its party season, and you know what that means: you need to sparkle. We've already investigated the glamorous world of high jewelry, and outlined options for renting rather than owning something dazzling by signing up with one of the shared jewelry and watch services.
But there's more to ensuring that your look is on-point. Like how about your smile?
the price of a dazzling smile
How much are dazzling teeth worth to you? How about $30 – $100? That's what it will cost for a tube of luxury toothpaste that should last you from Thanksgiving through New Year's Eve (unless your party schedule is much heavier than most people's).
Of course there are options for less than that, but they still carry price tags triple what you'll find at your neighborhood drug store. A small price to pay, perhaps, for a confident smile at your next big event.
In the interest of ensuring that your holiday is brilliant as possible, we went in search of the best luxury oral care products, including luxury mouthwash and luxury toothpaste.
the best luxury toothbrush brands
As with so many luxury products, you have your pick of a brand with its origins in France, Switzerland or Italy. Plus Australia!
Here are five luxury toothbrush brands for your consideration:
1. l'Officine Universelle Buly.
This luxurious French product line is owned by the husband-and-wife team of Ramdane Touhami (who revamped Cire Trudon) and Victoire de Taillac-Touhami (previously of the beloved Rue Saint-Honoré boutique Colette). The Buly brand dates back to 1803.
Buly offers a wide range of oral care products, including luxury toothpaste. The brand's Opiats Dentaires toothpastes are enhanced with thermal water from Castéra-Verduzan. Their fluoride-free formulation makes them particularly palatable and protects the mouth, thanks to the properties of a spa water reputed to ward off oral afflictions.
According to the company, the fountain of Castéra-Verduzan, in the Gers region, gushes up naturally. It's replete with sulfates, calcium and magnesium. It is said to treat throat aches while refreshing breath.
People from the region have historically converged to gargle the town's water. Today, it is the first spa town in France to have been accredited by the health department for treating periodontal pathologies.
The toothpaste is packaged handsomely, and available in three scents: Mint-Coriander-Cucumber; Montauban Apple; and Orange-Ginger-Clove. $27.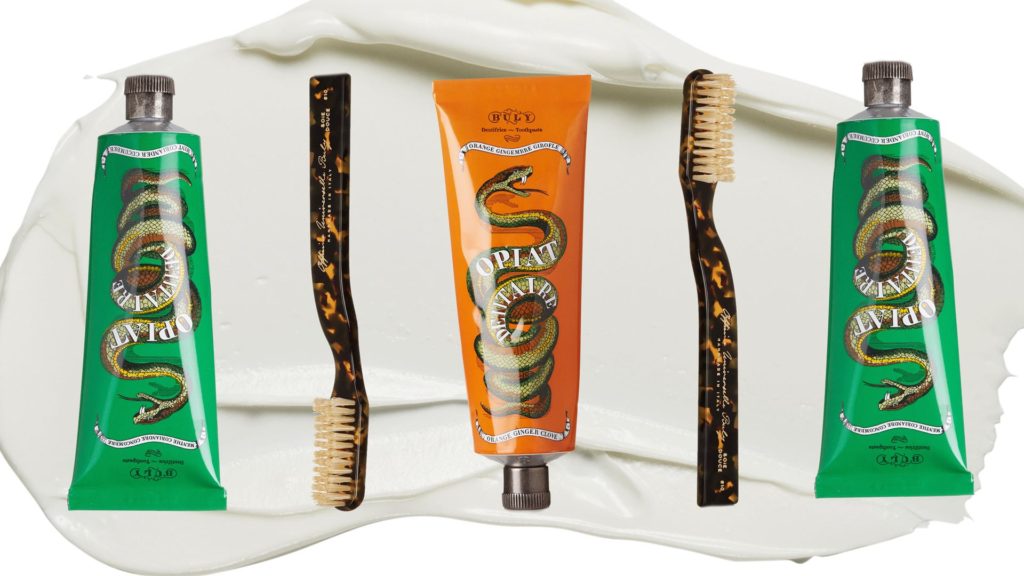 Buly also sells teeth whiteners. Their Iris Root powder originates in the Balkans, and the brand claims that the substance is known for brightening and unifying the complexion and is also an excellent natural teeth whitener. Smokers and coffee or tea drinkers are exhorted to try it. $30 including tax.
2. Marvis.
This 50-year old Italian brand is available at Barneys, and loved by celebrities. Marvis touts its ability to "turn daily tooth brushing into a sensory experience with boldly flavored pastes that jolt the taste buds."
The toothpaste comes in a silver tube, and is fortified with fluoride. Flavors include:
Rambas, inspired by exotic beaches and tropical islands, with a fruity taste that includes ripe peach and sweet pineapple with a twist of sweet mango -$15
Karakum, meant to evoke an imaginary journey across the Mid- and Far East, combining peppermint with orange juice and aromatic cardamom -$15
Royal, reminiscent of an elegant, luxurious trip on the Orient Express, with Italian lemon oil, tangerines, rose extract and nutmeg, enhanced with fresh mint – $15
There's also a choice of classic, whitening, jasmine, cinnamon and aquatic mint for $7-12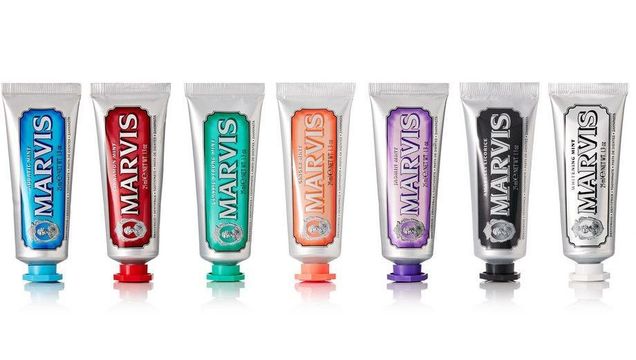 3. Aesop.
Last year, Aesop – the Australian brand known for its popular plant-based skincare – launched a line of toothpaste, packaged in an earthy pistachio-green tube.
The brand says that its formulation is fluoride-free. It includes Sea Buckthorn to lessen gum aggravation from frequent and vigorous brushing, plus Cardamom and Wasabia Japonica to help to maintain fresh breath. ($17)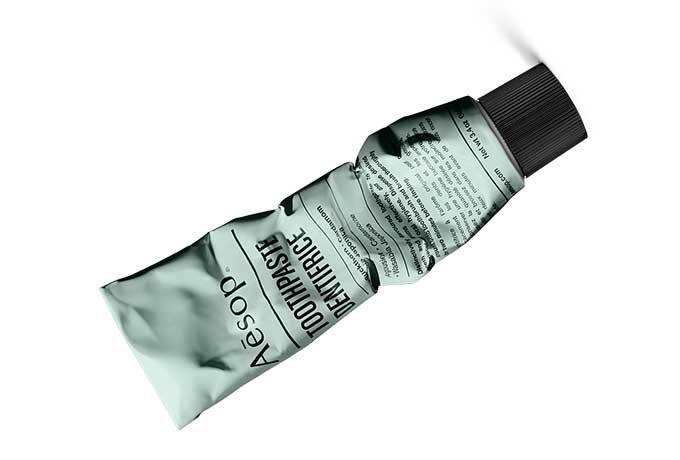 4. Theodent.
Two holidays ago, Gwenyth Paltrow's Goop gift guide included a tube of $100 Theodent 300 with Rennou Toothpaste, which comes packaged in regal gold, brown and white. The brand justifies its price tag on the basis of clinical study proving that it helps re-mineralize tooth enamel.
It's fluoride-free and contains theobromine, which comes from cocoa (not only does this chocolate extract help to strengthen teeth, it's also safe to swallow).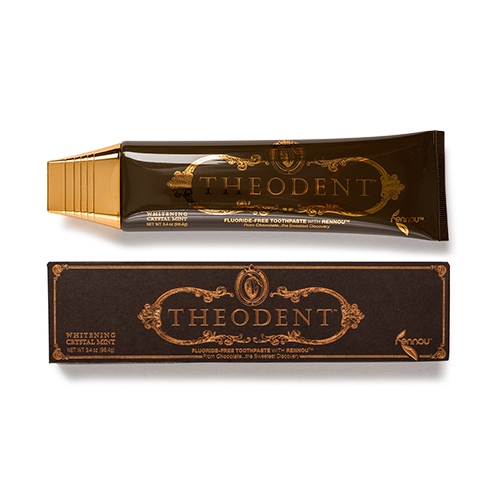 5. Swissdent.
This Swiss brand's Extreme Whitening Toothcream promises to fight discolorations caused by tobacco, tea, coffee or red wine with its patented formula. It's fluoride and mineral-free, contains fruit enzymes and zinc, and is packaged in a crisp, medicinal-looking, minimalist tube. ($23 for 100 ml).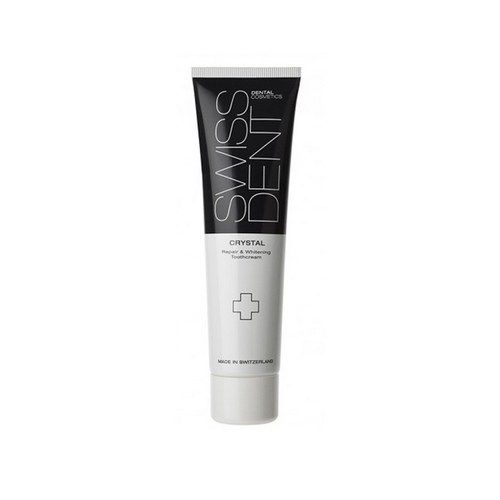 Is all of this just a bit pretentious? Maybe. But if it helps you get through a big meeting or social engagement, and you've got that kind of scratch, then why not go for it?
Your bathroom will look like a film set. And that can only be a good thing as you stumble through it in the wee small hours. In dark times, sometimes baring your brilliant teeth is the best defense.
join our community
For access to insider ideas and information on the world of luxury, sign up for our Dandelion Chandelier newsletter here. And see luxury in a new light.