What are the Best Pieces in the New Resort Collections?
All products are independently selected by our editors. If you buy something, we may earn an affiliate commission.
The 2017-18 luxury designer resort collections are now fully delivered, and available online and in-store. Resort (or "cruise," if you like the old-school moniker) is one of our favorite seasons – the clothes tend to be less trendy and therefore a more sensible investment. The looks are usually polished, optimistic and versatile. Plus they evoke distant lands untouched by snow and ice: the desert, the tropics, the Mediterranean. What better way to dream a little dream than to browse the best of the resort collections? Whether you're buying because you've already got an elegant trip planned, or just "window-shopping" and looking for inspiration, this is a great time of year. Our intrepid team here at Dandelion Chandelier has zeroed in on seven luxury brands we love, to see what's on offer this resort season. We like to think of them as the "Magnificent Seven:" Gucci, Valentino, Chanel, Louis Vuitton, Dior, FENDI and Prada. We've assessed apparel, shoes, sneakers and handbags. And we've got the one must-buy item of the season. Here's our Style Editor's resort 2017-18 roundup:
What is the "theme" and inspiration for the various resort 2017-18 collections?
Tell us about the new handbags for resort.
Gucci went larger with maxi-totes in this collection; handbags have new slogans, such as Guccify Yourself, Guccy, and Guccification.
Valentino's thick diamond-quilted Demilune shoulder bags are back in pops of color – they now have white rock studs, a name tag and a new top handle. The house has also joined in on the "belt bag" trend: their version is the Ziggy Stud bag (which also features a cross body strap).
At Chanel, the Gabrielle bag is a bit funkier this season, with several new colors, materials and fabric options. The new Flap Bag ($5,400) is a beige crochet with gold-toned metal. Also new is Minaudiere in resin, brass, strasse and gold toned metal (price upon request).
Louis Vuitton has a new bucket bag in classic monogram. There are also fantastical "big eyes bags" with Kansai Yamamoto's peeping eyes illustrations on the flaps of clutches, cross-bodies and shoulder bags. And the second round of the brand's Masters collaboration with artist Jeff Koons is also now available.
Dior's new introductions include the Dioraddict Flap, new bucket bags and totes.
Fendi's logo totes are likely to be talked about everywhere, especially the mesh ones with rattan handles. "Fabulous, fun and functional" says WWD.
Prada is offering a range of handbag styles with the James Jean "rabbit" print on either a black or white background, as well as wristlets in patent leather with a large Prada logo.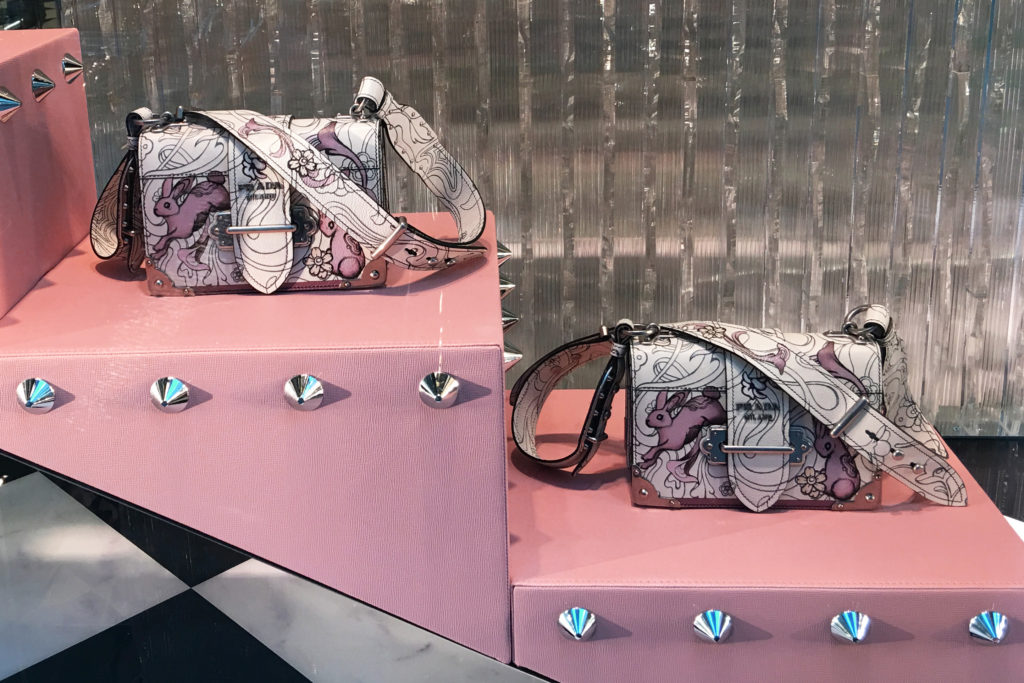 What are the standouts in resort collection shoes and boots?
Gucci has exuberant furry slides in tropical colors, and patent-leather loafers and pumps in equally punchy shades (we love the orange ones). There are horse-bit loafer-sneaker mules and metallic two-toned pumps. Now that we think of it, as always there's something for everyone at Gucci this season: silver sequined platform booties, mules, slides, dark floral pumps. You know the drill.
Valentino is sticking to the sock-sandal-shoe in its VLTN collection – the Rockstud "Body-tech Bootie" colors are bright and their studs are white ($1,145). There are also classic Rockstud pumps with several different strap placements ($895-$1,075), and beaded embellishments of flowers and geometric shapes on a suede ankle strap sandal ($1,375). And simple Rockstud rubber slides in happy colors ($345).
Chanel is all Greek, with the lace-up gladiator with 3.5″ column heels in candy-colored gold or goatskin (a metallic teal) for $1,400. There are also strappy Greek sandals with a 3.5" column heel in orange or goatskin ($1,150).
Louis Vuitton footwear designer Fabrizio Viti has, according to Footwear News, "subtly developed the house's shoe signature. This time around, he gave the label's fall '17 equestrian/motocross boot a Western makeover in terms of shape, while still referencing the codes of the collection with graphic animal prints, Perspex, gold fleur de lis details and even Oriental-motif versions teamed with matching tights. Knee-high hiker variants came with baseball-style lacing." If you dare, those tall boots could be your statement of the season.
Dior is offering classic pumps in black or blush pink – one standout is the white sling-back pump with the J'Adior ribbon.
FENDI's dressier footwear options from the runway were mostly pointed-toe boots; there are also several flat sandals. The sock-boot is alive and well, too, this season in embellished black and taupe. On our wish-list is a beautiful green leather pump trimmed with satin ribbon ($800). There are also rubber slides for $600.
Prada showed its ready-to-wear on the runway with towering stiletto heels with metal toe-caps.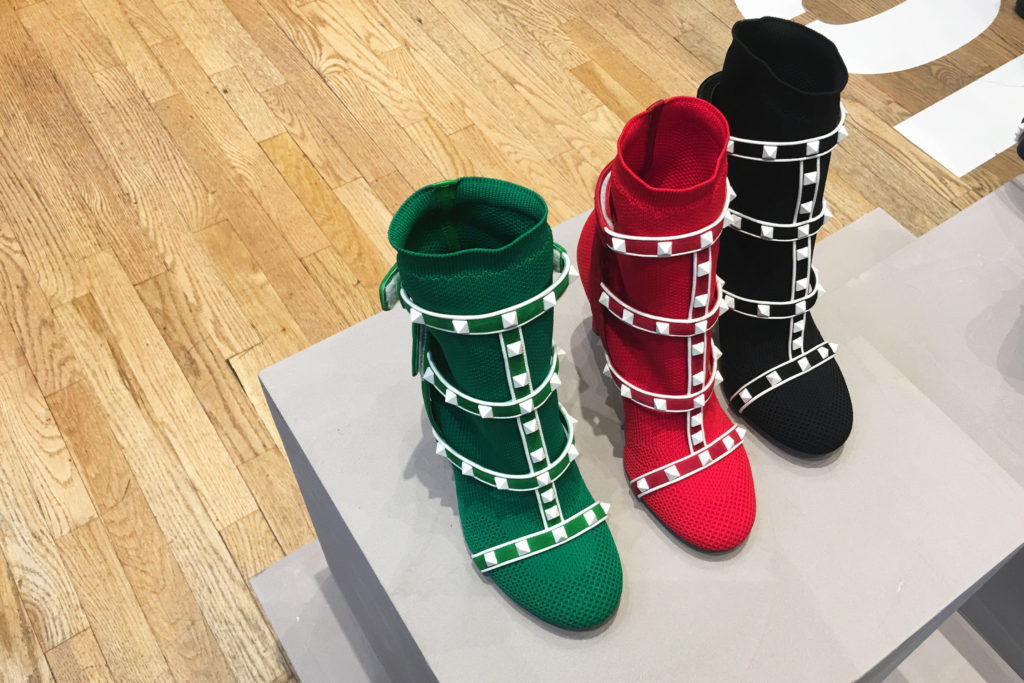 We want to hear about the new statement sneakers.
Gucci is back with new Ace platform sneakers in floral and other prints (the Ace glitter with silver sequins and the planet Saturn is a must-have, in our book – $730).
Valentino is continuing its open metallic-paneled leather sneakers, with some new colors ($695) and embellished butterflies (1,295).
Chanel is showing sneakers so dressy (and so pricey) that they would work well with a ball gown or a pair of cute shorts, or anything in-between. We love the glittered stretch purple, grey and white metallic sock-sneakers ($850). But the white-and-gold low-tops ($875) are gorgeous, too.
Louis Vuitton seems to be heading in a new sneaker direction – QG Magazine declares that the brand is now in the business of the "ugly sneaker," a trend that has quietly been gaining in popularity. It may not strike this season, but by spring, expect it at an LV store near you.
Dior has crisp and chic new black and white trainers with a narrow ribbon with its J'Adoir logo threaded in the laces. Straight from the runway are the lace-up sneaker boots in black and taupe.
Fendi is showing several slip-on trainers and sneakers, from classic Fendi Monster eyes ($700) to embroidered white leather with velvet laces ($650). The ZigZag knit sock-sneaker in fuchsia is $880, and no one will forget you if you rock it while on holiday (or at the supermarket).
Prada has truly joyful neoprene sneakers for resort – they're color-blocked with a huge Prada logo on the Velcro strap, and in some cases are mismatched. While the practical among us might opt for the matching black and red pair, we kind of love the pair where the right shoe is poppy red and the left one is sunny yellow. Plus rabbit-print low-tops ($690).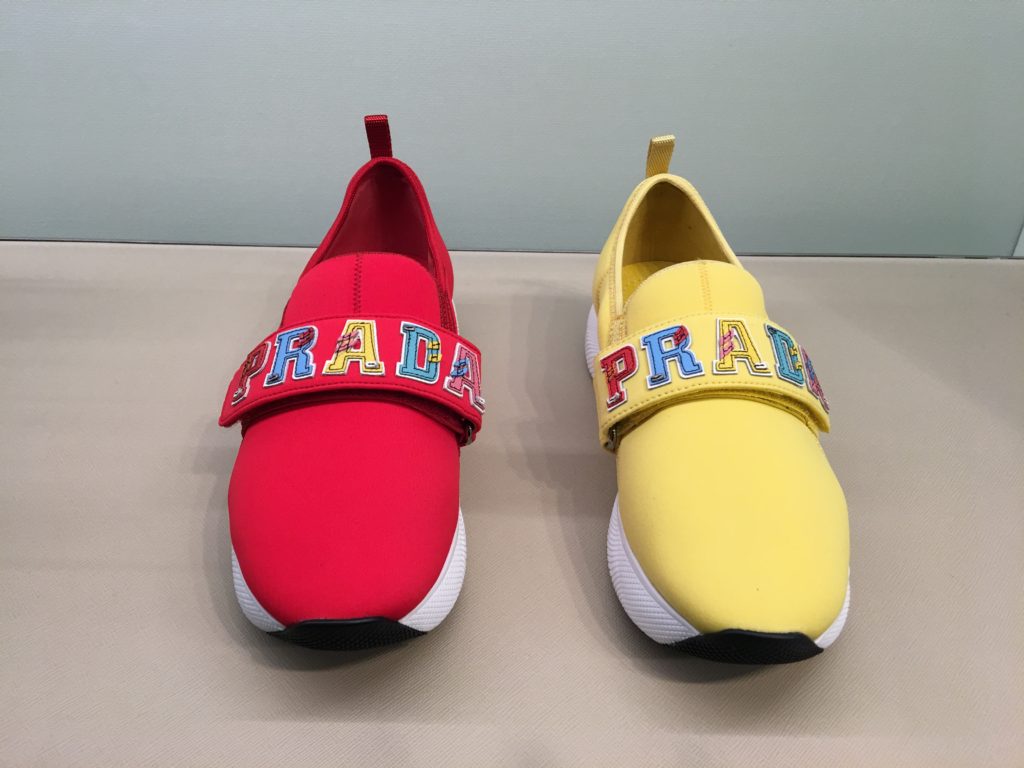 What is the one standout piece in the apparel collection for Resort 2018 that everyone will want or be talking about?
Gucci – the "DIY" gowns, the tote bags and any of the "Guccy" items
Valentino – the red hooded VLTN dress worn by Beyonce, and made in very limited quantities for the general market
Chanel – the Gladiator sandals and the Greek diner coffee-cup glittering brooches
Louis Vuitton – the Kansai Yamamoto samurai-face bags and clutches
Dior – the black hats
Fendi – the scrumptious outerwear, especially Look 28 – a taupe overcoat with green trim
Prada – the pink transparent top with chain mail and pink marabou feathers at the wrists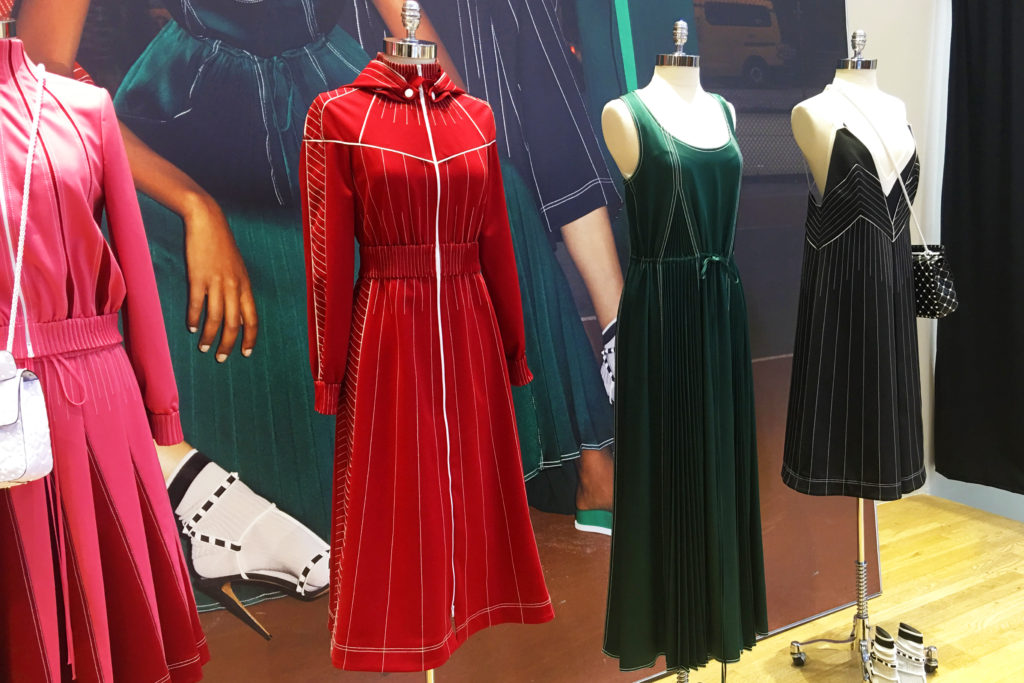 And yes, green is a Thing in many of these collections. Just sayin'.
There you have it – straight from the stylist. Happy resort! And happy shopping.