The Best of the Paris High Jewelry Shows January 2018
All products are independently selected by our editors. If you buy something, we may earn an affiliate commission.
Twice a year in Paris, as the haute couture apparel collections are being revealed, there's a great deal of jewelry also being quietly unveiled in the haute joallarie presentations. In various venues across the city, from the opulent flagships of the Place Vendôme to grande dame hotels and small museums, spectacular new collections are shared discreetly with a global clientele. Each piece is one-of-a-kind, and can take up to 12 months to create. They're brilliant examples of craftsmanship, on par with the fabulous gowns emerging from designer ateliers. As with the clothes, some of these will soon be seen on the Oscar red carpet or at the Met Gala. To dream a little dream, we decided to investigate the newest offerings from the world of high jewelry.
The January jewelry launches tend to be fewer in number and less extravagant than those in July. Still, there are some gorgeous new jewels to see, and this year there's also an unusual interactive exhibit open to the public. Here are four launches from this week in Paris.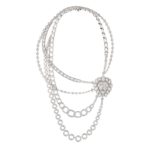 Chanel High Jewelry: Coco Chanel was a Leo, and throughout her life, she embraced lions as an important talisman – she adopted Venice as her second home in no small part because of its feline associations. This leonine theme is evident in all 53 pieces of the new "L'Esprit du Lion" high jewelry collection. There are necklaces with a staggering array of gems: the "Passionate" necklace features a 29.65 carat orange topaz; the "Legendary" necklace (seen here) has multiple stands with a total of 1,200 white diamonds. The lion-shaped "Timeless" brooch has 63 yellow sapphires and 251 diamonds. There are also chokers, cuffs, earrings, and rings set with imperial topazes, beryls, sapphires and diamonds.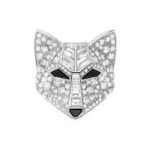 Boucheron is celebrating its 160th birthday this year, and to get the party started, the luxury jeweler is hosting a first-ever haute joallerie immersive exhibition at the Monnaie de Paris, France's neoclassical National Mint. Entitled Vendorama, it's a journey through Boucheron's past and present, with a peek at the future. Visitors can download an app for an augmented reality tour guided by "Wladimir," founder Frédéric Boucheron's black cat. Of course, there are also new jewels, including an update of the "question mark" necklace for which the founder won the Grand Prix at the 1889 World's Fair. Like Chanel, there's also an animal motif here: new additions to the menagerie include a wolf and a fox formed of diamonds, and brooches in the shape of parrots. There's also a watch that contains a secret, and a headband crafted from 574 diamonds. In a nod to current realities, guests can pose for a selfie in a 360-degree photo booth. The exhibit ends this weekend.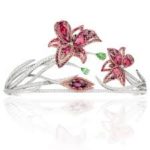 Chaumet unveiled its new high jewelry collection, "La Nature de Chaumet," at the Musée Bourdelle and in its salons on the Place Vendôme; the sets were inspired by an artist's workshop, a garden and a field of wheat, to reflect the motifs in the jewelry. Described as a homage to "a natural world that is both free and gracious, vibrant and generous," the collection features delicate and etheral pieces, several crafted with white gold, white diamonds and pale-peach Padparadscha sapphires. Chaumet has long been known for its elaborate and exquisite tiaras, and recently debuted a stunning example as part of its Josephine collection, which was designed in homage to Empress Joséphine, the first major client of the maison. This new collection features another lovely one, called Passion Incarnat, with red spinel, garnets, tourmalines and diamonds in the shape of a lily.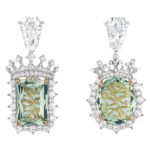 At Dior, head jewelry designer Victoire de Castellane unveiled the third and final installment in her lush and romantic Versailles-inspired triptych. This edition, called Dior À Versailles Pieces Secretes, reveals "an unseen Versailles, composed of secret passages and concealed boudoirs. The inner sanctum of the château is where the stories and the passion behind these narrative and playful pieces unfolds." As with the first two, this collection is filled with charm and whimsy. The colors are less vivid than last summer's côté Jardins collection, but the romantic spirit remains. There are little surprises in almost every piece: secret mirrors concealed by rotating stones; hidden drawers; and recurring motifs including the sun, a clover, a skull, and a heart.
The Paris haute couture shows are expected to keep up with the times – the more serious and grown-up offerings on many of the runways this week felt right for the global moment. Haute joallierie, on the other hand, is a lagging indicator of the world's mood – the lead time for design and creation is so long that by their very nature, these jewels are meant to be timeless. And perhaps that sense of enduring grace and beauty is the luxury we all really need right now.