The Best of the Red Carpet from the Grammy Awards 2018
All products are independently selected by our editors. If you buy something, we may earn an affiliate commission.
In the annals of red carpet awards show fashion, the Grammys has generally not gotten a lot of love. The fashion press and high-glamour elites have traditionally tended to categorize the tastes of the music world as a bit garish, louche and lacking in refinement. The Grammy red carpet was considered to be "fun" – which was a very polite way of saying that it was not to be taken seriously, and perhaps even to be mocked. That began to change a few years ago, when artists like Rihanna crossed over into fashion as heads of their own collections, with stellar results. Street style infiltrated the highest echelons of the old-world fashion houses and the looks flew out the door. Perhaps the music world had a thing or two teach the fashion world, after all.
So where are we now? With #MeToo and Time's Up very much a force in the wardrobe choices of men and women on the red carpet this year, last night's Grammys were no exception. While some opted for black, as at the Golden Globes, at this event supporters were asked to wear a white rose, and many did – although it was a bit challenging for some to incorporate that into their looks (comedian Sarah Silverman was photographed with hers in her mouth as if she was just about to start noshing on it). A single rose turned out to be much tougher to pull off than a color dictate. Here at Dandelion Chandelier, we surveyed the red carpet looks at this year's Grammys, and found some serious chic, some cool-kid nonchalant glamour – and a few things that you might want to incorporate into your own black-tie routine at your next big event.
Here's what we observed and loved:
1. Black evening gowns are definitely still a Thing. Several artists could easily have been on the Golden Globes red carpet with their sophisticated and sleek noir gowns. They looked regal and commanding. It's a nice reminder, as if we needed one, of the timeless versatility of the LBD.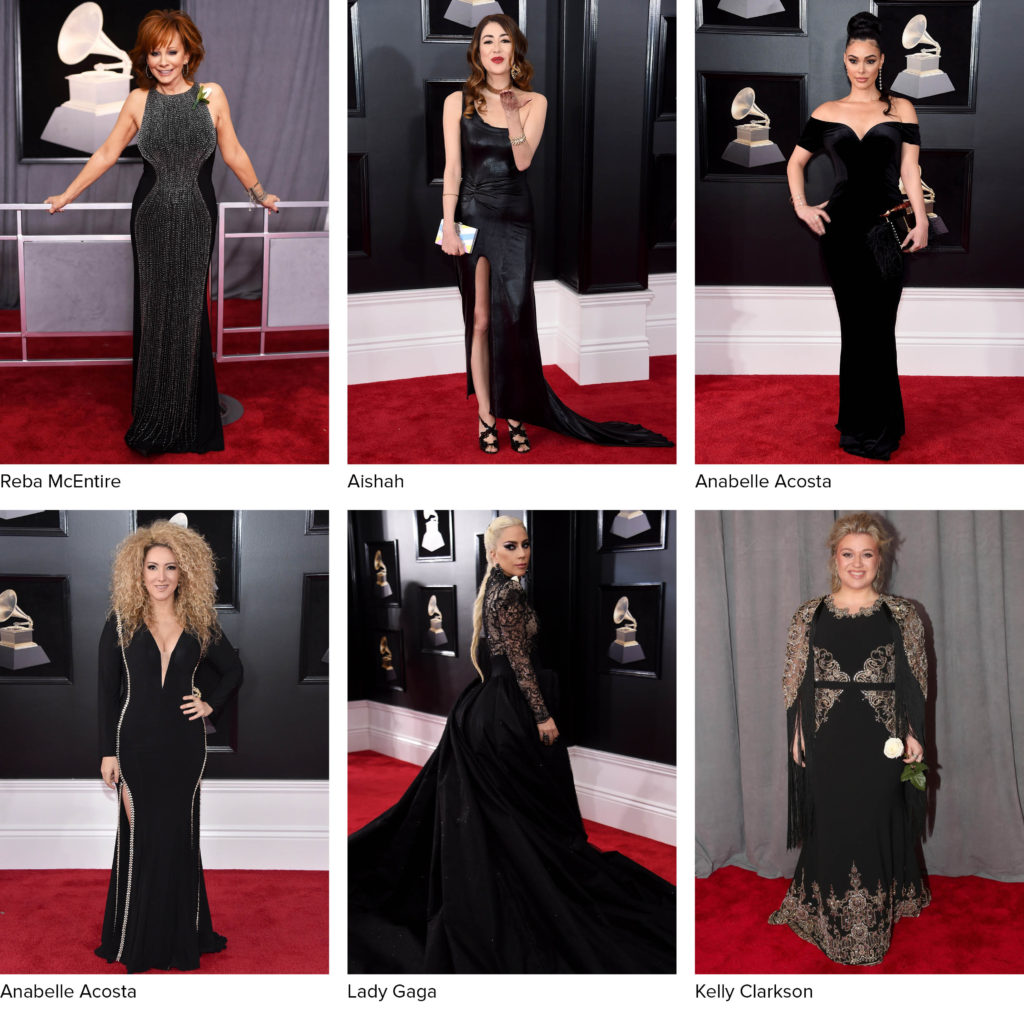 2. A pop of color is always welcome. We loved the optimism and celebratory air that the brightest and boldest of the evening gowns conveyed. These were styled to showcase their wearers, not to overpower them. Also, this is further proof that red works on the red carpet.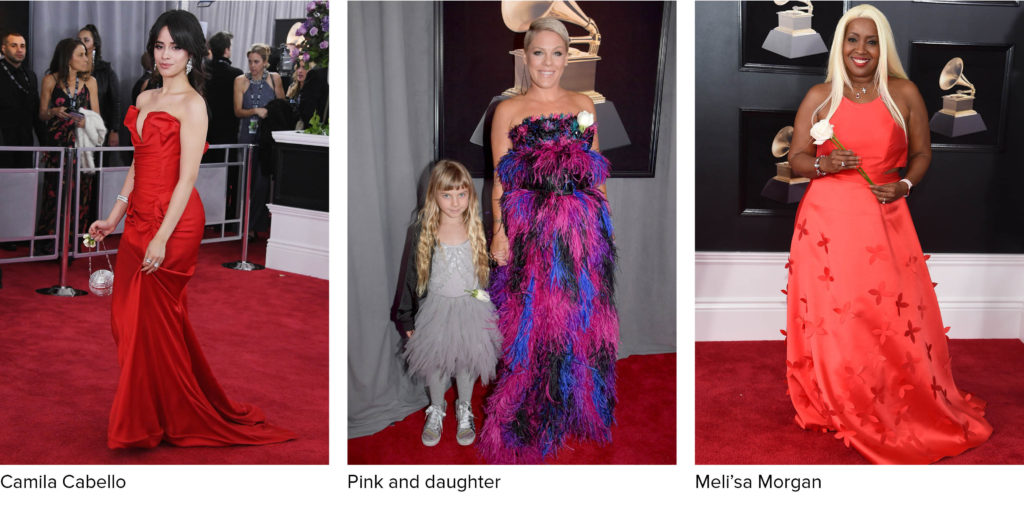 3. Pantsuits rock. Many women opted for pants or jumpsuits on the Grammy runway – they found ways to make them red-carpet-ready with their choices of fabrics, prints and accessories. Anna Kendrick, we love those shoes, girl.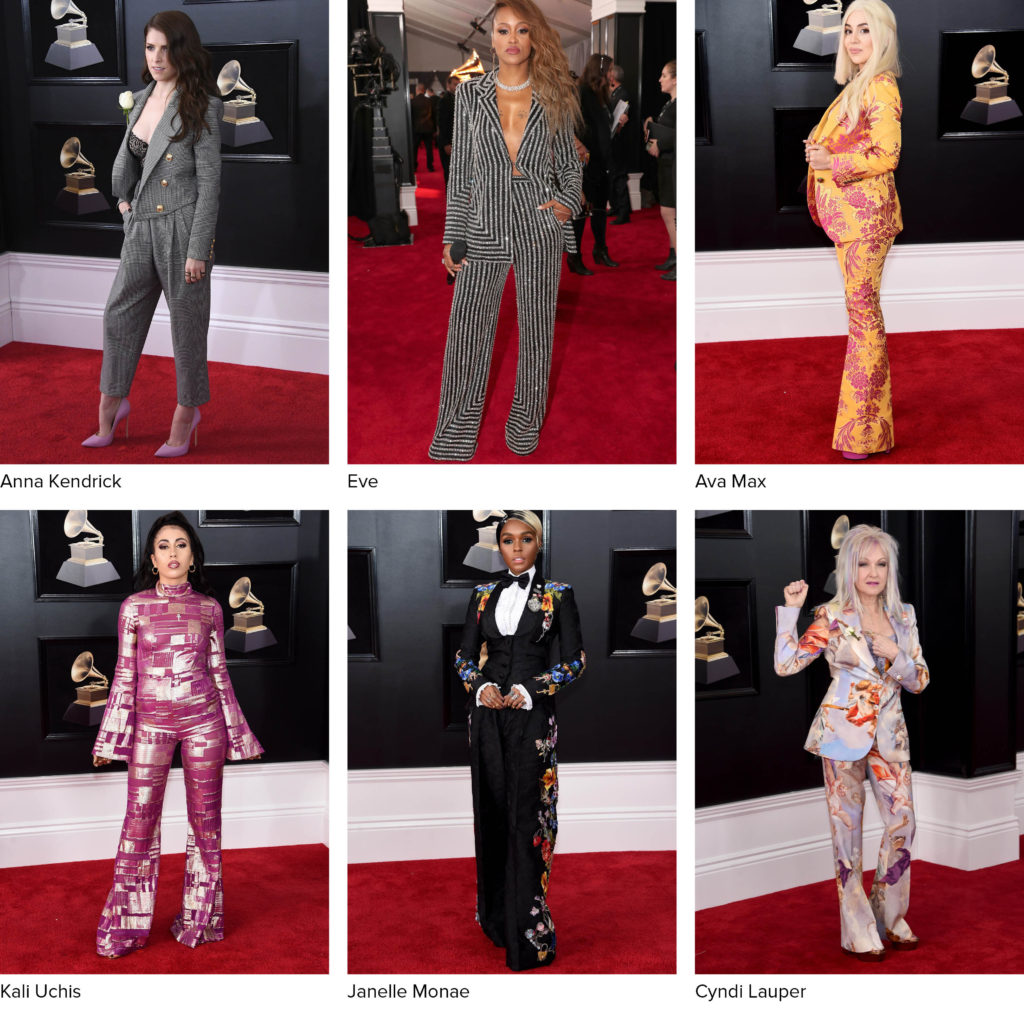 4. Sometimes a music star wants to dress like a princess. Interestingly, many members of the younger generation of up-and-coming female artists chose to dress in romantic, pastel, ethereal dresses. Some tough girls chose really soft looks, and pulled them off beautifully.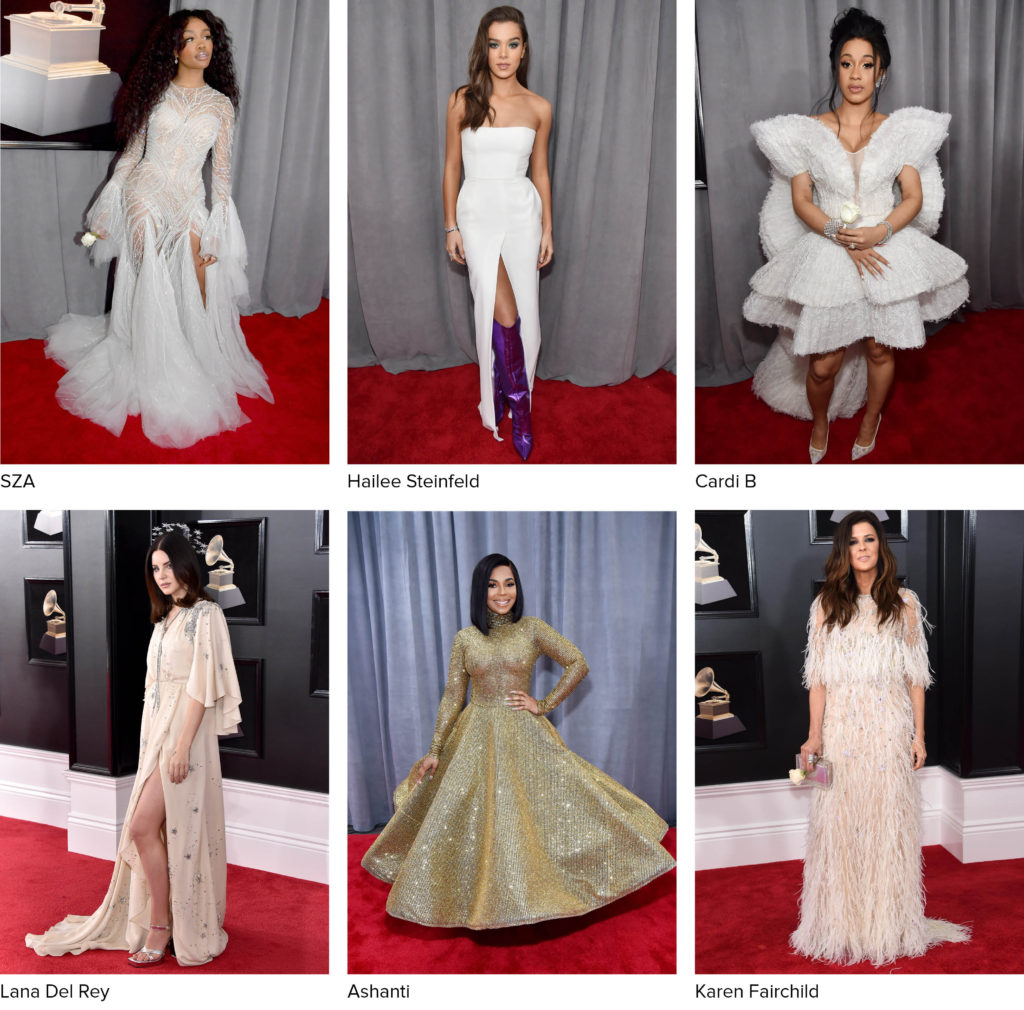 5. Men in black is a fine thing. There were lots of men on the Grammy red carpet, and we think it's only fair to showcase some of their standout looks and lessons for those of us at home. First up? Some cool dudes in slim monochromatic black or white suits.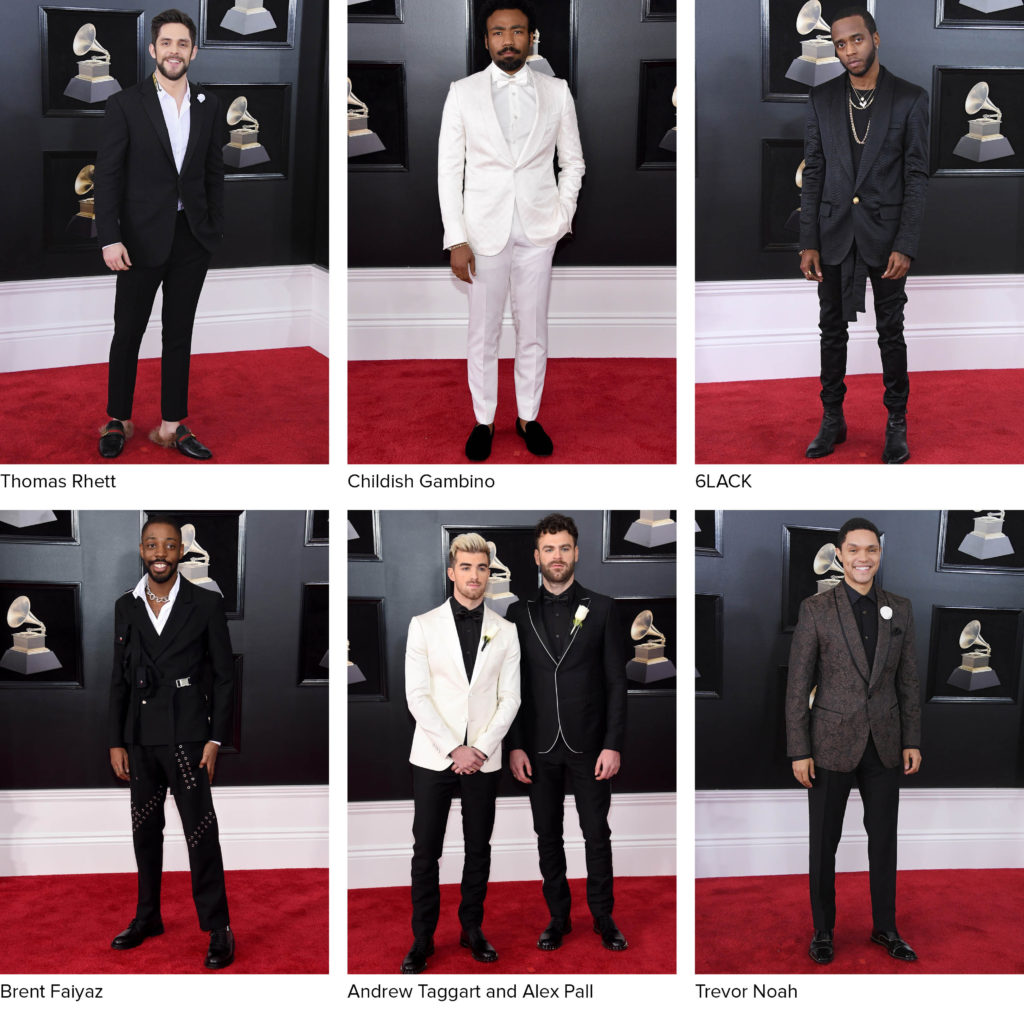 6. Men can rock color. One of the best things about the Grammys red carpet is that it generally feels as if the artists are being more true to themselves, and less slaves to the dictates of stylists and the fashion press, than the Hollywood crowd. Witness these gents, and ask yourself if you've seen very many men dress this way at film industry awards ceremonies. And if not, why not?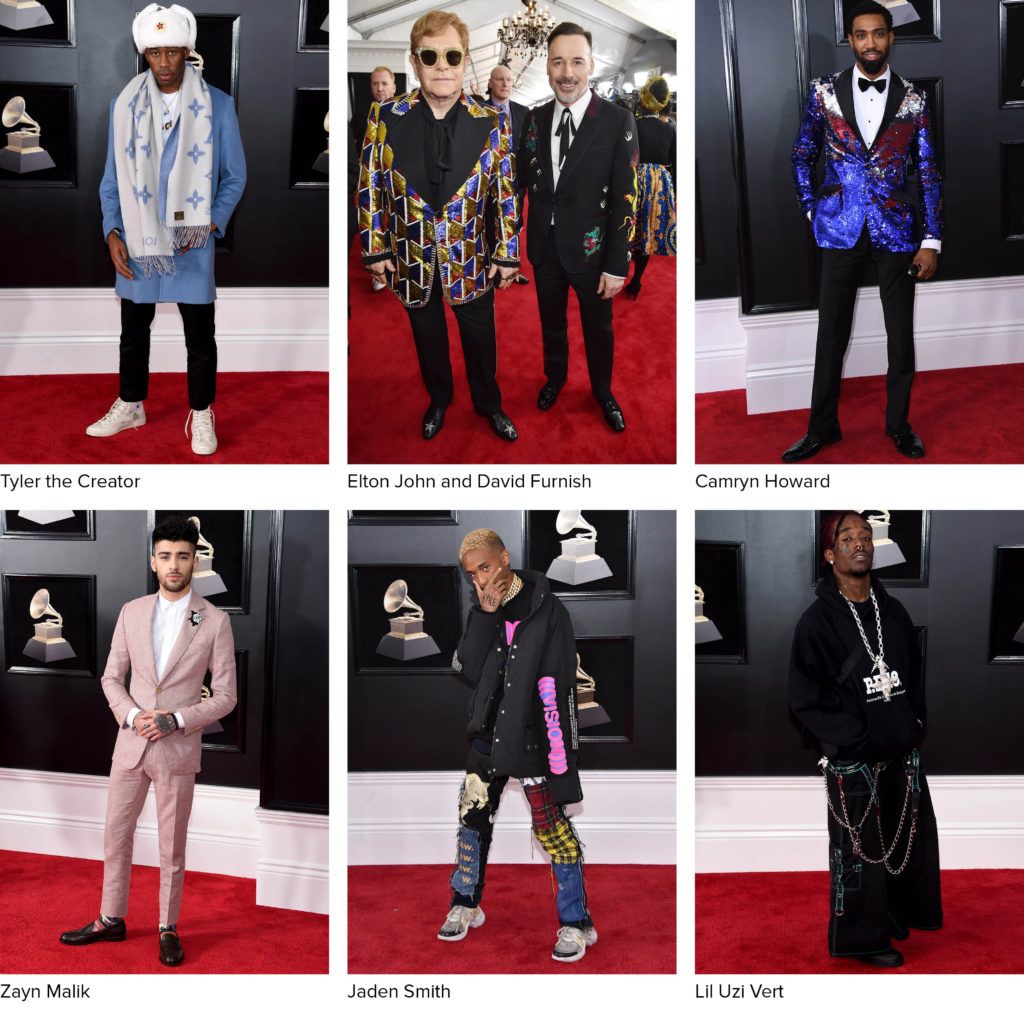 7. Swagger is always welcome. Lastly, we just wanted to celebrate the attitude of some of the men who showed us all that a sense of confidence and power is always a good look.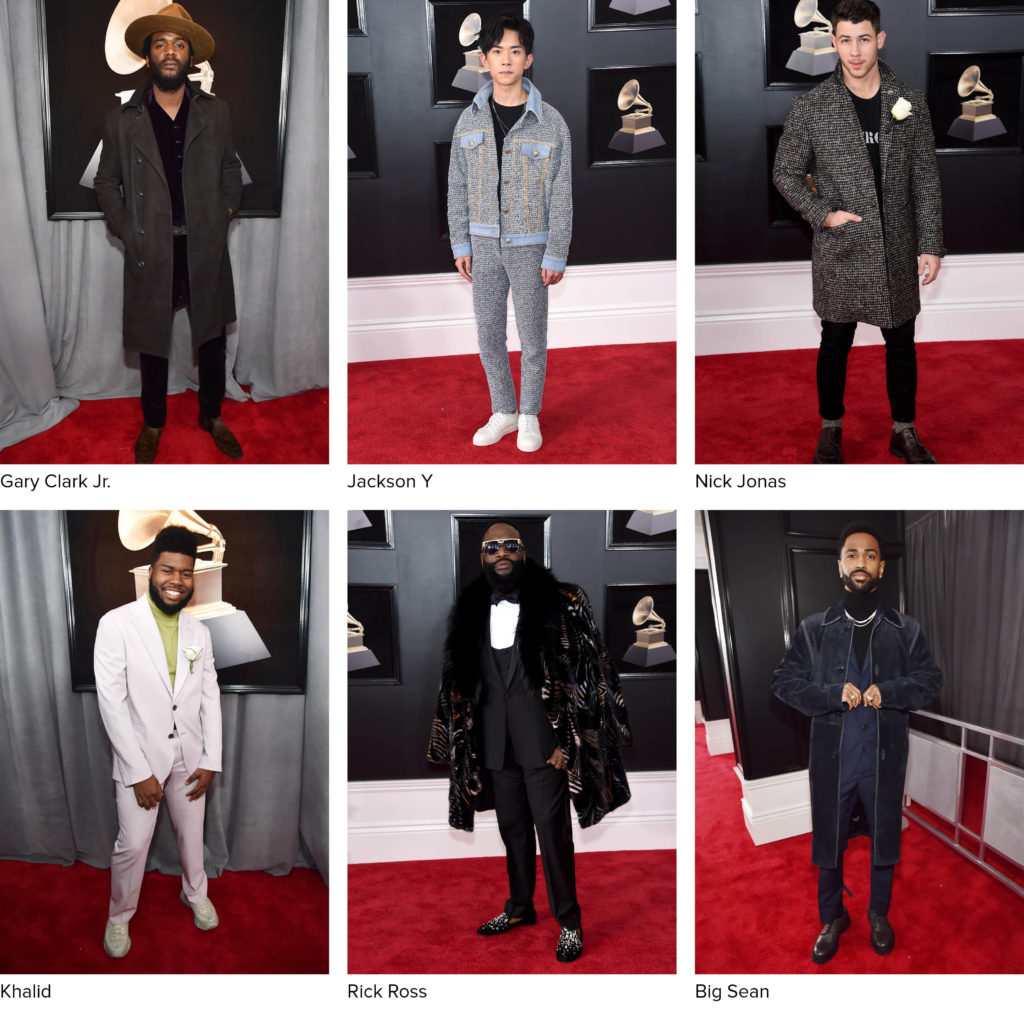 That's it for now. Can't wait for the Oscars!