the party's on at the fabulous lobster club in new york
All products are independently selected by our editors. If you buy something, we may earn an affiliate commission.
Eatery Row is an occasional series here at Dandelion Chandelier assessing the best restaurants for a romantic night out, an important business lunch, cocktails with friends, or a luxurious holiday meal. We'll let you know if a hot place actually lives up to the hype, and whether a classic is still maintaining its high standards. Because an essential element of luxury is knowing that you're in really good hands.
Our intrepid of Head of Research, Jillian Tangen, recently had dinner at the new Lobster Club brassiere in midtown Manhattan. She generously agreed to share her impressions of this tony take on Japanese cuisine. Here's her (lightly edited) report:
When you hear the words "high end Japanese" dining, you likely imagine an uncluttered aesthetic filled with simple decor, clean lines and soft sounds.  This ensures that the focus always remains on the food. However, The Lobster Club completely flips the script on this notion.  At this colorful Japanese brasserie, the focus is on fun and food, not formality.
Designed by Peter Marino, The Lobster Club is a feast for the eyes.  Upon entry, you overlook the main dining area which includes the bar, lounge and booth seating options. It is immediately evident that Picasso is the inspiration here.  The center lounge is lined with white ebony zebra-striped panels and filled with round tables surrounded by mid-century modern style salmon pink chairs that look like pouty lips. Throughout, the floor is covered with spurts and dribbles of paint created by Brooklyn-based artist Laura Bergman in a nod to famed mid-century drip paint master Jackson Pollock.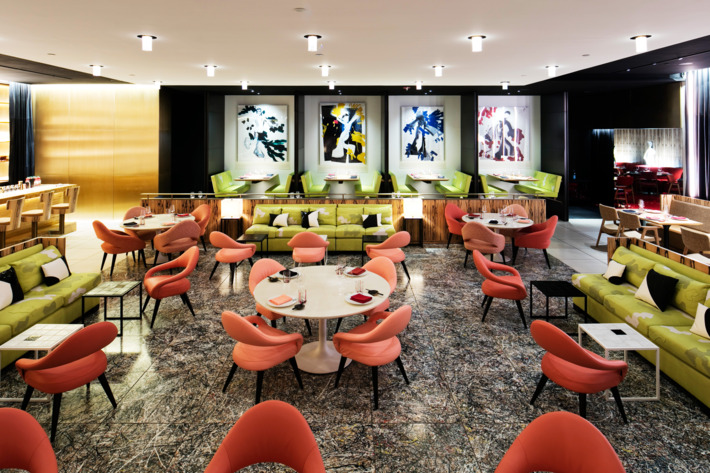 The walls in the main room are covered with prints based on those which Marino himself owns (the originals were painted by Richard Prince and were modeled on nude paintings by Picasso).  The supersized bar is long and also tastefully decorated, with porcelain plates painted by Picasso in a nod to the space's previous incarnation, the Brasserie, where Picasso-designed plates and ceramics were once the norm.
As a result, the room is eye-popping, and filled with almost too many colors to count.  In contrast to the main area, there is a smaller and darker back dining room filled with red and mahogany seating alongside walls draped with black leather. The tables were partitioned with white Picasso-inspired sculptures. There is a lot to take in decor wise, but every bit of it is fabulous.  From the design alone, you can tell you are in for anything but a traditional Japanese meal.
The Lobster Club is the third new restaurant in the Seagram Building from Major Food Group, following the openings of The Grill and The Pool.  Michelin-starred chef Tasuku Murakami, formerly of Tribeca's Sushi Azabu, oversees the food here and celebrates a unique interpretation of Japanese cuisine. Classic techniques like tempura, gyoza, yakitori and robata are on display, along with a focus on Teppanyaki and Sushi. Murakami flies in fish daily from Tokyo's Tsukiji fish market, so options on the menu vary daily – though staples such as salmon, tuna and the like are always present.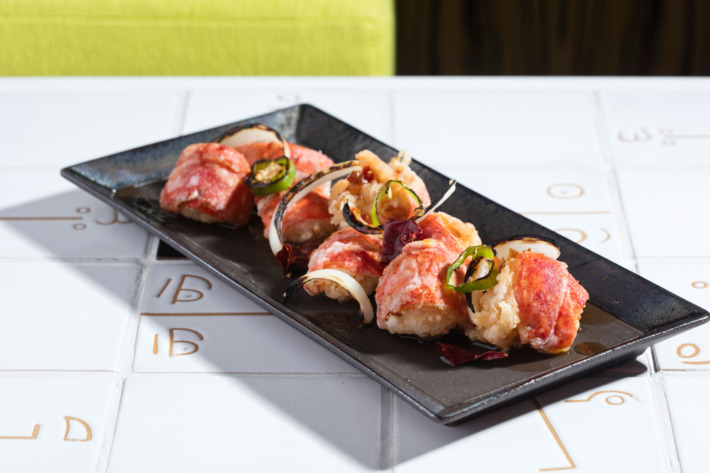 All the sushi we tried was fresh and outstanding, as were all of the other seafood dishes we tried.  We loved the surf and turf roll (lobster and wagyu topped with truffles) so much that we ordered a second round! Other seafood dishes we loved were the tuna and chilies dish that consisted of fresno chili vinaigrette over raw bluefin tuna sprinkled with puffed rice, and the crispy snapper entree.
The other Japanese dishes we sampled, like the spicy cucumber salad, lobster dumplings, curry dusted chicken wings and spicy garlic shrimp fried rice were all delightful and filled to the brim with flavor.  In addition to the crispy snapper, our table shared the cumin and Sichuan peppercorn rubbed tomahawk ribeye, which came with hibachi king mushrooms, shishito peppers and an assortment of varied teppanyaki sauces. The seasoning was thick and explosive in flavor which we loved – however if cumin and spice are not your speed you can opt to order this delicious steak sans seasoning.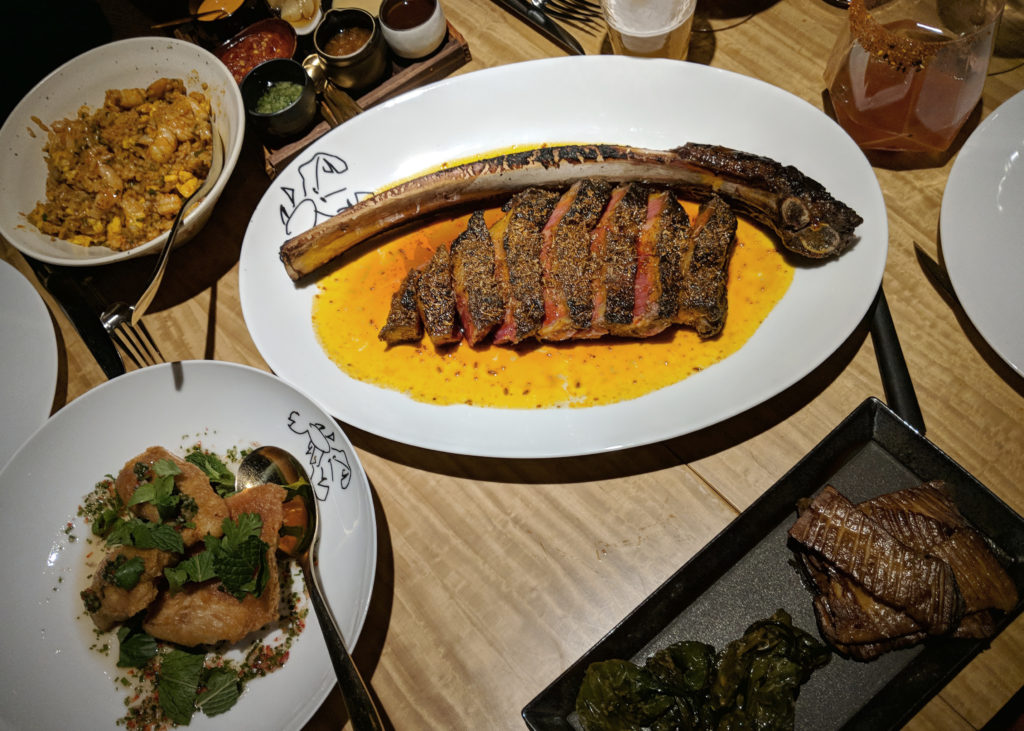 Throughout our meal, we sampled various cocktails and wines from the vast list. One of our favorites was the refreshing and light Jasmine Blossom, made of blanco tequila and ito en jasmine iced tea. The drink was served with an large theatrical slice of ginger root.  Much to our surprise, we also loved the sake bombs.  Typically a drink made to be quickly consumed, we found that these were silky and worthy of savoring, due to the high quality ingredients – including combinations such as yuzu sake paired with Hitachino Nest white ale.
For dessert, go for the kakigori – a foot-high dome-shaped shaved ice. This brightly colored confection is half laced with cream and half with blood orange. Some bites are citrusy and sweet, while others are rich and silky from the dairy, and still others delightfully watery and refreshing following such a lavish meal.  We can understand why this is one of the most popular and Instagram-worthy items on the menu.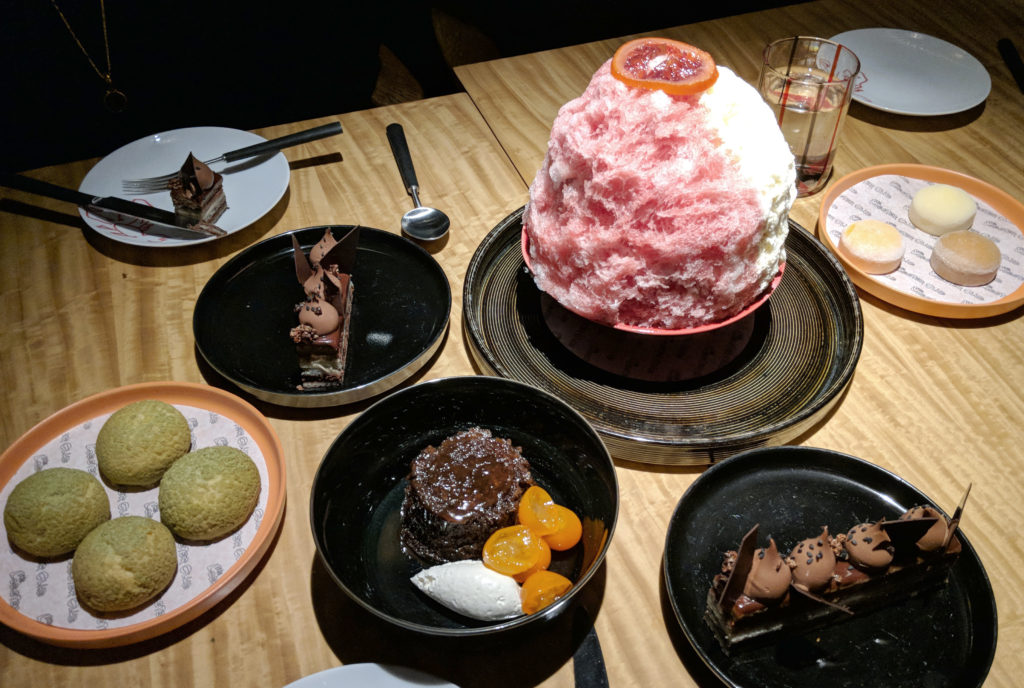 In addition to the colorful decor, lively atmosphere and the deliciously fun family style food, the service at Lobster Club was attentive and hospitable from start to finish.  Our server was knowledgeable and helpful, guiding us through each of the must-have dishes. The gracious sommelier had no problem pairing wines to our complex menu choices.  Overall, the dinner was a captivating experience filled with memorable flavor combinations that we won't soon forget.  We look forward to dining here again soon.
The Lobster Club
98 E. 53rd St., nr. Park Ave.; 212-375-9001; thelobsterclub.com
Open. Dinner, Monday to Saturday 5p-12a; Lunch, Monday to Friday 11:45a-2p
Our picks. Surf and Turf roll, Curry Chicken Wings, Tomahawk Ribeye, Crispy Snapper, Kakigori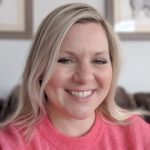 Jillian Tangen is the Head of Research at Dandelion Chandelier and a former Senior Research Analyst at McKinsey & Co and Analyst at Shearman & Sterling. She is an avid fan of Nordic design, having owned an independent lifestyle store and sales agency focused on emerging Scandinavian design. Jillian lives in NYC and is married with three young children and loves cross country skiing, the New York Rangers, reading, travel and discovering new brands.