low is the new high luxury: ballgowns and dad sneakers
All products are independently selected by our editors. If you buy something, we may earn an affiliate commission.
Who says you can't have it all? Thanks to the new trend toward ugly, clunky, "Dad" sneakers with formal wear – even wedding gowns – you can simultaneously be totally on-trend and totally comfortable. You just have to have the confidence to own and rock the look.
High-low is such crazy fun that we can't stop writing about it. One of the reasons we love covering luxury is because the topic is so complex; the very definition of what constitutes luxury is constantly evolving and sometimes doubling back on itself.
For example, our very name reflects one of luxury's enduring inherent dualities: luxurious objects and experiences must be perceived as authentic and deeply rooted in the ground – but they must also soar high above our heads, just out of reach, generating desire and acquisitiveness in the hearts of those who behold them. Like a Dandelion Chandelier.
While both elements – the ethereal and the deeply-rooted, the high and the low, the humble and the haughty – have always co-existed in the luxury space, over the course of time, the pendulum inevitably swings a bit more toward one over the other.
Right now, Low is having a moment.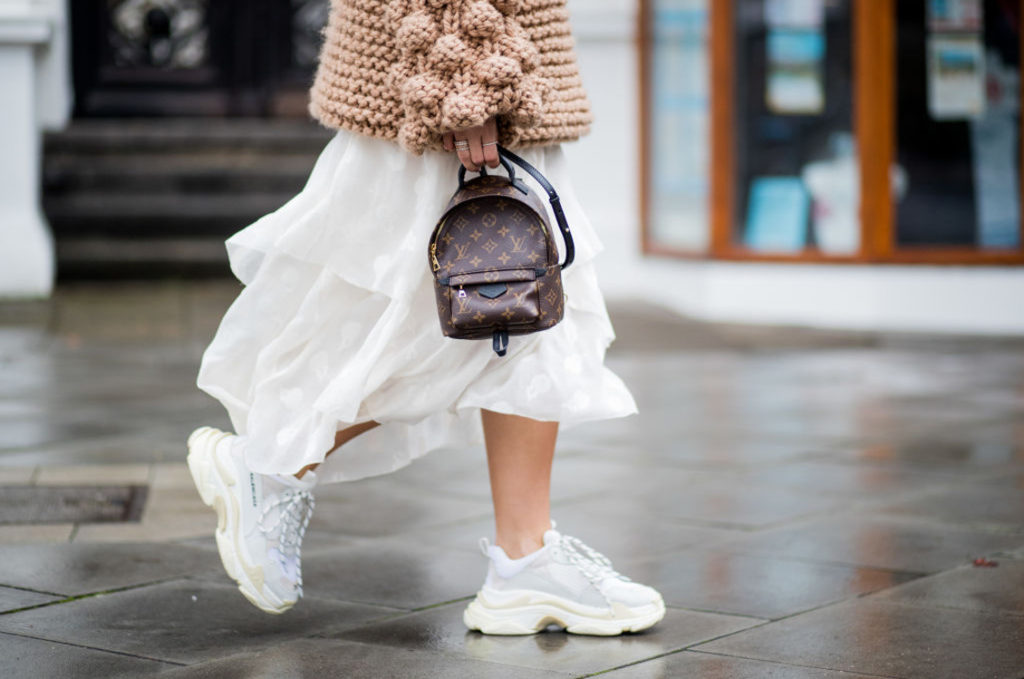 In that spirit, we've launched a new monthly feature about this inherent tension in modern luxury. We'll be on the hunt for objects and experiences that embody both grit and glamour; shadow and shine; form and function; dreams and reality.
This month? The still-fresh glamour of elegant ball gowns – and wedding gowns – paired with sneakers. And we don't mean slender feminine white tennis shoes — we mean clunky, chunky "Dad sneakers" in every color of the rainbow as shown on the Balenciaga runway. Or as one fashion blog put it: the ultimate manifestation of the ugly shoe apocalypse. Wearing sneakers to formal occasions has been a Thing in the fashion crowd for several years (it seems to have started with 2014's normcore trend). But the look has proven to be surprisingly durable – not a flash in the pan – and it's moving squarely into the mainstream. It may even be time for you to try it.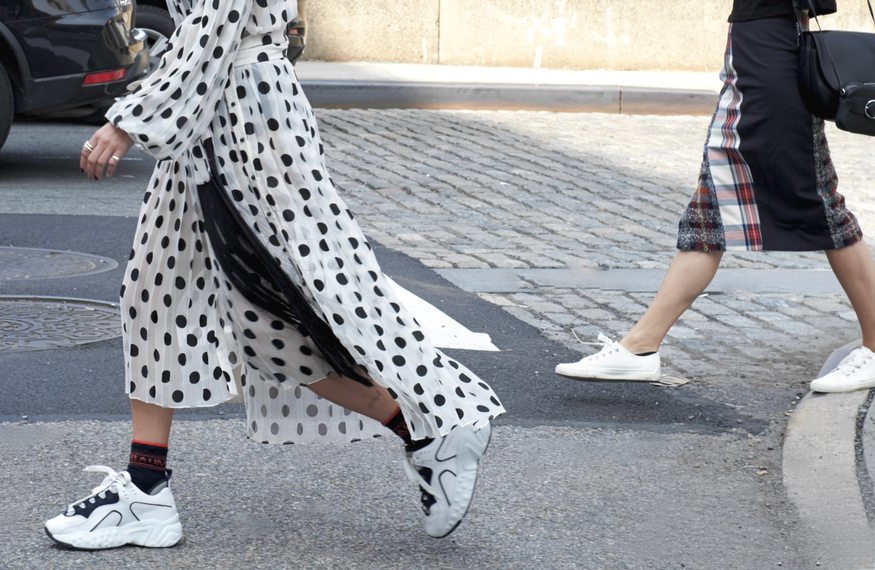 Stranger Things star Millie Bobbie Brown, 13, blew up the Internet with her red-carpet look at the Screen Actors Guild (SAG) awards earlier this year. She arrived wearing a millennial-pink sequined dress from Calvin Klein by Appointment, designed by Raf Simons himself (she's one of his muses)—paired with low-top white Converse Chuck Taylor All-Stars. Yep, a designer gown and sneakers – and people absolutely loved it.
In doing so, Brown punctuated an idea that was first on public display at the Oscars red carpet in 1998 when actress Sharon Stone created a fashion frenzy by sporting a simple white Gap button-down shirt with a full-length lavender haute couture satin skirt. The juxtaposition of the high (a hand-crafted skirt that cost tens of thousands of dollars) and the low (a $19 white shirt) instantly became a Thing.
It was a provocative, confident statement about how Stone wanted to be perceived, and where fashion was going, and it changed the way purposeful women thought about how to pull together a sophisticated ensemble, night or day. Stone gave everyone permission to flout the "rules" and see where that might take them, sartorially and otherwise. It was pretty cool.
In the intervening years, high-low never really went away – but in its current incarnation, it's a lot more about comfort and swagger than it used to be. It's not just about provocation – it's about projecting an air of energy, focus and purpose. Of demonstrating sufficient confidence and capability that high heels are just not mandatory anymore. Or as Glamour Magazine put it: "the high-low visual is striking (and incredibly cool)."
Of course, as in so many things in life, Rihanna got there first. She posted a photo of herself on Instagram last October wearing a frothy bright blue tulle Molly Goddard gown with crisp white sneakers. The fashion press approved. Vogue noted: "The counterintuitive styling trick added a bit of real world practicality to Goddard's frothy layers of tulle. Those looking to go full-on frou frou would be advised to take a page from Rihanna's playbook and throw an unexpected accessory into the mix."
Others known for a full-on embrace of the trend? Kendall Jenner, Lisa Hahnbueck, Karlie Kloss, Kaley Cuoco and Bella Hadid.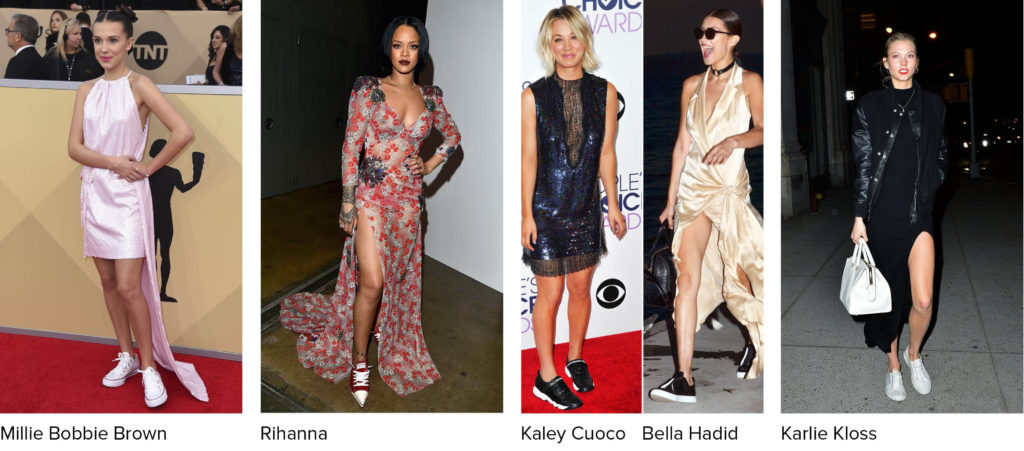 And its not just celebrities who can pull this off. Socialites in Manhattan have quietly doing it for years. Julie Macklowe told W Magazine that several years ago, she decided on a whim to forgo her "draconian pointy-toe shoes" in favor of gold Louis Vuitton high-tops, the color perfectly matching her vintage Prada gown. She has since made the look her go-to, pairing Nike, Chanel and Lanvin sneakers with haute couture gowns at fundraisers all over town.
Its official, ladies. If you're a grown woman who is getting sh** done (or as we like to say, "GSD"), you may choose to opt for trainers and evening wear occasionally – or always. The men's team has been doing this for years – hoodies and sneakers are still emblems of techno-savvy, creativity and great wealth for guys. Lots of cool guys sport tuxedos and leather sneakers. Finally, it's our turn to get in on the action. Just imagine: if you were really comfortable, how much more could you get done?
Louis Vuitton's current ad campaign shows how it's done at the highest levels of fashion – the bold and the beautiful can rock the look this way and turn heads for all the right reasons.

But IRL, for we mere mortals, this spring and summer the mash-up of old-school luxury with street-wear style is going to be a Thing. Especially when it comes to ball gowns and wedding gowns paired with day-to-night sneakers. We're going to have to master it somehow. If you're game, here are a few ways you can play this trend.
Weddings. We previously reported on the spring 2018 collab between Kate Spade and Keds on a capsule collection of pearl-embellished and glittery bridal sneakers and slip-ons. If you want to elevate that idea to the high-luxury realm for your upcoming nuptials, you can opt for white designer kicks embellished in many cases with crystals and lace from Balenciaga, Mui Mui, Roger Vivier and more. Chanel's high-top sneakers could also be worn to a wedding –the price is a mere $1,025.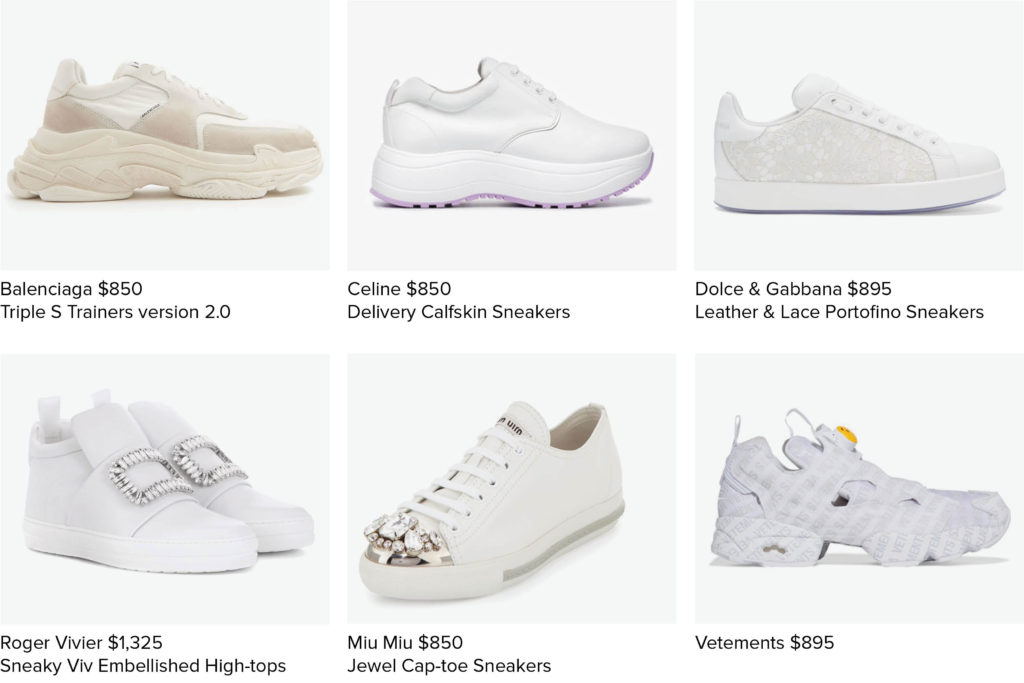 Black-tie parties. White sneakers won't get the job done in every situation, so here are some options if you want to show up in living color and supreme comfort at your next black-tie event.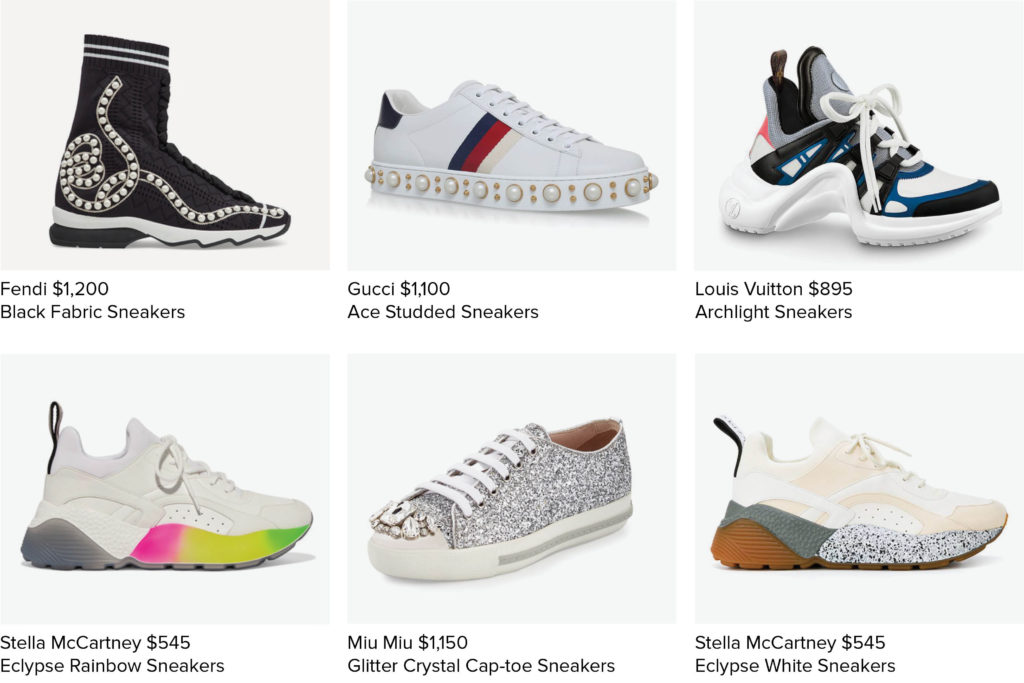 How to pull it off? Your attitude is the most important factor. If you own this look with sass and swagger, you'll be dazzling. But when putting your ensemble together, here are some sensible suggestions to keep in mind. Match the color of your sneakers to your gown – or at least be sure they complement each other. If you're feeling a bit skittish, make the shoes the focal point of your outfit, and go quiet with everything else. Choose an ultra-feminine or sheer diaphanous dress to balance masculine thick-soled sneakers, and pair the dress with sparkling chandelier earrings, a chic clutch, and even glamour-girl sunglasses so that the high-low juxtaposition is crystal clear.
See? Not so hard. Now head on out there – and dance all night. You got this.