luxury insider's guide to the best cafes in paris
All products are independently selected by our editors. If you buy something, we may earn an affiliate commission.
When in Paris, where are the charming cafes that best represent the way chic Parisians actually live? Which ones are faux, and which are the real deal?
For answers, we turned to our impossibly chic Paris Bureau Chief, Luke Yang. His tips on how to experience Paris like a luxury insider at Christmastime were so well-received that we asked him to share his insights on that most iconic of times: April in Paris. (BTW, if you need a place to stay, have a look at his thoughts on the best luxury hotels in the City of Light).
What follows are Luke's (lightly edited) recommendations based on his years of living in Paris.
"Parisian Cafe"—if there are two words that conjure up on idea, an image, or essence of French lifestyle, it's these.   The concept of cafe society dates back to the mid-nineteenth century and was pioneered in Paris, a city where socializing, debating and merry-making were considered de rigueur.  The cafe, or "zinc" (based on the metal used in the ubiquitous countertops), was the place it happened.  The first cafe in France was Le Procope on the left bank, opened in 1686 as a meeting place for exchange among the literati including Rousseau, Diderot and Voltaire.  (Napoleon was also a frequent guest.)  There was a time when the best thinking of France, in the arts and in politics, was found emanating from the cafes.   And the ideas, trends and themes that emerged from these open air networks helped shape the pulse of life.    Today there are an estimated 7000 cafes in Paris–for intellectuals, artists, students, politicians, ladies who lunch and for just good ole plain-folk.
With their broad boulevards and charming passages, the streets of Paris provide the perfect backdrop for open air terraces which encourage a lackadaisical attitude.  The neighborhood café is the Parisian's decompression chamber, easing the transition from work to home and back.  It offers a welcome pause to empty the mind of troublesome thoughts and watch people go by. Every city has cafes, and many have tried to replicate the Paris model (e.g. Balthazar, Bilboquet and Schiller in NYC), but none seem to capture the unique feeling of those in Paris, which embody a certain French way of life.  You see the cafe is the logical extension of another very French practice–the promenade–the walk.  Parisians love to "flaner"–to roam the city without an agenda.  And the cafe is not so much an escape from the promenade but a continuation:  you sit there and you're still part of the scene. It's all about seeing and being seen, watching, observing and discretely judging.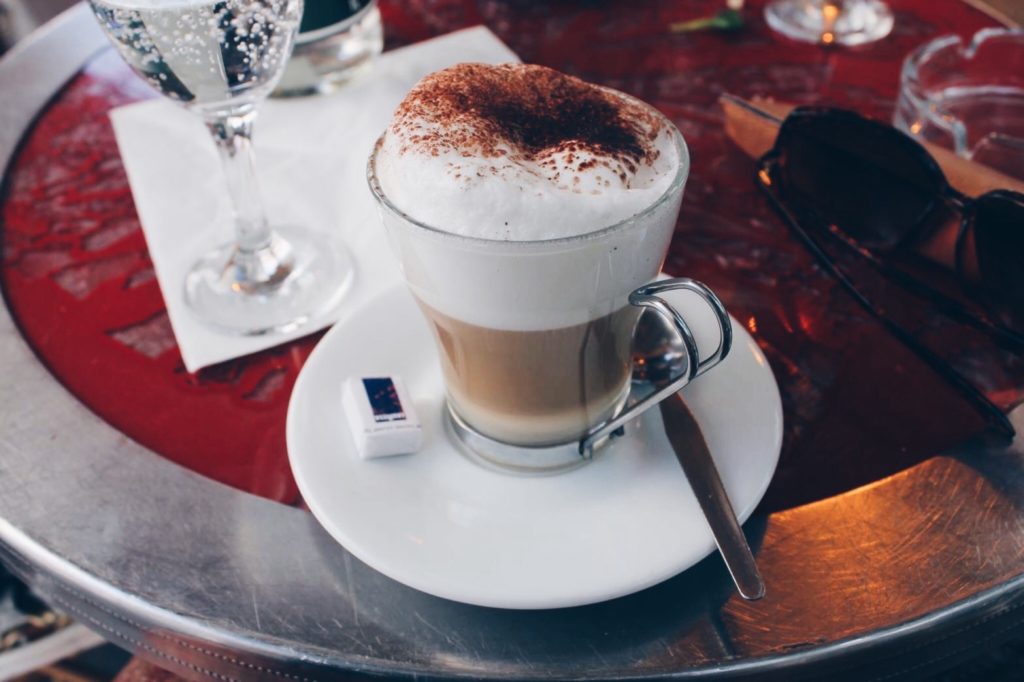 Just as the ubiquitous Starbucks became the meeting place of a generation, the French cafe remains the meeting place for French society.  (Interesting aside: while everyone thought the arrival of Starbucks in the city of light would spell doom for cafe life, it's been, in fact, the opposite: Starbucks is a "transactional" place to get a cup of Joe and leave, while at the French version, the beverage becomes secondary to the overall experience.)  Cafe and "coffee" are homonyms in French, but in fact, coffee is by no means the beverage of choice.  A Paris cafe is not a coffee shop!  The list of beverages ranges from warm milk (often with almond syrup), a beef bouillon drink called "viandox", a selection of teas that would make even the British blush, a robust selection of beers, and of course aperitifs from classic to exotic.    And to satisfy more serious cravings, every cafe has a menu of hearty, reliable, comfort food that does not disappoint.
There are two distinguishing characteristics that make cafes so appealing:  first, they are usually well-placed, with a marvelous view, atmosphere or buzz that make them welcoming.   It's not by accident the most popular cafes help define the character of their arrondissement.  People go to feel like members of their little community and mingle with like-minded souls.  The Frenchman's café is his local club.  The second aspect of cafe life that can't be underestimated is the ability to stop time—it's one of the best values in Paris that regardless of what you order at a cafe, the table is yours for as long as you wish.   Whether with your bestie, companion, romantic tryst, or iPad, you can sip, chat, daydream, surf, people-watch — the joy of cafe life is the absence of stress, bien sur!
What could be more Parisian than watching Parisians?  Locals excel at it, sitting on cafe terraces to see and be seen. Here's a list of favorite spots, where you can join the "happy few" and blend in with those in the know:
Café Beaubourg – pioneered by the team behind the hotel Costes, this stylishly trendy café with spacious terrace beside the Centre Pompidou is popular with locals and tourists alike.  The huge esplanade in front of the museum has a microcosm of life to watch that can entertain for hours.
Café de Flore – Every Parisian knows THIS is the place to be, and not the neighboring Deux Magots, (which is for tourists!). Here the DNA is writers and philosophers, (Jean-Paul Sartre's canteen) and the average IQ is probably still quite high here on any given afternoon.  The waiters are infamous for their gruffness, but under the harried attitude is a smile and wink, if you know how to charm them!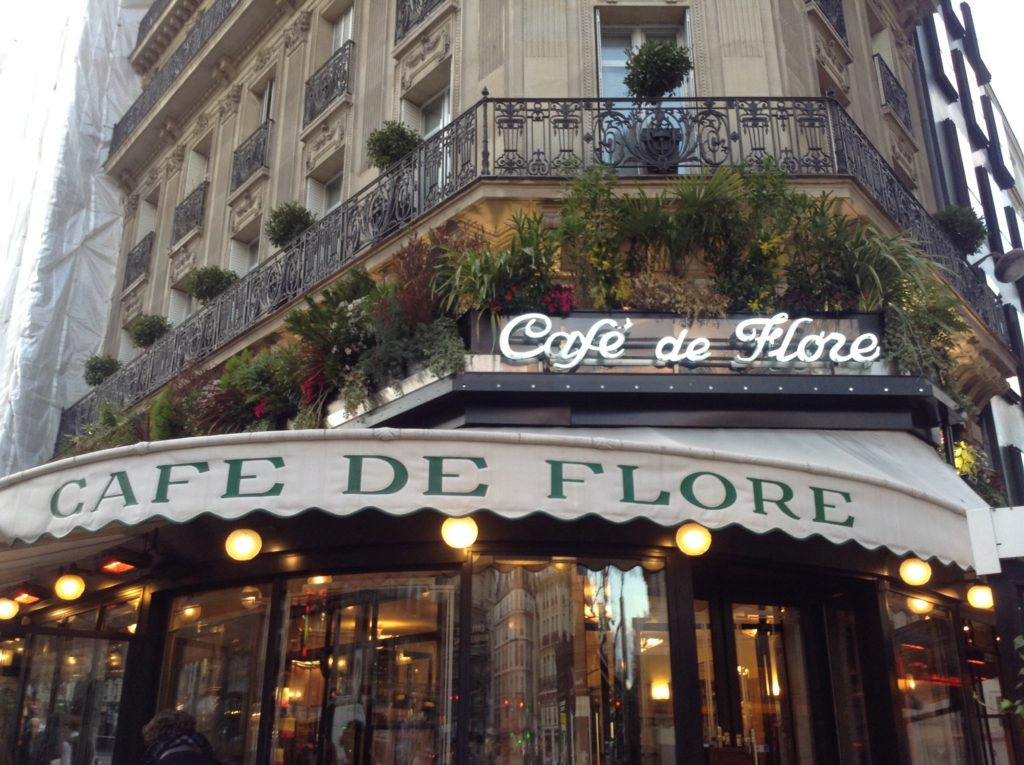 Café de la Paix – this beautiful cafe looking out on the old Paris Opera, was designed by Charles Garnier and is classified as a historic monument.  There is great people-watching from the terrace and the best view of the opera house, seated among the odd mix of musicians, neighborhood bankers and society ladies.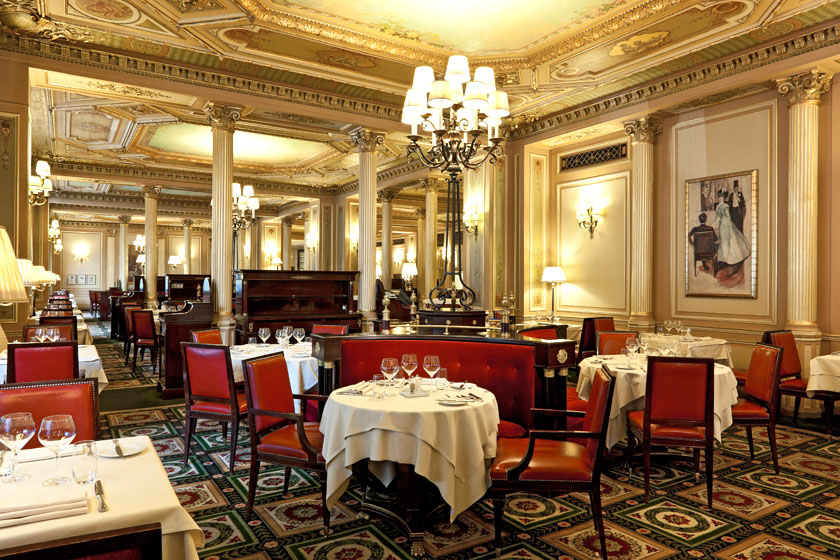 Café Marly – with its privileged placement in the arcade of the Louvre, this Costes product attracts an A-list crowd from fashion, media, and Paris insiders relaxing after touring the galleries.    The cocktail list has morphed into a formidable offering from its humble cafe roots.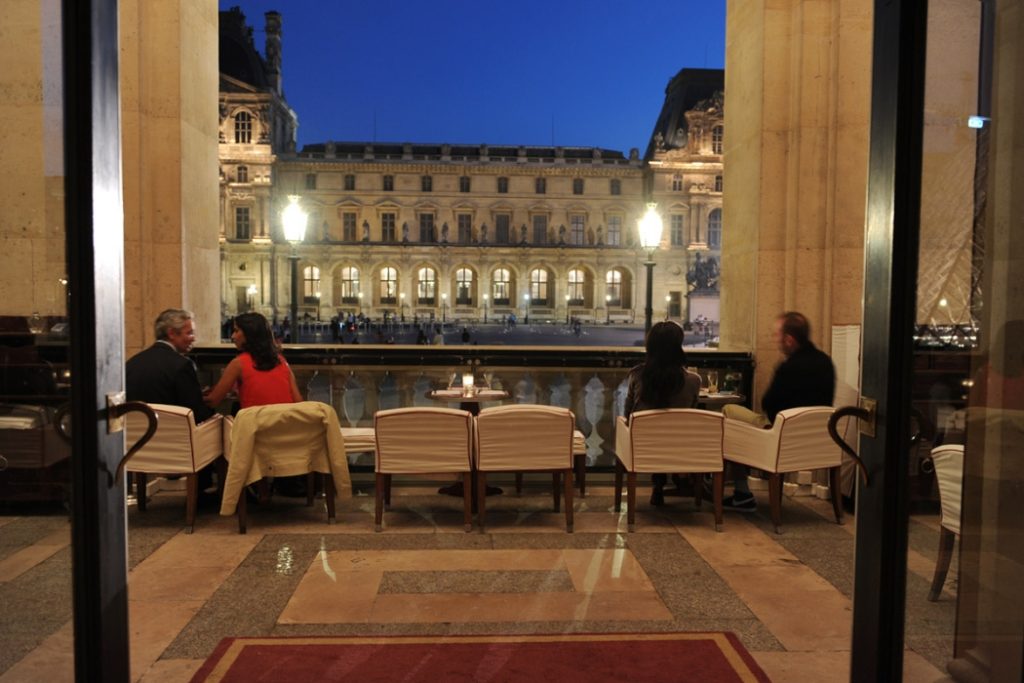 Cafe La Perle – this cafe bar, in the oh-so-chic "upper-Marais" doesn't close until 2am, and on weekdays opens at 6am. Its charm comes from a grass-roots "non-fussiness"; Perle is straightforward, egalitarian, and with a neighborhood feel that reflects the rag trade, artisans and bohemian character of the third arrondissement.
Carette – there are two branches of this marvelous Parisian institution, each with iconic placement and views.  The original cafe is on the Place du Trocadero, overlooking the Eiffel Tower. The second sits squarely in the Place des Vosges, the oldest square in Paris and the most perfect example of Louis XIII architecture. Both cafes attract a smart crowd–not only in their stylishness, but in their knowledge that the macaroons here are –for Parisians–the best in town, not those "other" brands that tourists go for.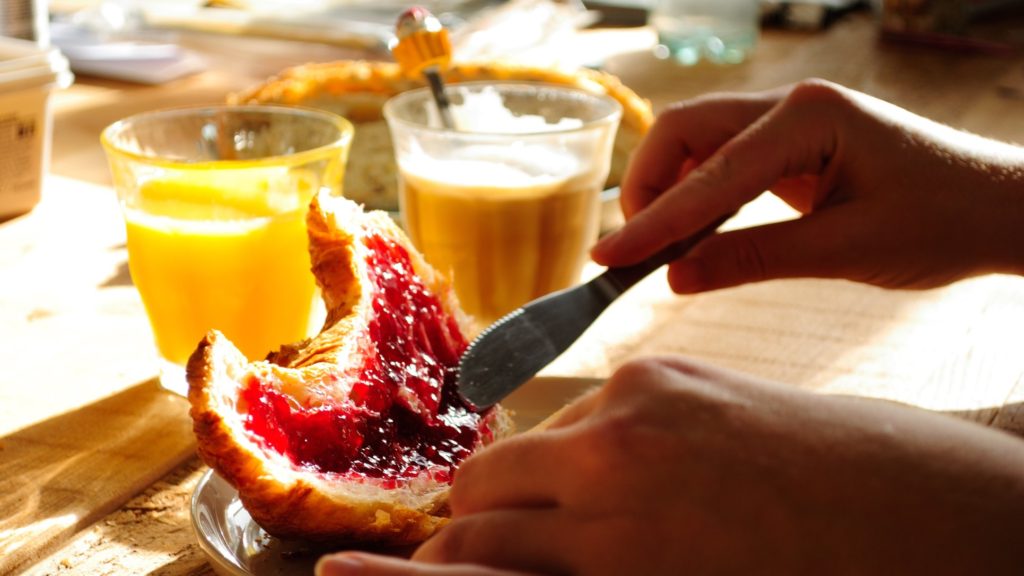 Cafes are part of the essence of Paris–there's a certain je ne sais quoi, a conviviality and enjoyment, that conspire together to create an atmosphere not to be found anywhere else.   The 1940's song by Dean Martin, captures it best:
"The last time I saw Paris
Her heart was warm and gay
I heard the laughter of her heart
In every street café."
A bientot!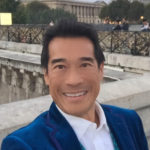 Luke Yang is a New Yorker who adopted Paris as his home over 30 years ago. A graduate of Columbia University and Harvard Business School, his career in France spans finance, strategy consulting and serving as CEO for General Electric Capital in France and Belgium. An inveterate traveler, he has visited over 74 countries and currently splits his time between Paris, Manhattan and Shanghai, but he's always most happy sipping a cafe crème and watching the Eiffel Tower sparkle!