Two hours in London: the best spots for a quick visit
All products are independently selected by our editors. If you buy something, we may earn an affiliate commission.
We've all been there: on a business trip, not much down time, in a sophisticated beautiful city that we long to go explore. What to do with only two hours to spare? We always ask our local work colleagues what we should do if we have a precious couple of hours to sneak out and experience at least a taste of what their city has to offer. Now we're sharing those ideas with you – so that even if you have only 120 minutes, you can still have a meaningful immersion in the life of a great city. These are the best spots for a quick visit if you have only two hours in London. We promise, you'll be back for your next meeting on time.
Two Hours in . . .
In our Power Up series, Two Hours in . . . we give you 10 ideas for quick cultural jaunts that will leave you feeling inspired, informed and refreshed if you're on a business trip and really pressed for time. We sought out unique and authentic experiences that are enjoyable and energizing. And unless the traffic is horrible (which sometimes it is), you'll have no problem being back in the office in time for your next meeting.
In this edition of Two Hours in . . . we profile London, one of the best cities on earth. Every time we go there, we try to see something new – it's impossible to see everything, but we're on a mission to get as close as we can.
And if you're keen for more, check out what to do with two hours in Hong Kong and Seattle.
the best spots for a quick visit in London
Here are 10 places we think are worth a fly-by visit on your next business trip to London. And if you have more time, by all means, linger. These are even better stops when you're at leisure.
1. The Victoria & Albert Museum
Like so many of life's true luxuries, a visit to The V&A is free, and you could spend days here if you were inclined to see everything on display. The intention of the collection is to allow visitors to "journey through 5000 years of human creativity."
The happy news is that in two hours or less, you can see a number of the high points. We recommend the Great Bed of Ware from 1590; the model of the ornate State Coach from 1760 used by King George III and the Royal Family (which was built to demonstrate Britain's international power); and the paintings by John Constable and Joseph Mallord William Turner.
Also the original print fabrics from famed interior decorator William Morris; and the replica of the glass house from the Great Exhibition of 1851 in Hyde Park. It was the first "world's fair" – officially opened that year on May 1 by Queen Victoria, who later wrote "it was the happiest, proudest day of my life."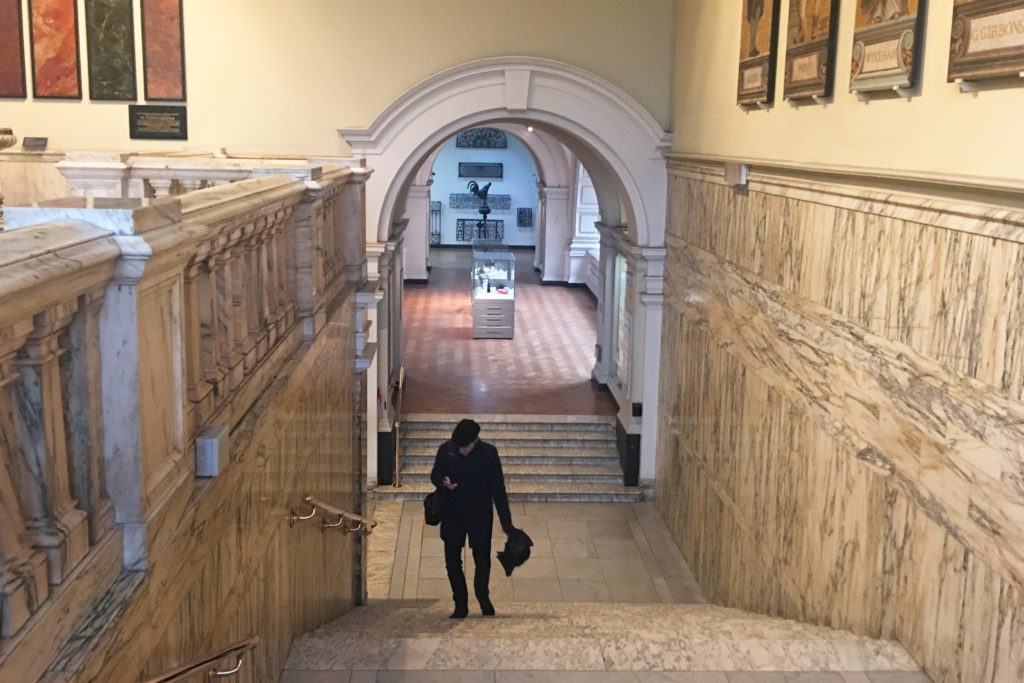 2. The Tate Modern
The soaring Tate Modern museum of international modern and contemporary art on the banks of the Thames in London also has free admission, and the building itself is a provocative and stimulating work of art.
One don't-miss section in the permanent collection is entitled In the Studio  – it includes depictions of artists' studios as well as abstract works that draw attention to the complex nature of perception. You'll find works by British sculptor Antony Gormley; Pierre Bonnard; Mark Rothko; and Bridget Riley. The Media Networks galleries are also provocative and intellectually stimulating: the works in this section explore the ways in which artists over the past hundred years have responded to the impact of mass media and changes in technology.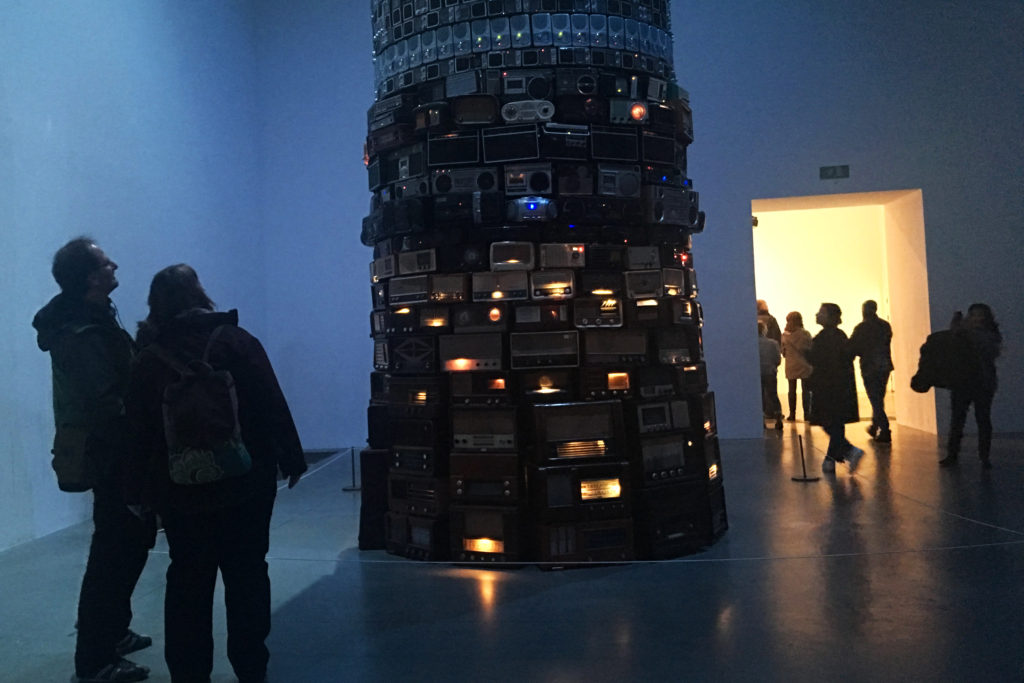 3. The Sky Garden
Sitting atop 20 Fenchurch Street – also known as the "Walkie Talkie" – the Sky Garden is exactly what the name implies: a three-story rooftop aerie filled with tropical flowers, ferns, plants and trees with panoramic views of London. If the weather is foul, it's a particularly ideal place for an hour-long break from the office.
You can see for miles, and if there's any natural light available, it will pour through the glass ceiling. Other than the Shard, this is the highest vantage point from which the public can see the city, and it's a great way to get acclimated if you're a first-time visitor – or one who loves architecture, as you'll be able to see the marvelous skyline of London in a totally new way. There are places to grab a quick bite, too, so you can return to work feeling fortified and refreshed.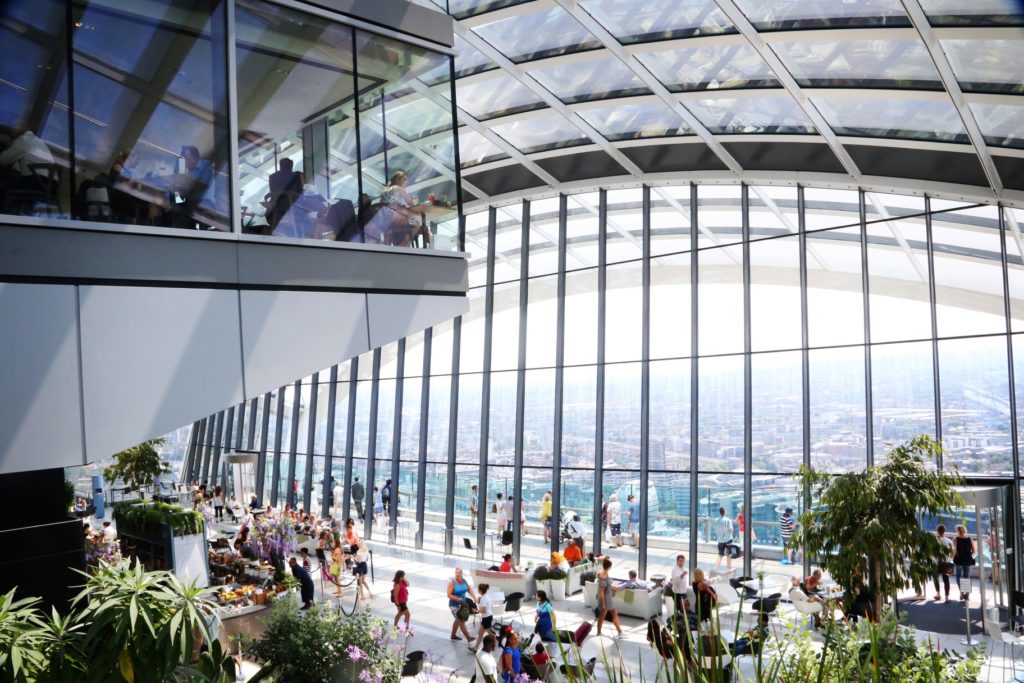 4. Leadenhall Market
Leadenhall Market is a covered market located on Gracechurch Street in the City of London. It dates back to the 14th century, and is situated in what was the center of "Roman London" (and referred to as Londinium). Originally a meat, poultry and game market, it's now home to a number of boutique retailers, restaurants, cafes, wine bars and an excellent pub. If you're in the mood for old London atmosphere with modern amenities and shopping, definitely beat a path to this place.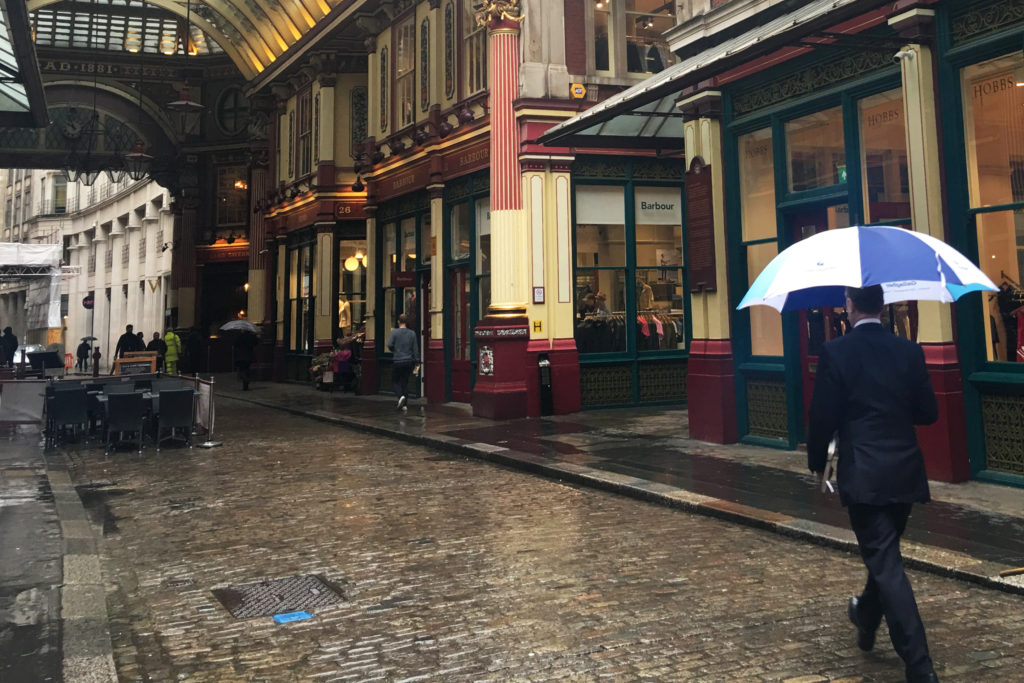 5. The London Eye
The London Eye may be a surprise entry on this list for the sophisticated reader, but trust us, it belongs on this list. Corny? Maybe. Touristy? Undoubtedly. But it's also great fun, and the perfect way to acclimate yourself to the historic icons of London in a short amount of time. The first time we rode it, we were dragged reluctantly. We loved it. Bet you will, too (just be sure to purchase Fast Track tickets online before you go).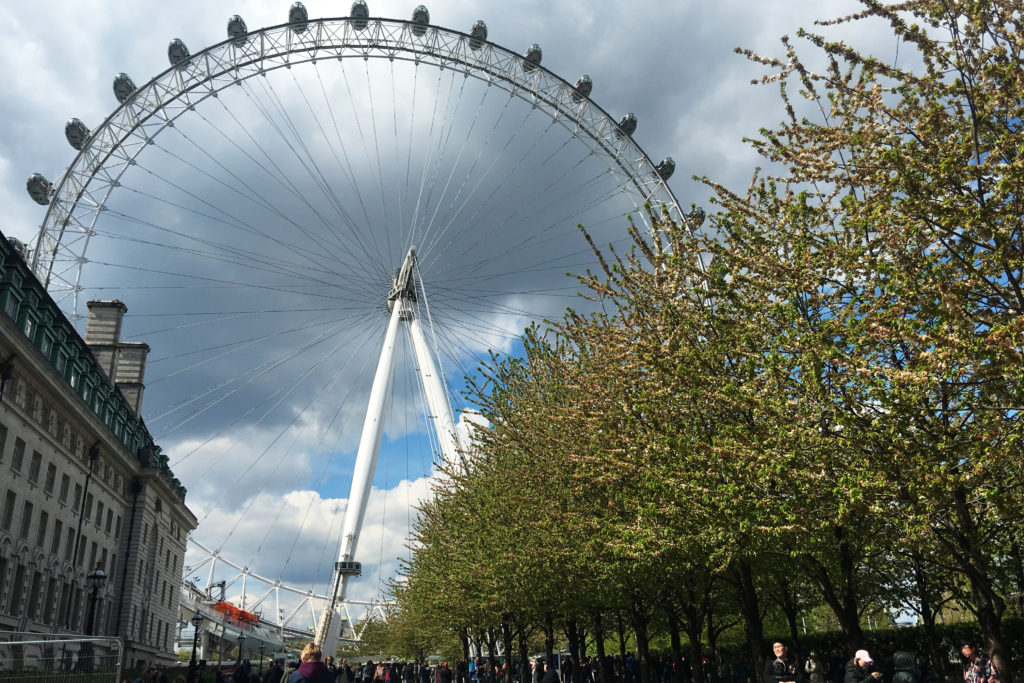 6. High Tea
The are so many places for high tea in London, it's difficult to say which is best. There's the iconic Claridge's; the cheeky Sketch; and the discreet Beaumont (which we recently discovered). For this list, though, we suggest high tea at the Goring Hotel.
The 5-star Goring Hotel in Belgravia is one of our absolutely most favorite places to stay in the world: charming, gracious, and oh-so-British, but in a wry and stylish way. The hotel is famous for many things — including being the closest hotel to Buckingham Palace, and the place where the future Duchess of Cambridge spent the night before her wedding. It's also known for its fabulous tea. If you only have an hour, and you want an authentic British High Tea, this is your place.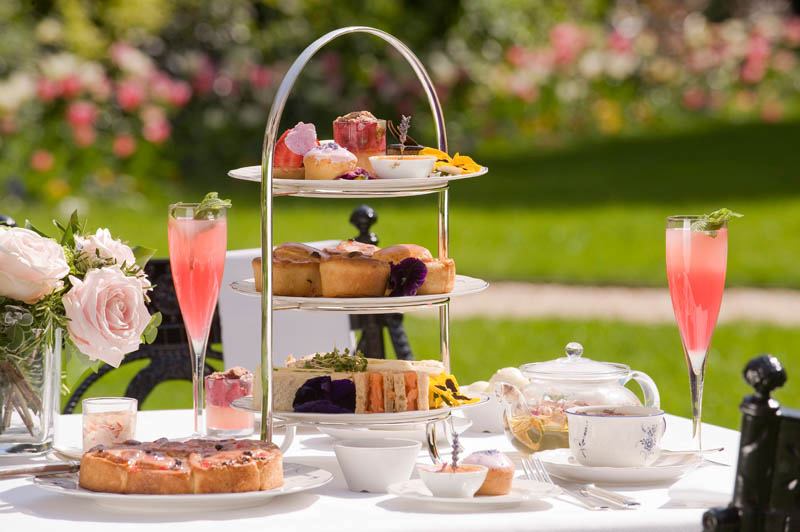 7. A walk in the park
One of the loveliest ways to experience London is by taking a walk through St. James Park. If you have time before or after tea at the Goring, take a stroll through neighboring St. James Park, which is only 8-10 minutes away on foot.
It's our best-loved of all the public gardens and parks in London, in part because it's of manageable size. One of the Royal Parks, it runs along The Mall and Horse Guards Parade, and is surrounded by iconic landmarks like Buckingham Palace, Clarence House and Whitehall.
If you spend even 20 minutes wandering its pathways, stopping to look at the water fowl on Pelican Island, you'll have soaked in some of the splendor of London (and hopefully some sun, too). The flowers and ancient trees make for wonderful views — and every time we're there, we see at least one black swan.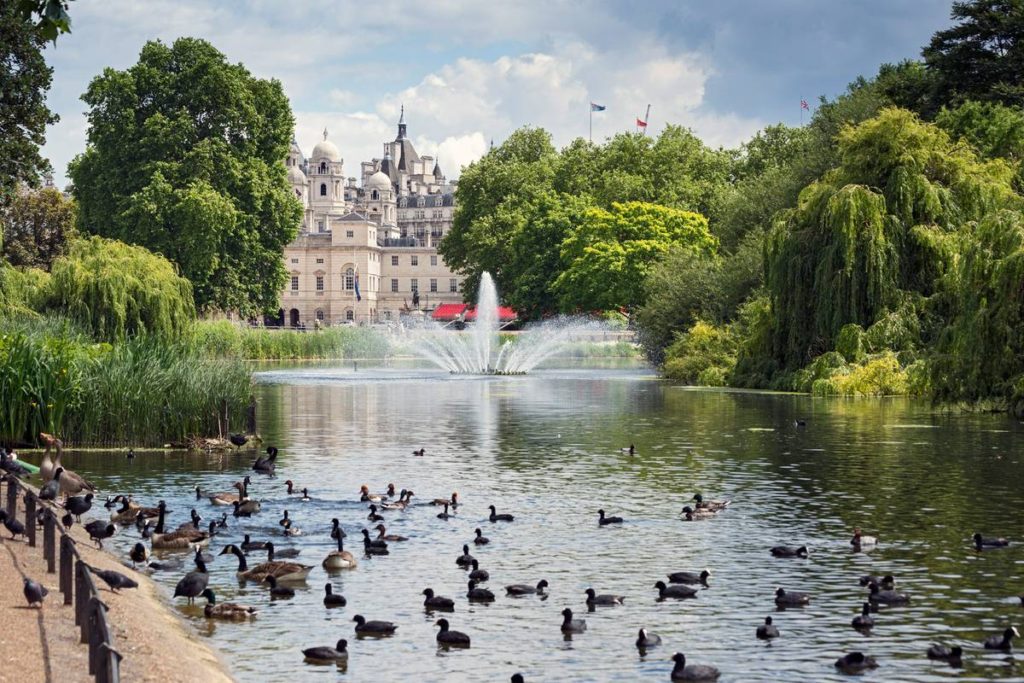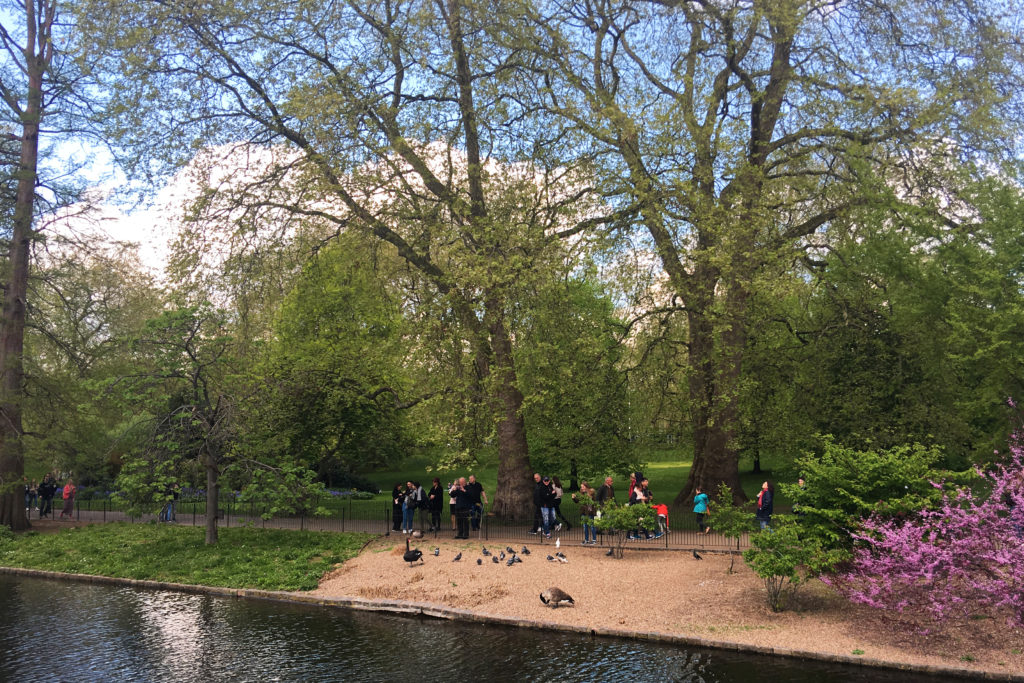 8. Bankside
Bankside encompasses the Thames River bank in Central London, and it's home to many of the most-photographed and famous London institutions – it's one of the oldest parts of the city and has a magnetic pull on visitors.
Here, you'll find the Tate Modern, which is housed in the former Bankside Power Station, along with Shakespeare's Globe and Borough Market.
You can also walk across the Millennium Bridge, which is one of the most notable in the world. You can continue walking the river bank to London Bridge, from whose span you can see the Tower Bridge and the Tower of London, as well as The Shard. Or you can head back to the office after some people-watching or a quick drink on one of the many restaurant terraces along the way.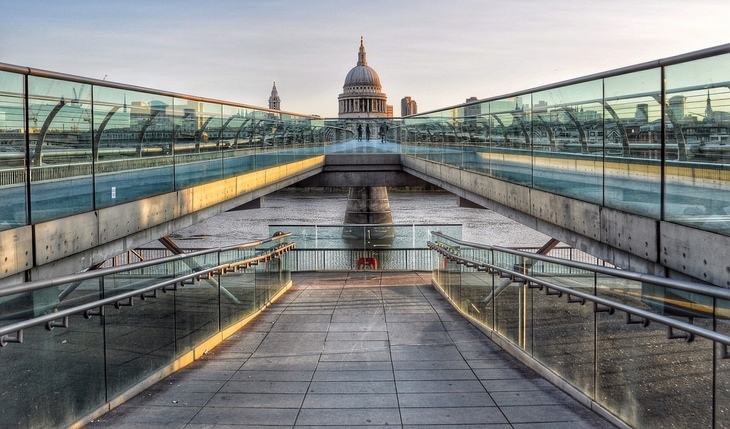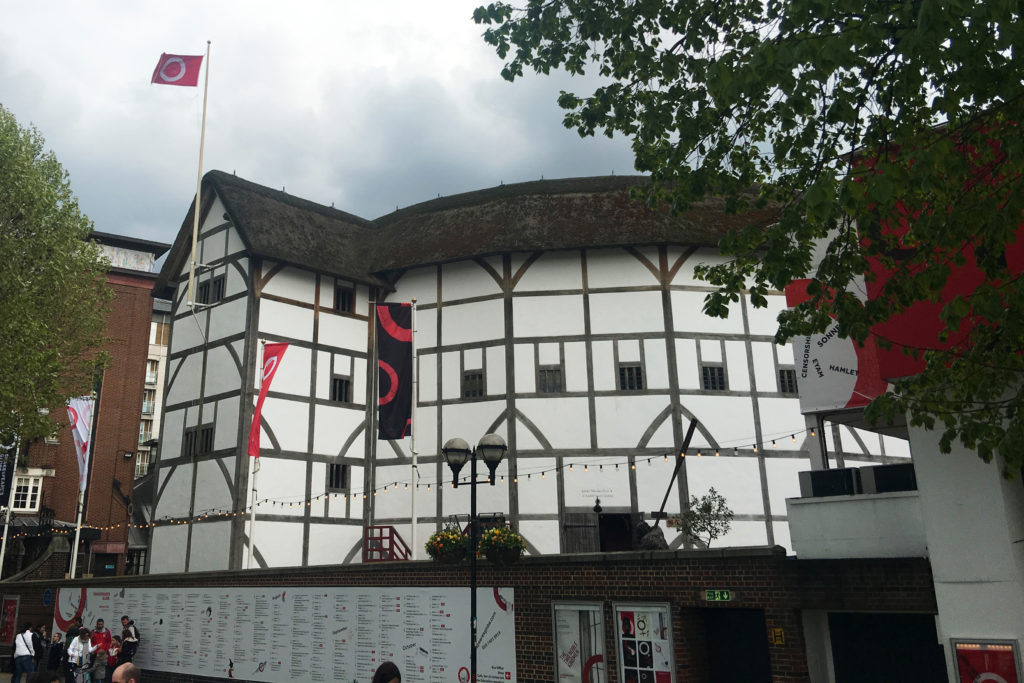 9. Cocktails or dinner at The Shard
After our first overnight stay at the Shangri-La at The Shard, we can never see London quite the same way again. The views are incredible, especially at sunset. You can have a cocktail or dinner at one of the two restaurants at the Shangri-La, or you can visit the Aqua Shard restaurant — which has its own separate entrance at ground level. Both are swanky and good fun, and the drama of the views is really transporting.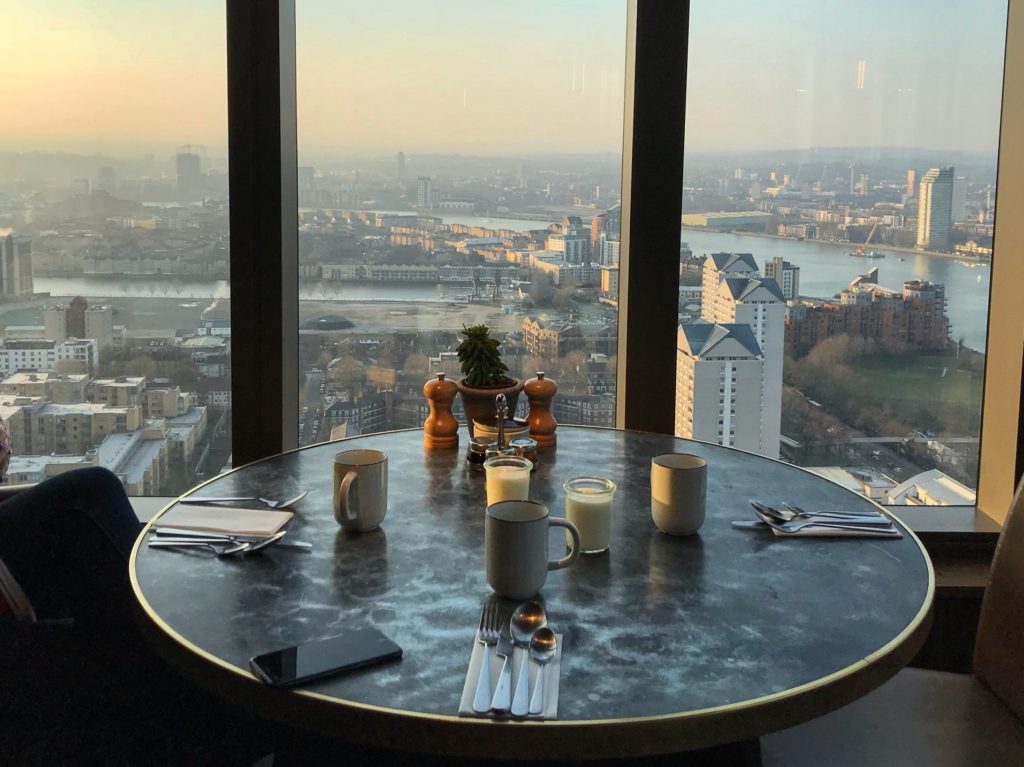 10. The Churchill War Rooms
Last, but certainly not least, we highly recommend a visit to the Churchill War Rooms. Hidden beneath the streets of Westminster, this was the site of the underground nerve center where Winston Churchill and his inner circle directed the Second World War, safe from the German bombing raids.
Many of the rooms and corridors remain intact and preserved as they were when in use during the War – you can see the phones, the chairs and even the uniforms used by Churchill and his team. 90 minutes is the recommended length of a visit, but if you're a history buff, you'll want to linger much longer. It's a deeply moving and inspiring experience.
factor traffic into your planning
The big caveat about all of these destinations is that you need to factor in the traffic in London, which seems to get worse all the time. If at all possible, definitely take the Tube or go on foot. You've got a much better shot at enjoying your side excursion from the office if you're not stuck and stressed out in traffic.
That's it – our picks of the best spots for a quick visit in London.
Enjoy! And let us know what other places you'd add to this list. We all need the inside scoop on how to have just a taste of London, even if we're hungry for much more.
see luxury in a new light
Come and join our community! For a weekly round-up of insider ideas and information on the world of luxury, sign up for our Dandelion Chandelier Sunday Read here. And see luxury in a new light.
power up
For a weekly dose of career insights and ideas, sign up for our Sunday newsletter, Power Up, here.