The new school year is underway: you've picked your classes, been to a tailgate and a football game or two, and maybe you're even sporting some new fall wardrobe items.  But how are you feeling about your dorm room decor? If you're like us, you bought or borrowed a bunch of used stuff from other students, friends, or family members. Which is totally fine. But if you're feeling the need for an upgrade, fear not. It's fine to live in a space for a couple of weeks, see what's working for you (and your roommate), and then adjust. If you're a few weeks into the semester and already ready to redecorate, we got you.
While living in a small shared space means having some practical (and preferably multi-purpose) items for storage, sleeping and snack time (we're looking at you, mini fridge), there's no reason that you can't simultaneously create a cool space — even on a student budget. We've done some prowling around, and found some ideas and inspirations to help you get going. All of our picks are available online for delivery right to your campus mail room – no car needed.
Here are five easy and relatively affordable ways to upgrade your living space this year:
1. Build a better bed: Your bed is your personal oasis for relaxation and recovery from campus life, so why not ensure that every element of your bedding is just how you like it? Start with a good foundation: a set of luxuriously soft sheets. There are a handful of top-notch brands to check out, like Sferra and Brooklinen. To top it off, invest in a duvet in lieu of a comforter: not only are they easier to clean and care for, but with a duvet, you can change up the style as frequently as you like, based on your mood and the season. Want your bed to be extra fluffy? Stuff the duvet cover with not just one, but two duvet inserts for maximum cloud appeal.
Our picks:  Quality bedding basics are key, and it doesn't get any better than these Sferra Lucio Fitted Sheets in Twin XL ($285) or this easy-peasy all-in-one Brooklinen Luxe Core Sheet Set ($129) in buttery smooth sateen weave. For duvet covers, we like the breathability of this boho style Roller Rabbit Twin Jemina Duvet Cover ($175) and the clean neutral look of this percale Gingham Duvet Cover from Serena & Lily ($198).  If you prefer something more traditional, we like the Eastern Accent Scout Navy Duvet Cover ($495).
2. Create eye-catching walls: Just about every dorm room has posters on the wall – and if you're not careful, you'll end up with exactly the same ones on your wall as everyone else. Instead, why not make a statement by curating a unique set prints to create a gallery wall? If your school allows it, decorate one wall with a sheet of removable wallpaper or decals.  Not only will this brighten up the space, it'll make your room feel more like home, and less like a stark white box.
Our picks: We think if your college allows removable wallpaper, you should go all the way with something bold (and beautiful) like Hygge & West's Nana Tiles ($58) The B Darling Dark Green Wreath ($40.99) is just as unique, but a little more subtle as an option. If prints are more your speed, we love the selection from Kate Spade including their The Coast is Clear Print ($595). Other picks include the NYC Skyline Grand Canvas Wall Tapestry by RH Teen ($659) and these Zapotec Wall Hangings by The Citizenry ($425), which are handmade in Oaxaca.
3. Layer it on: Whether you're studying, relaxing, or Netflix and chillin', you're going to want to do it in a space that's cozy and welcoming. And there's no easier way to do that than by adding some layers. Little additions like rugs, sheepskins, accent pillows and throw blankets go a long way toward warming up your space. So go ahead and cover up your room's existing carpeting (or cold linoleum floor) with a fun rug, and don't forget to throw in some throw pillows. Not only do they dress up a space, let's be honest — they also serve as great place for guests to crash.
Our picks: ABC Carpet & Home has an amazing selection of rugs in all shapes, sizes, fabrics and colors, including this beautiful New Zealand Sheepskin ($150) that can be draped over the back of your chair or put on the floor next to your bed so that every morning your feet hit something soft, instead of a hard cold floor. We also love this Vintage Chic Rug from PBDorm ($129 – $599) and this RH Teen Curly Wool Sheepskin Rug ($1,599 – $3,299). Other picks to up the hygge are beautiful soft cushions from Tom Dixon ($228) in a very on-trend ochre for fall, as well as colorful Missoni pillows and blankets like the Tancredi Throw ($522) and matching Tancredi Cushion ($188).
4. Let the light shine: Typically, dorm lighting only sets one mood: a somewhat anxious one. The typical overhead fluorescent lighting is not only harsh on the eyes, it's also disruptive of your sleep. So add at least one lamp with a warm-toned bulb, and use it at least an hour before heading to bed to create a sleep-friendly environment.
Our picks:  Did you know that the pineapple symbolizes friendship? So what better way to exude a welcoming vibe than with this Lilly Pulitzer x Pottery Barn Capiz Pineapple Lamp ($149)? Hit the books with this studious Lumio Book Lamp ($200) or have some fun with this Mouse Lamp by Seletti ($112). Instead of fairy lights on a string, upgrade to these RH Starry Night Letters ($89).  Or if you have room in a corner somewhere, we love this classic library-style Jonathan Adler Koleman Floor Lamp ($325).
5. Make your workspace work: A clean, well-organized and stylish workspace can lead to brilliant thoughts and more productive time spent studying. Go minimalist, so that your living space doesn't start to feel like an office. 'Cause that would just be wrong.
Our picks:  These CB2 Acrylic Desk Accessories ($7.99 – $39.95) will make everything in your workspace crystal clear. Their sleek minimalism makes a statement, while a Quirky Cord Organizer ($12.95) will keep you from getting twisted up in your work. Take notes in style with the Smythson Make It Happen Panama Notebook ($75) and keep your pens organized in this whimsical Tim Skull-Motif Leather Pencil Cup by Connor ($135).  While you may need a traditional printer for assignments and class notes, why not also have a printer for some fun things, too? Print your 'grams with the HP Sprocket Photo Printer ($129.95) right from your smartphone.
And there you have it – five easy ways to step up your dorm room game this year. Go forth and crush it!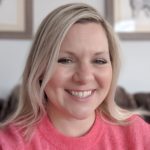 Jillian Tangen is the Head of Research at Dandelion Chandelier and a former Senior Research Analyst at McKinsey & Co and Analyst at Shearman & Sterling. She is an avid fan of Nordic design, having owned an independent lifestyle store and sales agency focused on emerging Scandinavian design. Jillian lives in NYC and is married with three young children and loves cross country skiing, the New York Rangers, reading, travel and discovering new brands.
Join our community
For access to insider ideas and information on the world of luxury, sign up for our Dandelion Chandelier newsletter. And see luxury in a new light.