The Best Bookstores in the World is an occasional series here at Dandelion Chandelier. As we roam the world, we love to check out the interesting bookstores in town. When we really love them, we'll share them with you. First up? A centuries old shop in the heart of Piccadilly in London. Not every bookstore gets the endorsement of the Queen. But not every bookstore is the original Hatchards.
Nestled in a bustling block of Piccadilly, right next to Fortnum and Mason, and across the street from the Royal Academy of Arts, Hatchards is one of the oldest booksellers in existence. London's oldest bookshop, it was established in 1797 by John Hatchard, and it has been a landmark ever since. The bookshop has occupied the same building, number 187 Piccadilly, for over two centuries.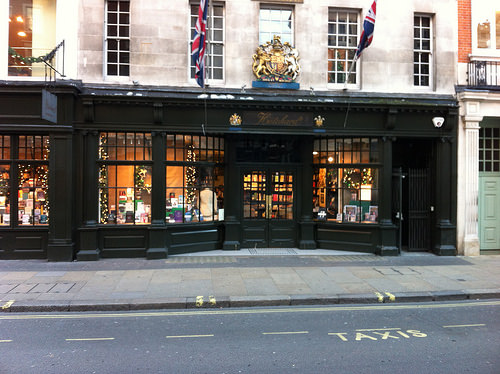 With its golden light level, spacious stacks spread across five floors, phenomenal selection in every possible category and highly knowledgeable sales staff, this is a dream of bookstore that invites you to linger and dream. Be warned: once you enter, you're going to want to stay a while.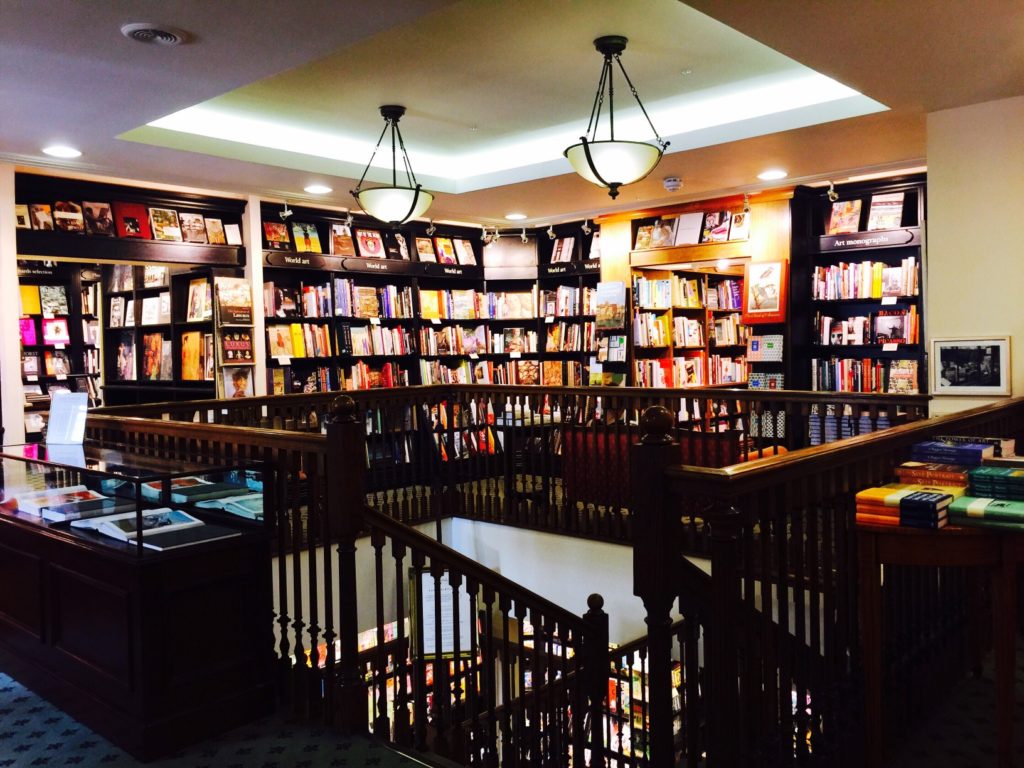 Our ace travel agent Judi from Virtuoso recommended this to us as a must-visit store in London, and she was spot-on. Hatchard's has three Royal Warrants from Her Majesty the Queen, and once you've wandered it's well-stocked and whimsical aisles, it'll have your vote, too.
If you're worried that such an old establishment is going to be fussy and stuck in the past, fear not. The vibe here is relaxed, and the selections are completely up to date. The history lends it a special air, and the dark wood shelves convey a deep respect for the dignity of books – but this not a museum of literature. It's a quirky, personal shopping experience that just happens to be centuries old. Whew!
The central staircase invites you to explore and start your treasure hunt.
The biggest dilemma is where to start. We went straight for the novels, as we always do. As Hatchard's helpfully reminds us, we're not alone in this passion; we noted the G.K. Chesterton quote the store showcases: "Literature is a luxury; fiction is a necessity."
Suffice it to say, there are lots of novels from which to choose.
How cool to see one of our Best Books of 2017 in a prominent place on the shelves here: Whatever Happened to Interracial Love? by Kathleen Collins.
One of the many charming elements of Hatchards is the quotes from notable authors that grace the tables all over the store. Because they're written out by a carefully scripted hand, they feel personal and very much of this place, as opposed to the generic messages that so often litter retail stores.
The cookbook selection is a smorgasbord that was hard to tear ourselves away from.
Ditto the art section. We love that the books are displayed on mahogany tables with pedestal legs, and there's a sofa where you can settle in and read if you like. It reinforces the feeling that you're in the home of a particularly literate auntie or uncle who really loves books.
There are flowers and potted plants nestled throughout the shop – of course the gardening section features a particularly prominent arrangement.
During our visit, most people were in the store alone, lost in thought or deep in perusal of the offerings on display. It was mercifully quiet and calm – like a library, only better.
There are lots of interesting services provided by Hatchards, including the creation of bespoke libraries and a monthly curated subscription so that you can receive recommended reads straight from the store to locations worldwide.
So if you want to take a bit of London home with you, or stay connected on an ongoing basis, here's one way to do it. And if anyone is looking for a holiday gift for us, this would be just fine. Just wanted to point that out.
There are also numerous in-store events, like author signings and lectures. Plus signed copies and first editions of many titles.
In 2014, Hatchards opened a shop in St. Pancras International, also right next door to Fortnum and Mason. So you can check them out there, too, if you're passing through.
Happy reading, all!