Love Pasta? Our Review of Restaurant Misi in New York
All products are independently selected by our editors. If you buy something, we may earn an affiliate commission.
This year's most talked about New York City opening has to be Missy Robbins' new pasta-centric restaurant, Misi, which recently opened its doors in Williamsburg, Brooklyn. We made the pilgrimage, first for "Friends and Family," and then again during the first week. Here's our review of Misi restaurant New York. The bottom line? For our money, this is the best pasta restaurant in New York City. And when it comes to pasta, we don't mess around.
our review of misi new york city
Missy Robbins, proprietor and Chef of the popular Williamsburg Italian restaurant Lilia, is already a star in the foodie universe: since opening Lilia two years ago with partner Sean Feeney, Robbins has scored a James Beard Award for best chef in NYC, three stars from the Times, two stars from Eater, and an Eater chef of the year award.
Her sophomore effort is focused on one of the greatest joys of life: pasta, perfectly prepared. Here's our review of Misi, a restaurant that we predict many will swoon for.
the location
In the shadow of the Williamsburg Bridge in Brooklyn lies an unassuming and austere establishment with rough copper cladding on its exterior. Restaurant Misi blends in seamlessly with the streetscape, drawing no attention to itself at all.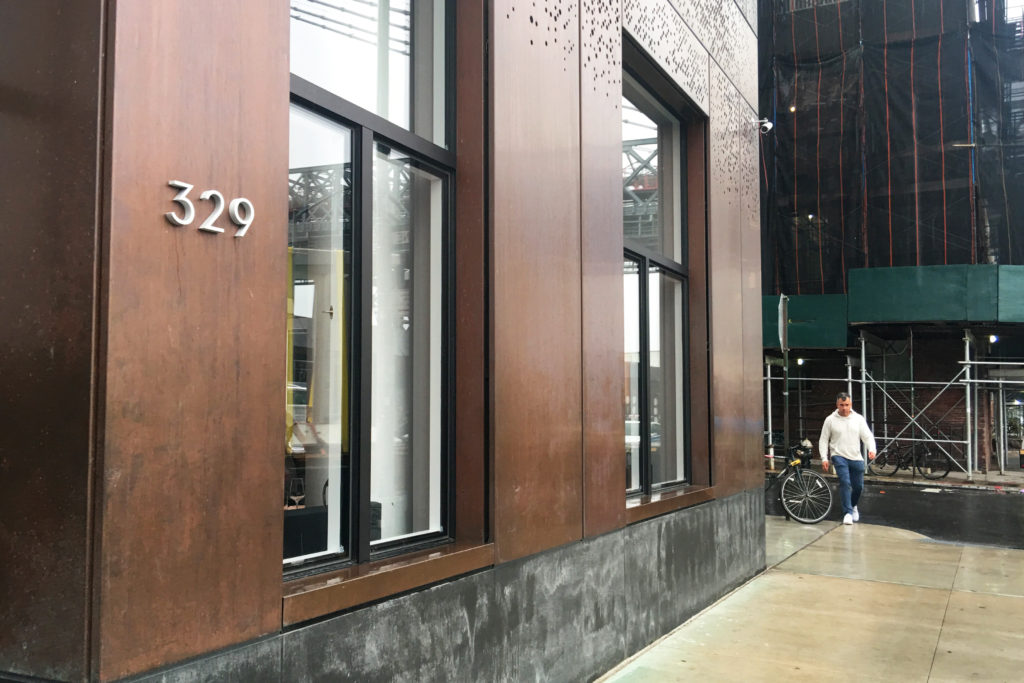 Except for the Theater of Pasta.
the decor
the theater of pasta
On one side of the new pasta and veg restaurant Misi, there's a floor-to-ceiling window providing a panoramic view of the Pasta Room – the place where the foundation of the 10 different pastas on the menu are created.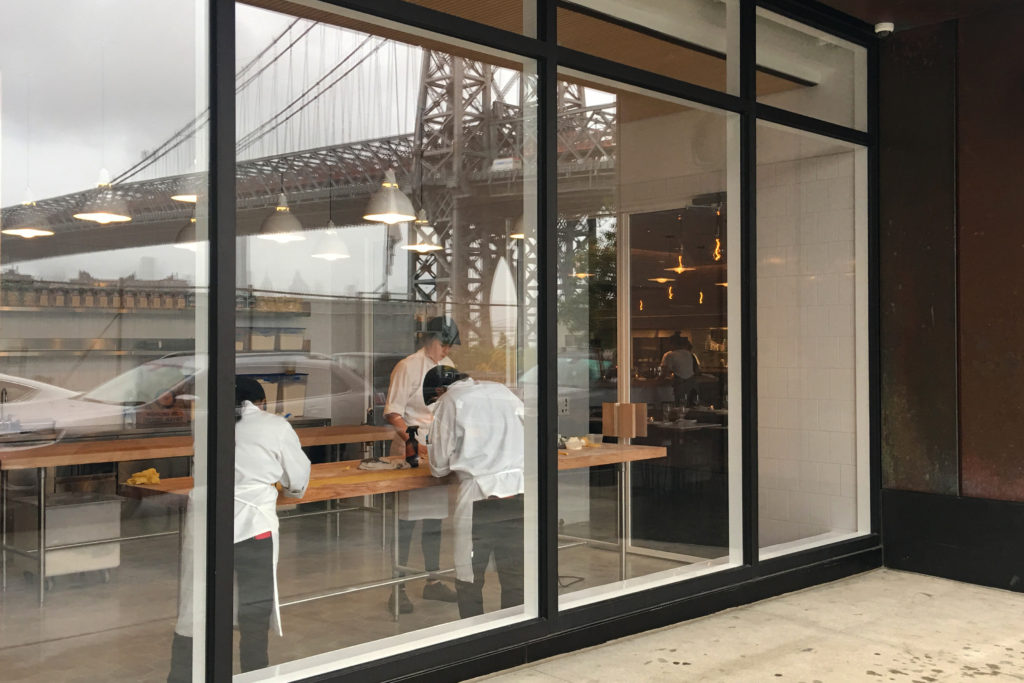 Passersby can watch the show at their leisure: several chefs rolling and cutting sheets of pasta that are set on large trays to dry, and then transformed into incredibly delicious entrees.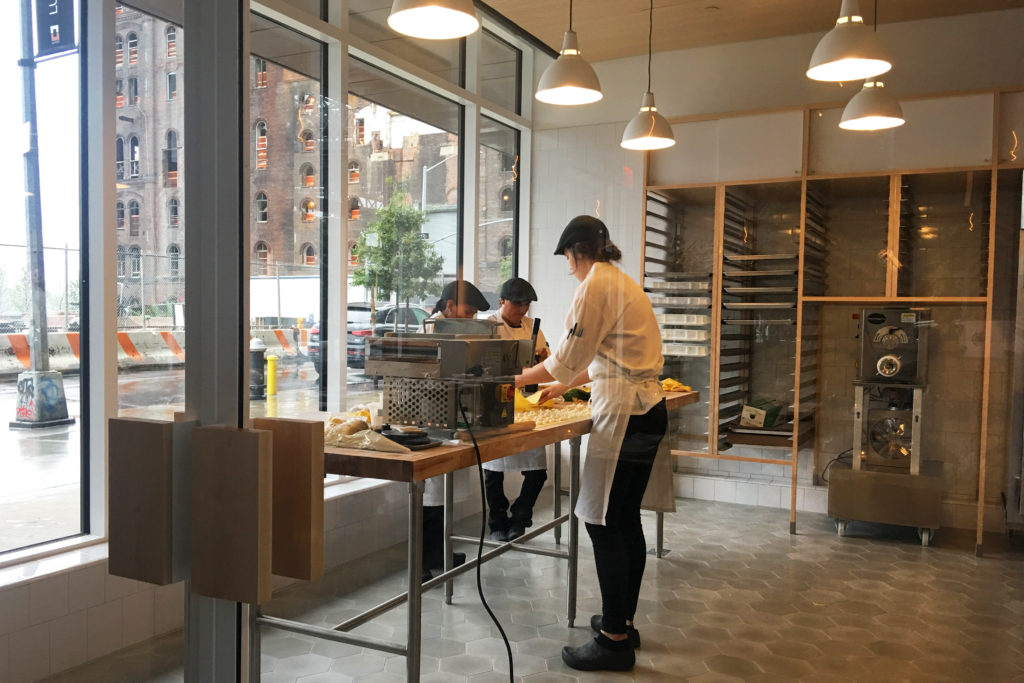 a showcase for the fine art of pasta-making
There are more kinds of pasta waiting to be deployed than we'd personally ever seen before.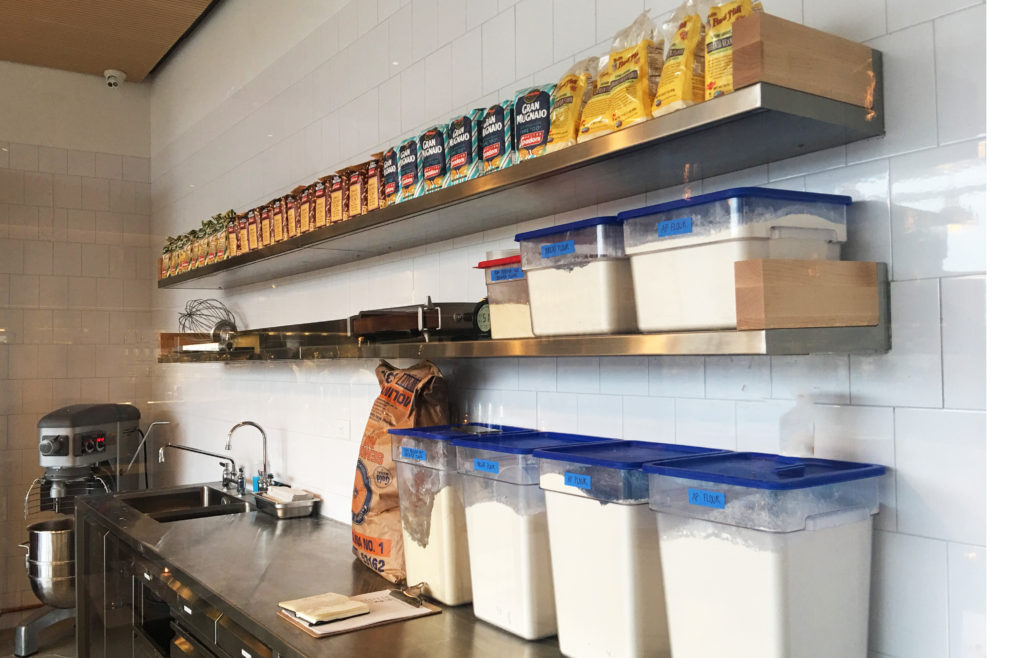 If there's a Willy Wonka factory for pasta, this is definitely it.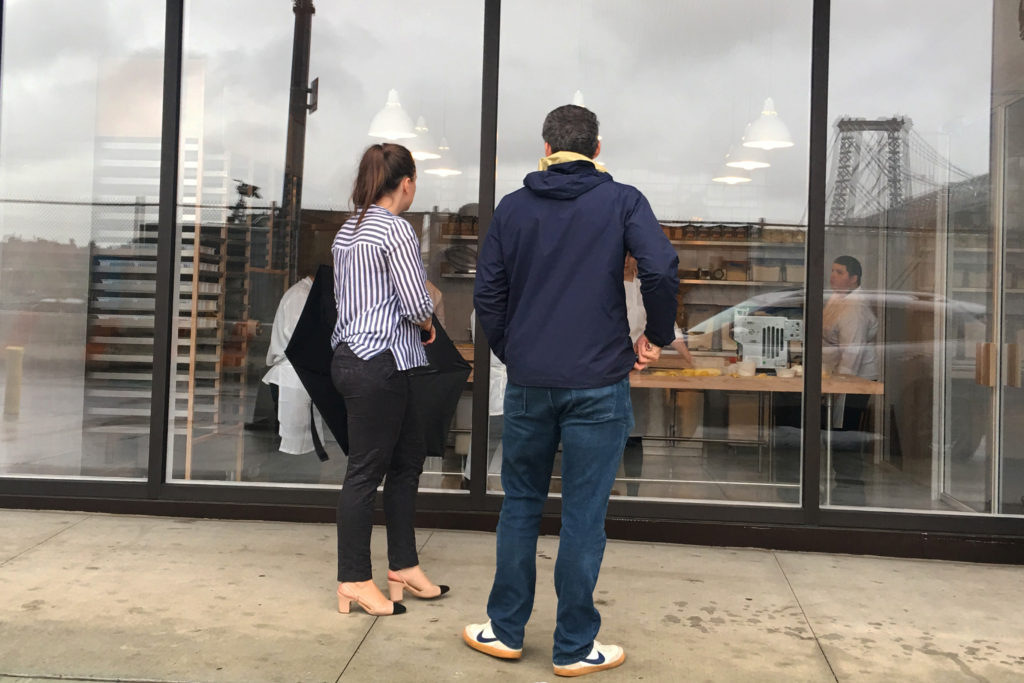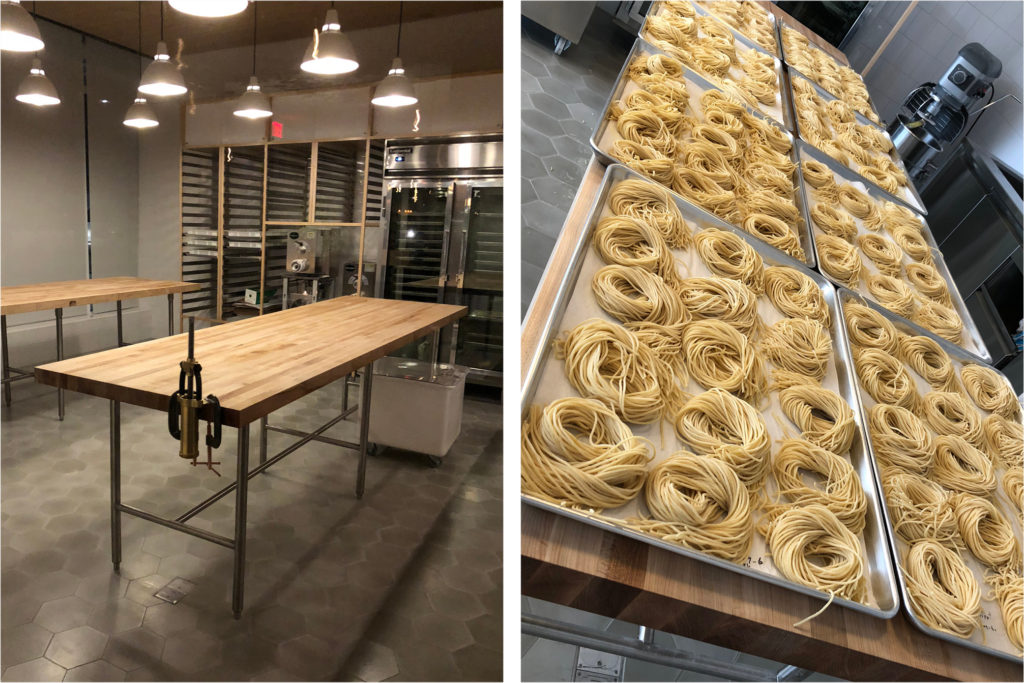 a cozy-chic interior
Once you step through the door, you're greeted with a sleek minimalist space – warmed up with golden lights and a bustling open kitchen.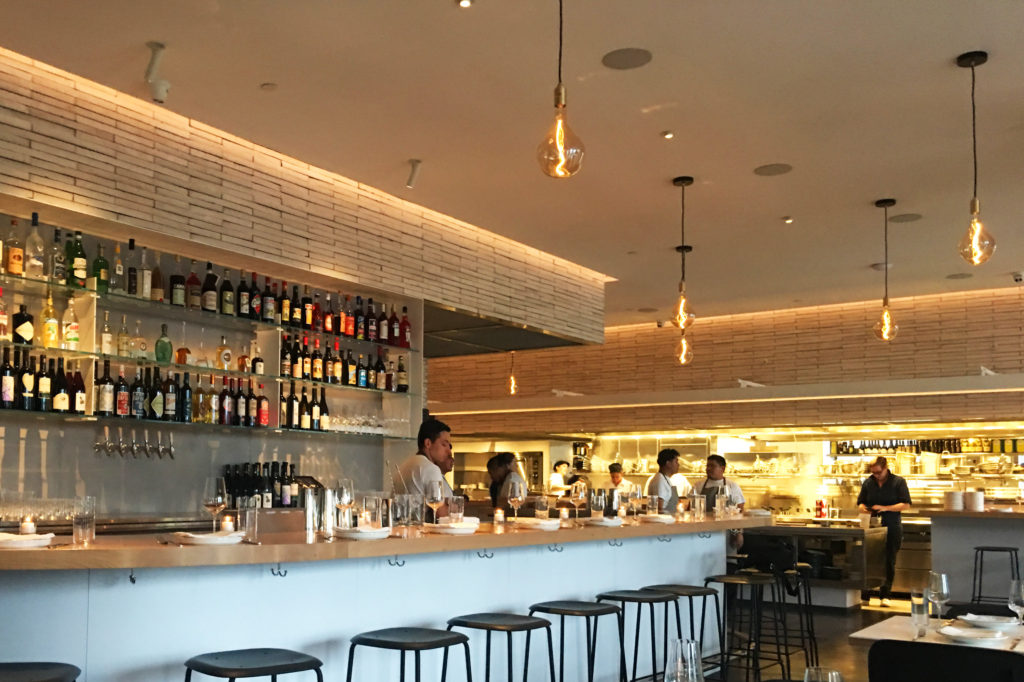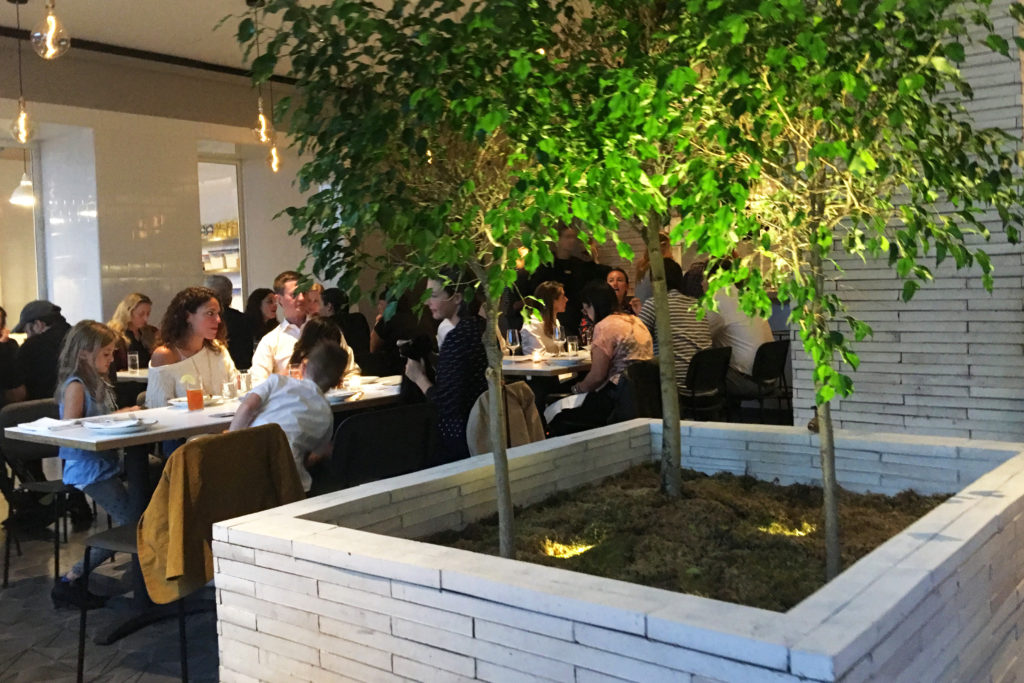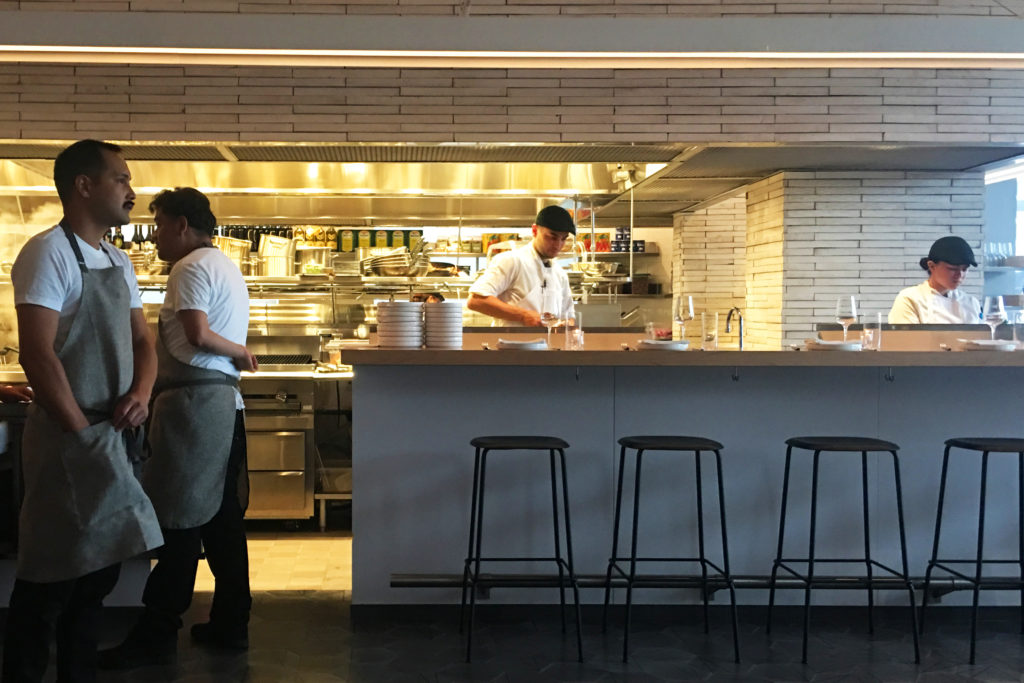 the crowd and the vibe
Half of the seats are either at the bar or facing the kitchen, so the vibe is casual and relaxed – we saw some diners perched on stools, tapping on smartphones or laptops, multi-tasking like any good New Yorker would. There were also families with young kids, groups of friends, and a couple of after-work gatherings (at least from what we could tell). It's a noisy, happy crowd.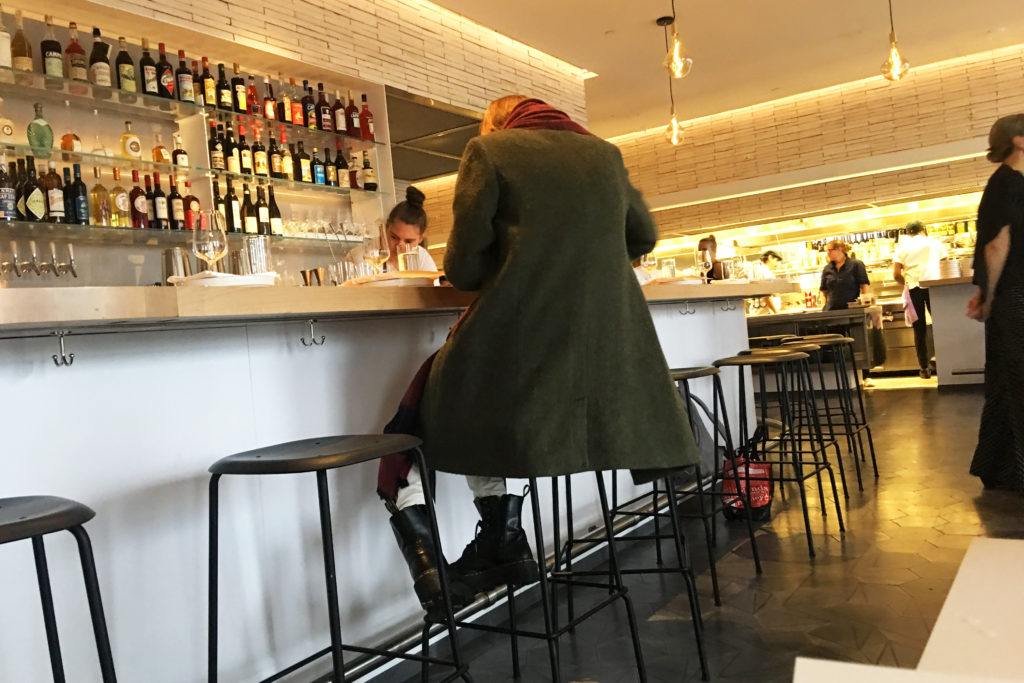 but what about the food?
our food editor's take
Our Food Editor Nicole Douillet has the inside track on everything related to restaurants, and she was invited to the soft opening of Misi a week and a half ago. Here's what she has to say:
friends and family
"As a longtime fan of Missy's cooking, dating to her days at A Voce a decade ago, I was thrilled to taste her latest work during the restaurant's "Friends and Family." Friends and Family is a way for new restaurants to flex their muscles before opening their doors to the public. 10 dishes later, I can confirm that the early praise is well-deserved."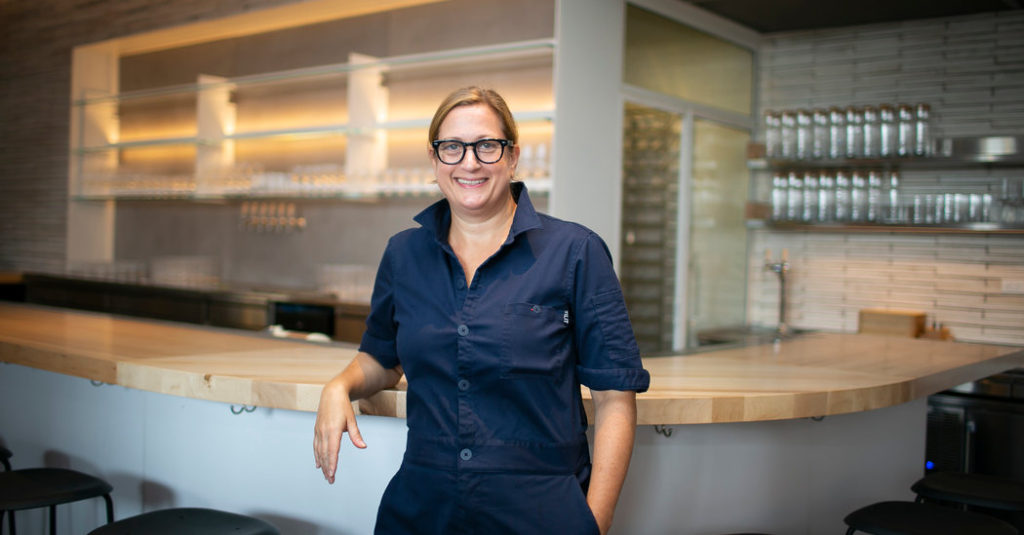 vegetable-forward
Nicole continues: "Everything we ate was delicious. The staff was knowledgeable and friendly, and the space is gorgeous. The menu is divided into vegetables and pastas. We started with four from the former category, and while the artichokes, peppery greens, and radicchio were all very good, the summer beans were addictively delicious. A friend at another table snuck me a bite of the slow roasted tomatoes, and I think we may have missed out by not also ordering those. Next time."
"the fettuccine has haunted my dreams"
Friends and family night means lots of sharing, so our Food Editor got to sample lots of entrees: "From there, we ordered six pastas which our server coursed out in two 3-dish courses. As with the vegetables, all of the pastas were excellent, but the fettuccine has haunted my dreams for the last two nights. If you grew up in a house where Fettuccine Alfredo was the dinner party go-to dish, the first bite will bring you back to those '80s or '90s dinner parties. But then you'll instantly realize that your mom's pasta doesn't hold a candle to this dish. It will ruin Alfredo for you (sorry Mom!)."
"This dish of pasta and butter and cheese is impossibly delicate. The noodles are paper thin, and very long – I counted 18 turns of the fork to fully twirl one noodle. They hold up to the silky, cheesy sauce perfectly. Our table also loved the corzetti with sun gold tomatoes, the chickpea pappardelle, malloreddus with clams, the light and delicious tortelli filled with spinach and mascarpone."
gelato four ways
"We capped off our meal with all four gelato flavors. I personally thought the olive oil and coffee were best (not entirely surprising given my penchant for coffee flavored frozen anything), but my wife can't stop talking about the fior di latte and the chocolate was a favorite of our other dining companions. Needless to say, all four were excellent."
our first visit
After getting that incredibly positive early word from Nicole, we had dinner at Misi on Day 3 of its official opening, and we can offer a similarly glowing report. We brought our Staff Photographer, the lover of all things steak, with us – we figured if he left happy, we knew this place was onto something.
the drinks
We started with a glass of red from the tightly edited wine list — there are also seven specialty cocktails (and one mocktail – lemonade – which we also ordered).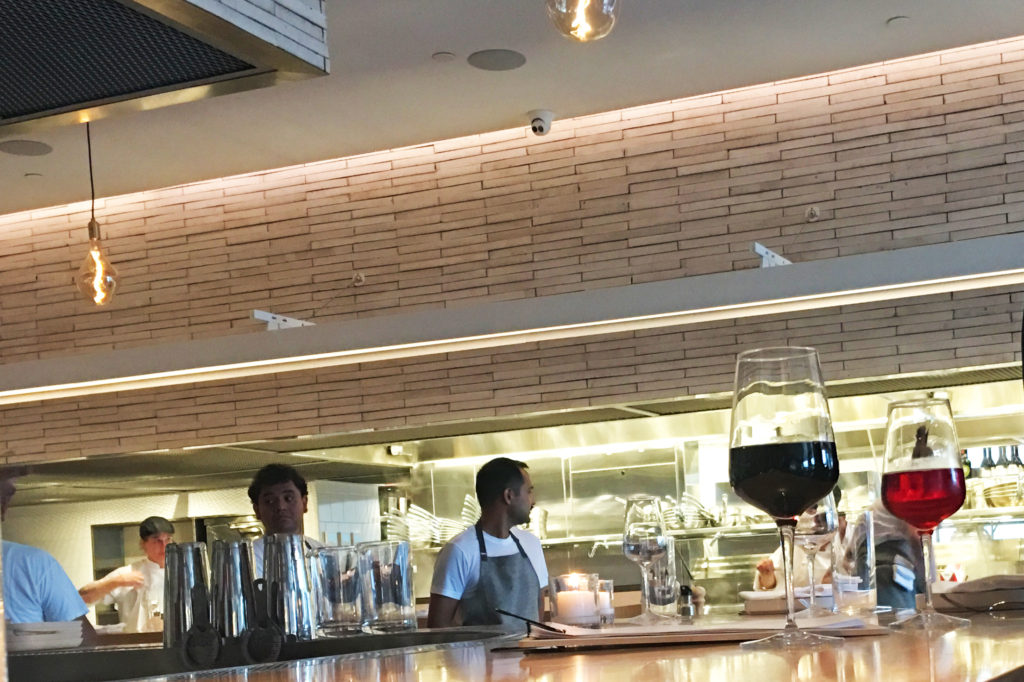 As we sipped our drinks, the Staff Photographer sniffed at the appetizer menu, asking in a plaintive tone "where's the meat?" Well, our kind waiter explained, the closest thing to animal protein as a starter is the baby broccoli rabe with arugula, watercress, pancetta bits and warm pancetta vinaigrette. We ordered that, along with the grilled baby artichokes dressed with mint salsa verde.
the appetizers
When they arrived, the Staff Photographer took a bite of the artichokes, and his face lit up. "This is really good!" He proceeded to eat most of our portion, while we happily polished off the baby broccoli rabe, which could accurately be described as a bacon salad. So. Good. Light, refreshing, and with a real snap of flavor. A very promising start to the meal.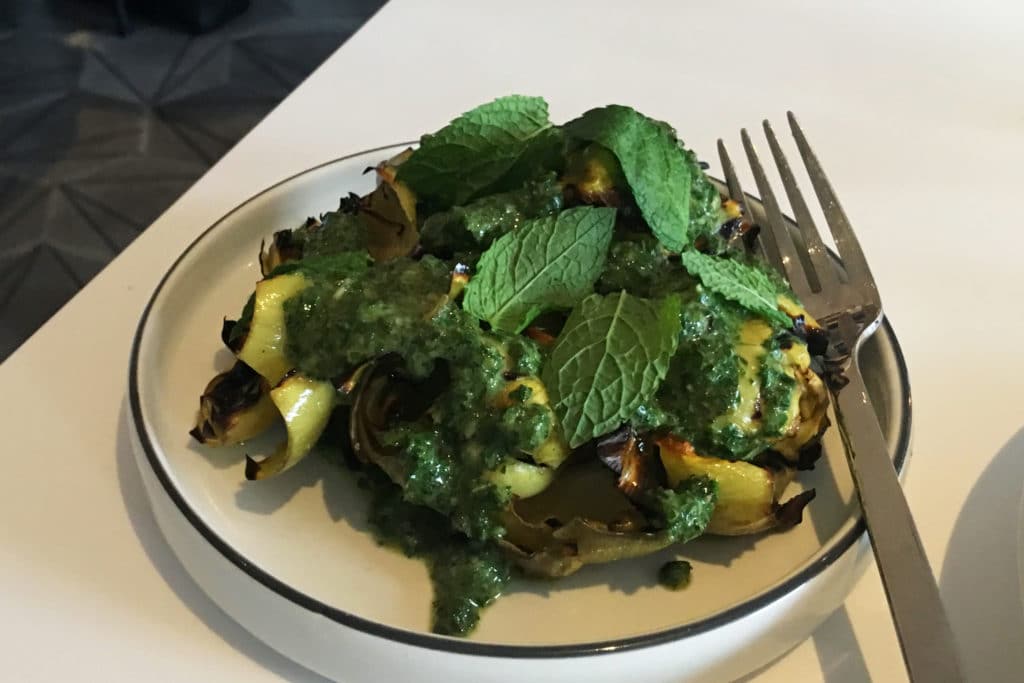 the pastas
Then came the pastas. The Staff Photographer went for the only meaty option, the strangozzo with pork sugo, nutmeg and parmigiano. We opted for the spinach and mascarpone-filled tortelli with brown butter and ricotta salata. And we agreed to share a bowl of the fettuccine.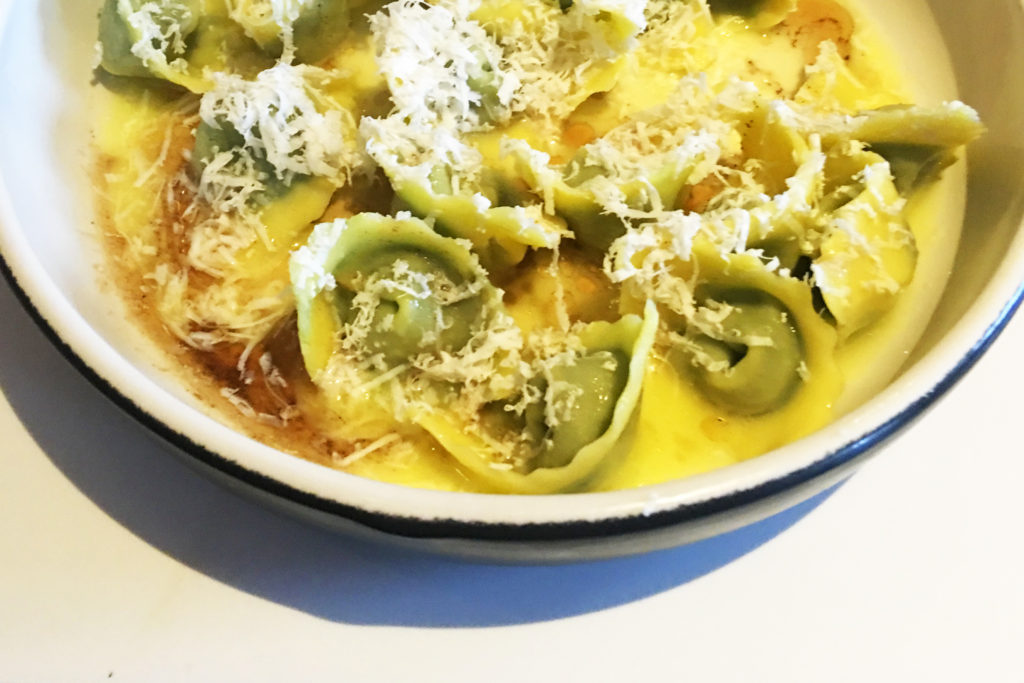 Our companion devoured his strangozzo; meanwhile, we fell into a state of bliss after the first bite of our tortelli. It was somehow both light and rich – creamy, buttery, and extremely delicious.
fettuccine rules
But dear reader, the star of this show is the fettuccine with buffalo butter, solo di bruna parmigiano, and black pepper – if you go, you must order it. In fact, you should probably order your own portion, because you're going to be really loath to share it.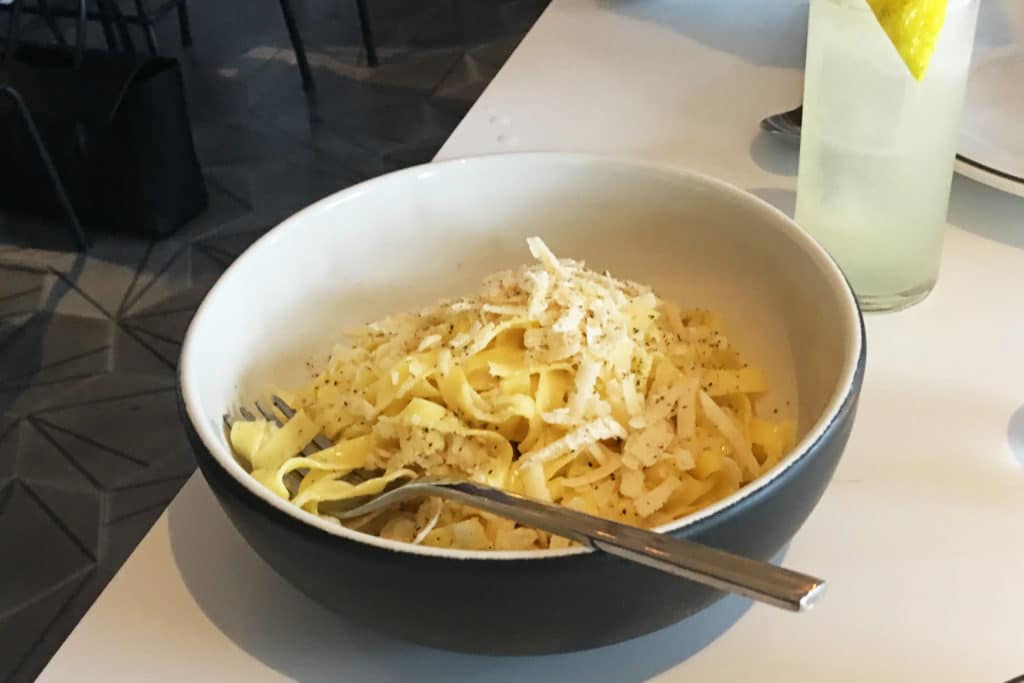 It's the absolute triumph of simplicity, with a short list of very high-quality ingredients: perfectly cooked pasta, butter, Parmesan and black pepper. That's it. And yet it contains worlds: soft and sharp, mild and hot, deeply comforting and yet really stimulating. What more can you ask for from an entrée? Everything in the world seems just a little bit better after a dish like that.
The Staff Photographer fell silent as we shared the last few bites of the fettuccine. "Are you OK?" we asked, a bit concerned. "I am in a food coma," he replied, with a beatific smile on his face. "You know how you feel when you've had an incredible meal, and all you want to do is sit still, or maybe go to sleep?" Yep, we sure do.
the dessert
But there was dessert to attend to! The only option is gelato – which is fine by us – and we opted for the chocolate, because why not? One bite, and we were back in Rome, at an incredible gelato dispensary near the Trevi Fountain. It's that good.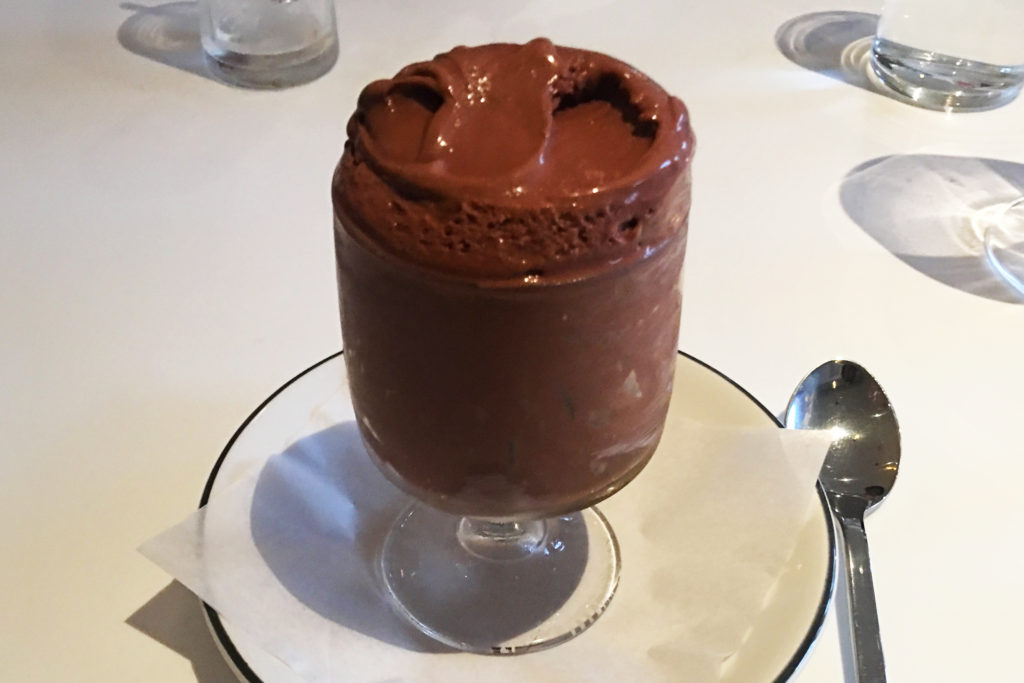 the bottom line
So, to recap: bacon salad, fettuccine Alfredo, and chocolate gelato for dessert. It doesn't get any more luxurious than that.
Tutto buonissimo, Misi! We'll definitely be back.
see luxury in a new light
Come and join our community! For a weekly round-up of insider ideas and information on the world of luxury, sign up for our Dandelion Chandelier Sunday Read here. And see luxury in a new light.
ready to power up?
For a weekly dose of career insights and advice, sign up for our new newsletter, Power Up, here.