What's the best fitness tracker on the market right now?
All products are independently selected by our editors. If you buy something, we may earn an affiliate commission.
In recent weeks, we've noticed a pronounced increase in the number of stylish people who wear multiple items on their wrists at work: a watch, a bracelet or two, and a fitness tracker. Maybe we've noticed it more because we're in the market for one ourselves. We've been on a wellness quest, and we're ready to start counting our steps. But is it possible to find a fitness tracker that works well with our work wardrobe? Or do we have to sacrifice style for steps?
In previous posts about exercise and fitness, we've reviewed novel gym-based fitness classes and the best workout clothing. But what about holding ourselves accountable throughout the day for getting in some cardio? What about tracking the quality of our sleep? We decided to investigate the current state of the wearable fitness tracker market. 
The good news? Gone are the days of single-function devices that only track steps, and bulky plastic bands that look unprofessional at the office. There are numerous options that are smarter and far more stylish than in the past. If, like us, you're looking to up your heart rate while maintaining your style game, here's our list of the trackers to consider. We've split our list into those that are best on style, and those are the best on substance.
If you're looking for something classic or cosmopolitan and totally office-ready, here are six picks:
1. Much like the typeface that inspired its name, Mondaine's Helvetica 1 Smartwatch ($550) is modern and minimalist.  And while from the outside it may still look like a standard analog watch, it's actually a hybrid. It has built-in fitness tracking linked to a goal you set in the MMT app. It's waterproof, so you get credit for any swimming you do (but be aware that the watch won't measure anything beyond the movement itself, so there's no logging strokes or pace here). An inner dial on the watch face shows your daily progress as a percentage of your total daily goal. To track sleep, hold the crown down for 3 seconds to activate. In addition to other features – like call and message notifications – we love that this watch automatically re-sets itself when it senses that you've entered a new time zone. And unlike a regular smartwatch, the Mondaine smartwatch doesn't need to be charged; it boasts two years of battery life.
2. One of the most beautiful smart watches right now also tracks steps and monitors fitness: the Movado Connect ($650 – $895) was designed in collaboration with Google. Featuring the same sleek, minimalist design as Movado's analog watches, the Connect also displays the brand's signature Museum Dial – a large metallic dot at 12 o'clock and two metal arms – whether it's awake or asleep. The watch runs Wear OS, which means it can display phone calls, appointments, email, messages and social media notifications. It also works with the Google Fitness App to help wearers amp up their fitness through activity recognition and basic movement tracking.  So while this tracker may not have all the bells and whistles of other brands, it looks great while covering the basics.
3. The Montblanc Summit ($930) is one classically-styled smartwatch that will never go out of style. Despite its old-school look, this watch packs a lot of technical punch: it runs with Wear OS, and is capable of fitness tracking, navigation, language translation, and call and text notifications. The Summit watch also has a heart rate sensor and an altimeter (however, swimmers should note though that this watch is water-resistant, but not water-proof). The Summit features 4 GB of memory, so you can download music to play via Bluetooth while you work out (or during your travels). The watch charges in less than 2 hours, and should have sufficient battery life to last 24 hours, according to Montblanc.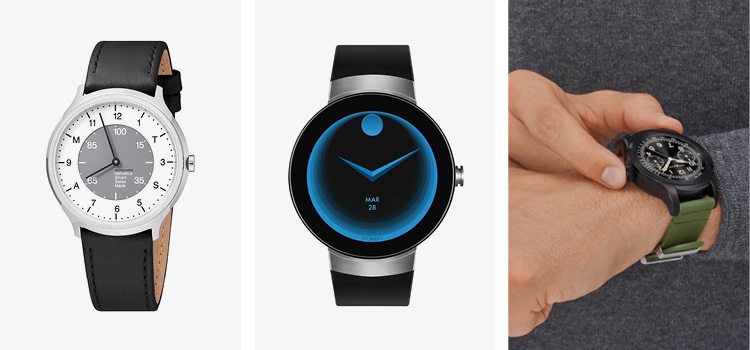 4. This week, Apple announced the new Apple Watch Series 4 (starting at $399). Featuring cellular, this watch stays connected without your phone nearby, which means live updates and more music than ever on your wrist.  The watch also features built in GPS to record the distance, speed and route of your outdoor workouts, while an altimeter tracks elevation during your hilliest rides and highest climbs. The new model has fall detection and an emergency SOS feature. Apple has partnered with some of the top fitness equipment brands to connect wirelessly with gym equipment to keep metrics like heart rate, speed, and calories in sync and ensure that your workout results are accurate. If you work with other apps for tracking workouts, it syncs with Nike Run Club, Snoww, ViewRanger and Yoga Glow automatically, too. It's waterproof and functions as a Life Alert to warn you if your heart rate is irregular or high. As with previous versions, you can mix and match bands – including the Hermes double tour ($1,399), by far the most chic of all the optional band upgrades we've seen.
5. Geared towards global travelers is the Louis Vuitton Tambour Horizon Smartwatch ($2,450 – $2,900). With features like notifications for upcoming flights, a "City Guide" app and a 24-hour clock that shows weather and temperatures for different time zones, it's a great travel companion. It runs Google's Wear OS and is compatible with both iPhone and Android devices. Louis Vuitton says the battery will last up to 22 hours with normal usage, and is waterproof up to 30 meters. Though the watch lacks a heart rate monitor or GPS, it will log your steps. In fitness terms, the functionality is pretty basic – but happily, the watch itself looks anything but basic.
6. The Misfit Ray ($40 – $99.99) takes a detour from fitness trackers that resemble watches – this device looks like a futuristic piece of jewelry. It comes in multiple colors, with different band choices – it can be worn as a pendant or a bracelet. While the Ray doesn't have a heart rate tracker, it does track steps and activity, and is water resistant up to 50 meters. It can track sleep, receive text messages, deliver call alerts, and it automatically tracks basic activities like running.  We love that the Ray doesn't require any charging – it's powered by three button-cell batteries that will last up to six months. This is a great option for those who don't want to give up their current watch.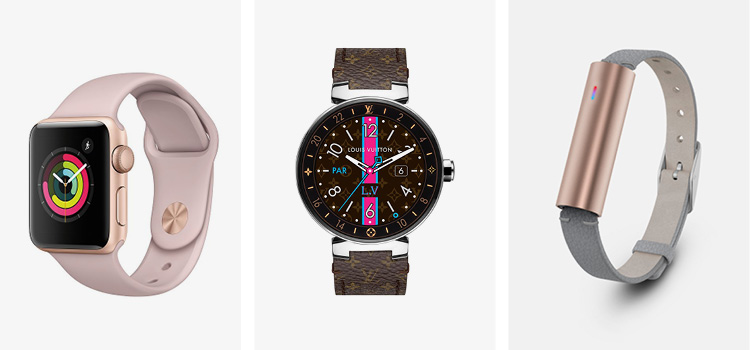 If urban style is secondary to helping you achieve peak performance, these six options offer state-of-the-art metrics in a sports-inspired package:
1. The latest from Fitbit is the Fitbit x Adidas Ionic Watch ($329.95).  In addition to tracker basics like heart rate, sleep and activity tracking and a built-in GPS, this watch features programmed workouts to keep you motivated, including the Adidas train app. It also features Fitbit's own proprietary On Screen Workouts for options like 10 Minute Abs.  Since this tracker is also a smartwatch, you can store and play 300+ songs, download your favorite Pandora stations, and receive important text and message alerts it's also NFC-enabled, so you can pay on the go as you move through your day.
2. Also from Fitbit is the Charge 3 ($149.95 – $169.95).  This tracker features automatic exercise recognition to track your workouts; measures your walking distance and pace; and also offers reminders to move and to practice breathing based on your heart rate. The Charge 3 also keeps track of sleep and menstrual cycles, and provides 24/7 heart rate and calorie tracking. It has the look of a traditional tracker, but it's made of aerospace-grade aluminum and sports a smart style touchscreen. This model is customizable with varying band options of a wide array of colors and materials – so you can coordinate it with your favorite current watch.
3. Quite similar to the Charge 3 is the Garmin Vivosport ($169.99). Though slightly narrower, it has strong functionality, with automatic activity tracking (including steps, floors climbed, calories burned, intensity minutes and sleep). As part of its 24/7 heart-rate monitoring, the device will measure your heart rate variability and translate it into a stress level, then prompt you to breathe and relax. What sets this band apart from the Charge 3 in terms of capability is that it estimates VO2 max (otherwise known as your fitness level). It will tell you where you stand against others with similar workout habits in your age cohort. One downside is that there are not as many customization options; there are only 2 color-ways and only rubber band options.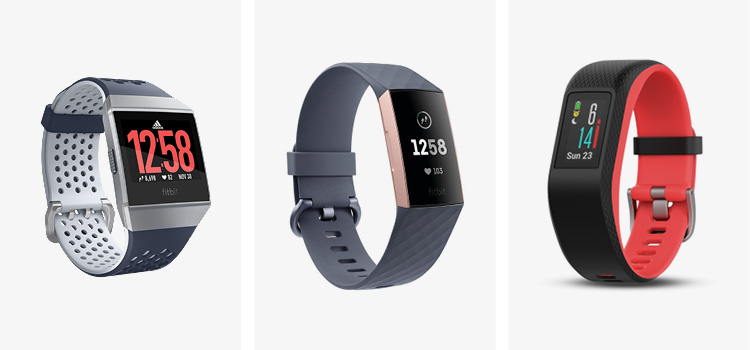 4. The Garmin Fenix 5X ($649.99) is the brand's top of the line watch, featuring meticulous topographic maps of the entire United States – allowing you to create routes for running and cycling, assess the most remote trails, locate points of interest, and save your own bacon when you realize you've made a wrong turn on a hike. Like the other sport-focused brands, the Fenix tracks tons of different statistics, like your heart rate. But it also offers sport-specific tracking metrics (like counting the number of strokes, distance and pace for swimming; or the speed, distance, vertical drop and a run counter for skiing and snowboarding). It features performance monitoring to let you know if you're training productively, peaking or over-exerting.  We love that this it comes in a few different size options, colorways and wristbands, making it a good choice for style mavens.
5. If you like to switch up everything from your fitness routine to your watch face, than you'll love the Suunto Spartan Sport Wrist HR Baro ($549). This watch tracks an exceptional level of data via Suunto's Movescount platform: it can accurately identify and track over eighty different sports, including skiing and yoga. The Spartan has razor-sharp accuracy for elevations and locations, thanks to its barometric altimeter, so it's a great option for hikers. It can set routes and points of interest, as well as create a "breadcrumb trail" back to where you started with its "Find Back" feature. Stylistically, the watch fits best into the "rugged sports watch" category – the face is quite large, which makes the touch screen easy to read and navigate by.
6. For those in search of a professional-athlete-level tracker, look no further than the Whoop 2.0 ($180), which is used by MLB players, Olympic athletes and has been named the official recovery wearable of the NFL Players' Association. The Whoop uses three physiological markers to determine your personal readiness to perform each day. The continuously-monitoring wristband measures heart rate and heart-rate variability, as well as fatigue levels, and tracks sleep in order to give users calculated "Strain" and "Recovery" scores via its app and online dashboard. The scores determine how close users are to their peak physical condition, and how much they've recovered from the previous day's workouts – data that can be used to prevent injury and predict optimal performance.  Unlike many other trackers, this waterproof minimalist band has no display, and all interactions and data come directly from the app. Because this tracker is meant to be worn 24/7 to obtain optimal recovery data, Whoop has a charging unit that slides on top of the strap, so you never have to take off the whole band to power up.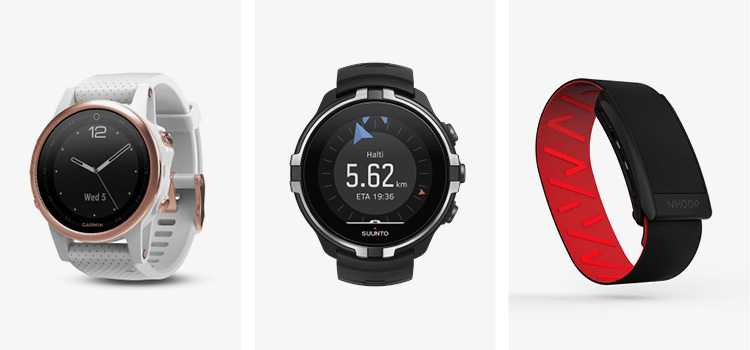 There you have it! 12 different ways to track your fitness – from sleek and chic to road-ready and rugged. So none of us has any excuse to let our fitness levels fall short this fall.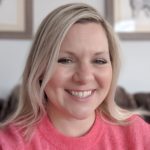 Jillian Tangen is the Head of Research at Dandelion Chandelier and a former Senior Research Analyst at McKinsey & Co and Analyst at Shearman & Sterling. She is an avid fan of Nordic design, having owned an independent lifestyle store and sales agency focused on emerging Scandinavian design. Jillian lives in NYC and is married with three young children and loves cross country skiing, the New York Rangers, reading, travel and discovering new brands.