the best luxury pajamas and sleepwear right now
All products are independently selected by our editors. If you buy something, we may earn an affiliate commission.
Can the pajamas you wear improve your sleep? Absolutely. There's plenty of evidence that your body temperature affects the quality of your sleep, so a breathable pair of pyjamas (as some of our friends spell it) can make a big difference. And surely looking great is a helpful way to feel great, right? And feeling great can only help you relax and drift off. Here are our top picks for luxurious p.j.'s that will have you looking smart and sleeping soundly.
There are lots of different style to choose from when it comes to pajamas: classic sets (both long and short); sleep shirts; gowns; and even rompers. We've checked out some of the most popular pajama styles for both men and women, and we're sharing our top picks for the best luxury brands out there to help you maximize your shut eye, as well as keeping you looking effortlessly chic while you're awake.
Traditional Pajama Sets: 
It's almost impossible not to own at least one classic pajama set – they're comfy, and appropriate for apres ski, slumber parties, or whenever your family members are around (like those Christmas morning photos!) You can opt for crisp cotton or sleek and chic silk; solid colors or sassy, fun, and bright patterns. Either way, complete the look with cozy slippers or slides.
For women, we love the Eberjay x Rebecca Taylor's Lilly Silk Long PJ Set ($368); this collaboration marries classic Eberjey silhouettes with Rebecca Taylor's signature silk prints. The resulting collection expresses inner beauty, romance and sophisticated femininity. You can't go wrong with these timeless Araks Kate Pajamas ($465) or Prada's stylish Silk Printed Pajamas ($1,980).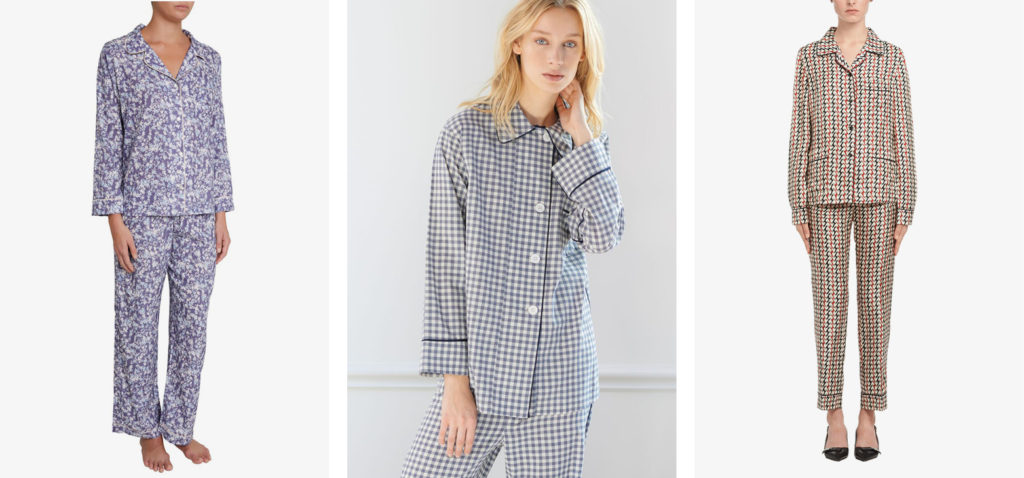 For gents, we love the collab between Sleepy Jones X David Lowell Foundation Pajamas ($198); this collection will help lull you to sleep while helping others in need.  20% of sales are donated to the Foundation to address the epidemic of trauma and toxic stress among under-served students; veterans suffering from post-traumatic stress disorder; women and children survivors of domestic violence and sexual assault; and others in need. The funds go toward providing access to Transcendental Meditation and other wellness strategies. Looking for something more traditional? We love these luxurious and silky Derek Rose Bailey Classic Fit Piped Pajamas ($750), handmade in England, or this Versace Baroque Silk Shirt ($975) with matching pants ($725) for something with a little Italian flair.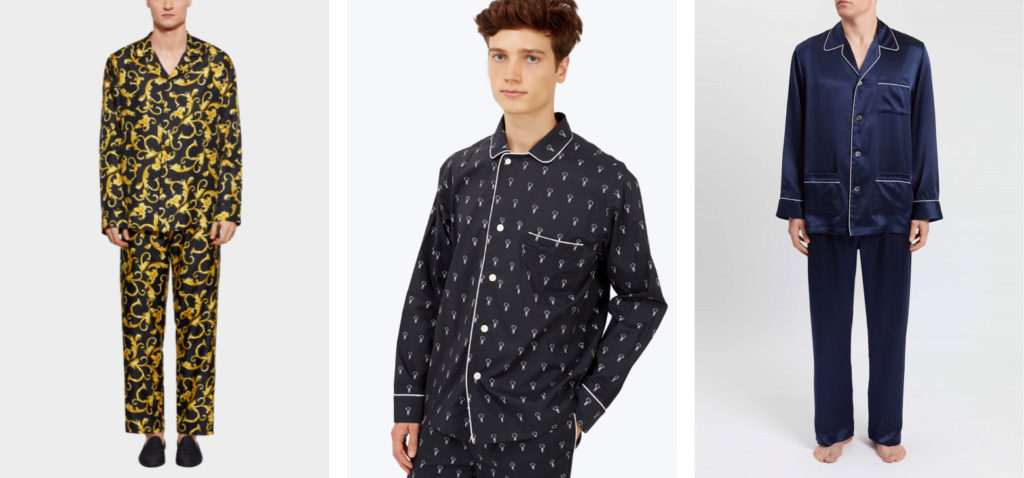 Shorts sets: 
Nighttime shorts sets can convey a range of attitudes – from sultry to sporty – depending on the cut, the fabric, and the mood of the wearer.
For femmes, we love Lunya's Washable Silk Tee Set ($198) for those looking for something relaxed with clean lines. Morgan Lane's Fiona Pajama Set ($533) puts a modern spin on a classic set with sleek fabric and a detailed waistband. Get ready for winter with Sleeper's Blur On Snow Pajama Set ($275).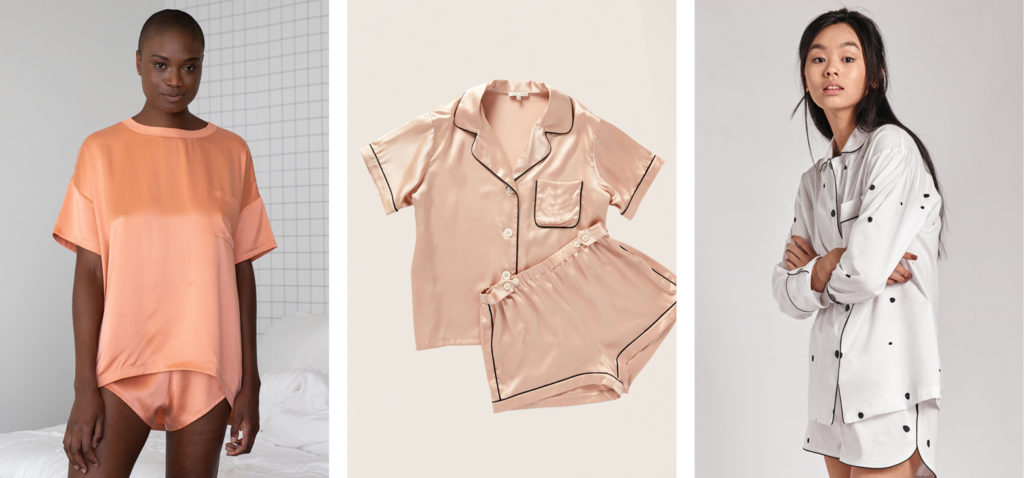 For hommes, we love the classic and clean look of La Perla's Next Stripes Button-neck top and shorts pajama set ($370) and Cleverly Laundry's short set ($160). In the mood for something a little more fun? Check out these comic-book inspired silk pajamas from Prada($1,980).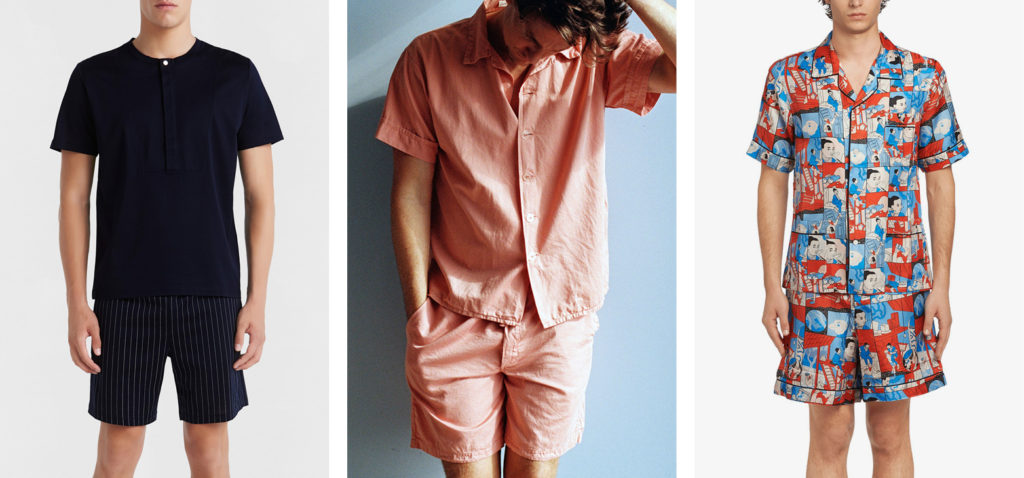 Sleep Shirts: 
For nights when you want a bit of freedom and ease – and a little coverage, too – it's the classic sleep shirt to the rescue. Inspired by men's button-down shirts, these show off just the right amount of leg.
We love the idea of unleashing our inner tiger with Olivia von Halle's Hero Rola Silk Dress ($615). We'd also be okay keeping it classic with the Pour Les Femmes Poet Sleep Shirt ($145). We love this dressed-up sleep shirt from La Perla in Lapis Lace ($260). And for the gents, Maison Marcy makes men's sleep shirts like this classic 306 Nightshirt ($230).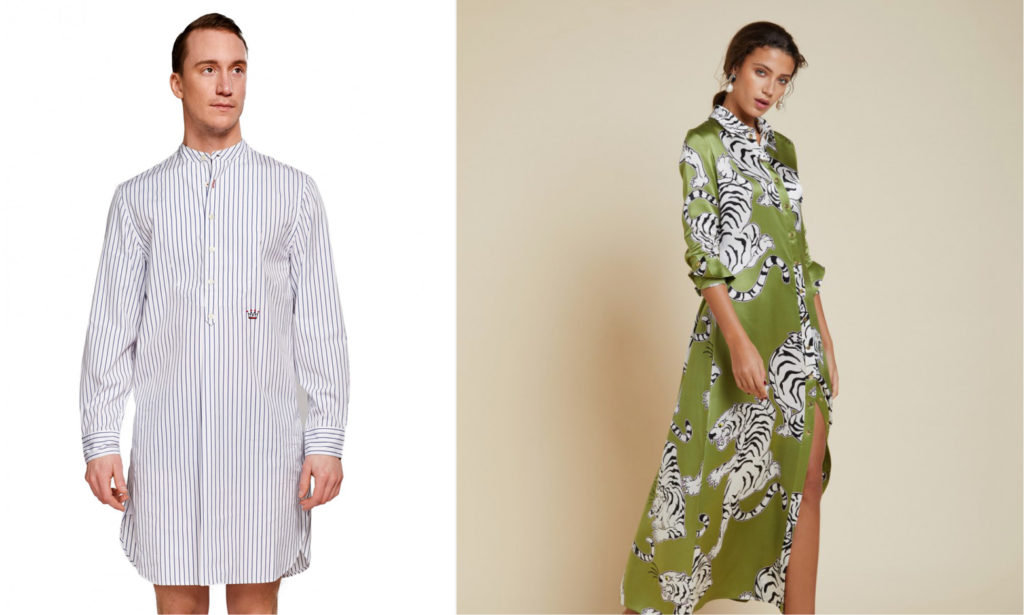 The Chemise: 
These aren't your grandmother's nightgowns – these sleep dresses are sleek and chic in everything from sultry satin to simple cotton. We love that they come in a variety of lengths, fabrics and finishes, with beautiful lace detailing and more.
We love Meng's black floral silk satin slip ($450), which is too beautiful to be worn only indoors — this would make for a sexy party dress, too.  We also vote for this flattering and feminine A-line style Derek Rose Bailey Chemise ($275) in navy silk. Three Graces London's Pearl nightdress ($520) is cut from airy cotton voile that will keep the wearer cool and comfortable.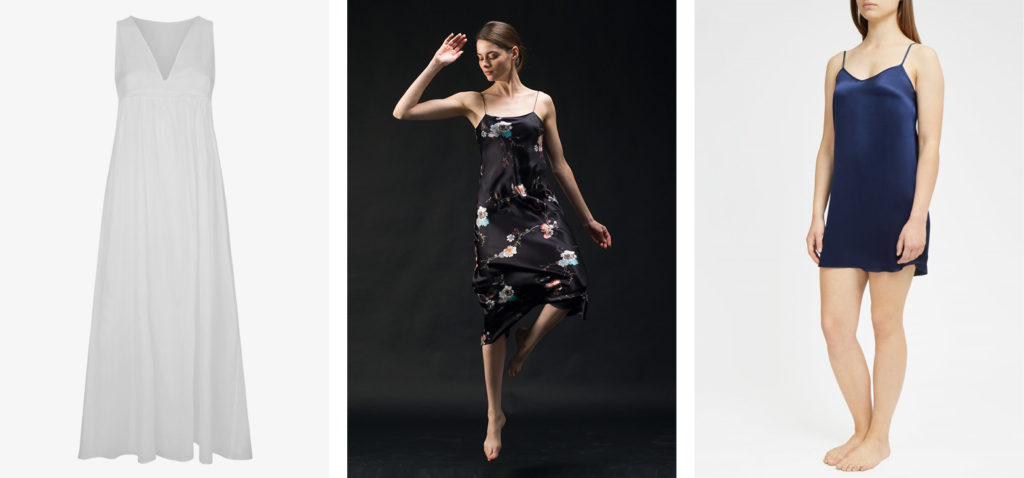 Sleep Rompers: 
As you well know, jumpsuits and rompers aren't only for little kids anymore. And they're also not just for day time or for nights out on the town: these are made for cozy nights at home (but you can, of course, rock them anywhere you like).
We love Stella McCartney's sleek and chic Elle Leaping Romper ($325) and Maison du Soir's Rose Romper in pearl ($88). If you want a little more coverage, check out Natori's Shangri-La Jumpsuit ($180).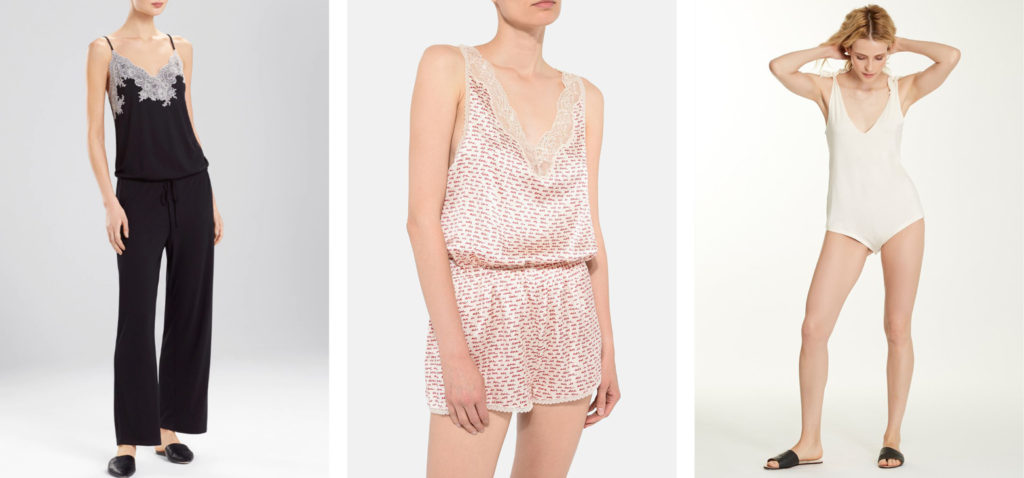 Mix and match for the men: 
Some cool dudes prefer just a simple tee with their boxers, or paired with casual lounge pants.  There are plenty of luxury brands offering men's mix-and-match loungewear.
We love Hanro's Basil Knit Lounge Pants ($130); they're perfect for hanging out around the house, and lazy mornings in bed. We have it on good authority that ATM Anthony Thomas Melillo makes some of the softest tees for sleeping, like this Modal Jersey V Neck Tee ($80). We also love Japanese brand Secondskin's Piped Cotton Twill Pyjama Trousers ($290).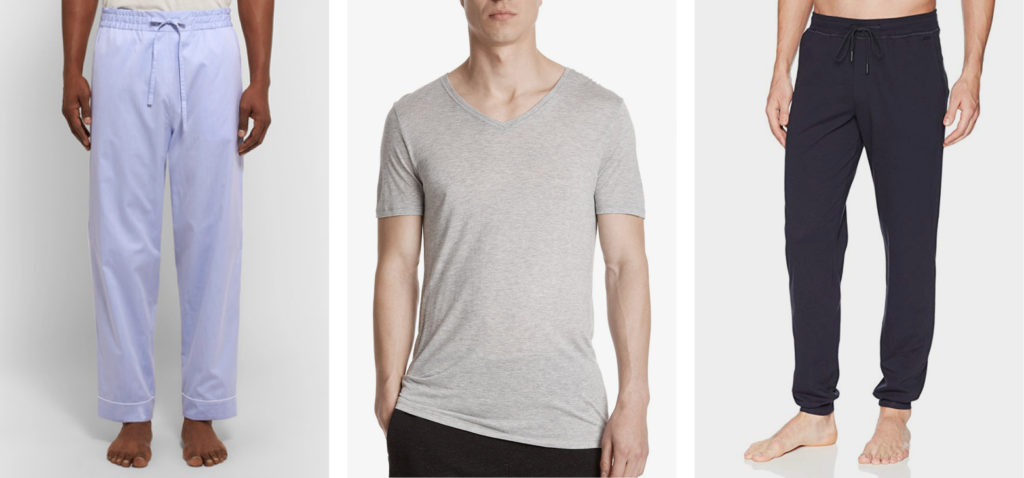 Whichever ones you choose, we're wishing you sweet dreams.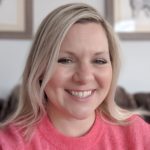 Jillian Tangen is the Head of Research at Dandelion Chandelier and a former Senior Research Analyst at McKinsey & Co and Analyst at Shearman & Sterling. She is an avid fan of Nordic design, having owned an independent lifestyle store and sales agency focused on emerging Scandinavian design. Jillian lives in NYC and is married with three young children and loves cross country skiing, the New York Rangers, reading, travel and discovering new brands.