what are the best new books coming in October 2018?
All products are independently selected by our editors. If you buy something, we may earn an affiliate commission.
New month, new books! Book Light is our Dandelion Chandelier curated list of the titles we're most excited about that are being published in the upcoming month. Our intrepid team has been exploring the most-anticipated new books scheduled to be released in October 2018 and here's what we found.
October is justifiably known for serious books about monumental topics, and this year the scheduled releases don't disappoint. There are major new works from legendary authors in both fiction and non-fiction. And a final book of poems from a legend.
But there's still light and whimsy on the list, including an incredible number of new cookbooks, just in time for our return to the kitchen and the run-up to sparkling holiday celebrations.
This October, you'll find a penetrating analysis of Federal government agencies; a celebration of female musicians who changed the industry; a history of American Presidents at war; a fascinating read about Victorian England; an investigation about an infamous library fire; and a long-awaited biography of Frederick Douglass.
Tina Turner has written a memoir, star war photographer Lynsey Addario is publishing a new book of riveting images; and a Broad City co-founder takes us on a wild cross-country road trip.
You'll also find encouragement and inspiring quotes from Eleanor Roosevelt and Lin-Manuel Miranda; some splendid cookbooks with cuisine from Detroit to Denmark, and new novels from Barbara Kingsolver, Sarah Perry, and Haruki Murakami.
Here's our pick of the top new books – novels, essay collections, and non-fiction – that we cannot wait to read. You can preorder them now if you like.
The Best American Short Stories 2018 by Roxanne Gay, guest editor; Heidi Pitlor, series editor. The premier annual showcase for the country's finest short fiction is edited this year by bestselling author Roxanne Gay. From a fraught family reunion to an immigration detention center, from a psychiatric hospital to a coed class sleepover in a natural history museum, the selections span a wide range of experiences. We meet a rebellious summer camper, a Twitter addict, and an Appalachian preacher—all characters and circumstances that show us "what we need to know about the lives of others." – October 2, 2018
The Fifth Risk by Michael Lewis. The author of Moneyball and The Big Short returns with a timely and worrisome deep dive into the malfunctioning of various government agencies under several American Presidential administrations that didn't (or don't) fully comprehend the purpose of federal agencies, including departments like Energy and Commerce that protect and rescue citizens from disasters large and small – October 2, 2018
So Far, So Good by Ursula K. Le Guin. The legendary author was lauded for her ground- breaking science fiction novels, but she began as a poet, and wrote across genres for her entire career. In this collection―completed shortly before her death in 2018―Le Guin is unflinching in the face of mortality, and full of wonder for the mysteries beyond – October 2, 2018
Sister Pie: The Recipes and Stories of a Big-Hearted Bakery in Detroit by Lisa Ludwinski. Many discerning food critics say that Detroit's Sister Pie is the best pie shop in the U.S. Housed in a former beauty salon on the city's East Side, this is the shop's first cookbook. And while it includes recipes, it's also the story about the people behind the pie, and the unique management structure at the shop – October 2, 2018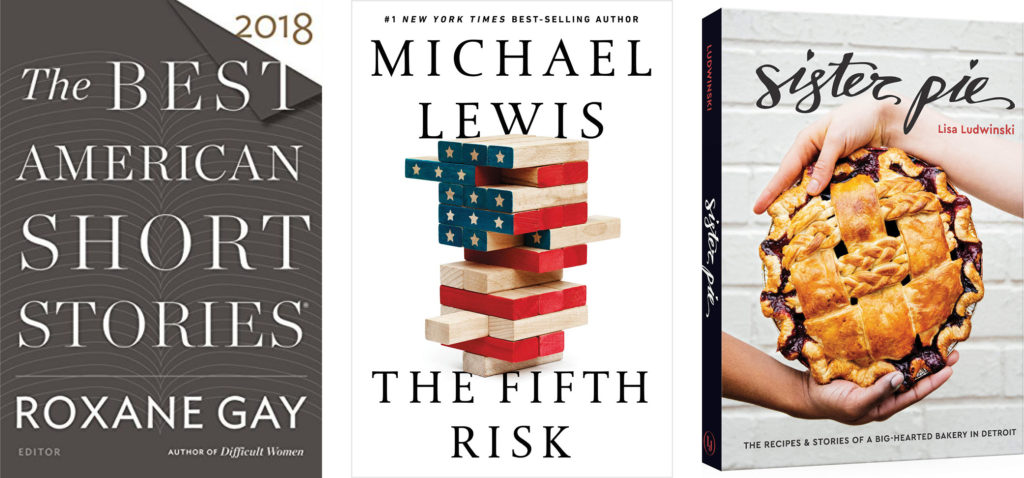 Presidents of War by Michael Beschloss. The preeminent Presidential historian assesses a procession of American leaders as they decide to take the country into armed conflict. From James Madison and the War of 1812 to the present day, the author's 10 years of research and interviews show former Presidents struggling with Congress, the courts, the press, their own advisors and antiwar protesters; seeking comfort from their spouses, families and friends; and dropping to their knees in prayer. The accounts provide a better understanding of how these men were able to withstand the pressures of war — both physically and emotionally — or were broken by them – October 9, 2018
The Clockmaker's Daughter by Kate Morton. This new novel from the New York Times bestselling author of The Lake House is the story of a love affair and a mysterious murder. In the summer of 1862, a group of young artists descended upon Birchwood Manor on the banks of the Upper Thames to spend a secluded summer month immersed in inspiration and creativity. By the time their stay is over, one is dead, and another has disappeared – and so has a priceless heirloom. Over 150 years later, a young archivist in London uncovers a leather satchel, and its contents drive her to unravel what happened that long-ago summer – October 9, 2018
If You Ask Me: Essential Advice from Eleanor Roosevelt by Eleanor Roosevelt and Mary Jo Binker, editor. In 1941, Roosevelt embarked on a new career as an advice columnist. Published in Ladies Home Journal for over 20 years, her column quickly became a lifeline for Americans of all ages. This collection gathers some of her best pieces for "If You Ask Me" – covering war, peace, politics, love, marriage, religion, and popular culture. The selections reveal Eleanor Roosevelt's warmth, humanity, humor and timeless wisdom – October 9, 2018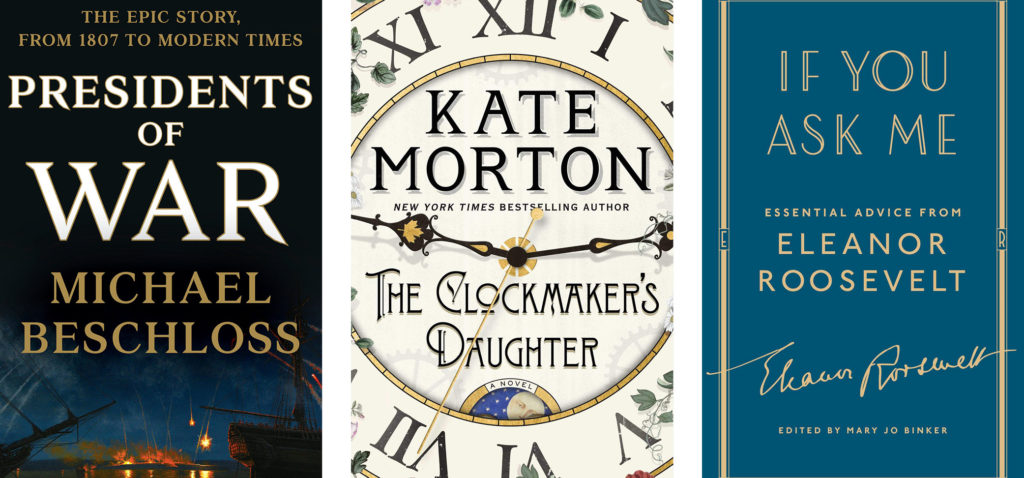 Women Who Rock: Bessie to Beyonce. Girl Groups to Riot Grrrl by Evelyn McDonnell, Editor. From Bessie Smith and The Supremes to Joan Baez, Madonna, Beyonce, Amy Winehouse, Dolly Parton, Sleater-Kinney, Taylor Swift, this volume by a music writer and professor of journalism celebrates 104 of the greatest female musicians – women who have played an essential role in the evolution of popular music – including blues, rock and roll, country, folk, glam rock, punk, and hip hop. – October 9, 2018
My Squirrel Days by Ellie Kemper. The comedian and star of The Office and Unbreakable Kimmy Schmidt has written a collection of essays about one woman's journey from the Midwest to Hollywood to New York. Tracing her life from being a child determined to commune with squirrels, to her young professional days writing radio commercials for McDonald's, to present-day marriage and motherhood, this should be the perfect antidote for the gloom and doom of the daily news cycle – October 9, 2018
Killing Commendatore by Haruki Murakami; translated by Philip Gabriel and Ted Goossen. A thirty-something portrait painter in Tokyo is abandoned by his wife, and finds himself holed up in the mountain home of a famous artist. When he discovers a previously unseen painting in the attic, he unintentionally opens a circle of mysterious circumstances. To close it, he must complete a journey that involves a mysterious ringing bell, a two-foot-high physical manifestation of an Idea, a dapper businessman who lives across the valley, a precocious thirteen-year-old girl, a Nazi assassination attempt during World War II in Vienna, a pit in the woods behind the artist's home, and an underworld haunted by Double Metaphors. A loving homage to The Great Gatsby, it's also a meditation on love and loneliness, war and art —October 9, 2018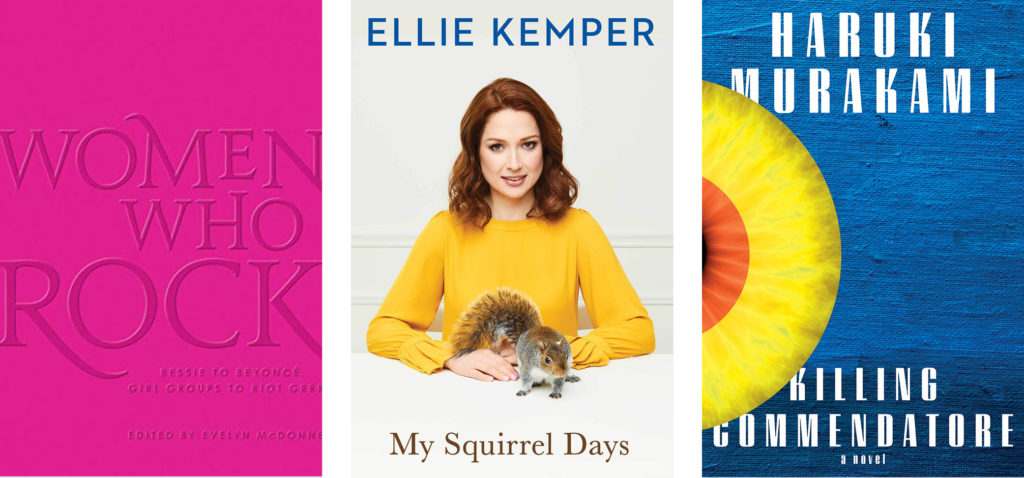 Invisible: The Forgotten Story of the Black Woman Lawyer Who Took Down America's Most Powerful Mobster by Stephen L. Carter. Eunice Hunton Carter, Stephen Carter's grandmother, was a graduate of Smith College and the granddaughter of slaves, living in New York in the 1930s. Without the strategy she devised, Lucky Luciano, the most powerful Mafia boss in history, would never have been convicted. When special prosecutor Thomas E. Dewey selected twenty lawyers to help him clean up the city's underworld, she was the only member of his team who was not a white male. This is the thrilling true story of a woman who often found her path blocked by the social and political expectations of her time, and who nevertheless persisted and achieved greatness – October 9, 2018
Dominion by Peter Ackroyd. The fifth volume in the author's history of England begins in 1815, as national glory following the Battle of Waterloo gives way to a post-war depression. The accession of Queen Victoria, at only eighteen years old, sparked an era of transformational innovation. Technological progress―from steam railways to the first telegram―ignited the country, and celebrated at the first Great Exhibition in 1851. By the end of Victoria's reign, the British Empire dominated much of the globe, and Britannia really did seem to rule the waves – October 9, 2018
A Very Serious Cookbook by Fabián von Hauske Valtierra and Jeremiah Stone with and Alison Roman. The two chefs behind wildly popular New York restaurants Contra and Wildair tell their story: how they met, how they opened a restaurant, and how they cook together today. It includes recipes for some of the two restaurants' most popular dishes, including the pomme dauphin with uni and jalapeño; beef tartare with smoked cheddar and horseradish; and Wildair's chocolate hazelnut tart – October 15, 2018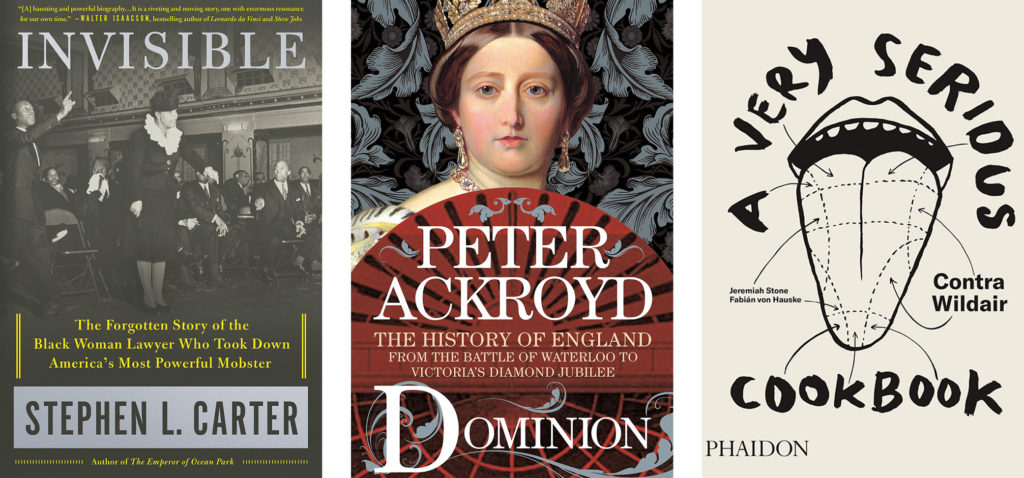 Frederick Douglass: Prophet of Freedom by David Blight. This is the first comprehensive biography of Douglass, written by an author who has devoted his life to the subject. This work documents many of the things already know about the great man: his escape from slavery; self-education; and his abolitionist work. Here we also learn a lot more about his lesser-known contributions to the women's suffrage movement – October 16, 2018
Melmoth by Sarah Perry. In this new novel – the follow-up to the author's brilliant The Essex Serpent – Helen, a female translator, has left England for Prague. There, her friend Karel discovers a mysterious letter in the library: a strange confession and a curious warning that speaks of Melmoth the Witness, a dark legend found in obscure fairy tales and antique village lore. Superstition has it that Melmoth travels through the ages, dooming those she persuades to join her to a damnation of timeless, itinerant solitude. It seems the stuff of unenlightened fantasy – until Helen realizes that she's being watched. And Karel disappears – October 16, 2018
Unsheltered by Barbara Kingsolver. The New York Times bestselling author of The Poisonwood Bible and recipient of numerous literary awards returns with the story of two families, in two centuries, who live at the corner of Sixth and Plum in Vineland, New Jersey, navigating what seems to be the end of the world as they know it. It's a timely "portrait of life in precarious times when the foundations of the past have failed to prepare us for the future." – October 16, 2018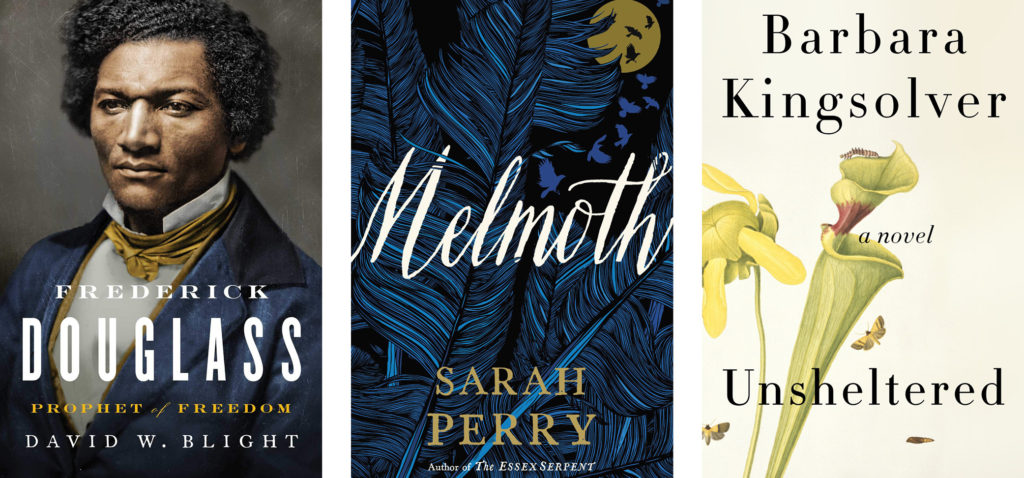 My Love Story by Tina Turner. From her early years in Nutbush, Tennessee to her rise to fame alongside Ike Turner to her phenomenal success in the 1980s and beyond, this memoir shares the singer's personal history, from her darkest hours to her triumphs – October 16, 2018
The Library Book by Susan Orlean. The bestselling author of Rin Tin Tin and The Orchid Thief returns with the true-life unsolved mystery of the most catastrophic library fire in American history. On the morning of April 29, 1986, the Los Angeles Public Library caught fire. The structure burned for more than seven hours, and by the time the flames were extinguished, they had consumed 400,000 books and damaged 700,000 more. Over thirty years later, the mystery remains: Did someone purposefully set fire to the library—and if so, who? Orlean investigates the epic blaze to showcase the crucial role that libraries play in our lives – October 16, 2018  
The Noma Guide to Fermentation by René Redzep and David Zilber. At Noma in Copenhagen, Denmark —four times named the world's best restaurant—every dish includes some form of fermentation; it's one of the foundations behind the kitchen's extraordinary flavor profiles. Redzepi, chef and co-owner of Noma, and Zilber, who runs the restaurant's fermentation lab, share never-before-revealed techniques to creating their extensive pantry of ferments. There are over 100 recipes that employ kimchi, sauerkraut, koji, kombuchas, shoyus, misos, lacto-ferments, vinegars, garums, and black fruits and vegetables – October 16, 2018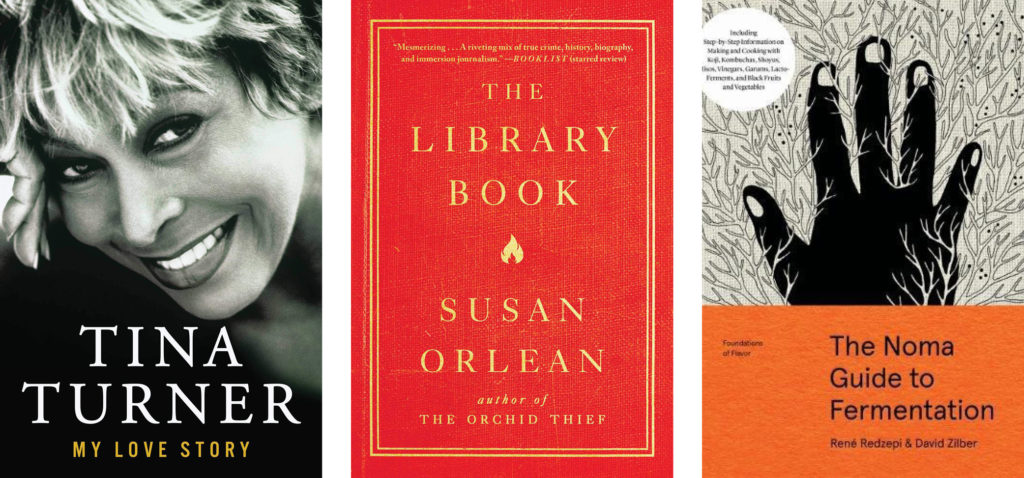 Creating Things That Matter: The Art and Science of Innovations That Last by David Edwards. This Harvard professor's extensive research on innovation reveal a three-step cycle employed by artists as well as scientists in creating things that durably matter. This "creator cycle" looks quite different from what we typically believe leads to innovation, and shows the connections between the most expressive art and the most revolutionary science in a reimagining of how we live and how we create – October 16, 2018
Ottolenghi Simple: A Cookbook by Yotam Ottolenghi. The author of best-sellers Jerusalem and Plenty offers more than 100 recipes that suit a few different "simple" styles — from dishes that use fewer than 10 ingredients to those that take less than 30 minutes to those that can be made in advance – October 16, 2018
Of Love & War by Lynsey Addario. From the Pulitzer Prize-winning photojournalist, MacArthur Fellow and New York Times bestselling author comes a stunning selection of her work across the Middle East, South Asia, and Africa. Addario has spent the last two decades bearing witness to the world's most urgent humanitarian and human rights crises. In this collection of over 200 photographs, her subjects include female members of the military; American soldiers; and Libyan opposition troops. Interspersed between these images are personal journal entries and letters, and essays from fellow war journalists like Dexter Filkins – October 23, 2018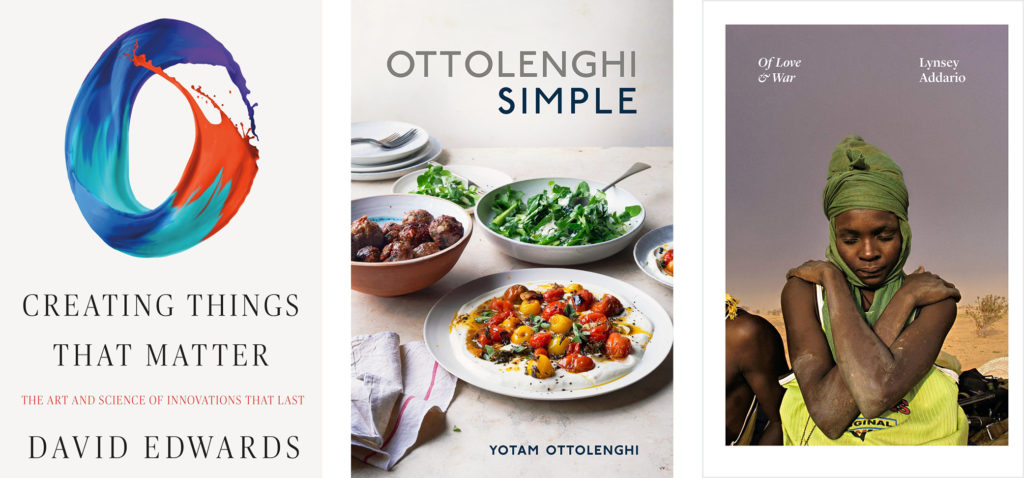 All About Cake by Christina Tosi. From her home kitchen to the creations of her beloved Milk Bar, the wildly inventive baker shares some of her most popular recipes: two-minute microwave mug cakes, buttery Bundts and pounds, her famous cake truffles and her signature "naked layer cakes," filled with pops of flavors and textures – October 23, 2018
Gmorning, Gnight!: Little Pep Talks for Me & You by Lin-Manuel Miranda and illustrated by Jonny Sun. Earlier in his career – before he wrote Hamilton – Lin-Manuel Miranda inspired his Twitter followers with words of encouragement at the beginning and end of each day: original sayings, aphorisms, and poetry shared to spread some joy. Now he has gathered the best of his daily greetings into a collection filled with comfort and motivation, perfect for anyone who needs a quick lift – October 23, 2018
I Might Regret This: Essays, Drawings, Vulnerabilities, and Other Stuff by Abbi Jacobson. The co-creator and co-star of the hit series Broad City embarked on a solo drive from New York to LA. This collection of anecdotes, observations and reflections puts us in the passenger seat for the journey – October 30, 2018
Solo: A Modern Cookbook for a Party of One by Anita Lo. This cookbook, written by the chef and owner of Annisa in New York's West Village, is more than just recipes. Written in a confessional and intimate voice, it captures the chef's kaleidoscopic life while speaking to the universal desire for nourishment, be it physical or emotional. This is a book that promises to "help you remember how to take care of yourself." – October 30, 2018

Looks like a great month for bookworms everywhere! Happy reading.