So many books, so little time! Reading can be one of life's sweetest luxuries. But how to quickly find the next great volume to dive into? To lend a hand, every month we'll share our Dandelion Chandelier Recommended Reads: books that we've personally read and loved – some brand new, and some published long ago. Selected to suit the season, we think they deserve a place on your nightstand. Or your e-reader. In your backpack. Or your carry-on bag. You get the idea. In this edition, we're sharing our picks for the best books of 2018.
why create a list of the best books of the year?
So many publications and people compile Top 10 and Best of the Year lists right about now. But why?
When you think about it, the arrival of the new year is irrelevant when determining which books are worthy of spending time with. What difference does that make?
Plus, the passage of time proves to be a much better arbiter of what's a truly great read — some books are just ahead of their time, and others really don't wear well.
Still, we began the tradition of Best Books of the Year last year. Why?
Because as we started to compile the list, we realized that there was real power in reflecting on the books that moved us this year.
For starters, making a list of "the best" forced us to define what "good" is — at least in our humble opinion — and to think about what we value most when we read.
Second, it made us newly grateful for the joy of a great book – its power to generate empathy, to increase our knowledge and understanding, And to provide pure joy.
Like a birthday, anniversary or holiday, the end of the year may be an arbitrary date. But it's an important forcing mechanism for taking stock, consolidating lessons learned, celebrating excellence, showing appreciation, and making new plans for the year ahead.
It was extremely difficult to narrow our list down this year — and we're sure that we've left some great books out. With that caveat, here are our picks for the best books of 2018.
fiction and poetry
one
Kudos by Rachel Cusk. This final entry in a trilogy — the first two are Outline and Transit — is splendid. Protagonist Faye attends a literary festival in Europe, and as in the two prior entries in this series, we listen as she probes and questions the people around her while revealing very little about herself. The writing is crystalline, the meditative tone is both soothing and provocative, and the characterizations are so vivid and natural that we keep thinking that we actually had these conversations.
In the most subtle way possible, this novel explores the dichotomy between what's true and false; earned and undeserved; individual and universal. Between what women want and need, and what men want and need from them — and which gender can outlast and ultimately prevail over the other. The last couple of paragraphs are a shock and a release.
Perhaps the best line in a book full of them, though, is this one: "it was of course true that few notable women were ever really recognized . . . at least not until they had been judged to be no longer a public danger by having become old or ugly or dead." It's a deeply-felt exploration of what it means to be held captive, and what it means to become free, and how easy it is to confuse one state for the other.
two
An American Marriage by Tayari Jones. This ripped-from-the-headlines plot about a young, well-educated American black man wrongly accused and jailed for a crime he didn't commit might initially draw you in because of its piercing portrayal of the criminal justice system in America, and its impact on the generations of black people caught in its maw.
But you'll stay for the brilliantly-realized characterizations: the dialogue that rings so true that you start to forget that this a novel; the tender and fierce portrayal of the love between parents and children; the heartfelt love story; the evocative moments that will remind you of the first time you lost your innocent view of how the world really works. It's a very quick read, masterfully done.
three
Asymmetry by Lisa Halliday. We love this novel: its clever format is totally new (it was listed this year by the New York Times as one of the books written by women that is transforming how we think about narrative fiction). The various voices are lights-out smart; the plot is emotionally riveting; and you'll find yourself thinking about it long after you finish. The story begins with a romance between two New Yorkers who meet cute in Central Park. But this gorgeous novel has a lot more on its mind than a spring romance. Or to be precise, an early May-late December romance. It's about power, and empathy, and family, and character. And it contains worlds.

four
Evening in Paradise: More Stories by Lucia Berlin is a curated selection of the late author's short stories―twenty-two gems that showcase the gritty glamour that made readers fall in love with her. From Texas to Chile, Mexico to New York City, Berlin finds beauty in the darkest places and darkness in the seemingly pristine.
five
Early Work by Andrew Martin is a sharp, funny, melancholy debut novel set in Charlottesville, Virginia about a summer love affair between two writers in their mid-20's that burns red hot for a while but starts to frost over as the fall arrives. It's smart, sweet, and honest about relationships between two talented people working in the same field — and if this early work is any indication, we'll be longing for more from Martin long after the summer is gone.
six
The Friend by Sigrid Nunez. The narrator has lost her closest friend to suicide, and in her struggle to recover, she finds herself the custodian of his Great Dane, who is nearly as large as her rent-controlled Manhattan studio apartment. It's smart, surprisingly funny (we laughed out loud several times, despite the dark subject matter), and deeply honest about loneliness and the hard work of grieving. Plus the enduring power of friendship and loyalty, both human and canine. Brilliantly done.

seven
The Overstory by Richard Powers. In this novel of the woods, an Air Force fighter in the Vietnam War is shot out of the sky and saved by falling into a banyan. An artist inherits a hundred years of photographic portraits, all of the same doomed American chestnut. A hard-partying undergraduate in the late 1980's electrocutes herself, dies, and is sent back into life by creatures of air and light. A hearing- and speech-impaired scientist discovers that the trees surrounding him are communicating with one another. These four characters, and five other strangers―each summoned in different ways by trees―are brought together in a last and violent stand to save the continent's few remaining acres of virgin forest.
eight
There There by Tommy Orange is a debut novel about Native Americans living in and around Oakland, California. It's the story of twelve characters, each of whom have private reasons for traveling to the annual Big Oakland Powwow. Orange expertly mines the territory and piercingly raises the question of what it means to be a real American.
nine
Wade in the Water: Poems by Tracy K. Smith, the current Poet Laureate of the United States, is a collection of poems that excavate and assess the lasting wounds of America's struggles with race and class, and a meditation on what it means to be a citizen, a mother, and an artist. One poem is comprised entirely of letter from African-Americans enlisted in the Civil War.

ten
Brown: Poems by Kevin Young. James Brown. John Brown's raid. Brown v. the Topeka Board of Ed. The prize-winning author of Blue Laws meditates on all things "brown" in this powerful collection. Divided into "Home Recordings" and "Field Recordings," Brown speaks to the way personal experience is shaped by culture, while culture is forever affected by the personal. Young recounts tales from his black Kansas boyhood to comment trenchantly on our times.
eleven
Those Who Knew by Idra Novey. From the award-winning author of Ways to Disappear (a brilliant novel we absolutely love) comes a new tale about what a powerful politician thinks he can get away with, and the group of misfits who finally bring him down. On an unnamed island country ten years after the collapse of a U.S.-supported regime, Lena suspects the powerful senator she was involved with back in her student activist days is taking advantage of a young woman who's been introducing him at rallies. When the young woman ends up dead, Lena revisits her own fraught history with the senator and the violent incident that ended their relationship. What follows is an exploration of the cost of staying silent and the mixed rewards of speaking up in a profoundly divided country.
twelve
Melmoth by Sarah Perry. In this novel – the follow-up to the author's brilliant The Essex Serpent – Helen, a female translator, has left England for Prague. There, her friend Karel discovers a mysterious letter in the library: a strange confession and a curious warning that speaks of Melmoth the Witness, a dark legend found in obscure fairy tales and antique village lore. Superstition has it that Melmoth travels through the ages, dooming those she persuades to join her to a damnation of timeless, itinerant solitude. It seems the stuff of unenlightened fantasy – until Helen realizes that she's being watched. And Karel disappears.

thirteen
Ohio by Stephen Markley is a debut novel about life in in an archetypal small town in northeastern Ohio—a region ravaged by the Great Recession, the opioid crisis, and the wars in Iraq and Afghanistan. it depicts one feverish, fateful summer night in 2013 when four former classmates converge on their hometown, each with a mission, all haunted by the ghosts of their shared histories. Bill is an alcoholic, drug-abusing activist; Stacey, a doctoral candidate reluctantly confronting the mother of her former lover. Dan is a shy veteran of three tours in Iraq, home for a dinner date with the high school sweetheart he's tried to forget; Tina is pursuing a rendezvous with the captain of the football team. Their story weaves a tapestry that looks a lot like America today.
fourteen
The Mars Room by Rachael Kushner. The twice-National Book Award-nominated author of The Flamethrowers returns with a new novel about a life gone off the rails in contemporary America. In 2003, in California's Central Valley, a young woman is at the start of two consecutive life sentences at the Stanville Women's Correctional Facility. Outside is the world from which she has been severed: the San Francisco of her youth and her young son, Jackson. Inside is a new reality: thousands of women hustling for the bare essentials needed to survive; the bluffing and pageantry and casual acts of violence by guards and prisoners alike; and the deadpan absurdities of institutional living.
fifteen
Monument: Poems New and Selected by Natasha Trethewey. The poet's first retrospective layers joy and urgent defiance, giving voice to unsung icons. The collection includes verse that delineates the stories of working class African American women; one of the first black Civil War regiments; mestizo and mulatto figures in Casta paintings; and Gulf coast victims of Katrina. This volume has been long-listed for the 2018 National Book Award for Poetry.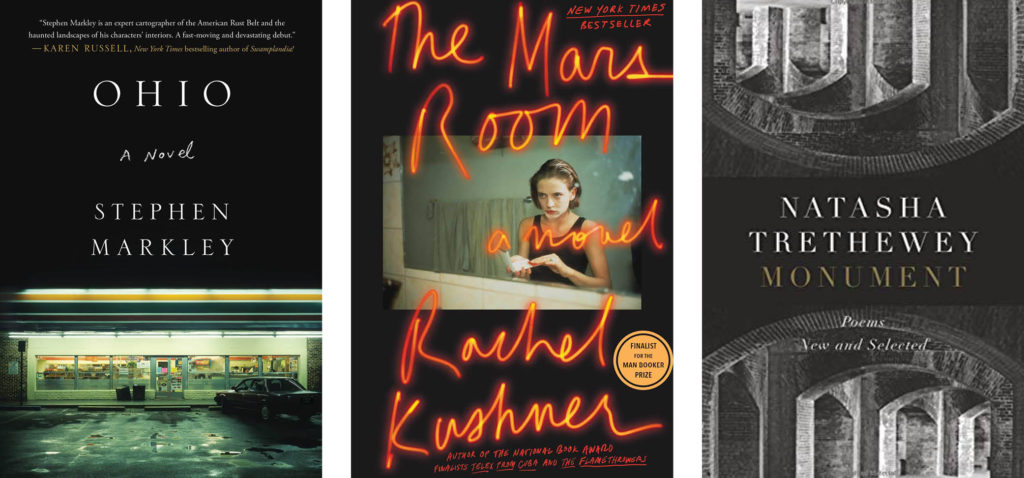 essays and non-fiction
one
The Art of Gathering: How We Meet and Why it Matters by Priya Parker conducts a human-centered assessment of the times we gather together. Its goal is to help us all create more meaningful and memorable experiences – large and small, for work and for play. The author takes us inside events of all kinds to show what works, what doesn't, and why. Across a wide array of gatherings–conferences, meetings, a courtroom, a flash-mob party, an Arab-Israeli summer camp– she demonstrates how simple, specific changes can invigorate any group experience.
two
Good and Mad: The Revolutionary Power of Women's Anger by Rebecca Traister. The New York Times bestselling author of All the Single Ladies returns with an exploration into the power and limits of female anger. The author tracks the history of female rage as fuel for political movements, from suffragettes marching on the White House to office workers vacating their buildings after Clarence Thomas was confirmed to the Supreme Court. Carrying the conversation into the present day, it's an incisive read on an urgent issue: is it possible to channel anger into a positive political force for lasting change?
three
Becoming by Michelle Obama. In her memoir, former First Lady Michelle Obama invites us into her world, chronicling the experiences that have shaped her—from her childhood on the South Side of Chicago to her years as an executive balancing the demands of motherhood and work, to her time spent at the world's most famous address.

four
Creative Quest by Questlove is a guide to creativity from one of the most wildly creative people around. The musician, bandleader, designer, producer, culinary entrepreneur, professor, and all-around cultural omnivore shares his wisdom on the topics of inspiration and originality. His inspirations, stories and lessons should help all of us live our best creative lives in the new year.
five
These Truths: A History of the United States by Jill Lepore. In this sweeping book, historian Lepore traces the history of American politics, law, society, and technology from the Age of Discovery through the present day. Described as "the most ambitious one-volume American history in decades," this thought-provoking book asks whether we are living up to our ideals. The American experiment rests on three ideas―"these truths," Jefferson called them―political equality, natural rights, and the sovereignty of the people. And it rests, too, on a fearless dedication to inquiry, the author argues. Because self-government depends on it.
six
The Library Book by Susan Orlean. On the morning of April 29, 1986, a fire alarm sounded in the Los Angeles Public Library. The fire that day was disastrous. By the time it was extinguished, it had consumed four hundred thousand books and damaged seven hundred thousand more. Investigators descended on the scene, but more than thirty years later, the mystery remains: Did someone purposefully set fire to the library—and if so, who? Weaving her lifelong love of books and reading into an investigation of the fire, award-winning New Yorker reporter Orlean tells the broader story of libraries and librarians as she recounts the incident at the LAPL.

seven
Barracoon: The Story of the Last Black "Cargo" by Zora Neale Hurston, with a foreword by Alice Walker, is a never-before-published true story written by the famous author of the Harlem Renaissance, who penned the American classic Their Eyes Were Watching God. It recounts the life of Cudjo Lewis, a 95-year-old man Hurston interviewed in Plateau, Alabama, in 1927. Lewis was the last known survivor of the Atlantic slave trade, and after Hurston spoke to him about his experiences, the horrors of slavery, and their lasting effects on his life, she wrote this account—tragic, haunting, and essential.
eight
Text Me When You Get Home: The Evolution and Triumph of Modern Female Friendship by Kayleen Schaefer. This examination of the evolution of female friendship in pop culture and modern society is empowering and inspiring. Relationships between women are no longer (or at least not only) about cat fights, mean girls, and queen bees. Female friendships can and should occupy the same space as other important relationships. They matter just as much as bonds with romantic partners, children, parents, and siblings. And they can bring us just as much strength and joy.
nine
Bad Blood: Secrets and Lies in a Silicon Valley Startup by John Carreyrou covers the rise and fall of Theranos, the multi-billion-dollar biotech fraud startup headed by Elizabeth Holmes. In 2014, Holmes was widely seen as "the female Steve Jobs:" a brilliant Stanford dropout whose startup promised to revolutionize the medical industry. Theranos conducted a fundraising round that valued the company at more than $9 billion, putting Holmes's worth at an estimated $4.7 billion. There was just one problem: The technology didn't work.

ten
Frederick Douglass: Prophet of Freedom by David W. Blight. This is the first comprehensive biography of Douglass, written by an author who has devoted his life to the subject. This work documents many of the things already know about the great man: his escape from slavery; self-education; and his abolitionist work. Here we also learn a lot more about his lesser-known contributions to the women's suffrage movement.
eleven
Looking for Lorraine: The Radiant and Radical Life of Lorraine Hansberry by Imani Perry is a revealing portrait of one of the most gifted and charismatic – yet least understood – black artists and intellectuals of the twentieth century. Although best-known for her seminal work A Raisin in the Sun, her short life (she died at 34) was full of extraordinary experiences and achievements.
twelve
Fly Girls by Keith O'Brien. This riveting history documents the true stories of 5 female aviators who were held back from pursuing their dreams of flight by gender discrimination. The period between the two world wars saw male aviators hailed as fearless and brave heroes. But female pilots were ridiculed for what the press portrayed as their frivolous efforts to horn in on a manly, and deadly, pursuit. Fly Girls recounts how a cadre of women banded together to take to the skies. A couple of their names are are well-known – like Amelia Earhart. But others, like Florence Klingensmith, will be new discoveries for most. If you loved Hidden Figures, you'll also be moved by the stories of these tenacious pioneers.

thirteen
Heavy: An American Memoir by Kiese Laymon. The author writes eloquently and honestly about growing up a black son to a complicated and brilliant black mother in Jackson, Mississippi. From his early experiences of sexual violence, to his trek to New York as a young college professor, Laymon charts his complex relationship with his mother, anorexia, obesity, and the writing life. Through the course of the book, his personal stories open up to illuminate the currents running through present-day American society.
fourteen
The Prison Letters of Nelson Mandela by Nelson Mandela; edited by Sahm Venter. Arrested in 1962, forty-four-year-old lawyer and African National Congress activist Nelson Mandela had no idea that he would spend the next twenty-seven years in jail. During his 10,052 days of incarceration, the future leader of South Africa wrote a multitude of letters. This volume includes 255 of these letters, many of which have never been published. It's a deeply moving journey to learn how Mandela maintained his spirit while living in almost complete isolation, and how he engaged with the outside world in way that ultimately helped win his freedom.
fifteen
Leadership in Turbulent Times by Doris Kearns Goodwin. The Pulitzer Prize-winning author offers an illuminating exploration of the early development, growth, and exercise of leadership. Are leaders born or made? Where does ambition come from? How does adversity affect the growth of leadership? Does the leader make the times or do the times make the leader? Drawing upon the lives of the four presidents she has studied most closely—Abraham Lincoln, Theodore Roosevelt, Franklin D. Roosevelt, and Lyndon B. Johnson—she illustrates how they recognized leadership qualities within themselves and were recognized as leaders by others.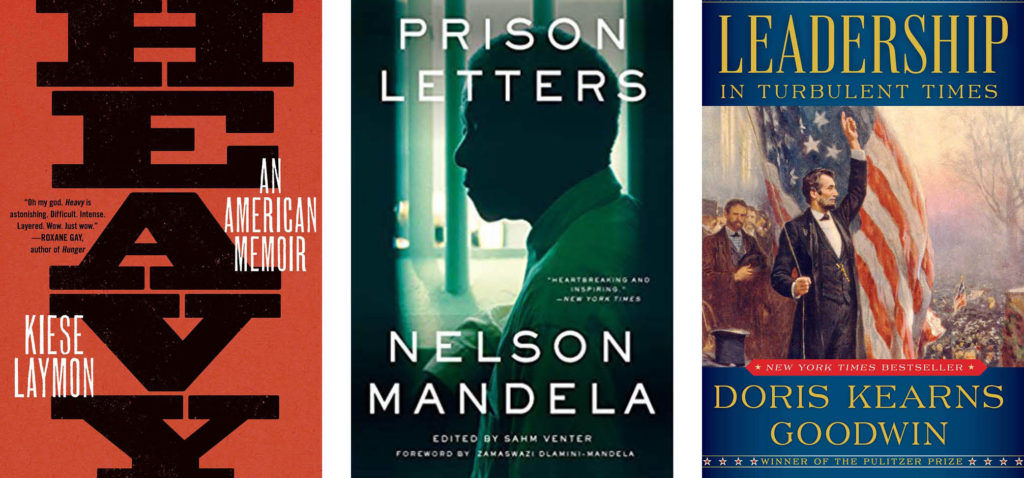 That's it. Our list of the best books of 2018. To their authors, we say thank you for taking us on such transporting journeys.
And to you, dear reader, we suggest making your own Best of the Year list. It's almost certain to reveal something about yourself that perhaps even you didn't know.
If you're looking for additional ideas, check out our list of the best books published in 2018 for bibliophiles. They could be a perfect gift – or self-gift!
Happy New Year.
see luxury in a new light
Come and join our community! For a weekly round-up of insider ideas and information on the world of luxury, sign up for our Dandelion Chandelier Sunday Read here. And see luxury in a new light.