It's that time of year, people. The spring designer collections are almost here. Time to get smart about what to expect in the next few weeks. Along with the new designer collaborations (of which there are many), here are the important spring 2019 fashion trends you need to know.
the spring 2019 designer collections are almost here
Just as the cold weather has really begun to settled in, a small ray light has begun to beam across the fashion world – the arrival of the Spring 2019 designer collections.  While they are not 100% available just yet, they will be soon.
In anticipation of their arrival, we've scoured countless fashion magazines and the Spring '19 runway presentations to help you prepare and shop wisely.
What styles should you buy this spring to be totally on-trend?
Based on what we've seen, Spring 2019 will be anything but boring. Instead, this season will see us dressing to have fun, to escape the day to day doldrums and to embrace our femininity – all of which sounds good to us.
So whether you're the type to don feathers, embrace a kaleidoscope of colors or toss on some biker shorts and a blazer, there is a trend for you in the Spring 2019 collections.  And if those looks just aren't practical for you, there are some very office friendly (and comfortable) khaki-colored trends to try, too.
important spring 2019 fashion trends you need to know
So let's get to it, here are our six favorite trends to try this spring:
1. Statement sneakers.
While 2018 saw "Dad sneakers" nearly everywhere, 2019 is all about the statement sneaker. So say goodbye to bulky basics and hello to sparkly, metallic and studded embellishments.  You can thank Gucci for kicking off this trend with is über-cool crystal-strapped Flashtrek sneakers.  Now countless other designers have followed suit including Coach 1941, Comme de Garcons, Vetements and even a new style from Gucci itself.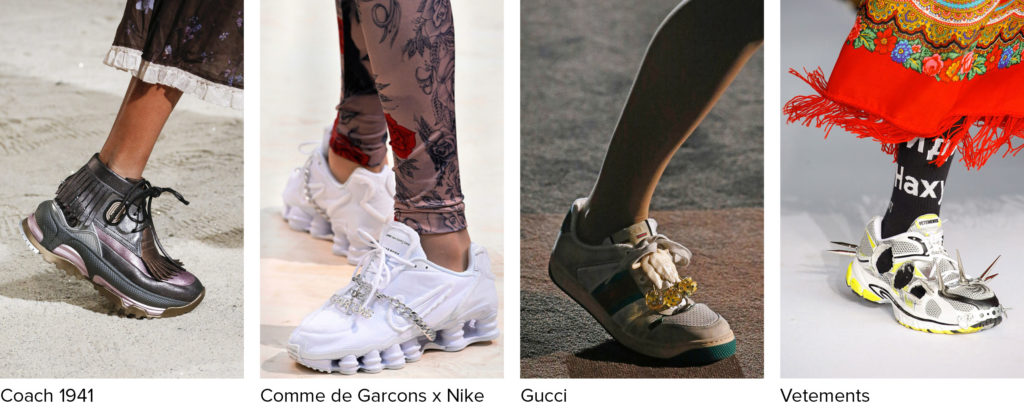 2. Bike shorts.
The love affair with athleisure has taken a turn for the tighter and shorter this season. Love 'em or hate 'em bike shorts were all over the spring 2019 runways including the likes of Fendi, Chanel, Stella McCartney and Roberto Cavalli.  For those feeling brave enough to rock this once humble garment, try pairing them with an oversized blazer like Chanel did during their spring 2019 runway and just like Princess Diana did in the 90's.  And if you just can't do it, thankfully Prada stepped up with some tailored bermuda style shorts for the rest of us.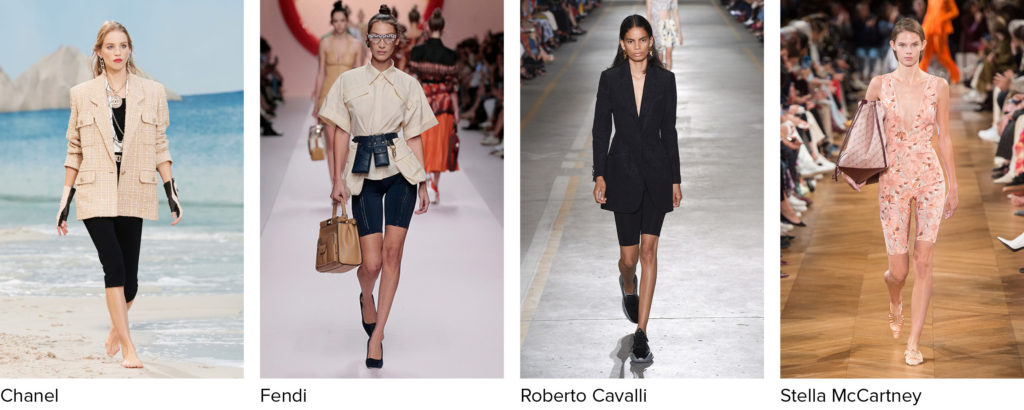 3. Utilitarian.
This khaki colored trend falls somewhere between chic safari and modern military. Even better is that it is all about practicality because these are clothes you can live in and shoes you can actually walk in.  Just be sure to keep this look tailored so that it doesn't overwhelm you.  We loved the crisp and clean pockets featured throughout Dries Van Noten, the oversized vests in Chanel and the silky cargo trousers from both Givenchy and Fendi that just scream woman on a mission.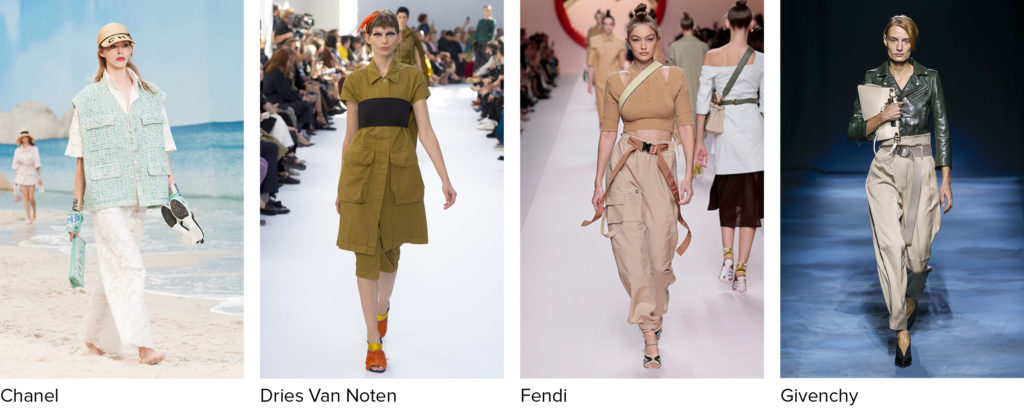 4. Tie-dye.
The nostalgia trend continues in a more colorful way this season with the emergence of tie-dye across the runways. No longer just for art teachers and children's crafts, tie-dye has been given a modern update.  At Dior there are kaleidoscope versions while at Stella McCartney there are boiler suits in bold blues and t-shirts in soft pastel swirls.  Prada and Prabal Gurung went for maximum impact, employing bright oranges and greens as well as fluorescents.  Consider trying tie-dye in lieu of the usual spring florals and let the feel good vibes roll.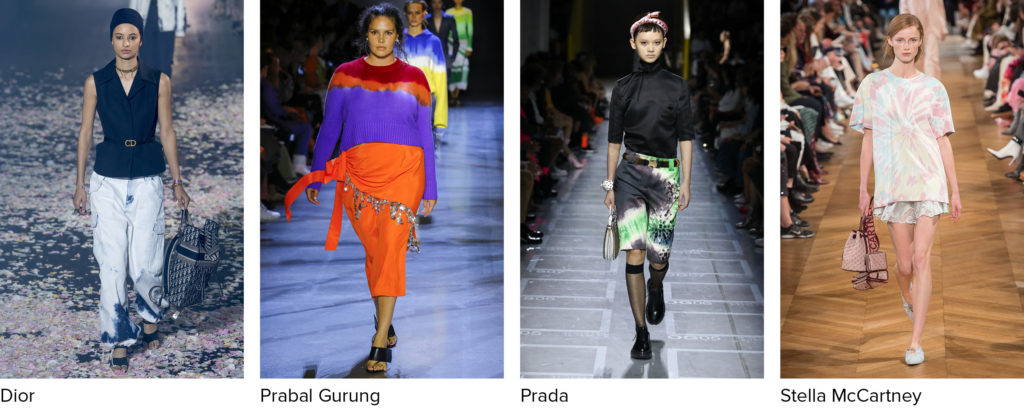 5. Feathers.
Feathers are having a hug moment. Whether applied in the refined way of Dries Van Noten or in an over the top style such as the voluminous dresses from Marc Jacobs and oversized hats from Valentino, this look is sure to set hearts aflutter. If these all seem to sweet for you, Gucci has you covered with some 70's glam rock inspired feathers.  We'll take one of each please.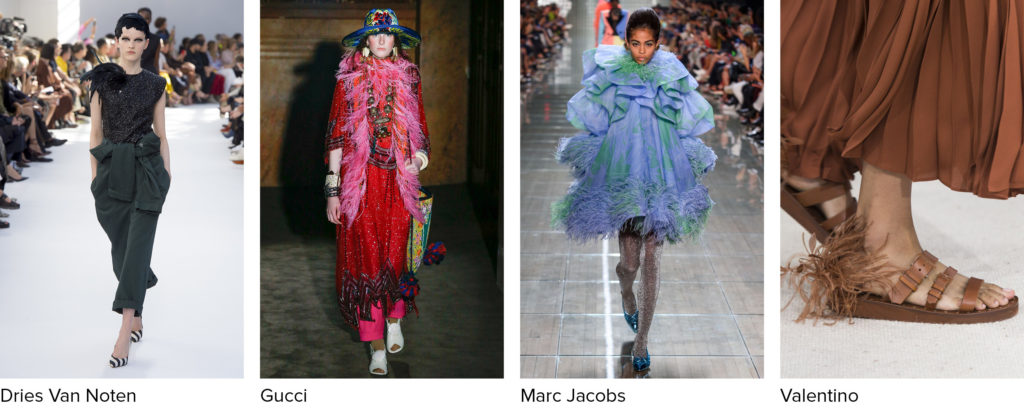 6. Neutrals.
If the previous five trends scare you dear minimalist friends, then this one's for you. In addition to all the bright colors, shapes and textures, there was one more standout hue, which just so happens to also be one of the subtle and down to earth – neutrals are back in a big way.   Nearly every major runway saw some form of sand, tan, cream or khaki this season.  We especially loved how brands like Dior, Valentino, Fendi and Prada dared to dress their models in head-to-toe neutrals, proving that paring down can be a bold look.  So get ready to lighten up this season.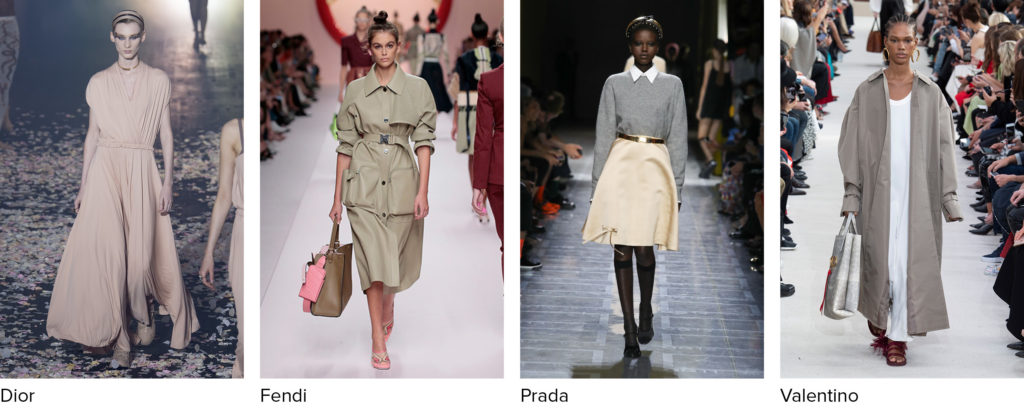 we can't wait for spring
Until these style start hitting the stores you can find us here dreaming about Valentino's feathers and the adventures we will wear them on.  Happy shopping!
see luxury in a new light
Come and join our community! For a weekly round-up of insider ideas and information on the world of luxury, sign up for our Dandelion Chandelier Sunday Read here. And see luxury in a new light.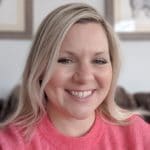 Jillian Tangen is the Head of Research at Dandelion Chandelier. Formerly, she was a Senior Research Analyst at McKinsey & Co and Analyst at Shearman & Sterling. She is an avid fan of Nordic design, having owned an independent lifestyle store and sales agency focused on emerging Scandinavian design. Jillian lives in NYC and is married with three young children. She loves cross country skiing, the New York Rangers, reading, travel and discovering new brands.
Join our community
For access to insider ideas and information on the world of luxury, sign up for our Dandelion Chandelier newsletter. And see luxury in a new light.