The spring-summer 2019 designer collections are here, and they're stunning.  Full of color, optimism, purpose and femininity. If you're a handbag person, you're in luck: the bags are just as wonderful. Our correspondent Julie Chang Murphy shares the spring 2019 handbag trends you need to know. And the gorgeous watercolor illustration? Julie hand-painted that. The woman has mad skills.
the best designer handbags for spring 2019
As I was painting these handbags, I couldn't help but think of the Marie Kondo effect sweeping the nation as a result of her recent Netflix special, based on her book about organizing and only keeping things that "spark joy."
This spring's designer handbags certainly do just that with their bright, happy color palette, as many designers chose reds, pinks and oranges as the dominant color. They certainly live up to their familiar moniker: arm candy.
But beyond color, this season's handbags are unabashedly feminine, whimsical and nostalgically glamorous. While some may interpret the demure and conservative silhouettes or the surprisingly popular use of feathers as hyper-feminizing the modern woman, we'd like to think of these trends as weaponizing femininity.
Don't know what I mean? Check out what our record number of newly elected female representatives chose to wear on their first day to work. Nancy Pelosi, the most powerful person in the Democratic Party armed herself in a bright fuchsia dress. Kyrsten Sinema was an inspiring vision in a deliberately high-femme style that showcased her bare arms (gasp) in a figure hugging dress, splashed with a hot pink rose graphic. And a glamorous stole.
These powerful women prove that if we feel like it, we can adorn ourselves with the fizzy, fluffy and fantastical and not have to apologize for it. What better season than spring, the time of rebirth and growth, to reclaim past cultural assumptions of femininity and imbue them with new meanings?
Herewith, the trends and silhouettes that you'll find when you go bag shopping this spring.
the four spring 2019 handbag trends you need to know
1. Lady-like bags
From key players in the accessories game – Marc Jacobs, Prada, and Chloe – we see jewel-box sized bags, gum ball-like clasp closures and in general, lady-like silhouettes reminiscent of Queen Elizabeth's iconic handbag. They are refined, polished and elegant. As with the paradigm shift we've seen with the color pink, we anticipate a similar change in perspective happening with these types of feminine and diminutive handbags. They need not be an automatic signifier that the wearer is "sugar and spice and everything nice." As a bonus, their petite size challenges us to carry just what we need. What would be inside of yours? Mine? My iPhone and Tom Ford Cherry Lush lipstick!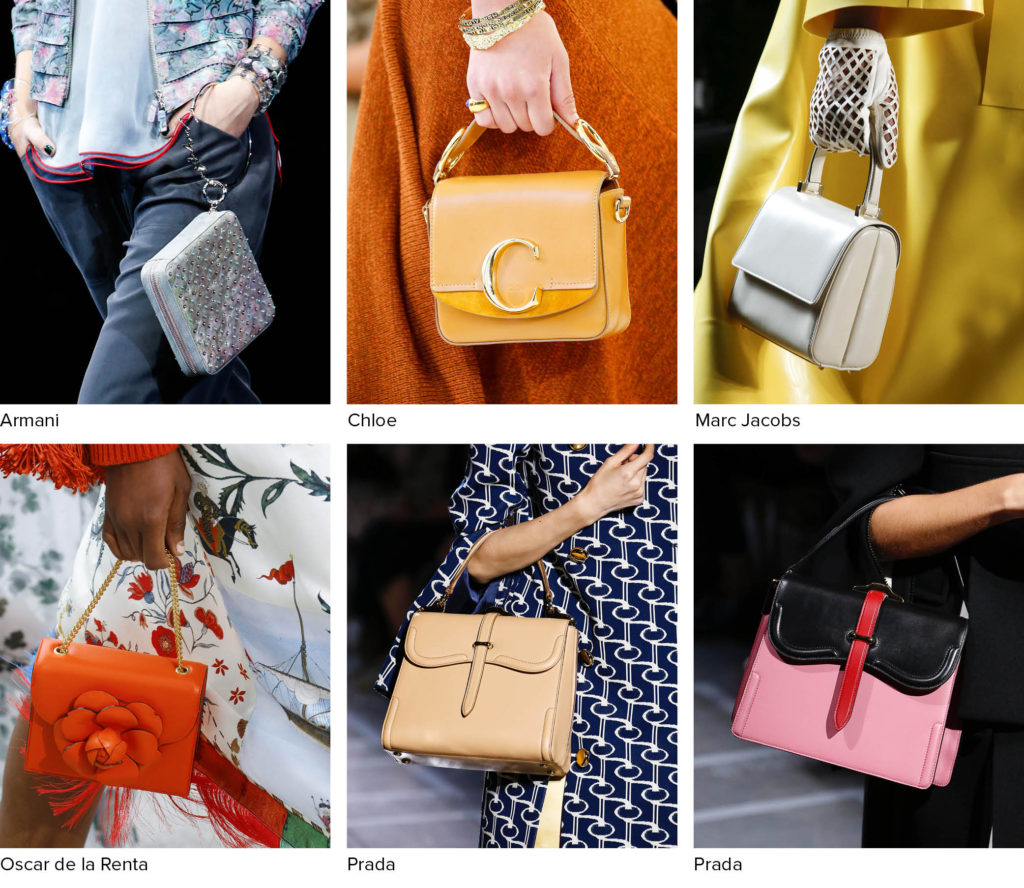 2. Geometric shapes
Louis Vuitton, Balmain, Balenciaga, and Marni highlight the geometric shape of their handbags – precious orbs, cubes and parallelograms (there's a word we haven't used since 10th grade geometry.) Like the lady-like bag trend, there is an emphasis on structure but their somewhat odd shapes add whimsy and quirkiness to one's wardrobe. This trend could be interpreted in an edgy or futuristic manner. But here again, designers lighten the mood with soft pastel colors and cheery brights.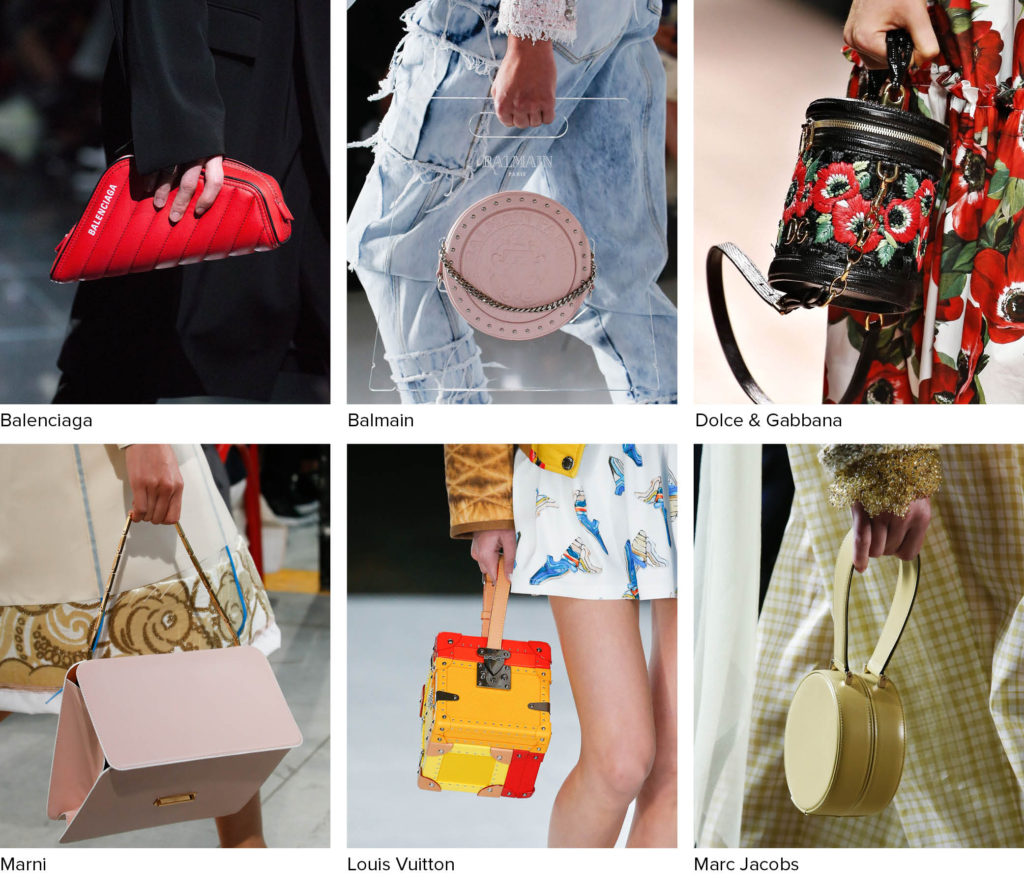 3. Crafty Glam
From the designers at Loewe, Prada, Christian Dior, and Altuzzara, we see a glamorous update of bohemian crafts: crochet, macramé, tie-dye and ethnic inspired embroidery. They belong to that tribe of woman – the blithe spirit, we all imagine ourselves to be – on vacation. A flock of feathers were seen on bags from Dries Van Noten, Valentino, and Rochas. Feathers: enchanting and romantic, though admittedly, not very practical. But do they spark joy? I think, yes. The overarching theme here is an appreciation and celebration of typically feminine "at home" crafts and materials.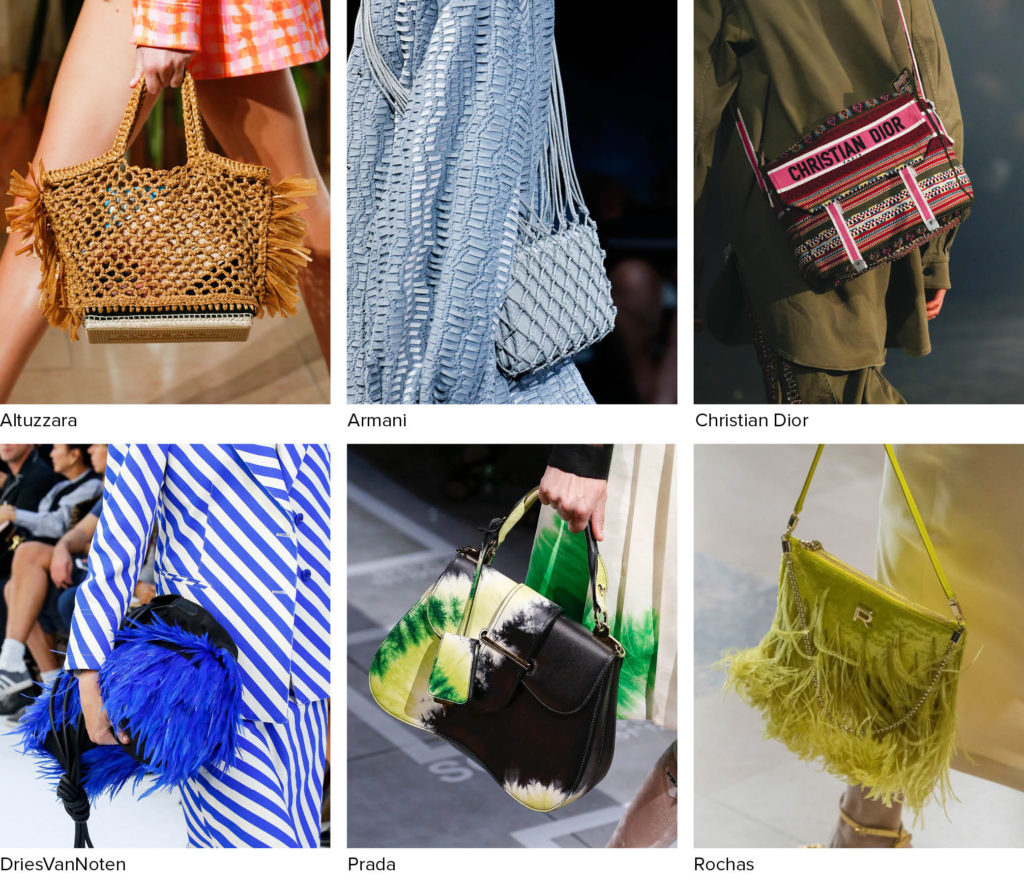 4. Belt Bags
While we're rethinking femininity, it's time to rethink the belt bag. Erase the term "fanny pack" from your vocabulary. This trend, whether you approve or not, is here to stay. Chanel, Burberry, Fendi and Christian Dior are all on board. Wear it the traditional way, around your waist or slung over your shoulder. Or carry it by hand. There is no more practical bag out there for all the women who are rolling up their sleeves and leading the charge.

What do you think? Which handbag do you have your eye on this Spring?
see luxury in a new light
Come and join our community! For a weekly round-up of insider ideas and information on the world of luxury, sign up for our Dandelion Chandelier Sunday Read here. And see luxury in a new light.
power up
For a weekly dose of career insights and ideas, sign up for our Sunday newsletter, Power Up, here.
Crediting her training as a cultural anthropologist at Wellesley College, Julie has immersed herself in various industries in the last 15 years including fashion design, event planning, fitness and even investigating police misconduct. Julie lives in NYC where she loves trying every ramen and dumpling restaurant with her husband and three children. She finds joy in bold prints, biographies of fierce women, kickboxing and spending way too long finding the perfect polish color to express her mood.
Join our community
For access to insider ideas and information on the world of luxury, sign up for our Dandelion Chandelier newsletter. And see luxury in a new light.