The Best Of The Spring Summer 2019 Haute Couture Shows
All products are independently selected by our editors. If you buy something, we may earn an affiliate commission.
The haute couture shows in Paris are meant to be the stuff of dreams. In Paris this week, in addition to beauty, there was also a clear acknowledgement that women need clothes that are striking, strong, interesting – and wearable. How do you dress for a black-tie event like a boss lady? Here's how. These are our top picks of the best of the spring summer 2019 haute couture shows.
best of the spring summer 2019 haute couture shows
1. Chanel
Inside the Grand Palais, Karl Lagerfeld showed his collection for Chanel twice (although Lagerfeld himself was absent from both shows). It was a stunning setting, evocative of the French Riviera. There were palm trees, a grand double staircase that led to a manicured lawn complete with a giant pool at the center.
We loved: the mash-up of black leather and white tulle; the fresh take on formal florals; the edgy pointed-toe kitten-heel booties
Most talked-about moment: at the end of the show, instead of the traditional couture bridal gown, Lagerfeld sent a model down the runway in a sequined bathing suit with a matching swimming cap and a glittery veil. Leading the fashion crowd to speculate on whether swim caps are the new Thing.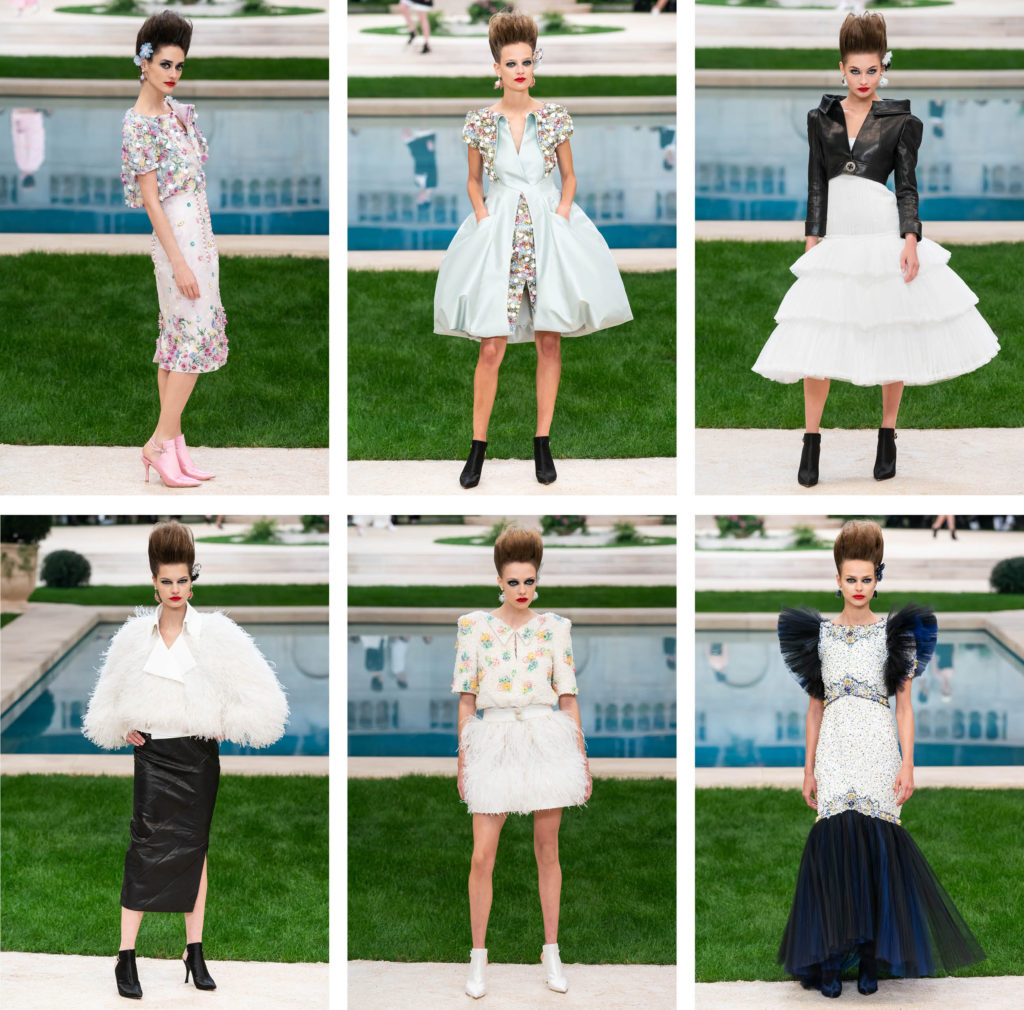 2. Valentino
We loved: The vibrant, brilliant garden of color deployed by a master – Pier Paolo Piccioli knows exactly how to juxtapose unlikely color combinations in a way that is dramatic, riveting and just so right. And we were thrilled by the number of black women on the runway. Bravo!
Most talked-about moment: Legendary runway model Naomi Campbell closed the show, wearing a dramatic sheer black gown.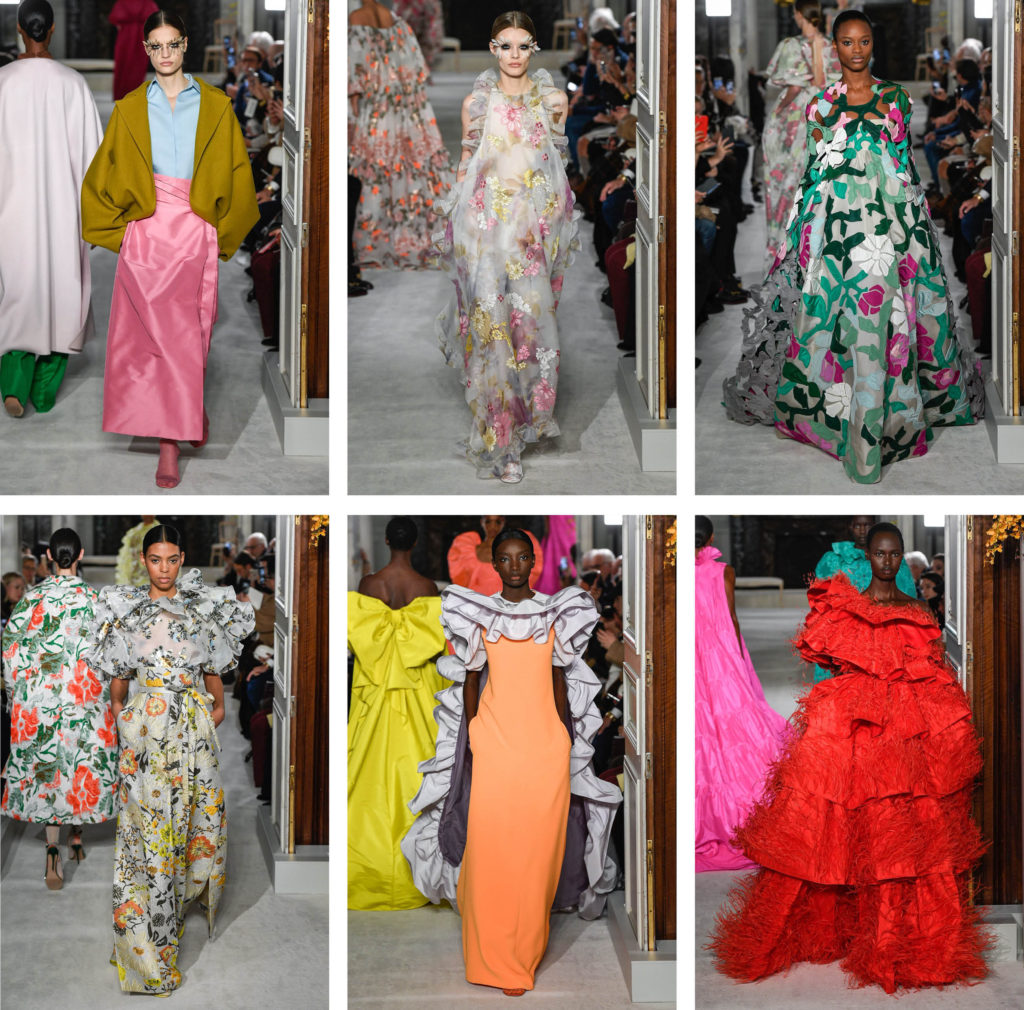 3. Dior
Maria Grazia Chiuri immersed herself in research for her show by studying circus depictions in the art of Jean Cocteau, Pablo Picasso, Cindy Sherman, and Richard Avedon. Her show at the Musée Rodin featured Mimbre, London's all-women troupe of circus acrobats.
We loved: The smartly-tailored suits; the ethereal white and gold gowns; the white boots
Most talked-about moment: The visual imagery of the acrobats supporting and carrying each other throughout the show – women standing on the shoulders of other women. Oh – and there were swim caps here, too.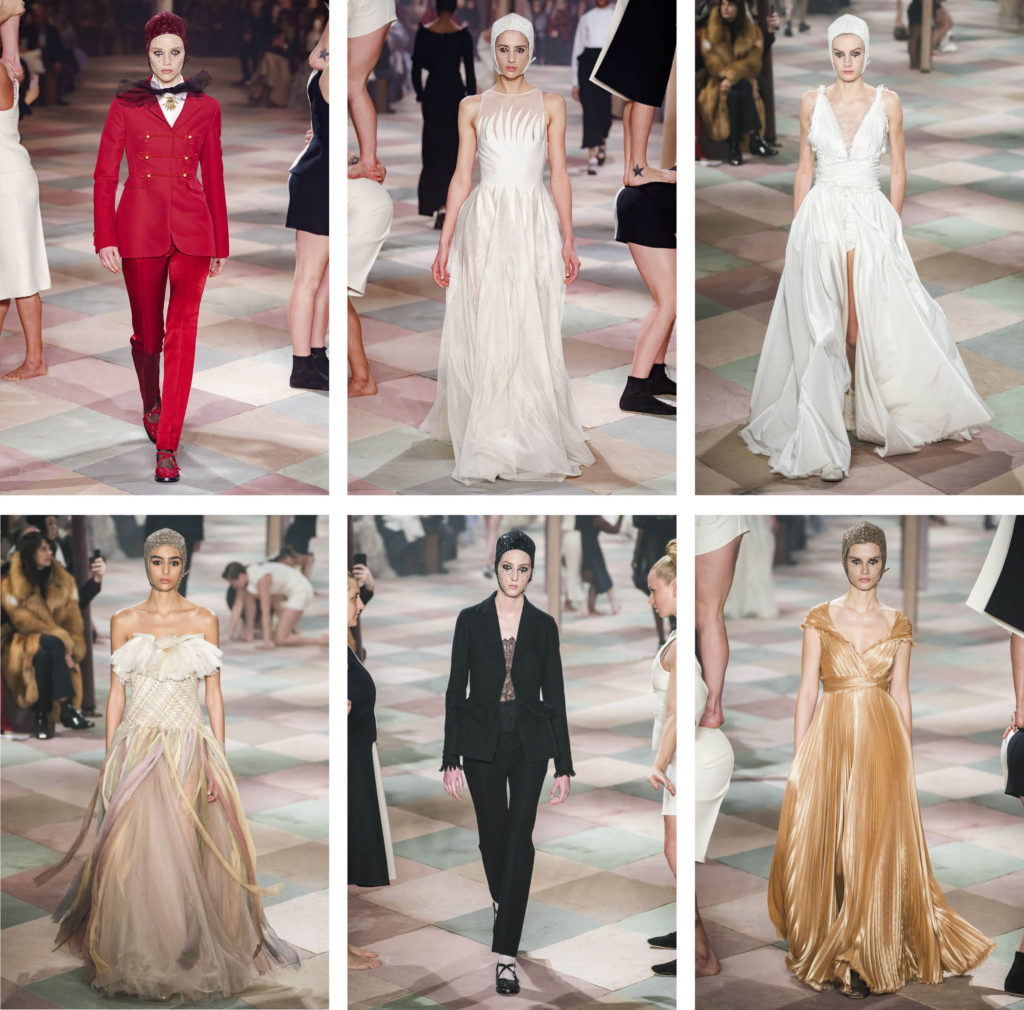 4. Givenchy
In the vast galleries of the Musée d'Art Moderne de la Ville de Paris, Clare Waight Keller showed her third haute couture collection for Givenchy. In an unusual twist, looks for both men and women were shown. Purity was a theme of the show. One of the many memorable elements? The holographic headband worn with two or three of the looks.
We loved: the razor-sharp black suits; the strong and elegant evening gowns; the shade of blue
Most talked-about moment: An oversize bow that turned out to be a branded backpack. It may become "the haute couture It bag."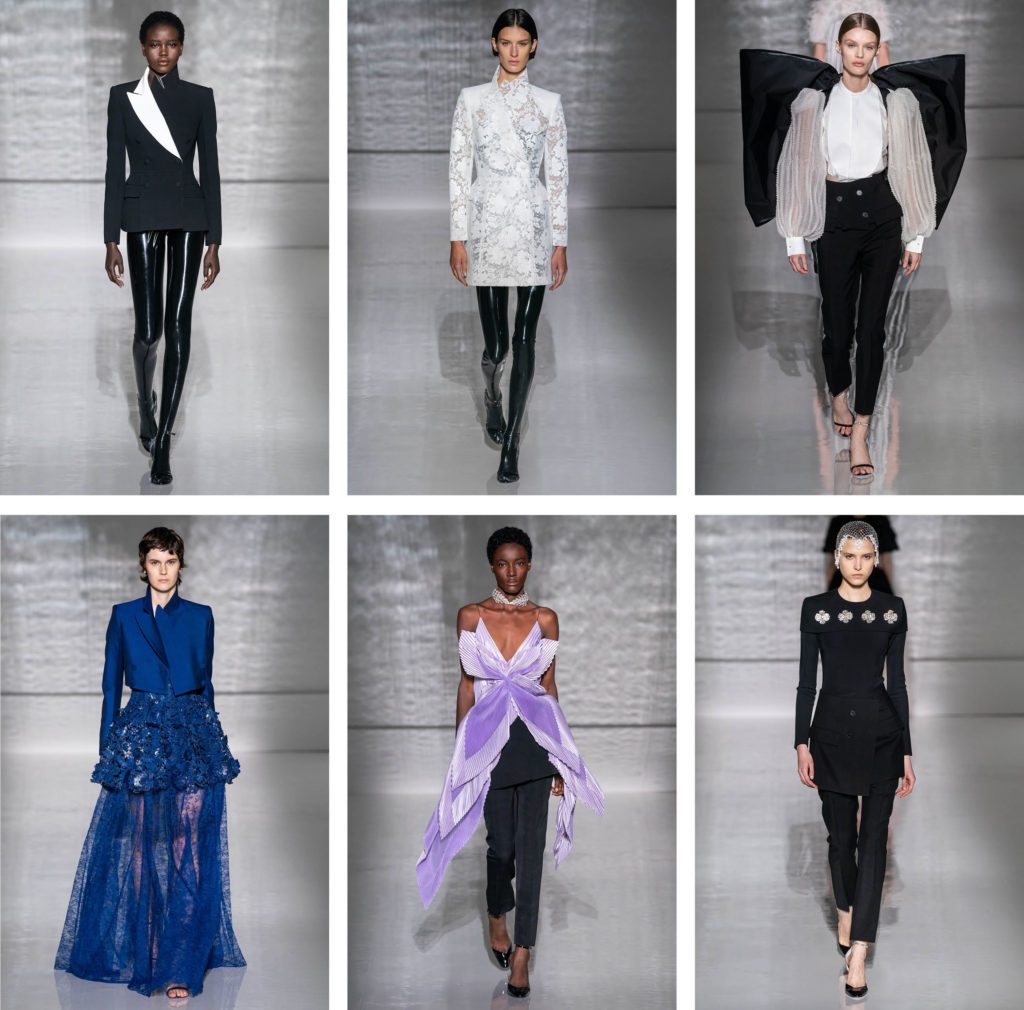 5. Iris van Herpen
Van Herpen is always included in museum fashion shows, because her work is highly conceptual and visually stunning. In this collection, she broadened her color palette from her characteristic metallic and stone to include ocher, purple, vermillion, and blue.
We loved: the dresses that appeared to be flowers blooming organically from the women wearing them; the sexy-chic evening gowns
Most talked-about moment: the dress with "anamorphic faces" embedded into layers of white silk outlined in black – the eyes "moved" as the model walked, adding a touch of surrealism to the dreamily elegant show.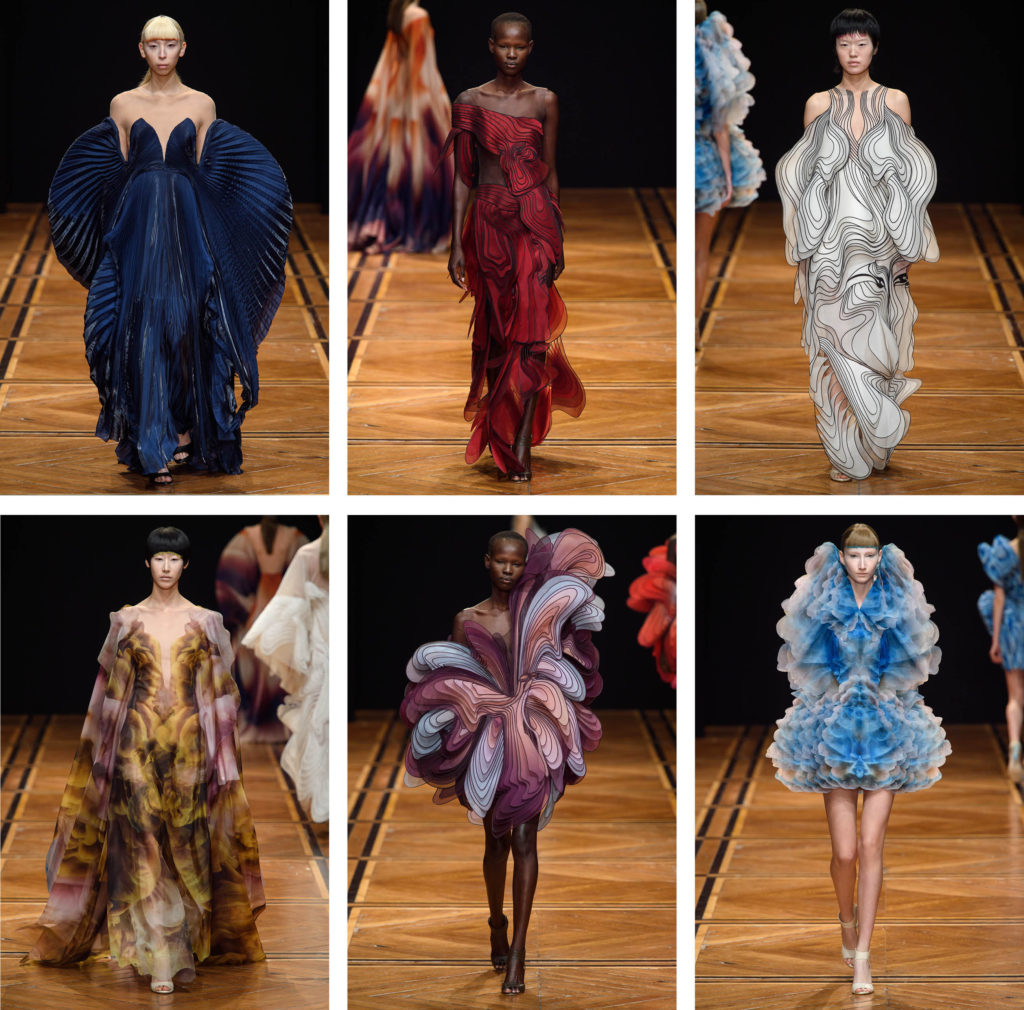 6. Ralph and Russo
For this collection, designer Tamara Ralph said that she was heavily inspired by Mexican actress María Félix, who shot to fame in the 1940's. Her flamboyant Latin-American style was celebrated in the show.
We loved: the fluid, shimmering evening gowns – totally red carpet-ready
Most talked-about moment: the sexy white dress with a yellow banana print, which was said to be an homage to the great Josephine Baker.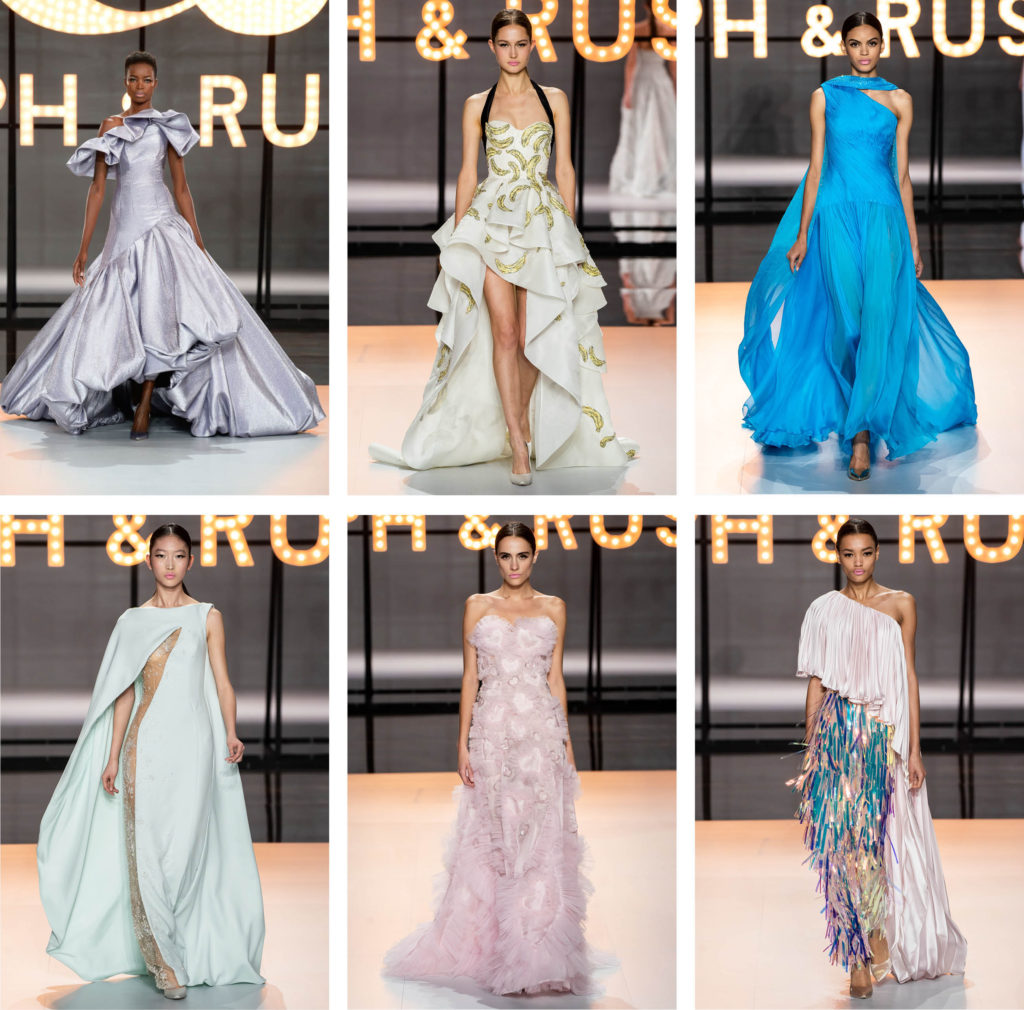 7. Armani Prive
In a series of salons located off the Place Vendôme, Armani Prive's show was, as always, cinematic. Which is appropriate, since many of these looks are likely to show up on the Hollywood red carpet in February.
We loved: the chunky bracelets, especially the blue ones; the pure lines; the timeless feeling
Most talked-about moment: Uma Thurman, Michelle Dockery, Dakota Fanning, Juliette Binoche, and Céline Dion were among the guests at the show.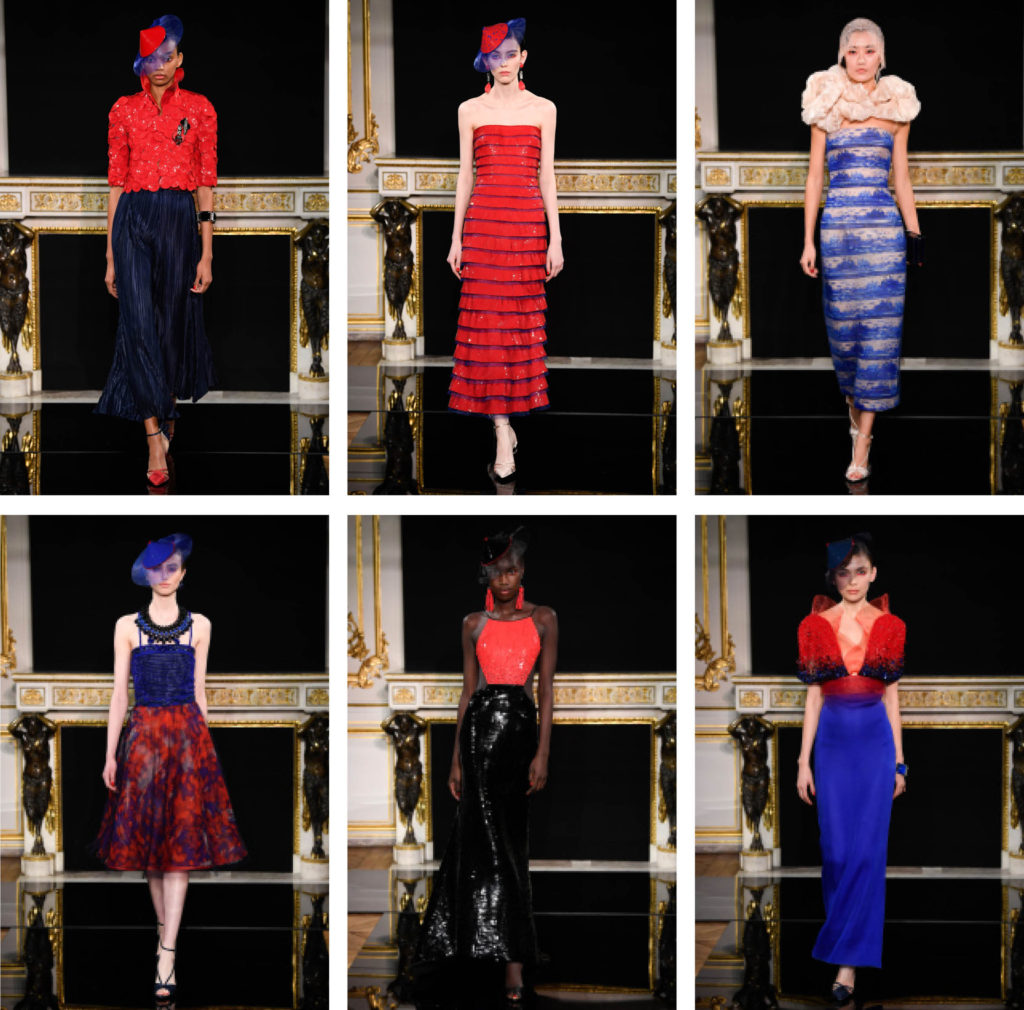 So what did we learn?
You can never, ever go wrong with crisp black and white, and there are endless chic ways to wear that classic color palette. Florals don't have to be safe, boring or aging. Bold color is surging, despite the ready availability of pastels – opt for blue, red or yellow if you want to be totally on-trend.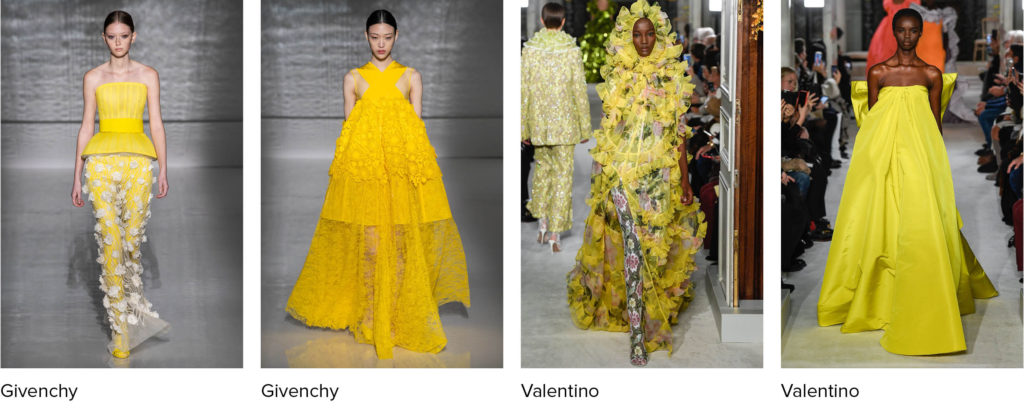 And finally? Powerful, feminine and fun can happily co-exist in one perfectly-designed ensemble. That's how to dress for a black tie event like a boss lady.
see luxury in a new light
Come and join our community! For a weekly round-up of insider ideas and information on the world of luxury, sign up for our Dandelion Chandelier Sunday Read here. And see luxury in a new light.
ready to power up?
For a weekly dose of career insights and advice on how to get ahead, sign up for our new newsletter, Power Up, here.