why we love the 2019 color of the year: living coral
All products are independently selected by our editors. If you buy something, we may earn an affiliate commission.
The New Year brought all kinds of pressing questions with it, including this one: what should we make of the color coral? We have a great deal of conviction about green and yellow. But coral? We were initially skeptical. But after some investigation and reflection, our correspondent Julie Chang Murphy has convinced us that there are several reasons why we love the 2019 color of the year: living coral. She's even got some specific suggestions about how to wear coral and still look chic.
the 2019 color of the year: living coral
As you may have heard, Pantone Color Institute's choice for Color of the Year is Living Coral. (although we still hear that mint green is the hue of the future).  They proclaim that it is an "animating and life-affirming coral hue with a golden undertone that energizes and enlivens with a softer edge." Compared with last year's Ultraviolet, it certainly is a less serious hue, one that expresses warmth, optimism, and playfulness.
our initial reaction to this announcement
And yet…we here at Dandelion Chandelier were bit skeptical, especially when thinking about whether Coral actually has a place in the luxury realm. The color immediately conjured images of 1950's bathrooms, chalky and jarring lipsticks, cheap Florida motels and saccharine prom dresses. It struck us as being deeply unserious. Bordering on kitschy.
however, on further reflection . . .
Perhaps coral does inspire optimism in the viewer.  After we started looking around, it actually didn't take long for us to see how many multicultural influences Coral embraces and how stunning women with yellow, olive, brown and black skin look in this shade.
If, as the Pantone Color Institute suggests, Living Coral is THE color to capture the zeitgeist, we would like to imagine that along with its obvious inspiration from nature, it is also a recognition and celebration of diversity and inclusiveness. So banish those images of dated Coral-painted municipal hallways from your mind, and refresh it with these worldly influences.
Common places to find the color living coral
Other than a coral reef, where can one find this hue in the wild? Here are three other places.
1. In Fruit baskets
One of the most pleasurable and delightful experiences of travel is trying fruits that are native to its country. Sure, things are flash frozen and shipped all over the world but there is nothing like a local fruit stand. Living Coral reminds us of the sweet and sour grapefruit, and the complex taste of tropical fruits: papaya and guava, originally native to South and Central America.
In East Asia, Coral skews pink in the Japanese peach and into the more orange spectrum in persimmons and kumquats. These fruits are culturally significant, especially during the Lunar New Year, symbolizing good fortune, prosperity and longevity.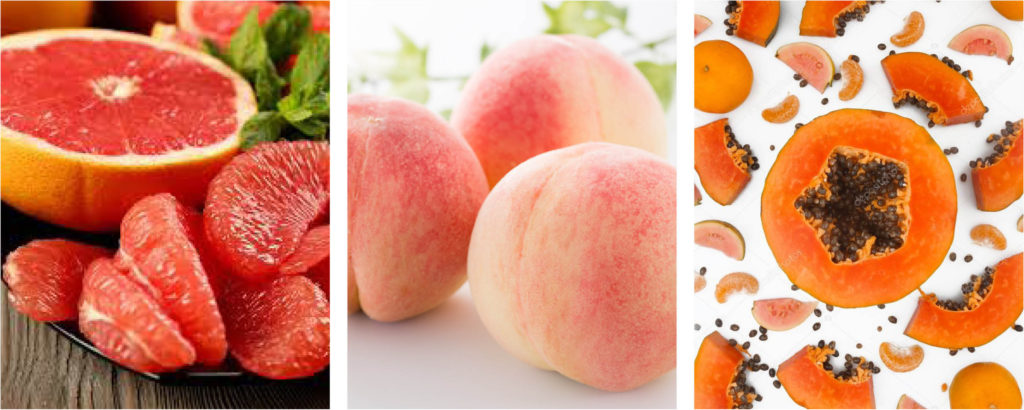 2. In ancient Architecture/Interiors
Coral hues can be found in the architecture and its interiors throughout the world, and not just around touristy beaches and coastal towns.
Of course, it owes its original color to the red-orange-brown occurrences in terracotta- "baked earth" and also, pink sandstone. From Spanish mission style roofs to the "pink city" of Jaipur to the "red rose city" of Marrakech, the color is earthy, vibrant and sensual. In Mexico, colonial houses in El Fuerte and Oaxaca cover the spectrum of Living Coral in all its sunny warmth. In Chinese culture, dating back 2,300 years, decorative objects were and still continue to be made of carved cinnabar lacquer, producing a prized and distinctive coral red color.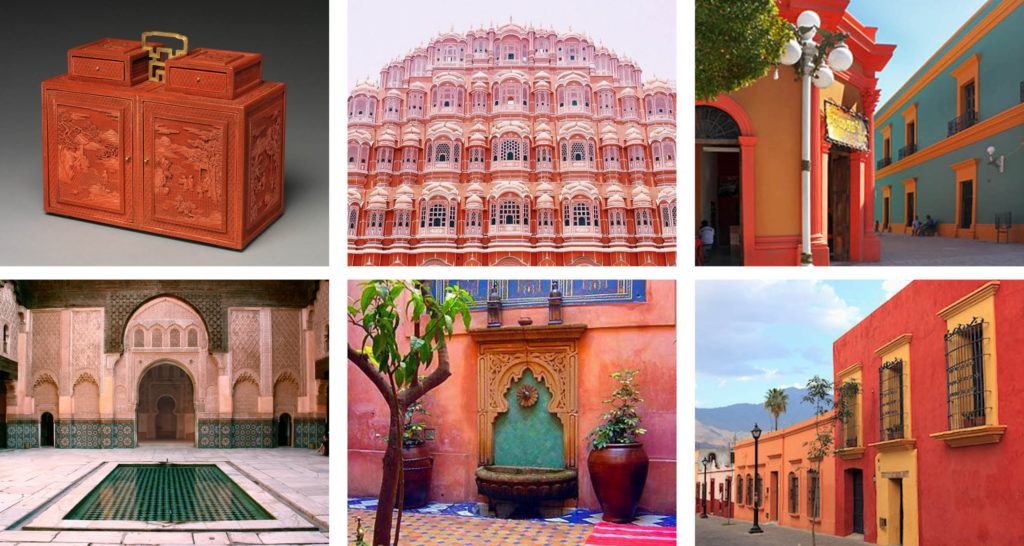 3. Being worn by women of color
While Living Coral might complement all skin tones, we think they particularly bring out the natural beauty of women of color in a way that soft pastels (ahem, Pantone 2016's "Rose Quartz blended with Serenity") might not.
The golden undertones of the color certainly make these women glow and if that means more representation in the months to come with Indian women modeling Coral dresses, Black women walking the runway resplendent in Coral accessories, or Latina and Asian women posing in the latest Coral hued makeup, it won't be too soon.

How to live with Living Coral
If you've been convinced to give Living Coral a go, we have a few recommendations!
1. Use it as a pop color
We love it as a pop of color to elevate a neutral ensemble. Featured here from netaporter.com: Chloe satchel, Sophie Anderson straw tote, and Christian Louboutin heels.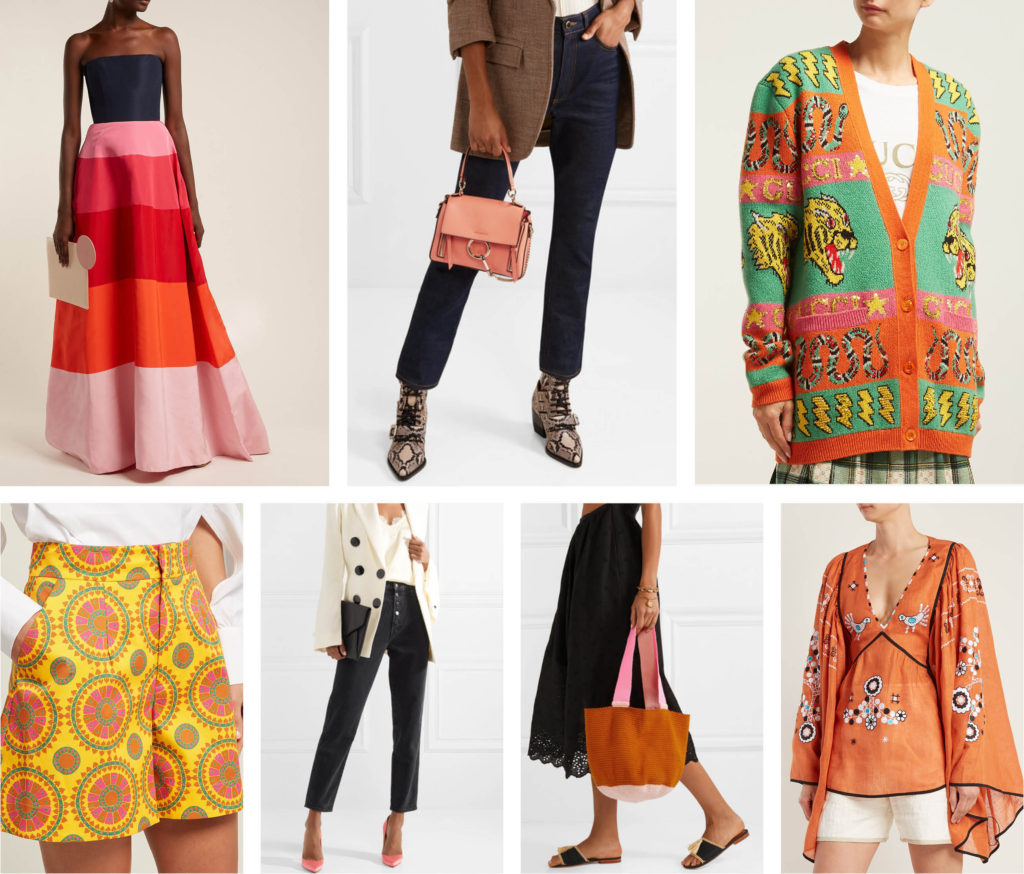 2. Make a maximalist statement
If you've worked up some moxie to embrace the color full on, Coral is especially well-suited for maximalism. Go big or go home. Some of our favorites from matchesfashion.com: Gucci wool jacquard cardigan, La DoubleJ printed shorts, embroidered Vita Kin linen top, and Carolina Herrera faille gown.
3. Bring it on home
In the home, Living Coral lends a a cultured, Bohemian flavor. We love Jungalow's pattern mixing with other warm, earthy tones. And these John Derian plates with Coral colored mushrooms add humor and are a great conversation starter.

Actually, we think we can live with this Living Coral shade…and maybe, just maybe, for longer than just one year.
see luxury in a new light
Come and join our community! For a weekly round-up of insider ideas and information on the world of luxury, sign up for our Dandelion Chandelier Sunday Read here. And see luxury in a new light.
power up
For a weekly dose of career insights and ideas, sign up for our Sunday newsletter, Power Up, here.
Crediting her training as a cultural anthropologist at Wellesley College, Julie has immersed herself in various industries in the last 15 years including fashion design, event planning, fitness and even investigating police misconduct. Julie lives in NYC where she loves trying every ramen and dumpling restaurant with her husband and three children. She finds joy in bold prints, biographies of fierce women, kickboxing and spending way too long finding the perfect polish color to express her mood.