what are the best places in the world to watch a movie?
All products are independently selected by our editors. If you buy something, we may earn an affiliate commission.
Our correspondent Abbie Martin Greenbaum is our expert on all things cinematic. From film festivals to must-see new releases – and of course, the awards season – she's our expert guide to the silver screen. In this dispatch, Greenbaum shares her list of the best luxury movie theaters in the world (the most luxurious cinemas we've ever heard of). If you love film, these are the best places in the world to watch a movie.
what are the best places in the world to watch a movie?
Over the past few years, many pundits have speculated that going to see a movie in theaters was quickly becoming a thing of the past. With watching movies at home so convenient, and so many films swiftly becoming available on streaming platforms, more and more people seemed ready to opt for seeing new releases at home.
The future of movie-watching seemed to be all about Netflix and chill.
As a result, movie theaters have had to get more creative, and change what going out to the movies is all about.
Some theaters have focused on the best parts of watching a movie at home: being able to snuggle under a blanket, and ordering in dinner to eat while watching. They're finding ways to bring those elements to the big screen viewing experience.
Others are instead seizing on what it means to have a compelling theatrical experience – where going to see the movie in a theater, with other people, is almost as much a part of the viewer's memories of the experience as the film itself.
In both cases, smart cinemas have doubled-down and created luxurious new approaches to film going. The death of movie theaters seems to have been greatly exaggerated. In fact, you could argue that we're in a new golden era of cinema, both on the screen and in the seats.
the most luxurious cinemas in the world
These are some of the most luxurious theaters open around the world right now, all of which bring a new spin to going to the cinema that you won't want to miss.
1. iPic (United States)
With locations ranging from New York to Texas, the iPic chain of theaters offers some of the finest luxury cinemas in America. If you're hoping to transform a trip to the movies into a truly luxurious night out, they are definitely the perfect choice.
Many iPic theaters have an adjoining restaurant, allowing their guests to enjoy a delicious sit-down meal before the show. They also offer multiple tiers of ticketing, including "Premium" and "Premium Plus." While "Premium" ticket holders are able to pick up food from the theater counter to bring to their recliner seats, "Premium Plus" ticket holders – who are also provided with pillows and blankets – enjoy waiter service throughout the film.
If you're looking to take all the best elements of watching a movie at home, and transform them into an experience far more magical than watching a film in your pajamas, then iPic is the place to go.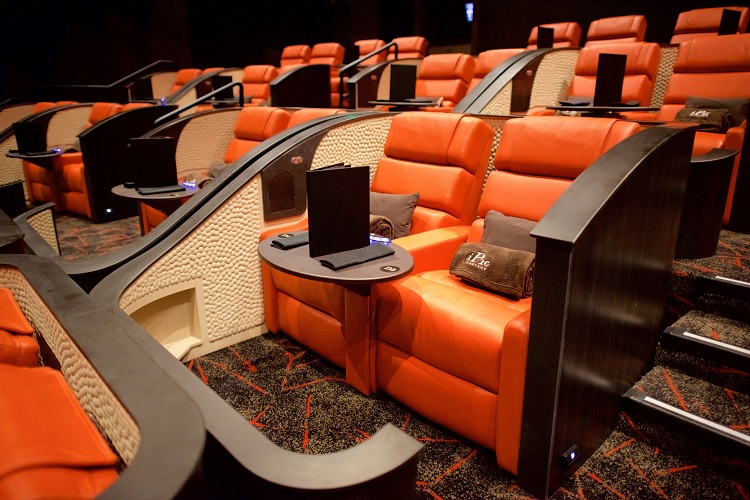 2. Electric Cinema (United Kingdom)
Electric Cinema currently has two locations open in the United Kingdom (Shoreditch and Portobello), with a third to open in White City later this year. Three kinds of seating are available: armchair, sofa, and bed, with bed being the most luxurious (it comes with a blanket).
The interior of the theaters is a bright, cinematic red, meant to evoke an old-fashioned movie house. But the the locations offer all the comforts of a new movie theater. Food and drink are of course available at the bar. The menu offers delicious spins on classic movie treats like popcorn and hot dogs, as well as a full menu of cocktails.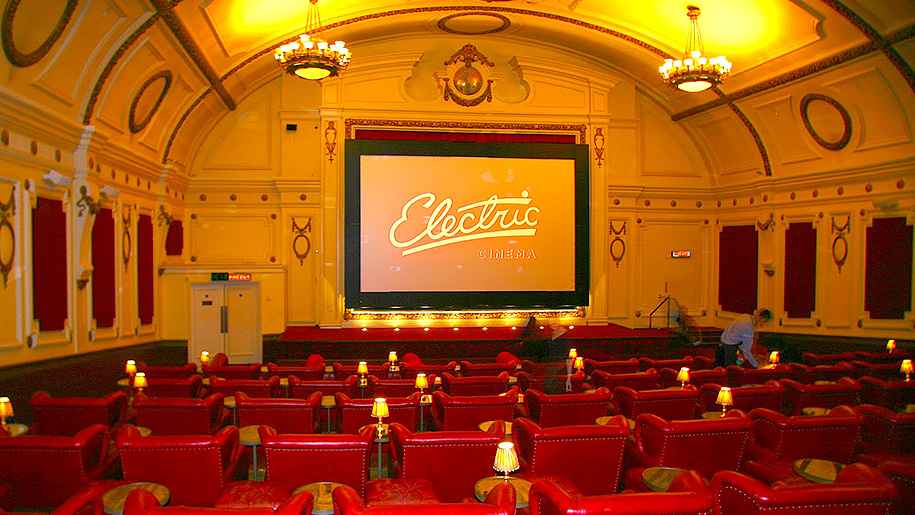 3. Raj Mandir Cinema (India)
The Raj Mandir cinema in Jaipur in Rajasthan state is a very popular tourist attraction, and famous for its extremely beautiful interiors. The theater can seat 1,300 people, making it much larger than an average movie theater.
Raj Mandir takes a different approach to luxury, focusing ways it can enhance the viewing experience itself. It chooses to play with the senses of its audiences, employing both manipulation of lights and scents. Before each screening, the entire hall is illuminated with white light, and a floral scent is diffused through the air conditioning vents. By giving each of the senses something to enjoy, Raj Mandir creates an unforgettable viewing experience.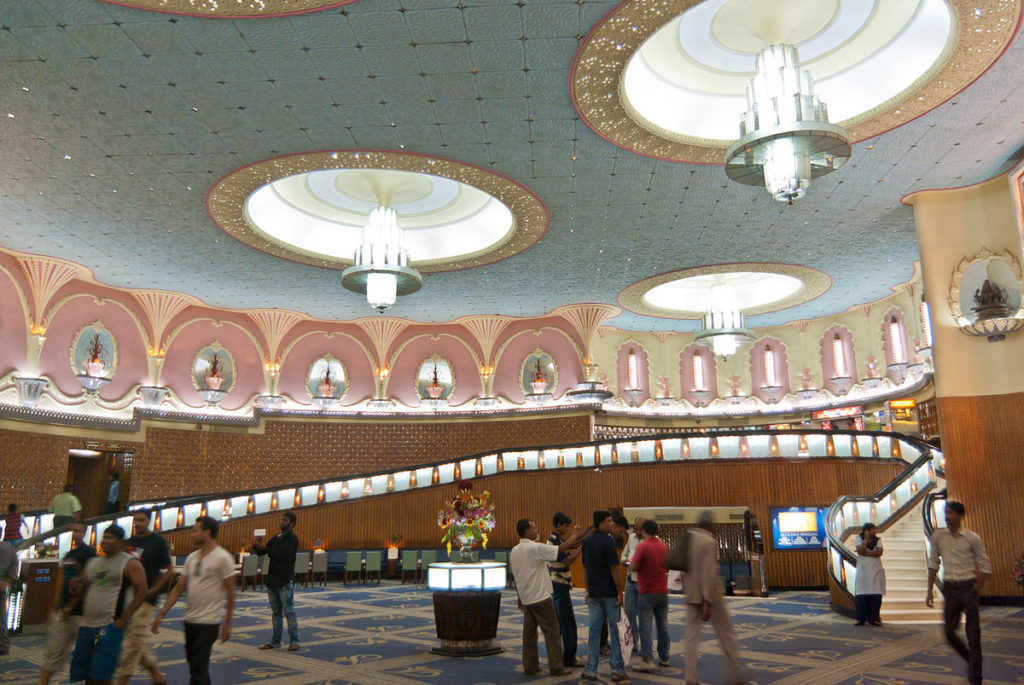 4. Cine de Chef (South Korea)
Cine de Chef,  "a movie theater with chefs" at the the CJ CGV cinema located in the heart of Gangnam in Seoul seeks to combine the best of an upscale movie theater and a fine dining restaurant. The brand takes the approach that a smaller theater makes for a more intimate viewing experiences. Theaters seat only thirty to fifty people, which is much smaller than most auditoriums.
The interiors are sleek and modern, and as with many luxurious movie theaters theaters, there's a choice of premium seating options: comfortable recliners, and seats that resemble beds. Accessories such as coat hangers and phone chargers provide over-the-top luxury. The theater of course serves food: seven  chefs craft the offerings of French and Italian cuisine. Though food is not included in the price of the ticket, each seat comes with a free beverage of your choice.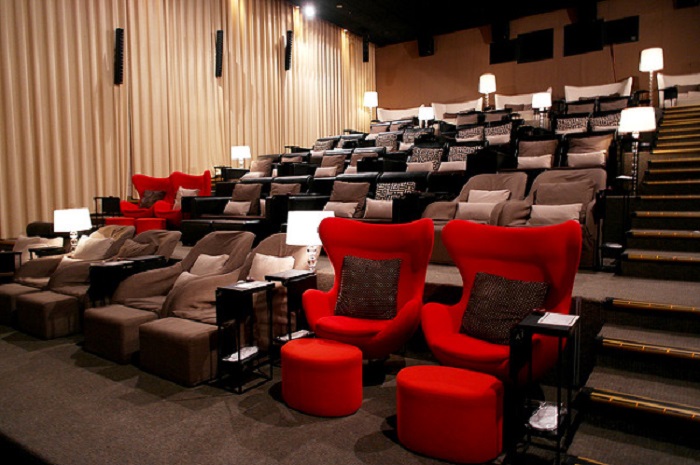 5. TLC Chinese Theater (United States)
Also known as the Grauman's Chinese Theater, this Los Angeles cinema is historic as well as luxurious. Originally opened in 1927, it's home to many movie premieres, and regularly welcomes star-studded audiences. Rather than embellishing aspects of the viewing experience that will make it more closely resemble the comforts of watching at home, TLC focuses on perfecting the parts of going to the theater that can't be duplicated in someone's living room. It is home to the largest IMAX theater in the world, as well as new MX4D equipment. When you want a trip to the movies to feel like the best version of itself, TLC is the perfect place to go.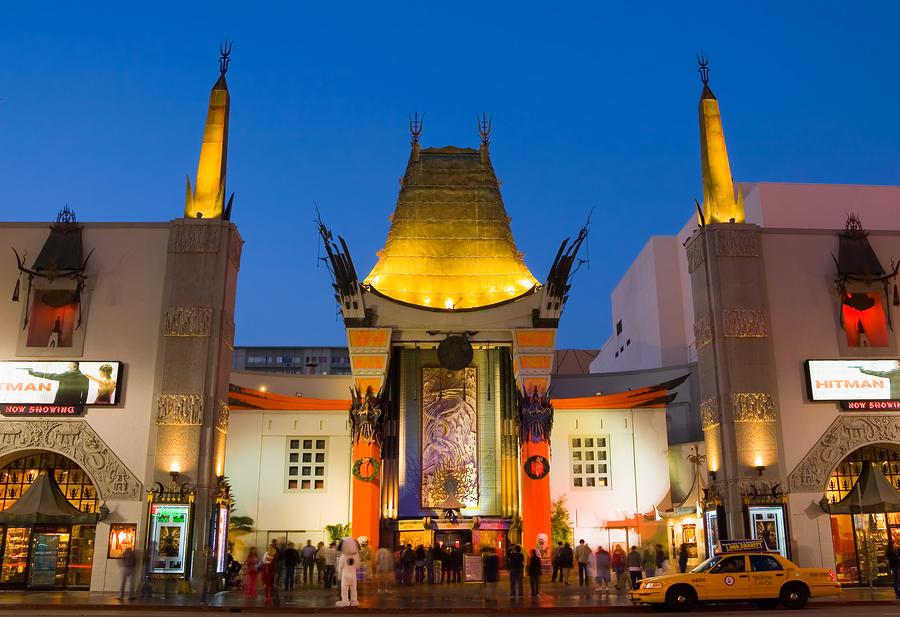 6. Raiha CineGold Plex (Pakistan)
With three different locations, including Karachi and Lahore, Raiha CineGold Plex has seized on the idea that people want their movie going experience to feel like an enhanced, luxurious version of watching at home. In two different theaters, the Red Lounge and the Gold Lounge, they provide luxurious reclining chairs to help patrons relax, as well as a first-rate menu. Their theaters are intimate, opting for a smaller number of seats so that viewers can have more space around them. They also have a membership program, which offers their members benefits such premiere passes to red carpet events, and VIP boxes.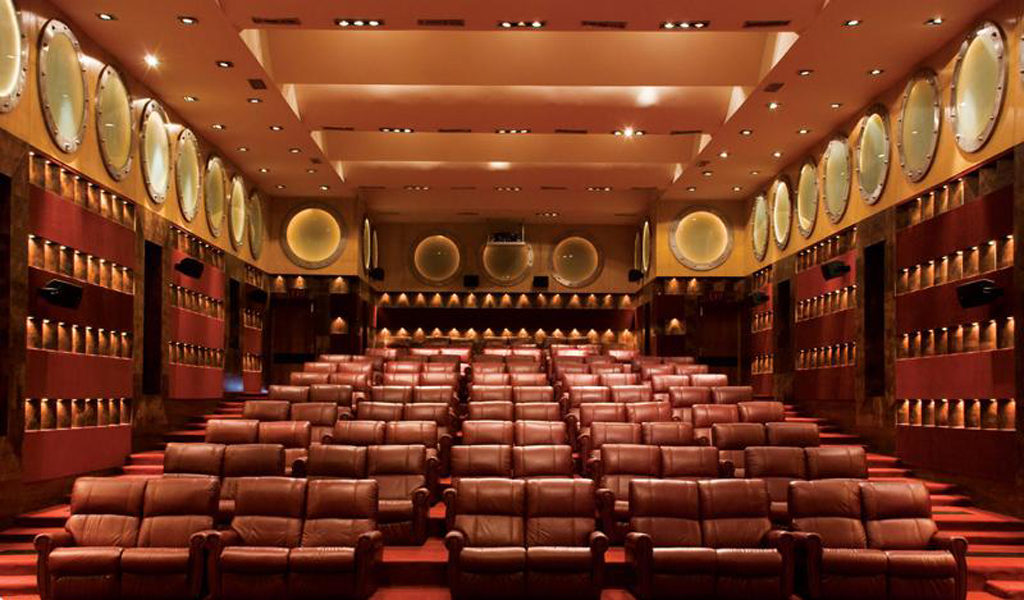 7. Alamo Drafthouse (United States)
With multiple locations across the United States, Alamo Drafthouse creates an immersive and luxurious viewing space for any film fanatic. They have a strict no-phones policy: if someone is spotted with light emanating from their phone, they receive one warning, and after that they are ejected from the theater. In this way, the theater becomes a movie-going oasis, where there's nothing between the viewer and the story – except of course, the delicious food.
There is table service, and patrons can order food throughout the film. The seats are large, padded armchairs. There are special screenings throughout the year, so you can spend a luxurious evening there on any of your favorite holidays.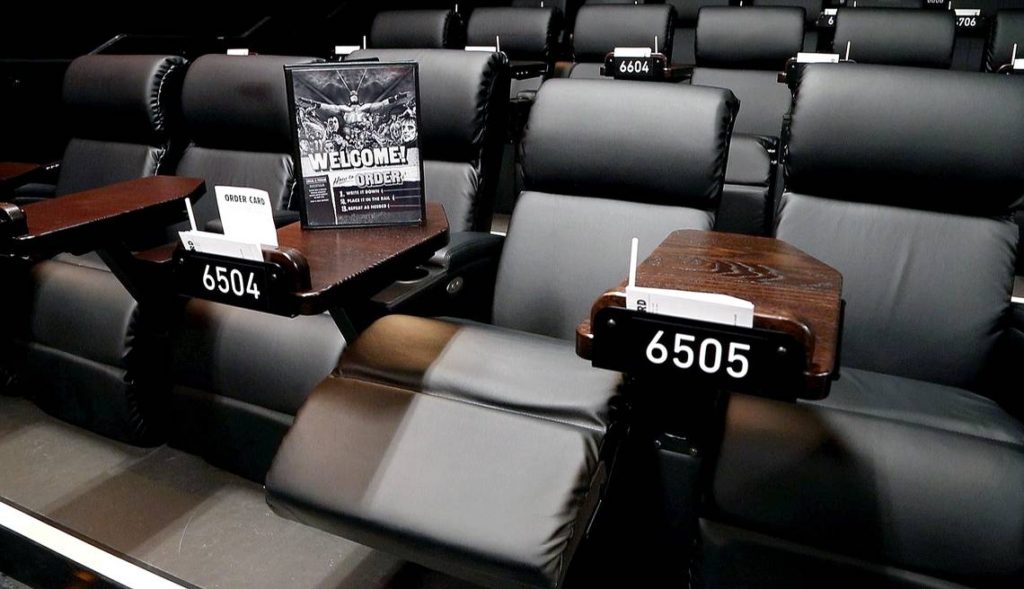 8. Nighthawk Cinema (United States)
Nighthawk Cinema in New York City is a "premier dine-in theater." The brand pairs a curated selection of first-run and repertory film programming with an eclectic food and beverage menu.
There are currently two locations:  Williamsburg and Prospect Park, Brooklyn. Both locations offer brunch, midnight, and "signature" film series. Lo-Res, the theater's bar, offers handcrafted cocktails, local brews and spirits from regional distillers. And there are fun tie-ins between the menu items and the films being screened ("RBG Toast," anyone?)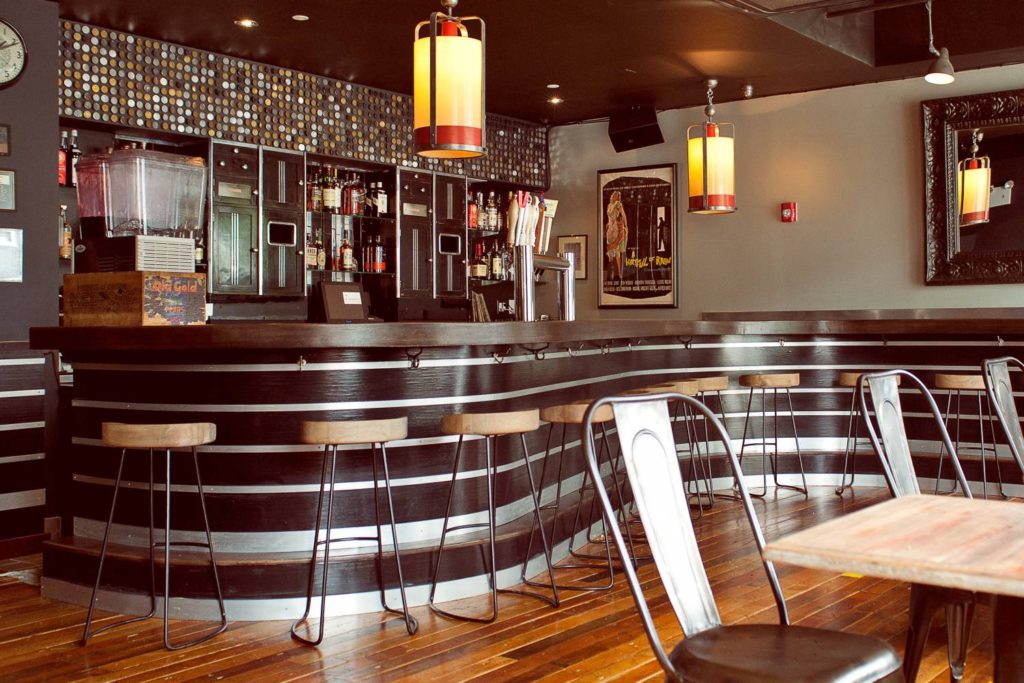 Those are my recommendations for the best places in the world to see a movie.  Do you have a favorite that's not on this list? Please share it! And have a great time on your next movie night out.
see luxury in a new light
Come and join our community! For a weekly round-up of insider ideas and information on the world of luxury, sign up for our Dandelion Chandelier Sunday Read here. And see luxury in a new light.
ready to power up?
For a weekly dose of career insights, ideas and advice, sign up for our Sunday newsletter, Power Up, here.
Abbie Martin Greenbaum grew up in New York City and currently lives in Brooklyn, where she drinks a lot of coffee and matches roommates together for a living. At Oberlin College, she studied English and Cinema, which are still two of her favorite things, along with dessert and musical theater. She believes in magic.