How to have a Perfect Easter Brunch in New York City
All products are independently selected by our editors. If you buy something, we may earn an affiliate commission.
Eatery Row is an occasional series written by our Food Editor Nicole Douillet assessing the best restaurants for a romantic night out, an important business lunch, cocktails with friends, or a luxurious holiday meal. In this edition, she's sharing the New York restaurants open for Easter this year. And her picks for the best Easter brunch or Easter family meal in New York City this year.
Eastertime in the city
While in the throes of these cold, snowy late-spring days, it's hard to believe that Easter, with its pastels and straw bonnets, is around the corner. The most important of the Christian holidays, Easter signifies the resurrection of Jesus Christ from the dead. On a sub-freezing day in New York, it also brings a helpful reminder that warm weather will once again come to this city, bringing with it the renewed energy of a city coming out of hibernation.
It's one of my favorite times of the year and, this year especially, it can't come soon enough!
Some families plan a lavish Easter breakfast to be enjoyed upon completion of the ever-competitive Easter egg hunt. Other families look forward to Easter dinner, complete with a baked ham covered with pineapple slices. But I love an excuse to indulge in a long and leisurely midday meal of mostly breakfast specialties.
And, luckily there are plenty of restaurants that will be open and serving just that this Easter.
best restaurants for Easter brunch this year
What are the best restaurants open on Easter in New York City? Here's a list of spots that would be perfect for Easter brunch, or a family Easter meal, in New York this year.
1. Astor Court at the St. Regis Hotel
If you're in Manhattan, many of the luxury midtown hotels serve an appropriately luxurious brunch. Astor Court at The St. Regis has an extensive brunch menu with classics like French toast and pancakes, but with a St. Regis twist: they're lemon ricotta pancakes and the brioche French toast is crusted with corn flakes. Or if you're feeling more adventurous, go for the $125 Astor Omelet, which consists of seven eggs, Maine lobster, and jumbo lump crab, finished with Pacific sturgeon caviar.
And since it's the afternoon, and a special day, order a "Red Snapper," which was invented by bartender Fernand Petiot in 1934; you probably know it as a Bloody Mary. The legend is that although Fernand originally named the drink a Bloody Mary, it was renamed the "Red Snapper" so as not offend the hotel's refined clientele. And since you'll be so close, why not join in the Easter Parade on Fifth Avenue before brunch? The St. Regis, 2 East 55th Street at Fifth Avenue, New York.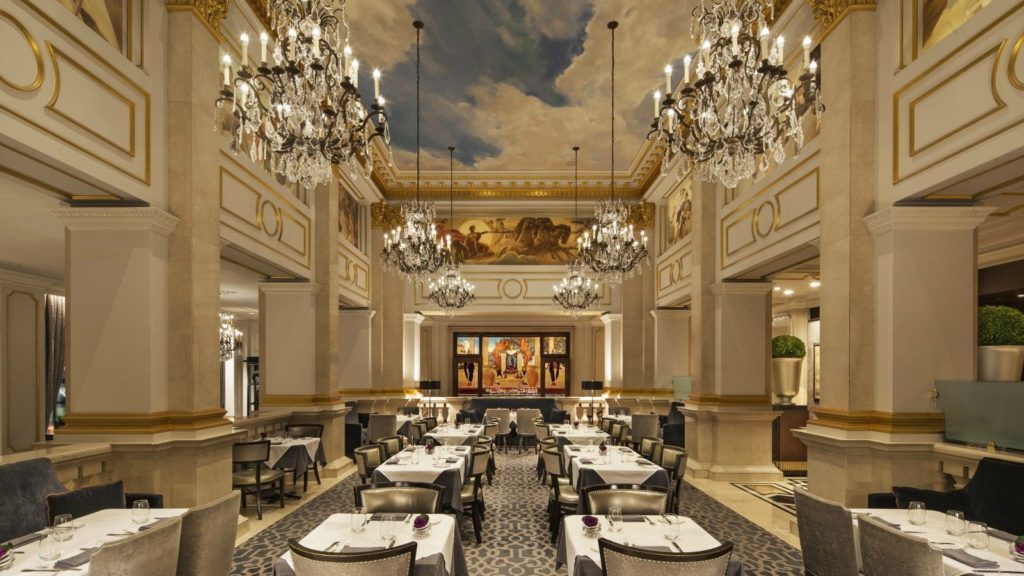 2. Jams at 1 Hotel Central Park
A little closer to Central Park in the 1 Hotel Central Park, Jonathan Waxman is delighting weekend diners at Jams with his excellent farm-to-table selection of brunch favorites. The menu has something to excite everyone from the sweet-seeking carb-aholic (there's an extensive "Bakery & Breads" section on the menu) to the carb-aphobe (grilled shrimp salad or grilled steak salad? – so many choices!). The Easter brunch is a prix-fixe: $45 per person, or $60 per person with unlimited Mimosas or Bellinis. Afterward, take the family for walk in the Park and see if you can spot any tulips blooming! Jams, 1 Hotel Central Park, 1414 Sixth Avenue, New York. Saturday and Sunday Brunch, 10:00A – 3:00P.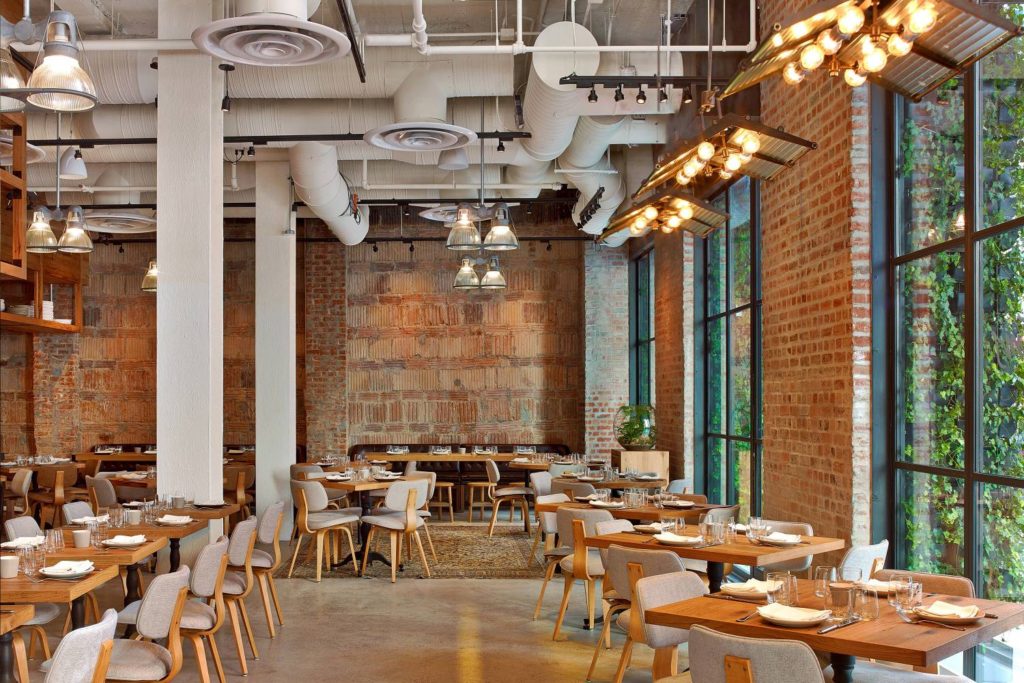 3. Clay
If you're going to church services a little further north, relative newcomer Clay has become a Harlem brunch favorite. Chef Gustavo Lopez has cooked in some of the top restaurants in the city, and it shows. Some of my favorites include the house-made English muffins with grass-fed butter and apricot jam; the corn arepa with house-made ricotta or duck confit, salsa verde and a poached egg; or the Eggs Benedict with collard greens or The Piggery country bacon (no brainer here – get both), and hollandaise on one of those house-made English muffins. Clay, 553 Manhattan Ave, New York. Sunday Brunch from 12:00p to 3:30p.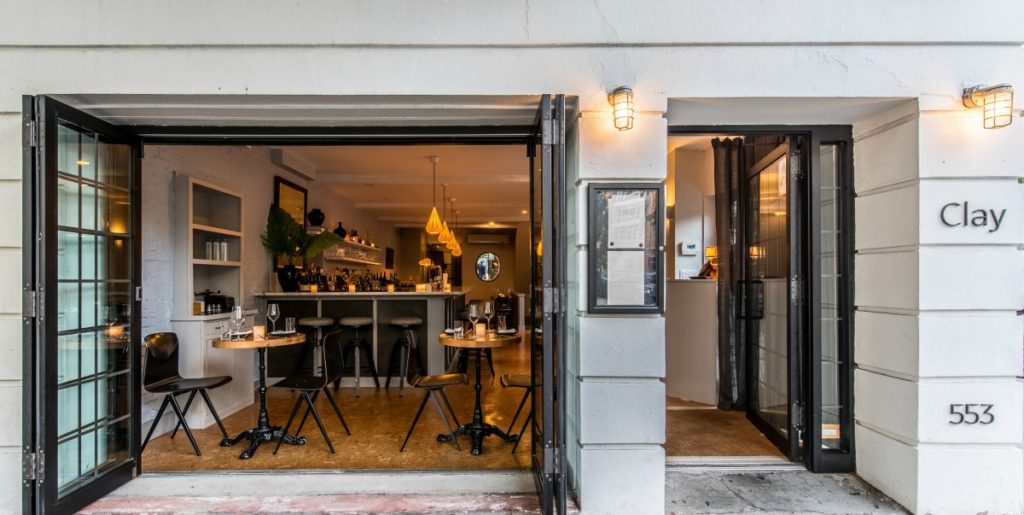 4. Studio at the Freehand Hotel
The ultra-hip hotel Freehand opened in the Flatiron District last year to well-deserved acclaim. Its artsy vibe and commitment to the neighborhood extends beyond the custom-commissioned artwork by Bard College students to its choice of restaurant partner, Gabe Stulman. Stulman, known as the king of West Village neighborhood hotspots (Fedora, Bar Sardine, and Joseph Leonard, just to name a few), is overseeing the restaurants here.
His all-day spot, Studio, serves a fun weekend brunch that leans toward the savory. The baked eggs with curried tomato, feta, and flatbread is a wonderful way to warm up if the spring weather doesn't cooperate this Easter. Likewise, the harissa served with the Brik-style eggs, house phyllo, and cilantro will certainly perk up your taste buds. Studio, Freehand Hotel, 23 Lexington Ave, New York. Brunch Saturday & Sunday: 9:00A – 4:00P.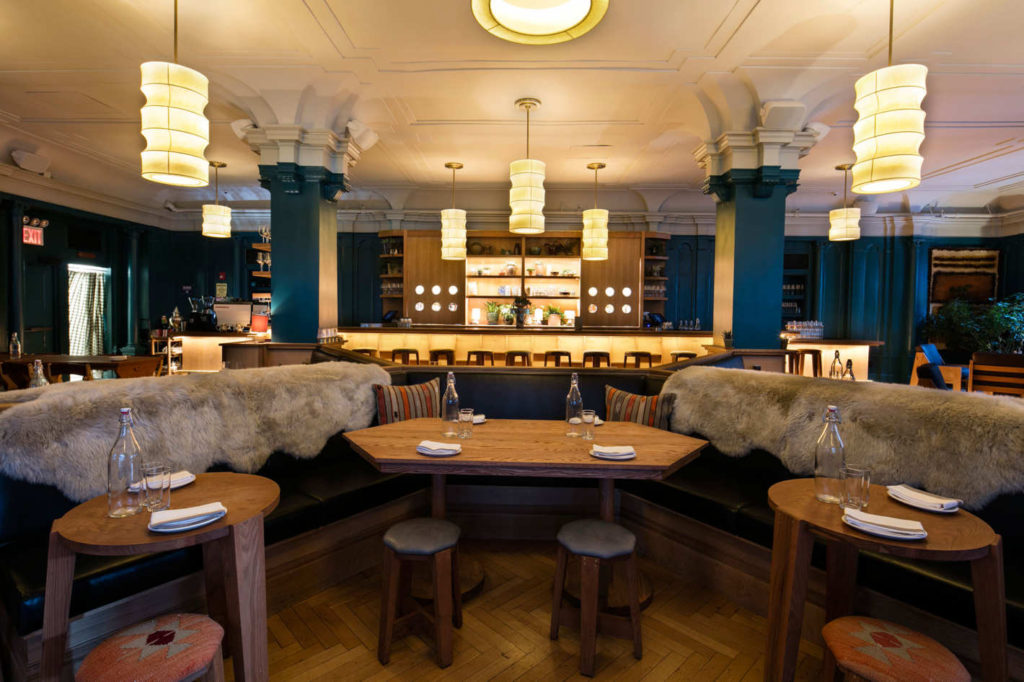 5. Celestine
The beautiful dining room at Celestine in DUMBO would make another excellent choice for Easter brunch. The huge windows offer stunning views of lower Manhattan and the bridges. On a warm day, take the ferry from East 34th Street or Wall Street to the DUMBO pier, and then walk along the river path under the bridges to the restaurant. If you arrive early, stop by the Carousel and treat the little ones to a ride.
When you arrive at the restaurant, expect traditional items with some exotic flavors from North Africa and the Middle East mixed with some familiar ones from the Mediterranean. For example, the Moroccan Doughnuts are accompanied by clove syrup, and the French toast casserole is seasoned with vanilla and cardamom. If you've planned a later brunch to accommodate that Carousel ride, start with some mezze to tame the hunger while you decide on larger dishes.
And, if, like me, you prefer more lunch-like options, you'll be pleased to see the kebab section. The hanger steak kebab with sunchoke, artichoke, and harissa accompanied by za'atar flatbread and an Israeli salad would make a perfect late lunch…errr, brunch. Celestine, One John Street, Brooklyn. Brunch Saturday and Sunday: 11:00A-3:00P.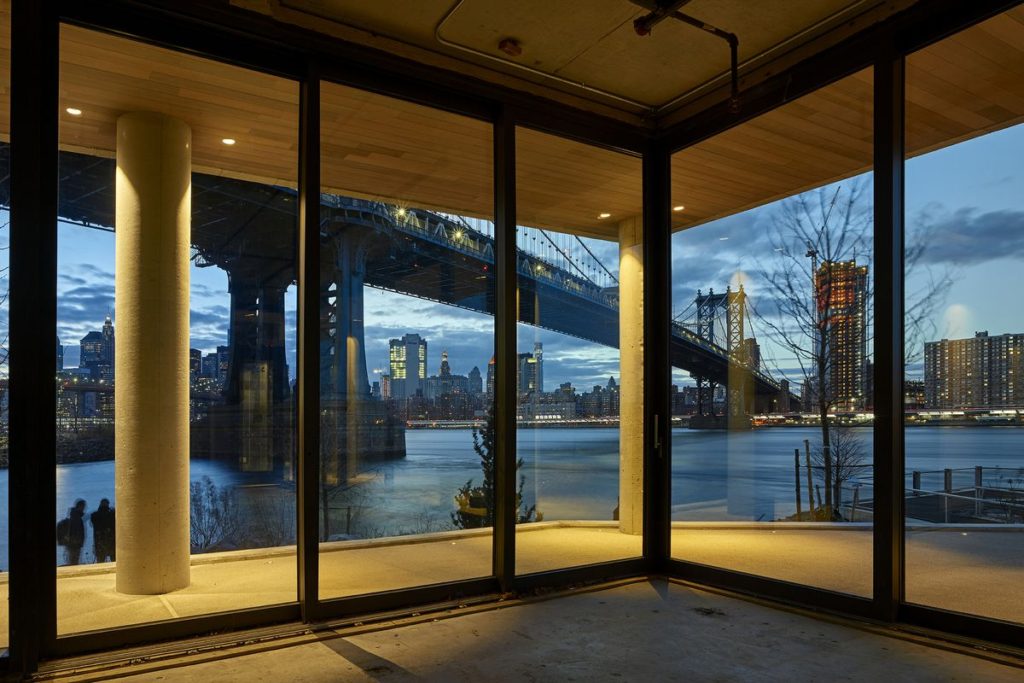 6. ABCV
If, unlike me, some among your party are already thinking ahead to bathing suit season, abcV is an option that will please everyone. This plant-based restaurant is located in the ABC Home store and helmed by world-famous chef Jean-Georges Vongerichten.
Start with one of the cold pressed organic juices and feel your skin start to glow. From there, choose your path – you can either enjoy the excellent (we promise) vegan pancakes, or opt for the equally delicious (but VERY different) fresh steamed tofu. For the summer-body focused, it's easy to make a filling, but calorically mild meal from the Vegetables, and Grains & Legumes sections. And, throw a poached egg into the mix for the saucy deliciousness. And the protein. And don't sweat it – Weight Watchers' new point system makes eggs a zero-point food! So you're good. abcV, 38 East 19th St, New York.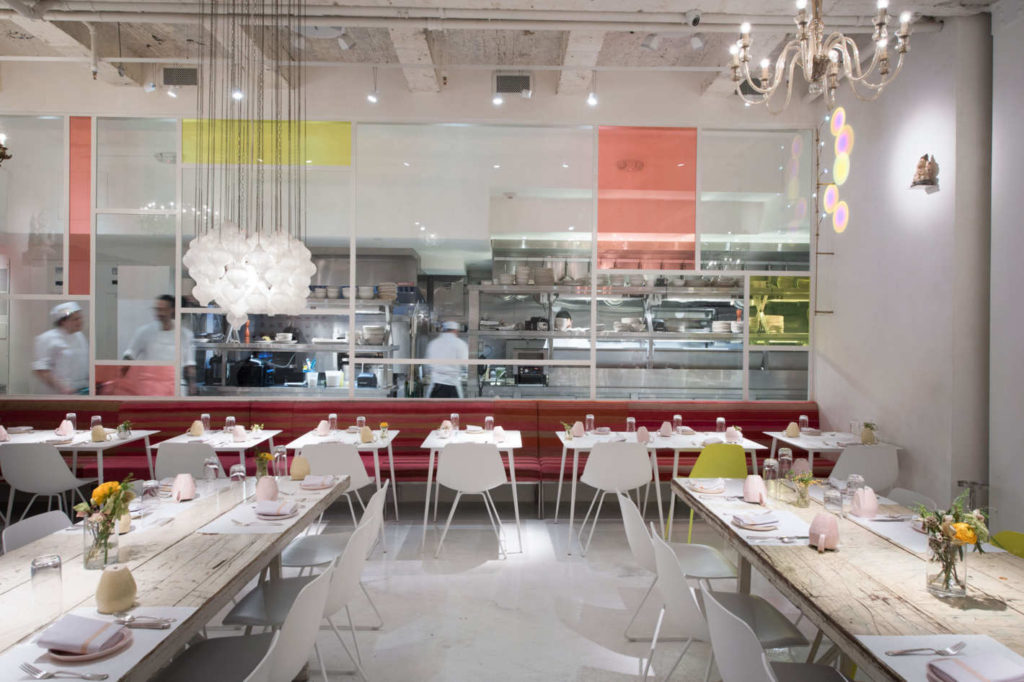 7. Perrine at the Pierre Hotel
Perrine, the French-American restaurant at the The Pierre, serves seasonally-inspired cuisine. It's formal and fancy, and if that's what you're in the mood for, this is your place. The prix-fixe brunch is $45 per person, and includes one entree, dessert and one drink. Or you can order a la carte from an array of sweets and savories. If the weather is fine on Easter, be sure to snag a seat on the new Rosé Terrace with views of Central Park. Perrine, 2 East 61st Street, New York. Saturday and Sunday Brunch: 10:30A – 4:00P.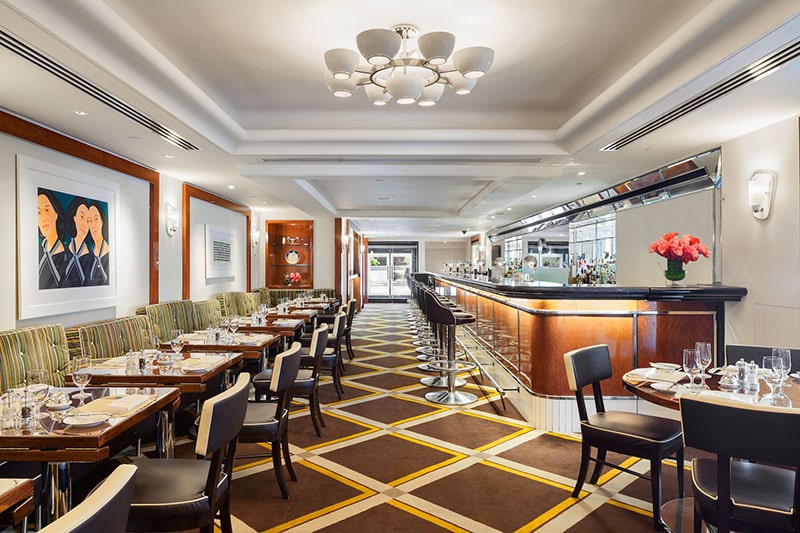 8. The Whitby Hotel
One of our absolute favorite spots in the city is the charming Whitby Hotel. It's a little slice of London in the middle of Manhattan. And this Easter, the hotel's restaurant, helmed by Head Chef Anthony Paris, will serve a special Easter Sunday brunch. There will also be an Easter egg hunt for little visitors to enjoy during the afternoon. The Whitby Hotel, 18 West 56th Street, New York. Saturday and Sunday Brunch: 11:00A-4:00P.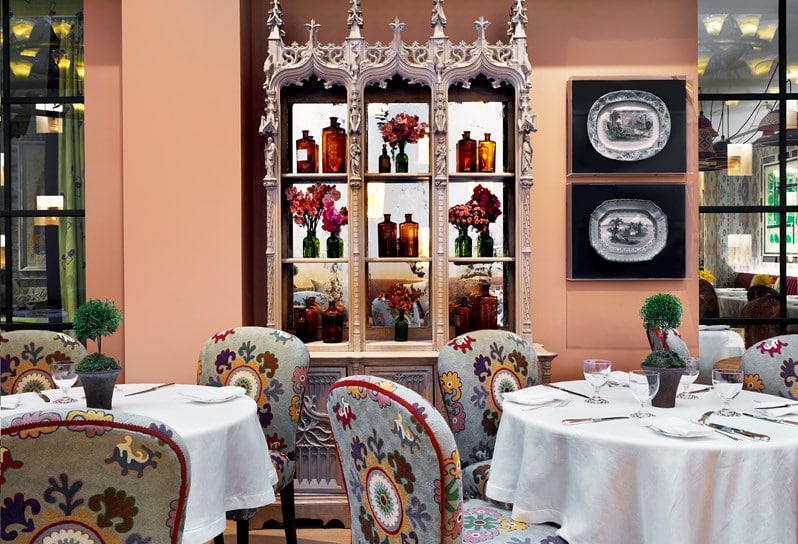 However you celebrate this Easter, we wish a very happy holiday. Fingers crossed that this holiday of rebirth has the effect of finally bringing springtime to the East Coast. What are your plans for an Easter meal this year?
see luxury in a new light
Come and join our community! For a weekly round-up of insider ideas and information on the world of luxury, sign up for our Dandelion Chandelier Sunday Read here. And see luxury in a new light.
ready to power up?
For a weekly dose of career insights and advice, sign up for our Sunday newsletter, Power Up, here.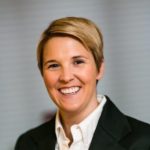 Nicole Douillet is Dandelion Chandelier's Food Editor. In addition to sharing her love of all things food with our readers, Nicole is a finance executive who has spent nearly 18 years on Wall Street in a variety of roles. She began her career as the first woman hired as a trader on the block trading desk at UBS.  For over 13 years, Nicole was a quantitative trader and portfolio manager on the proprietary trading desk at Credit Suisse. She then served as Head of Product Innovation and LGBT Strategy for Wealth Management Private Banking New Markets at Credit Suisse. 
Most recently, Nicole co-founded Reboot Investing, Inc. where she served as the Chief Operating Officer and Chief Compliance Officer. A recognized leader in socially responsible investing, Nicole created the ground-breaking Credit Suisse LGBT Equality Index ® and co-authored "What's the Effect of Pro-LGBT Policy on Stock Price?" for the Harvard Business Review in 2014.  
Nicole currently serves on the Advisory Council for Action Against Hunger | ACF International. She is a former junior Olympic skier, food and drink aficionado, serial restaurant regular, and chili cook-off champion. She and her wife live in Brooklyn with their kids, whose favorite restaurant is Lilia. Nicole is a graduate of the University of Notre Dame.