The Best Luxury Gifts for Mother's Day this Year
All products are independently selected by our editors. If you buy something, we may earn an affiliate commission.
Ok, kids, it's time. Yes, time to start shopping and planning for Mother's Day this year. But what to give Mom, your Grandmom, your Mother-in-law, your Godmother, or that special person who has been like a mother to you? Our correspondent Jillian Tangen has come up with a variety of gift ideas and options for Mother's Day – from micro-luxuries to grand gestures, we've got the ultimate gift guide for Mom. These are the best luxury gifts for Mother's Day this year.
mother's day is drawing near
Mother's Day is just around the corner. And while she claims year after year that she doesn't need or want anything, under no circumstances are you to listen to her. After all, she's always thinking about you. So step up your game this year with a thoughtful Mother's Day gift. We've got lots of ideas to get you started right here.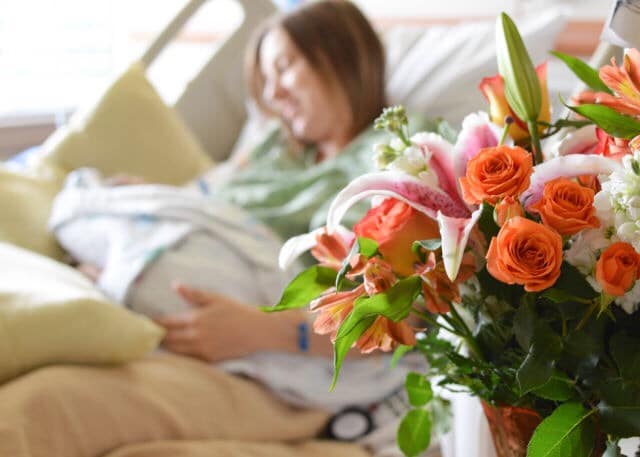 the best luxury gifts for mother's day this year
From handbags to jewels to spa treatments to sweet treats to floral and travel focused ideas, we've put together the ultimate Mother's Day gift guide for a guaranteed home run this year.  So whether you're shopping for a new mom, grandma, your own mom or your mother-in-law, here are over 30 thoughtful gift ideas to show her how much you appreciate her.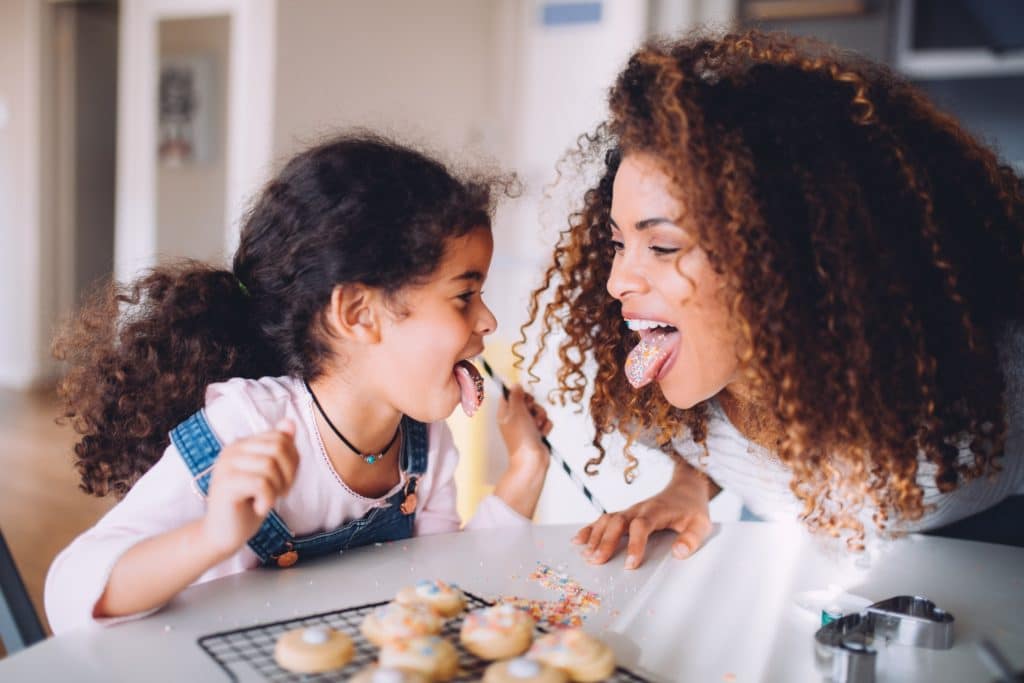 1. Fragrance
For floral-loving moms, we like Tom Ford's newest scent, Lavender Extreme ($320).  Rather than embracing the well-known aroma of lavender as something relaxing and demure, Ford has managed to create a fragrance that's stimulating, invigorating and bold – just like mom.  If your mom is a free spirit or outdoorsy type, we suggest Byredo Gypsy Water ($240). It's a vibrant and subtly woody fragrance that fuses fresh lemon, pepper and juniper berry extracts with smoky incense and warm amber.
Alternatively, you could remind mom of your summer vacations together with Art de Parfum Sea Foam ($149). The scent evokes crisp, sea air with its notes of eucalyptus and bergamot, a touch of sea salt and milky sandalwood.  Another pick to help mom recall sunny days is Sana Jardin's Berber Blonde ($145).  Referred to a sunshine in a bottle, this eau de parfum has an aroma of sparkling orange blossom and warm notes of neroli oil and musk.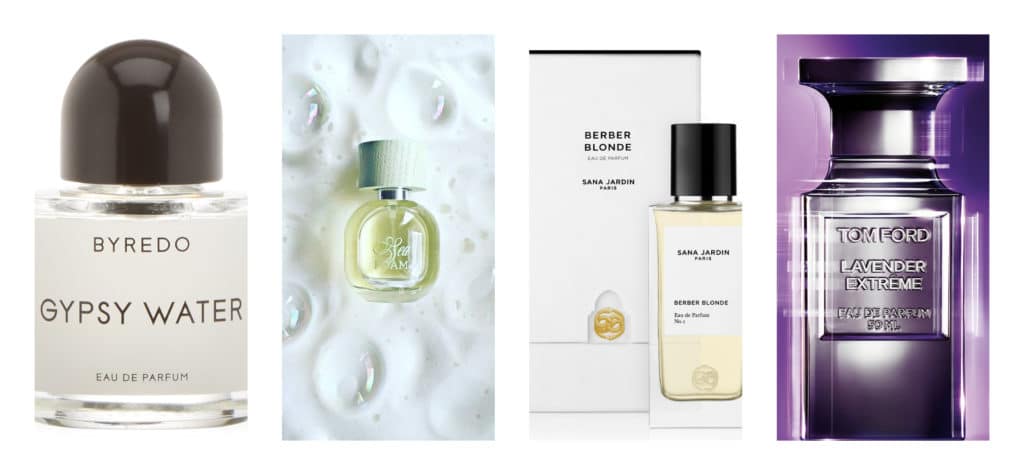 2. Spa Treatments
Whether for a first time mom or a veteran mom, a trip to the spa is the perfect gift to help her relax and treat her right.  The Renew Ritual at the Mandarin Oriental in NYC is a great option for new moms.  Each session is personalized to focus on what a new mom needs physically, mentally and emotionally and over the course of two hours, she'll get a custom body exfoliation followed by a deep moisturizing treatment among other things.
If you live around LA, book mom a treatment at Hotel Bel Air Spa by La Prairie.  Not only will she be treated like a VIP, but you can even join here for an afternoon tea after, set in the tranquil gardens of the property's Wolfgang Puck restaurant.
Alternatively, Instead of sending your mom to a spa, you could bring the spa to her with Net-a-porter's Clean Beauty Kit ($155) that features 16 rejuvenating products or send her a Wild Rose Basket from M. Marian ($240) which includes a robe, incense, cleaners, stationary and wild flower seeds.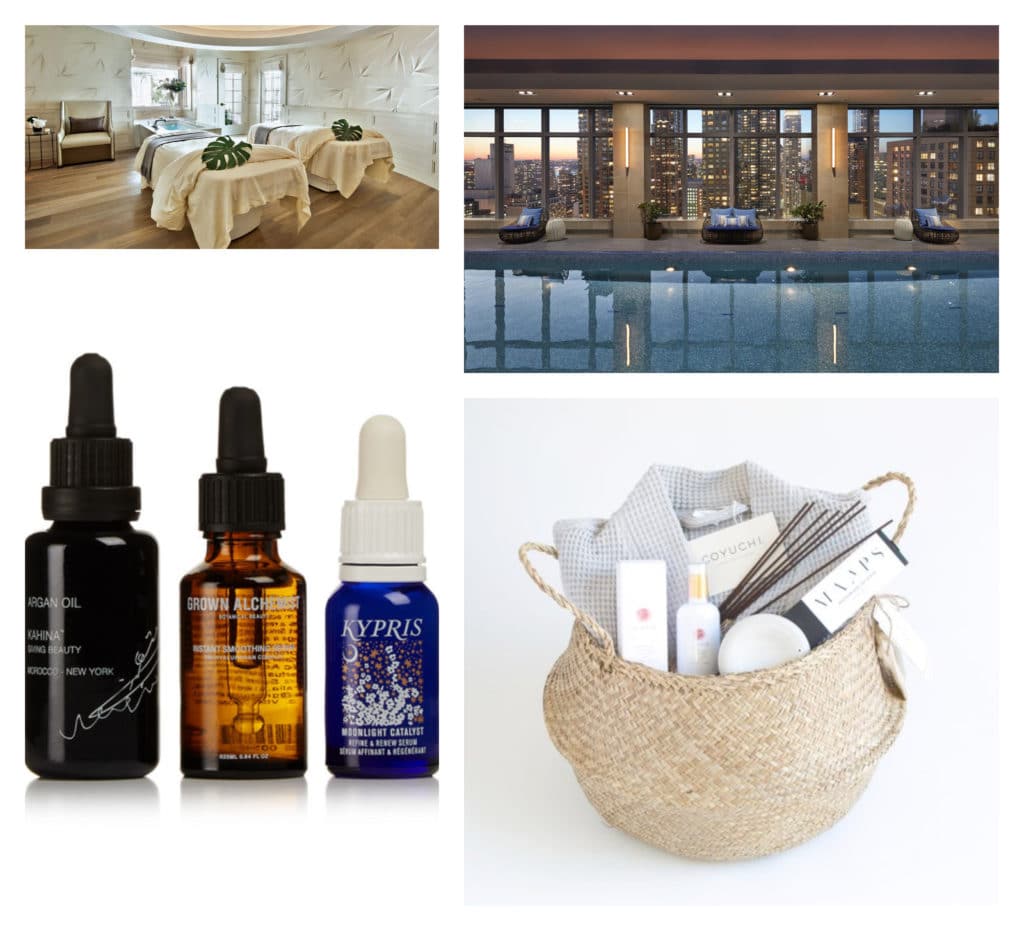 3. Handbags
What's better than one Chanel bag? Two Chanel bags, of course.  And the new Side Pack ($6,900) is just that – two bags crossing over each hip.  This may be the perfect bag for the busy moms in your life who need to keep their hands free.  Another great option is Gucci's latest it bag, Zumi ($1,980-$36,000) which comes in both small and larger sizes and in a variety of finishes like leather, ostrich and crocodile.
Opt to lighten mom's load with one of these cute Mini GV Bucket Bags from Givenchy ($1,590).  Last but not least (and on the top of our mother's day wish list) is the new Twist bag by Louis Vuitton ($3,550).  We can't help but love the transformation twist lock featuring the iconic LV letters.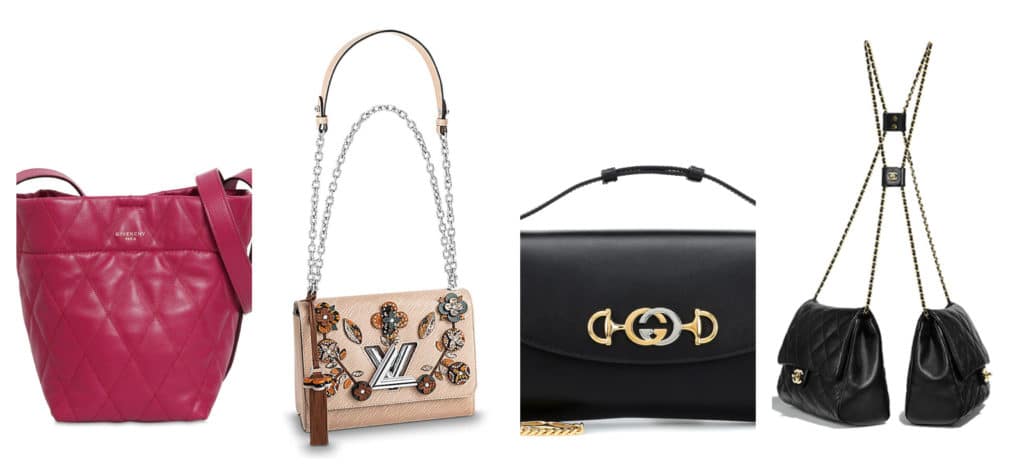 4. Florals
Is your mom or the mother of you children a lover of all things floral?  Then these four finds are for you.  Treat her like the royalty she is with a beautiful silky floral Leila Robe from Maison du Soir ($238) or wrap her in Valentino's new Silk Printed Foulard Scarf ($525).
Another fun floral option is this beautiful Gucci Rose Print Trinket Tray ($270), perfect for holding all her trinkets and treasures.  If you want to go a little more traditional, you can never go wrong with a bouquet of flowers.  Urban Stems offers weekly, bi-weekly and monthly delivery subscriptions of hand picked bouquets that go right to their front door.  Plans start at $50 per delivery.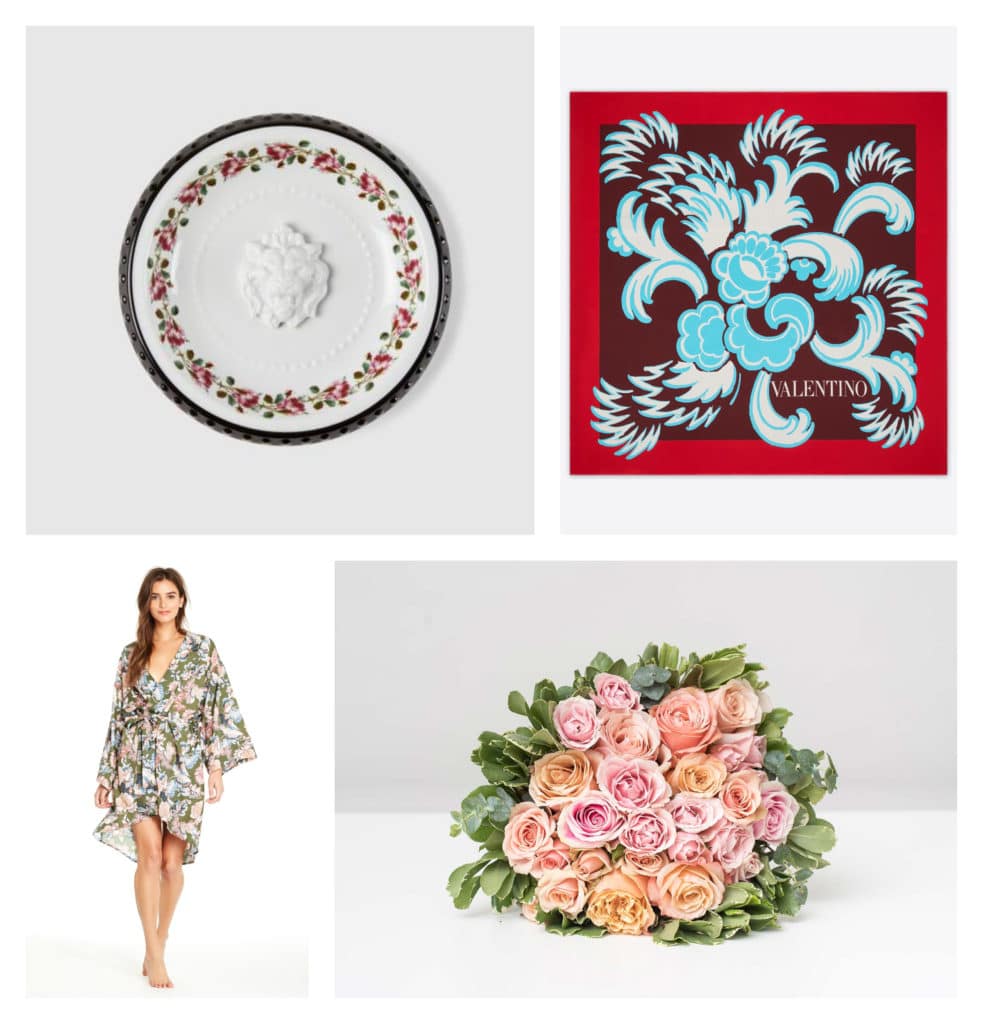 5. Jewelry
For a more traditional piece of jewelry consider the Tiffany Charm Mom Tag ($525) that she can add to a charm bracelet or wear as a pendant on a necklace.  Bonus – you can add one every holiday for built in future gift giving options.  Help mom stay on trend with some enameled colored bangles.  We love Roxanne Assoulin's set of three Tie Dye Bracelets that can be work together as a stack or separately, so really it's like 3 gifts in 1.
For new moms, we like these sweet and simple Birthstone Dust Hoops from Ariel Gordon ($215).  They are a great way to commemorate the birth of a new baby and are simple enough that she can wear them every day.  Another great pick is the newly relaunched Chanel J12 Watch ($5,700) which hits stores on May 1st.  Chances are she will sport it a little bit more than those macaroni necklaces from when you were in Kindergarten.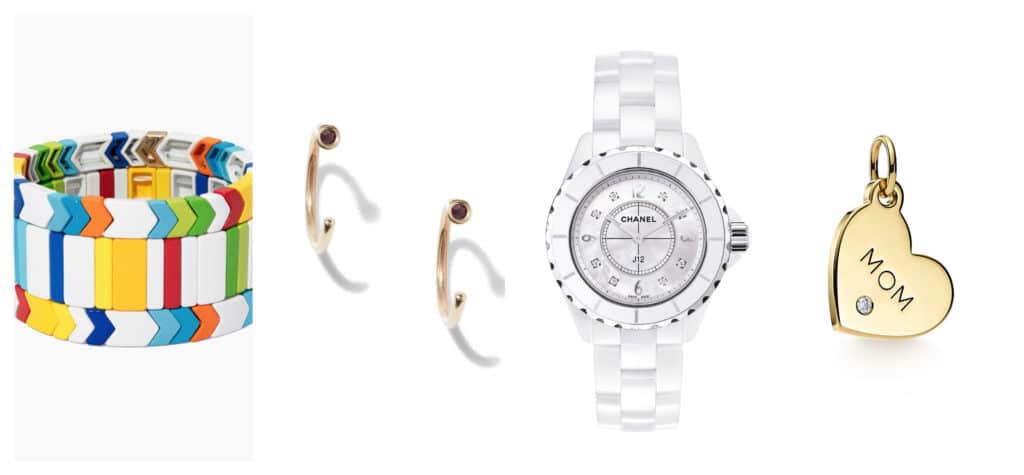 6. Sweet Treats
If your Mamma is a foodie, then brighten up her kitchen with a colorful Smeg Dolce & Gabbana Mixer ($1,500).  If baking is not her thing, how about a beautiful Hario Pour Over Copper Tea Kettle ($124) paired with some fine teas or gourmet coffee grinds?
Or why not take her out for a Mother's Day Brunch at David Burke Tavern where the James Beard Award winner is serving a three course prix fixe which includes lobster scramble with lobster and rock shrimp, roasted branzino and pancakes with fresh berries. If you're not able to take your mom out for a meal, why not send her favorite one via Goldbelly or send her this Giant 5 lb Heart Cookie ($99) to show her she will always have a piece of your heart.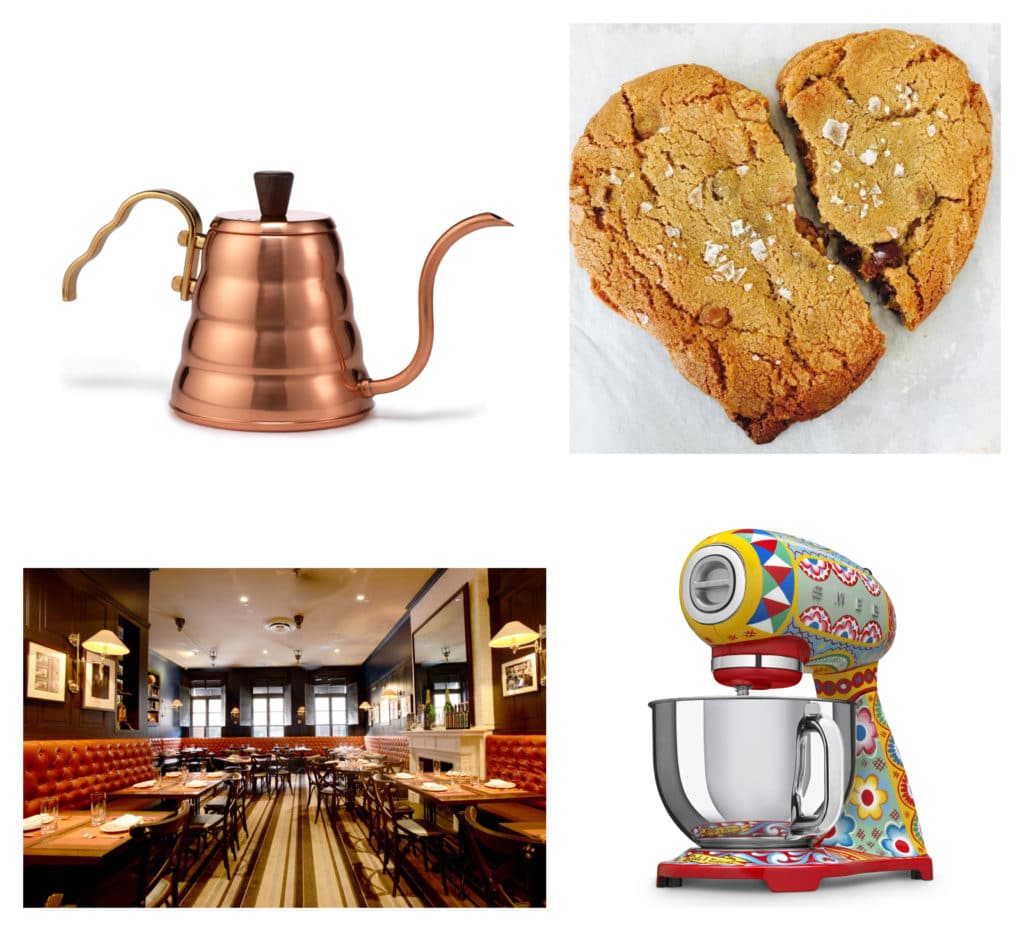 7. Accessories
Accessories are a great way to indulge your mom without hijacking her style.  This Scottish made Burberry Striped Wool Cape ($960) is perfect for chilly spring mornings or for travel.  Even better is that you don't have to guess on the sizing because one size fits all here.  Brighten her day with the Fendi Yellow Calfskin FF logo Continental Wallet ($770) that features lots of compartments and room for all of her cards, cash and pictures of family of course.
We also love this Eugenia Kim Annabelle Hat ($435) that is great for trips to the beach or for sunny days around the town.  Lastly, gift her a bright and colorful Salt Strap ($138) that was handwoven in Colombia.  This will allow her to change up the looks on a bag that she already owns while supporting fair trade and indigenous communities.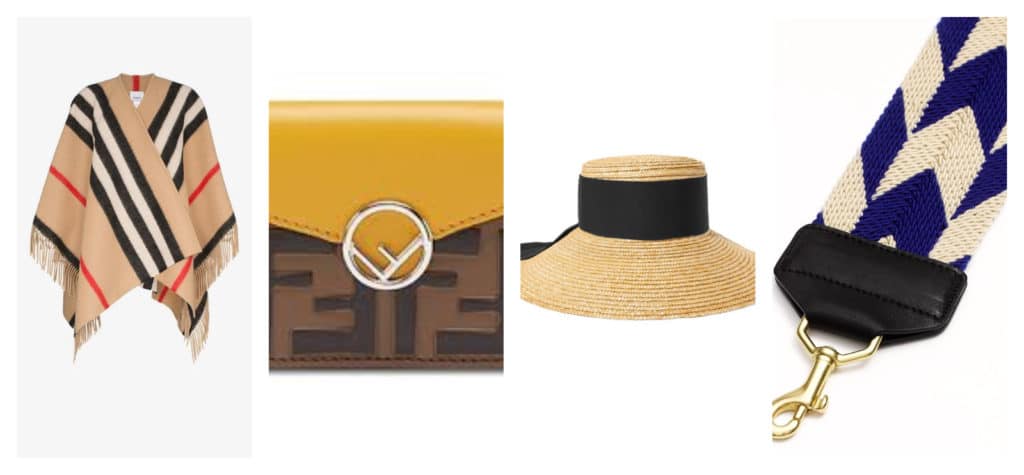 8. Travel
Treat mom to a weekend away, with or without the family, at Mohonk Mountain House in New Paltz, New York.  The resort is offering a special Mother's Day weekend filled with activities, events and spa treatments designed especially for moms at their upstate Victorian style castle resort.  F
or a more urban retreat, the Four Seasons New York Downtown is also offering their own Mother's Day Pampering Package that includes an overnight stay, breakfast in bed, champagne and a facial.
If mom is already on the road a lot, how about sending your maternal Road Warrior a Casper Nap Pillow ($35) for some on the go comfort or a Lunya Washable Silk Sleep Mask ($48) to help her get the well deserved rest she needs?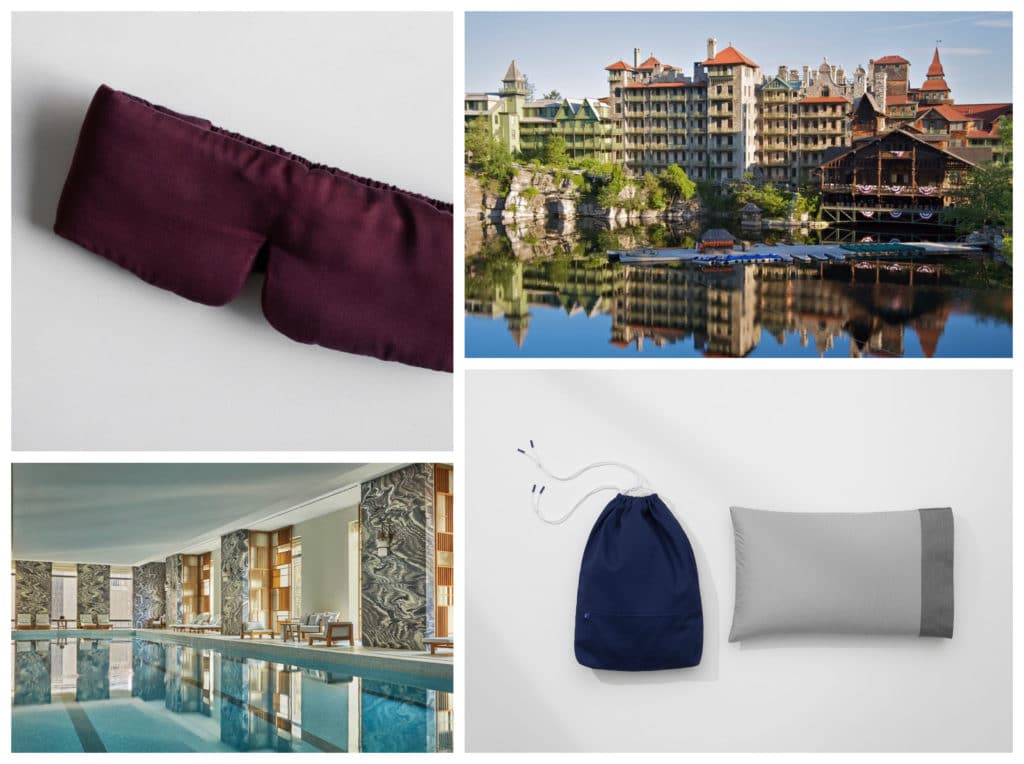 There you have it, our top picks for all the mom's on your list this Mother's Day.
see luxury in a new light
Come and join our community! For a weekly round-up of insider ideas and information on the world of luxury, sign up for our Dandelion Chandelier Sunday Read here. And see luxury in a new light.
ready to power up?
For a weekly dose of career insights and ideas, sign up for our Sunday newsletter, Power Up, here.
Jillian Tangen is the Head of Research at Dandelion Chandelier. Formerly, she was a Senior Research Analyst at McKinsey & Co and Analyst at Shearman & Sterling. She is an avid fan of Nordic design, having owned an independent lifestyle store and sales agency focused on emerging Scandinavian design. Jillian lives in NYC and is married with three young children. She loves cross country skiing, the New York Rangers, reading, travel and discovering new brands.