The Best Places for Coffee in New York City Right Now
All products are independently selected by our editors. If you buy something, we may earn an affiliate commission.
The already highly-caffeinated denizens of New York City have lately entered a Golden Age of Coffee. New roasters and artisanal brands have taken over the city (some of the best coffee in Manhattan is at the new Hudson Yards). Some coffee purveyors have erected enormous temples to a cup of Joe (yep, we're looking at you, Starbucks). Others feel almost like science labs. Which ones are worth the trip? Our intrepid correspondent Abbie Martin Greenbaum has rounded up the best places for a cup of coffee in New York City right now.
Coffee culture is undergoing a renaissance right now in the city. While New York's coffee shops may not have quite the charm of the best cafes in Paris, the coffee being served is world-class. We're breaking down the who, what, and where, and how these various java offerings differ.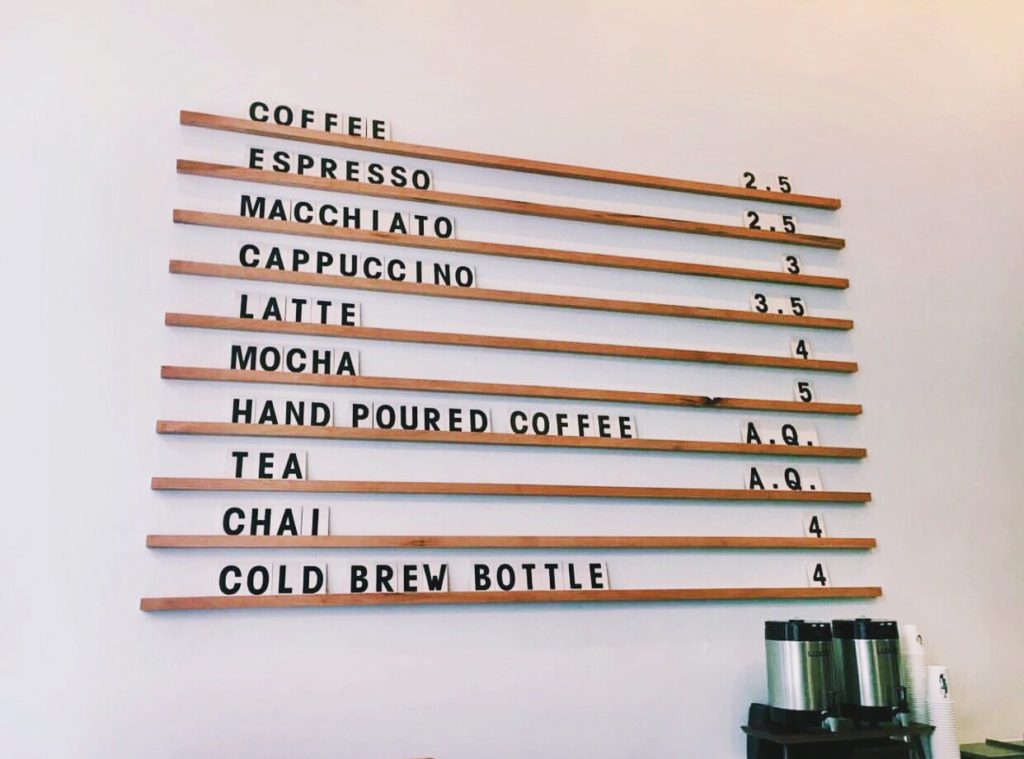 best places for coffee in new york city right now
1. Devoción
Farm-to-table coffee roaster Devoción now has three stores open in New York: two in Brooklyn, and one in the Flatiron district. The shops feel bright and open, with plenty of natural light and decorative greenery. And the coffee, sourced from Colombia, is absolutely first-rate.
Drip coffee and cold brew are both available on tap. There's a special drip offered for $4.25, as well as special edition and limited edition pour overs. You can also find a Sparkling Cascara, which is a carbonated drink made from the husks of coffee beans. And, if you can't get enough, they also offer a subscription service, so you can have their beans delivered to your home each month.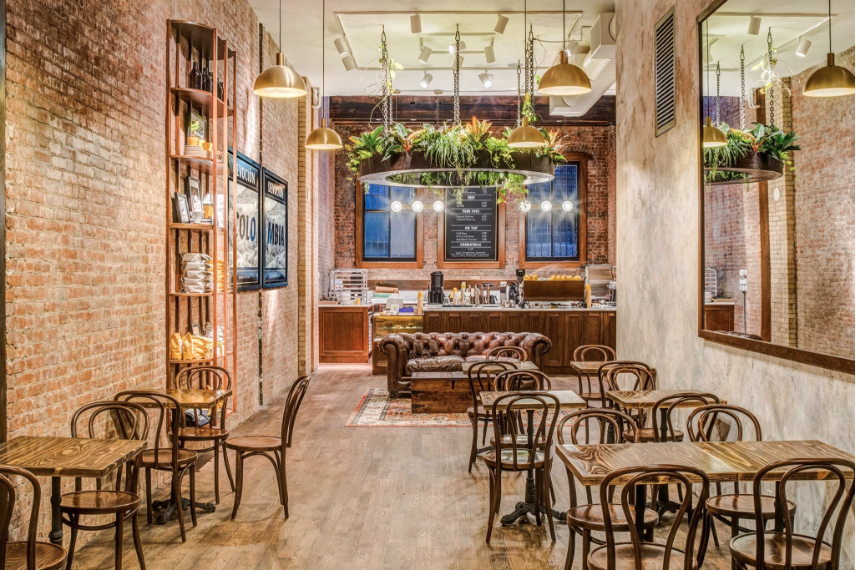 2. Zibetto Espresso Bar
Zibetto Espresso Bar has several locations around New York, and all are designed to remind their customers of luxurious cafés in Italy. The house specialty is espresso, and they take each step of production with incredible care, using Italian machinery that dates back decades.
Zibetto's beans, too, are roasted and blended in Italy, before being shipped to New York. Their signature offerings include the Marocchino, which is a delectable mixture of espresso, cocoa powder and milk froth. For a true Italian espresso experience, you can't go wrong here.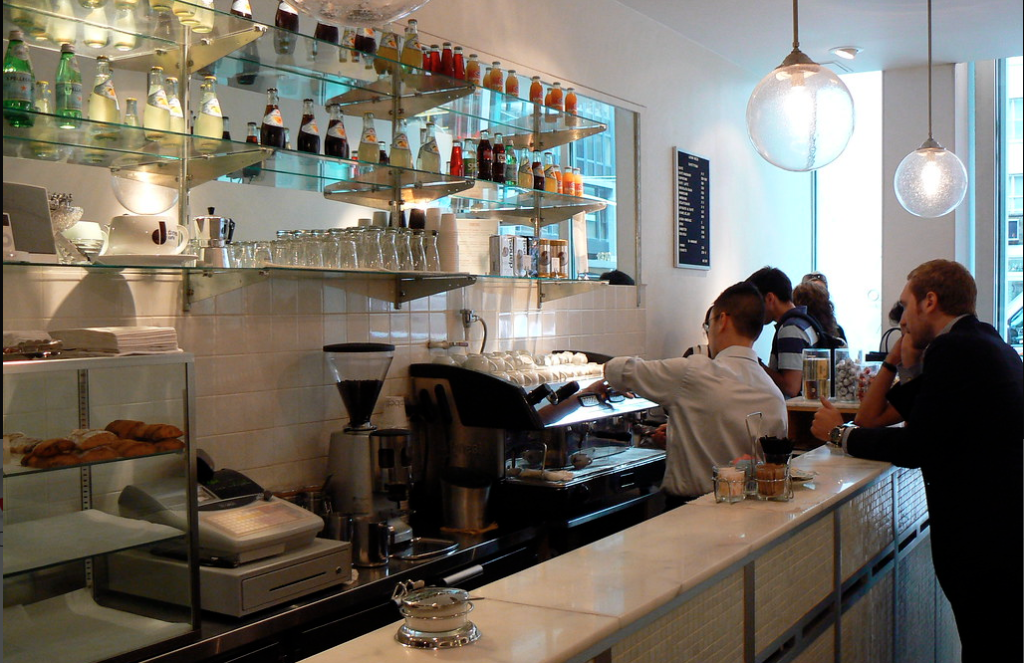 3. Starbucks Reserve Roastery
At the New York outpost of the Starbucks Reserve Roastery, you can forget everything you thought you knew about this global brand. With a format initially launched in Seattle, this enormous location in the Meatpacking District is less a coffee shop than a coffee utopia.
Think Willy Wonka, but with coffee, not candy.
The multi-level space has a fully-stocked bar. There's lots of roasting and brewing equipment and merchandise for sale. And an enormous menu. Printout copies are available for perusing as you wait in line at one of the two coffee stations. If you're like us, you'll need a few minutes to make your selection. The Roastery seems to offer just about everything, from a Cardamom Long Black to a Sparkling Citrus Espresso.
There is an entire page of cold brews to behold, both carbonated and flat (including options flavored with molé and with beef jerky). Coffee is prepared in every way possible, from press to pour over to siphon. If you can imagine it, it probably exists here in coffee paradise. The novelty alone is worth the trip.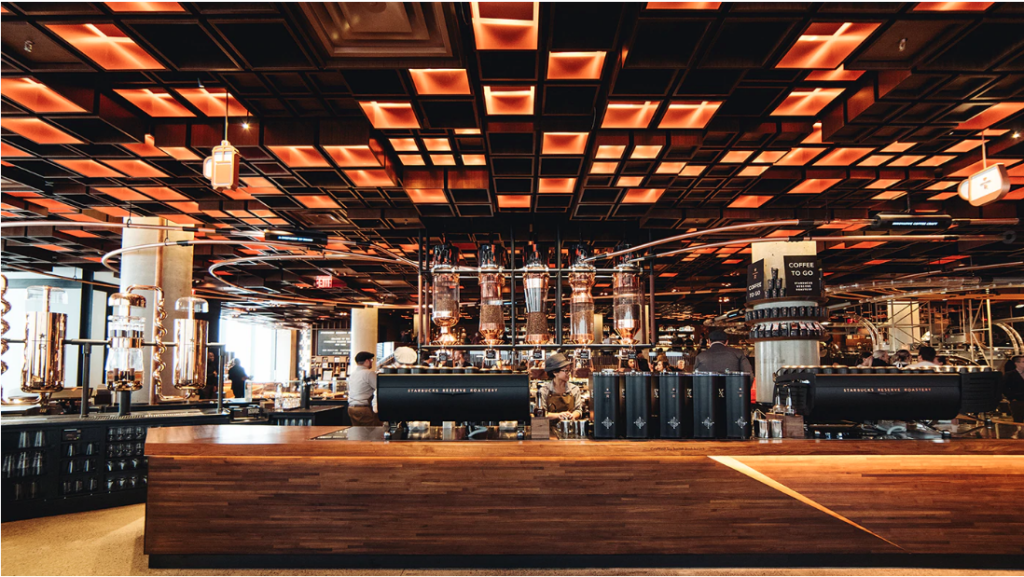 4. Hi-Collar
Nestled into a slim venue in the East Village, Japanese café Hi-Collar is easy to walk by if you don't know what you're looking for. As the sign in the window says, this coffee shop is a "café by day: Sake Bar at night." From 11 am until 4 pm, you can find some of the best coffee in the city here.
Though they do offer drip and iced coffee to go, this is a place best enjoyed in person, at one of the stools along the bar.  They offer a pour over for $4.50. An Aeropress (halfway between drip and espresso) costs $5.50. And a siphon coffee is $7.
Of course, customers can choose the beans they would like brewed, and baristas are happy to answer questions. For cold drinks, options include a Mizudashi Iced Coffee, which is a delicious and flavorful cold brew that is less acidic than most. Their menu also includes many tasty lunch options.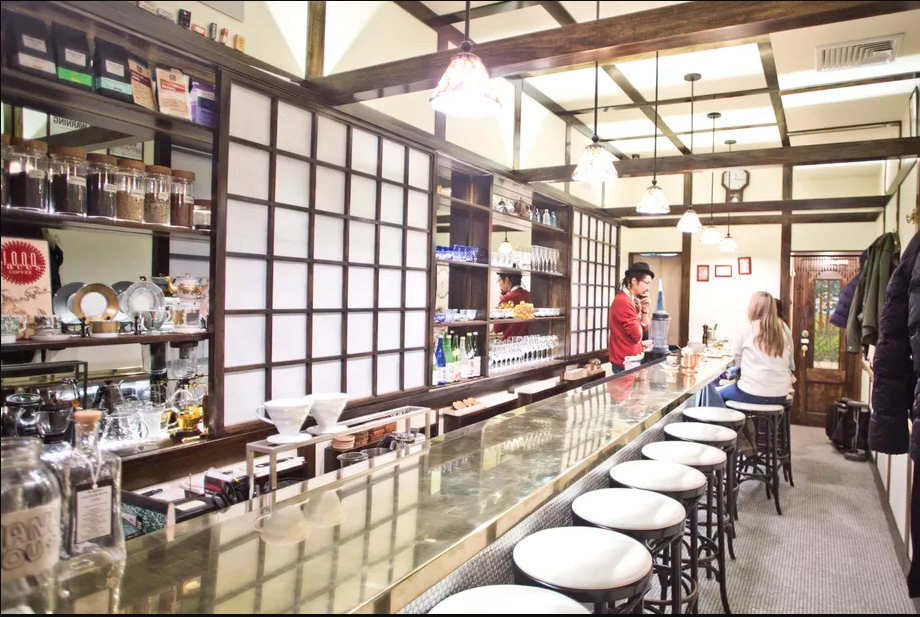 5. Abbotsford Road Coffee Specialists
On an industrial block in Gowanus, Abbotsford Road Coffee Specialists is a glossy beacon between construction sites and warehouses. The interior is a cross between a high-end café, and a coffee factory. The bags of beans, stacks of boxes and loft-like space give the impression that this place knows what it's doing when it comes to coffee.
And they do. There are four brews available for retail customers, as well as specials like Matcha and Turmeric lattes. A small drip coffee costs $3.25 and a small cold brew costs $4. They sell brewing equipment, syrups, teas and, of course, beans to roast at home. They also offer coffee education courses, both for customers and potential business partners.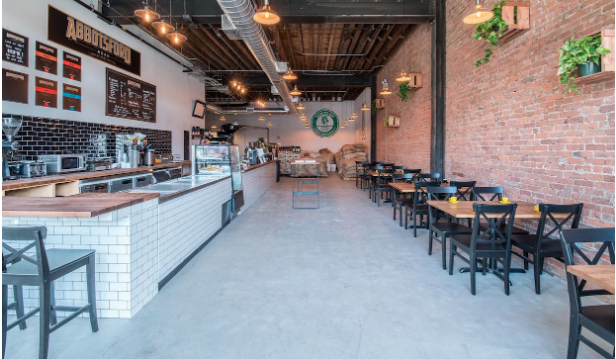 6. Birch
As stated proudly on their website, Birch is a purveyor of coffee, rather than the "drinks" that populate the menus of so many cafes around New York. Their beans are sourced from farms all around the world and then manually roasted at their headquarters in Long Island City. Almost anywhere you go in Manhattan, you'll be able to find one of their shops, which all possess a solid menu of coffee choices. Especially recommended is their high-quality espresso.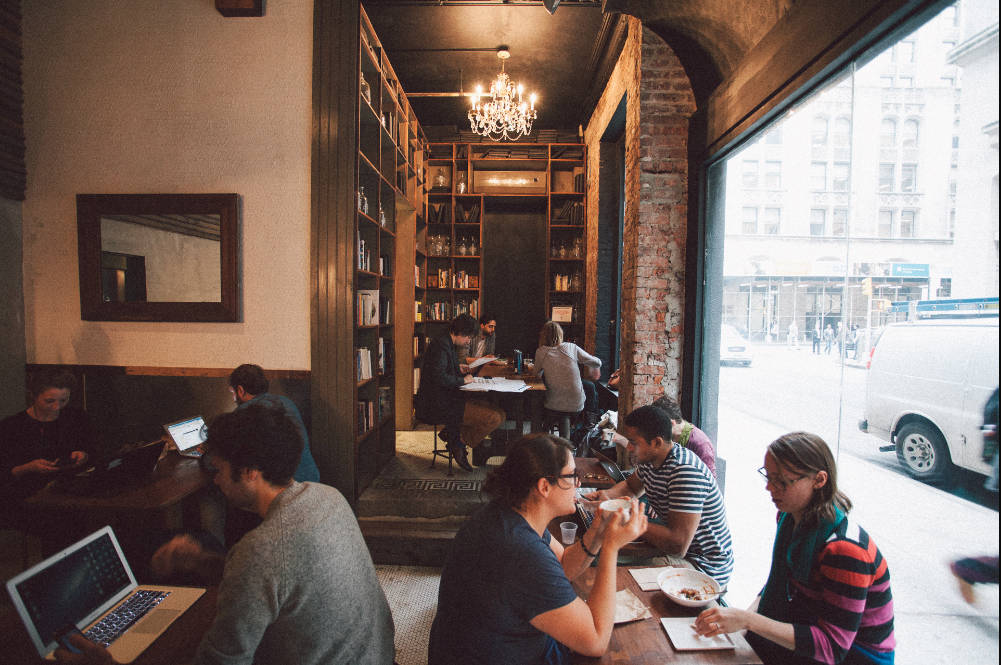 7. Queensyard
The delightful Queensyard café from D&D London has just arrived at the brand new Hudson Yards and is absolutely worth a visit. Next door to the highly lauded restaurant of the same name is an all-day coffee shop that stocks delightful pastries and sandwiches as well as, of course, great coffee. Word to the wise: the New York York cheesecake is mad-crazy good.
Their menu includes all of the usual suspects, with a very delicious drip for $3.  There is seating inside and around the shop. Or you can pick up a $5 Matcha Americano or a $7 Espresso Tonic to drink as you enjoy shopping or strolling on the High Line.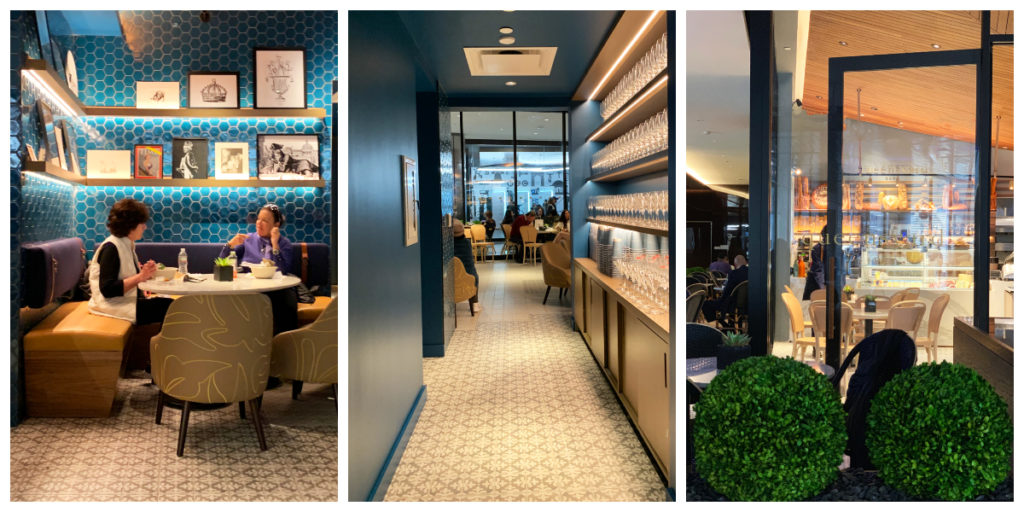 8. Blue Bottle
With hundreds of locations around the world, you've probably seen Blue Bottle's little blue logo before, even if you haven't already tried their coffee. Well, they too have a new store at Hudson Yards, and their coffee is as satisfying as ever.
Blue Bottle specializes in serving coffee at its peak taste level, which differs in length of time between their different blends. Their brand is sleek and clean, with shiny beige counter-tops and a very clear, descriptive menu. A cup of cold brew is $4.25, and drip varies based on the variety of beans. Their menu will tell you the notes of flavor to be found in each cup, and your selection process can go from there.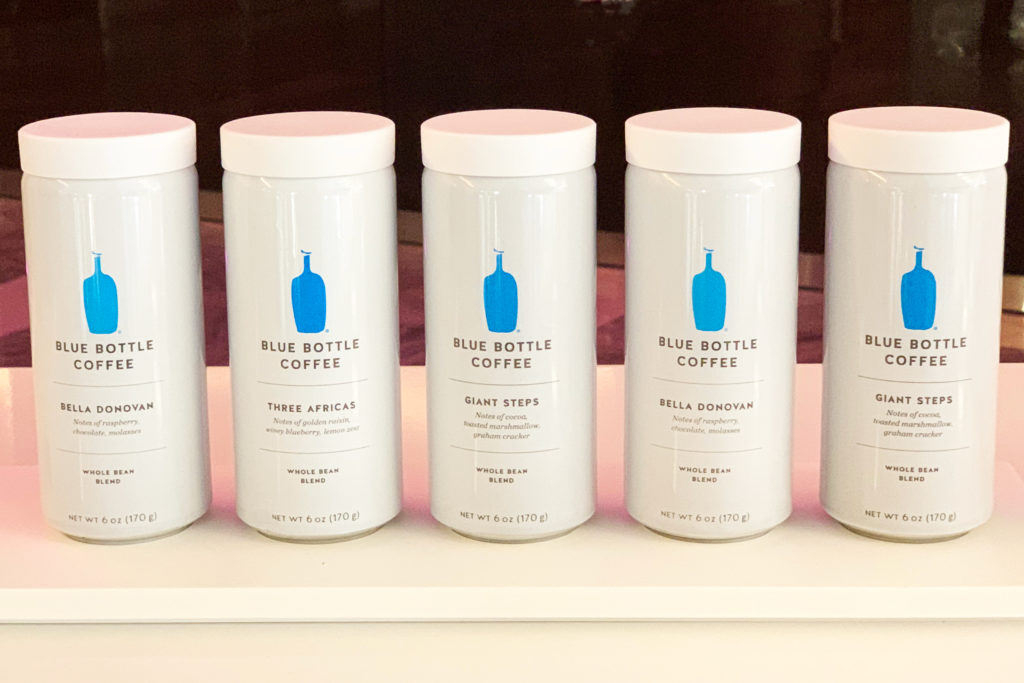 9. Bluestone Lane
Yet another beloved coffee shop that has found its newest home inside Hudson Yards, the Australian brand Bluestone Lane has proven to be a wonderful mainstay for coffee lovers all over the city.
Their cafes are typically bright and sunny, but each is unique to the neighborhood in which it resides. Special coffee items include a long black, espresso diluted with hot water for a slightly bigger, less strong – but just as flavorful – beverage. All of their coffee is worth a try, and each of their stores is a delight to spend time in.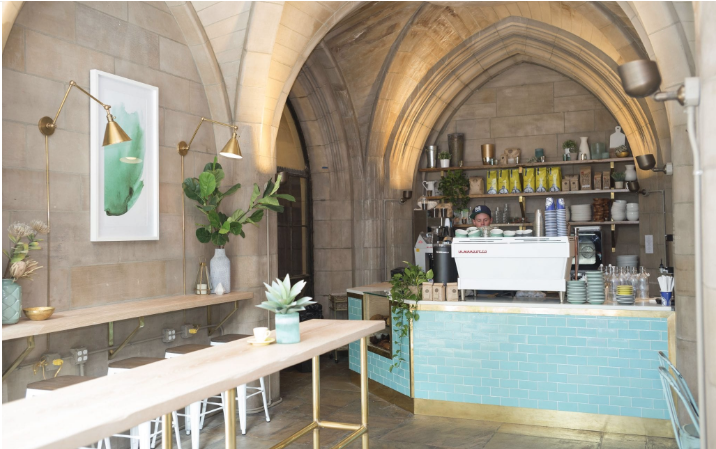 10. Coffee Project
With one location in the East Village and another in Brooklyn, Coffee Project is perhaps best known for their deconstructed latte. This innovative drink is served in three parts: a shot of milk, a shot of espresso, and then the complete latte. They use only the best of ingredients, and the experience is so detailed it is of course required to be enjoyed in-store. If you love coffee but want to try something more inventive, Coffee Project is the perfect destination to fuel your curiosity.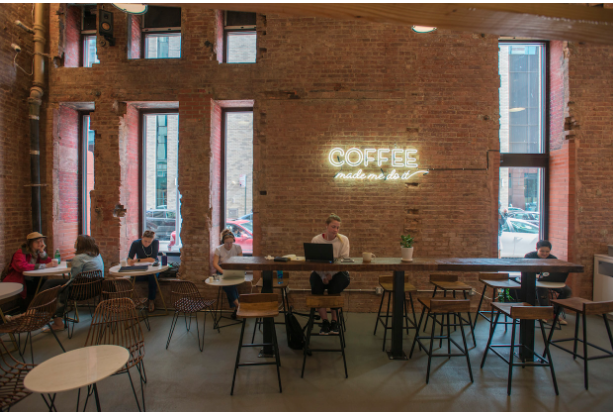 There you have it – our picks for the best places in New York City for a cup of coffee. What do you think? Which is your fave? And did we miss anything?
see luxury in a new light
Come and join our community! For a weekly round-up of insider ideas and information on the world of luxury, sign up for our Dandelion Chandelier Sunday Read here. And see luxury in a new light.
power up
For a weekly dose of career insights and advice, sign up for our Sunday newsletter, Power Up, here.
Abbie Martin Greenbaum grew up in New York City and currently lives in Brooklyn, where she drinks a lot of coffee and matches roommates together for a living. At Oberlin College, she studied English and Cinema, which are still two of her favorite things, along with dessert and musical theater. She believes in magic.