Luxury Insider Tips on the Best First Trip to Ljubljana
All products are independently selected by our editors. If you buy something, we may earn an affiliate commission.
Insider Itinerary is an occasional series that shines a light on the best places to see, stay, and dine in some of the hottest travel destinations worldwide. Our far-flung correspondents are sharing their inside tips on how to best experience their chosen destinations, especially if you're visiting for the first time. Consider it your local luxury GPS. You're welcome! In this edition, our correspondent Julie Chang Murphy shares her luxury insider tips on the best first trip to Ljubljana, Slovenia.
insider itinerary
We began this series with our Paris Bureau Chief sharing the ideal itinerary for a first trip to Cape Town, South Africa. Since then, we've shared insider itineraries for Copenhagen, Oslo, Nantucket, and East Hampton. Next up? Julie Chang Murphy shares the ideal itinerary for a first trip to Ljubljana, Slovenia.
[white_box]
Join our community
For access to insider ideas and information on the world of luxury, sign up for our Dandelion Chandelier newsletter. And see luxury in a new light.
sign up now >
[/white_box]
why take a trip to ljubljana?
This often-overlooked city is the capital of Slovenia, a wealthy country the size of Massachusetts. It's only two hours away from more frequented tourist destinations, like Venice and Zagreb. Slovenia also shares borders with Austria and Hungary. There are lots of great reasons to go.
fairy-tale charm
Its quaint and approachable size makes Ljubljana seem like an illustration ripped from the pages of a fairy tale. It's all there…the cobblestone streets, gelato-colored medieval houses, Baroque churches, a castle on a hill and even two pairs of fierce dragons guarding a bridge.
europe's greenest capital
Yet, the fabled surroundings belie a city that is quite progressive and cosmopolitan. In 2016, Ljubljana was recognized by the European Union as Europe's Greenest Capital. In the Old Town, it is possible to access hiking trails. You can kayak or take a stand-up paddle board down the river. Cars are banned from the cobblestone streets and residents and tourists alike greatly enjoy bicycling as a form of transportation.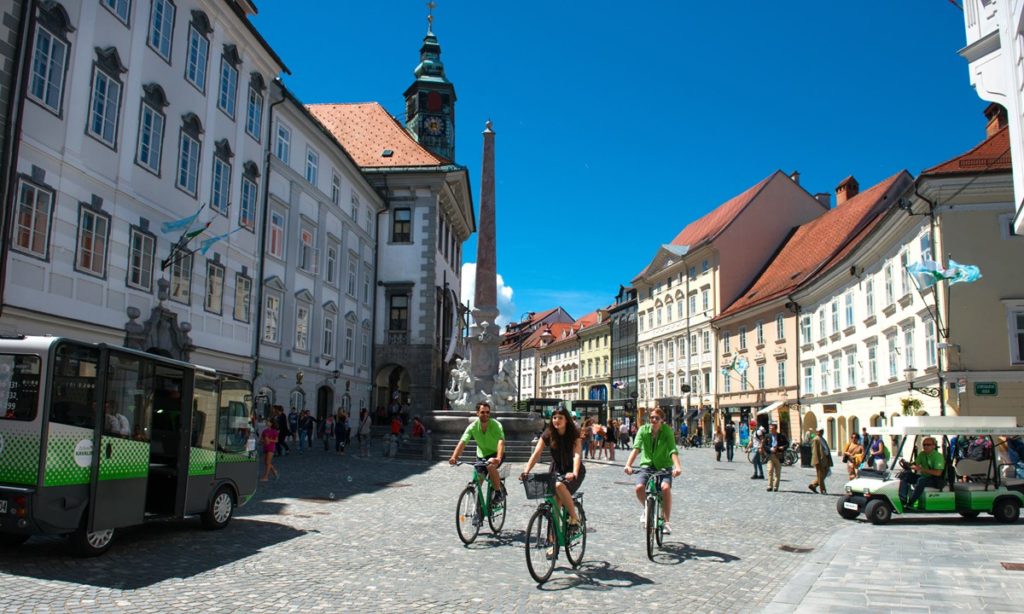 a foodie destination
The cuisine is, of course, influenced by its neighboring countries. But in the past decade, Ljubljana has become a hot spot for foodies, as skilled and inventive chefs shake up the scene and create their own uniquely Slovenian interpretations of cuisines that have a touch of Italian, Austro-Hungarian and local influences.
In 2017, Ana Ros put Slovenia on the gastronomic map when she was named the World's Best Female Chef. Even if you don't make it to her restaurant, Hisa Franko, the emphasis on seasonal and locally produced ingredients can be tasted throughout all of Ljubljana's restaurants.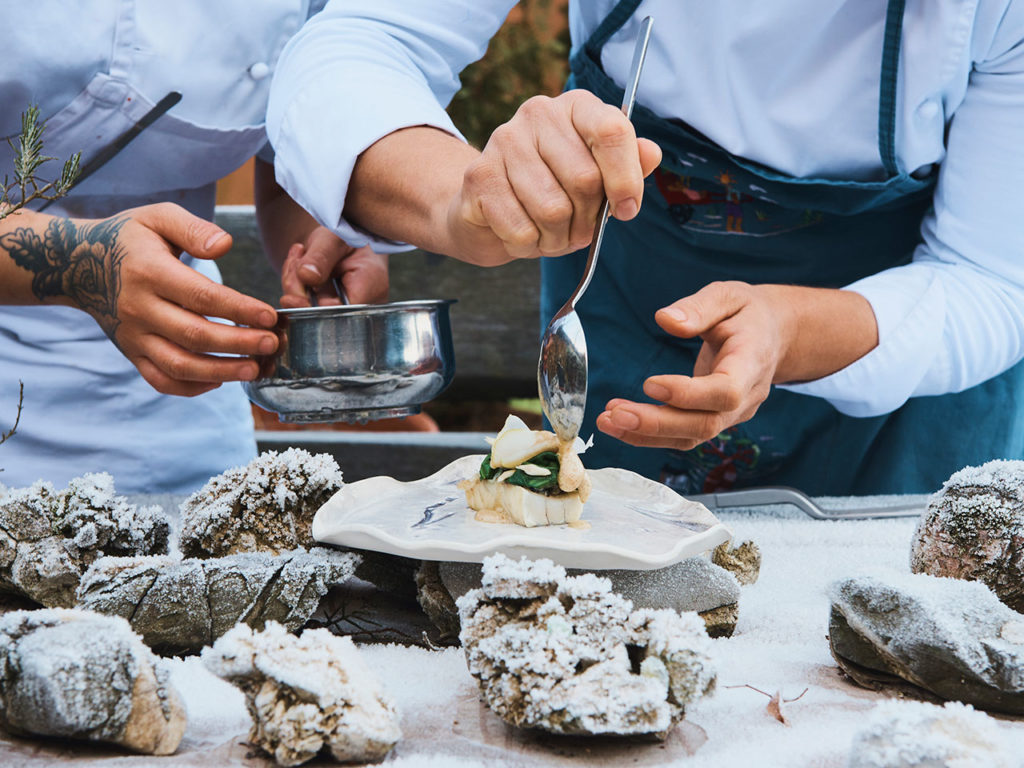 progressive culture
Despite being under Communist rule as part of Yugoslavia for much of the 20th century, a majority of Slovenian citizens identify as Roman Catholic. Slovenia is socially progressive, and is emerging as an LGBTQ+ friendly destination. It is host to Pink Week every spring (May 22-26, 2019), which features LGBTQ+ events, parties, and itineraries. An annual Pride Parade takes place this year on June 22, 2019. And a Festival of Gay and Lesbian Film occurs every December.
Enthralling beauty, top-notch food and open-minded people . . . What else do we need to say? Well, quite a lot! Read on for a deeper dive into a week in Ljubljana.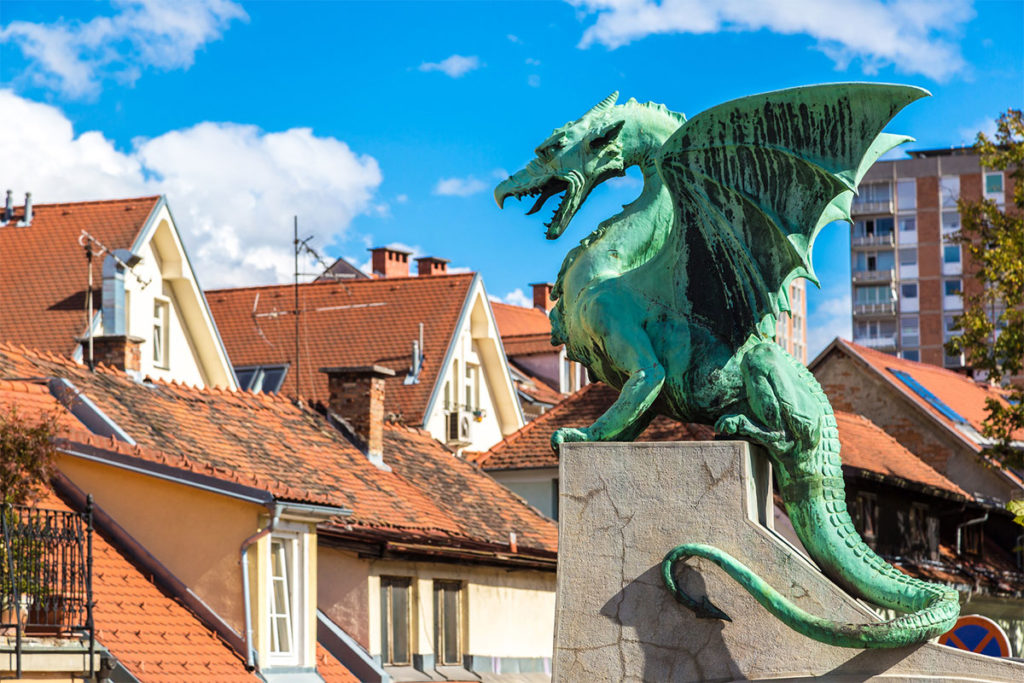 insider tips on the best first trip to Ljubljana
1. First of all, how to do you pronounce Ljubljana?
Lyoo-blee-AH-nah.
2. Why did you decide to go there?
My husband wrote and produced a play, Sex Tips for Straight Women from a Gay Man, that is currently in residence at the Paris Las Vegas. Slovenia was the first European country to buy the rights to the play and produce it on their own. So, in a way, Slovenia chose us! I'm always up for an adventure so we decided to make a trip out of it. And frankly, this getaway was my reward for putting up with the crazy schedule he had when he was writing the play!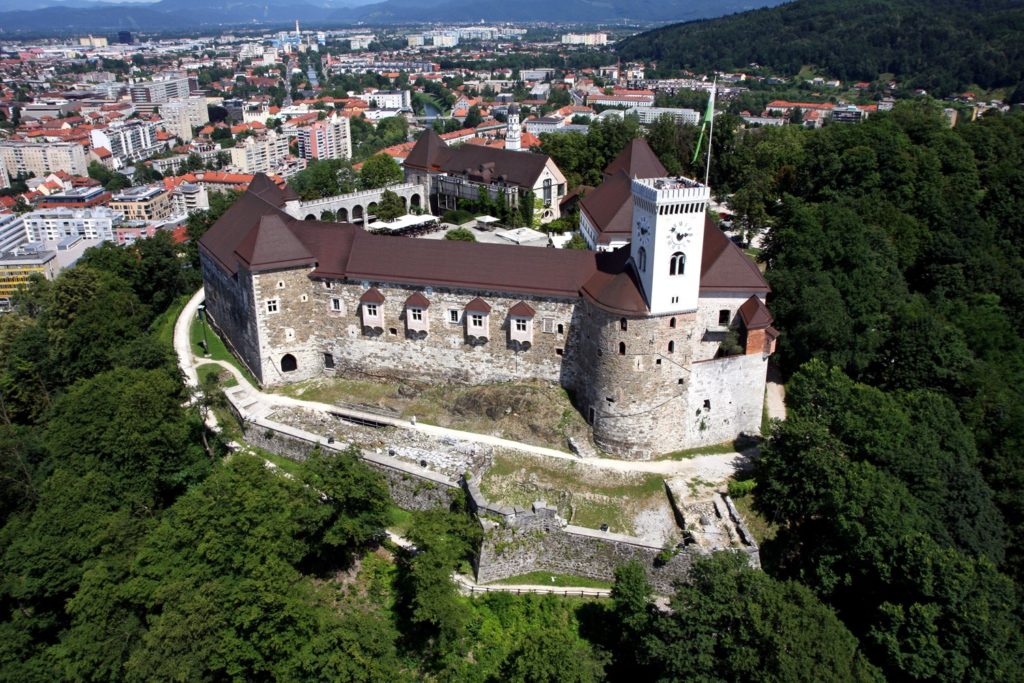 3. How long did you stay? How long is the ideal first visit?
We were there for 6 days so that we could attend the opening night of the show on the weekend. But I think you can see and do a lot in 3-4 days. Its small size means you can take day trips out of the city in under one hour and come back to your hotel in time for pre-dinner cocktails. You won't feel as if you're overtaxing yourself trying to see everything.
4. What hotels do you recommend?
The theater was gracious enough to host us at Hotel Slon. The rooms were pretty standard, but the location right in the city center could not be beat. Its cafe, Kavarna Zveda, in the lobby seemed like a local hot spot. It was fun to see the city's glamorous bunch feasting on the cafe's renowned pastries every afternoon.
For a more luxury class hotel, try the InterContinental which is also located near the Old Town and Ljubljana train station. The historic grand dame is Grand Hotel Union, in a gorgeous Art Nouveau building; the hotel has hosted Bill and Hillary Clinton and Queen Elizabeth.
5. What are the five most important "must see" sights?
The Old Town
Old Town Ljubljana took my breath away. I turned down the street from our hotel just intending to grab an ice coffee from a cafe before heading back to the hotel to really plan my day. Instead I ended up criss-crossing the triple bridges, meandering around the picturesque alleys, going into the precious boutiques (not a chain store in sight) for the next four hours. Wandering around with no agenda is my favorite thing to do when I travel.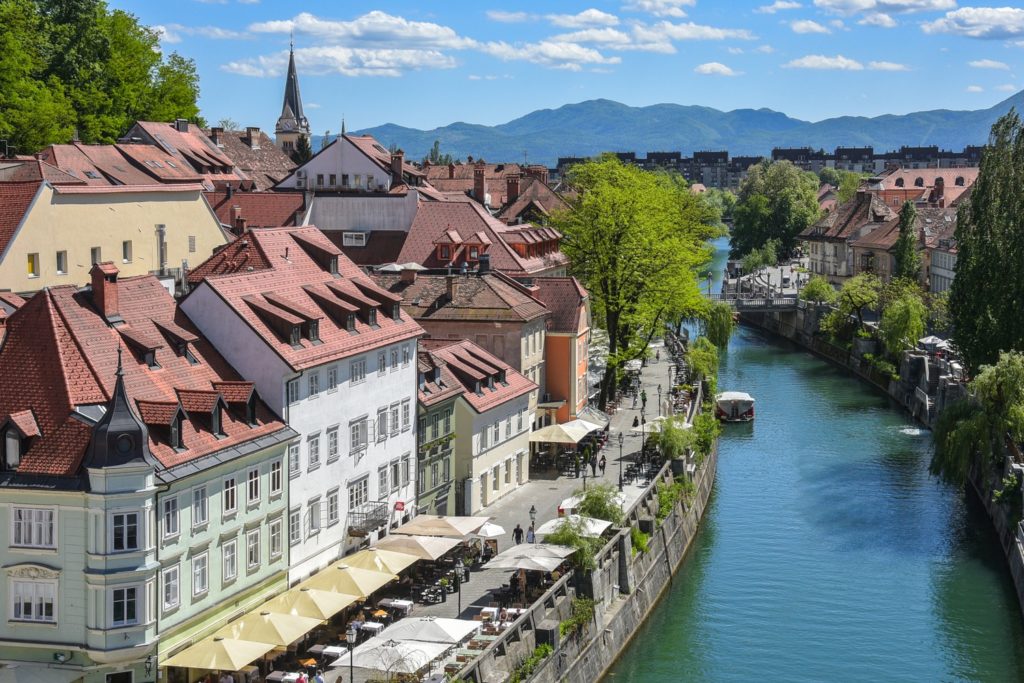 Postojna Caves
We hired a car to drive us 45-minutes to Postojna Caves. Its vast underground formations were surreal and magnificent. Once there, you board an underground train that takes you 2 miles into the cave. It barrels through just a little too fast and some of the stalactites are just a little too close to your head but it's thrilling!
The caves are also home to "baby dragons." In 2016, 21 of these small, translucent, lizard-like creatures, also known as olms or proteus, hatched and can be viewed inside the cave for the very first time.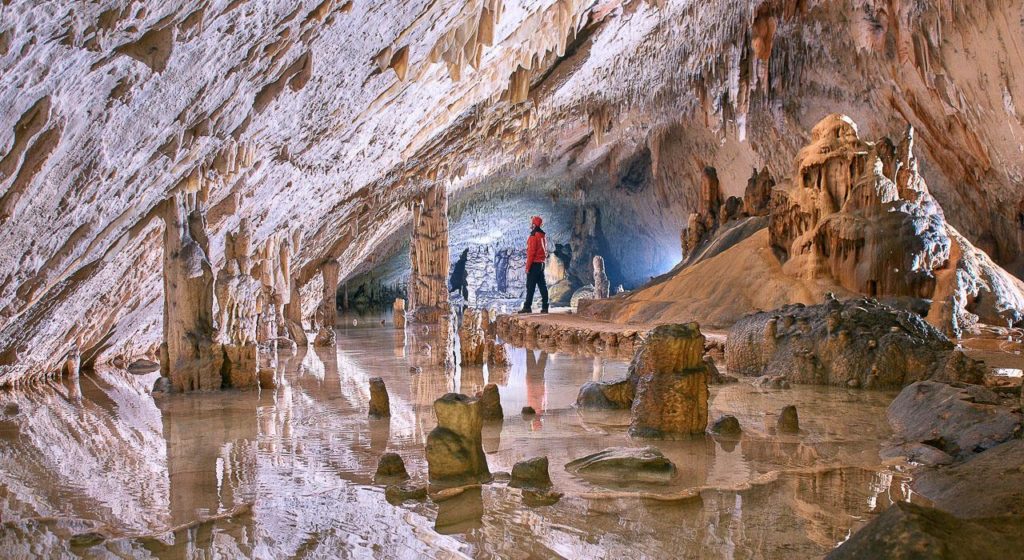 Lake Bled
As if this place could not seem anymore like a fairy tale location, we embarked on a 40-minute car ride to Lake Bled. I'll let the photo speak for itself!
Row boats are available to rent and it takes roughly 15 minutes to row to the island where you can ring a church bell to have your wish come true. I wished for some cake and what do you know? At a cafe, we were able to order the region's famous Bled Cream Cake, which definitely lives up to the hype.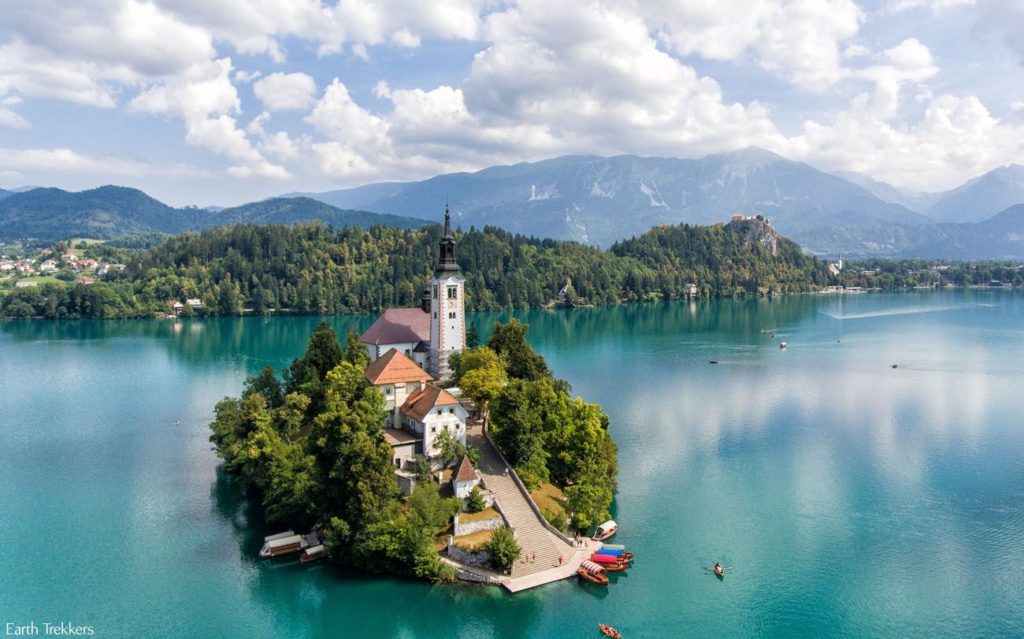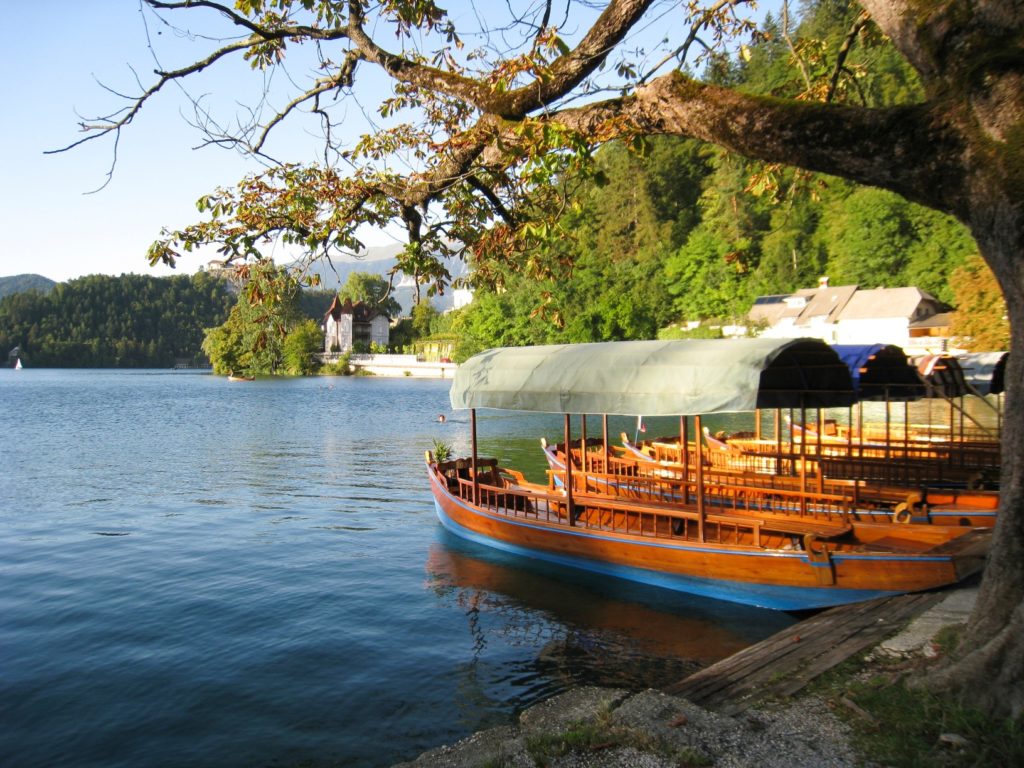 Museum of Puppetry
Back in the city, another must see is the Museum of Puppetry, because where else can you visit a museum devoted to slightly creepy puppets? The Museum is located in Lbubljana Castle so you can roam around the castle grounds while you're there. Many of the exhibits are interactive so you can even try controlling a marionette puppet. It's surprisingly difficult! Overall it's a fun and novel way to learn more about Slovenian culture.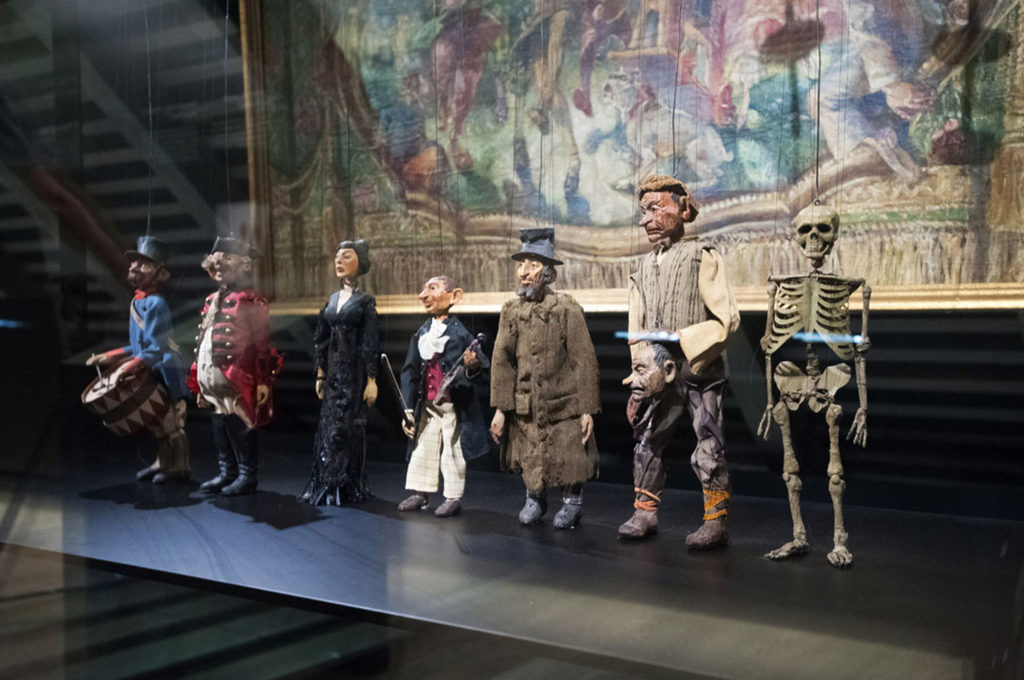 Metelkova Mesto
Across the river from the traditional Old Town lies Metelkova Mesto, the heart of Ljubljana's counter-culture formed within an abandoned army barrack of dilapidated buildings.
It's far from being an eyesore, however. It's a surprising visual feast of mosaics, murals, graffiti and strange sculptures — reflective of Ljubjiana in the here and now, not hundreds of years ago. As with many of Ljubljana's attractions, you feel utterly transported to another dimension. Go during the day if you're not cool enough to go at night, when it really comes to life.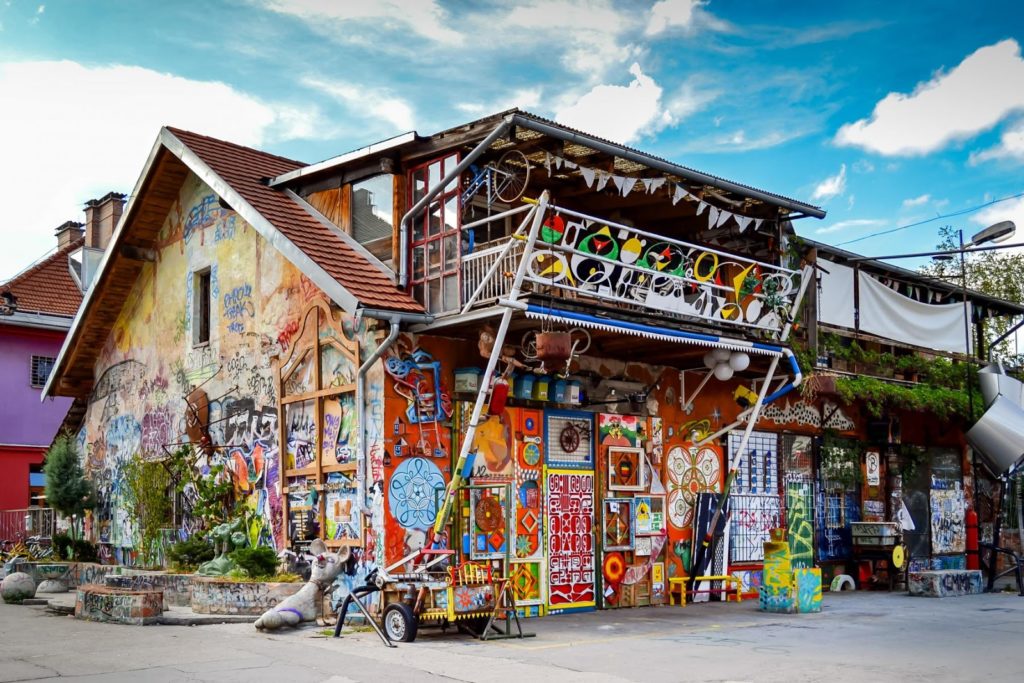 6. Is there good shopping? If so, where?
My wallet was thankful that Slovenian fashion was not really my style. Still, it was refreshing not to see the common fast fashion chains and name brands taking over every street. If you want to check out Slovenian home-grown fashion, Zoofa is the place to go with many designers all under one roof.
Chocolate shops abound so definitely wander in to sample some. There are some great antique shops where you can find obscure treasures. In general, you can't go wrong just strolling around. Every store is so distinctive and shopkeepers are very friendly.
7. Which restaurants to you suggest trying?
I thought you'd never ask!
I'm still thinking of the perfectly creamy homemade seafood pasta from the Mediterranean tasting course at Gostilna As. And the fresh and simply-prepared sea bass, filleted table side, that was so tender.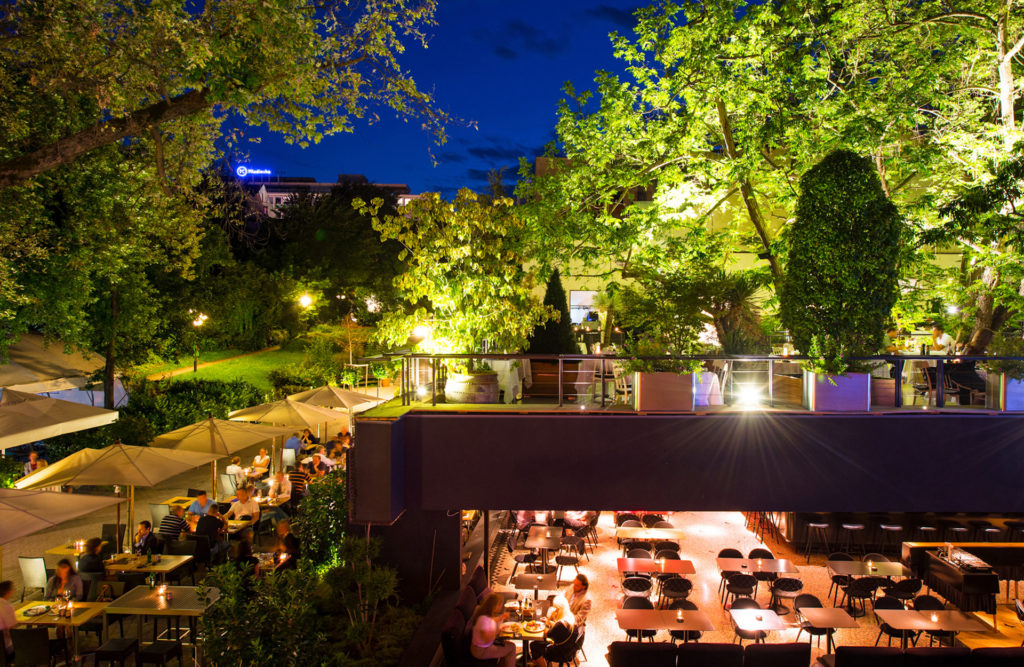 Another memorable meal we had was at Strelec at Ljubljana Castle. Dinner in a castle tower seems like a tourist trap but, here, the creative food is truly center stage. I couldn't possibly remember all the offbeat melanges in our 5-plate tasting course (with amuse bouches in between each one). But it was all dizzyingly delicious and 1/3 of the price you would pay for a comparable meal in NYC.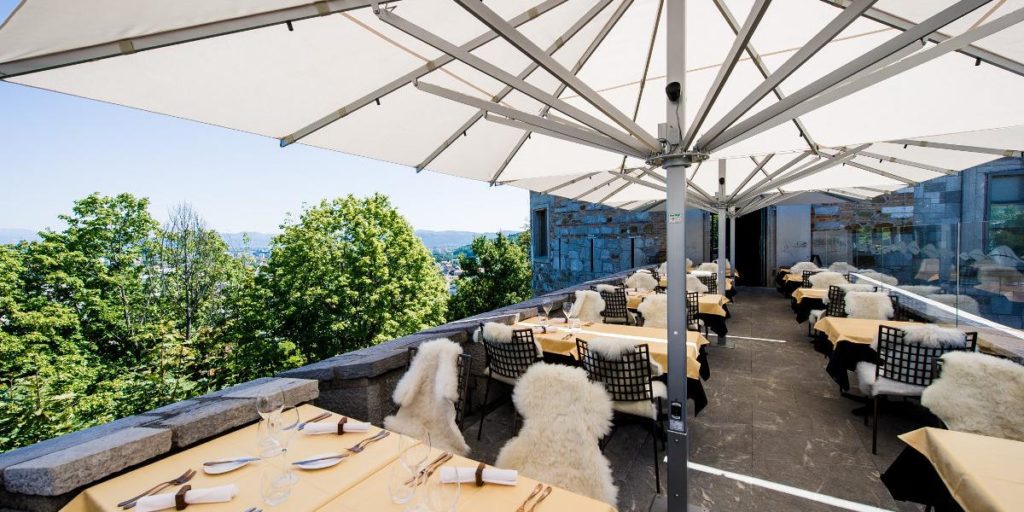 For more simple street food fare, try freshly made, flaky and hot out of the oven burek at Burek Olimpija. There are many kinds of fillings available. But for me, the traditional cheese one was more than soul-satisfying. Supreme quality meats and cheeses at Dobrote.Si made for a savory lunch on the go.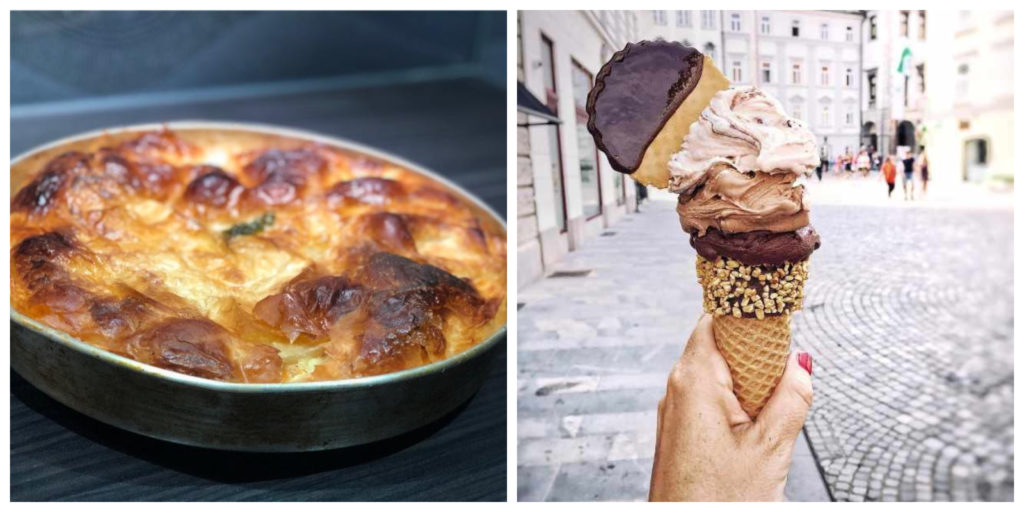 There seemed to be a gelateria on every street. Maybe two. I had the good fortune to wander into the best one- Vigo. I knew it had to be the best when there was a line out the door at 10:30 am. I ordered a panna cotta flavor dotted with fresh, tart raspberries, mixed with pistachio cream and then topped with a dollop of dark chocolate. I'm still mad at myself for getting a small cup and not an extra large.
8. What was the most memorable thing you did on your visit?
On the last day, we attended the opening night party for the play. Because of the small population of Ljubljana, local celebrities and VIPs all turn out for one another's events. I've been to many opening nights in NYC but none felt as warm, familial and exuberant as this one! At first, they were playing standard American wedding band music. But then as the midnight hour rolled around, the DJ started spinning Croatian techno and the entire room burst out singing in unison at the top of their lungs, dancing their hearts out.
9. What's on your list to see next time?
We left early Saturday morning so I missed the Old Town weekend farmer's market. We saw the tables being set up Friday night and I can only imagine the next day's colorful and raucous scene.
10. Is this a good vacation for families with kids? Teenagers? Romantic partners? Solo travelers?
All of the above! This was our first trip without kids in 7 years but of course, I kept thinking the entire time how easy and fun it would have been to bring my three kids (ages 4, 6, and 8).
The city is so clean and walkable and there is enough diversity in cuisine even for the pickiest eaters. Teenagers will love the opportunities for an active vacation: hiking, rafting, skiing, zip-lining and even archery. Romance- of course! For solo travelers, the city is very safe. Most people under 50 speak English, so you can ask for help and socialize with ease.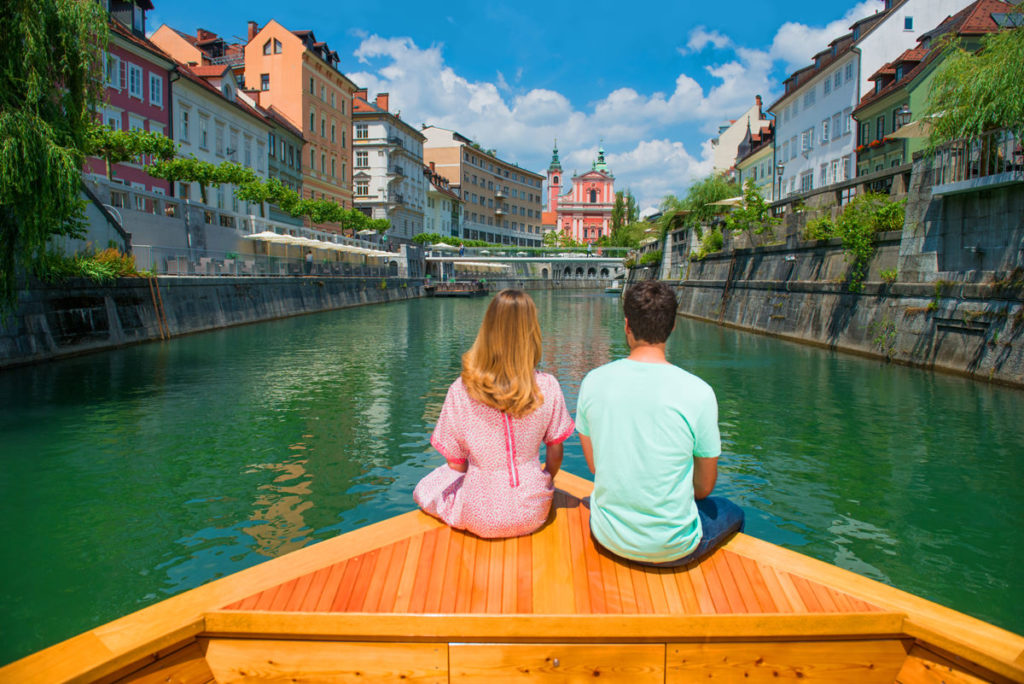 11. Describe the city in 3 words.
Enchanting. Romantic. Humble.
We don't know about you, but we're sold. What say you? Next stop, Ljubljana?
join our community
For access to insider ideas and information on the world of luxury, sign up for our Dandelion Chandelier newsletter here. And see luxury in a new light.
Crediting her training as a cultural anthropologist at Wellesley College, Julie has immersed herself in various industries in the last 15 years including fashion design, event planning, fitness and even investigating police misconduct. Julie lives in NYC where she loves trying every ramen and dumpling restaurant with her husband and three children. She finds joy in bold prints, biographies of fierce women, kickboxing and spending way too long finding the perfect polish color to express her mood.