What are the Best New Books Coming in May 2019?
All products are independently selected by our editors. If you buy something, we may earn an affiliate commission.
New month, new books! Book Light is our curated list of the titles we're most excited about that are being published in the coming month. We've also got a few thoughts on the perfect books to read in the month of May. Our intrepid team has been exploring the most-anticipated new books for May 2019 and here's what we found. These are the new releases, and our picks for the best new books coming in May 2019.
Get ready for a brilliant month of books – here's what May 2019 has in store.
best new books coming in may 2019
Here's our pick of the top new books – novels, essay collections, and non-fiction – that we cannot wait to read. You can pre-order them now if you like.
1.
The Farm by Joanne Ramos. This debut novel is equal parts feminist dystopia and immigrant's tale. – Publication date: May 7, 2019
2.
Rabbits for Food by Binnie Kirshenbaum. On New Year's Eve an acerbic, witty, and clinically depressed writer unravels. Her breakdown lands her in the psych ward of a prestigious New York hospital. There, she refuses all recommended treatment. Instead, she passes the time chronicling the lives of her fellow "lunatics" and writing a novel about what brought her there. – Publication date: May 7, 2019
3.
Calm Sea and Prosperous Voyage by Bette Howland is a posthumous collection of stories from a winner of Guggenheim and MacArthur "genius" fellowships. It brings together works that span her career. Largely autobiographical, these stories conjure vivid portraits of her home city of Chicago and its denizens – Publication date: May 7, 2019

4.
Rough Magic by Lara Prior-Palmer. Palmer's memoir of beating the odds to become a horse champion is an inspiring saga of perseverance — and a classic underdog tale. – Publication date: May 7, 2019
5.
Becoming Dr. Seuss: Theodor Geisel and the Making of an American Imagination by Brian Jay Jones. In this lively biography, we learn about the other side of the famous children's author. In real life, "Dr. Seuss" had a successful career as an advertising man and then as a political cartoonist. His personal convictions frequently appeared in the themes of his books. Geisel was a complicated man on an important mission. He introduced generations to the wonders of reading, while teaching young people about empathy and how to treat others well. – Publication date: May 7, 2019
6.
The Bride Test by Helen Hoang. In this sequel to The Kiss Quotient, a young woman attempts to teach Khai—who is autistic—how to love. She finds herself falling for him, all the while knowing that he may not be able to love her back. – Publication date: May 7, 2019

7.
The Flight Portfolio by Julie Orringer is a historical novel based on the true story of Varian Fry's extraordinary attempt to save the work, and the lives, of Jewish artists fleeing the Holocaust. Fry was a Harvard-educated American journalist who lived in France for thirteen months, procuring false documents, amassing funds, and setting up an escape route that led over the Pyrenees to Spain and onward to America. Among his many clients were Hannah Arendt, André Breton, Max Ernst, Marcel Duchamp, and Marc Chagall. – Publication date: May 7, 2019
8.
The Paris Diversion by Chris Pavone. The bestselling author of The Expats returns. Protagonist Kate Moore is back and living with her husband and two children in Paris. When a massive terror attack occurs, she's drawn into investigating the incident – and whether it involves her family. – Publication date: May 7, 2019
9.
The Castle on Sunset: Life, Death, Love, Art, and Scandal at Hollywood's Chateau Marmont by Shawn Levy. For ninety years, Hollywood's brightest stars have favored the Chateau Marmont as a home away from home. Levy recounts the wild revelries and scandalous liaisons, the creative breakthroughs and marital breakdowns, the births and deaths that the Chateau has been a party to.  – Publication date: May 7, 2019

10.
The Remix: How to Lead and Succeed in the Multigenerational Workplace by Lindsey Pollak – Millennials are the largest generation in the workplace. But for the next decade at least, these young professionals will be working side by side with Baby Boomers and Generation Z. To lead and succeed, managers will have to adapt to how millennials work, while continuing to accommodate their older colleagues and paying attention to the next generations coming up. Publication date: May 7, 2019
11.
I Like to Watch: Arguing My Way Through the TV Revolution by Emily Nussbaum. The Pulitzer Prize-winning New Yorker TV critic traces the medium's evolution from a variety of angles, in a set of essays which collectively argue that "we are what we watch." – Publication date: May 14, 2019
12.
Orange World and Other Stories by Karen Russell. The author of Swamplandia and Vampires in the Lemon Grove returns with a collection of eight stories. Each is rendered in her trademark imaginative style. For example, in Bog Girl, a revelatory story about first love, a young man falls in love with a two-thousand-year-old girl that he's extracted from a mass of peat in a Northern European bog. – Publication date: May 14, 2019

13.
Rules for Visiting by Jessica Francis Kane. At forty, May Attaway is more at home with plants than people. Over the years, she's turned inward, finding pleasure in language, her work as a gardener, and keeping her neighbors at arm's length while keenly observing them. But when she is unexpectedly granted some leave from her job, May is inspired to reconnect with four once-close friends, embarking on a female Odyssey. What might the world have had if, instead of waiting, Penelope had set out on an adventure of her own? – Publication date: May 14, 2019
14.
The Obsoletes by Simeon Mills is a coming-of-age novel about two human-like teen robots navigating high school. They face potentially life-threatening consequences if their true origins are discovered by the inhabitants of their intolerant 1980's Michigan hometown – Publication date: May 14, 2019
15.
The Confessions of Frannie Langton: A Novel by Sara Collins. In this debut novel based on a true story, a servant and former slave is accused of murdering her employer and his wife. As she awaits trial for the deaths of renowned scientist George Benham and his eccentric French wife, Marguerite, the tale moves from a Jamaican sugar plantation to the streets of Georgian London. It's a searing look at race, class, and oppression. – Publication date: May 21, 2019

16.
The Organs of Sense: A Novel by Adam Ehrlich Sachs. In 1666, an astronomer makes a prediction: at the stroke of noon on June 30 of that year, a solar eclipse will cast all of Europe into total darkness for four seconds. Did we mention the astronomer is blind? A 19-year old student sets off to investigate the claim with only three hours remaining before the deadline. The blind man's story ends up encompassing kings and princes, family squabbles, obsessive pursuits, insanity, philosophy, art, loss, and the horrors of war – Publication date: May 21, 2019
17.
Waisted by Randy Susan Meyers. In this comic novel, seven women enrolled in an extreme weight loss documentary discover self-love and sisterhood as they enact a daring revenge scheme against the exploitative filmmakers. – Publication date: May 21, 2019
18.
How to Forget: A Daughter's Memoir by Kate Mulgrew. When her father is diagnosed with aggressive lung cancer and her mother with atypical Alzheimer's, New York-based actress Mulgrew returns to her hometown in Iowa to spend time with her parents and care for them at the end of their lives. The months she spends with her parents lead her to reflect on each of their lives and how they shaped her own.  – Publication date: May 21, 2019

19.
Vegetables Unleashed: A Cookbook by José Andrés and Matt Goulding. Star chef Andrés and James Beard award-winning writer Goulding share their inventive take on how to creatively transpose the flavors of a global pantry onto the produce aisle. – Publication date: May 21, 2019
20.
Range: Why Generalists Triumph in a Specialized World by David Epstein. Contrary to popular belief, deep specialization is not necessarily a winning formula for success. Instead, a closer look at research on the world's top performers, from professional athletes to Nobel laureates, shows that early specialization is the exception, not the rule. The author has examined the world's most successful athletes, artists, musicians, inventors, forecasters and scientists. And discovered that in most fields—especially those that are complex and unpredictable—generalists, not specialists, are primed to excel. – Publication date: May 28, 2019
21.
Stay Sexy & Don't Get Murdered: The Definitive How-To Guide by Karen Kilgariff and Georgia Hardstark. In this dual memoir from the creators of My Favorite Murder, the authors write candidly about their personal struggles with addiction, eating disorders, and depression as well as larger cultural issues, like the importance of self-advocating and putting safety over appearing polite. – Publication date: May 28, 2019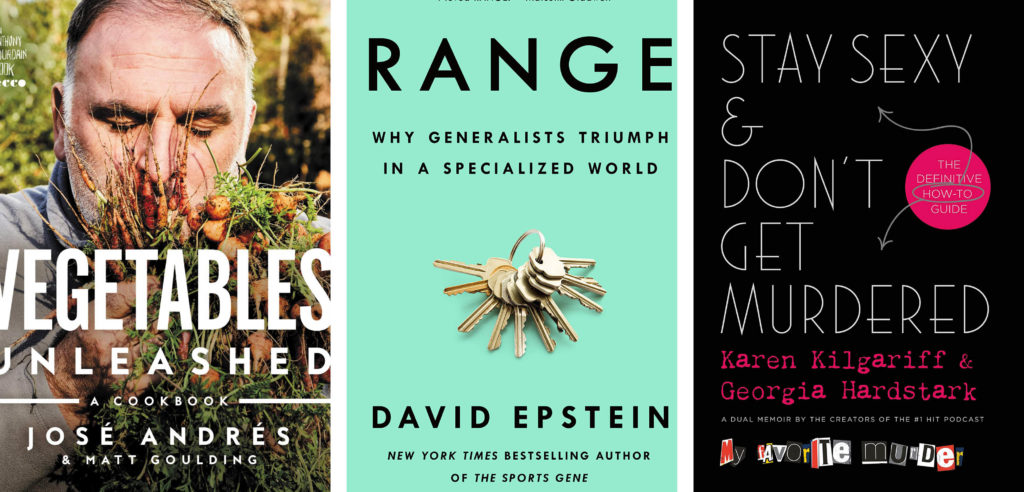 That's it – our picks for the best new books coming in May 2019. What do you think? Which one will be at the top of your list?
Come and join our community! For a weekly round-up of insider ideas and information on the world of luxury, sign up for our Dandelion Chandelier Sunday Read here. And see luxury in a new light.
And for a weekly dose of career insights and ideas, sign up for our newsletter, Power Up, here.