the best new sunglasses for spring summer 2019
All products are independently selected by our editors. If you buy something, we may earn an affiliate commission.
Very few things say hello, summer like a new pair of sunglasses. We've scanned the marketplace, and here are the best new spring summer '19 sunglasses out there right now. There's something for everyone: sporty, glamorous, romantic, whimsical. Pour a glass of iced tea and enjoy!
the best new sunglasses for spring summer 2019
Six big trends caught our eyes when we went looking for new sunglasses. First, BIG is the new tiny, with ski-goggle-inspired sunnies everywhere. Second, high-glam shades with crystals and faux pearls. Third, rose-colored lenses. Fourth? Tropical citrus colors, especially sunny yellow. And last but not least, whimsical, unusual, dreamy shapes. And bold black and white.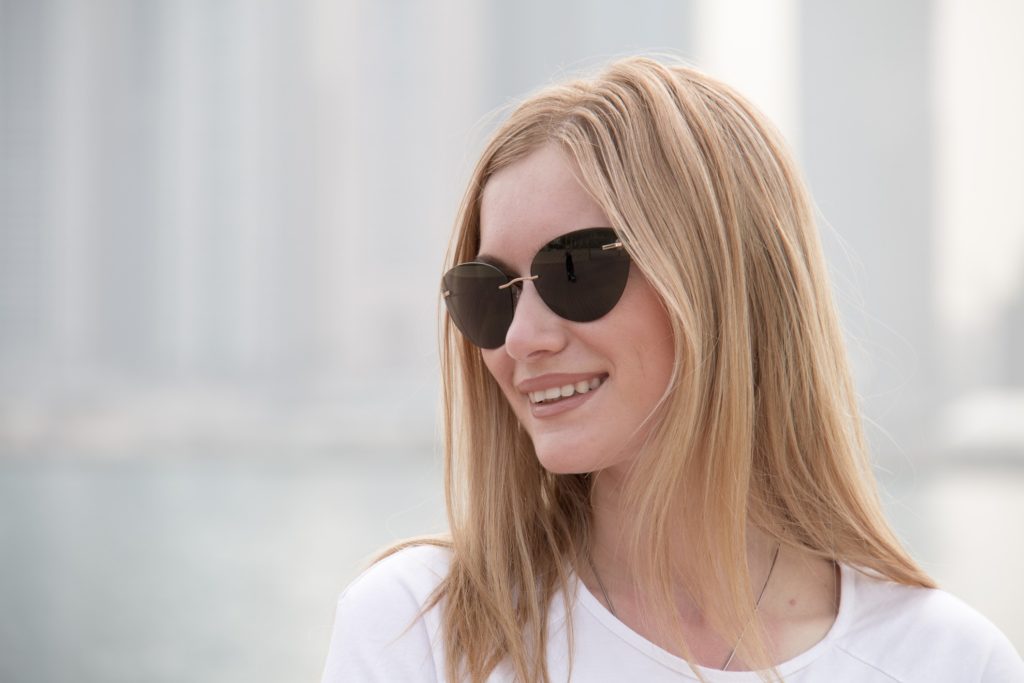 See? We told you there's something out there for everyone. Have a look.
1. Ski-inspired
Why choose Team Sand or Team Snow when you can be both? Over-sized sporty frames (aka "the monster sun shield" shape) are having a moment for SS19. They'll take you from the beach to the festival to the slopes, all in totally on-trend style.
sportif
Balenciaga's blue ski sunglasses ($331) have a modified cat-eye silhouette. The mirrored lenses are bordered by a blue acetate frame and the brow sports a black lasered-enamel logo. The ski square-framed mirrored version ($450), made of acetate that graduates from red to yellow, is smaller but just as chic.
Stella McCartney Shield D-Frame stud-embellished mirrored sunnies ($355) have visor-style mirrored wrap-around lenses that reflect a rainbow of colors. They're studded along the brow with the brand's logo. The brand's Flat-top Shield sunglasses ($385) have a black flat-top with chain trim and a Stella logo gold pin inlay.

the shield
Gucci Mask Metal sunglasses ($720) are straight from the SS19 runway, with a silhouette reminiscent of ski goggles. The style features oversized gray lenses contrasted by golden star rivets and slim metal frames.
Dior Eyewear's DiorSoLight1 oversized sunglasses ($315) have white frames with a gold-tone enamel logo plaque on the temples and powder-pink lenses.
Acne Studios Reflective acetate sunglasses ($360), part of the brand's SS19 collection, have a futuristic vibe. Handcrafted in France with a silver-tone metal frame, they have streamlined reflective-blue lenses and transparent acetate temples.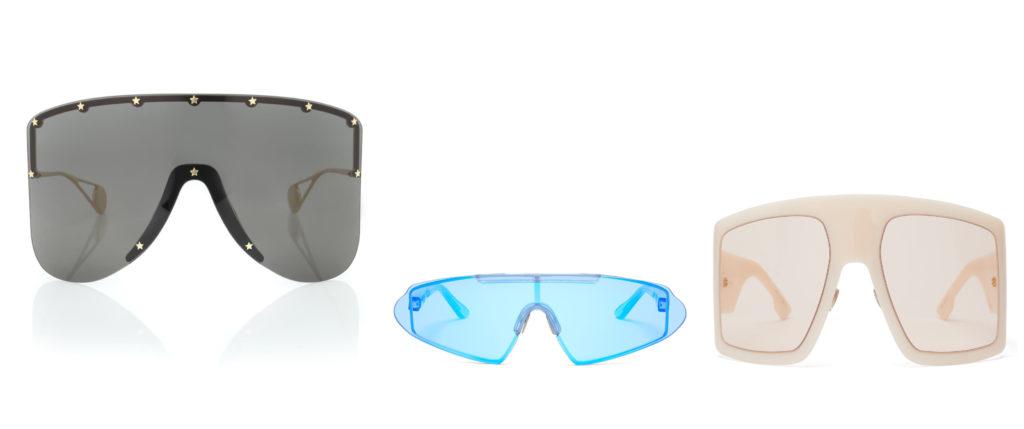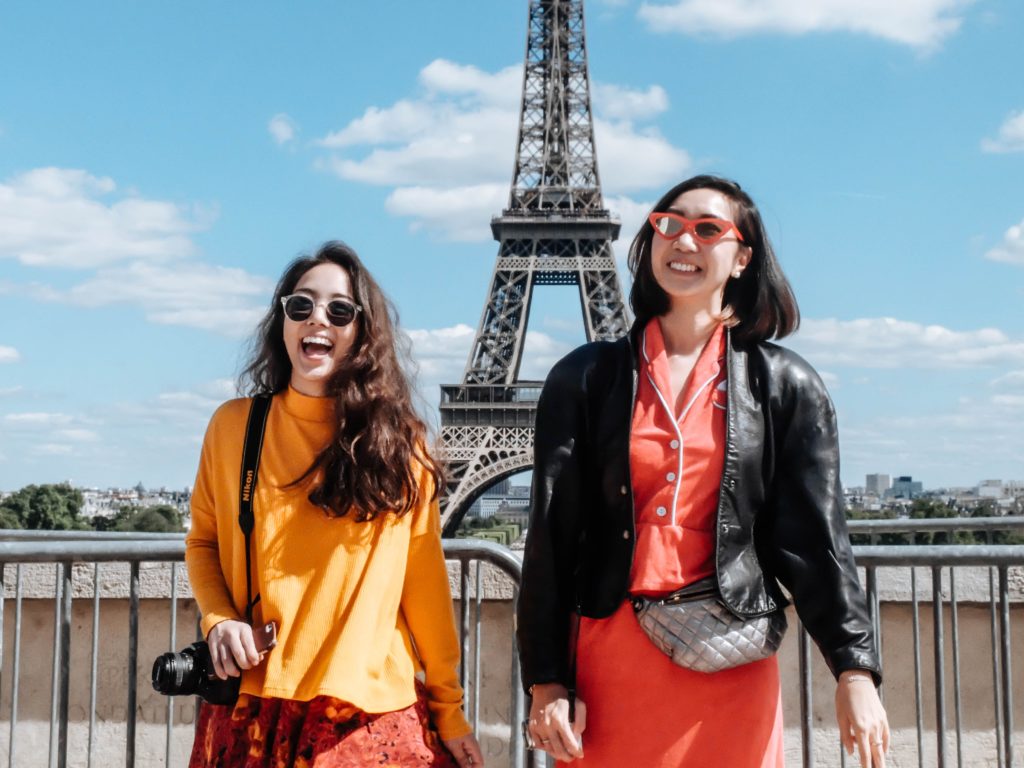 2. Crystal-and Pearl-Embellished
Because sometimes we want to wear our sunglasses at night. Or in the office. Like a badass. Like a boss.
crystals
Prada Ornate Aviator Sunglasses ($420) are a modern take on the aviator silhouette. The metal and tortoiseshell acetate frames come with tinted gradient lenses and crystal embellishments.
FENDI round frame sunglasses ($540) feature pale gold-tone frames embellished with shimmering crystals; the lenses are blue ombré.
Saint Laurent's crystal-embellished cat eye sunglasses ($1,305) are studded in gunmetal crystals that trace up the arms and stop just before the ears. So they glisten from every angle.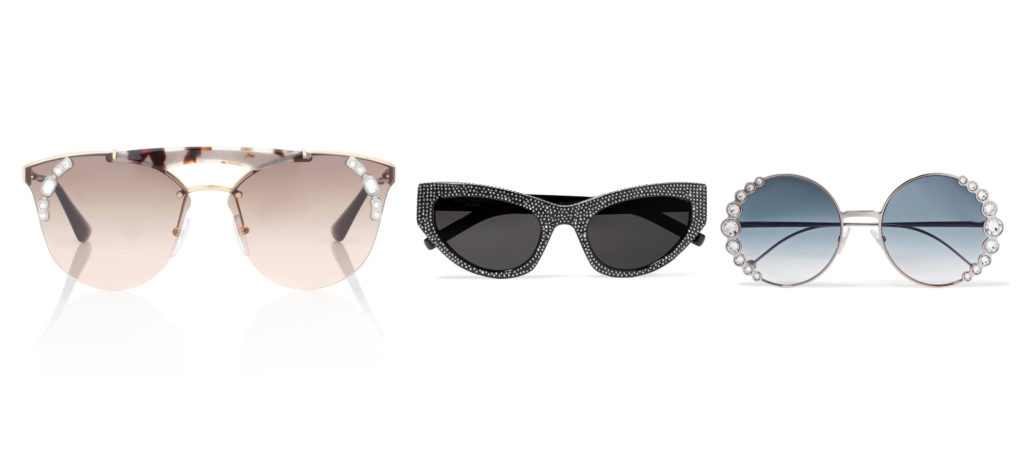 pearls, studs . . . and more crystals
Alaia Le Vienne Cat-Eye Studded Acetate Sunglasses ($760) are crafted from glossy black acetate into an oversized cat-eye silhouette. They're subtly engraved along the front with silver-tone stud accents.
These Gucci rectangular frame sunglasses ($1,450) are crafted from glossy black acetate, and fitted with faceted hematite crystal-embellished frames. Gucci's faux pearl-embellished cat-eye sunglasses ($1,230) are made from gold-tone metal outlined with bezel-set faux pearls. They're fitted with dark-grey lenses.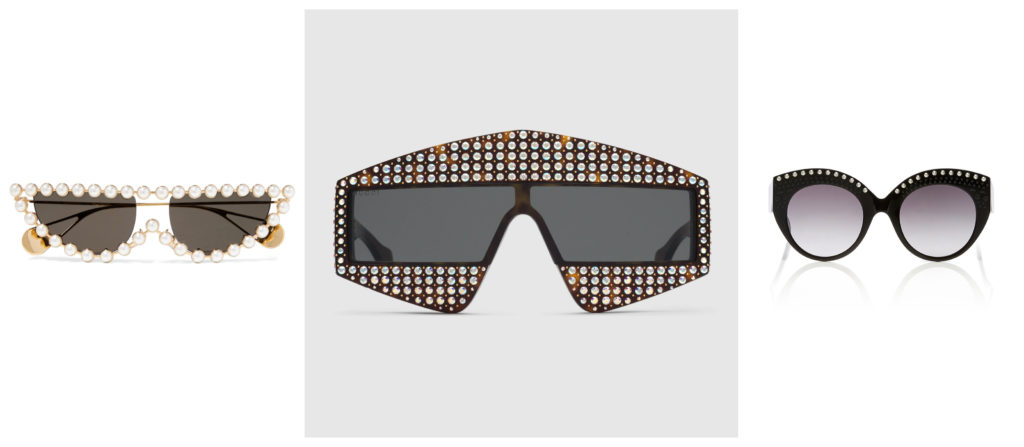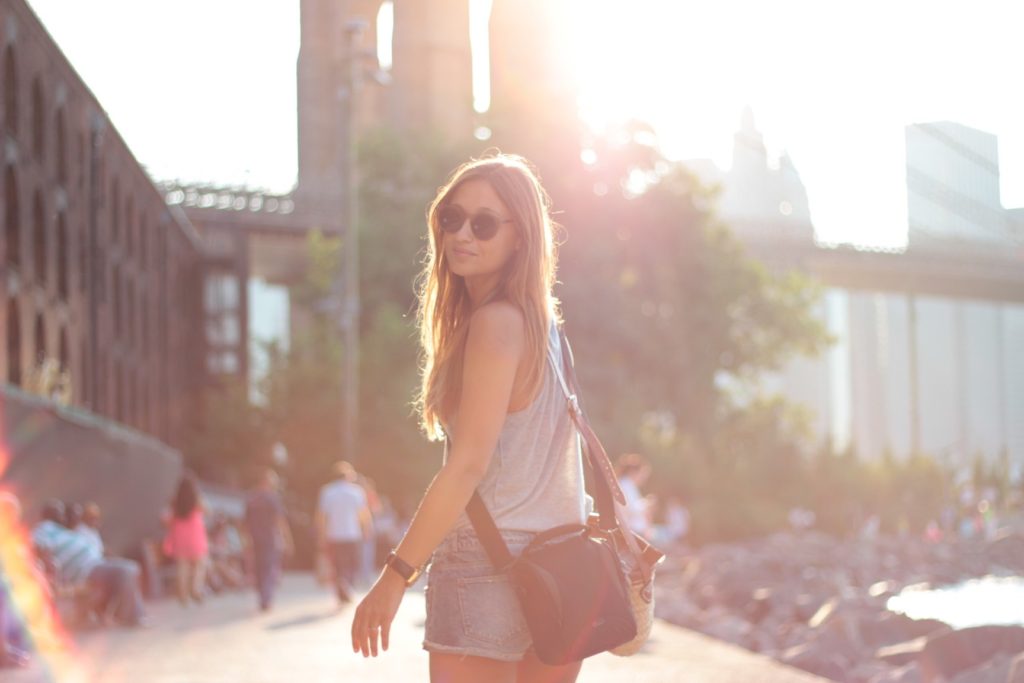 3. Rose-Colored
pink, pink . . .
Chloe Willow hexagon-frame ($335) have a retro feel. Made from clear acetate, they're accented with hammered gold-tone metal that sparkles as it catches the sunlight. Meanwhile, their Rosie heart-shaped glasses ($420) have beveled rose-tinted lenses and gold-tone metal trim.
For Art's Sake Virgo blush-colored round-frame gold-tone sunglasses ($260) are made from gold-tone metal. They feature jade gemstone nose pads for added comfort.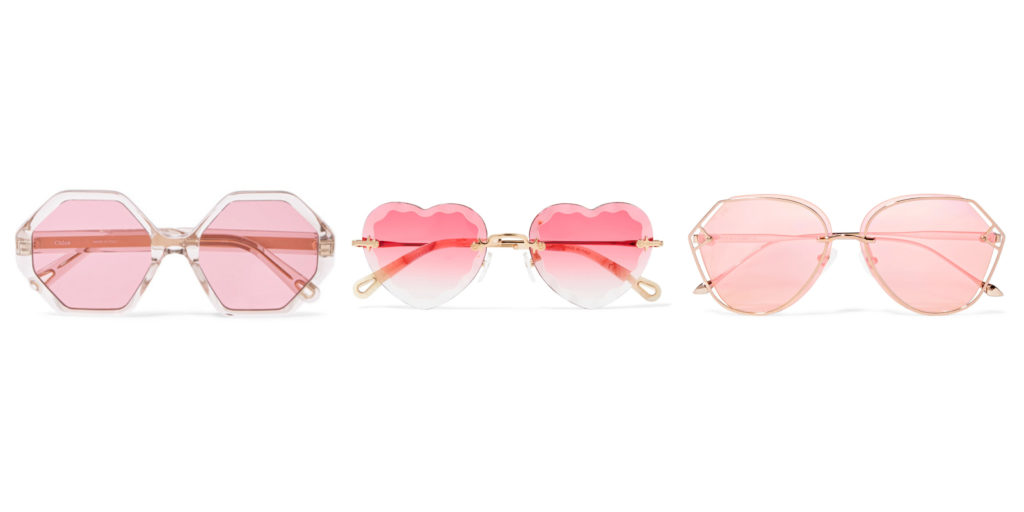 . . . and more pink
Dolce & Gabbana's square-frame sunglasses ($570) have squared-off lenses that are faceted and bezel-set. The trim is gold-toned, and tipped with red acetate.
Alexandre Vauthier's first sunglasses collection was created in partnership with Alain Mikli. The round-frame Roselyn model ($640) is inspired by Grace Jones and Bianca Jagger. The white acetate frame sports a geometric pattern; they're also embellished with crystals.
Illesteva is a New York-based brand that draws inspiration from the worlds of music, fashion and photography. These Rebecca sunglasses ($220) have a laser-cut cat-eye silhouette and purple mirrored lenses.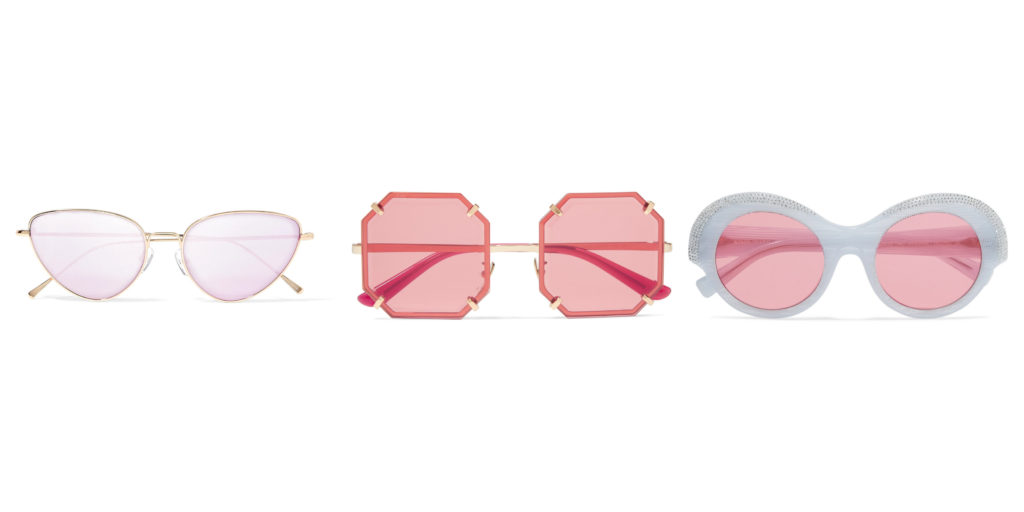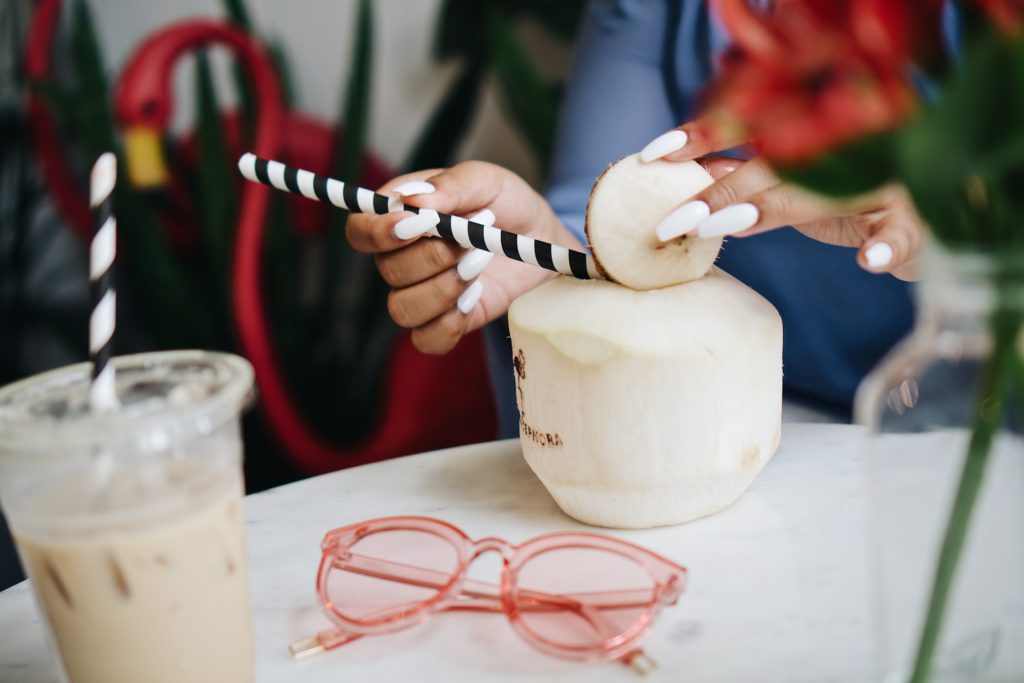 4. Tropical Citrus
yellow
Loewe Puzzle large aviator-style sunglasses ($390) are crafted from gunmetal-tone metal. They have angular lenses inspired by the label's "Puzzle" shoulder bag. The yellow shape above the bridge is what the designer refers to as a 'third eye'.
Dior Eyewear's DiorColorQuake1 sunglasses ($415) have been rendered in vivid yellow for 2019. They're crafted in Italy with a frame-less square shape, then fitted with slender gold-tone metal arms that showcase the house's logo at the temples. The brand's Club2 sunglasses ($346) feature tortoiseshell-effect acetate with a yellow-lens.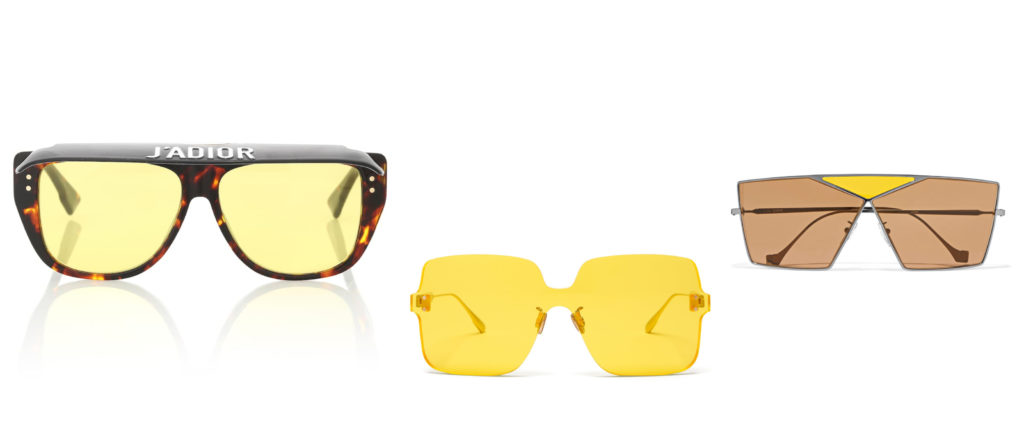 Bottega Veneta's yellow cat-eye sunglasses ($272) are printed with the signature Intrecciato motif. They're made in Italy with gradient brown lenses and offset with red acetate and silver-tone metal temples that carry the brand's logo.
Chanel's round 18K gold sunglasses ($530) are summertime magic.
Chloé's Rosie octagon-frame sunglasses ($400) are crafted in Italy with an octagonal shape. The lenses have a scalloped trim and yellow gradient color; they're finished with tortoiseshell temple tips.

orange
Acne Studios Azalt embellished cat-eye mirrored sunglasses ($340) are a gorgeous shade of pastel-orange and ivory, with tonal mirrored lenses. The brand's Library square-frame acetate sunglasses ($340) are handmade in France from orange-tinted acetate and fitted with tonal lenses.
Balenciaga's reflective orange-lens Ski sunglasses ($349) are new for SS19. Made in Japan, they're framed with black acetate and engraved with a white logo on the sides.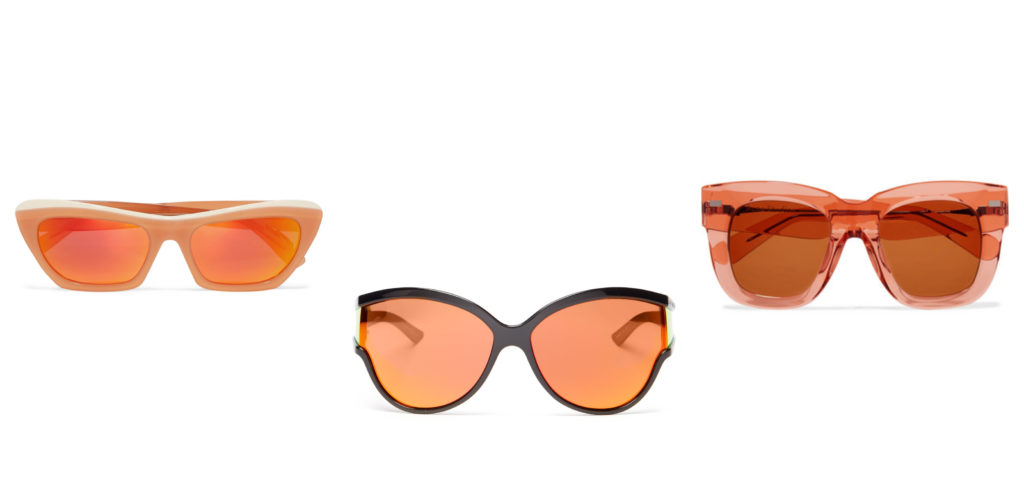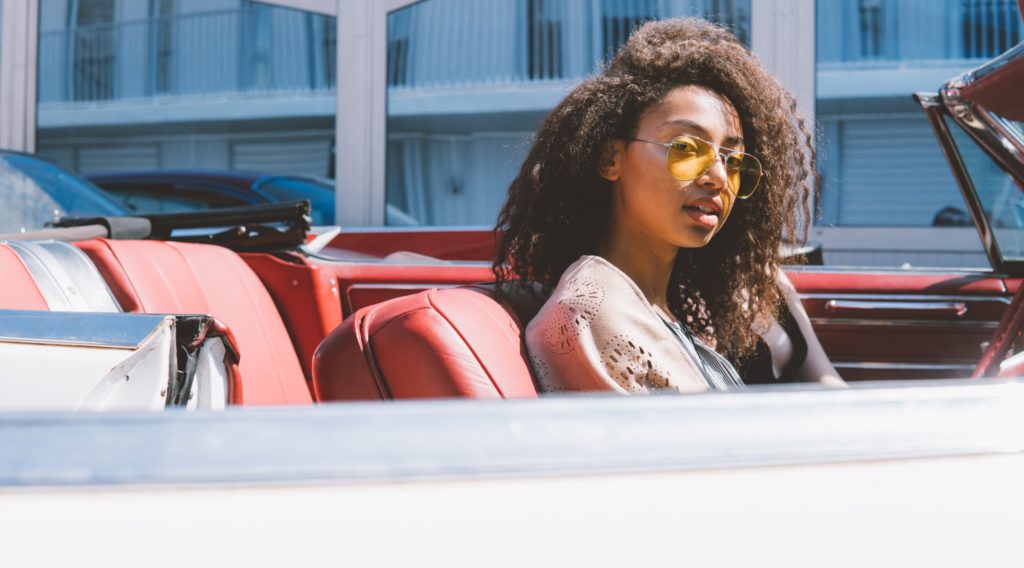 5. Whimsical shapes
Hearts, butterflies, little clouds, and The Upside Down. 'Cause summer is supposed to be fun.
hearts
Saint Laurent Loulou acetate sunglasses ($420) have heart-shaped frames, with logo-debossed temples and a cat-eye corner. Balenciaga's black heart-shaped acetate sunglasses ($349) were first seen in the SS19 runway show. They feature grey tinted lenses the brand logo in white on the wide temples.
Gucci's black acetate heart-shaped sunglasses ($580) are part of the label's 'Hollywood Forever' collection. They have graphic tinted lenses and are finished with gold-tone metal signature bee motifs at the tips.

clouds, butterflies and the Upside Down
Miu Miu blue acetate Cloud sunglasses ($300) have an unexpected shape and a playful vibe. They feature rimless lenses and are subtly engraved with the label's logo on the silver-tone metal temples. They come in several other colors, as well. The brand's Star Print lens sunglasses ($410) are equally charming and whimsical.
Celine Butterfly acetate sunglasses ($500) in white are shaped with a distinctive silhouette. They have tinted lenses and the label's logo engraved on the temples.
Mykita + Martin Rose SOS Reversible Striped Acetate Sunglasses ($550) are meant to be worn upside down — emphasizing the duo's keen eye for shape and proportion. They're crafted from a two-toned striped acetate with a cropped cat-eye silhouette.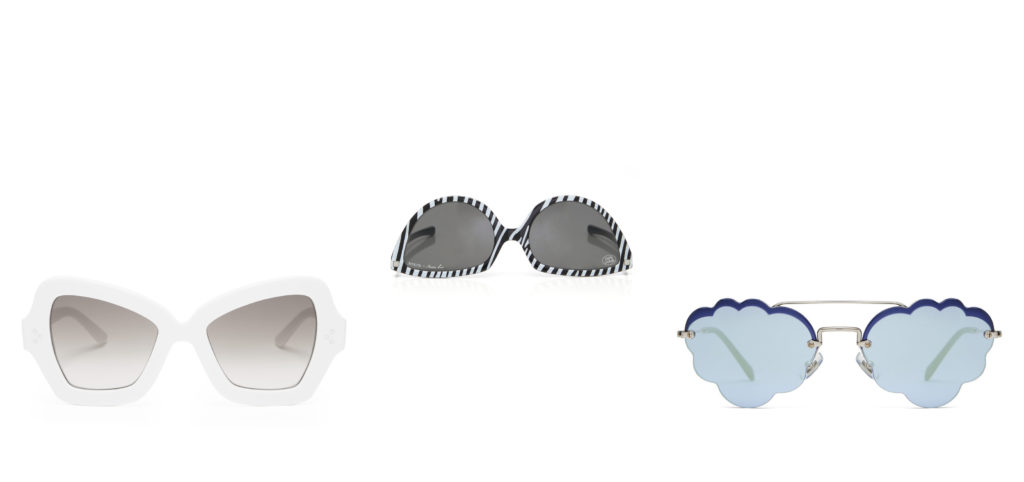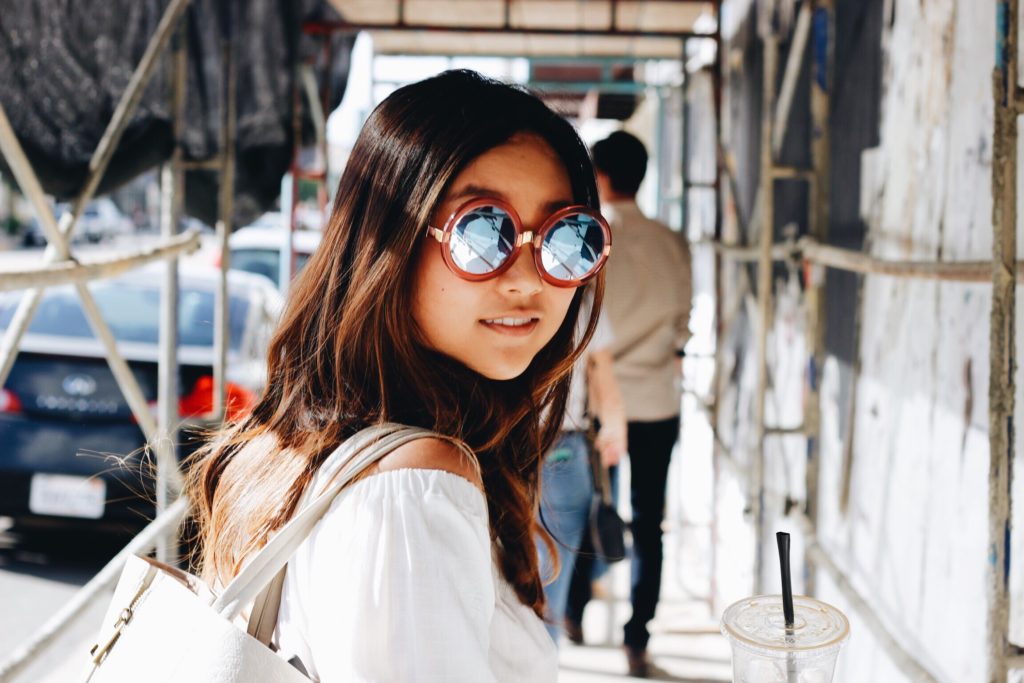 6. Statement black and white
For spring-summer 2019, Valentino goes for bold with optic white and black stripes ($410). Prada's Disguise camouflage pair ($370) have rectangular frames. Y Project x Linda Farrow rectangular sunglasses ($425) are crafted in Japan and sport stainless steel frames and tinted lenses.

see luxury in a new light
Come and join our community! For a weekly round-up of insider ideas and information on the world of luxury, sign up for our Dandelion Chandelier Sunday Read here. And see luxury in a new light.
ready to power up?
For a weekly dose of career insights and ideas, sign up for our Sunday newsletter, Power Up, here.