Love flowers? This is a perfect moment to learn the art of creating a luxurious flower arrangement. And even better, perhaps the next time you're entertaining, you should host a flower arranging party. They're more popular than ever. And there are lots of luxurious options and locations, with talented florists and floral artists eager to share their skills and expertise. You can even do it virtually. Our correspondent Jillian Tangen has uncovered the best places in the world for a flower arranging party or a lesson in floral artistry. Consider this (literally) the Ivy League.
is flower arranging best left to professional florists and floral artists?
flowers are an integral part of my life
It's no secret that I love flowers.  They adorn my living room pillows, my duvet cover and are a central part of both the artwork in my home and my wardrobe.  In fact there are exactly 24 pieces in my closet, hanging on one rack alone, that feature a floral motif.
You will also always find a bouquet somewhere in my apartment – whether on a table, buffet or elsewhere from the local farmers market or nearby bodega.   If that wasn't enough to show my love for flowers, I also dabble in growing roses, lilacs, lilies and more on my New York City terrace.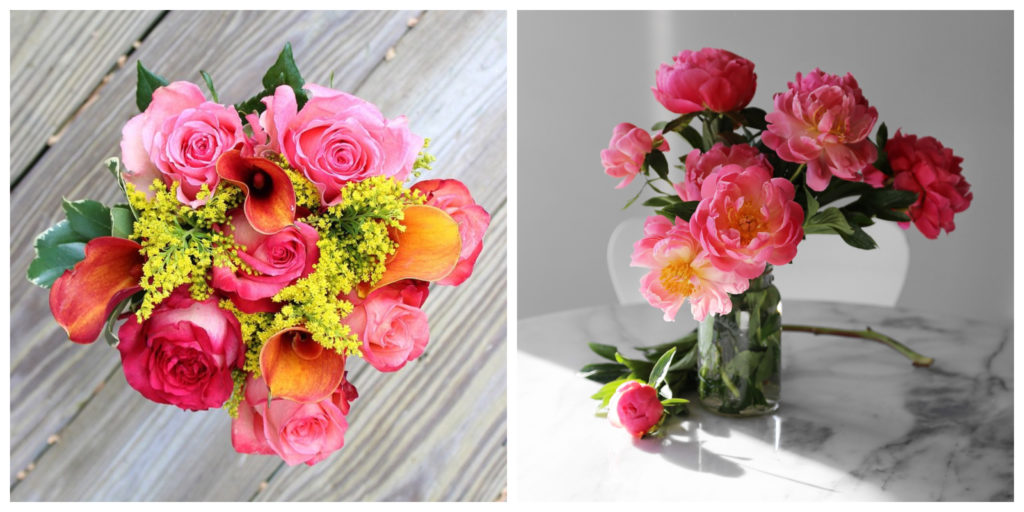 but flower arranging is intimidating
But do I ever arrange them into a bouquet?  Not really. And if you knew my family history, you might think I would.  My beloved granny owned her own flower shop in upstate New York for many years. 
But somehow it's always been easier to buy either a prepared bouquet. If I'm hosting an outdoor party, I might buy a bunch of the same flower (or two, if I'm feeling crazy), snip their stems and plop them in a vase of water. At least for me, bouquets seemed like something best left to the professionals.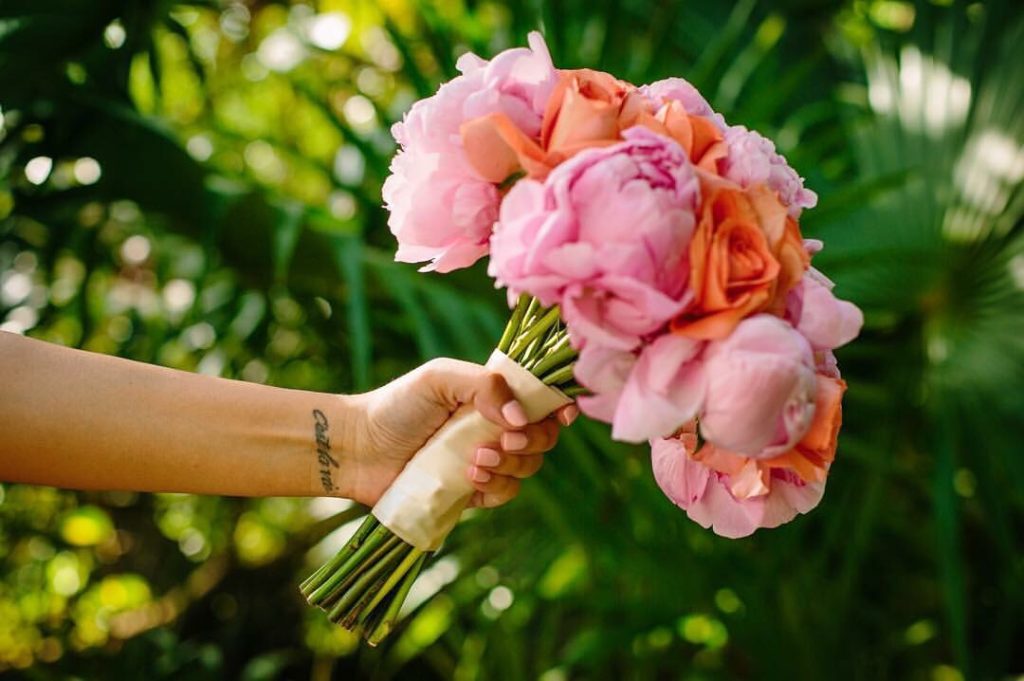 amateurs, take heart – there are more ways than ever to learn
However in this DIY and Instagram fueled culture, all of that is changing.  Floral arranging isn't just for the pros anymore.  While many established institutions have long offered programs in arranging, newer schools with natural aesthetics have begun popping up around the world. They're targeting amateur florists and flower lovers like myself who are looking to hone their skills. Classes like these are also pretty handy for updating social media.
flower arranging parties are a thing now
On top of that, you don't have to learn alone. A florist's shop is the perfect venue for a luxury party.
A growing number of celebrities have begun throwing parties around the theme of flower arranging.  Together with their closest friends they craft bouquets, sip champagne and bond over babies and weddings.
The most famous example may be Meghan Markle's baby shower in Manhattan earlier this year. Together with her famous guests, the Duchess of Sussex learned the art of crafting bouquets. Then, in true Duchess fashion, the blooms were donated to the organization Repeat Roses, where they could bring joy to those who may be in need of it most.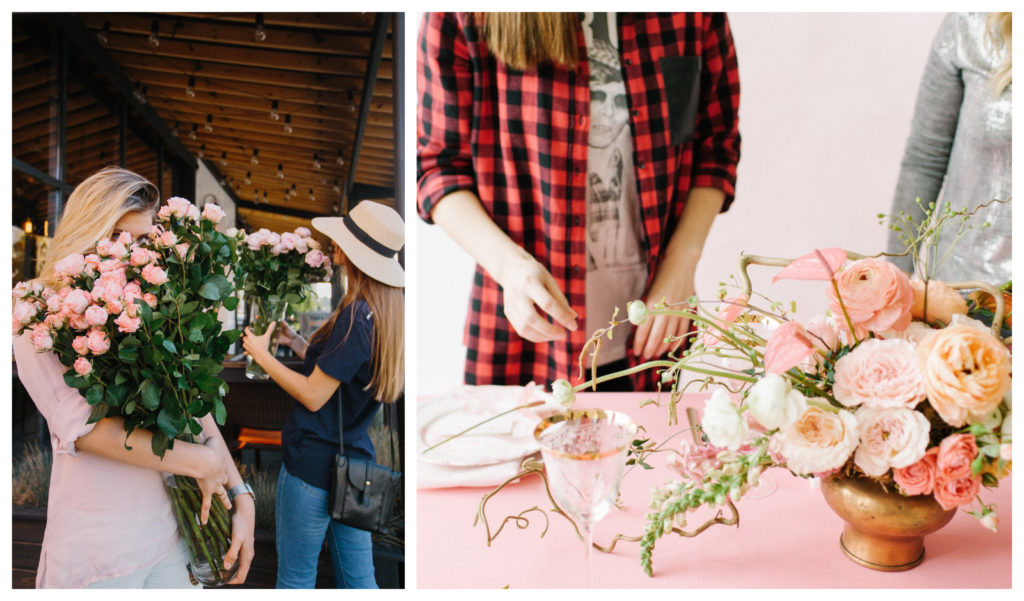 what are the best places for a flower arranging party?
Inspired by this growing trend, we decided to investigate where some of the best floral arranging parties and workshops take place, all around the world.
You don't have to be hosting a baby or bridal shower to enjoy one of these courses (although those are both great reasons to host a flower arranging party). Perhaps you just want to grab a few girlfriends for an afternoon together, celebrate a birthday. Or if you are like me, and just love flowers, do it just 'cause!
We found fourteen cool spots to learn the art of creating a luxurious flower arrangement. From NYC to London to Hong Kong and even online, here's where to head for a stint at the Ivy League of Flowers.
New York City
1. Putnam & Putnam.
Known for large scale installations for the likes of Vogue and the CFDA, florists Michael Putnam and Darroch Putnam hold two workshops each season at their Putnam & Putnam studio in Williamsburg. In the half day editorial workshop ($750) attendees learn how to build a one of a kind tabletop editorial set while during the full day intensive workshop ($1,500) the focus is on how to select the best available flowers and color palette theory.  The studio also offers full day private lessons ($5,000) where they share their knowledge on how to navigate the 28th street wholesale market to source seasonal product and learn proper processing and flower care, color theory techniques, how to build a composition and design a bountiful centerpiece.
2. Little Flower School.
The joint teaching project of florists Nicolette Owen and Sarah Ryhanen, Little Flower School is based in Brooklyn, but also travels to various locations for pop-up floral workshops and classes. The school offers a variety of arrangement classes including half-day, full-day and multi-day intensive workshops, as well as small private group lessons.  The classes, taught by Nicolette, are seasonally oriented and often use flowers from Ryhanen's farm in upstate New York, which includes the likes of peonies, herbs and lilacs.
3. Lewis Miller.
When making a list of where to go to for floral arranging classes, we couldn't not include the man behind the flower arrangement course that took place at Meghan Markle's baby shower, right? In addition leaving flower flashes around the streets of NYC and leading the floral lesson at the Duchess of Sussex's shower, Lewis Miller offers both private classes as well as group classes.  This spring he is hosting a Back to Flower School series at New York's Whitby Hotel where attendees will learn how to create arrangements using seasonal flowers.
Los Angeles
4. Flour LA.
Flour LA provides flowers for the lifestyle, beauty, tech and fashion industries across California, Nashville and New York in addition to providing a full lineup of classes in LA and New York. Owner Carly Cylinder teaches the majority of classes and likes to focus on technique and while letting students design their own arrangements rather than replicate.  Options include private classes (full and half day), group classes and parties (either floral arrangements or wreaths and crowns) and are held at the Flower Mart in Los Angeles and the Brooklyn Brainery in New York City.
San Francisco
5. Farmgirl Flowers.
When Christina Stembel was doing event planning for Stanford University, she was surprised to find that most of flowers used in the US were imported. In 2010, she launched Farmgirl Flowers out of her living room with the commitment that she would only sell US grown flowers. Today she provides arrangements for weddings, events, offers private workshops (and the occasional group pop-up class where you can learn how to create flower bouquets). She even somehow manages to hand-deliver flowers by bike and car across the Bay Area, and via overnight shipping around the country through her robust online shop. And somehow despite the busy schedule, her flowers remain gorgeous and true to their ethical and transparent roots.
London
6. Flower Appreciation Society.
While owners Ellie Jauncey and Anna Day don't have a traditional flower shop, their Flower Appreciation Society studio in East London is a great way to get acquainted with their freestyle approach to arranging, whether to take a course or have a bouquet made. They offer group workshops in house or for an extra fee will come to you to create a workshop tailored to your exact requirements. Regular group classes range from hand tied bouquet workshops to three day intensive career courses to DIY bridal workshops.
7. McQueens.
McQueens is in charge of the flowers at some of London's glitziest events and spots, including Claridge's and The Berkeley. Their work is known for being both elegant and modern. Operating for nearly thirty years, McQueens is also home to an excellent flower school for those who want to get the look at home. Or perhaps looking to start their own business. The florist is the site of the internationally-acclaimed McQueens Flower School Four Week Vocational Course ($7,500) as well as one day masterclasses ($340), one week mini schools ($2,400) and of course, private lessons and parties.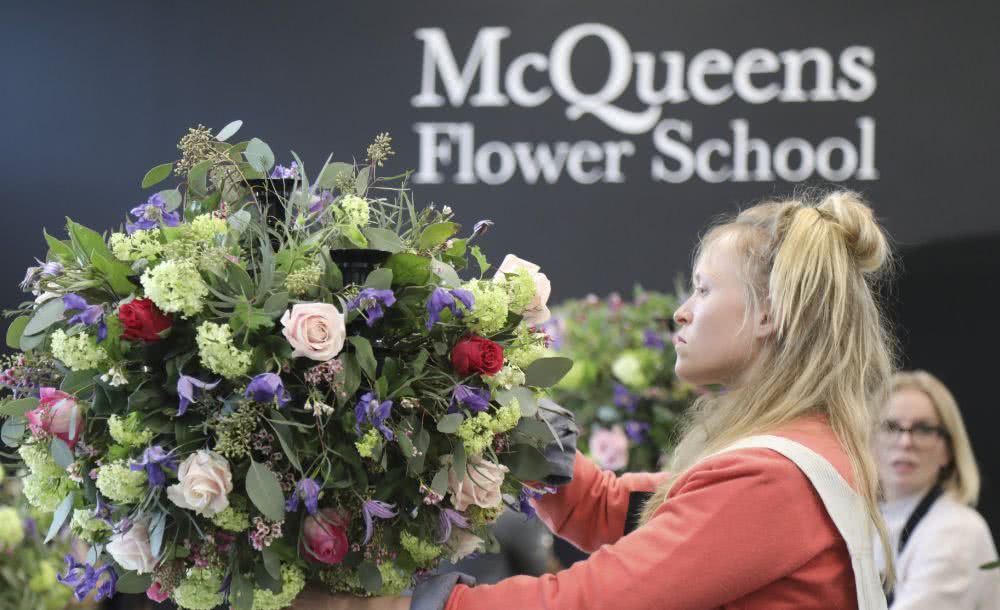 Paris
8. L'École des Fleurs.
Located at the Hôtel de Crillon in Paris, L'École des Fleurs, quite possibly the most prestigious flower school on our list.  That's because the school's artistic director (and occasional instructor) is Christian Tortu – one of the world's most celebrated and influential florists.  Even with that pedigree, both beginner and experienced petal pushers alike are welcome to attend the floral art classes here.  Outside of the entry level classes, the coursework here is generally themed around topics like Marie-Antoinette, Pastel Romance, Haute-Couture and Old Masters.  Do note to be on the lookout for which language the workshops will be held in.  The primary language here is French, though some are held in English.
9. Four Seasons George V Paris.
Florist-cum-contemporary-artist Jeff Leatham leads a quarterly two hour workshop at the Four Seasons George V in Paris where you'll learn how to arrange flowers in the Hotel's signature style. Known for shaking up the floral industry with artistic themes, Jeff's work has been displayed at the reopening party of the Museum of Modern Art in New York. Oprah Winfrey herself is a huge fan, having featured him on her talk show.  Even better than taking a lesson with a master?  The workshop is complimentary for any interested hotel guests.  So grab the girls and book a weekend at the Four Seasons George V.
Hong Kong
10. Ellermann Designs.
Renowned for their decadent arrangements, Ellermann Designs cater to both large scale events and personal orders. In addition the studio offers a variety of regular workshops that cover everything from flower crowns to hand tied bouquets, table settings to centrepieces.  In addition to public group classes at their Wong Chuk Hang Atelier location, Ellerman will come to you for private events too.
11. van der Bloom.
Flower Bouquets, Teacup Flowers, Head Crowns, Flower Jamming, or make your own Wedding Flowers and/or Bridal Bouquet – you name it, van der Bloom offers a class for it at their brand new dedicated workshop studio on Hollywood Road. In addition to regularly scheduled group workshops, the studio also offers private lessons as well as customized options for small groups or friends and bridal or baby showers.
Online
You can also learn how to create flower bouquets and arrangements in the privacy of your own home. Lots of luxury florists and floral artists now host digital classes. You can learn from the best, including the official florist for the wedding of the Duke and Duchess of Sussex.
12. Tulipina.
Kiana Underwood of Tulipina teaches a variety of acclaimed floral workshops each year, including group workshops domestically and internationally as well as private classes at her New York studio. Even more cool?  She also does live webinars that cover all aspects of her color-filled, inspired, garden-style design.  Can't watch live? Don't worry and just watch the replay, on-demand, at any time.
13. Philippa Craddock.
Looking to learn the art of floral arrangement in a judgement free zone? Then consider one of Philippa Craddock's digital workshops ($380).  While the celebrated florist does maintain a traditional flower school in London, her online school allows students to learn at their leisure while watching (and re-watching) her renowned techniques.  The latest series from her Sussex studio focuses on Hand-Tied Bouquets & Bunches.
14. Floret.
For those looking to learn more than just flower arranging, head to Floret. Their yearly online workshop gives attendees a step-by-step guide as how to grow, harvest and even sell stunning seasonal blooms. This comprehensive course features 120+ videos, a 250+ page course packet, Q&A sessions and access to the Floret Learning Community.  So if you are looking to seriously up your home garden and flower game, look no further than Floret.
There you have it, our roundup of the most luxurious places to learn the art of floral arranging.  Or to host a flower arranging party. One of these might be a great Mother's Day gift, actually (hint, hint, family members). Are you ready to learn how to create a gorgeous flower arrangement or bouquet? Perhaps I'll see you at The Whitby Hotel on May 13th?
see luxury in a new light
 Come and join our community! For a weekly round-up of insider ideas and information on the world of luxury, sign up for our Dandelion Chandelier Sunday Read here. And see luxury in a new light.
power up
For a weekly dose of career insights and ideas, sign up for our Sunday newsletter, Power Up, here.
Jillian Tangen is the Head of Research at Dandelion Chandelier. Formerly, she was a Senior Research Analyst at McKinsey & Co and Analyst at Shearman & Sterling. She is an avid fan of Nordic design, having owned an independent lifestyle store and sales agency focused on emerging Scandinavian design. Jillian lives in NYC and is married with three young children. She loves cross country skiing, the New York Rangers, reading, travel and discovering new brands.
Join our community
For access to insider ideas and information on the world of luxury, sign up for our Dandelion Chandelier newsletter. And see luxury in a new light.