What are the Best Luxury Workout Apparel Brands?
All products are independently selected by our editors. If you buy something, we may earn an affiliate commission.
When fitness is part of your identity and lifestyle, it makes sense to invest in workout clothes that express your personality and allow you to achieve peak performance. What are the best luxury workout apparel brands? Our correspondent Julie Chang Murphy breaks it down for us.
Why invest in luxury workout apparel?
With all the ways in which you can invest in yourself and in luxurious experiences, why bother investing in the best luxury workout apparel from the top brands?
[white_box]
Join our community
For access to insider ideas and information on the world of luxury, sign up for our Dandelion Chandelier newsletter. And see luxury in a new light.
sign up now >
[/white_box]
at first, what you wear working out doesn't matter much
When many of us first start an exercise routine, fashion is hardly the priority. Black leggings, any old cotton graphic t-shirt and a supportive sports bra is all you need. It's going to get covered in sweat anyway. And frankly, we're more concerned about falling on our faces in the studio or dropping the weights on our toes. In the beginning, it's enough to just show up.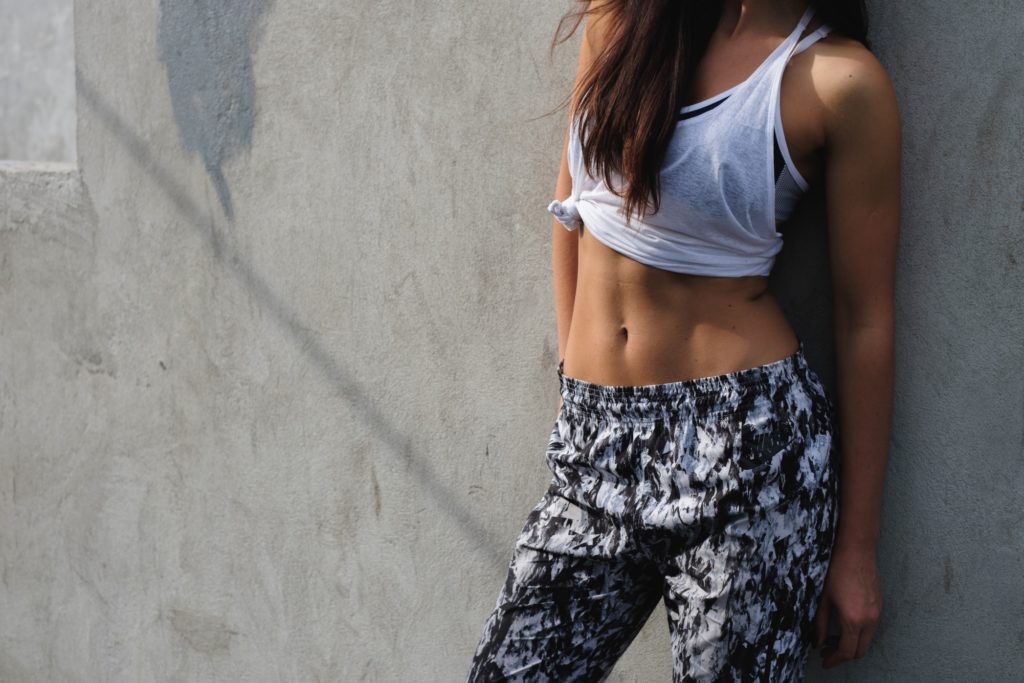 as you get stronger, you'll want to level up
But as you get addicted to all the endorphins, serotonin and not to mention, those newly toned muscles, then it's time to level up! You may find that your mobility and flexibility has improved and your old leggings keep slipping down as you get lower and lower on those squats. Or now that you can actually do a set of push ups, the sweaty sleeves of your t-shirt are feeling kind of constrictive. And hey, if you're just ready to rock one of those cute crop tops, we are here for that body confidence!
over time, boredom can set in
Of course, you could also be in a workout funk. At this point in the year, if you're one of the few who have stuck to their New Year's fitness resolutions, it's common to be feeling unmotivated. The initial novelty of your workout might have worn off by now. You've successfully established a routine but it's starting to feel boring.
workout spaces are an important "third place" in our lives
Wherever you are on the fitness journey, your boutique studio, gym or wellness space is most likely one of your "third places." Urban sociologist, Ray Oldenburg, coined the term to refer to any informal public gathering space outside the increasingly privatized realms of home and work. They're essential to community vitality and serve as a neutral ground with a playful mood where one can transcend some of the boundaries of age, gender and social status. In the past few decades, the third place could be religious institutions, malls and bars. Now, it's Juice Press at Soul Cycle or Cross Fit.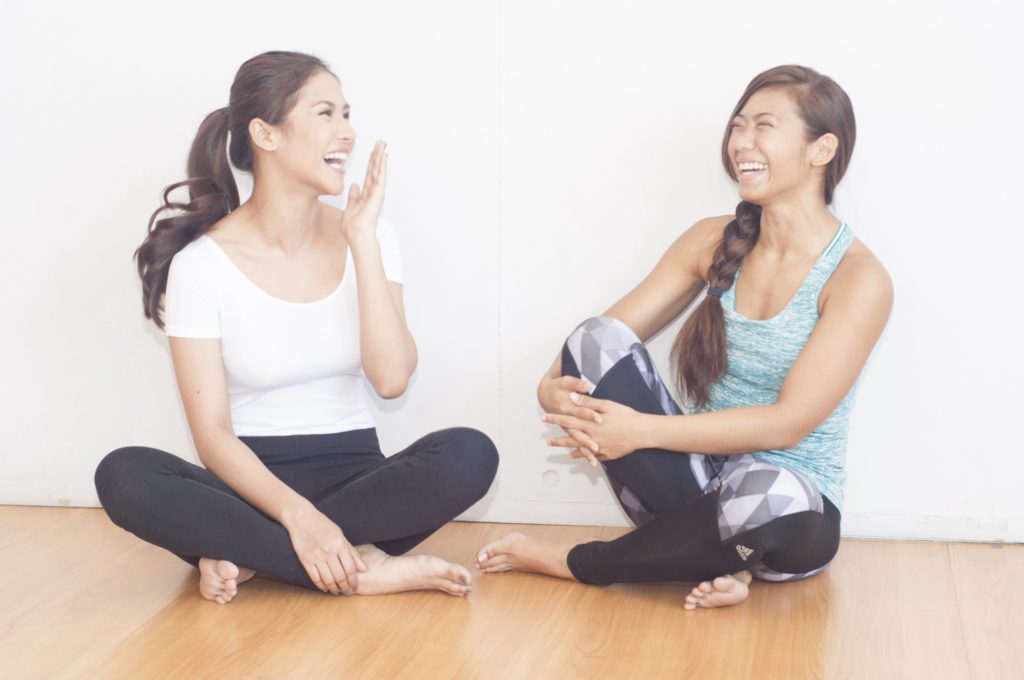 luxury active wear can be motivating and expressive
When fitness is part of your identity and lifestyle, it makes sense to invest in luxury active wear that serves a utilitarian purpose as well as a communicative one. It can motivate you to achieve peak performance at the gym and express a part of who you are without saying a word.
Whatever your issue, the right luxury workout apparel can provide a jolt of fresh energy and inspiration. And the good news is that there's never been a better time to invest in it. There are more luxury workout apparel brands than ever. One of them is going to be perfect for you.
the best luxury workout apparel brands right now
We've rounded up our top 12 favorite luxury brands that use the latest and greatest technical fabrics and high-end construction techniques, without ever sacrificing style. In fact, some are so stylish, you might not even realize they're meant for crushing workouts.
1. Koral
Koral's instantly recognizable apparel from Brazilian founder, Ilana Kugel, is modern and fierce. A favorite of one of the models who frequent the studio where I teach kickboxing, the edgy Lustrous Leggings ($80) are easily the most popular and commented-upon of all. That's thanks to their eye-catching liquid shine.
For the summer, we're loving the Pump Open Mesh Pullover ($120) that provides a bit of modesty if you don't want to leave the studio in just your sports bra. You can also count on Koral for non-boring tanks like this Vital Marlow Tank ($98), which features a cool cut-out hem and asymmetrical neck detail.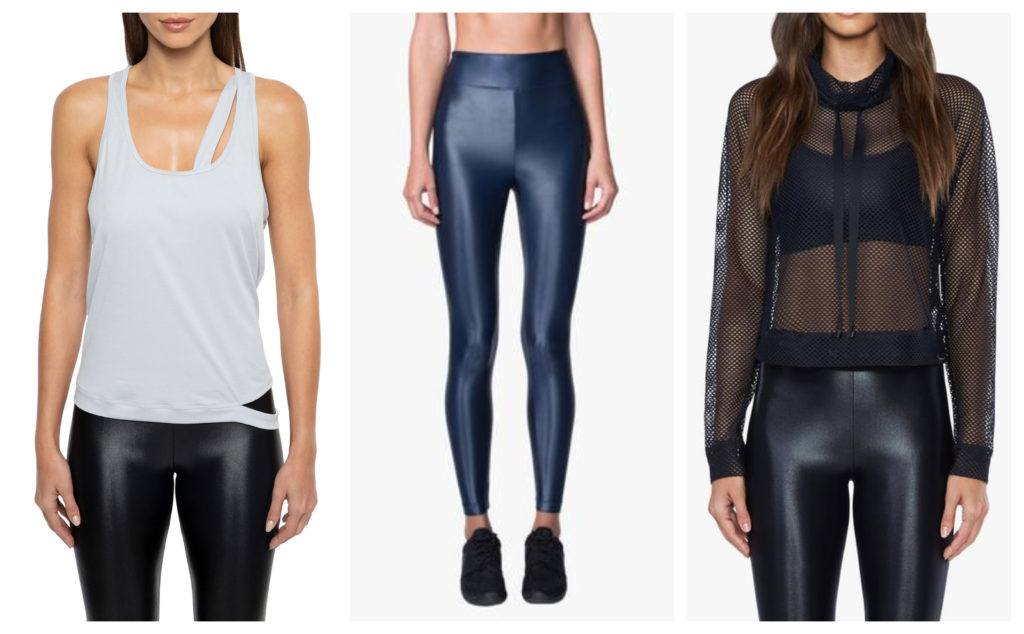 2. ALALA
ALALA is a New York-based luxury active wear brand named after a Greek goddess. Her name has traditionally been a battle cry. How fitting, especially when your instructor is setting you up for a round of burpees? The brand expertly blends sophisticated and feminine styles with performance grade fabrics and details. Tights offer supportive compression, but are breathable and light. Strategic seams make your backside look perky and lifted. And your legs look long and lean.
This season, we are loving their on-trend neon color ways and tie-dye prints. This cheerful neon-yellow sports bra ($45) features a comfy no-seam construction and an airy open mesh back. Black leggings are universally flattering and we love the way these Freestyle Tights ($125) have a pops of icy blue for added visual interest. And power mesh on the inner waistband for comfort (read: muffin top reduction).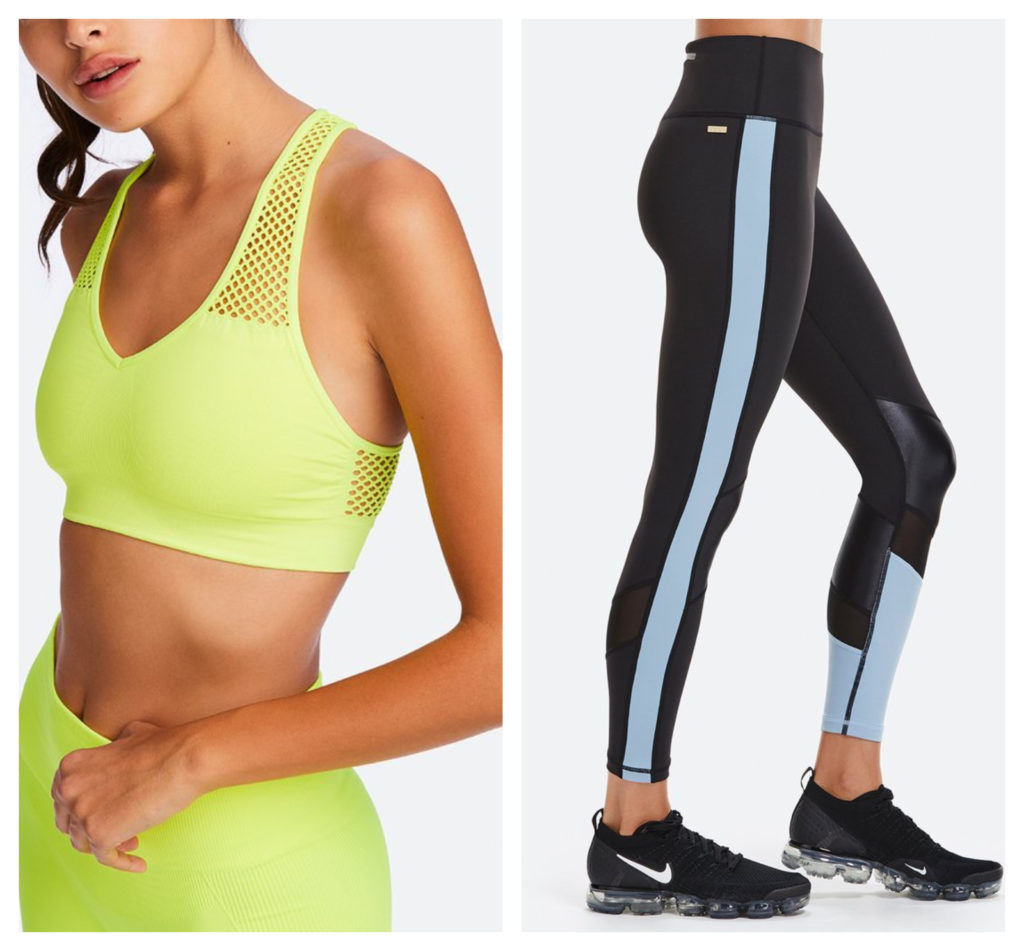 3. Carbon 38
Carbon 38 is a curated e-commerce destination for high-end performance fashion. The brand also has its own line of activewear – and it has a veritable cult-following.
Most noteworthy are their famous Takara leggings ($109) which have a liquid metal look in an array of standout colors. Glossy-looking fabrics often have a reputation of being uncomfortable or scratchy, but these pants pull on like butter and hold your shape. For the Spring, they've launched the Luminous Legging ($118) in glittering, iridescent foil finishes that will make you that much extra. If you're feeling the 70's craft trend, their line of Macrame crop tops ($75) and leggings ($128) feature intricate hand-knotted details. They have the added perk of providing ventilation so you can get your sweat on.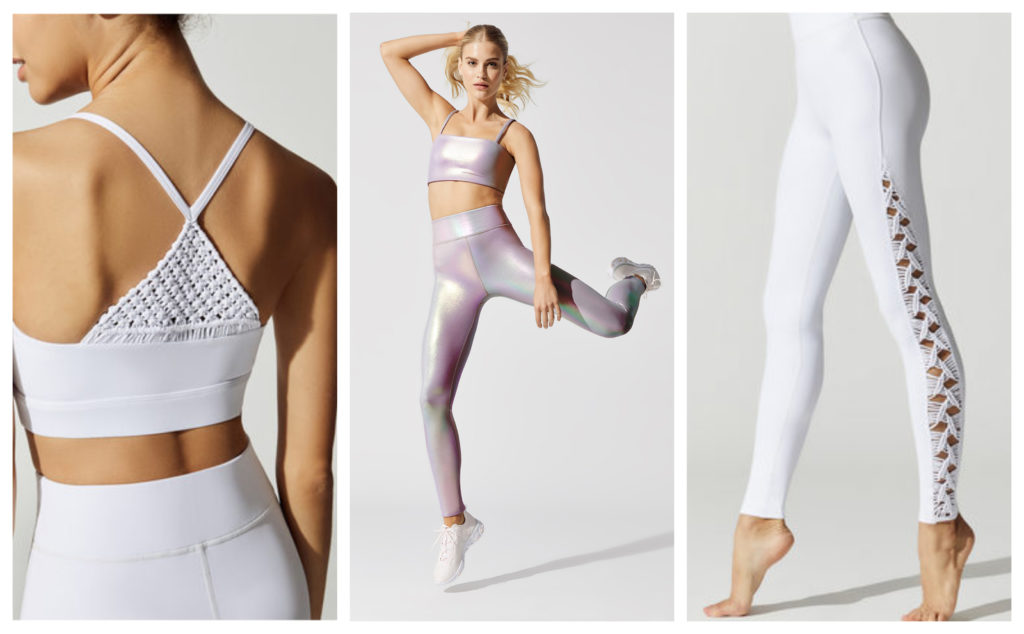 4. Michi
It's obvious that the Michi line of luxury active wear is designed by a woman. Michelle Watson's thoughtful details and use of color blocking always accentuate female curves. This season we are loving these bold super heroine-inspired Circuit Leggings ($175) which are made with an 8-way stretch fabric. Pair with this sweat-wicking, asymmetrical Glory Tank ($140) that comes with a built-in bra. While Michi's price point is admittedly high, the majority of their apparel is made with sustainable textiles that meet high standards for environmentally friendly and safe production in Canada.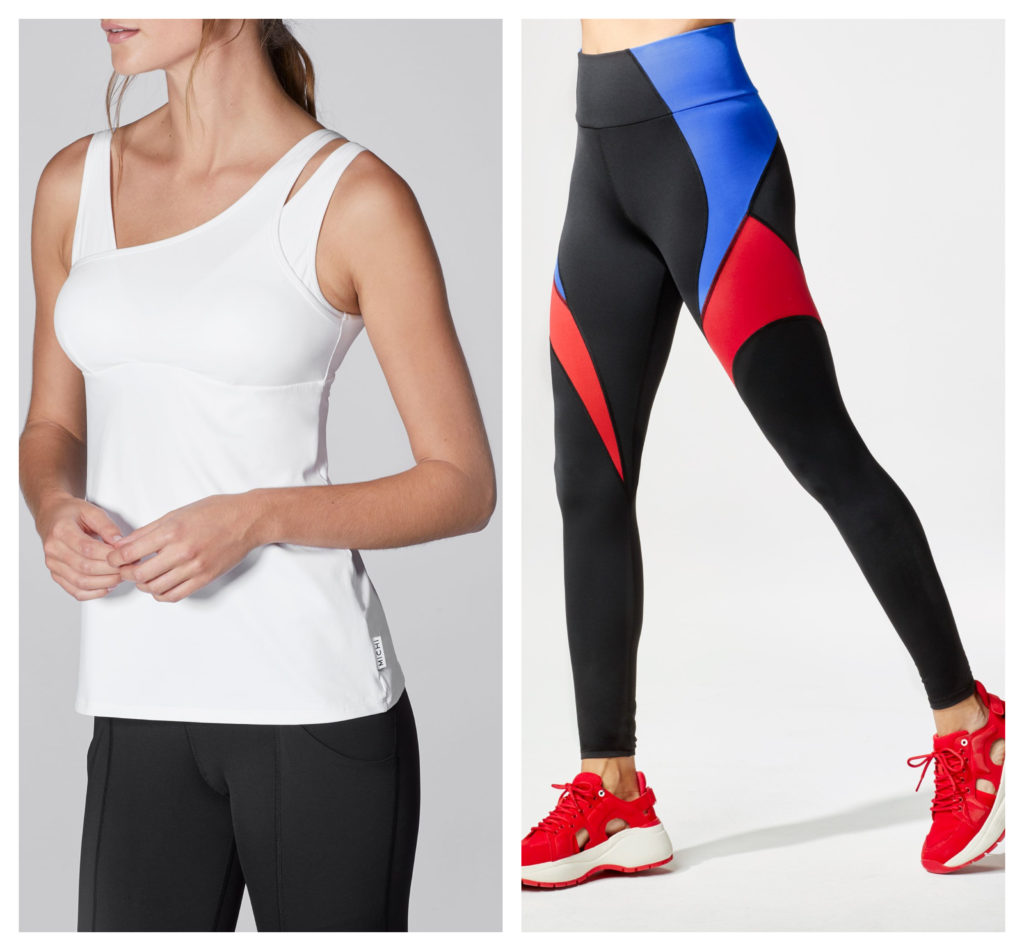 5. Blanc Noir.
We first spotted Blanc Noir at Neiman Marcus. And if you didn't know better, you'd assume it was a contemporary line meant to compete with the likes of Theory and Vince. Upon further investigation, we learned that these pieces are tough enough for the gym, and stylish enough for any plans you have post-workout.
The brand describes its aesthetic as "city style fused with performance features and fabrics." They do jogger style pants ($99-$119) particularly well. While taking dance classes this year at Broadway Dance Center, we noticed that all the dance teachers and their acolytes have abandoned leggings in favor of this loose and relaxed silhouette. On top, we love their body contouring Sculpt Jacket ($89) as a perfect piece for post-practice meetups.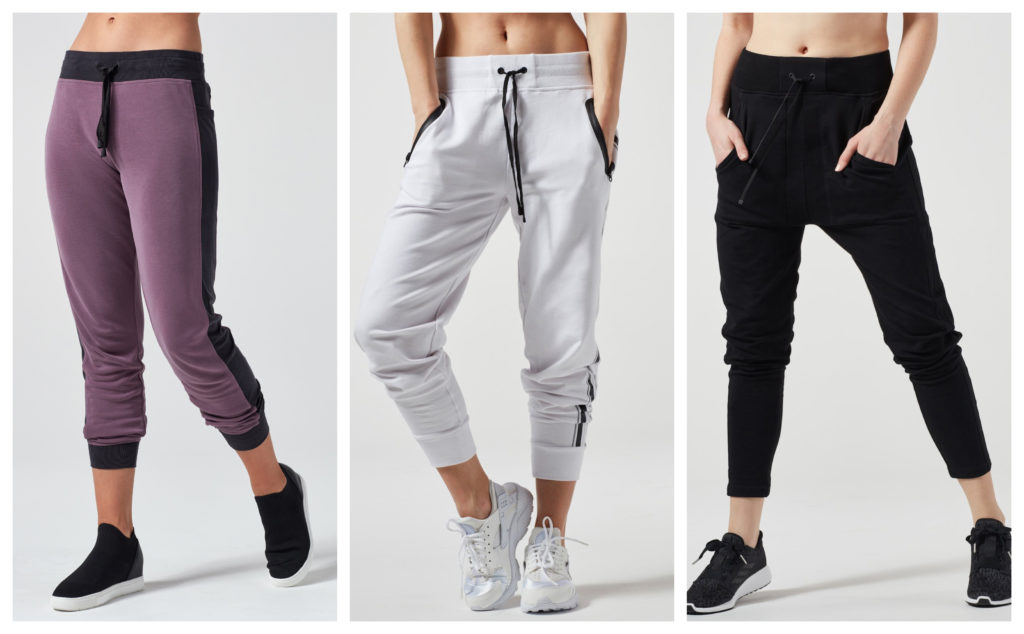 6. Alo Yoga.
Alo Yoga began in Los Angeles in 2007 with a commitment to being "relentless about making the best yoga clothing in the world explicitly to inspire yogis (and yogis to be) to have more yoga in their life." It's a celebrity favorite: It-Girls Gigi Hadid, Taylor Swift, and Kendall Jenner have all been photographed leaving their workouts in it. And there's a men's line, too.
While many active wear lines seem to focus on leggings, the tops and tanks at Alo are as varied and appealing as the bottoms. In particular, we love the drapey Cover Tank ($54). And the tissue-thin, body skimming Sculpt Tank ($46) in collectible neon hues. And the diaphanous Layer Tank ($64) that can be knotted for a fitted look or left floating as you flow.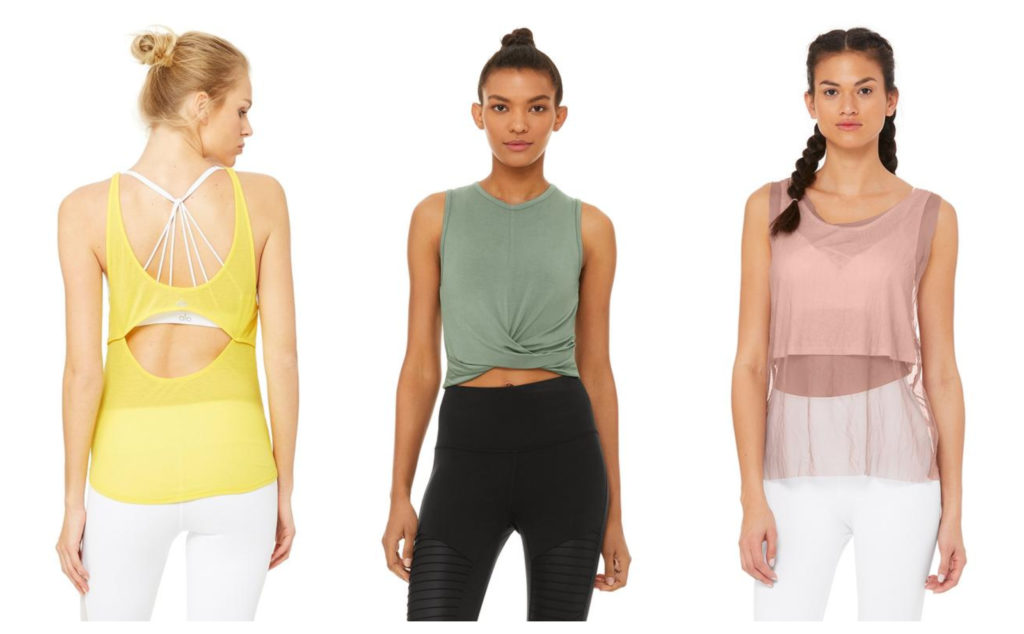 7. Varley.
Based in London and LA, Varley offers gear that is performance driven, high-fashion and multi-tasking. The vibe is sophisticated. The current prints evoke animal motifs: tonal snake skins and subtle muted leopards spots.
Fit celebs Kourtney Kardashian and Alessandra Ambrosio have been spotted in their designs. Try their signature seamless knit fabric, which is designed to provide extra compression in The Quincy Legging ($110) or the elegantly perforated Johnston Tee ($68).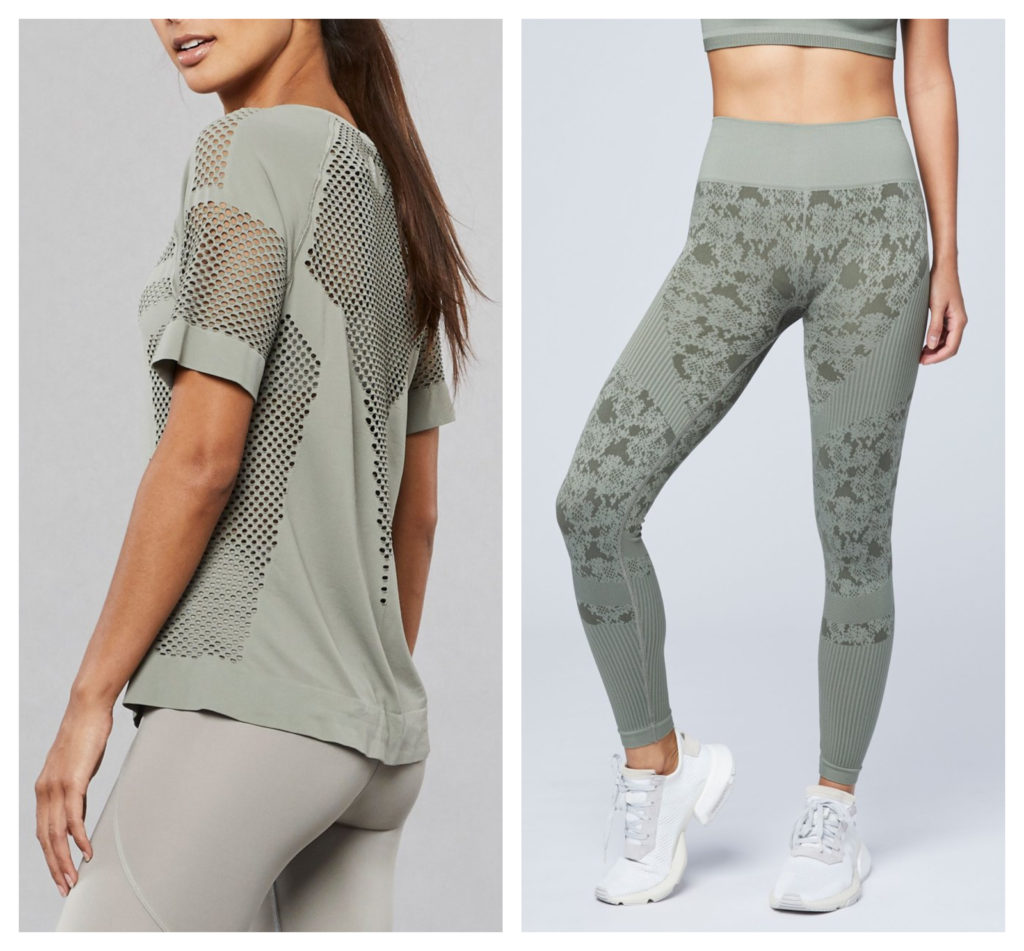 8. Beyond Yoga.
Clean lines, discreet, with mostly muted solid-colors and thoughtful "body positive" silhouettes and design elements – Beyond Yoga is the Bottega Veneta of the luxury athleisure space. The brand's foundation is clothing that works for and is inclusive of real women.
To that end, they offer sizes from XXS to 3X and are committed to using only non-retouched photography throughout its business. This season, their Frill Seeker Tank ($74) in a buttery soft, four way stretch fabric and tie-dyed inspired Olympus High Waisted Legging ($99) has us reaching for our credit cards.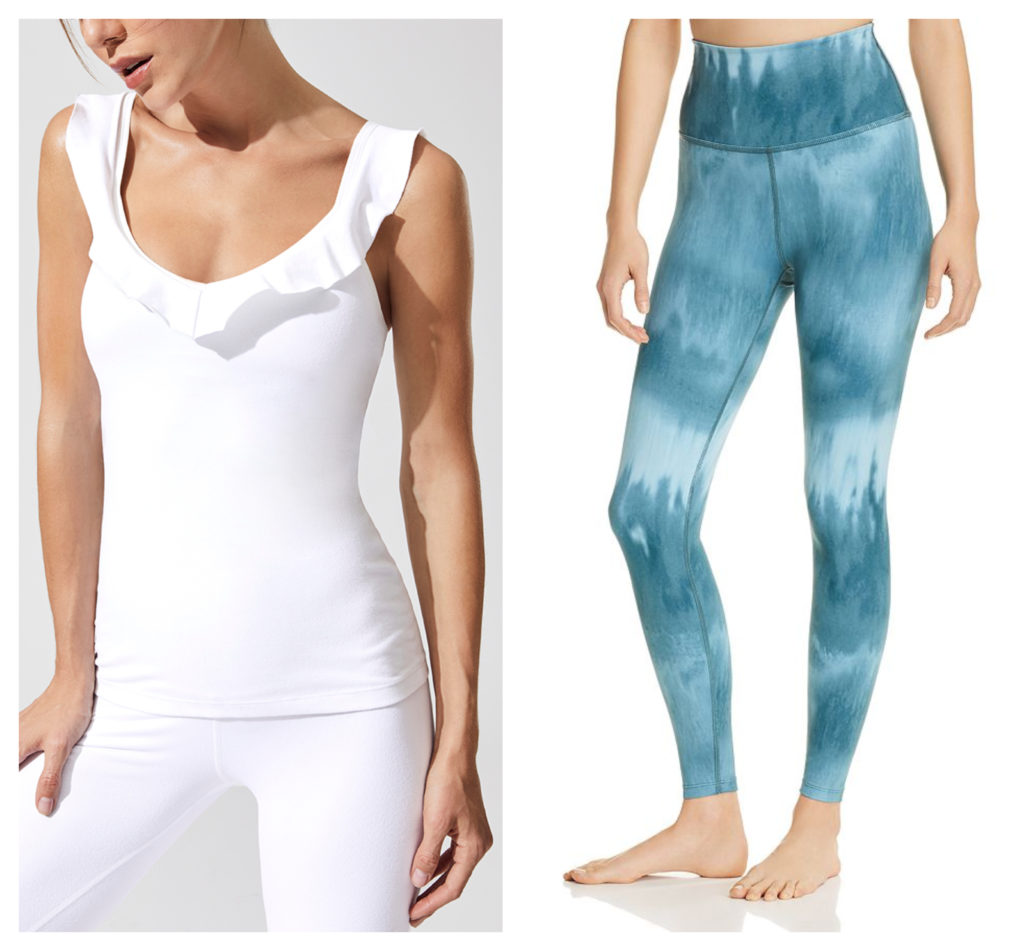 9. P.E. Nation.
P.E Nation is an Australian import and relatively new to the active wear scene. But since its launch in 2016, has already become a fixture at luxe retailers like Bandier, Lane Crawford and Net-a-Porter. Their retro styling and unabashedly sporty looking gear stand out in a sea of sophisticated and sexy looks.
Check out these graphic Motion Strike leggings ($159) that look ready for the races. Tops are logo heavy, but we're loving the in your face streetwear attitude, particularly this Chariot Tank ($99) with a relaxed fit and iconic stripes.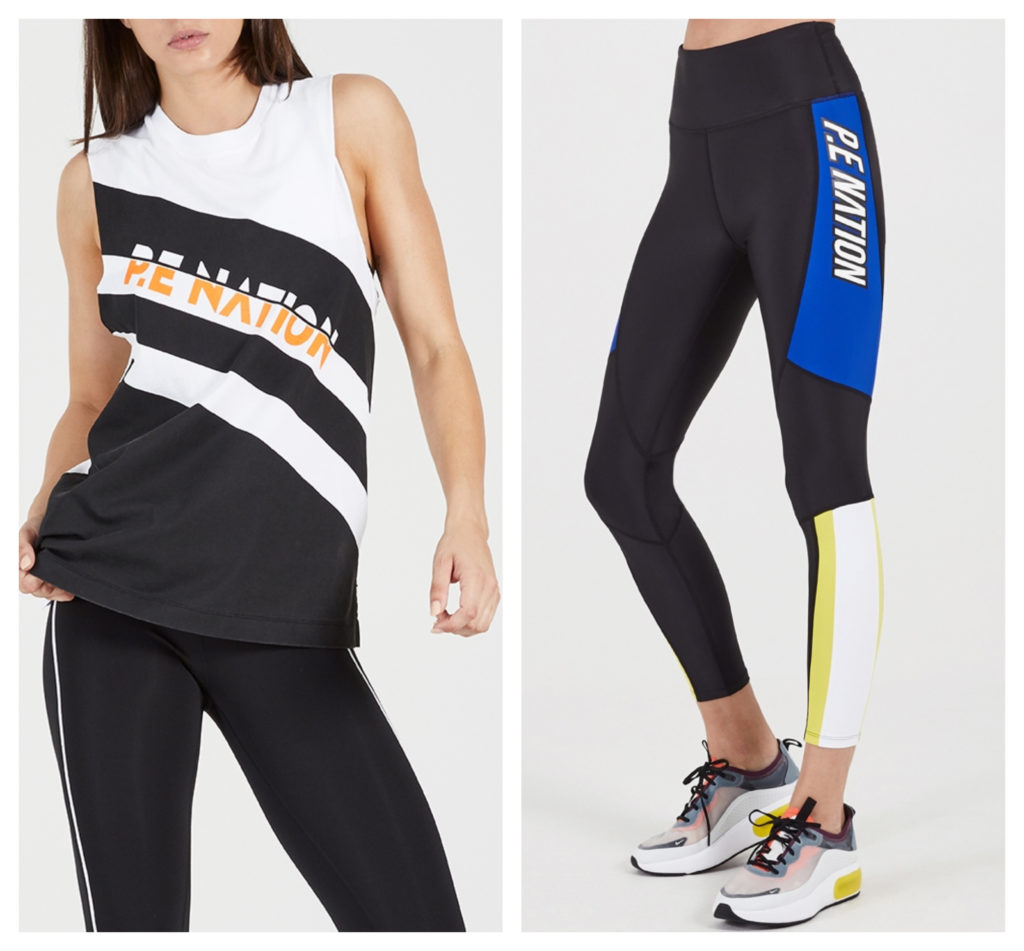 10. NAGNATA.
NAGNATA was founded by two Australian sisters with backgrounds in design, textiles, yoga and dance. Their sustainably-focused technical knitwear collections are inspired by their own personal fashion sense with a nod to 90's styling.
This season biker shorts have made a comeback. These bright and fun Yoni Side Stripe Shorts ($127) are made from NAGNATA's signature jacquard, using a specialty double-layer knitting technique that is engineered for support while remaining breathable and non-restrictive. If you're in the market for a leotard, the Nami Side Stripe Leotard ($134) uses a superfine Merino Wool and Tencel blend that offers breathability, sustainability and a very soft hand feel in appealing and flattering jewel toned hues.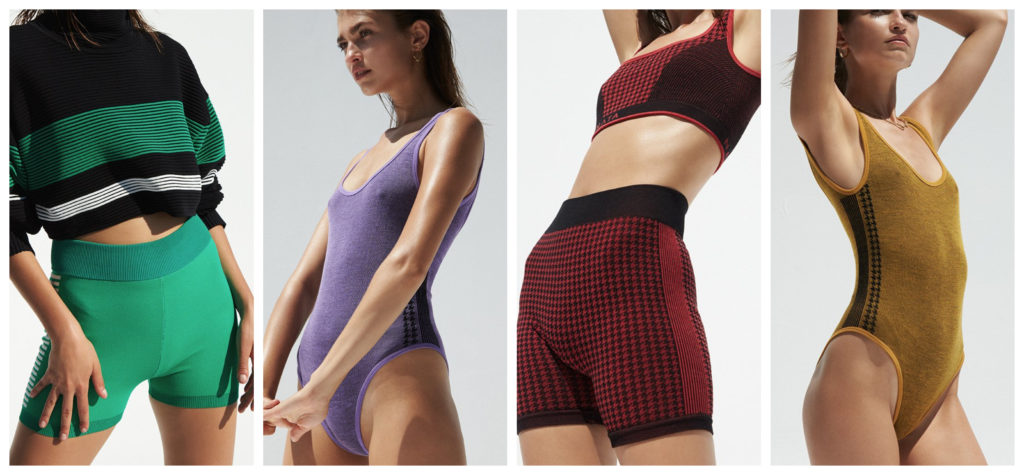 11. Heroine Sport.
Founded by New York based designer Nima Taherzadeh, with all its products made in the US, Heroine Sport is meant to combine "a high fashion sensibility with a sporty attitude." Its collection this summer is small but focused and makes a statement.
Flattering and utilitarian colors of black, gray and white are punched up with navy and silver metallic fabrication and details. The Galaxy Legging ($135) and Luminous Legging ($130) straddle the fine line of standing out at the gym but neutral enough for the street. The Revive Bra ($85) is one of the most attractive high impact sports bras we've seen, with its corset-inspired construction.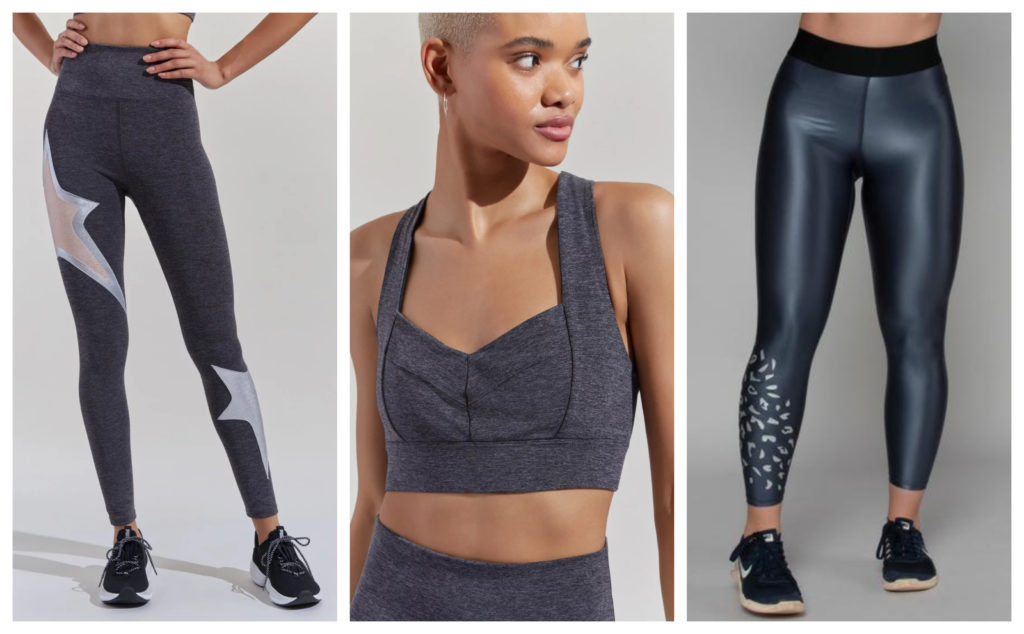 12. No Ka'oi Kina
No Ka'oi Kina means "the best" in Hawaiian. The brand's aesthetic is inspired by the powerful energy of Hawaii, fused with the couture design heritage of Italy. This high-fashion active wear line is truly eclectic, a word not often associated with workout clothes.
It features patchwork construction, bold colors and quirky prints: part Murakami, part Marimekko and part rave culture. Maybe all the cardio has gone to our heads, but somehow it works. We're willing to bet that you'll be the only one at the gym with these fantastically fun Kuku Kala leggings ($244). While you're at it, you might as well double down and go for the same print up top with the Kuku Huakai Criss Cross Tank ($189).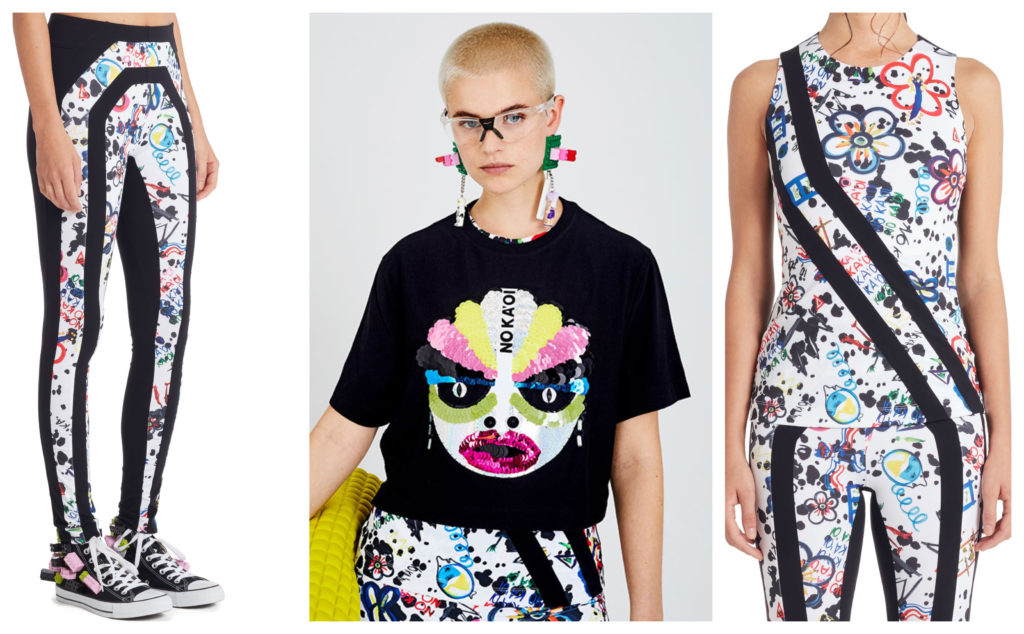 The best luxury workout apparel brands right now provide a plethora of options for getting your sweat on in style. Game on.
join our community
For access to insider ideas and information on the world of luxury, sign up for our Dandelion Chandelier newsletter, here. And see luxury in a new light.
Crediting her training as a cultural anthropologist at Wellesley College, Julie has immersed herself in various industries in the last 15 years including fashion design, event planning, fitness and even investigating police misconduct. Julie lives in NYC where she loves trying every ramen and dumpling restaurant with her husband and three children. She finds joy in bold prints, biographies of fierce women, kickboxing and spending way too long finding the perfect polish color to express her mood.