The Best Bookstores in the World: Maison Assouline London
All products are independently selected by our editors. If you buy something, we may earn an affiliate commission.
What are the best bookstores in the world? London is blessed with several of the book shops that we have on our list. We recently visited Maison Assouline on Piccadilly in London. Dear reader, next time you're in London, definitely visit this shop. It's a stylish book lover's dream. And it's not only one of the best bookstores in London – it's one of the best in the world.
The Best Bookstores in the World is an occasional series here at Dandelion Chandelier. Whenever we visit a new destination, we love to check out the interesting bookstores in town. When we really love them, we'll share them with you.
On a recent visit to London, we decided to squeeze in a bookstore or two in our limited free time. We had a few in mind. Then our friends at The Beaumont Hotel in Mayfair suggested that we pay a visit to Maison Assouline in Piccadilly in addition to our other planned stops. We confess, we had never heard of it before. And probably would have walked right past it if we hadn't been directed there. This is why it helps to have a great hotel concierge to send you in the right direction!
Maison Assouline London
Open since 2014, housed in a landmark building designed by Sir Edwin Lutyens in 1922, Maison Assouline in London is a transporting place of beauty, glamour, and literature – and treasures to be discovered and loved.
The idea for this bookstore originated with founders Martine and Prosper Assouline. They created Maison Assouline "as a refuge for those seeking style, culture, and art de vivre." This wonderful space more than delivers.
the location
Maison Assouline London is on Piccadilly, just down a few steps from Fortnum & Mason, and across the street from the Royal Academy of Arts complex. It's on the same block as another wonderful London bookstore, Hatchards. The building in between the two bookstores is currently under construction, so you could easily walk right past Maison Assouline (which we would have done if we hadn't been on a mission to find it).
Need a visual cue? Just look for the sheep. The narrow entrance to Maison Assouline is guarded by two furry sheep who look a bit out of place amidst the bustling roar of Piccadilly. Nevertheless, they serve their appointed purpose, which is to mark the spot. And make you want to investigate what's beyond the threshold.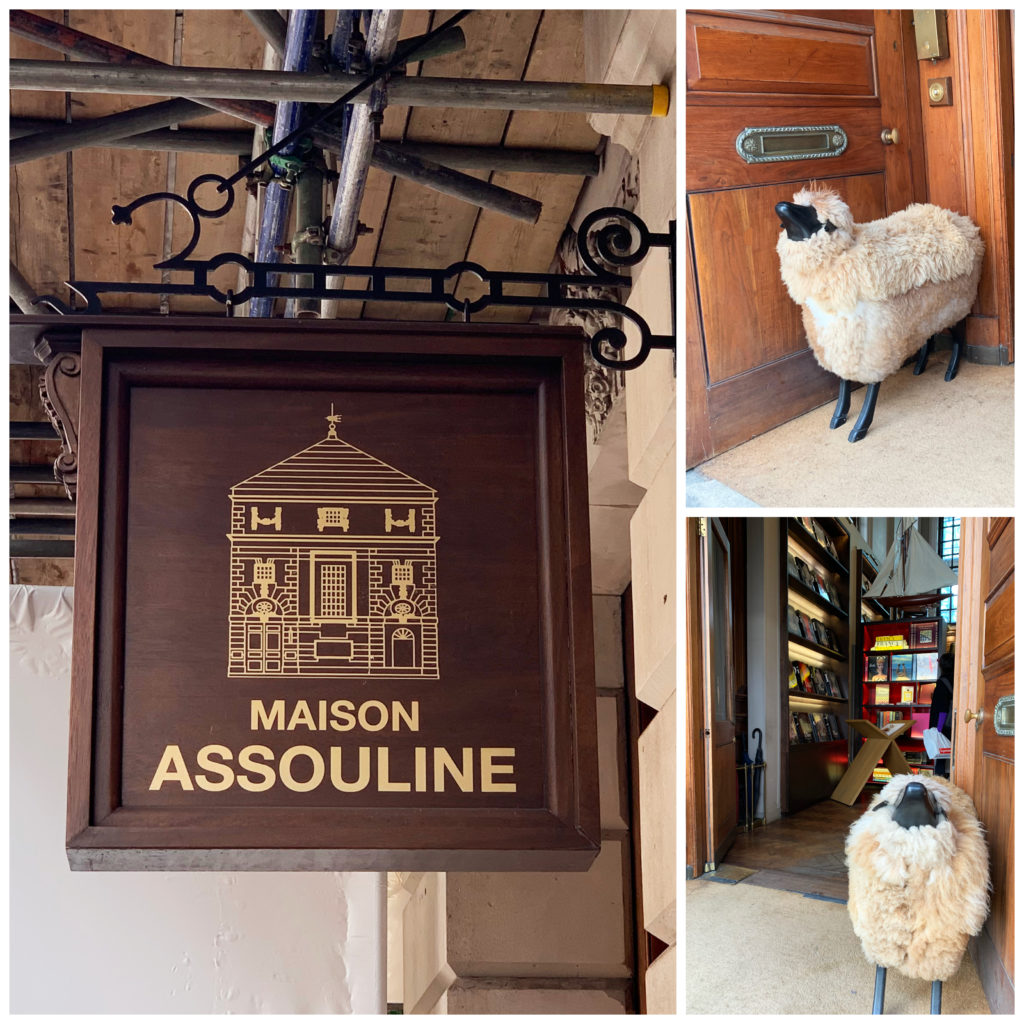 [white_box]
Join our community
For access to insider ideas and information on the world of luxury, sign up for our Dandelion Chandelier newsletter. And see luxury in a new light.
sign up now >
[/white_box]
the store
One you cross the threshold, you'll feel as if you've entered another world. Or at least, another country. It feels incredibly French and chic, in the best possible way. Not bad for one of the best bookstores in London.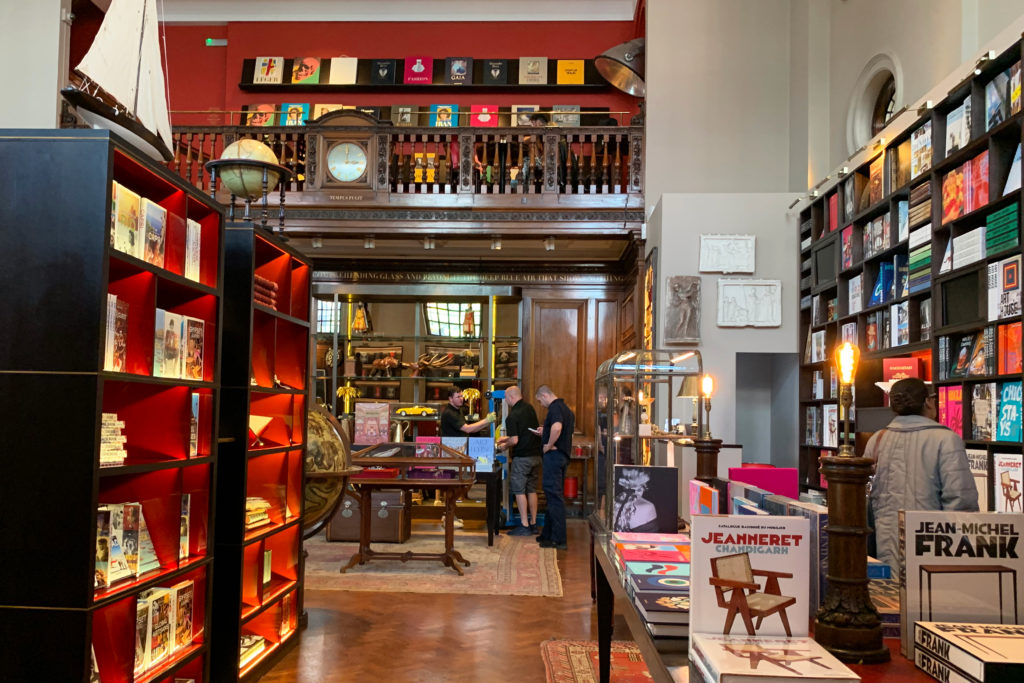 Gorgeous stacks of books are everywhere. The toughest decision is where to begin your treasure hunt.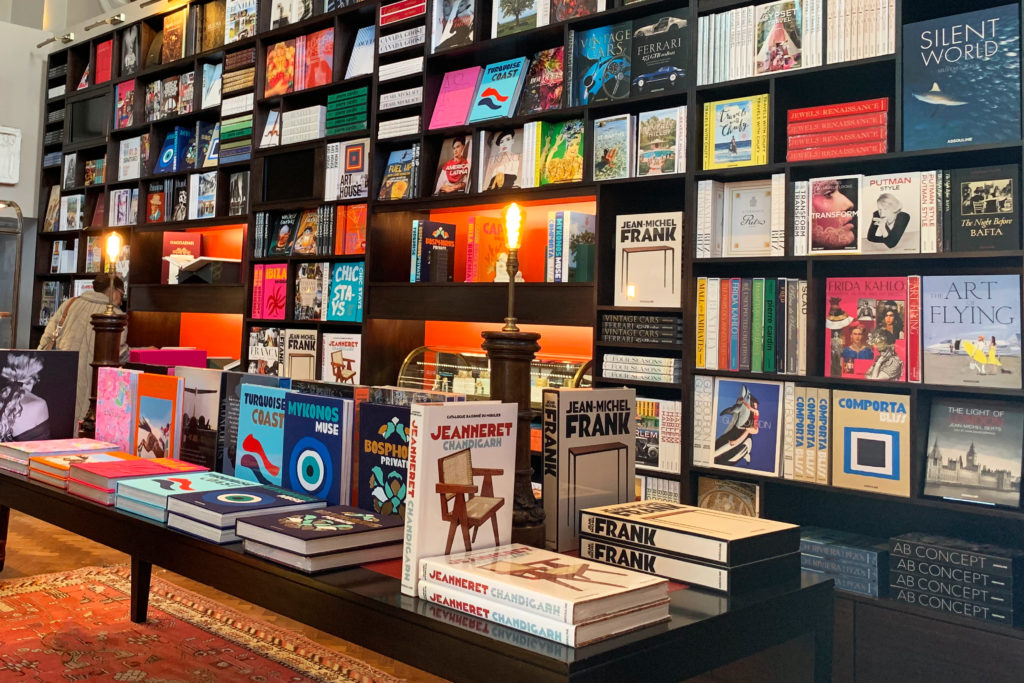 The towering bookcases create a sense of grandeur and gravitas. But the brightly-colored volumes the line the shelves convey a different sense: of playful, discovery, and high adventure.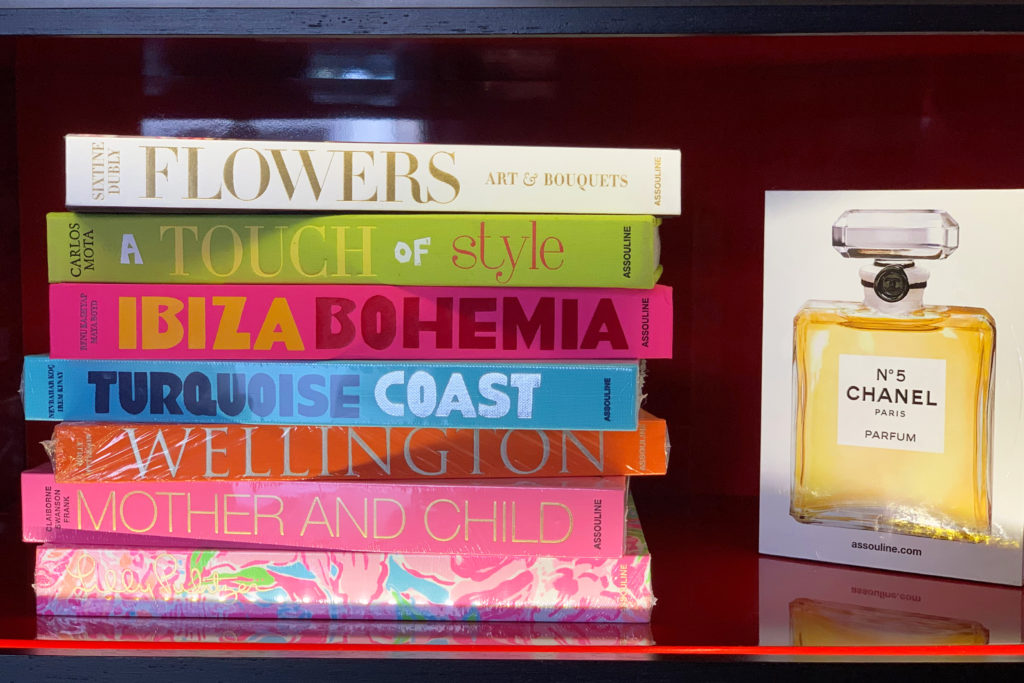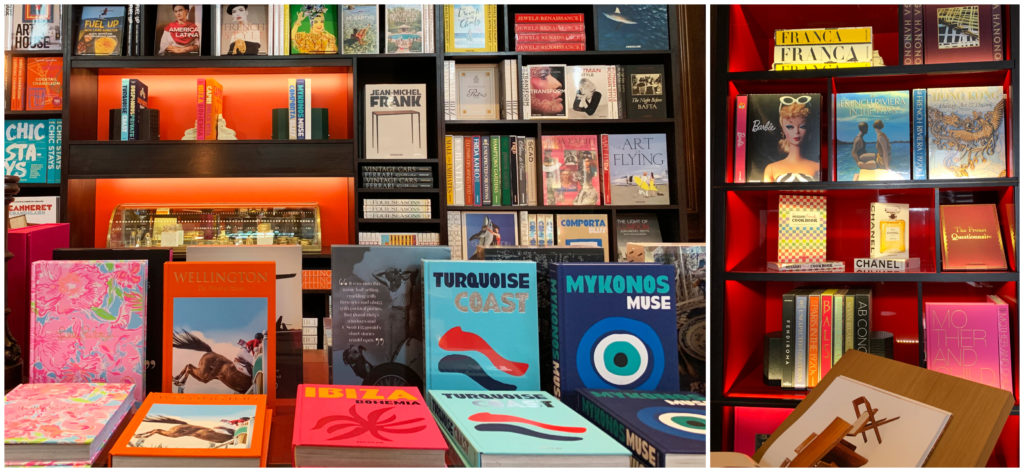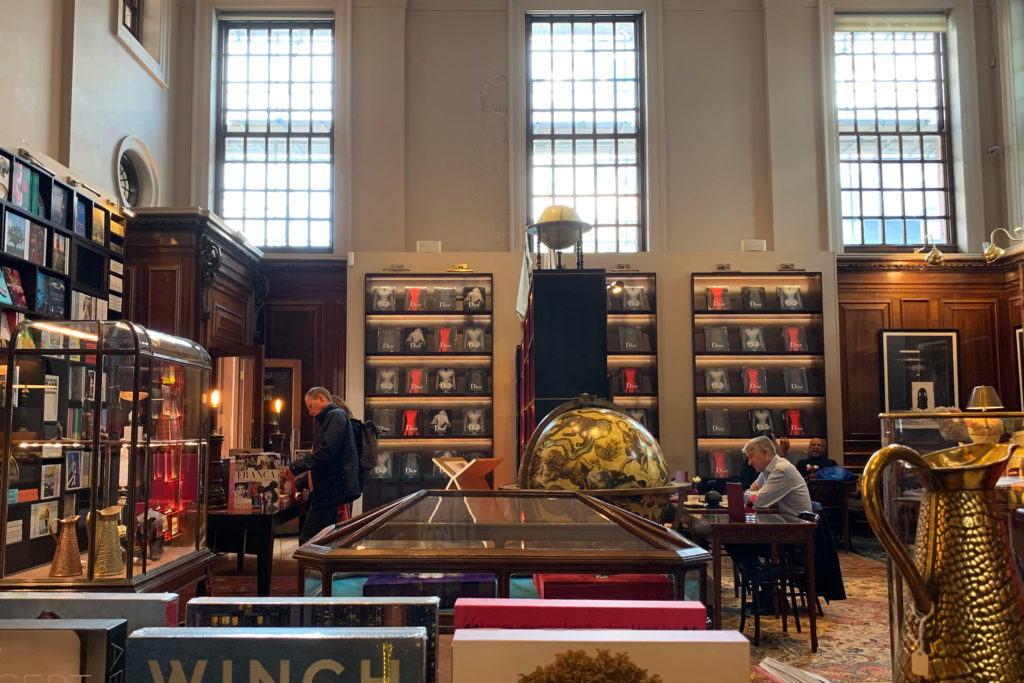 There's a splendid small balcony at the far end of the shop. The view from up there is equally magnificent.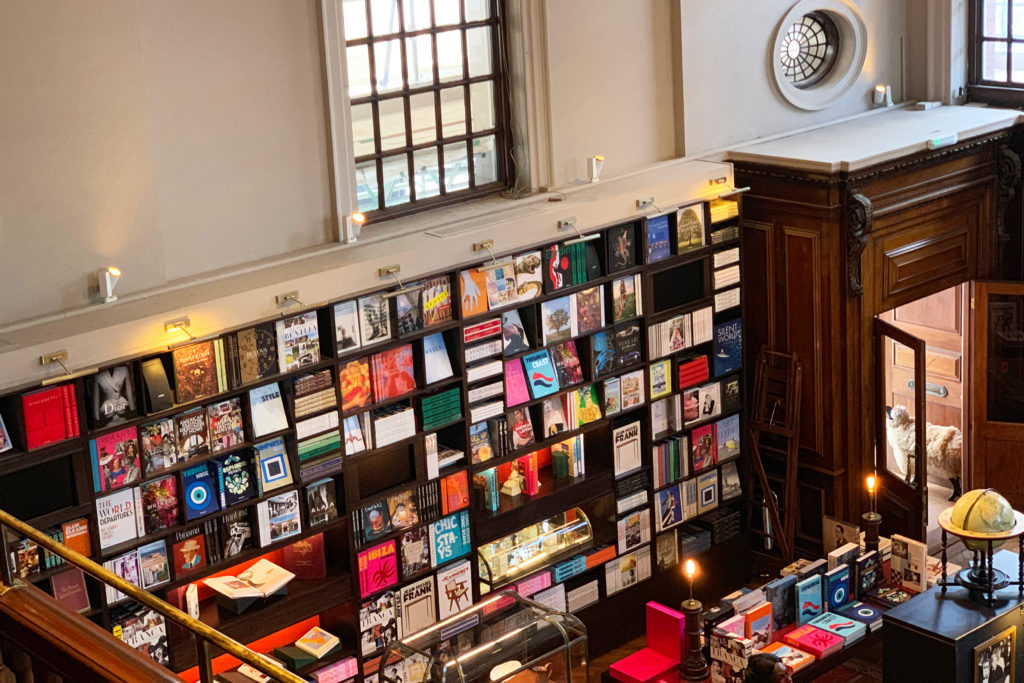 There are flashes of wit and humor on subtle display throughout the store. Under the clock, for example, you'll find the words "Tempus Fugit" engraved in the wood.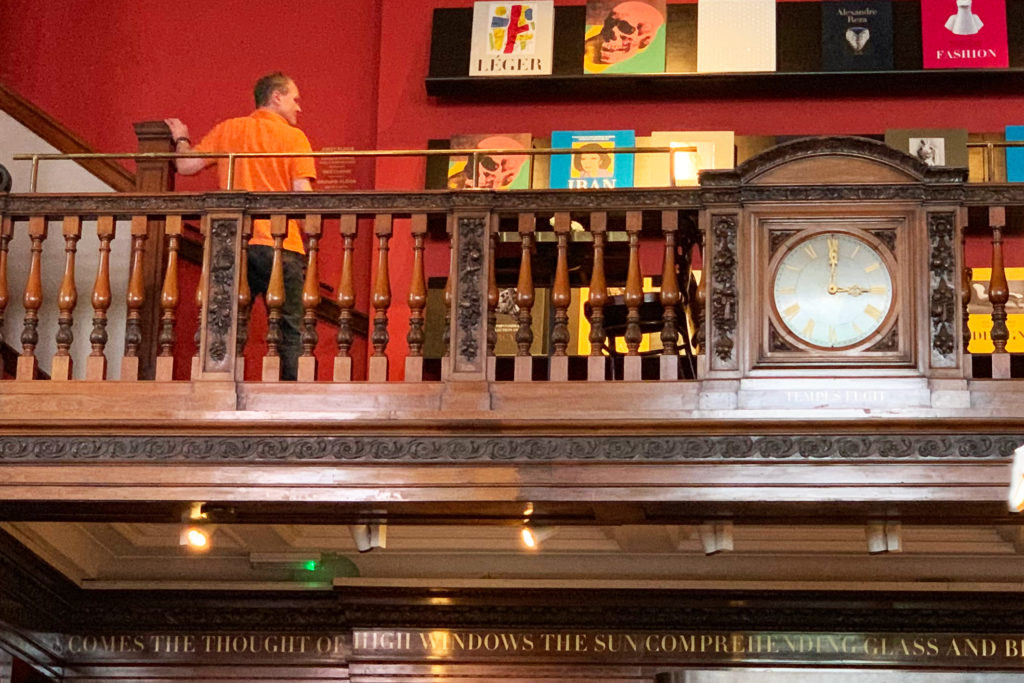 Our favorite grace note, though, is the excerpt from a poem carved into the molding that runs beneath the balcony. Poetry lovers will recognize the final lines of High Windows by Philip Larkin:
And immediately
Rather than words comes the thought of high windows:
The sun-comprehending glass,
And beyond it, the deep blue air, that shows
Nothing, and is nowhere, and is endless.
[white_box]
More in Travel and London
best luxury hotels in the world: the beaumont in london
read more >
[/white_box]
the books
Assouline publishes grand-scale coffee table and art books. They're well-known for their beautiful volumes about the worlds of fashion, haute couture, home decor, and iconic travel destinations.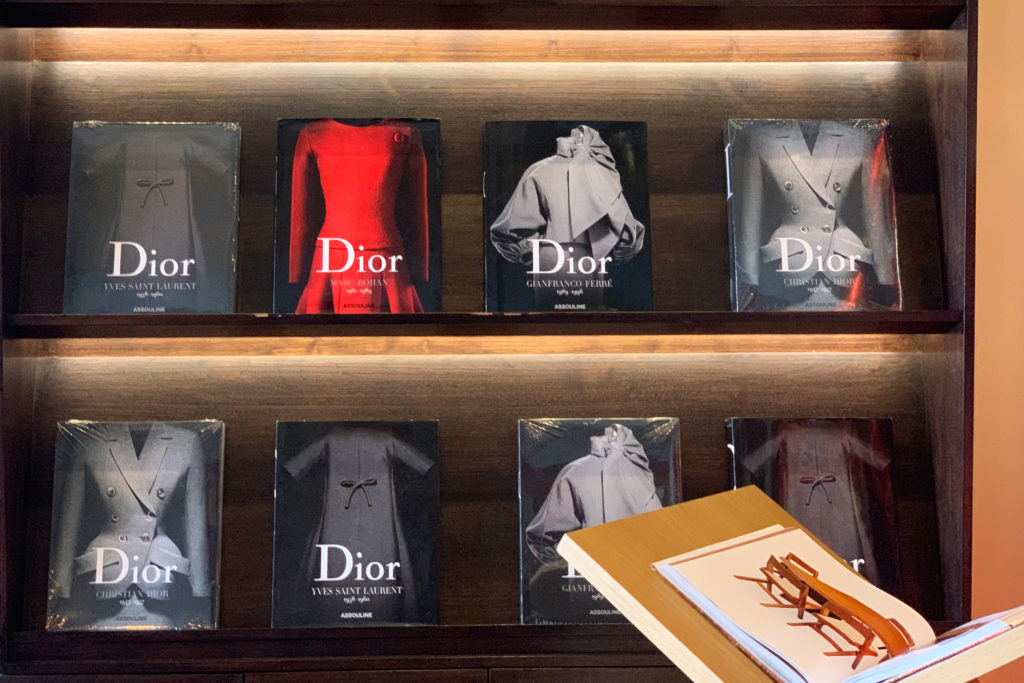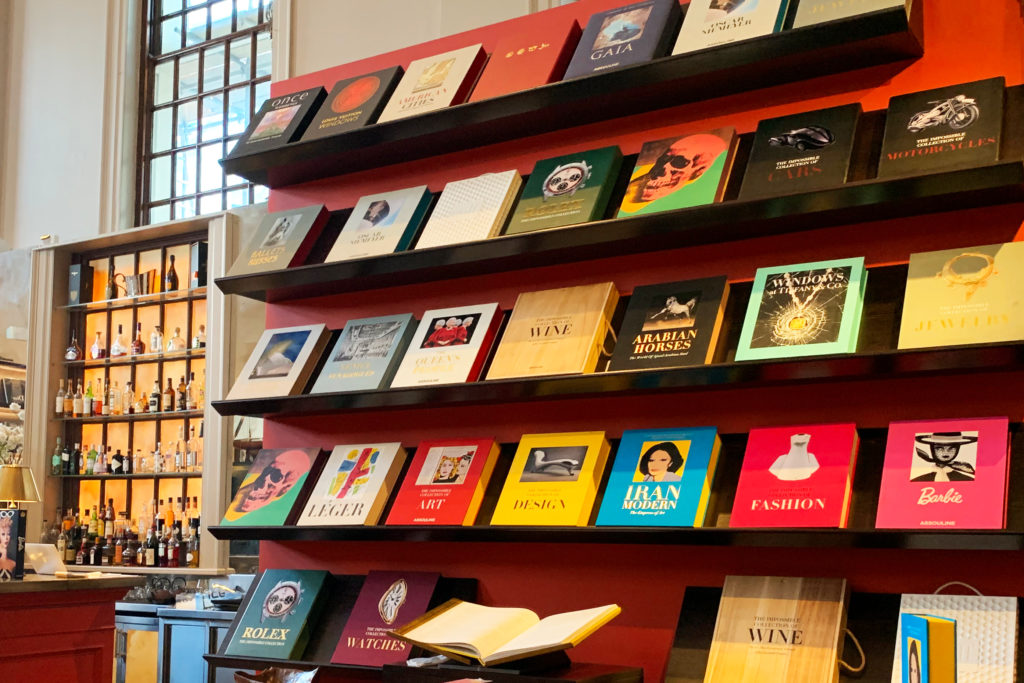 ephemera, gifts and home decor
In addition to massively-scaled books on refined and elite topics, Maison Assouline also has an extensive and whimsical collection of ephemera – a cabinet of curiosities – supplied by Objet de Curiosité. These are whimsical and delightful objects meant to find a home in contemporary residential libraries around the world.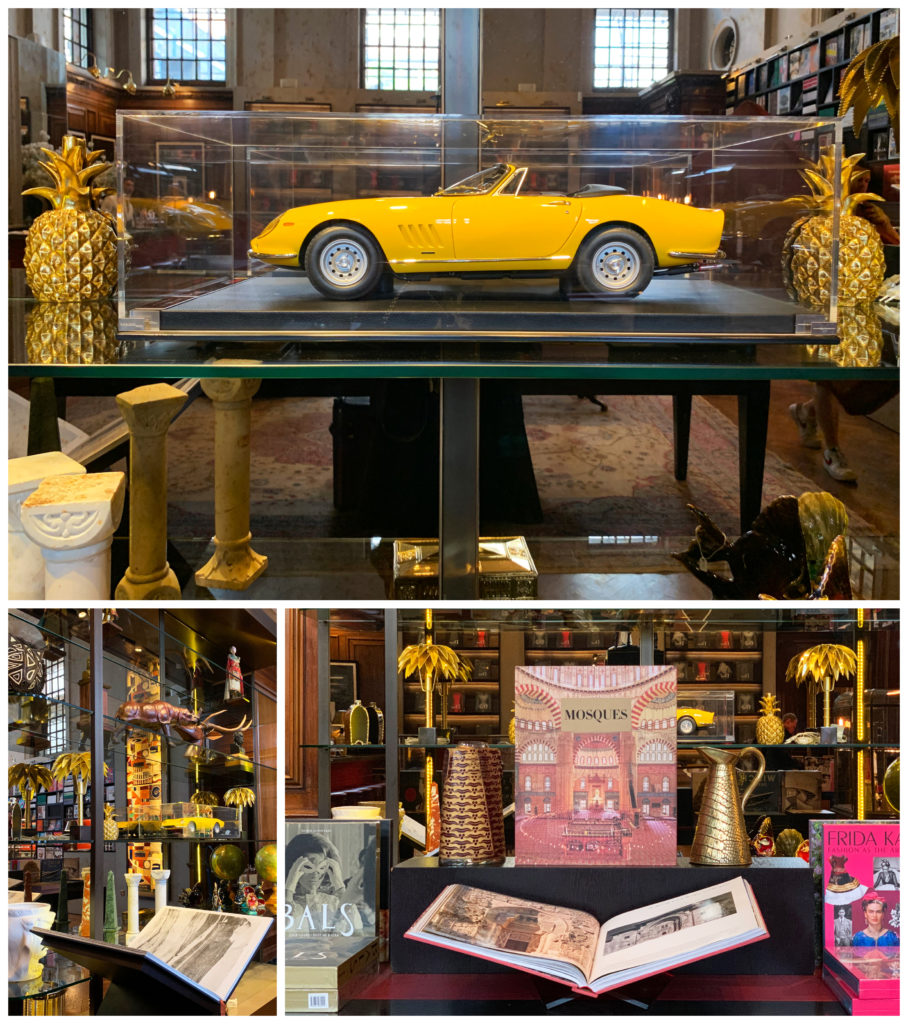 There are lamps, desktop items, and a model Ferrari among the decorative curiosities. They tell stories of travel and adventure, grace and ease.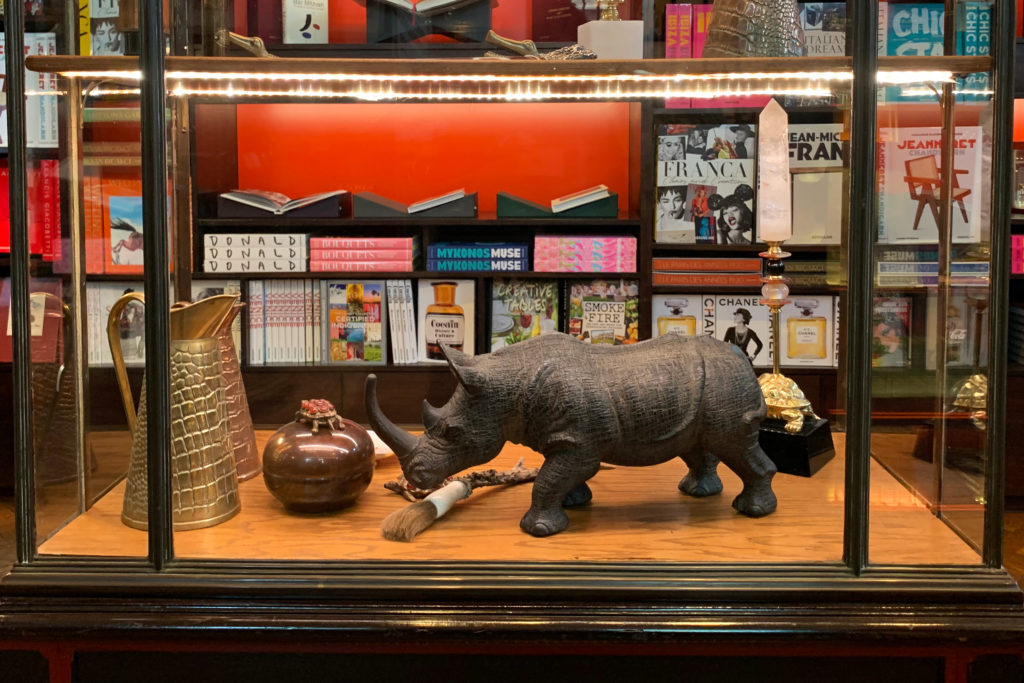 There's also a collaboration with Gucci as part of the "Gucci Places" line. So if you fall in love with the store (and you will), if you're so inclined you can leave with a bag that is an extremely luxurious version of the canvas tote bags that can be found in bookstores the world over.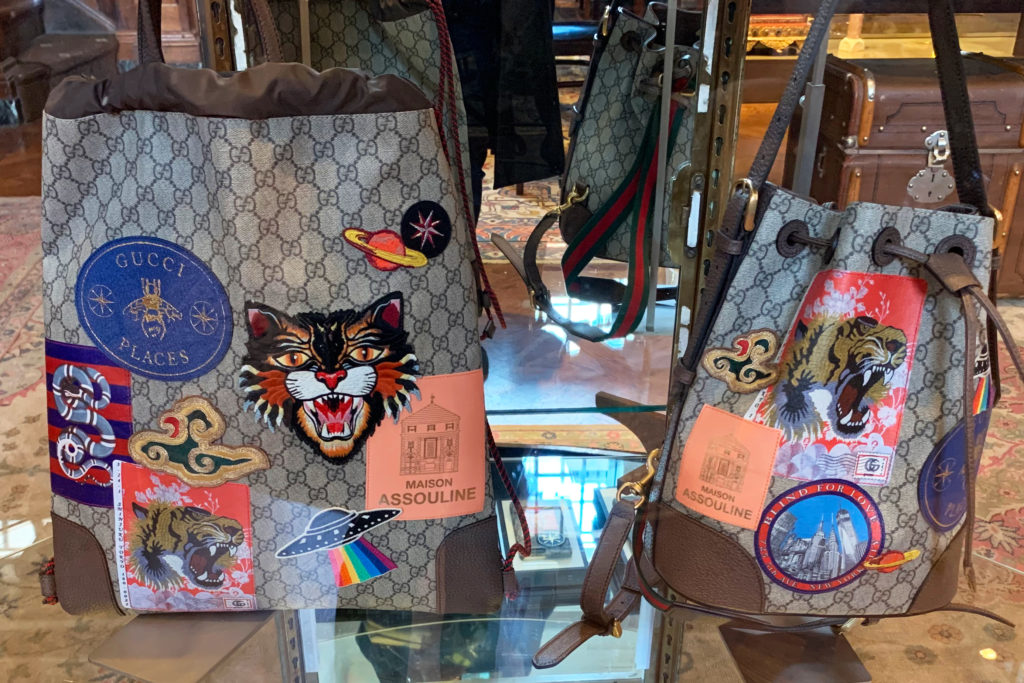 [white_box]
More in Books and Recommended Reads
selected reads to unlock the true spirit of london
read more >
[/white_box]
the café and bar
Tucked away behind the bookcases is a wonderful spot for a meal, a snack or a drink. Swans Bar and café is a perfect place for a flâneur or flâneuse to stop in for an espresso. For friends to meet for lunch. Or for a drink after work.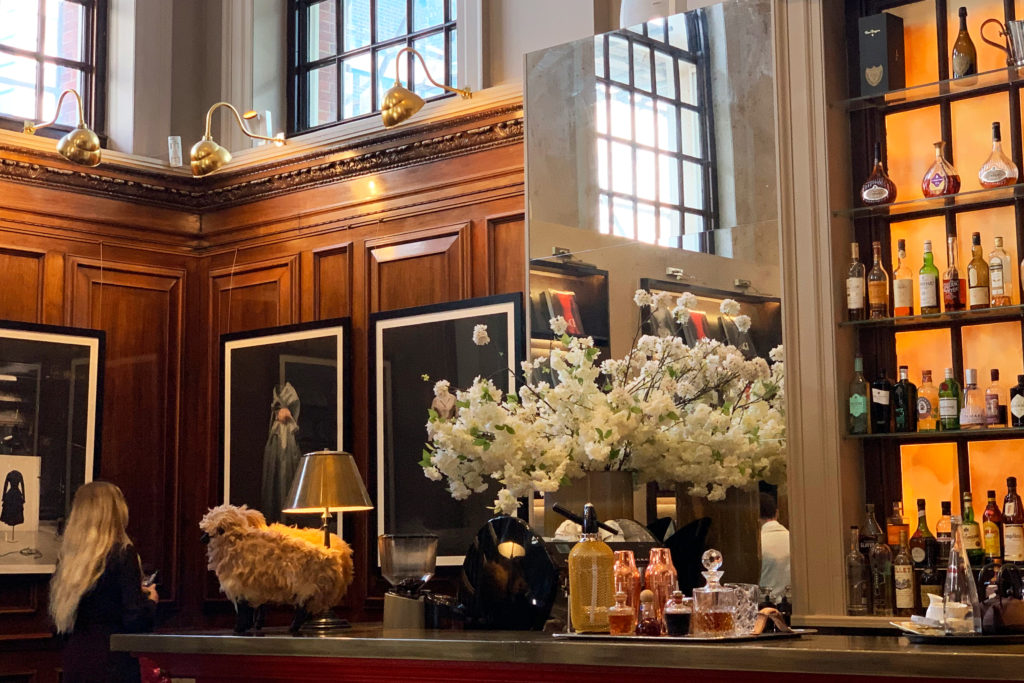 Maison Assouline is even open for breakfast, which sounds like an excellent way to start a busy day in London.
For a limited time, you can also have a Barbie Tea in celebration of the publication of the Assouline book tracing the history of 60 years of Barbie. We have to say, we love the expression on Barbie's face on the cover of this book. She doesn't convey a dopey California beach girl vibe – she looks sophisticated and knowing – much more Parisian than we've ever seen her. That feels totally right for this space.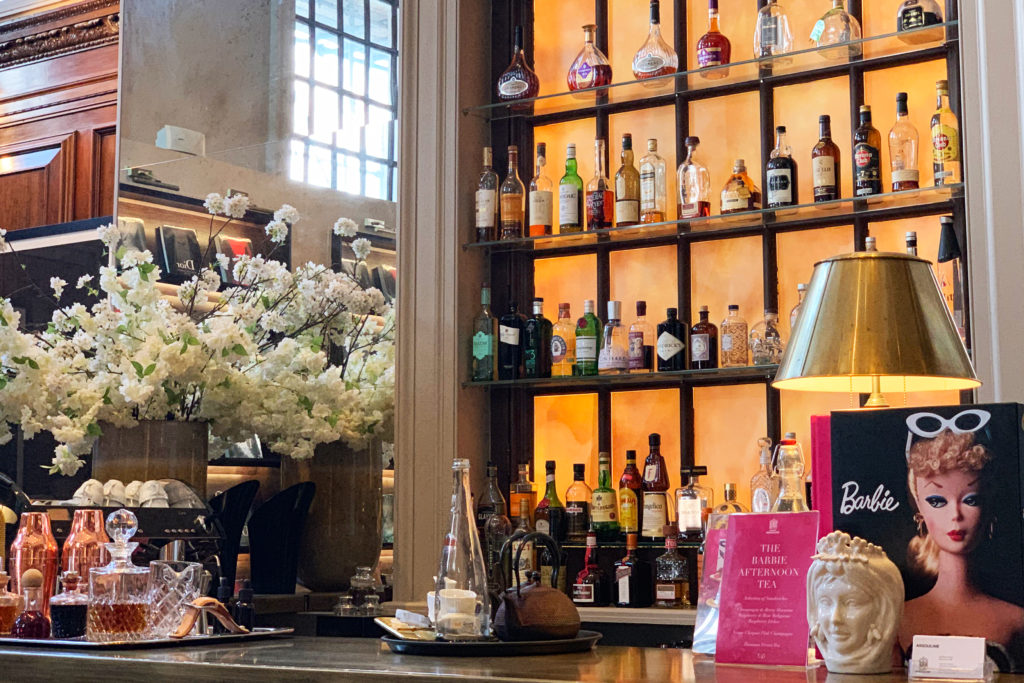 the staff and the service
You might think – and we did – that such an imposing store with such expensive merchandise and such a refined air would be staffed by associates who might not be particularly friendly to random customers.
Happily, the opposite was true. We asked one of the sales associates lots of questions about the store and she was engaged and genuinely helpful. We received lovely service from the staff at the cafe, even though all we ordered was a coffee. Everyone we encountered was warm and knowledgeable. Really first-rate.
the clientele
Of course, part of the experience of any retail store or restaurant is who else is there. In the case of Maison Assouline, the patrons of the store and the cafe are pretty much exactly what you would expect.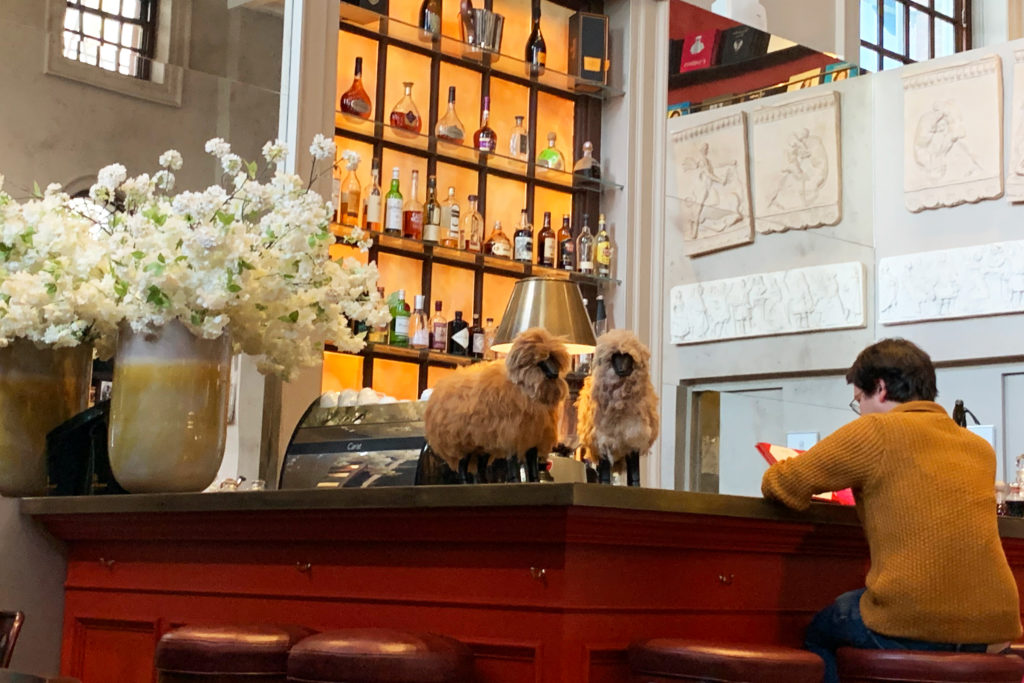 When we were there, they were slightly older and far more serious than the typical person on the sidewalks outside the store. Impeccably dressed, confident, well-mannered and urbane, these were fellow shoppers and diners you'd be happy to hang with. Which is one more reason this is one of the best bookstores in London.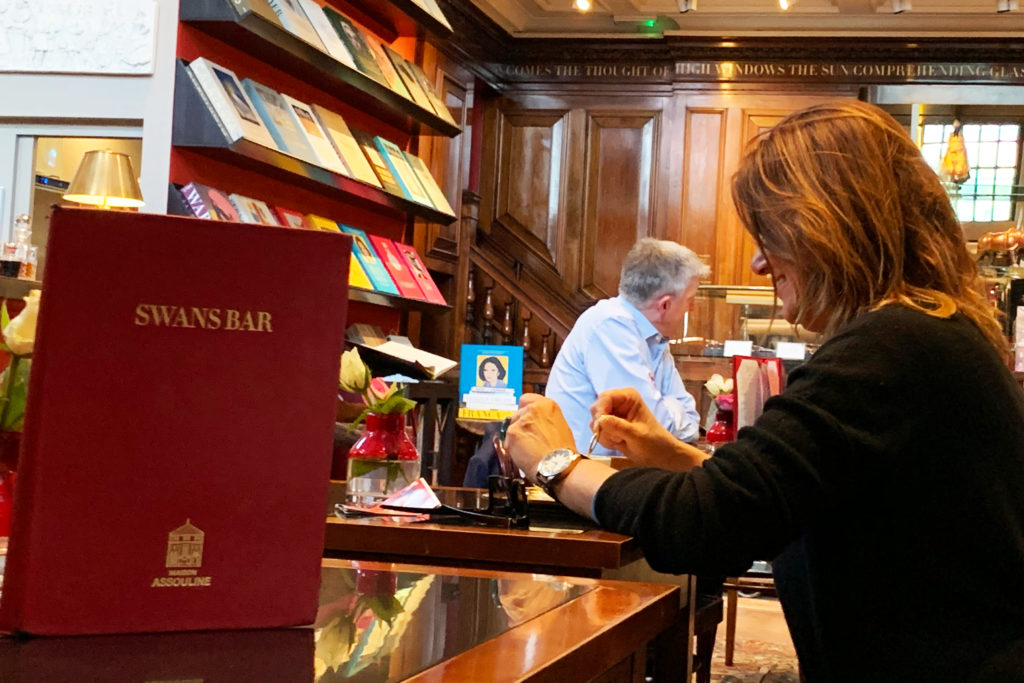 the bottom line
You can purchase Assouline books in many places – they're available at almost every well-stocked bookstore in a major city. And all of them are available online at the Assouline website. But there's something magical about seeing these books in their flagship location. They're larger, and definitely more desirable, when you can hold them in your hands.
Here is a place to linger in a world of good taste, intelligence and whimsy. It's among our picks for the best bookstores in London. And in the world.
Whether you're browsing or buying, stopping in for a full meal or just an afternoon espresso, this is a jewel-box. If you love books, and love London, we think you'll love this, too. Well done, Assouline! We'll definitely be back.
[white_box]
Join our community
For access to insider ideas and information on the world of luxury, sign up for our Dandelion Chandelier newsletter. And see luxury in a new light.
sign up now >
[/white_box]