Adventures at the Pat McGrath Mothership in London
All products are independently selected by our editors. If you buy something, we may earn an affiliate commission.
Pat McGrath Labs launched with a great deal of fanfare in 2015. Now, the Mothership has landed in London. Exclusively at Selfridge's, it's a playground of bright shiny objects and makeup colors for all. We visited on a recent trip to London, and here's what we saw. It's our photo journal of our excellent adventures at the Pat McGrath Mothership in London.
Beauty is a bright spot in luxury retail, and the fun of discovery and experimentation is a large part of the reason why. Especially for first-time purchases, lots of beauty consumers choose to visit a brick-and-mortar store and try the products for themselves.
It's no wonder that specialty beauty boutiques are proliferating at a dizzying rate.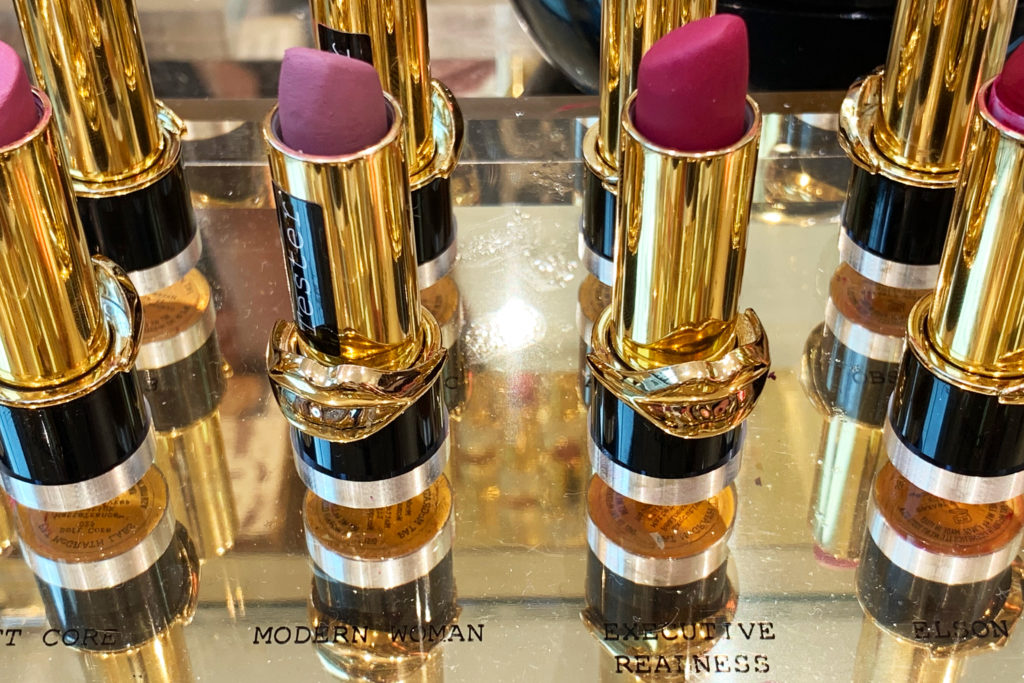 The other significant trend in beauty? Inclusiveness. The runaway success of Rihanna's Fenty Beauty line has awakened the industry to the importance of having imagery and product offerings in every possible skin shade. Launched in partnership with LVMH beauty incubator Kendo, Fenty Beauty generated over $560 million in its first full year in operation.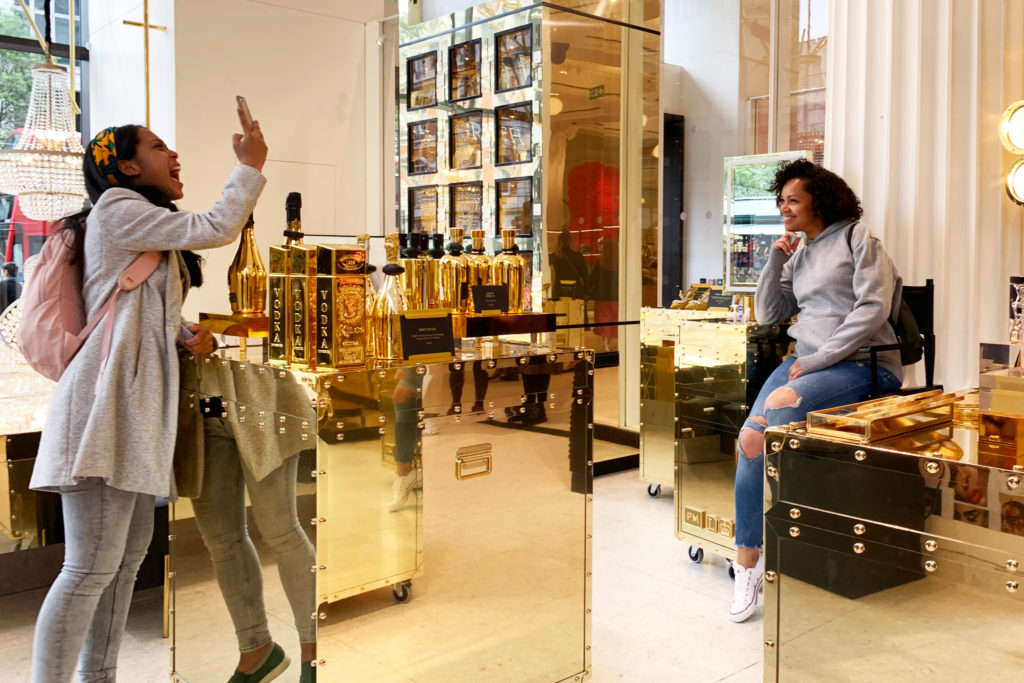 As with shoes, "flesh" color is a lot more wide-ranging than many companies have tradtionally acknowledged. Brands that embrace all colors and sizes – and that are gender-neutral – are leading the growth in the beauty category right now.
So what could be better than a combination of both of these secular trends? A glorious retail boutique with a confident, inclusive artisinal luxury beauty brand. Enter the Pat McGrath Labs Mothership at Selfridge's in London.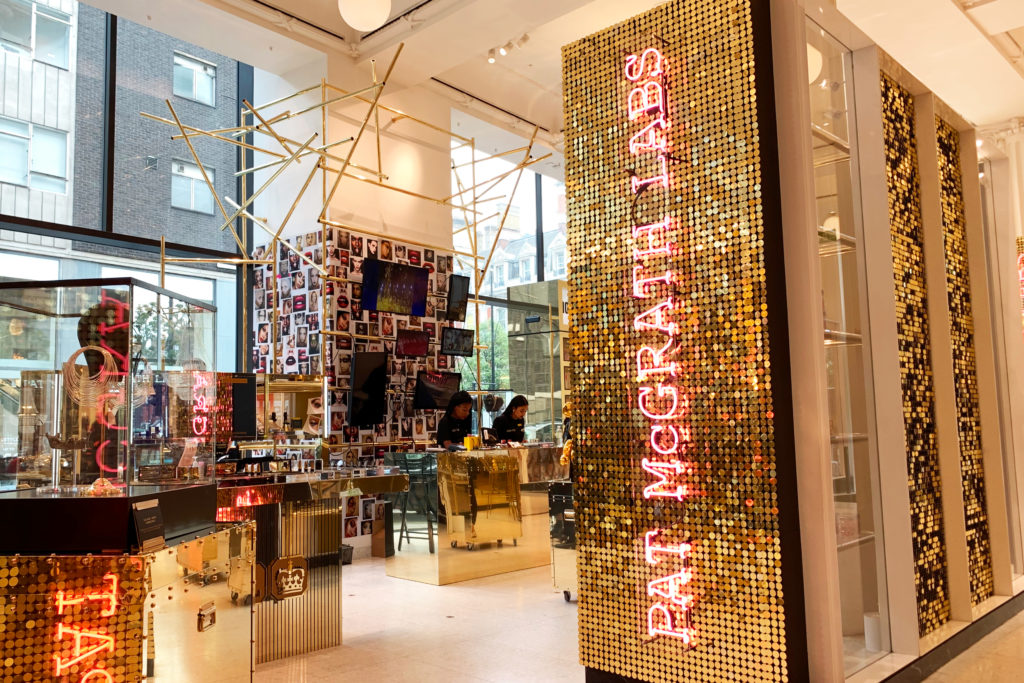 who is Pat McGrath?
For those not familiar with the brand, here's a quick history. British-born make-up artist Pat McGrath, MBE, has long been the go-to person for some of the fashion industry's best-known models. That's in no small part because as a black woman, she's lived firsthand the challenges of getting the right color matches in foundation, concealer, lipstick and more.
As one of the most influential and in-demand makeup artists, getting into the business herself was a natural move. At first McGrath dropped limited edition products – starting with GOLD Pigment 001, which sold out in five minutes and became an instant cult product.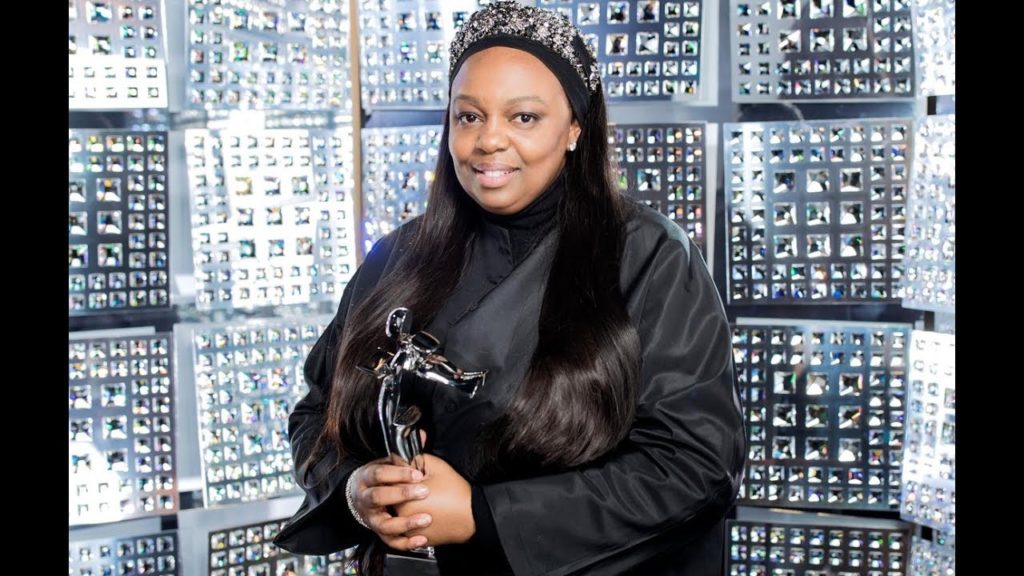 what is Pat McGrath Labs?
Based on the success of those tests, she launched her eponymous beauty line, Pat McGrath Labs, in 2015. At the time, she was living in the US, and the collection was available Sephora in the States, with only small global distribution on Net-a-Porter. Currently, in America you can purchase the products directly from Pat McGrath Labs online, at Sephora, or at Bergdorf Goodman in-store or online.
But if you're in London, up until only a few months ago, you'd have had to rely on your friends bringing you back the goods the US.
Happily, on April 4, 2019, the Pat McGrath Labs "Mothership" staged a 3-month takeover of the Corner Shop at Selfridge's in London. It's the first and only destination in Europe to host the full make-up collection.
The shop's name reflects the fact that McGrath is affectionately known as Mother within the industry.
On a recent trip to London, we visited the Pat McGrath Labs Mothership at Selfridge's. And we're so glad we did! It's great fun – energizing, welcoming, stimulating and definitely worth experiencing in person.
If you're in London this spring and summer, you should definitely see it for yourself.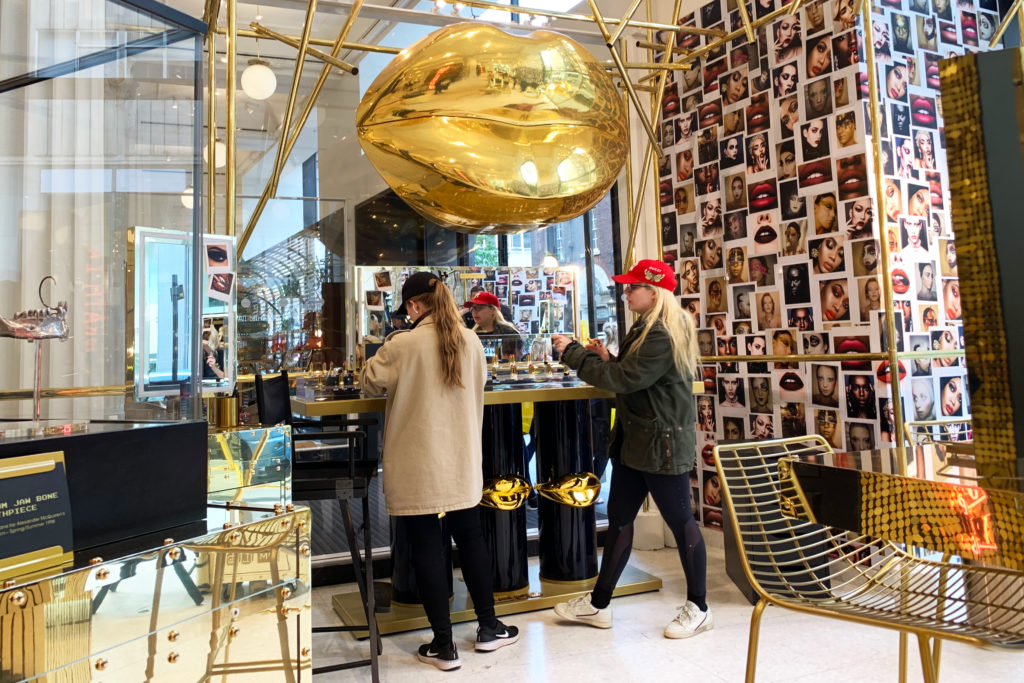 our visit to the Pat McGrath Mothership in London
Our favorite hotel in London, The Beaumont in Mayfair, is conveniently located just a block away from Selfridge's. So when we're in town, we always like to pop over and see what's new.
You can't miss the presence of the Pat McGrath Labs Mothership at Selfridge's, because 24 windows at the store, including all of the ones on Oxford Street, are filled with promotional images.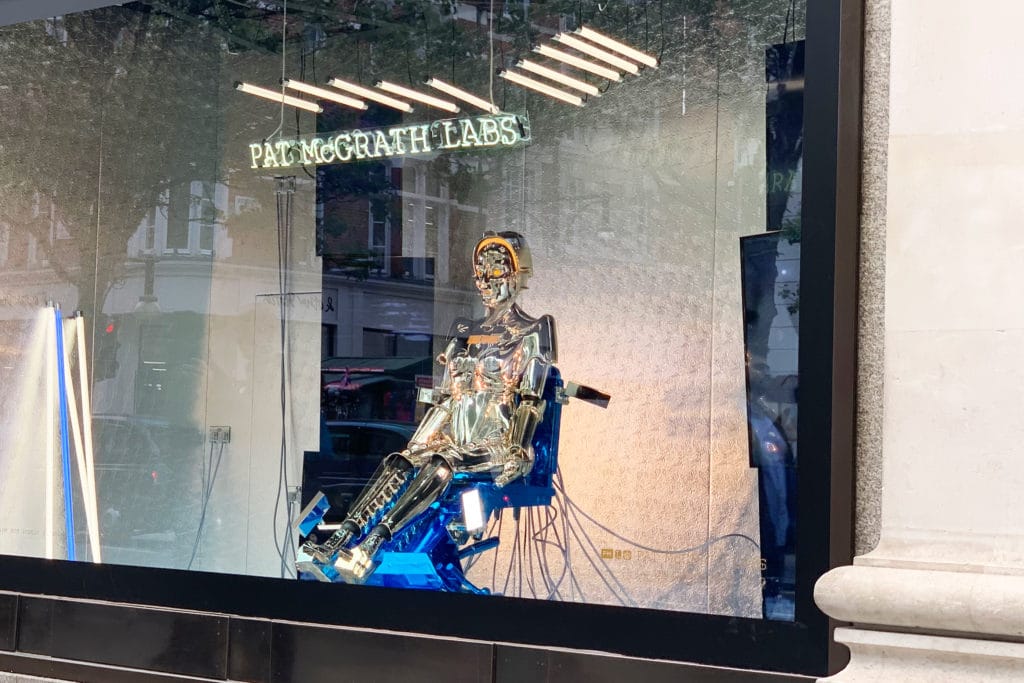 The Pat McGrath Labs Mothership at Selfridge's is located on the first floor in a prime corner spot at the intersection of Duke Street and Oxford Street.
When you enter the shop-in-shop, the first thing you see is gold. Then lots of lips. And perhaps most importantly, you see photos of glamorous people with skin tones of every imaginable hue. The staff are multicultural and the vibe is embracing. All are welcome, and you are sure to find a shade that's perfect for you, no matter who you are.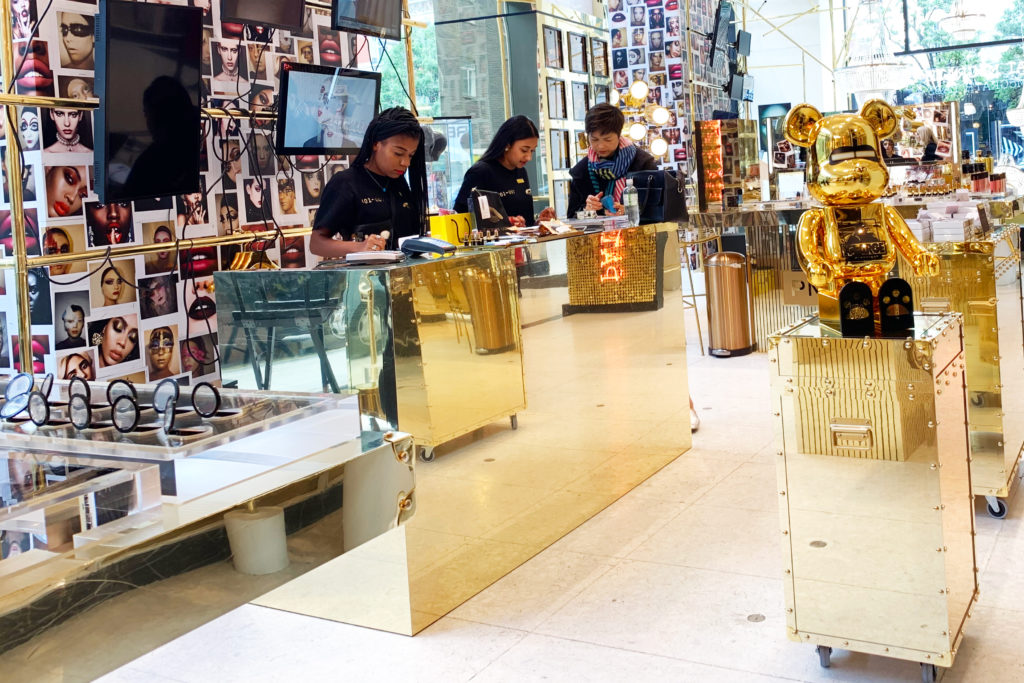 The core Pat McGrath Labs products
The celebrity factor continues to provide a shimmer of glamour to Pat McGrath Labs products. Recent sightings include Saoirse Ronan, Lana Del Rey, Liv Tyler and Bella Hadid. Want to channel their look? Here are the products you need.
Lips
The vast array of shades and types of lip products is almost overwhelming here. McGrath created the global phenomenon of "the glitter lip," but there are options for work and play in abundance in the line.
The Lip Fetish lipsticks and lip balms (£35) are among the most beloved of the lip products. But here brand loyalits will discover brand new items like the glittery Blitztrance lipsticks.
We were new to the brand, so we had fun browsing and testing. The names of the lip colors are sassy and fun, as they should be. We tried a number of them, and departed the shop with our favorite: a deep fuchsia shade called "Executive Realness."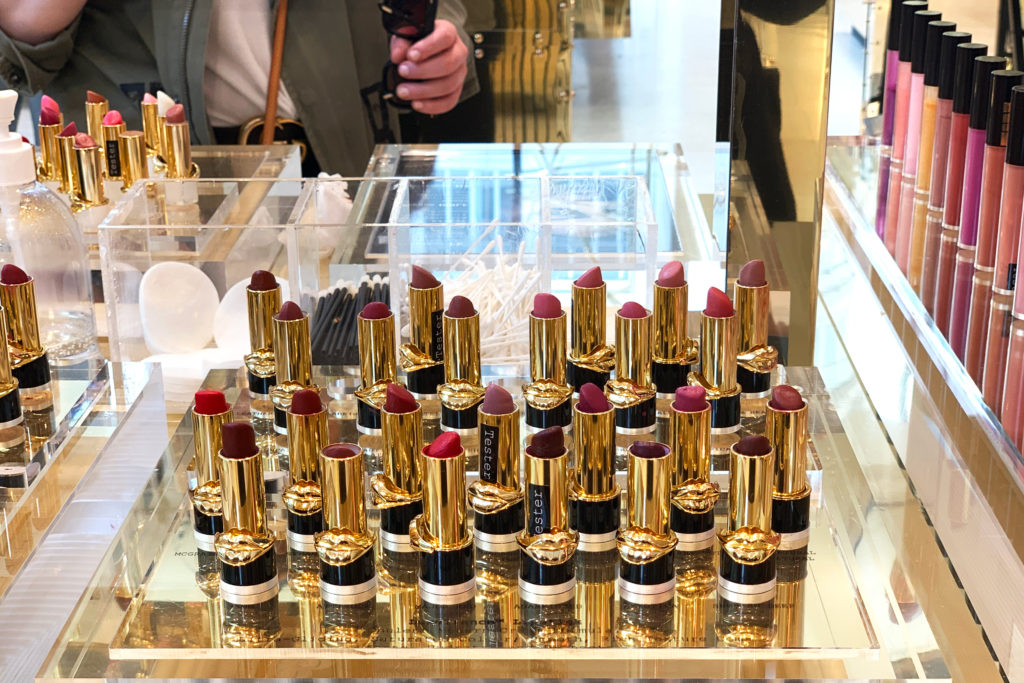 Eyes
Alongside beloved products like McGrath's liquid liners, there are eye shadow palettes (£115), and new EYEdols eyeshadow pots (£23). McGrath has also launched a mascara for the first time.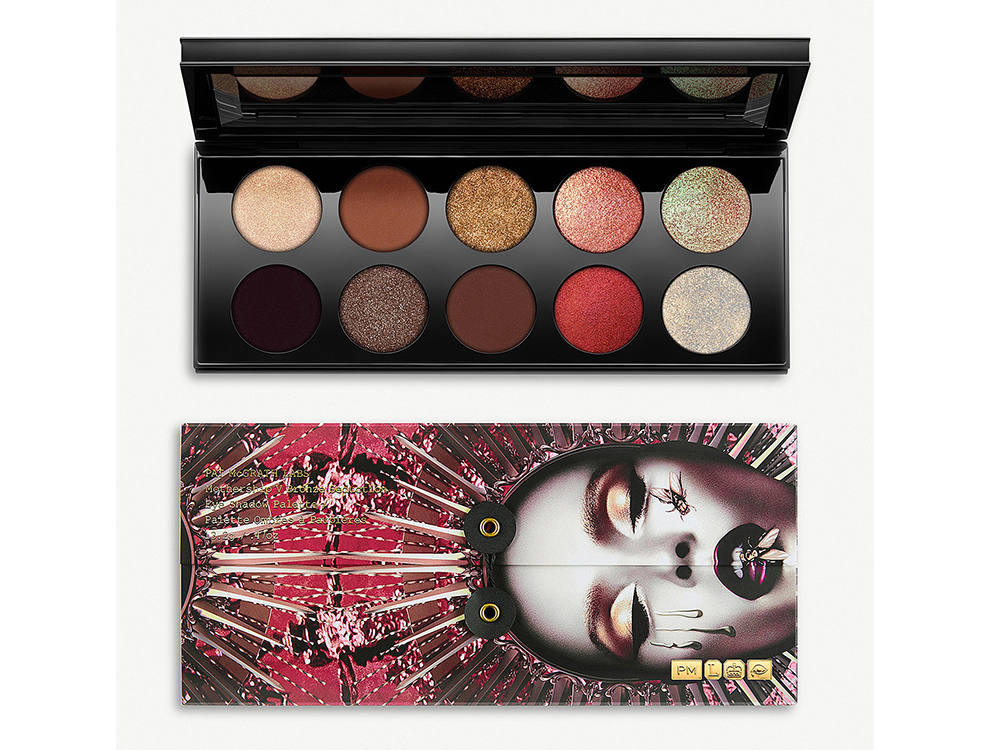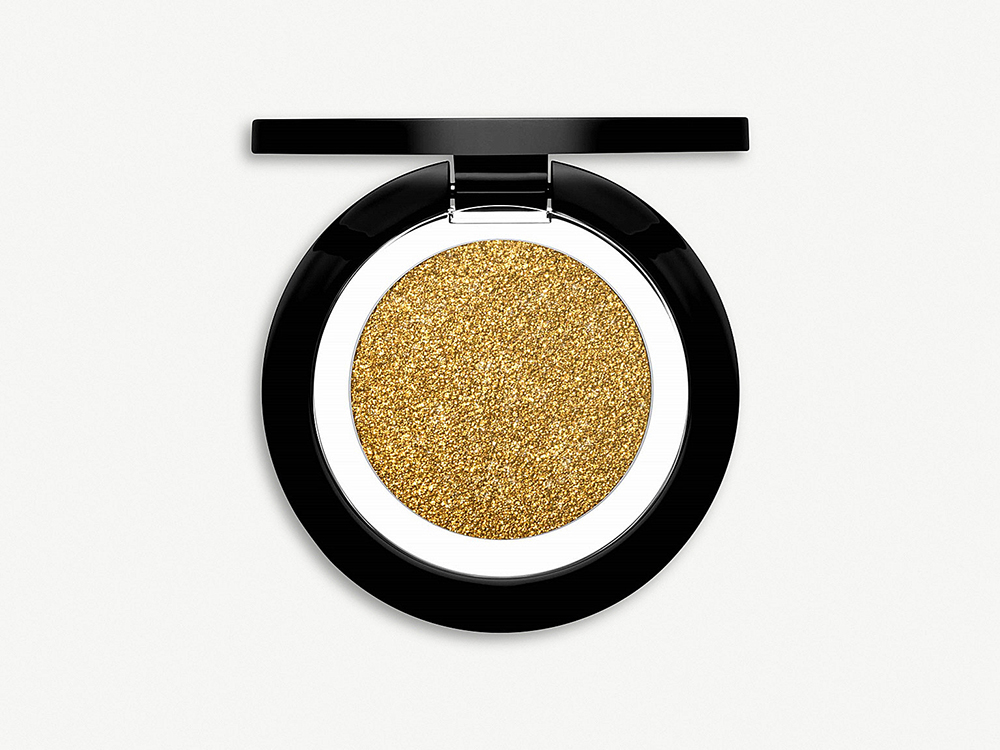 Face
You can book a tutorial in make-up application so that you can replicate some of McGrath's most iconic runway looks at home. They include The Runway Power Pout; Put A Wing On It; Smoke & Mirrors; and Pat's Glitter Lip.
Or you can go DIY and try out various shades of foundation on your own. The shop is well-staffed, and the adventurous vibe is perfect for playing around and discovering new looks.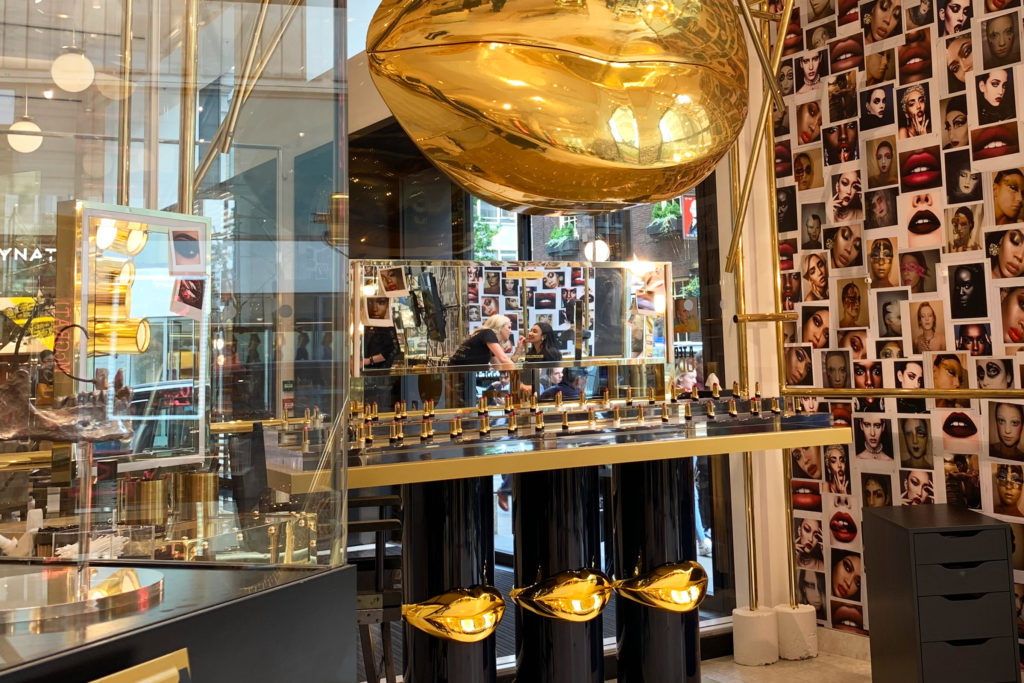 The Pat McGrath Labs merchandise
More than just a cosmetics brand, it's clear that Pat McGrath Labs is already morphing into a lifestyle brand. At the Mothership, you can purchase Pat McGrath-brand postcards (collect all 5!), cookies, make-up brushes, pens, sweets and more.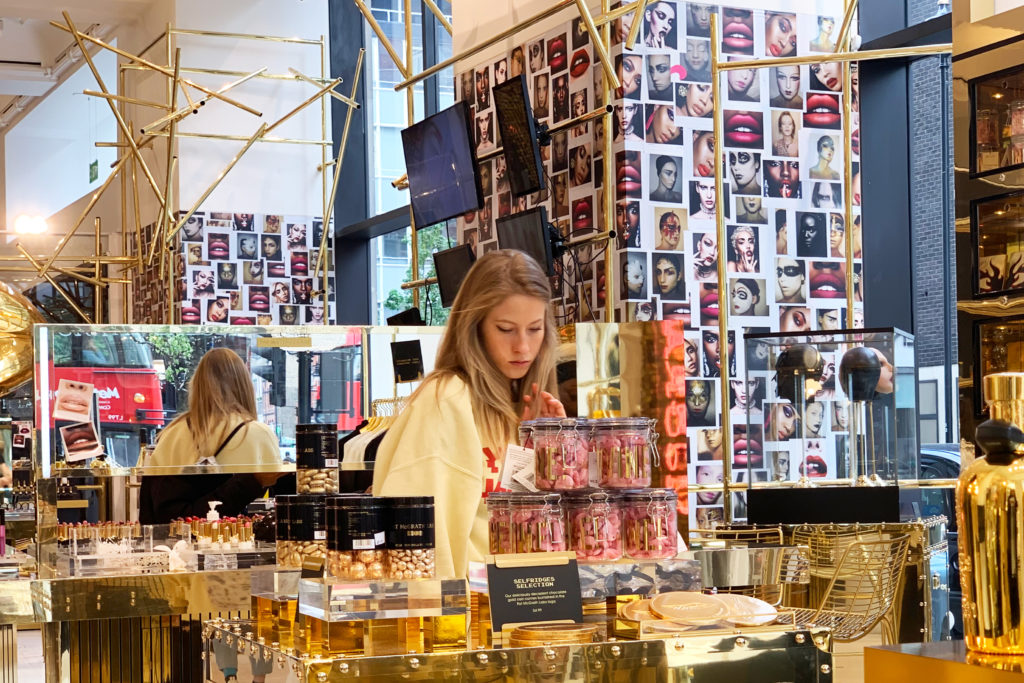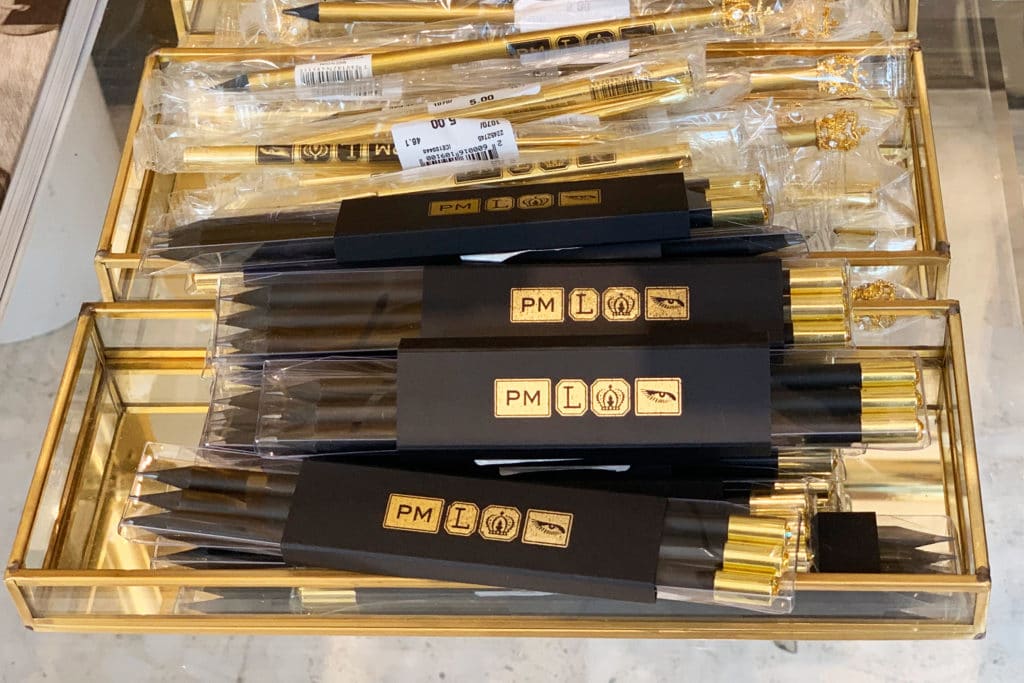 If you're so inclined, you can do some serious shopping here.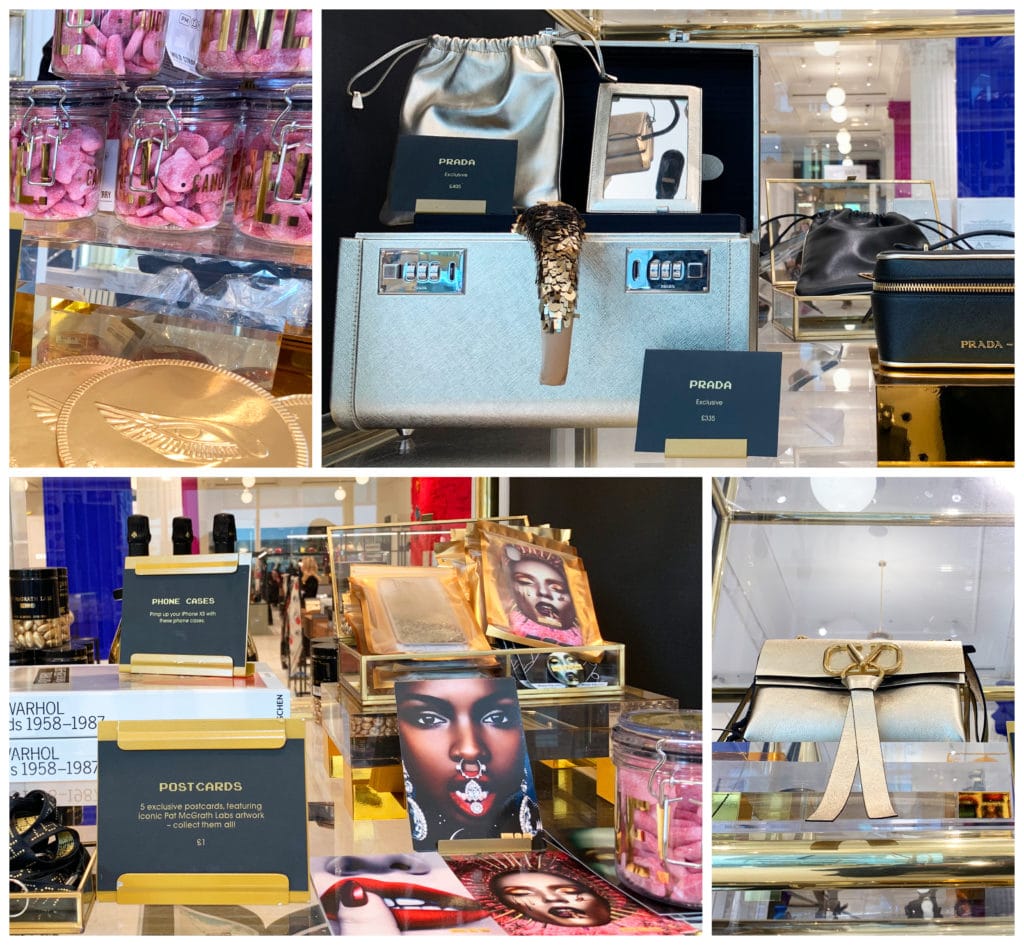 Partner brand collaborations
A core part of the Mothership experience at Selfridge's is due to McGrath's stint as Guest Editor of the Selfridge's ongoing promotion "A Technicolour Odyssey." That means you'll find close to 30 limited-edition collaborations between McGrath and her fashion-industry friends. On shelves and in vitrines scattered around the perimeter of the cosmetics displays, you'll find co-branded merchandise from major luxury brands. They include Prada, Comme des Garcons, Valentino, Steven Jones Millinery, Byredo and Judith Leiber.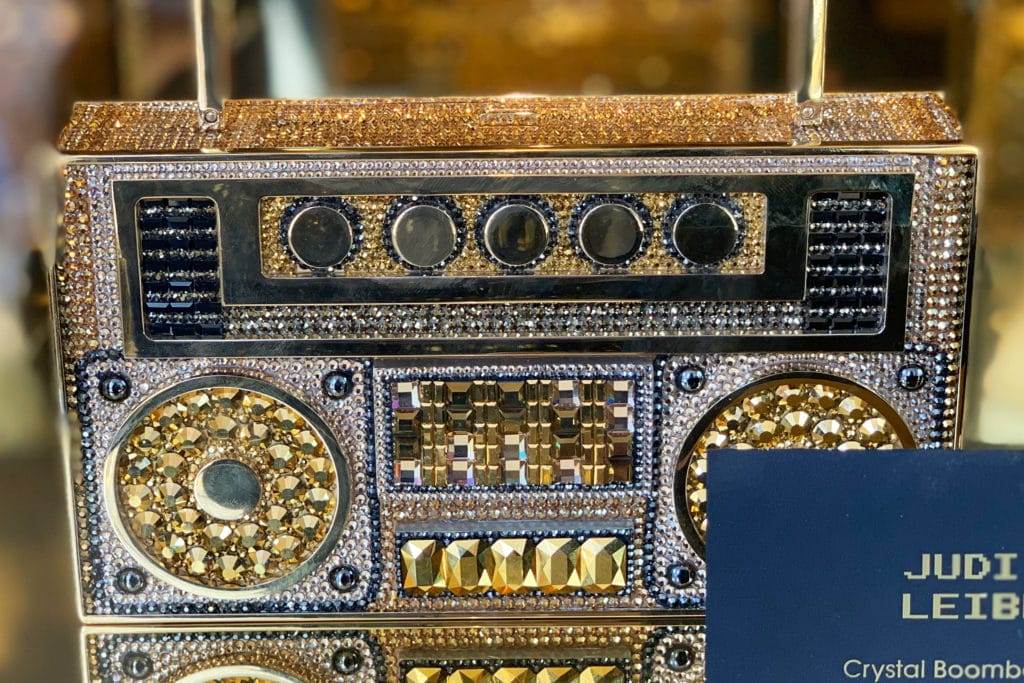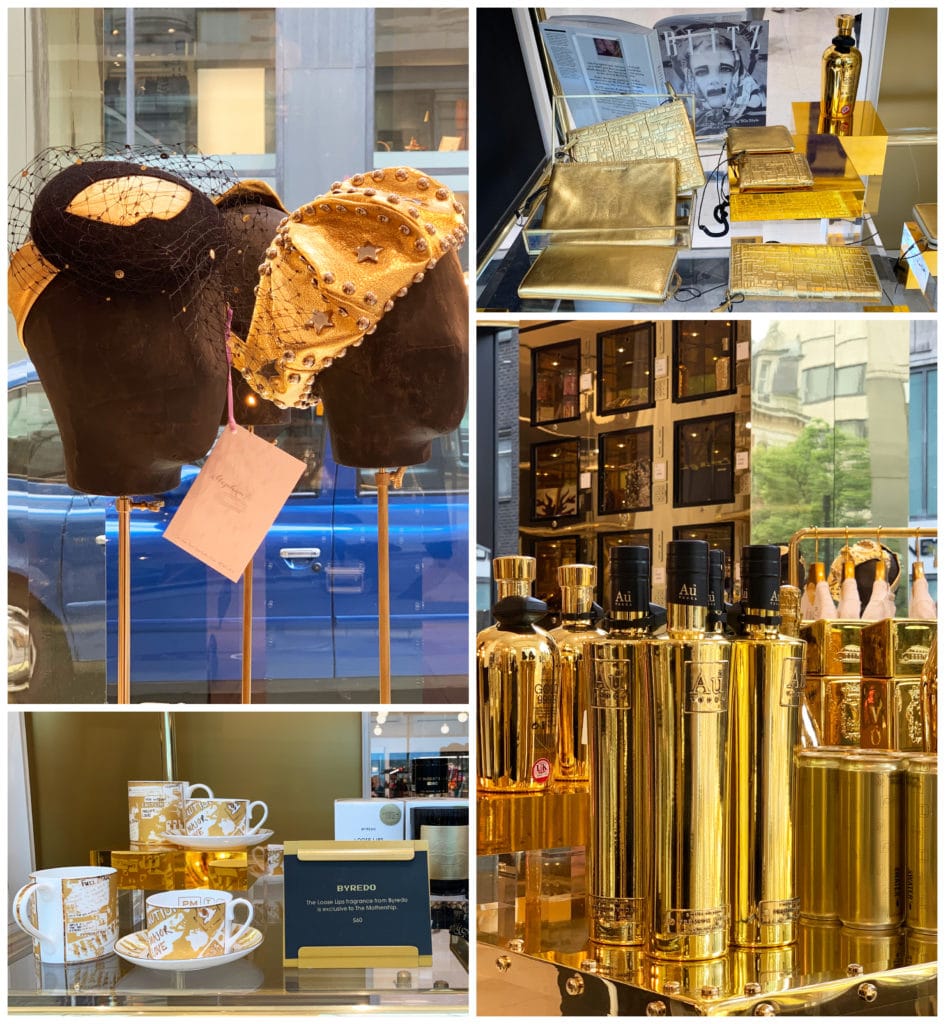 The decor in the most prominent spot in the entire space – the front corner windows – is a glittering ruin of traditional crystal chandeliers, their helpless shards scattered haphazardly around their remains.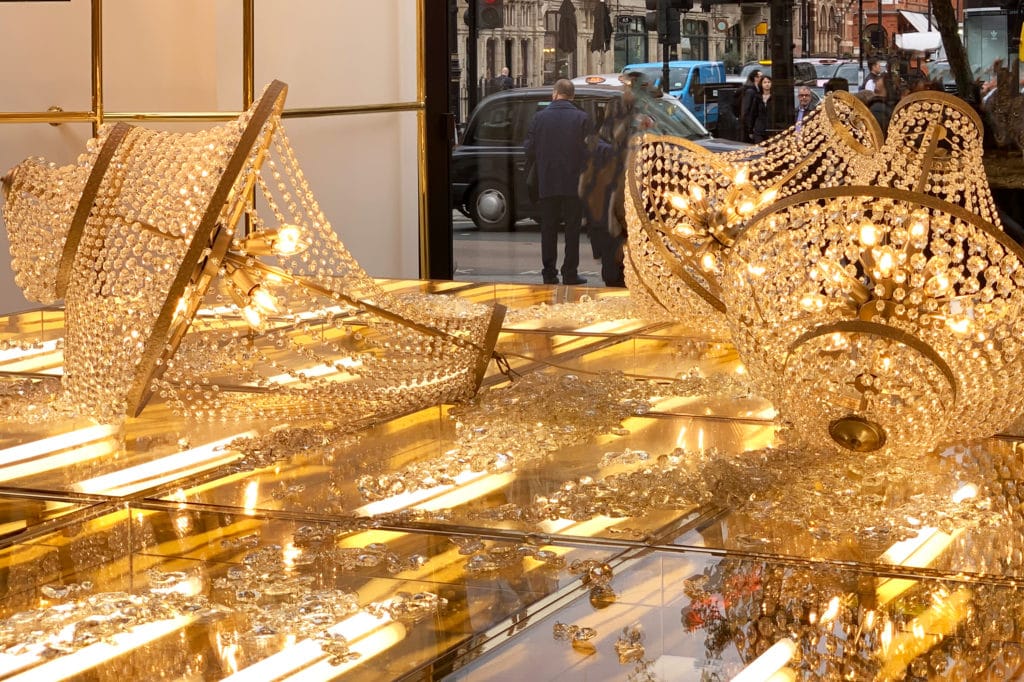 In case the point was lost on anyone before, this vignette makes it clear: the old, staid notions of what's beautiful, and elegant, and important lie shattered on the ground.
What will take their place? Perhaps something exactly like this.
Are you in?
see luxury in a new light
Come and join our community! For a weekly round-up of insider ideas and information on the world of luxury, sign up for our Dandelion Chandelier newsletter here. And see luxury in a new light.