Looking for a stand-out luxury gift for someone who loves the color red? You've come to the right place, dear reader. Our luxury gift guide of the best in the color red should provide plenty of inspiration and ideas. Our correspondent Julie Chang Murphy has rounded up the best luxury gifts in the color red right now.
why have a luxury gift guide all in one color?
Here at Dandelion Chandelier, we've created curated lists of all-of-a-color luxury items and experiences for those who love a particular hue – or whose gift recipients do.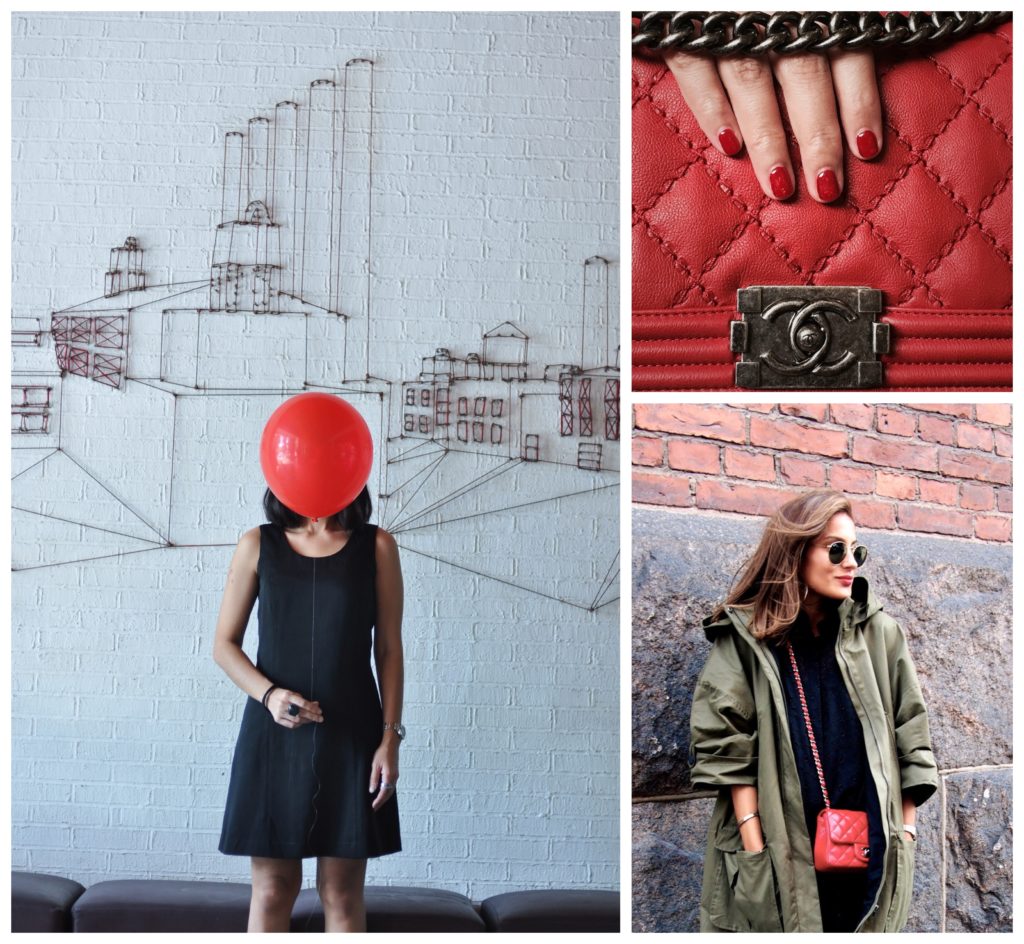 Why? Because for starters, it's an easier way to shop. Your eye can focus on just one shade in the visual cacophony at retail, or you can more easily search for ideas online.
Second, when the presents are open, everything looks great together! What could be better for your Instagram posts? Color-coding is clearly the way to go if you want to look pulled-together for posterity.
Finally, it's just fun for someone who loves color, and shopping, and whimsy. 'Cause why not?
we love the color red for luxury gifts
A luxury gift guide centered around the color red is a natural fit. Red brings the drama! It's an intense and confident color that demands to be noticed.
It's no wonder that red is the chosen color of the logos and the DNA of many luxury brands: Cartier, Christian Louboutin, Comme des Garcons, Gucci, Ferrari, Baccarat, and Valentino. It's an immediate statement of elegance and prestige.
One of the most intriguing aspects about the color red is its complexity – representing the most powerful human experiences and themes on opposite ends of the spectrum.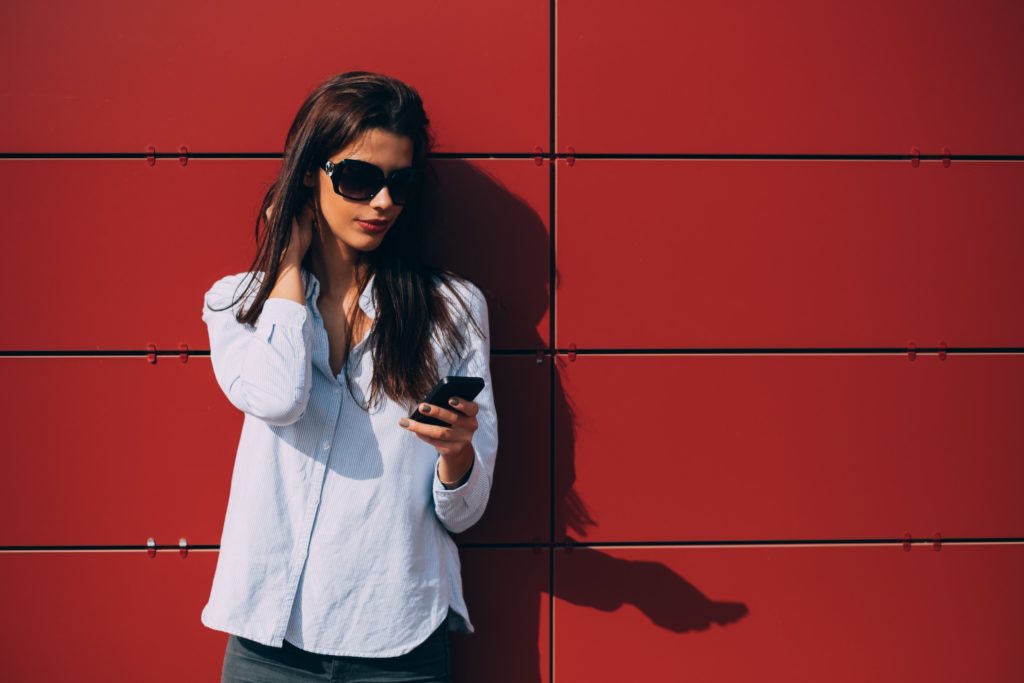 On one side, there's the Devil, anger, violence, blood and danger. On the other, there's Cupid, passionate love, romance and optimism. "You're the apple of my eye." And even innocence- "Life is like a bowl of cherries." Yet, both are united by the feelings of excitement that they illicit in the viewer. The eyes widen. The pulse quickens. And cheeks flush.
It's just the type of reaction you want to provoke when your recipient opens your gift. So why not double down and gift something red?
the best luxury gifts that are the color red
With that in mind, here's our curated list of the best luxury gifts that are red. Whether you call it scarlet, crimson, poppy, or Cabernet, there's a red gift out there's perfect to give (and to receive).
1. Luxury Accessories in the color red
Wearing crimson head to toe is not an everyday type of look. But adding it in through accessories ensures that your gift recipient can channel its boldness without going overboard. Less is more.
We love these Loewe sunglasses ($430) with a trendy D-frame silhouette and chic marbled red and gray effect. Hermes' H-buckle belt ($790) allows the wearer to reverse from rouge to sky blue but why would they ever want to? On the wrist, Cartier's Bordeaux alligator skin strap watch ($15,600) with pink gold and brilliant-cut diamonds will make time stand still. July birthday, anyone? Check out Scully and Scully's ring ($20,750) which features a stunning 12.25 carat rubelite center stone.
2. Luxury beauty gifts in the color red
More than any other color, rouge is synonymous with beauty and sexiness. Lush, red lips are an icon of traditional femininity. Cleopatra is said to have made her lipstick from crushed carmine beetles and ants. And the Sumerians were known to make theirs out of crushed gemstones mixed with white lead.
Taking inspiration from the timelessness of red, we suggest Christian Louboutin's Velvet Matte Lip Colours ($90) which comes in 5 intensely pigmented shades. For nails, Smith & Cult's non-toxic nail polishes ($18) come in a variety of alluring reds: "Psycho Candy", "Kundalini Hustle" and "Suburban Warrior." For hair, Dyson's Supersonic Hair Dryer ($399) will give your gift recipient salon grade blow-outs at home in a fraction of the time.
3. Luxury Fragrance gifts in the color red
Tom Ford captures red's lusciousness in his eau de parfum, Lost Cherry ($425): the scent is sweet and tart, with floral notes of Turkish Rose and Jasmine Sambac.
4. statement handbags in the color red
Valentino's VRing bag ($2,875) with its feminine styling is a classic in the making. We love the simple lines of sumptuous Italian leather goods company, Il Bisonte's Disco Bag ($340). And for something a little tongue-in-cheek, you can always count on Judith Leiber, who uses sparkling red crystals to flash a not-so-subtle warning to fellow party goers with her Crystal Caution Clutch ($3,195).
5. Luxury Home decor in the color red
Scarlet hues have the ability to energize and warm up the home. In Feng Shui, it's the color of the Fire element, which has the characteristics of creativity, passion and fun.
In the kitchen, Le Creuset's Cerise wok ($300) will be a welcome addition to any home chef looking to make a healthy stir-fry. Sure you can buy popcorn from a bag for movie nights but where's the fun in that? This retro-inspired popcorn maker ($99.95) from Williams Sonoma cooks up batches of kettle-fresh popcorn for the whole family.
For the living room or bedroom, Ann Gish's silk pillows ($175) featuring bold red florals, lend a striking and exotic vibe to any neutral couch or bed. If you're looking to capture the more seductive and alluring qualities of the color of red, look no further than this Lalique Serpent Vase ($7,300) made from deep red colored crystal.
6. Active Gear Gifts in the color red
Channel the fun and competitive energy of red through sports and outdoor gear for your active friends and relatives.
Every family needs a classic red wagon. This version from LL Bean ($299) gets an upgrade with 10-in. pneumatic wheels, ideal for pavement or smooth trails. Tennis fans will love this limited edition Roger Federer x Wilson Autograph Laver racquet ($299).
Yogis can shake up the soft, muted tones in their studio with Manduka's Pro Yoga Mat ($120) in a dark and comforting red, named "Verve." Dagger's fire engine red Katana Kayak ($1,229) is an exciting addition to any waterfront property.
7. Luxury gifts For travelers in the color red
If you've got a Road Warrior in your life who has to be up in the air either for work or for play a great deal of the time, consider these pops of red that make for perfect travel companions. In lieu of a daily hug and a kiss, these will remind them of home – and of you!
A cashmere and silk stole from Loro Piana ($980) makes for a cozier and more stylish plane ride. And it doubles as a great accessory for day or night – at home or away. A jaunty red passport cover, like this luxe model from Valextra ($825), or this downtown cool version from Off-White ($260) will generate lots of dramatic entrances to new countries.
Your gift recipient will never lose track of their carry-on if they travel with this cherry-red Rimowa Essential Cabin-sized roller bag ($700). Or if a pop of color is more their style,a set of two personalized leather luggage tags should do the trick nicely ($90).
8. Food & Wine
Red is the color of so many of our favorite foods. Isn't it always the first color that goes in a bag of gummy bears or hard candy? Meat, fruits and wine- red is a life force that sustains and nourishes.
Lingua Franca has produced an earthy, savory Pinot in Oregon's Willamette Valley. The 2015 vintage of Mimi's Mind has garnered rave reviews from wine authorities ($105). Daily Harvest provides your daily dose of veggies and fruits in a convenient cup to eat on the go. Choose from a variety of healthy smoothies, harvest bowls, and soups. A monthly subscription plan provides 24 cups at $6.99 per cup.
Lord Jones manufactures and distributes the world's finest CBD infused products. Their limited edition Red Raspberry Summer gumdrops ($50) is the perfect gift for anyone who has a sweet tooth and is curious about CBD. Have a friend with an even sweeter sweet tooth? Make My Cake's award winning Red Velvet Cake was voted the #1 by the New York Times (pricing dependent on size).
9. Books
If you've got a lover of romance novels or thrillers on your hands, there are plenty of striking red book covers which would be fun to bundle together as a theme.
In romance, consider the historical romance Outlander ($25.86), set in Scotland with a time traveling heroine by Diana Gabaldon. The Wedding Date by Jasmine Guillory ($10) is a refreshing love story that is more inclusive and representative of the experiences of a modern interracial couple.
Me Before You by Jojo Moyes ($10.94) tells the tear-jerking story of an ordinary girl who takes a job taking care of a paraplegic. Set in Tokyo, Haruki Murakami's Norwegian Wood ($24.29) is a poignant story of one college student's romantic coming-of-age.
In the thriller and horror genre, Those Across the River by Christopher Buehlman ($9.99) tells the tale of a failed academic who hopes to write a history of his family's old plantation—and the horrors that occurred there, only to discover a presence that demands sacrifice. Most well-known for his Beetlejuice and Nightmare Before Christmas screenplays, Michael McDowell writes a haunted house story unlike any other in The Elementals ($15.99).
Infidel ($11.55) is a graphic novel by Pornsak Pichetshote about an American Muslim woman and her multi-racial neighbors who move into a building haunted by entities that feed off xenophobia. In Sara Gran's Come Closer ($15.65), a successful young woman in a happy marriage is starting to go off kilter. As the voice in her head urges more erratic behavior, she comes across a book about demon possession.
10. Just for Fun
Dazzling red is such a fitting color for a novelty gift. We found these gems in the color red, which we loved. Just because.
Inspired by nature, this Geode Puzzle ($65) from Uncommon Goods will never be taken apart once finished because it's so beautiful and fiendishly difficult! A statement gift in more ways than one– we found this original 1968, hand signed Andy Warhol Campbell's Soup Can Screenprint on 1st Dibs ($39,000).
This glossy red turntable from Pro-Ject ($399.99) brings back the warm, natural sound of vinyl for music lovers. And finally, Smythson's beautiful red-bordered correspondence cards ($35) with tissue paper lined envelopes are fitting for any message from the heart.
the best luxury gifts in the color red
That's our luxury gift guide of the best presents for someone who loves the color red. With all of red's positive connotations of elegance, authority and passion, any of these would make for a gift that won't soon be forgotten.
join our community!
For access to insider ideas and information on the world of luxury, sign up for our Dandelion Chandelier newsletter here. And see luxury in a new light.
Crediting her training as a cultural anthropologist at Wellesley College, Julie has immersed herself in various industries in the last 15 years including fashion design, event planning, fitness and even investigating police misconduct. Julie lives in NYC where she loves trying every ramen and dumpling restaurant with her husband and three children. She finds joy in bold prints, biographies of fierce women, kickboxing and spending way too long finding the perfect polish color to express her mood.