Luxury Insider Tips on the Best First Trip to Stockholm
All products are independently selected by our editors. If you buy something, we may earn an affiliate commission.
What are the best things to do in Stockholm, especially if you're visiting for the first time? In this edition of Insider Itinerary, our correspondent Jillian Tangen shares her luxury insider tips on the best first trip to Stockholm, Sweden.
Insider Itinerary
Insider Itinerary is an occasional series here at Dandelion Chandelier that shines a light on the best places to see, stay, and dine in some of the hottest luxury travel destinations worldwide. Our far-flung correspondents are sharing their inside tips on how to best experience their chosen cities, especially if you're visiting for the first time. Consider it your local luxury GPS.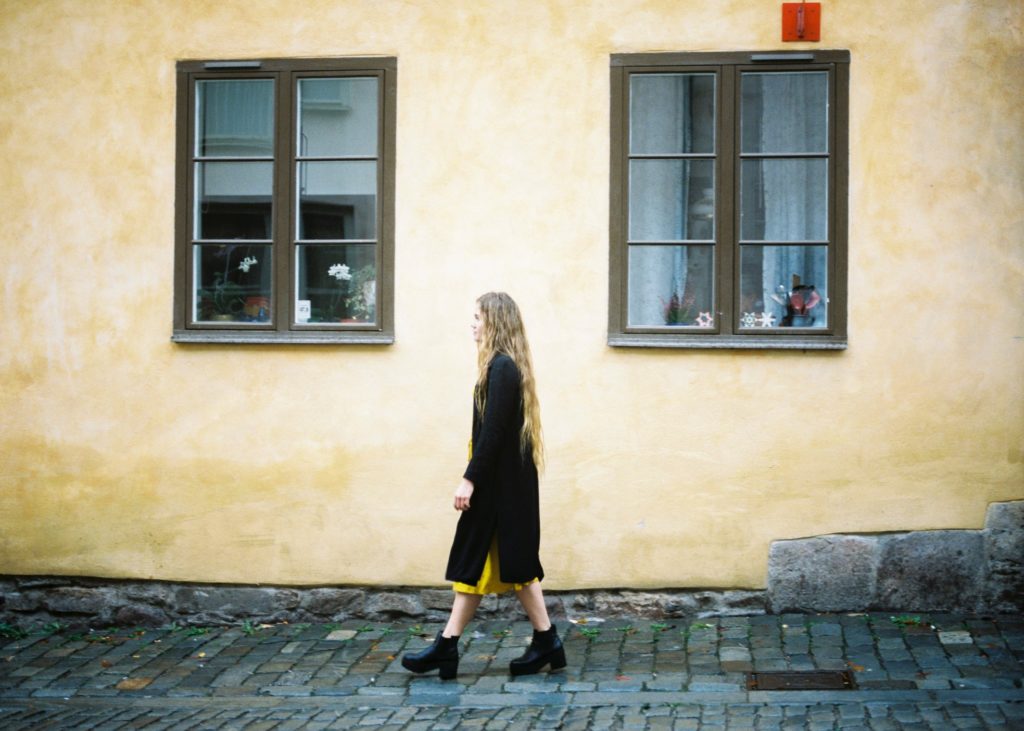 Our far-flung correspondents have given us the inside scoop on a number of fantastic destinations: East Hampton; Nantucket; Copenhagen; Cape Town; Ljubljana; and Oslo. Next up? Our inside guide on how to have the best first luxury trip to Stockholm.
[white_box]
Join our community
For access to insider ideas and information on the world of luxury, sign up for our Dandelion Chandelier newsletter. And see luxury in a new light.
sign up now >
[/white_box]
Stockholm 101: The Capital of Cool
Boasting a well preserved history that dates back to the Stone Age, a legendary sense of style and a serious passion for food, Stockholm is most definitely Scandinavia's undisputed capital of cool.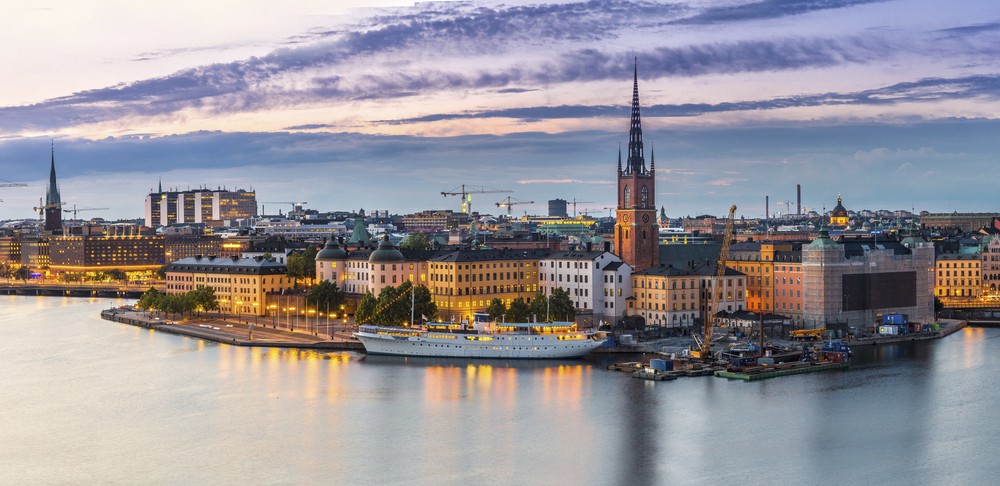 History and Culture
Why visit Stockholm? For starters, there's a wide variety of places to see on a luxury trip to Stockholm. Take for example the city's old town area, Gamla Stan, which is one of Europe's most well preserved historic centers and which dates back to the Stone Age.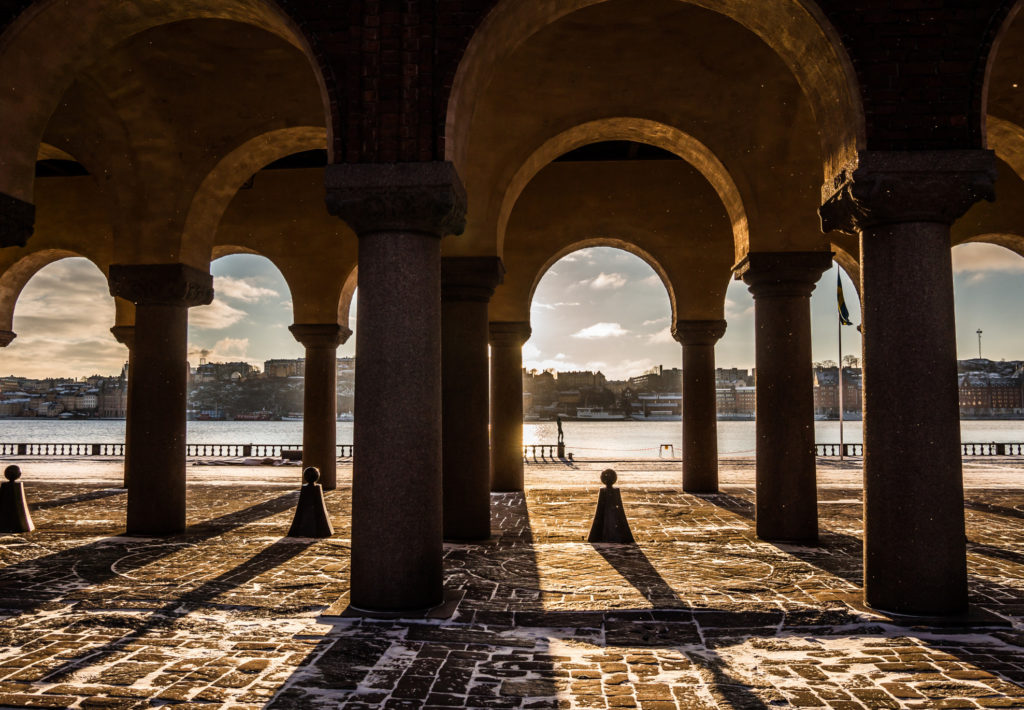 Complete with gabled buildings, cobblestone streets and a royal palace, Stockholm truly looks like something out of a storybook, making it a wonderful destination for a luxury trip.
[white_box]
More in Travel
luxury insider tips on the best first trip to ljubljana
read more >
[/white_box]
Second, in addition to its rich history, the city has numerous world class museums and galleries. They range from Viking treasures to contemporary art to a museum dedicated to one of the 70's foremost pop groups. Stockholm is a stimulating and inspiring convergence of past and present.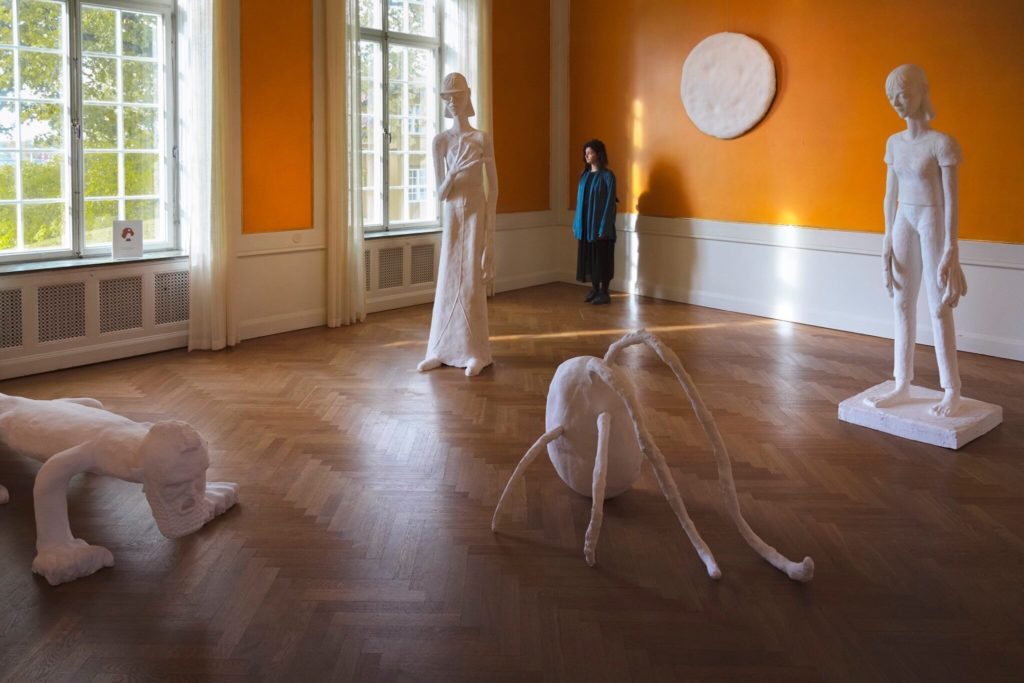 Design Savvy
Third, Stockholm is known for its impeccable sense of style – always a plus for a city you're making a luxury trip to.  When it comes to design, the focus is minimalist and functional yet stylish and innovative.  Whether you're sipping coffee in a humble shop or taking in ArkDes, Sweden's national center for architecture and design, you will find yourself in awe of how items that are so beautifully crafted can also be so practical and simple.
The same can be said for the city's cult-status sense of fashion.  So if you are looking for a redesign of your home or wardrobe, this is the city to do it in.
A Foodie Paradise
Next, thanks to the city's cosmopolitan nature, it also boasts a large number of eateries with a serious passion for globally inspired food. A luxury trip to Stockholm is perfect for foodies.
Whether it's rustic and sustainable, old-school traditional or one of the latest trends, Stockholm has its own unique take.  It boasts Michelin-starred fine dining restaurants, and Asian and Mexican fusion bistros. Plus Middle Eastern kebab joints and street food trucks.  There is so much more to food in Stockholm than Swedish meatballs and pickled herring (not that there's anything wrong with either of those!)
Finally, to top it off, there's the warmth. On a luxury trip to Stockholm, you'll be surrounded by friendly locals who speak near-perfect English. And if you visit during the summer you will get to enjoy the endless summer sun and beautiful harborside nightlife culture.
Need more convincing that a luxury trip to Stockholm is an excellent idea? Read on.
Tips on the Best First trip to Stockholm
1. Why Stockholm? What made you want to go there?
My husband and I were invited to a family member's wedding in Oslo in June.  It happened to coincide closely with our tenth wedding anniversary. So we thought it would be fun to travel to a nearby city for a few days beforehand, without our kids, to celebrate our first ten years of marriage.
[white_box]
More in Travel
luxury insider tips on the best first trip to Oslo
read more >
[/white_box]
My husband has been in Stockholm many times before for work. I had never been there before, although I have been to the other major Scandinavian capital cities numerous times.  I'm big into Scandinavian design. So I jumped at the chance to head to the capital of cutting-edge Nordic design.
2. How long did you stay? How long is the ideal first visit?
We spent three days in Stockholm. I wish we could have spent more! Perhaps it was because I was travelling without the kids for the first time in 9 years with my husband. Or perhaps (and probably more likely) it's because this city is beyond charming.
I think 4 or 5 days would have been ideal, particularly during the sunny, long days of summer.  Summer in Stockholm, as elsewhere throughout Scandinavia, is sublime. Long, warm, sunny days. Definitely the best time to visit.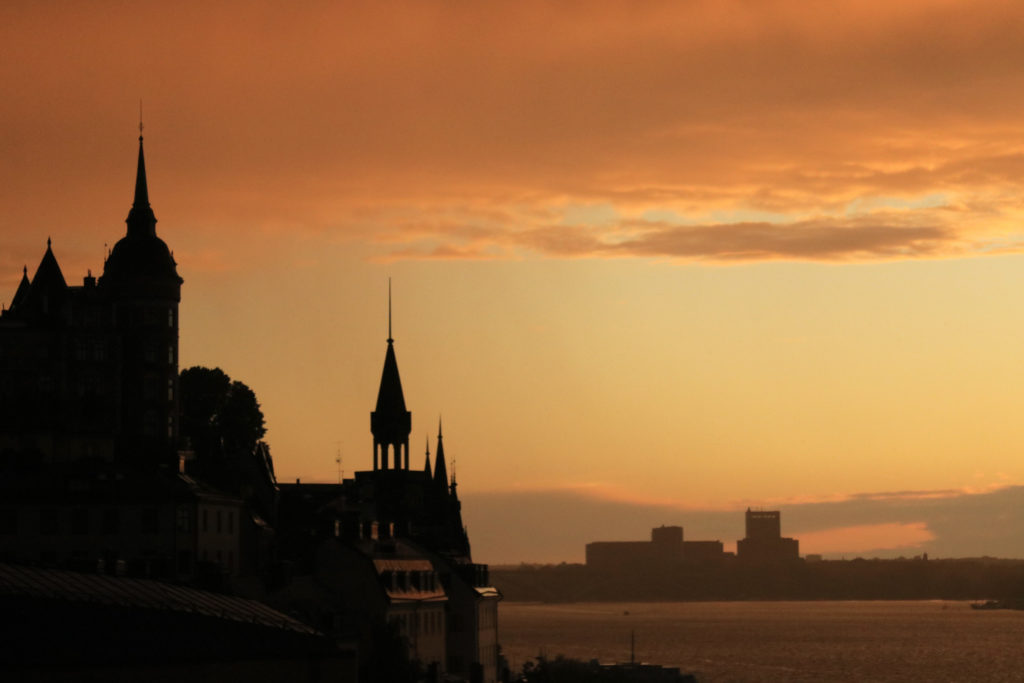 3. What hotel(s) do you recommend?
The Hotel Strand
We opted to stay at the waterfront Radisson Collection Hotel Strand overlooking Nybrokajen.  The hotel dates back to 1912. It was once a favorite of Swedish actresses Greta Garbo and Ingrid Bergman, thanks to its proximity to the Royal Dramatic Theatre.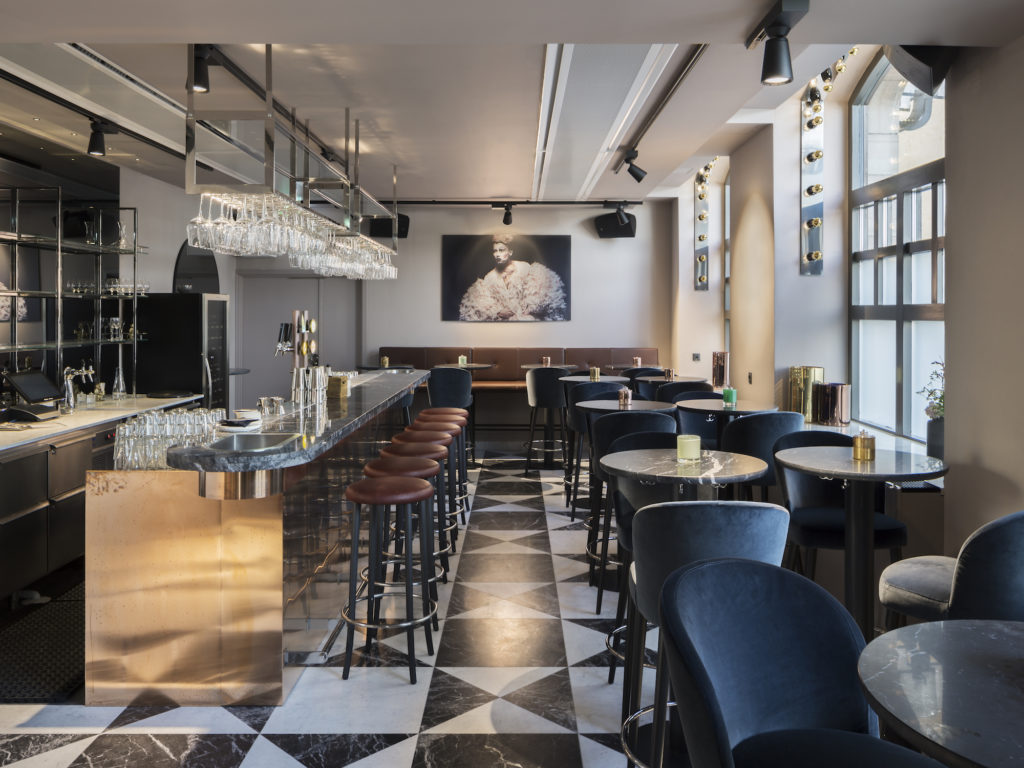 We choose this hotel for a few different reasons.  First, it's centrally located and just a short walk to lots of places we wanted to visit. Like Gamla Stan, the Moderna Museet and Stureplan.
[white_box]
More in Travel
luxury insider trips on the best first trip to Copenhagen
read more >
[/white_box]
The second reason we chose the Hotel Strand is that it was recently renovated. Just last year in fact, so the entire hotel is outfitted with the latest in modern Swedish design.
Third, since my husband frequently travels to Scandinavia for work he is in the Radisson rewards program. So we had the opportunity to stay in the hotel's Tower Suite, which included a private rooftop terrace with panoramic of the city.  Needless to say, we had amazing accommodations and service!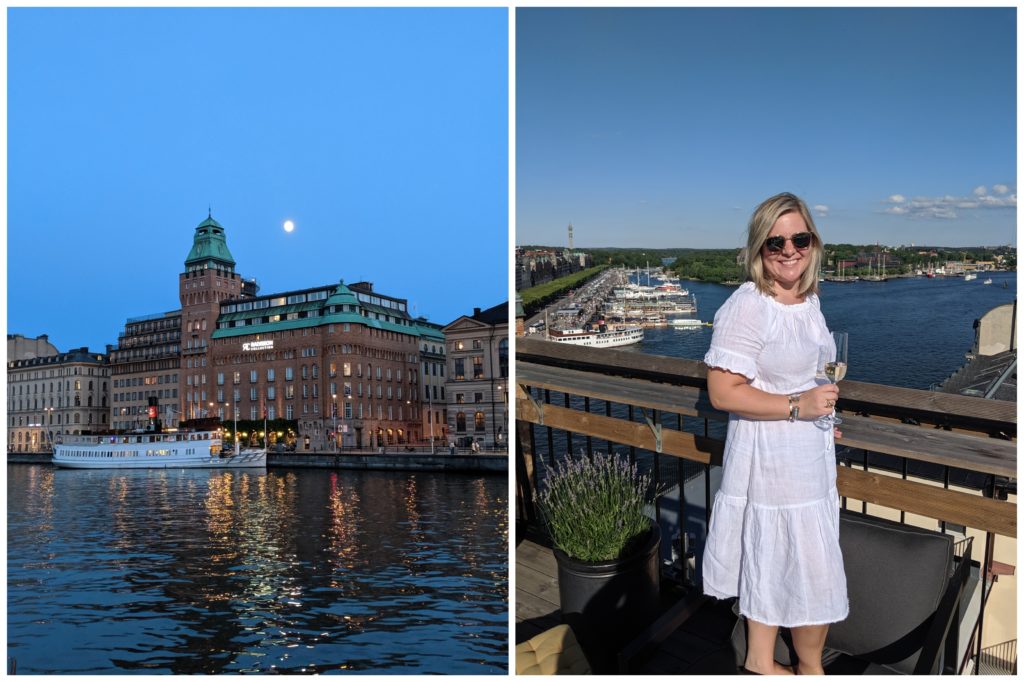 The Grand Hotel
If you're looking for something over-the-top, opulent but classic, The Grand Hôtel is your best bet.  It's a favorite of celebrities, diplomats, Nobel Prize winners and world leaders. In fact, during our visit the Obama family was staying there.  The hotel has been around since 1874, and overlooks both the Royal Palace and the cobbled streets of Gamla Stan. The view and location are hard to beat.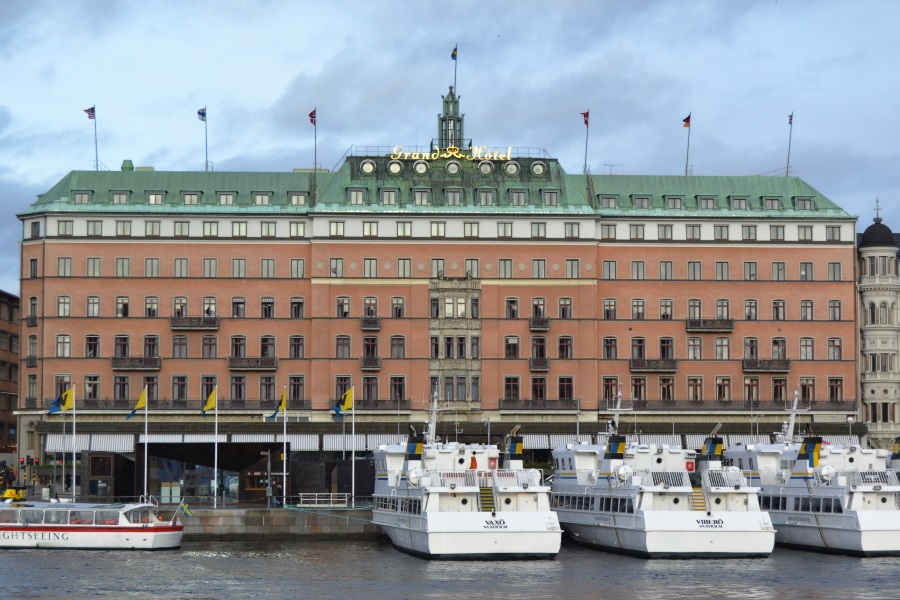 The accommodations at the Grand Hotel are full of old-world charm. Complete with soaring ceilings, four-poster beds filled with high thread count sheets and luxurious bathrooms.
In addition to the rooms, you will also find glamour at the Cadier Bar.  Chef Matthias Dahlgren's Michelin-starred restaurant Matbaren is located here. So is the classic Swedish Veranda restaurant, a local favorite. And a newly renovated Nordic Spa with hot and cold baths, a pine-scented sauna and traditional Swedish massage.
4. What are some of the most important "must see" sights – natural wonders, museums, etc?
Djurgården.
On our first morning we decided to walk from our hotel to Djurgården. It's one of the fourteen islands that comprise the city of Stockholm. The island is a former royal hunting ground of the Swedish Crown. It has been transformed into a public recreational area filled with historical buildings and monuments, museums and galleries.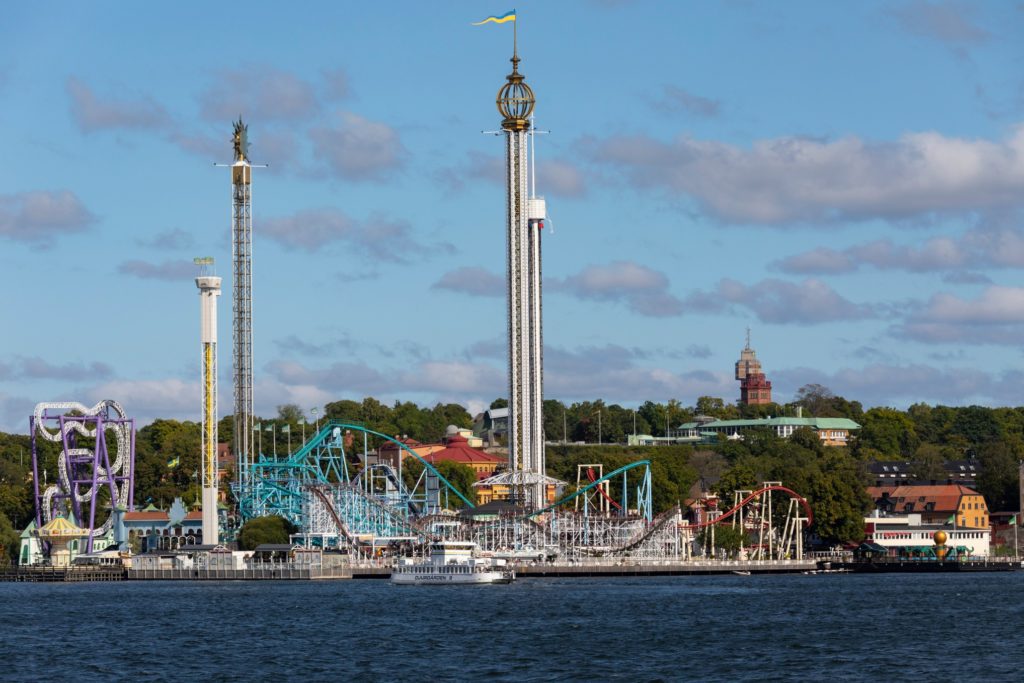 The high points include the Vasa Museum; the ABBA Museum; the National Nordic Museum ;and the Museum of Spirits.
There's also an amusement park, Gröna Lund, and the open-air museum Skansen, among other things. Djurgården was the perfect place to walk off our jet lag and get a sense of the vast history of Sweden.
Moderna Museet.
Given its location on the tranquil Skeppsholmen Island, you would never guess that Stockholm's Moderna Museet was once the scene of a major art heist. Armed robbers made off with eight works by Picasso and Georges Braque, the French cubist, in the 1990's. After the heist, the criminals escaped by boat.
[white_box]
More in the Arts and Culture
true north at the new Nordic Museum in Seattle
read more >
[/white_box]
Fortunately, all but one of the stolen works have since been recovered. And the museum's collection remains one of the world's best, housing notable works from Sweden's own Surrealist movement. They sit alongside masterpieces by Dali, Matisse and Picasso.
After spending the morning exploring the museum, pop into the nearby Torpedverkstan for lunch on the docks and beautiful views of the city.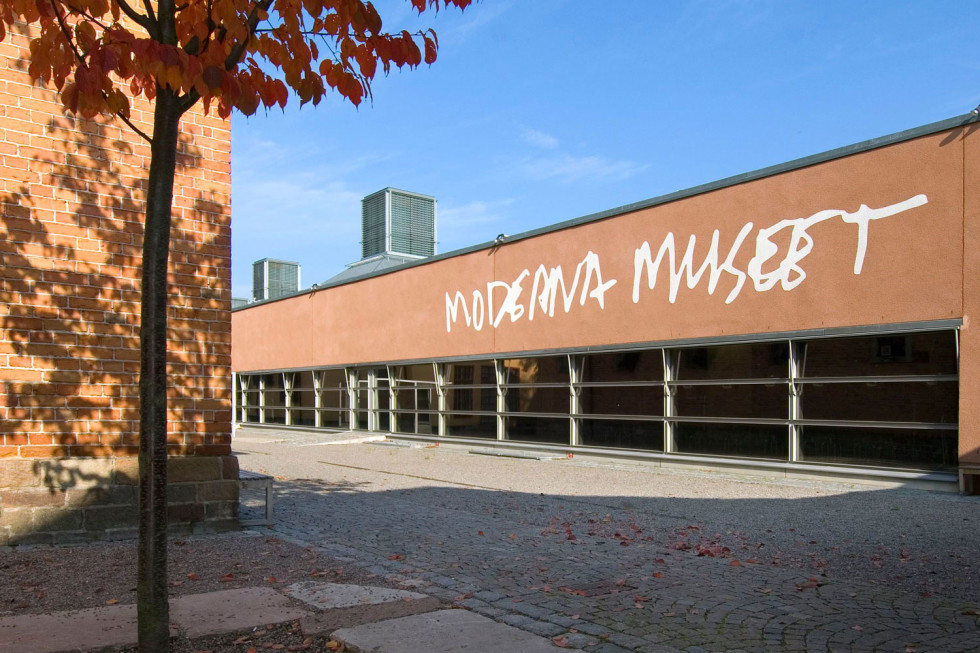 Gamla Stan.
The city of Stockholm is probably best known for its cutting-edge design and noteworthy architecture. So one of the fun contrasting areas to explore are the narrow streets of Gamla Stan, otherwise known as Old Town.
The pedestrian-friendly Old Town is one of the largest and best preserved medieval city centers in Europe. It dates back to 1252, when Stockholm was founded. Although many of the buildings still standing are from the 1700's and 1800's. The area is a glorious labyrinth of charming streets, alleyways, faded mustard and rust-colored townhouses. And town squares filled with restaurants, cafés, bars and shops.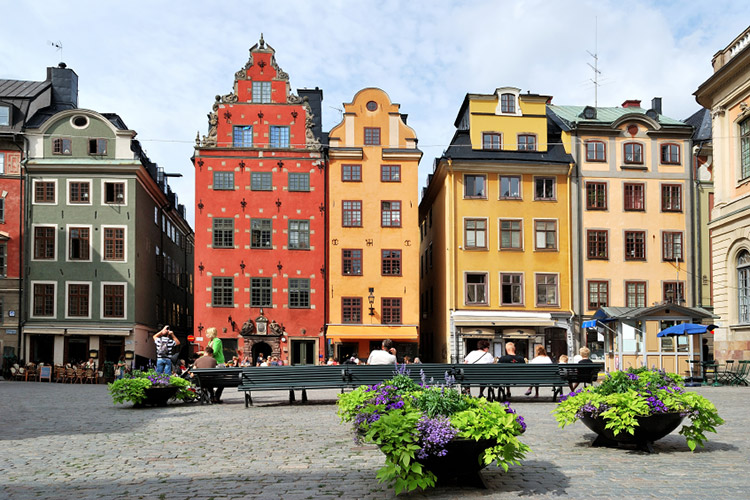 There are also several churches and museums in Gamla Stan, including Storkyrkan (Stockholm Cathedral) and the Nobel Museum.
The most magnificent attraction, though, is the Royal Palace.  It's one of the largest palaces in the world, with over 600 rooms. If you visit, be sure not to miss the changing of the guards that takes place daily outside. Or if you're there during the summer months, take in one of the residence's horse parades.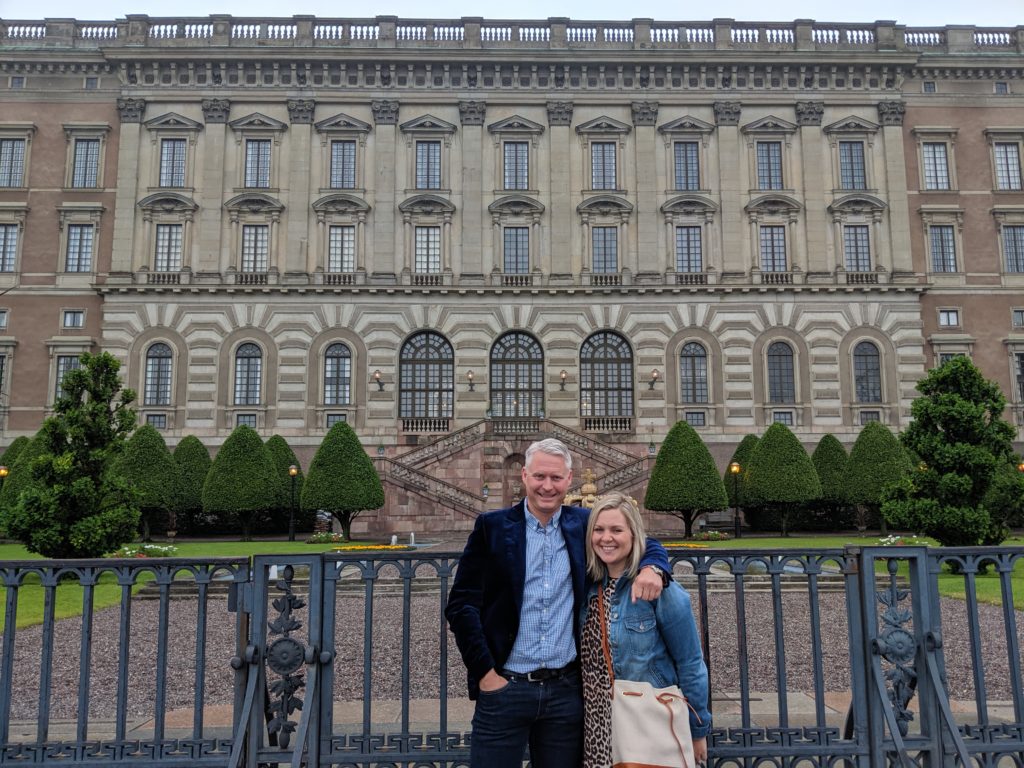 A boat tour.
The fact that Stockholm is built on 14 beautiful islands connected by 57 bridges makes a sightseeing tour by boat a must. You can opt for a hop on, hop off boat tour. Or you can go for one with the boat company Stromma. You'll find a selection of classic, turn-of-the-century boats, perfect for gliding through Stockholm's archipelago.
[white_box]
More in The Arts and Culture
did you know that a Nordic Easter involves crime-solving?
read more >
[/white_box]
With Stromma, options range from shorter 50-minute trips through the Royal Canals to lunch and dinner trips that can take 2 – 3 hours. There are also all-day tours that venture into the area's outer archipelago. 
5. Is there good shopping? If so, where?
If you know me, you know I love shopping. Particularly when it comes to Scandinavian design. Our luxury trip to Stockholm did not disappoint. 
For a number of years I have been following a store called Svenskt Tenn on Instagram. Finally with this trip I had the opportunity to shop there! Located on Strandvägen, just across the harbor from our hotel, the flagship store was the brainchild of the stylist and businesswoman Estrid Ericsson and the designer Josef Frank.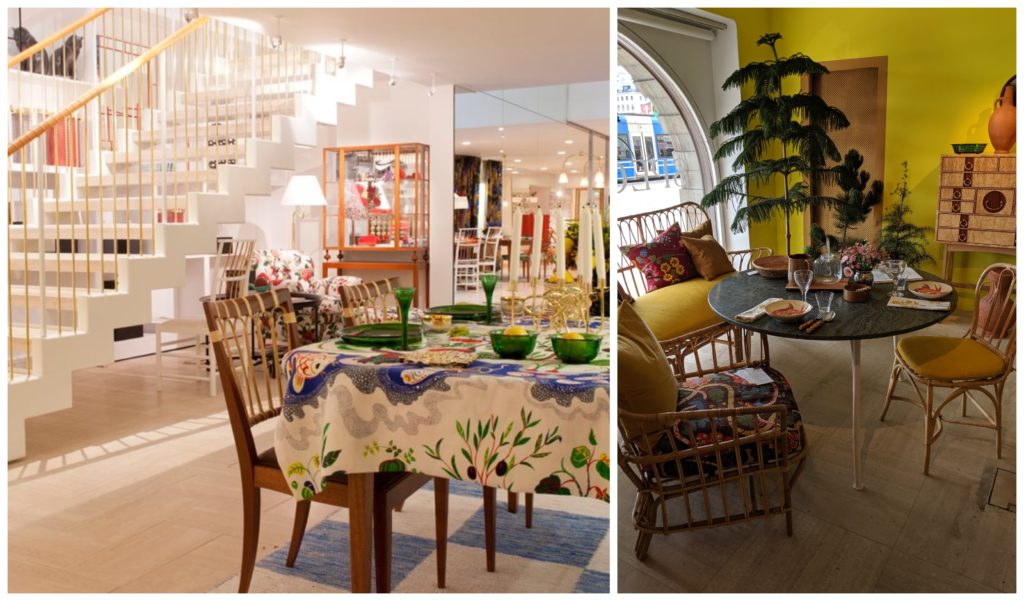 What originally caught my eye online were the brand's timeless, amazingly patterned and brilliantly colored fabrics and beautiful furniture. They're the height of Swedish design and craftsmanship.
The store also features a lovely gift department with glass, pottery and objects by younger established designers.  We left with some of their classic patterned coasters and a variety of their famous trivets. After we left I regretted not purchasing one of their iconic Dagg Vases. There's always a next time, I suppose.
[white_box]
More in Fashion and Design
the Scandinavian luxury brands you need to know
read more >
[/white_box]
Other great shopping districts include the Stureplan area. It's just a few minutes' walk from Svenskt Tenn, on and around Birgir Jarlsgatan. There, you will find famous Swedish brands like Breydo, Rodebjer and Acne Studios. And the famous indie shop Nathalie Schuterman. As well as larger luxury brands like Gucci, Louis Vuitton, Celine and more.
If you are looking for more of a mall like experience, I suggest heading to Sturegallerian, an exclusive mall in the middle of Stureplan square. Its filled with shops like House of Dagmar and Bang & Olafsen, restaurants, cafés and the historic Sturebadet spa, which opened in 1885.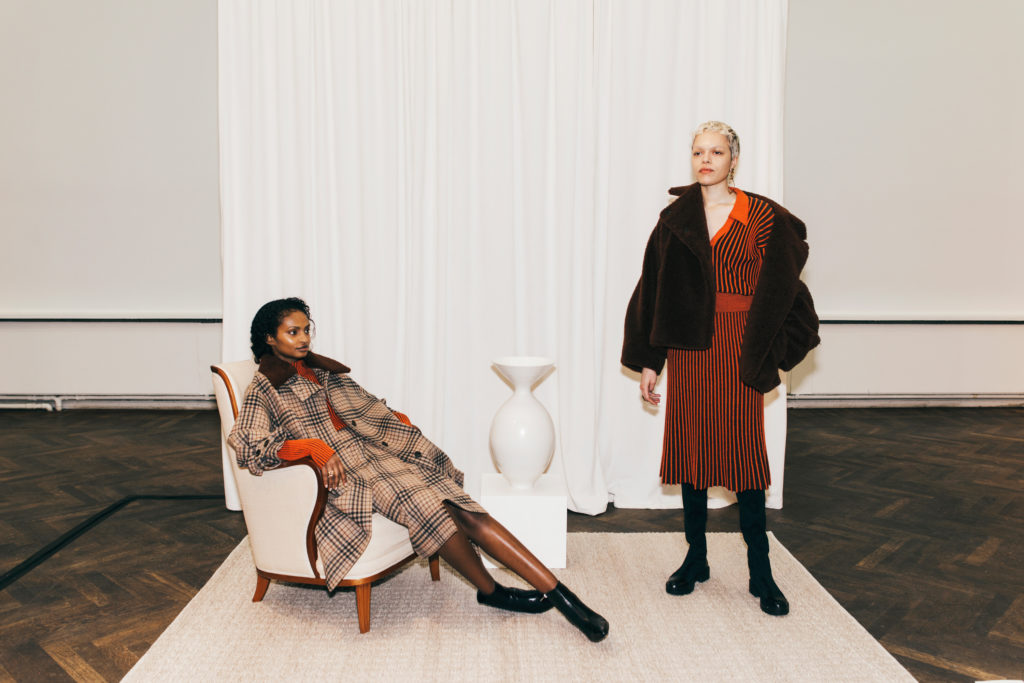 Another great luxury shopping spot is Åhléns, Sweden's largest department store.  The store carries everything from women's and men's fashion to beauty and home furnishings. There are also children's toys and clothing and accessories, too, all in one place.
You can find lots of famous Swedish and Scandinavian brands here like Filippa K, Minimarket, Tiger of Sweden, Stutterheim, By Malene Birger, Design House Stockholm and more.
There's also a huge grocery market in the basement for when you need a quick break from all the fashion.  I literally could have spent hours in this store, but unfortunately my husband begged me to leave.
6. Which restaurants do you suggest trying?
Restaurant Riche
During our first night out in Stockholm a local bartender recommended Restaurant Riche as a great spot for either lunch or dinner. So my husband and I decided to give it a try the following day for lunch.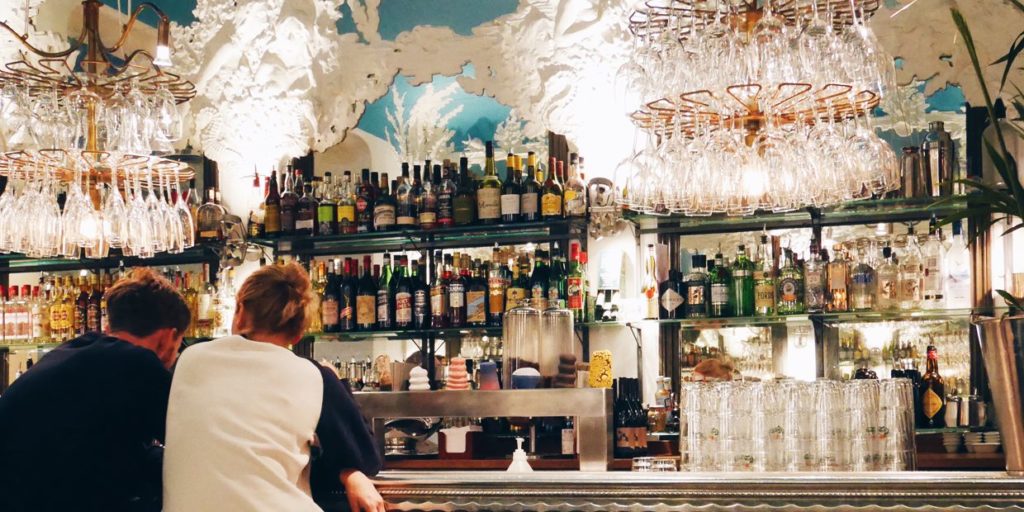 Located in Stureplan, the restaurant serves Swedish bistro fare that includes things like Skagen toast (a Swedish speciality of prawns on toast); Biff Rydberg (a Swedish dish with diced potatoes, onion and beef); and traditional Swedish meatballs.  The decor inside was sleek, with the vibe of a French-style bistro filled with chandeliers and modern art works.
[white_box]
More in Top Restaurants
the luxury of authentic Nordic cuisine at Aska
read more >
[/white_box]
At Restaurant Riche, we started off by sharing an order of the burrata with tomatoes, chili, basil and grilled levain bread.  If I hadn't seen the size of my salad coming on a nearby table, I could have easily ordered a second round. 
For our main course, my husband had the Skagen toast and I opted for a salad special that included hummus, avocado, beans and hot cherry peppers. Both were outstanding and filled with fresh, flavorful ingredients. I had the sense, looking around at the other diners, that this is definitely a place where Stockholm's art, fashion and financial crowds gather to see and be seen.
Strandvägen 1
The other restaurant recommendation is a place we had dinner. On our last night, my husband wanted to go to a place he had been before with colleagues called Strandvägen 1. It's an international bistro-style restaurant.
Located just next door to the Royal Dramatic Theater, the restaurant has an amazing view overlooking the docks at Nybrokajen. It's a very popular hangout on a warm summer's evening.  On his previous visit, my husband had enjoyed a dish called Pelle Janzon, a sandwich of sorts named after a famous Swedish opera singer. The ingredients include a thin beef fillet, raw egg yolk, red onion and caviar.  He loved it so much that he had to go back to try it again.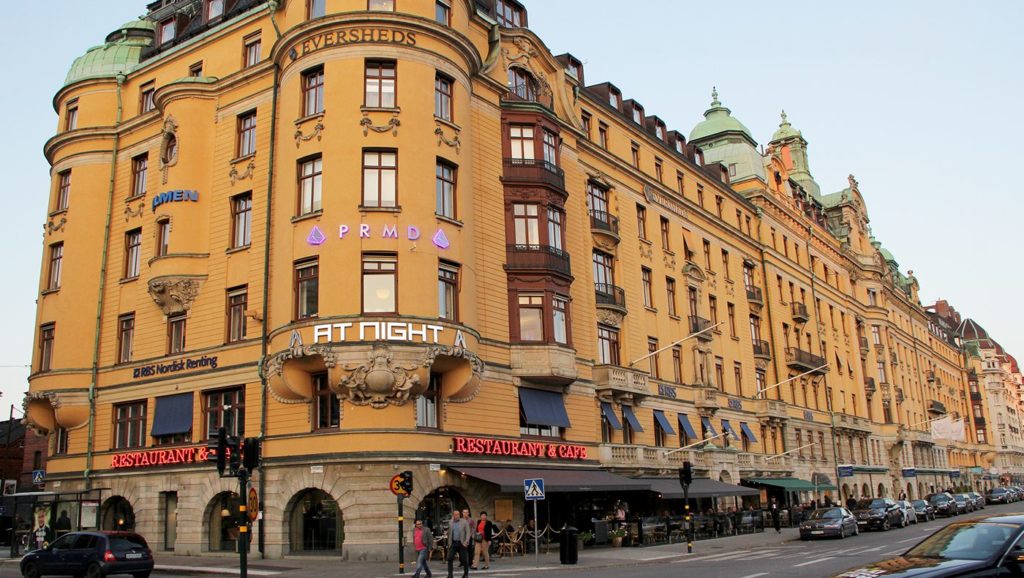 Other than his must-have dish, we shared Argentinian pil pil (scarlet shrimps in chili and garlic butter) (they were tender and delicious). Then I had the restaurant's signature rotisserie chicken with coleslaw and sweet potato fries. Both the food and service were outstanding, as was the lively and bustling vibe. In fact, as we were leaving around midnight, it felt as if the party was just getting started. A line of people waited to get inside, while others enjoyed drinks at the outdoor bar.
Frantzén
One restaurant that I wish we had had a chance to dine at but did not is Frantzén.  Earlier this year it was awarded the 21st spot on the list of The World's 50 Best Restaurants for its unique hybrid of Nordic and Asian cuisine, using both classic and modern techniques. Next time!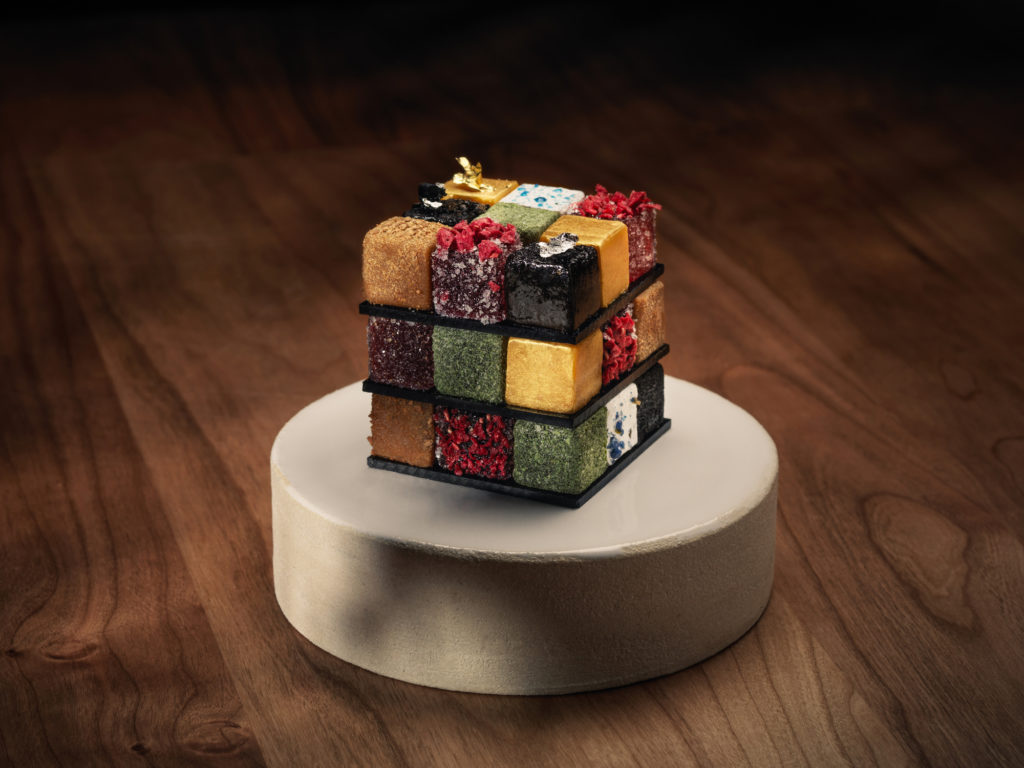 7. Of everything you did on your visit, what was the one most memorable thing?
My husband and I took one day and put aside visiting tourist attractions. Instead, we spent the day dining outdoors in the sun, followed by a leisurely walk from Stureplan to Hötorget Square shopping and people watching. We really got a sense of how beautiful the city actually is.  The people of Stockholm take such pride in their city. No matter where we walked, each area was impeccably clean and well-tended. Then there are the people themselves – not only are they beautiful and diverse, but they are also very kind and helpful.
8. What would you take a pass on if you had it to do again?
 The ABBA Museum, which really saddens me to say. I loved their music as a kid – heck, I still do!  The museum features an interactive element inviting guests to sing, dance, and mix music. There are exhibits of various memorabilia like stage outfits, instruments, gold records, awards and more.  To me though, it fell flat. And the memorabilia included too much from the recent movies, instead of items from the actual band. Fortunately, the Spritmuseum was just around the corner to lift our spirits with a sampling of Sweden's various schnapps.
9. What's on your list to see next time that you haven't had a chance to visit?
Since we only had three days, we didn't have a chance to embark on a longer boat trip exploring Stockholm's greater archipelago.  A tour on a trip like this would have taken up a full day, and we really wanted to focus on the city itself.  I will definitely be coming back for a full scale boat tour, though.
Another spot I would love to go back and visit is Fotografiska, Stockholm's Museum of Contemporary Photography.  While the museum offers a permanent collection, it also hosts a full calendar of exhibits, lectures, photography courses and workshops.  In addition, there are four major photography-focused exhibits a year (previous ones have included talents like Annie Leibovitz, David LaChapelle and an Irving Penn retrospective). There are also about 20 smaller shows celebrating new talent. So there is always something new to see.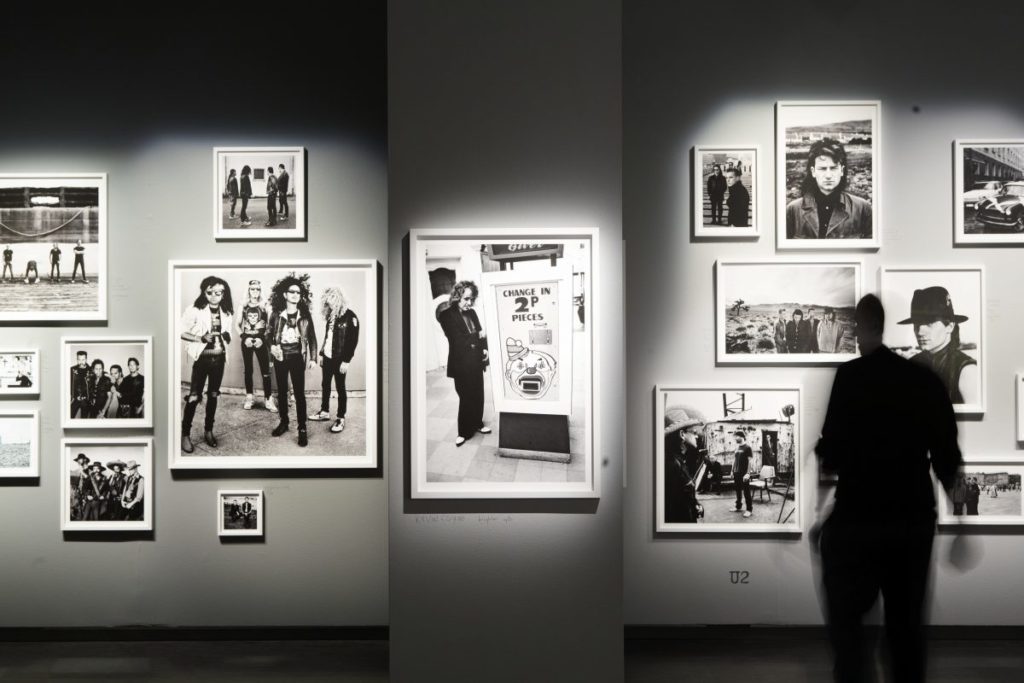 10. Is this a good vacation for families with kids? Teenagers? Romantic partner? Solo traveler? Any or all of the above?
I would say all the above.  Obviously from my experience it's great for couples. And I can see that it would be great for solo travelers, too, since it is easy to navigate and safe.  I also think my daughters, who are school age, would have a blast in Stockholm. I can't wait to bring them.  They would love a chance to explore Gröna Lund and Junibacken, the home of the magical fairy tale world of Astrid Lindgren.
11. Describe the city in three words:
Cosmopolitan, grand and pristine.
We don't know about you, dear reader, but we're sold. What say you? Next stop, Stockholm? We're all in.
Join our Community
For access to insider ideas and information on the world of luxury, sign up for our Dandelion Chandelier Sunday Read here. And see luxury in a new light.
Jillian Tangen is the Head of Research at Dandelion Chandelier and a former Senior Research Analyst at McKinsey & Co and Analyst at Shearman & Sterling. She is an avid fan of Nordic design, having owned an independent lifestyle store and sales agency focused on emerging Scandinavian design. Jillian lives in NYC and is married with three young children and loves cross country skiing, the New York Rangers, reading, travel and discovering new brands.