A Perfect Day on the Norwegian Bliss Luxury Cruise Ship
All products are independently selected by our editors. If you buy something, we may earn an affiliate commission.
Considering taking a cruise, but not sure if it's for you? Or perhaps you're all in, but you have a reluctant friend or family member? We were skeptics, too, until we took our first voyage. Turns out there are dozens of cool ways to pass the time aboard ship, no matter your age or interests. Here's an overview of a typical day of activities on a large luxury cruise ship. They were the elements for a perfect day at sea on the vessel we traveled on, the Norwegian Bliss luxury cruise ship.
what is there to do all day on a luxury cruise ship?
We recently visited Alaska for the first time as part of a 7-day voyage on Norwegian Cruise Lines' Norwegian Bliss. (Full disclosure – the author is a board member of the ship's parent company).
Like many, believe it or not, even though we ultimately joined the board of a cruise line, we had some trepidation before taking our first cruise. Would we be bored? Would we get restless? Or claustrophobic? Would we feel like cattle on a ship with almost 5,000 passengers?
Dear reader, if you or your potential cruise companions have these questions, you're not alone. We feel you.
So join us for a photo journey that will show you the huge number of activities that you can partake of on a typical day at sea on a luxury cruise ship. They're representative of a day on the Norwegian Bliss luxury cruise ship that we took on a recent voyage to Alaska.
And remember – most days, you'll be in port, off on a shore excursion of your choosing. We've shared our adventures at the five ports of call we made. Here. we focus solely on a typical day at sea, so that you'll know what's possible without ever leaving the ship. Spoiler alert: it's big fun, even for the most cosmopolitan types.
A Day at Sea on Norwegian Bliss
The question we get asked most often about whether or not a luxury cruise is a good vacation is some variation on the following: Won't it be boring being at sea for 7-10 days? What is there to do all day?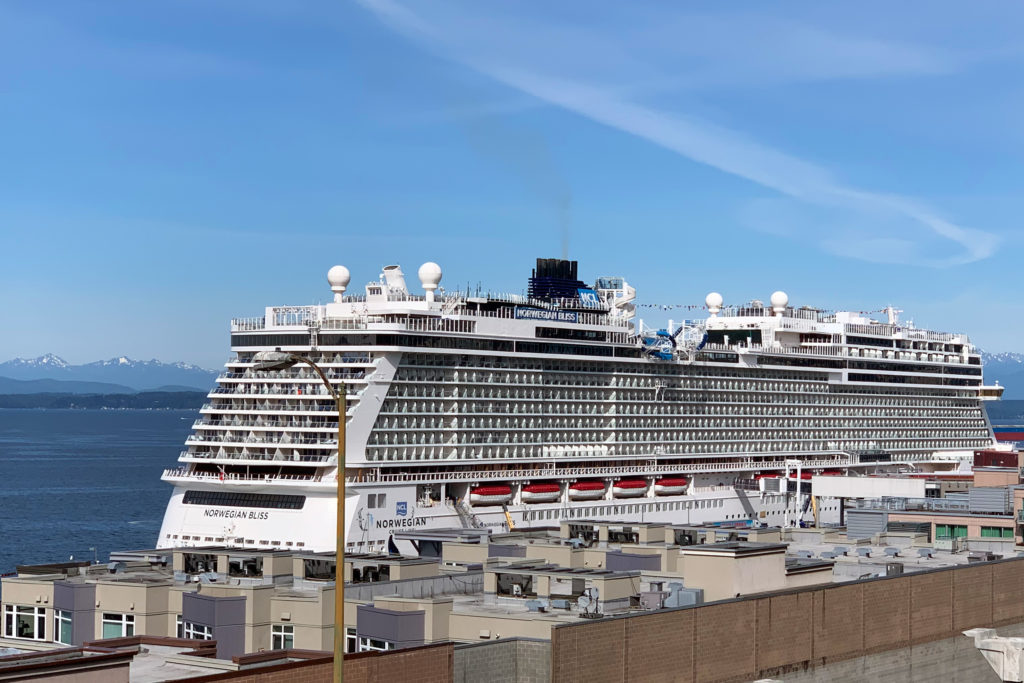 Dear reader, we had the same question ourselves. Followed by Don't people just sit around eating and drinking all day, and gaining weight?
[white_box]
Join our community
For access to insider ideas and information on the world of luxury, sign up for our Dandelion Chandelier newsletter. And see luxury in a new light.
sign up now >
[/white_box]
We've already addressed the issue of what to do to avoid unacceptable weight gain on a vacation at sea.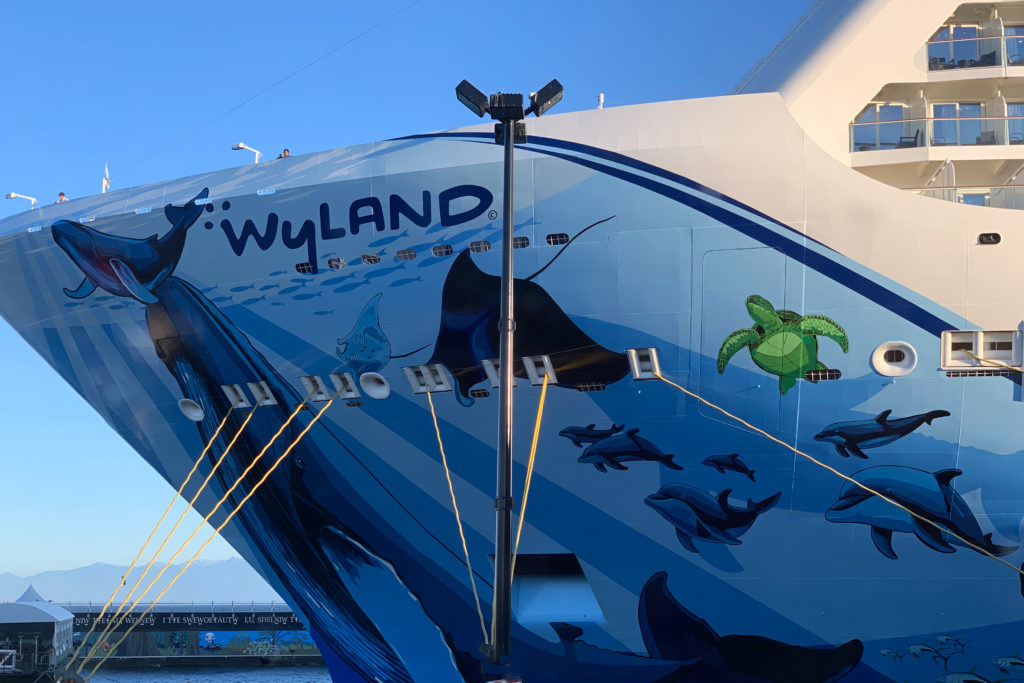 So let's explore what there is to do during a typical day at sea on a state-of-the-art luxury cruise ship.
Here are some (but not all) of the things you and your travel companions can do on a 7-day vacation aboard Norwegian Bliss. Without ever leaving the ship.
BTW, we took this journey with two teenage boys – and they both gave it two thumbs up. And that's a tough crowd to please.
Let's start with what's available to do outdoors. 'Cause there's a lot of fun to be had out there.
1. The Outdoor Pool and Lounge
The centerpiece of the outdoor activities on Norwegian Bliss – and probably lots of other luxury cruise ships – is the main pool deck.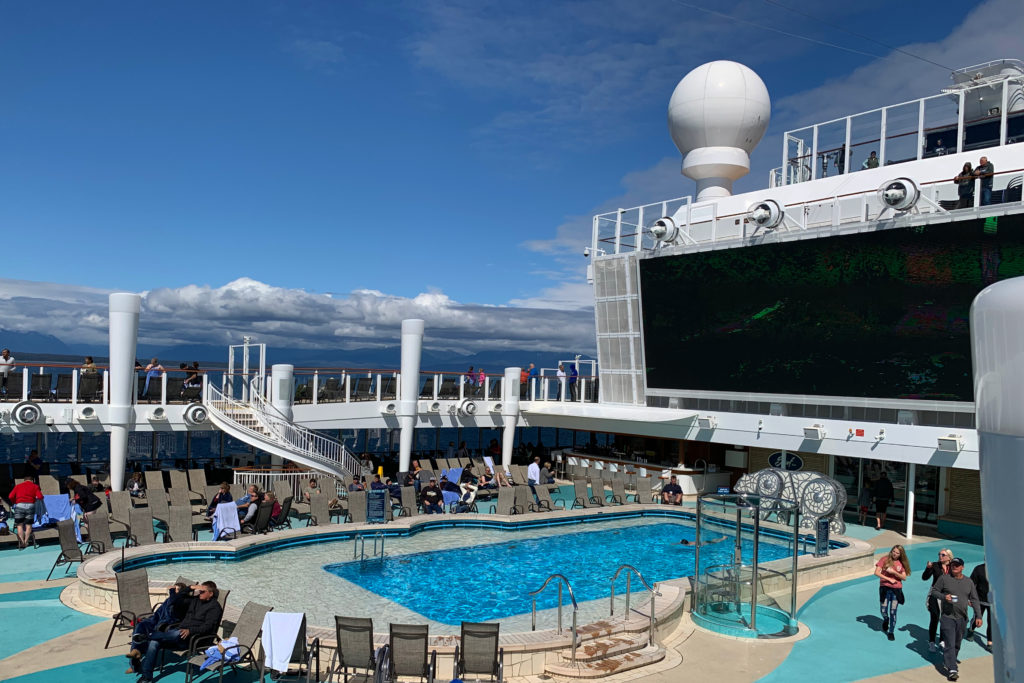 Swimming, lounging, hanging out in the nearby hot tubs – it's all here. The people-watching alone makes it a perfect perch for a day at sea.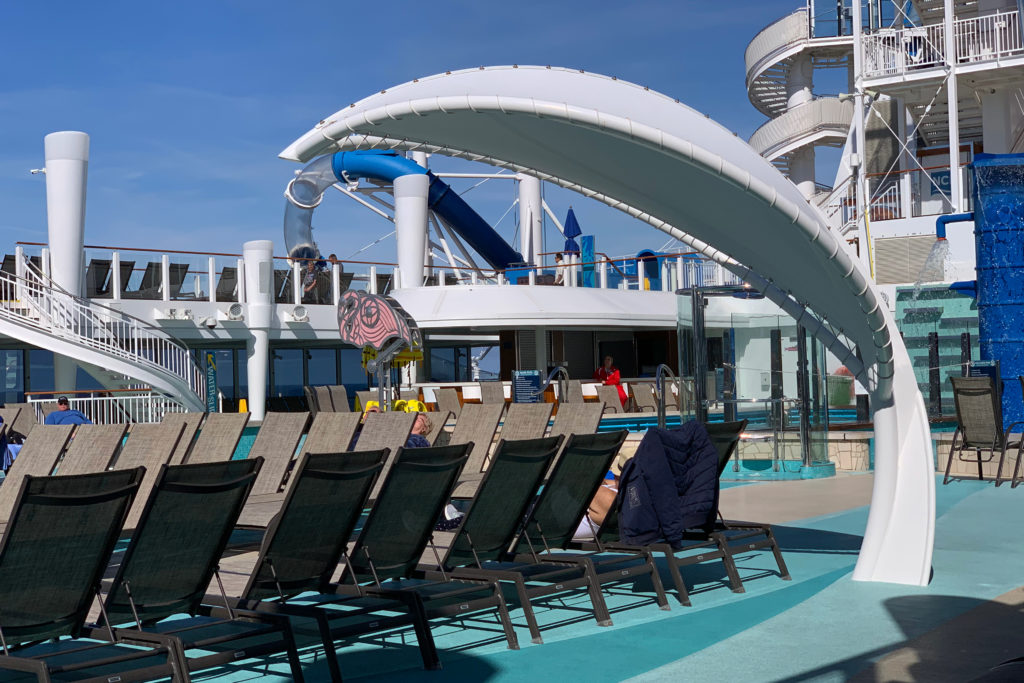 There's a cocktail bar on the lower of the two decks surrounding the pool – so cold relief is just steps away.
2. The Kid's Pool and Water Slide
Of course, the little ones generally have no interest in lounging around. For them – and for the kids at heart in your party – there's a kid's pool and a water slide for endless hours of joy.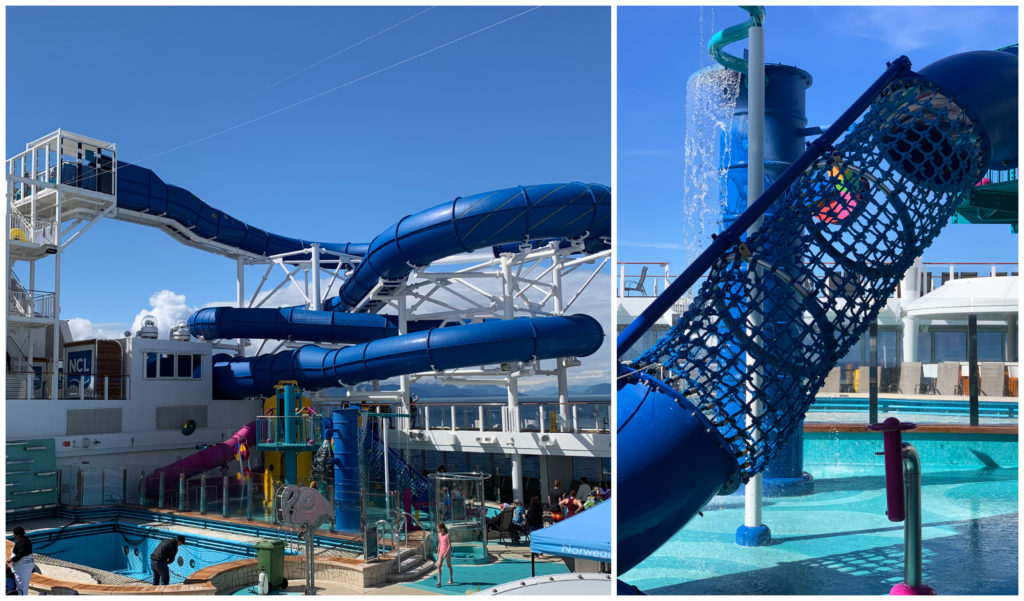 [white_box]
More in Alaska
the best luxury whale watching trip in Juneau, Alaska
read more >
[/white_box]
3. The Outdoor Observation Perches
Had enough sun, but still want the view and the fresh air? There's plentiful space for outdoor observation, including the large observation deck at the aft of the ship.
You'll find rows of comfy chairs and sofas lining the decks outside several of the restaurants and shops.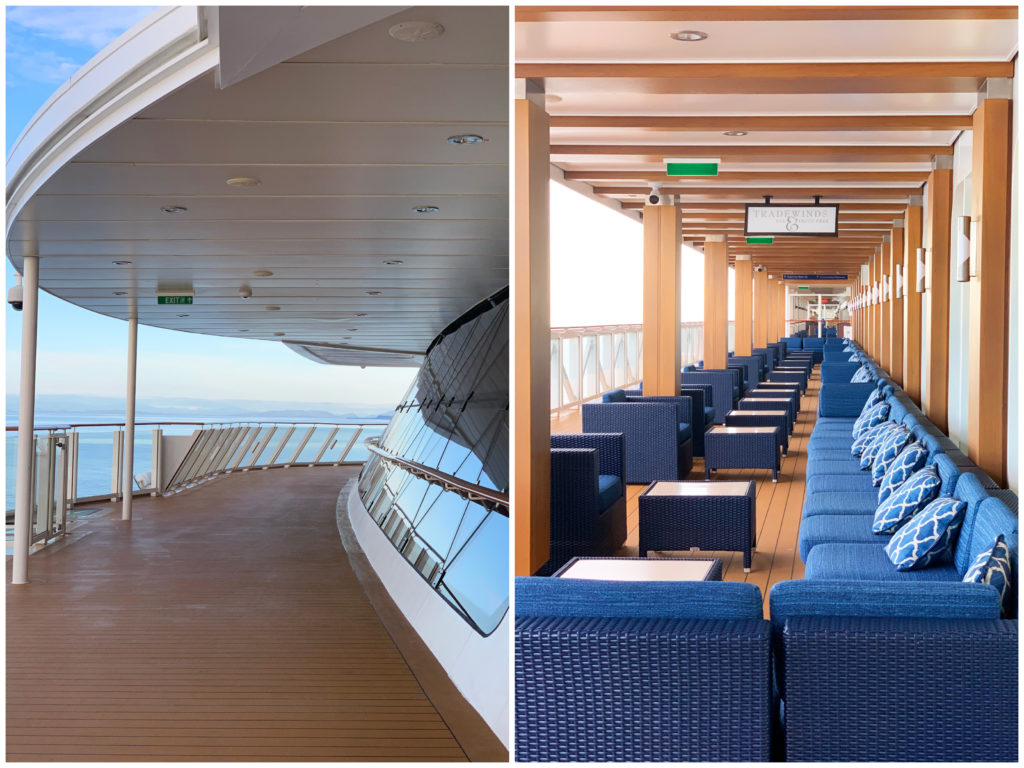 If you don't have vertigo, by all means have a look over the rail. The ship's wake is beautiful. Just hold onto your sunglasses.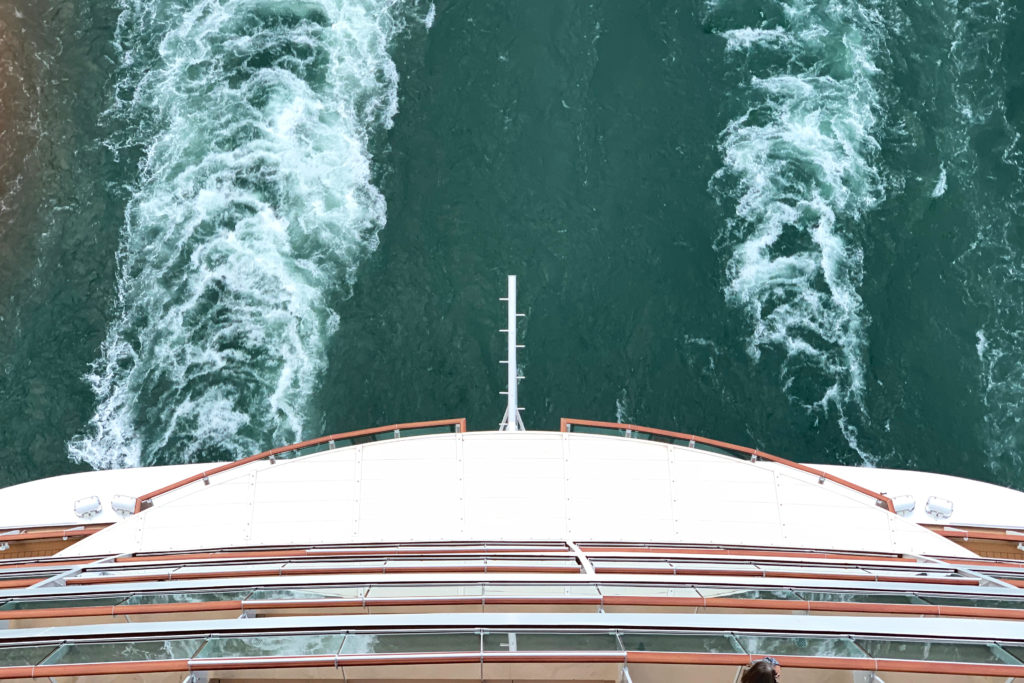 Of course, if you're in search of more privacy, you can also just hang out on the balcony in your room, if you've booked that type of berth.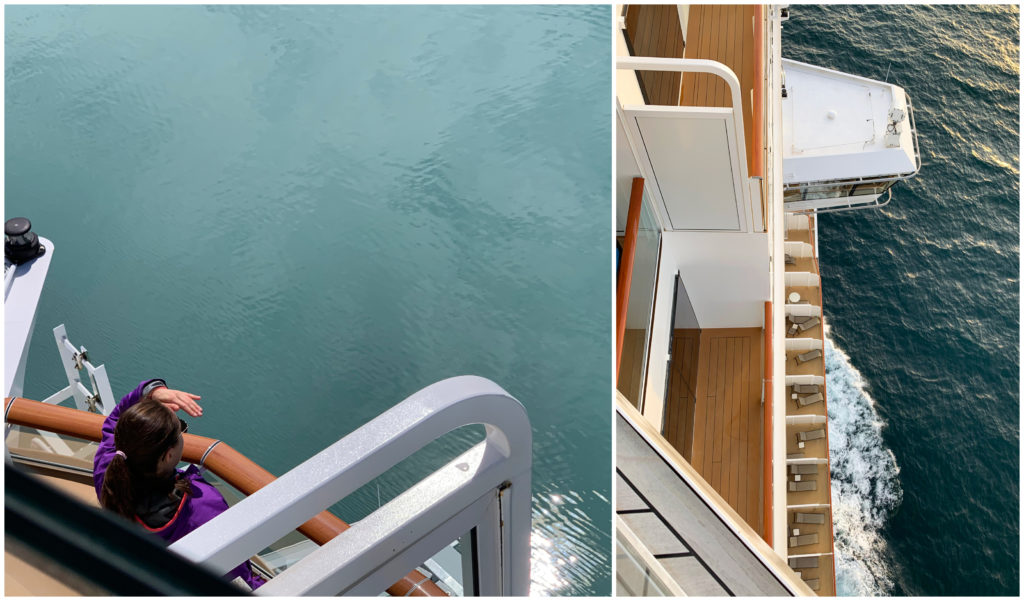 4. The Over-21 Outdoor Lounge
For those traveling sans kids – or for parents who need a break from their progeny – there's a dedicated space for outdoor lounging for adults over 21.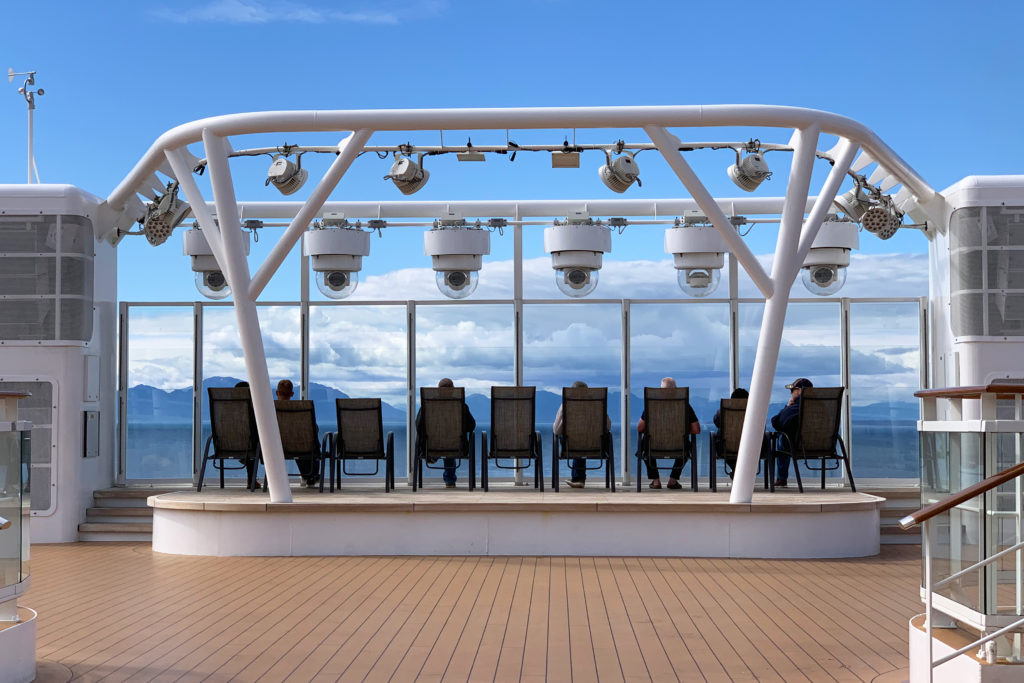 Of course there's a bar here, and music for the dance floor as the sun sets.
[white_box]
More in Alaska
stunning beauty on the train in Skagway, Alaska
read more >
[/white_box]
5. The Outdoor Running Track
Too much lounging? For the athletes, there are plenty of options, too. It's reasonably easy to maintain your fitness routine on a luxury cruise ship, as long as you exert a wee bit of willpower and discipline. When the weather is fine, you can have a great run outdoors on the upper deck of the ship.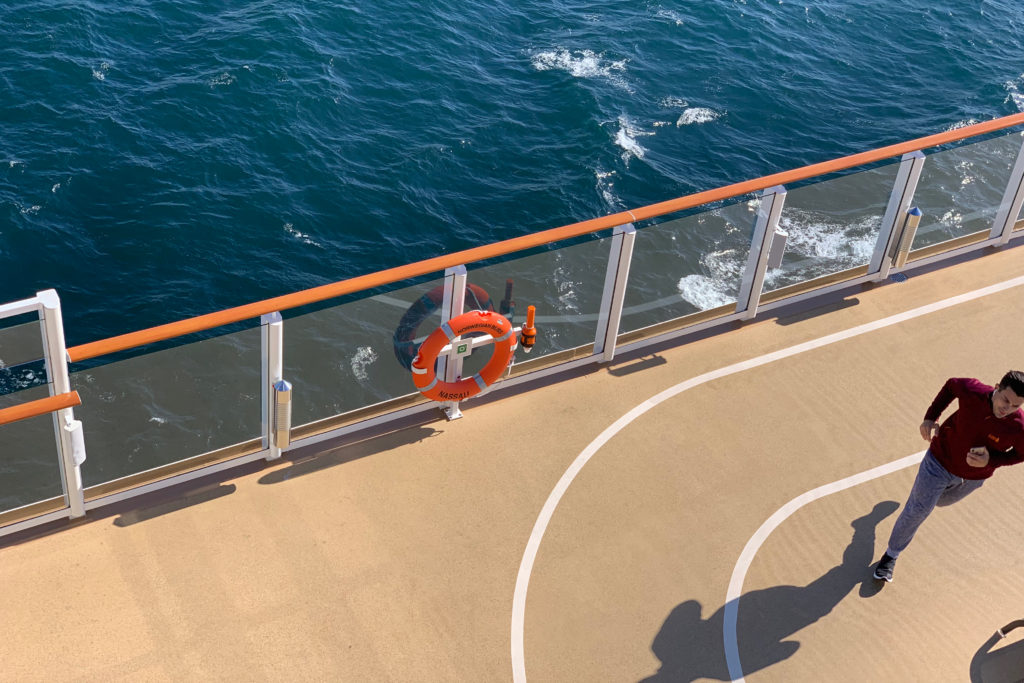 If it's cold, windy, or rainy and you don't want to run outside, there's a well-equipped fitness center on the same deck of the ship, with views of the ocean beside the cardio equipment. There are also group exercise classes and weight training equipment.
6. Go-Kart Racing
Oh, did we mention the race track? One of the coolest amenities on the Norwegian Bliss is the upper-deck Go-Kart track. Kids and adults all seem to love it, and it's pretty cool to race your travel companions right to the edge.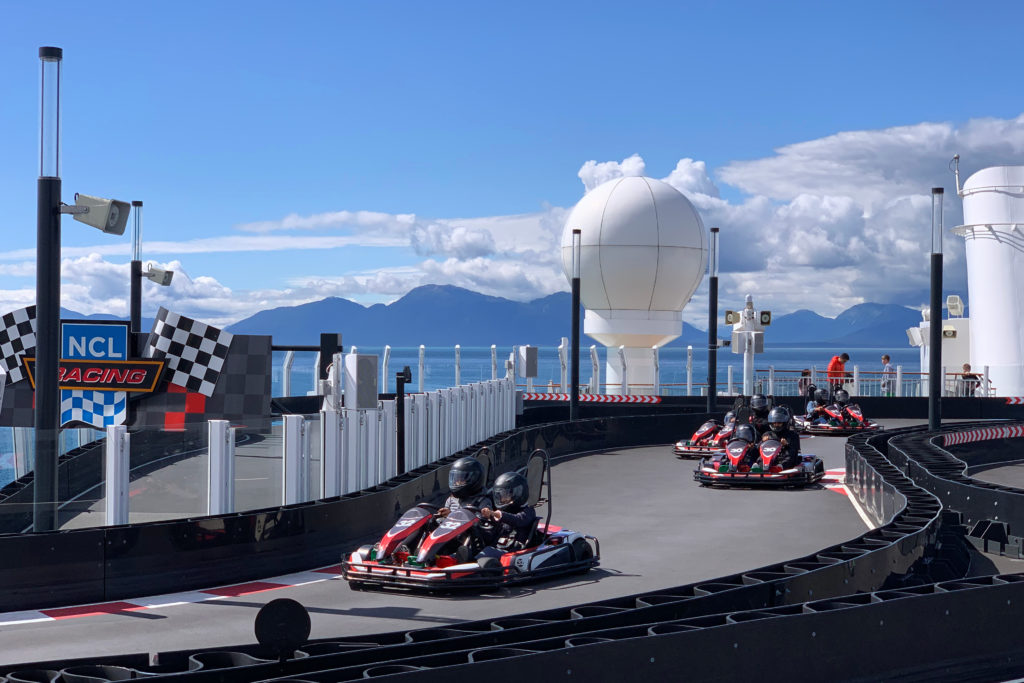 The track is elaborate and fun, and if you really love it, you can purchase a pass so that you can race any day you like.
[white_box]
More in Alaska
how to have a luxury visit in Glacier Bay, Alaska
read more >
[/white_box]
7. The Plunge Water Slide
Adrenaline-junkies who are seeking still more thrills should head from the race track to the plunge water slide.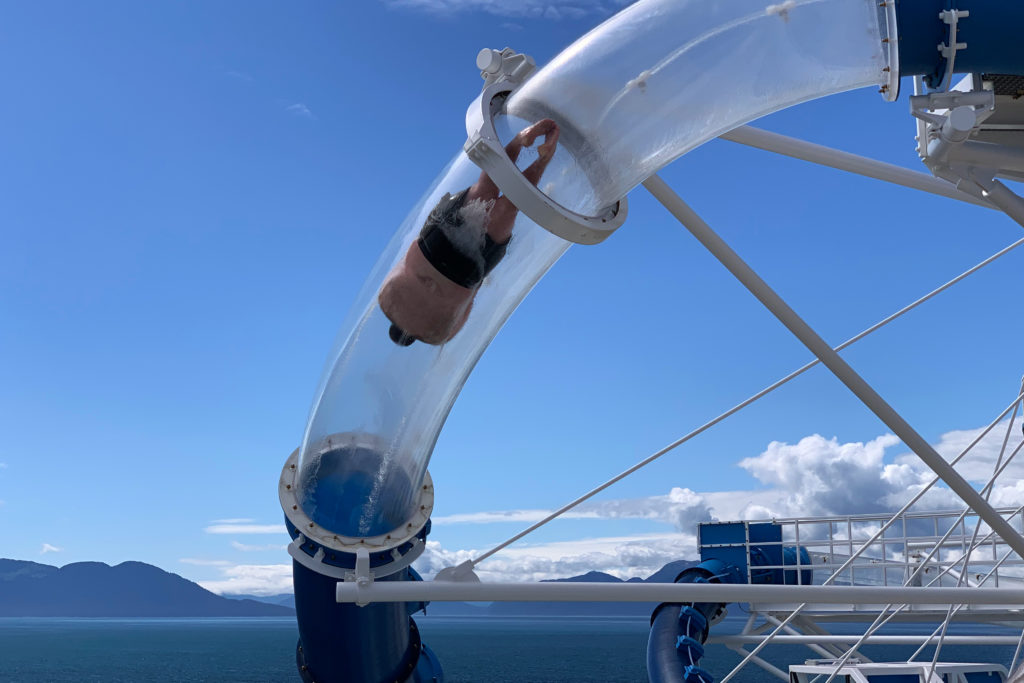 Going head-first down a spiraling tube several stories tall may not be for everyone. But it sure is fun to watch.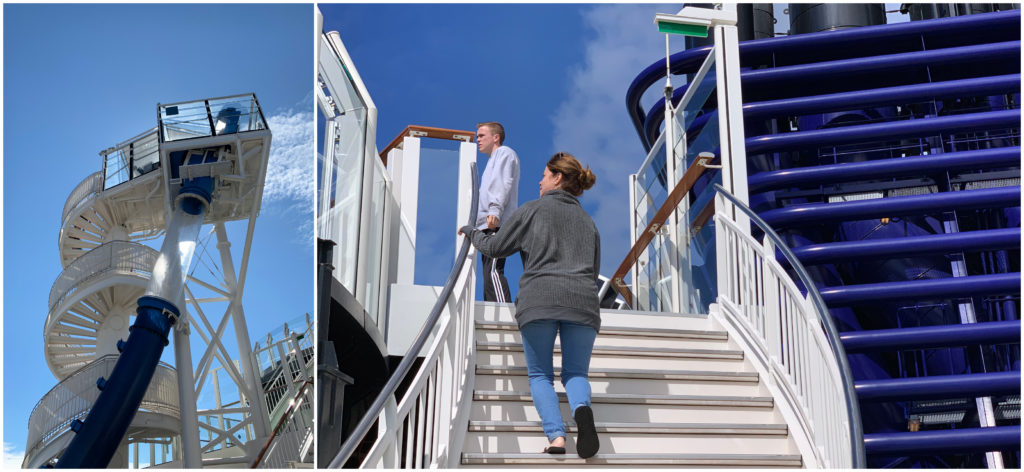 8. Miniature Golf
For families traveling together, a game of mini-golf can be just the right activity for everyone. You definitely can't beat the view.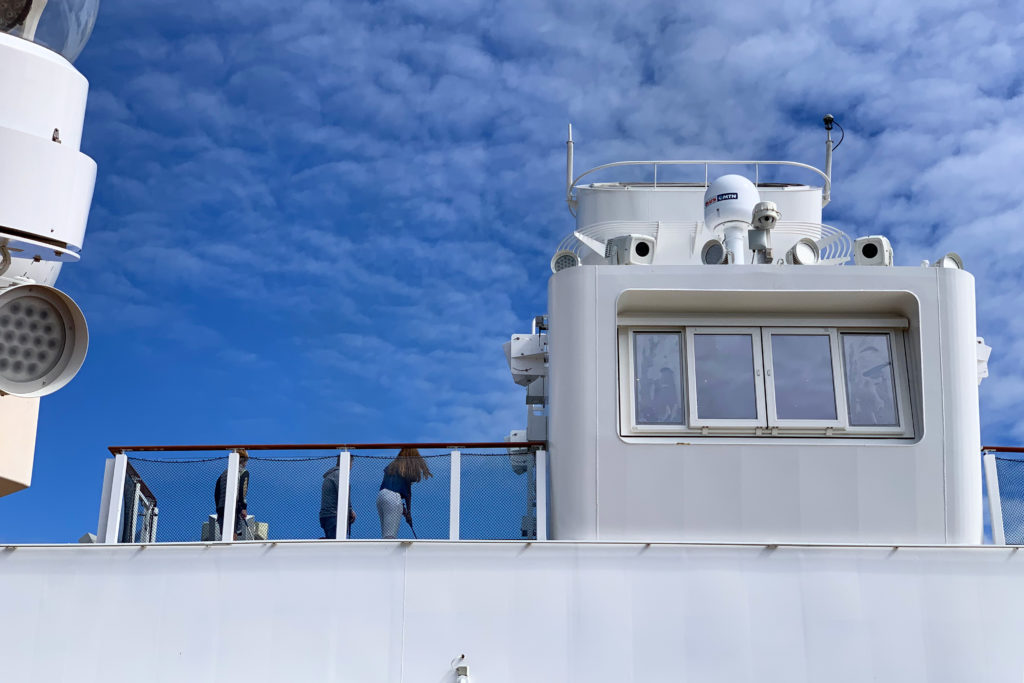 9. Laser Tag
For our money, though, the best all-family fun experience is a round of Laser Tag. You haven't lived until you've seen an adorable grandma toting an over-sized laser gun while her grand kids swirl around her, screaming with delight.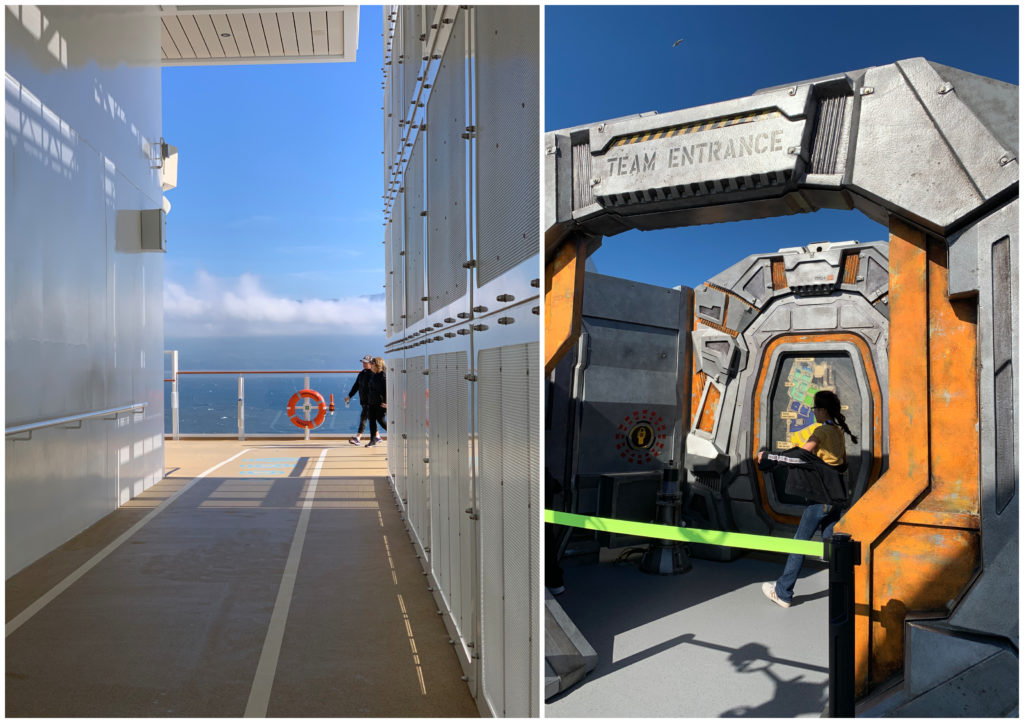 When it's time to come inside, there's still plenty to do. The ship has a wonderful spa, where you can get all of the usual services.
In addition to that, here are some of the other indoor communal spaces.
10. The Indoor Observation Lounge
Covering nearly an entire deck, the Observation Lounge provides panoramic views, comfy seating, and food and drink. There's a small library, too.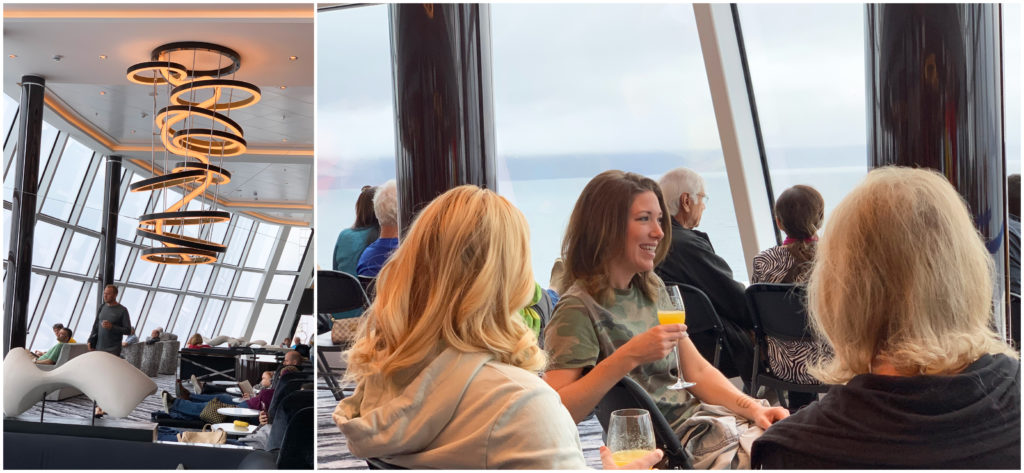 11. Dining options
Of course, food and drink are a key component of vacation bliss.
By our count, we estimate that there are almost 20 different restaurants on board the Norwegian Bliss, so you are highly unlikely to get bored with the dining options. In addition to the three main dining rooms, there's a help-yourself buffet. Plus casual cafés, a wine bar, cocktail lounges, grills, a dessert shop, a Starbucks and other on-the-go options.
On the Bliss, five of the restaurants are complimentary and 13 are specialty dining eateries, where you pay a la carte (or by booking a specialty dining package).
Foodies will love the specialty restaurants, as they make for an elevated and memorable dining experience. Two of our family's favorites in that category are the Japanese restaurant, Teppenyaki, and the seafood restaurant Ocean Blue. The most intense foodie in our group was a habitué of Food Republic, which serves Asian fusion street food.
And of course, being carnivores, we also loved the Texas barbecue joint and the New York-style steak house, Cagney's.
[white_box]
More in Alaska
how to have a luxurious visit in Ketchikan, Alaska
read more >
[/white_box]
Teppanyaki
Here's a glimpse of Teppanyaki, where diners eat at a communal table and main courses and side dishes are prepared while you watch.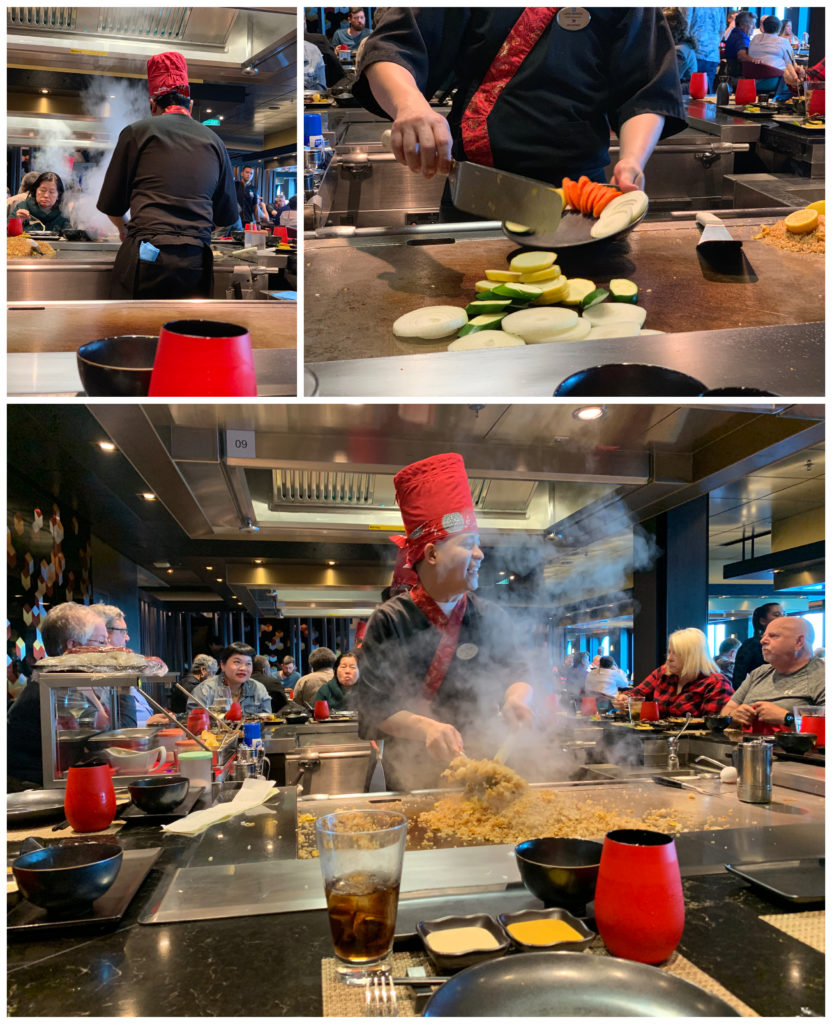 Our chef was game and kept up a constant patter of jokes (we give him props, as people who cannot cook, that he can prepare a meal and deliver a stand-up routine simultaneously).
Seafood Restaurant
By way of contrast, Ocean Blue is the opposite kind of dining experience. It features a subdued color palette, a refined presentation, discreet service and lots of privacy for each party.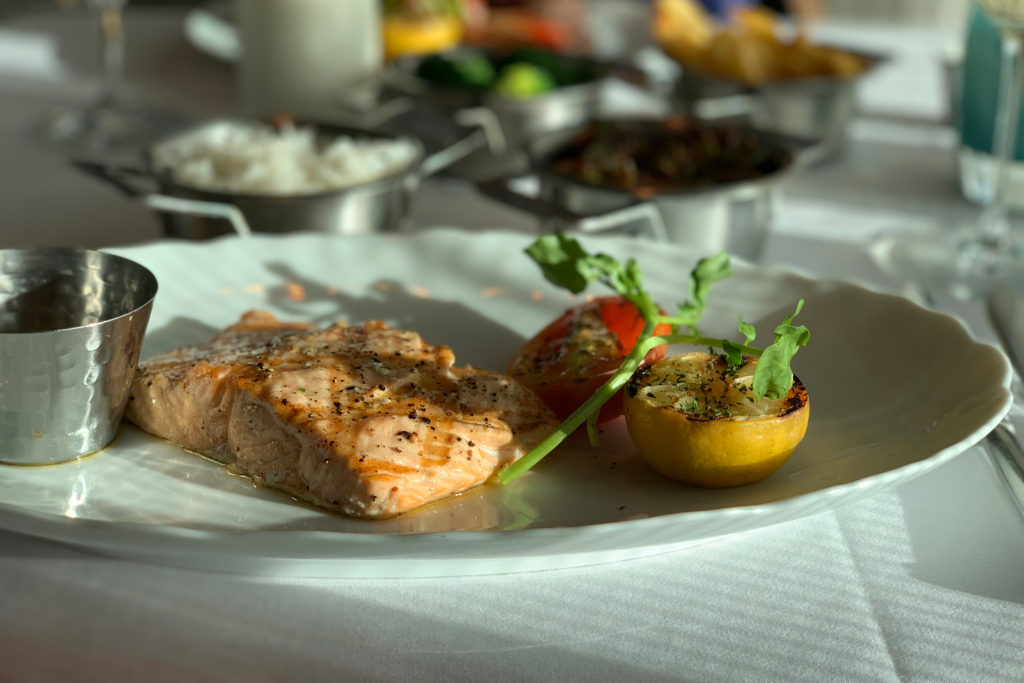 From our table by the window, we could watch dusk approach. It's a lovely special night out spot.
12. Live Music Venues
As evening arrives, on a typical day at sea on a luxury cruise ship, the indoor spots start to come alive. There are Broadway performances of shows like Jersey Boys. And musical reviews, like Havana, throughout the evening in the main auditorium.
In addition, starting at cocktail hour, there are several live music venues with nearly any kind of music you'd want to hear.
For instance, at The Cavern, you can hear Beatles covers through the ages.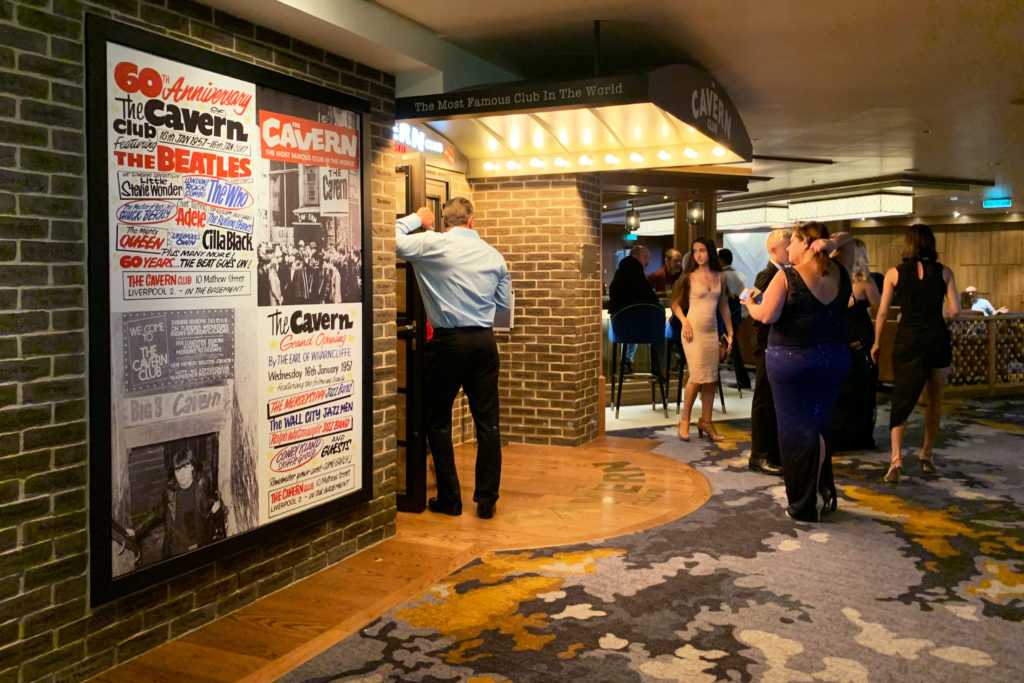 At the Texas BBQ restaurant, there's live country music every night.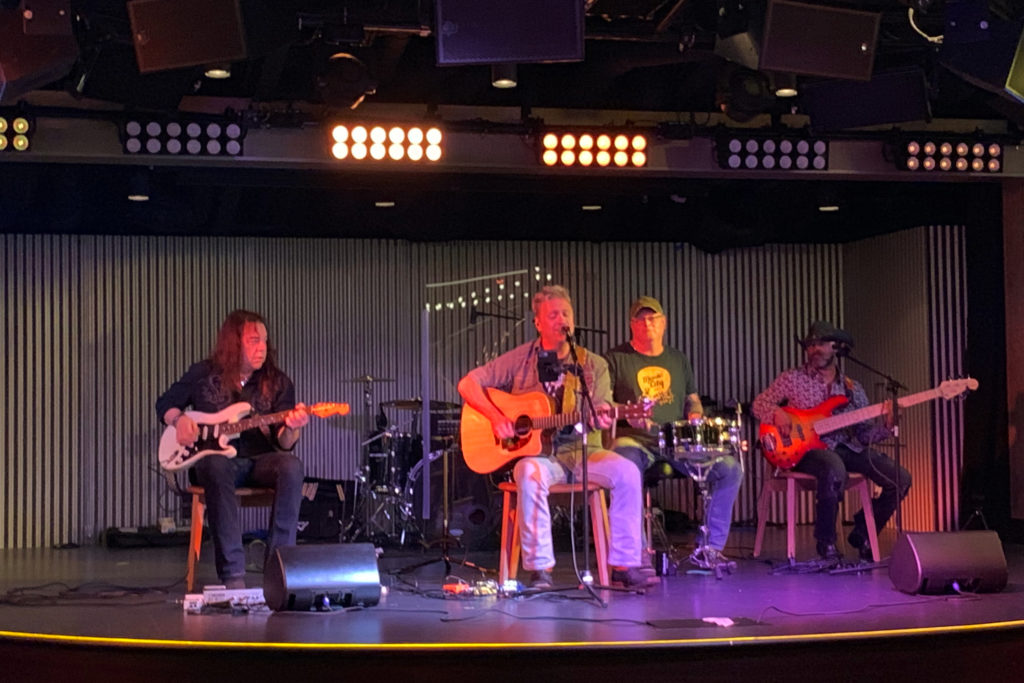 In other lounges, you'll find soft jazz. And of course there's a nightly dance party, with the theme changing each night. There's even a Silent Disco.
[white_box]
More in Luxury Cruises
irresistible chocolate artistry on a luxury cruise ship
read more >
[/white_box]
13. Shopping in the grand atrium
What better indoor activity could there be than shopping? There are several retail boutiques selling everything from watches and fine jewelry to souvenirs. Thankfully, they also windbreakers and knit hats, which came in handy on an Alaska trip.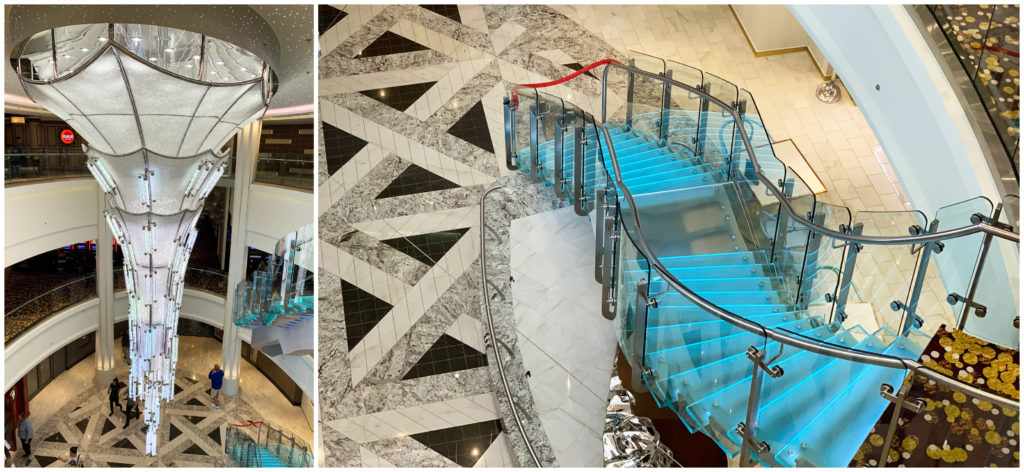 The retail shops and many of the restaurants surround the grand staircase and crystal chandelier. On a typical day at sea on a luxury cruise, the shops will be open for several hours – they're only restricted on hours when they're in or close to a port.
14. The casino
For those who love games of chance, there's a large casino on board. You'll find numerous slot machines, plus tables for poker.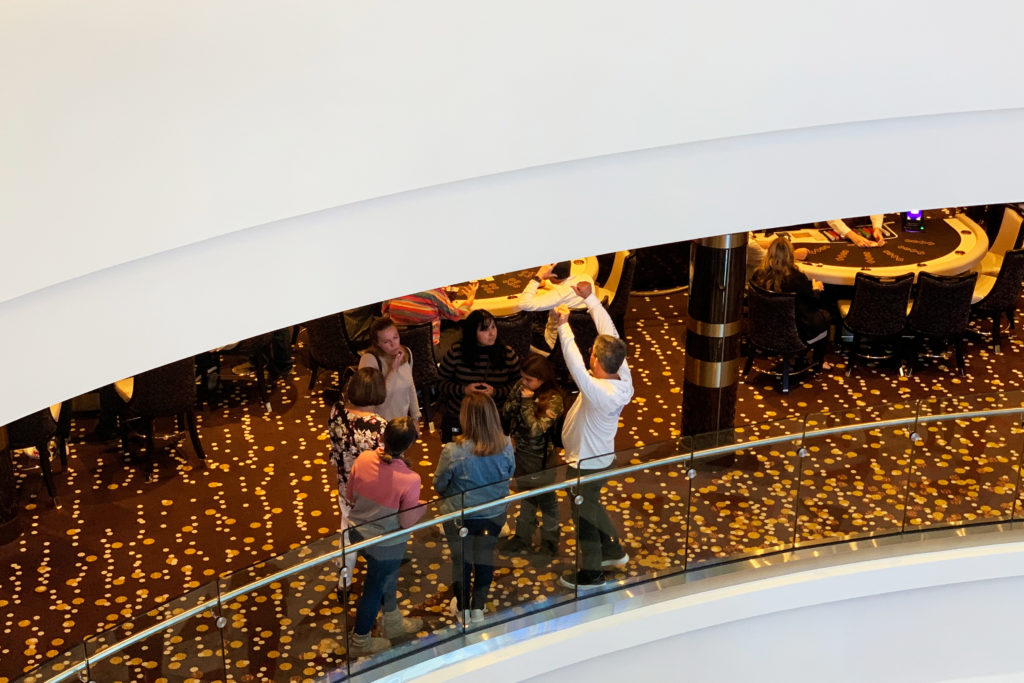 15. Sunsets
Finally, for those seeking a more serene end to a day at sea, some of the best sunsets (and sunrises) you'll ever experience can be viewed from the decks of your cruise ship.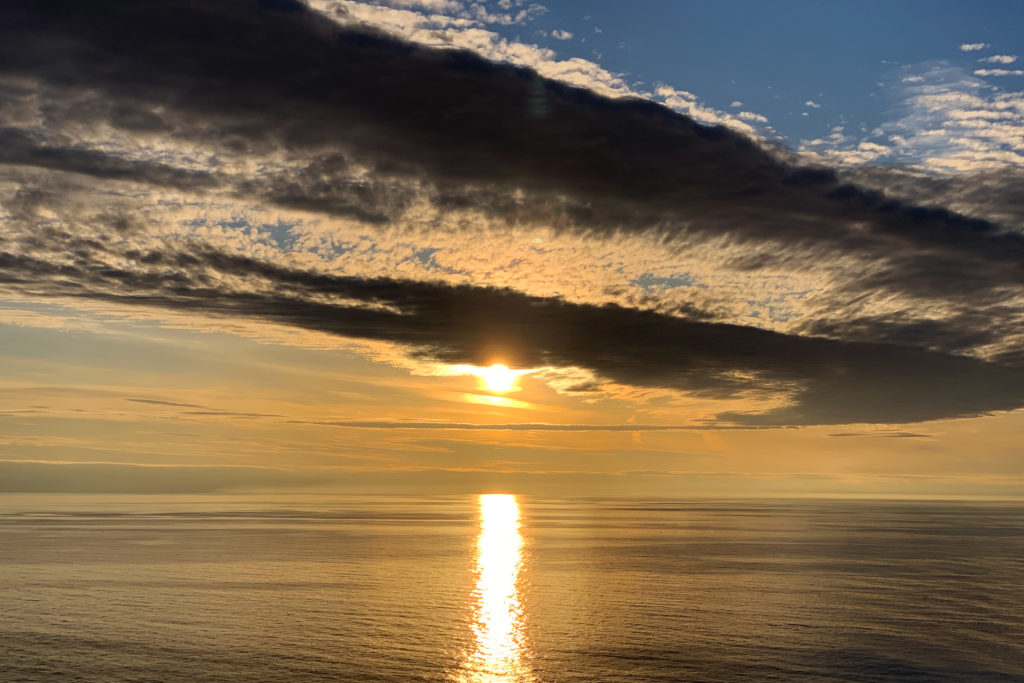 In Alaska in the summer months, the sun doesn't set until after 10:00P. Meaning that you've got plenty of time to play beforehand. And after? The party people are up all night long.
A Day on the Norwegian Bliss Luxury Cruise Ship
Of course, there's more to do, depending on what you love. But the other great thing about being on a luxury cruise ship on a day at sea is that you can do . . . nothing. A book, a beach towel, and some sunscreen, and you might be good to go.
That's the whole point, we suppose. On a luxury cruise ship, a typical day is whatever you make of it. Which is the best luxury of all.
Join our Community
For access to insider ideas and information on the world of luxury, sign up for our Dandelion Chandelier newsletter here. And see luxury in a new light.