What are the best Martha's Vineyard books? Here are 15 of our favorite books – fiction and non-fiction – that are either about or set on Martha's Vineyard. If you're wondering what to read before you visit Martha's Vineyard – or how to recapture some of the glow after you return home – these are great places to start.
What are the best Martha's Vineyard books?
For people who love Martha's Vineyard, the answer to the question about the best Martha's Vineyard books is pretty simple. They're the ones that immediately transport us there, even when summer is long over and we're far away from our beloved island.
Or books that reveal some new element of the place that makes us love it even more (if such a thing is possible).
Happily, there are several excellent authors among the regular visitors and residents of the Island. So unsurprisingly, there's a shelf full of equally excellent books that are either set on Martha's Vineyard, or that are about life on Martha's Vineyard.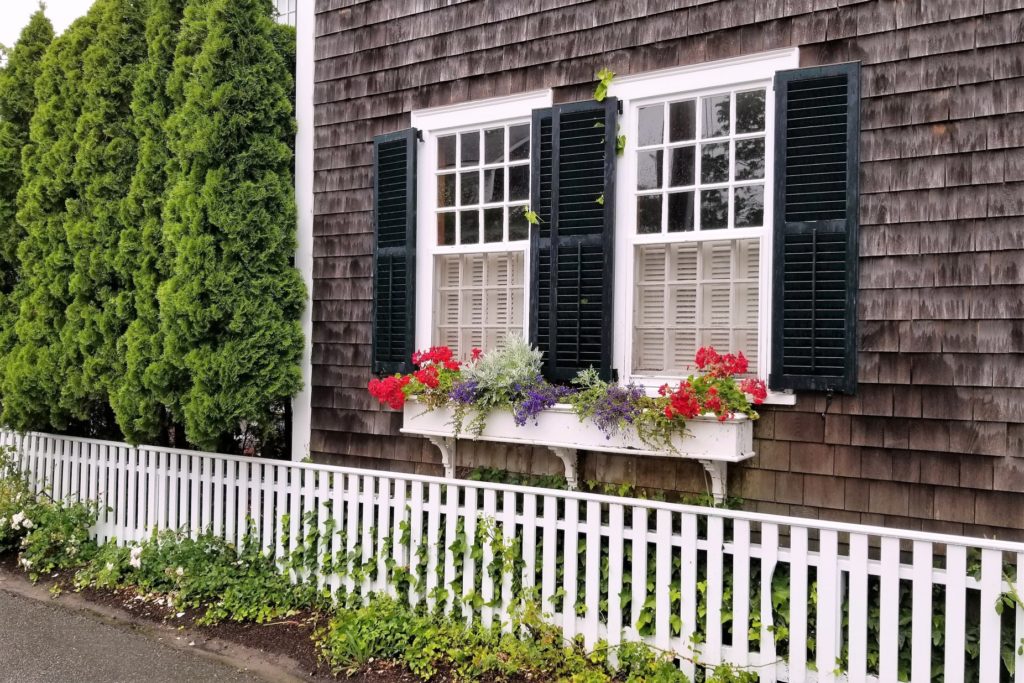 The toughest decision you'll have is which one to read first.
the best books set on or about Martha's Vineyard
Novels, poems, cookbooks, essays and histories, here are 15 of our favorite Martha's Vineyard books.
one
The Emperor of Ocean Park by Stephen Carter is a novel set in two privileged worlds: the upper crust African American society of the Eastern Seaboard—the black elite families who summer on Martha's Vineyard—and the inner circle of an Ivy League law school.
When the family patriarch, Judge Oliver Garland – a disgraced former Supreme Court nominee – is found dead under suspicious circumstances, his son must risk his marriage, his career and even his life in his quest for justice. This first novel from Carter, who is a professor at Yale Law School, remains a classic.
two
Illumination Night by Alice Hoffman brings a fiction writer's sense of whimsy to what is already a magical annual ritual on Martha's Vineyard: the Grand Illumination at the Campground in Oak Bluffs.
The novel illuminates six lives, all in varying states of distress. Vonny is a potter and young mother preoccupied with her son Simon's apparent failure to grow normally. She also fears that her husband Andre is cheating on her. Possibly with Jody, their teen-age neighbor, who has been sent to care for her grandmother, Elizabeth. After years of not seeing much, the elderly Elizabeth suddenly sees everything. And then there's the mysterious Giant, somewhat taller than the tallest of basketball players. He hides his sorrow by staying hidden, painting miniatures, and nighttime gardening.
The six connect and disengage in surprising ways, as people living on a small island sometimes do. The New York Times review concludes: "this is a novel irradiated with color and heat and filled with the spookiness of ordinary things."
three
Vineyard Voices: Words, Faces and Voices of Island People by Linsey Lee. When people ask us what to read to better understand Martha's Vineyard, we always suggest this excellent series of oral histories.
Historian Linsey Lee has made it her life's work to capture the oral histories of Martha's Vineyard residents. Her third volume of oral history, The Third Vineyard Voices: Words, Faces and Voices of Island People has just been published, and is the focus of an exhibit at the newly-reopened at Martha's Vineyard Museum. You can purchase a copy at the museum shop.
This new volume includes portraits and stories of 66 Vineyarders, whose voices help chronicle the last 100 years on the Vineyard. The Museum notes that the new book takes readers "from World War II to West Tisbury barn cats, from the Mooncusser to the Marine hospital, all in the voices of fishermen, writers, teachers, musicians and environmentalists."

four
Finding Martha's Vineyard: African Americans at Home on an Island by Jill Nelson. Nelson's book is one that we often recommend when people ask us what to read if they want to know more about Martha's Vineyard. She employs photographs, personal narrative, memories, and historical detail to convey the special magic of the island. And the black families who have summered or lived there for generations. As a summer and occasional year-round resident of Oak Bluffs for decades, this is a heartfelt insider's story of life on the Vineyard.
five
Casting into the Light: Tales of a Fishing Life by Janet Messineo. The newest book on our list, this memoir of one of the female striped bass fishermen (fisherwomen?) on Martha's Vineyard was just published in July 2019. The author shares the journey she took over several years to join the male-dominated fishing community on the island.
The author worked as a waiter at the Black Dog, Helios, and the Home Port by day and learned to fish by night (striped bass fishing is always done after dark). Her stories of the men she fished with – and the women who created a path for others – are fascinating. The book ends, perhaps fittingly, with eighteen of the author's favorite fish recipes.
six
Caleb's Crossing by Geraldine Brooks. Based a true story, this novel from a Pulitzer Prize winner illuminates a fascinating slice of Vineyard history. Bethia Mayfield is a restless and curious young woman growing up in Martha's Vineyard in the 1660's amid a small band of English Puritans. She meets Caleb, the young son of a chieftain, and the two forge a secret bond. Caleb eventually becomes the first Native American graduate of Harvard College.

seven
One of our most beloved retail stores on Martha's Vineyard was the now-shuttered Midnight Farm in Vineyard Haven. Founded by singer Carly Simon, it was a charming shop filled with all kinds of things you never knew you needed: books, candles, wall decor, clocks, and other ephemera.
Sadly, it closed several years ago. The spirit of the store lives on, though, in two books that we keep on our shelf at home.
Midnight Farm by Carly Simon. In this whimsical fable, on a hot summer night, two young brothers join a fantastical nighttime musical extravaganza. Their hosts? The plants and animals on their farm on Martha's Vineyard.
Potluck at Midnight Farm: Celebrating Food, Family and Friends on Martha's Vineyard by Tamara Weiss.
eight
Poems From The Pond: 107 Years of Words and Wisdom – The Writings of Peggy Freydberg by Peggy Freydberg, edited by Laurie David. Peggy Freydberg began writing a lifetime's worth of poems at the age of 90. Thereby proving that its never too late to find your inner voice and share it with others. She writes of life, love, fear, aging, and loss. All with the delicate beauty and melancholy of the Vineyard's hushed spaces after summer is gone.
nine

ten
To the New Owners: A Martha's Vineyard Memoir by Madeleine Blais. In the 1970's, the author's in-laws purchased what was at the time a shack on the shore of Tisbury Great Pond. For decades, although the structure became larger, there was no heat, television, or phone service. Just starry nights and meals with friends by candlelight. In 2014, the family sold the house. This memoir memorializes the home that Blais's family created there over generations, and the island life they cherished.
eleven
Another beloved shop that is a must-visit whenever we're on the island is Morning Glory Farm in the Katama section of Edgartown. Fresh produce, eggs, baked goods, honey, coffee, sunflowers – it's farm-to-table summer ready to be served up on a plate.
Two books are perfect ways to relive the joy of a visit.
Morning Glory Farm: And the Family that Feeds an Island by Tom Dunlop and Alison Shaw.
And Morning Glory's Farm Food: Stories from the Fields, Recipes from the Kitchen by Gabrielle Redner and Alison Shaw.
The first book is the story of how the iconic farm came to exist 30 years ago, along with 70 recipes. The second is comprised of recipes from chef Robert Lionette of the farm's kitchen. And some favorite recipes from home cooks around the Island.
twelve

thirteen
Behind the Times on Purpose: The Charlotte Inn of Martha's Vineyard by Nina Bramhall. The Charlotte Inn is one of the loveliest small luxury hotels we've ever seen. Not just on Martha's Vineyard, but in the whole world. It's like staying in a grand country house in Europe. Except that all of the joys of Martha's Vineyard are just outside your door. This coffee table book is a perfect one to read before you go or after you return from a visit to Martha's Vineyard. Whether or not you stay there.
fourteen
Our Kind of People: Inside America's Black Upper Class by Lawrence Otis Graham. When people ask us what to read before visiting Martha's Vineyard, we always suggest this book. Full disclosure: the author is my darling husband.
This is the definitive account of the experiences and legacy of African-Americans who have occupied the top economic and social rungs in the black community. For generations, Martha's Vineyard has served as the epicenter for summer gatherings and vacations for this group. Executive producer Lee Daniels is soon to launch a television drama based on the book.
fifteen
The Wedding by Dorothy West. Its fitting to end our list of the best books about and set on Martha's Vineyard with West's iconic final novel. In it, she offers her own intimate glimpse into black life on Martha's Vineyard, this time in the '50's.
Set in "the Oval," a proud community of the best and brightest of the East Coast's black community, the prominent Coles family gathers for the wedding of daughter Shelby. With "a whole area of eligible men of the right colors and the right professions," Shelby agrees to marry a white jazz musician from New York. The resulting shock wave forces the Coles and their neighbors to grapple with their dearest beliefs about community, family and love.

What are the best books about and on Martha's Vineyard?
Those are our top picks of books set on or that are about Martha's Vineyard. Any of these are a great solution to what to read before or after you visit Martha's Vineyard. What's on your list?
join our community
For access to insider ideas and information on the world of luxury, sign up for our Dandelion Chandelier newsletter here. And see luxury in a new light.