Best Art Installations in the History of Burning Man
All products are independently selected by our editors. If you buy something, we may earn an affiliate commission.
It's that time of year again: Burning Man, the annual music festival-art show-happening in the Black Rock Desert of Nevada starts on August 25, 2019. What are the best art installations in the history of the iconic Burning Man? While we wait for this year's edition to commence, this is the perfect moment to look at the best art from the past few years of the Burning Man festival.
what is burning man?
The stated goal of Burning Man is to "create Black Rock City, a temporary metropolis dedicated to community, art, self-expression, and self-reliance." The event, over 30 years old now, draws over 80,000 people to the site each year. Located in a remote desert location, it's intended to be an opportunity to connect with others in the community. To reflect, to attend concerts and dance performances. And to join in on lots of other spontaneous activities, if you so desire.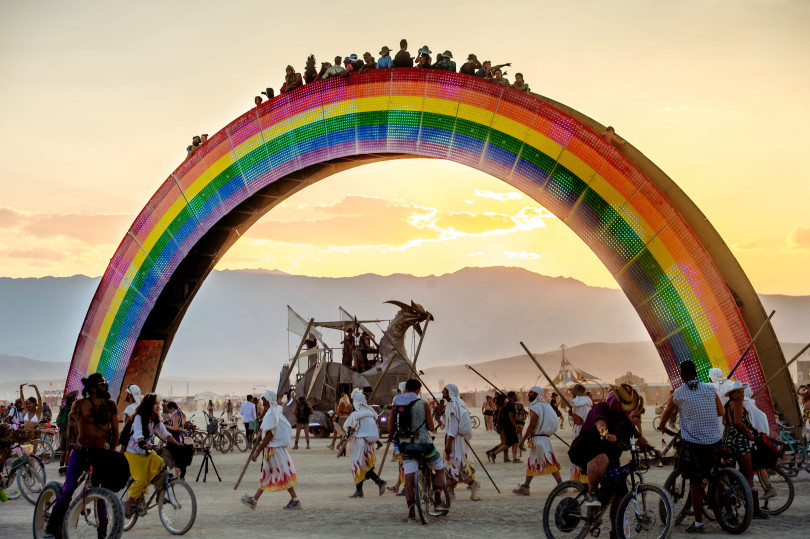 annual theme
This year's theme is Metamorphoses, "an invitation to explore new forms of alchemy, reliant not on some elusive Philosopher's Stone but on the limitless powers of the heart."
[white_box]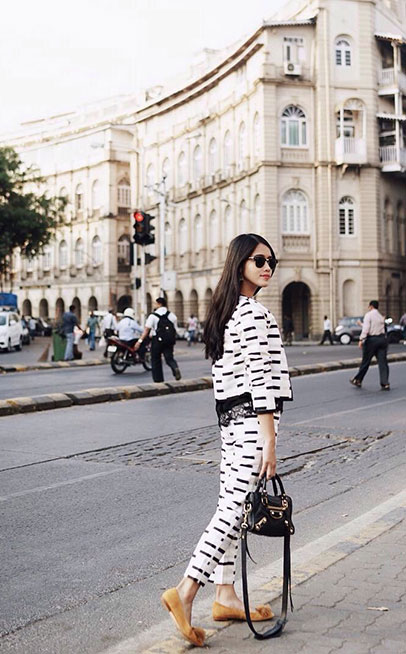 Join our community
For access to insider ideas and information on the world of luxury, sign up for our Dandelion Chandelier newsletter. And see luxury in a new light.
[/white_box]
a "temple"
Each year, there's a showcase "temple" that reflects some of the elements of the year's theme. In 2019, it's The Temple of Direction. These structures foster spiritual connections, and explicitly encourage visitors to use them as a way to remember and to move on in their life transitions.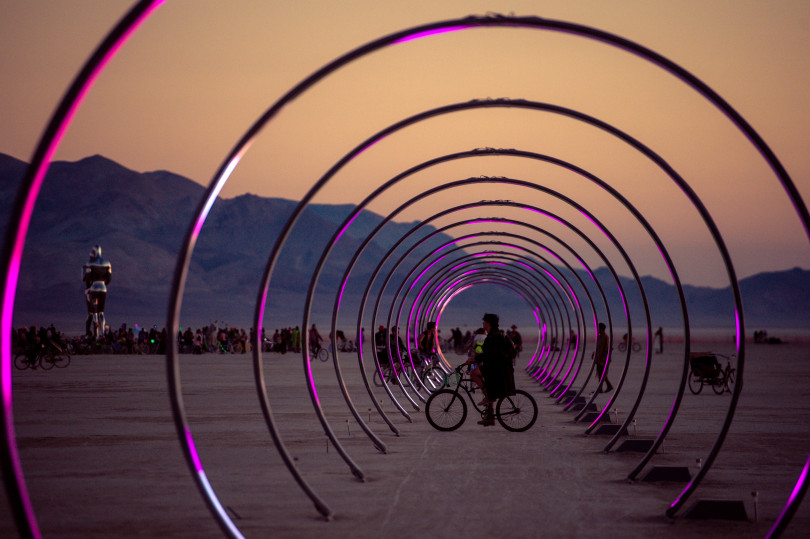 growing acknowledgement as a contemporary art influence
The event has become a contemporary art showcase that is so significant that for the first time last fall, it was the subject of an exhibit at the Smithsonian's Renwick Gallery in Washington, D.C. No Spectators: The Art of Burning Man ran through January 2019.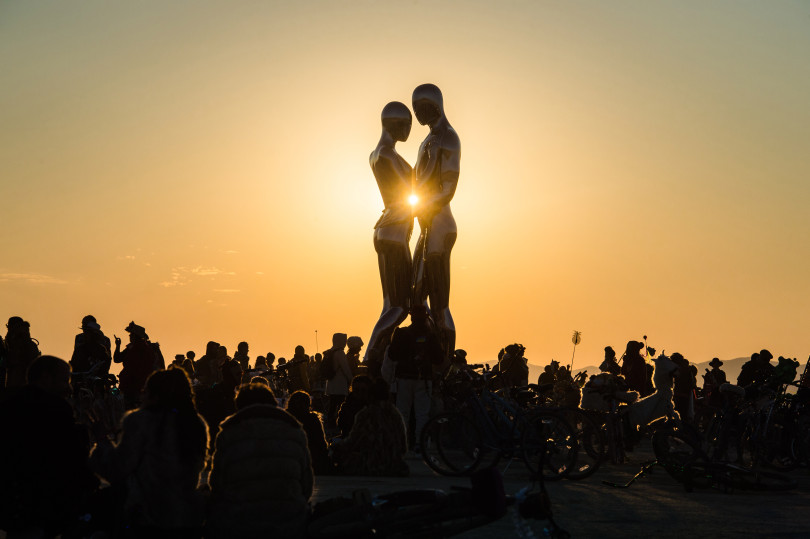 We can see why the art of Burning Man has gained increasing notice from mainstream institutions: whatever your thoughts about individual installations, you have to respect the vision that it takes to create these monumental works. And the sheer engineering prowess required to construct them in the middle of a blazing-hot desert.
[white_box]
More in Contemporary Art
luxury photo journey to the vibrant street art of London
read more >
[/white_box]
ephemeral beauty
We also love the fact that many of these works will never be seen again, as most are destroyed at the end of the festival. Like street art, the vanishing nature of the works lends them urgency and poignancy. Art has the power to help us deal with loss, the passage of time and the joys of being fully present in the moment. It's another reminder of the fierce urgency of now.
The event's organizers summarize it this way: "The touchstone of value in our culture will always be immediacy."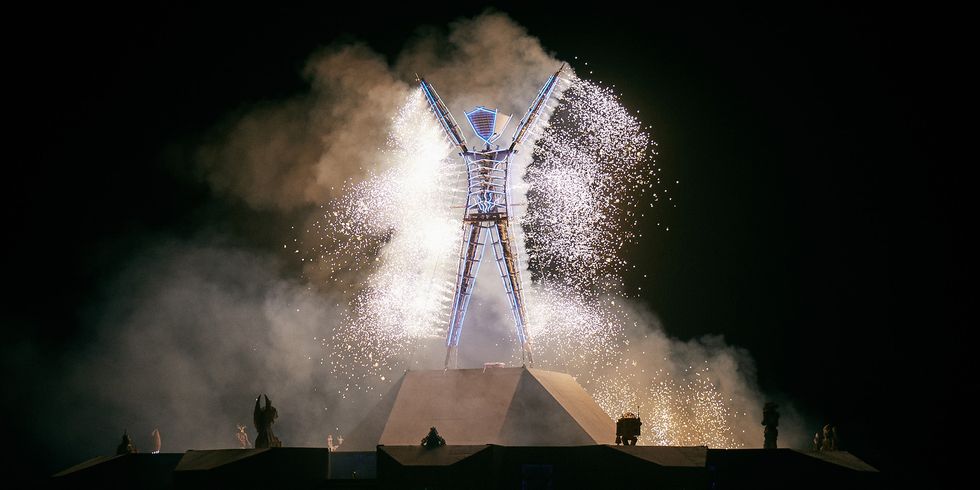 The other element that moved us in this collection of works is the innovative use of light (a subject of great interest to us here at Dandelion Chandelier). Many of the showcase works employ LED lights in powerful ways, fostering interaction among members of the community, and creative messaging that can play out in magical ways.
[white_box]
Related Post
luxury lessons: what you need to know about crystals
read more >
[/white_box]
some of the best art installations in the history of burning man
Here are 12 archival Burning Man artworks that touched us with their beauty and whimsy – most are lost to the desert winds, but a handful still exist. Perhaps you'll find some of your favorites here.
1. The Tree of Ténéré, 2017.
This towering "tree," with 25,000 LED leaves, was designed by Studio Drift to "offer shade to wanderers, adventure to climbers, and infinite possibility to those gathered beneath its leaves." It's an homage to and recreation of an actual tree that once grew in the southern Sahara desert. That towering tree, alone in the desert, became an important ceremonial gathering place for traders and travelers – but it was mysteriously destroyed almost 50 years ago. This version still remains intact.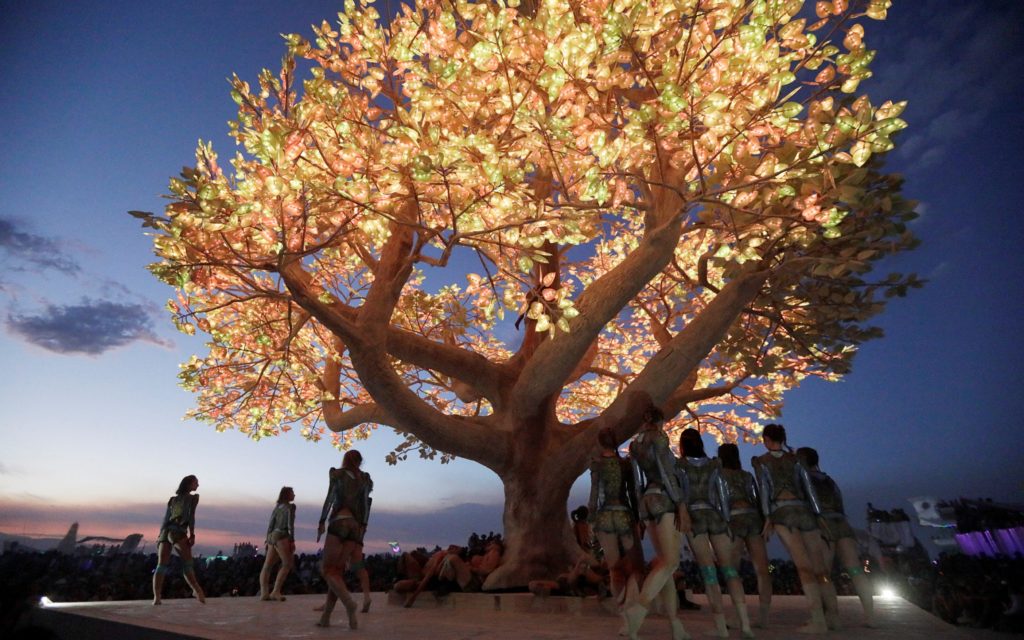 2. Pulse and Bloom, 2014.
Pulse and Bloom consisted of 20 lotuses of varying heights with pulse sensors mounted on the base of the stem. When a participant placed their hand on the sensor, the stem and the flower would beat in sync with their heart.
When more than one person placed their hand on the sensor, the stem would pulse with both participants' heartbeats, making it possible to watch how heart rates of different people in intimate spaces start to beat in sync, much like fireflies flashing in patterns. Up to 40 people could visualize their heartbeats simultaneously.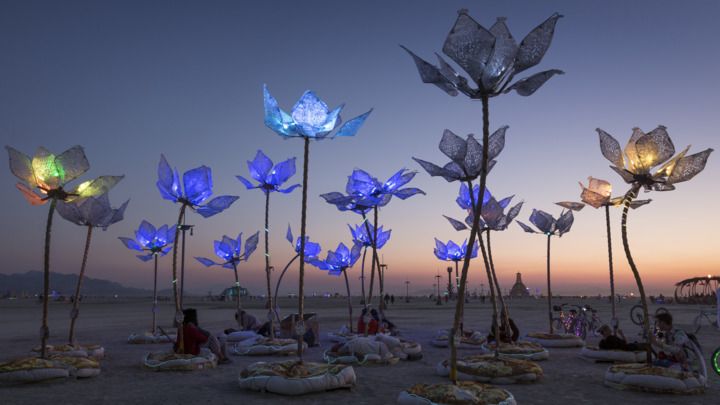 3. Shrumen Lumen, 2016.
Created by design firm the FoldHaus Art Collective, a garden of five large-scale "origami" mushrooms morphed into different shapes when activated by visitors (from flat to fully bulbous mushroom caps). At night, over 1,600 LED lights created a magical setting for interaction and celebration.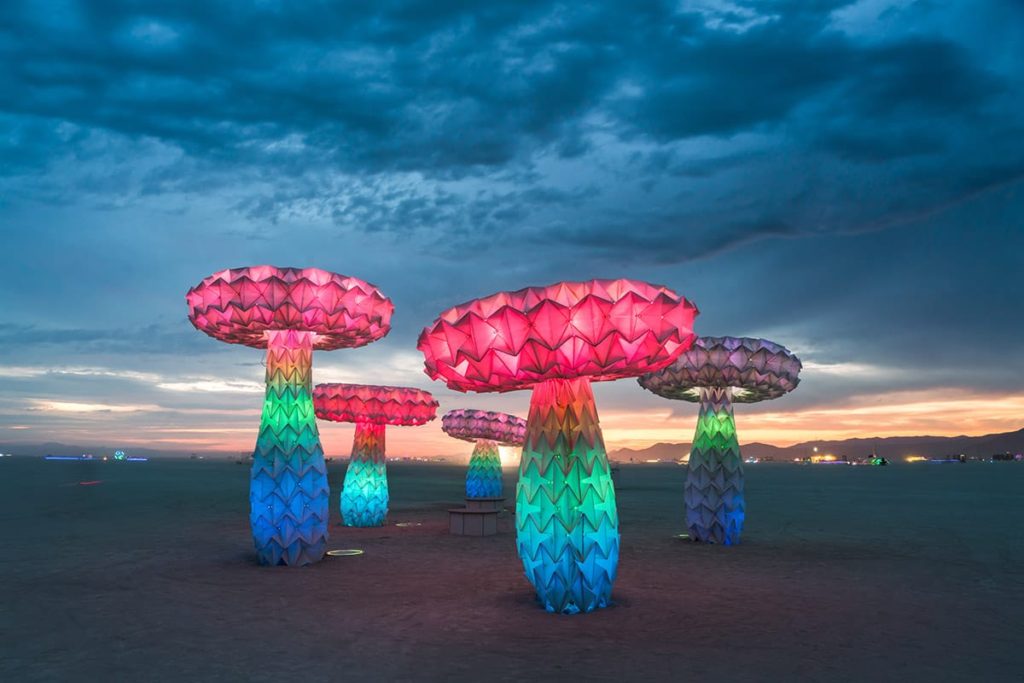 4. The Temple of Grace, 2014.
Designed and constructed by David Best and the Temple Crew, this temporary structure served as "a spiritual and sacred space for memorials, reflection, celebration, and to commemorate life transitions."
The tradition of constructing a temple as a spiritual center for the festival began in 2000 – each year they serve as a spiritual refuge where visitors can write memorials and place tokens of their life transitions. The temple is burned at the end of the festival, releasing the burdens and remembrances tucked inside.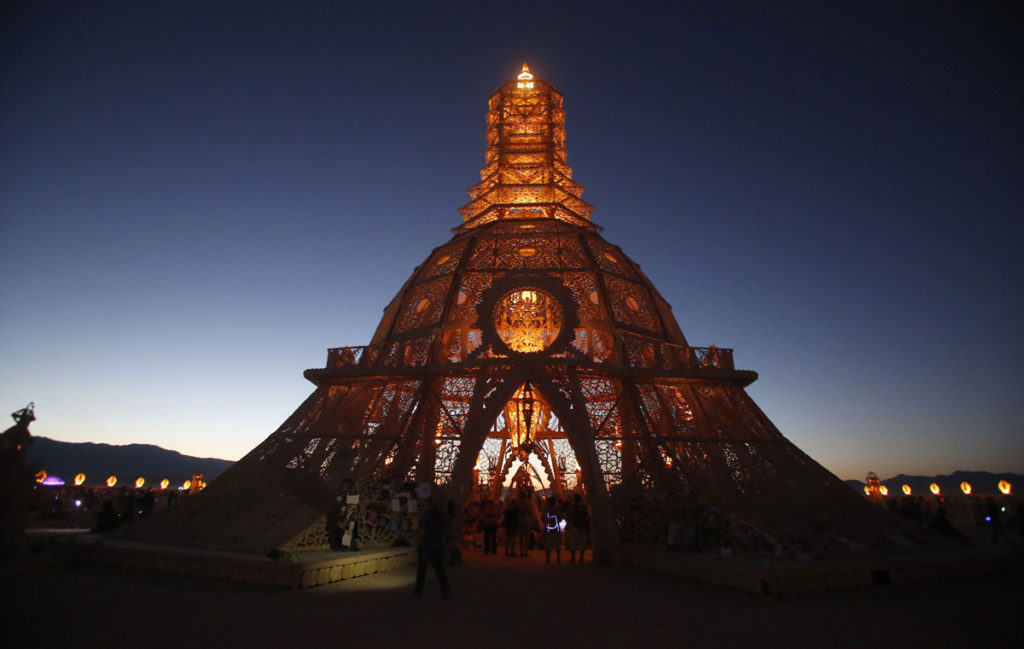 5. Balloon Chain, 2012.
Crafted by Robert Bose to reflect the long strings of balloons commonly seen at music festivals, the technology behind the LED lights allowed for the chain to be remotely programmed with different colors and patterns.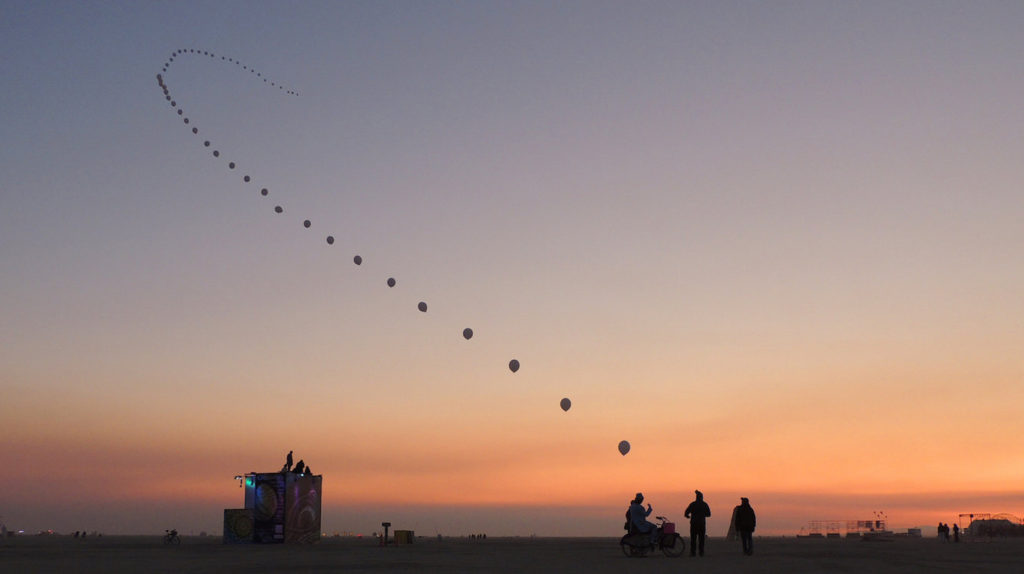 6. Believe, 2013.
This iconic piece by Reno artists Jeff Schomberg and Laura Klimpton now resides in their hometown, having been purchased by the city government three years ago. Its 12 feet high, 70 feet wide, and 4 feet thick, and made entirely of steel. Schomberg and Klimpton first made a word sculpture in 2010. They started with "Mom,"and subsequently created "Love" and "Dream," among others.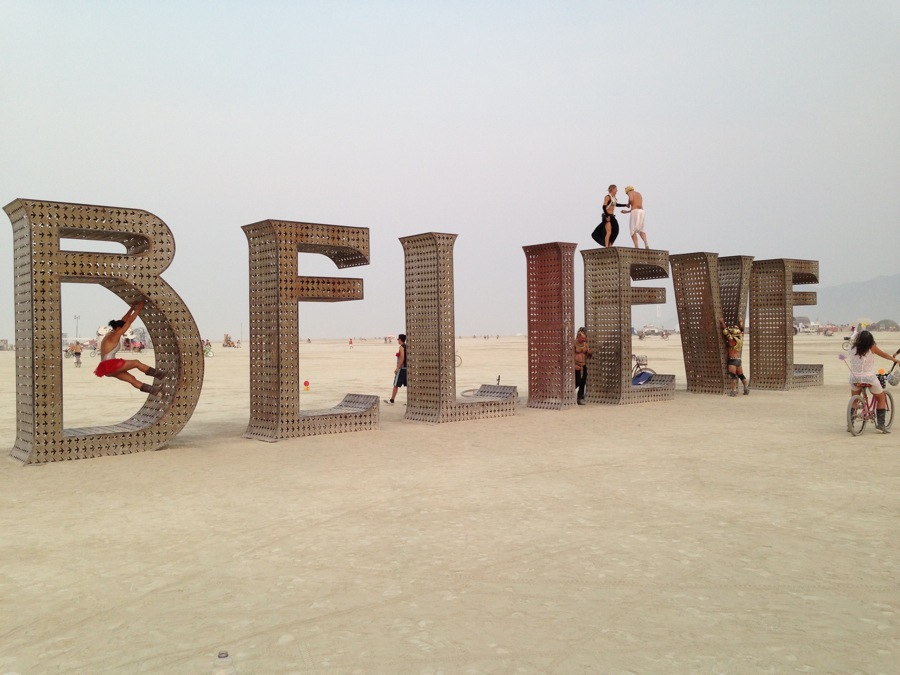 7. HYBYCOZO, 2014.
Design collective HYBYCOZO (the Hyperspace Bypass Construction Zone) debuted at Burning Man with 3 illuminated sculptures. The firm displayed additional works at the festival in the two subsequent years.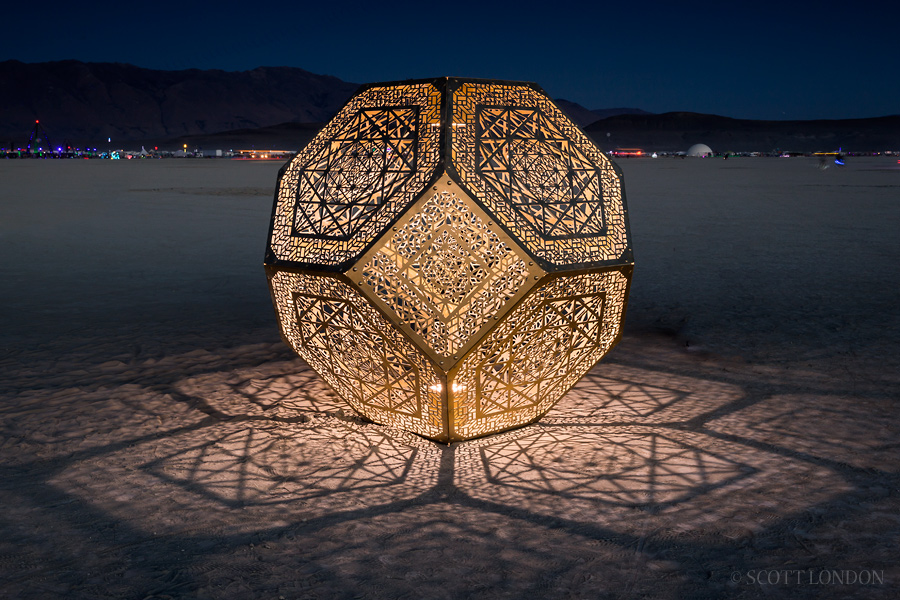 8. Embrace, 2014.
This 7-story wooden cathedral-like sculpture of two human figures in an embrace was created by The Pier Group, an international collective of artists and builders led by Matthew Schultz. It was intended as a spiritual center dedicated to the moment and to relationships with loved ones. Made from 160,000 lbs of wood, it was on the same scale as the Statue of Liberty. The piece was ceremoniously burned at the end of the 2014 festival.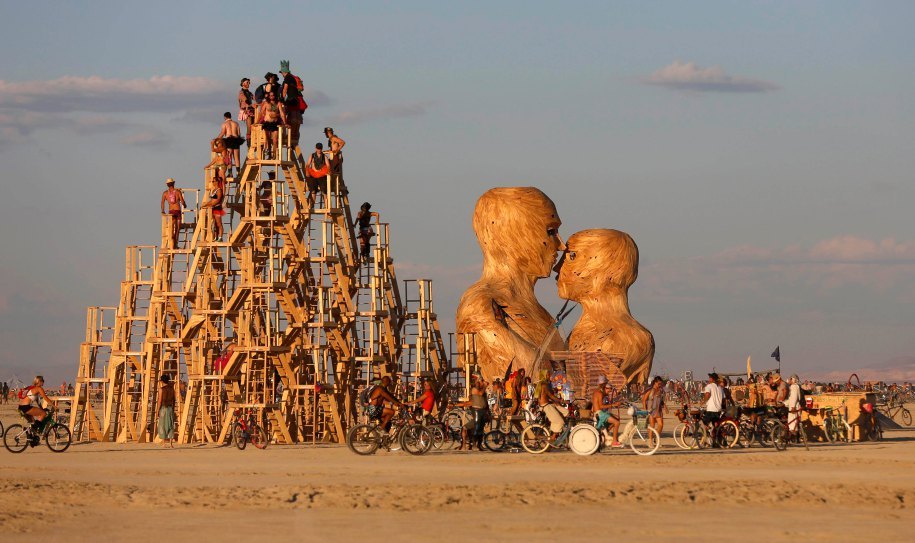 9. The Temple of Promise, 2015.
Breaking with the past tradition of temple shapes that were "palatial, romantic, and classical in design," this temple was conceived by Lauren Novotny as "a calming hand and a listening ear." In its center stood a grove of trees. Scattered around the site, wooden sculptures shaped like stones formed a "soft boundary," and the tapering spiral of the main structure was designed to provide shelter and quiet.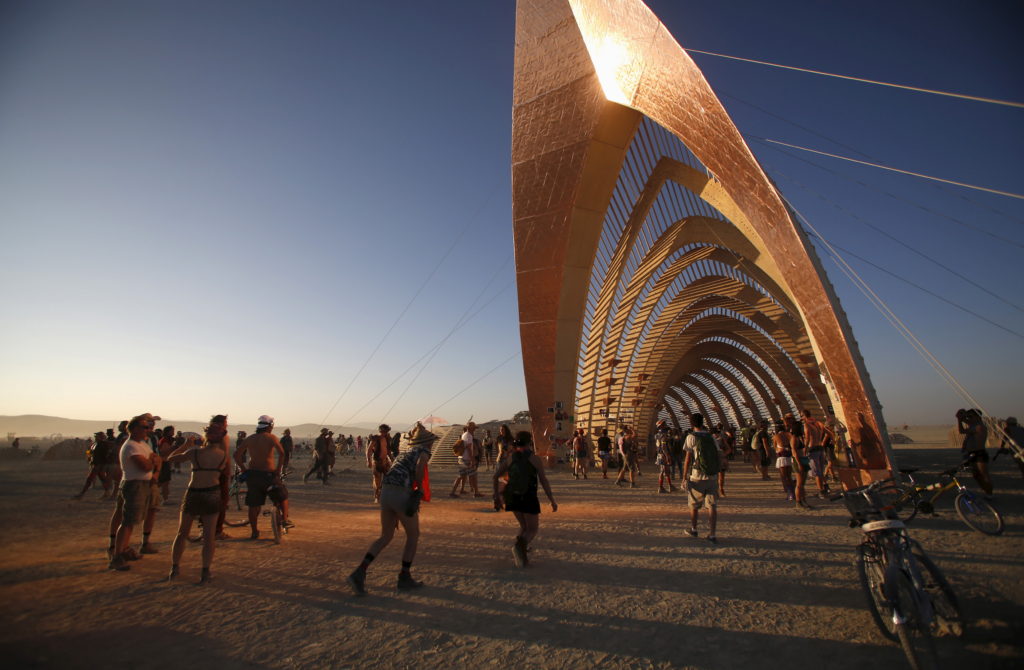 10. Love, 2015.
Created by Alexandr Milov, this highly popular sculpture of two adults fighting, backs to one another, captured for many the essence of the human spirit. Despite the conflict, the inner child (literally) in them wants to connect and love one another. At night, the two children's figures illuminated, making the message even more clear.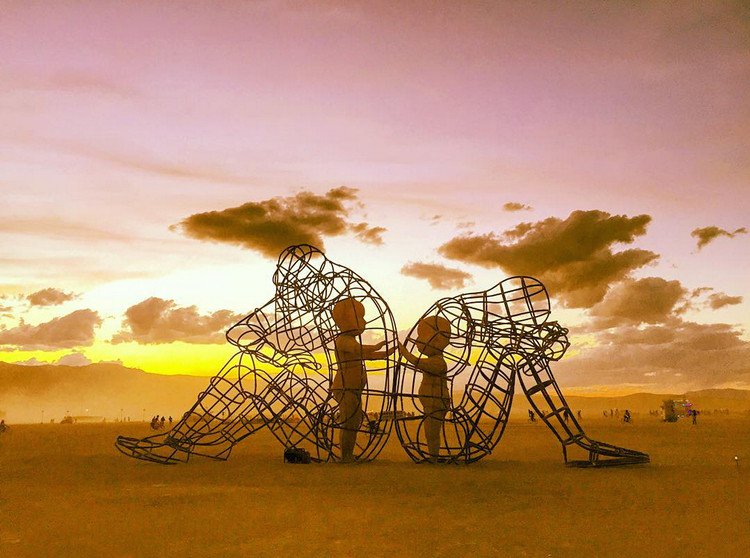 11. The Orb, 2018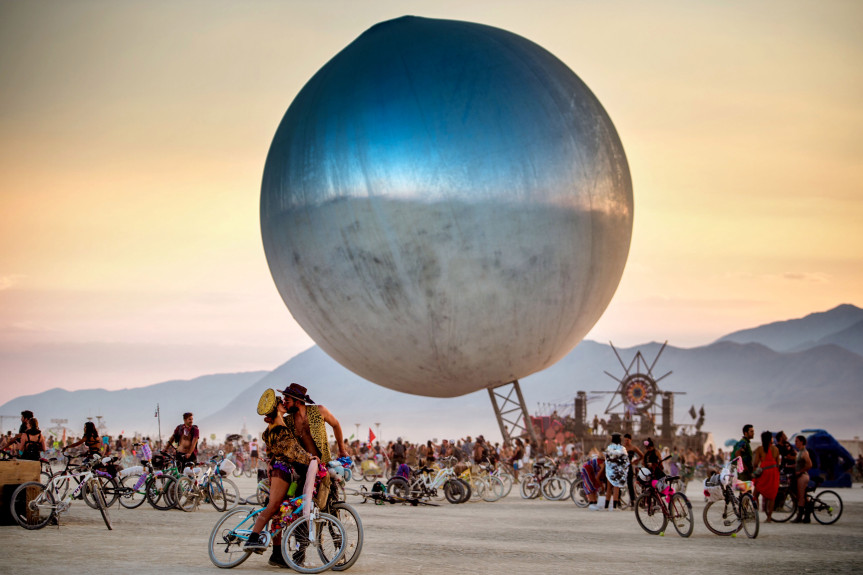 12. Odd Jelly Out, 2018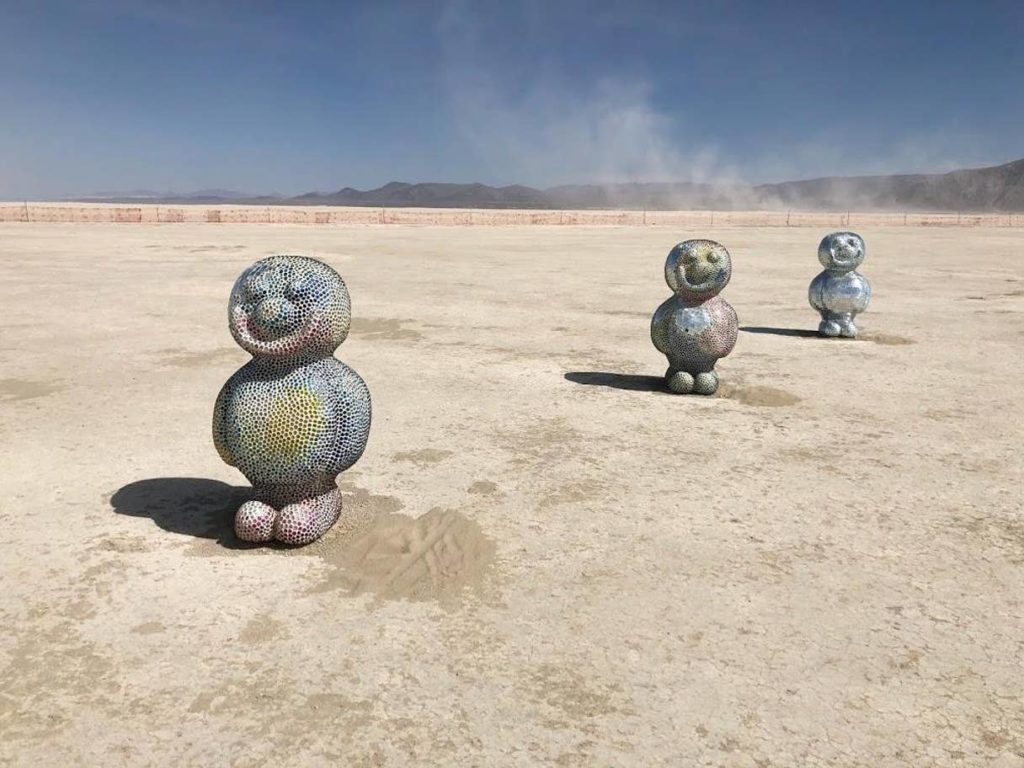 Who knows what this year will bring? We can't wait to find out. In the meantime, what's your favorite Burning Man installation from history?
join our community
For access to insider ideas and information on the world of luxury, sign up for our Dandelion Chandelier newsletter here. And see luxury in a new light.