This Week in Sports Talk (TWIST) is our weekly roundup of top headlines and sports news, plus a preview of what's up next. Heading into the week of August 11, 2019, here's the top sports news, with a twist. Skim it, and you'll be good to go all week.
This Week in Sports Talk: August 11, 2019
We begin with some short takes in sports news heading into the week of August 11, 2019.
USA Gymnastics competition
The U.S. Gymnastics Championships are on this weekend in Kansas City, Missouri. It's the first of several competitions to determine who's on the 2020 Olympic squad. Simone Biles, 22, the 4-time gold medalist in 2016 in the Rio Olympics, currently holds the lead.
On Friday, she became the first woman to perform a triple double (two flips with three twists) in the floor exercise of a competition.
Williams-Osaka rematch
Friday night in a Rogers Cup quarterfinal in Toronto, Serena Williams and Naomi Osaka met on the court for the first time since the infamous women's final at the US Open last year. Williams easily won this one, 6-3, 6-4. It was the first time in three match-ups between the two that Williams came out on top. The two players were gracious throughout, and both seemed relieved to have their first rematch out of the way before the high-pressure, high-stakes US Open begins later this month.
Cinderella story in the NFL
Cleveland Browns rookie wide receiver Damon Sheehy-Guiseppi stole the show Thursday in the team's first preseason game with an 86-yard touchdown against the Washington Redskins. His story is remarkable.
Join our community
For access to insider ideas and information on the world of luxury, sign up for our Dandelion Chandelier newsletter. And see luxury in a new light.
Sheehy-Guiseppi had been sleeping outside a Miami gym after spending his last $200 on training. A former teammate from a flag-football league tipped him off to the time and location of the Browns' spring practice, but he wasn't invited. So he talked his way in, impressed the scouts, and now has scored his first NFL touchdown in his first game.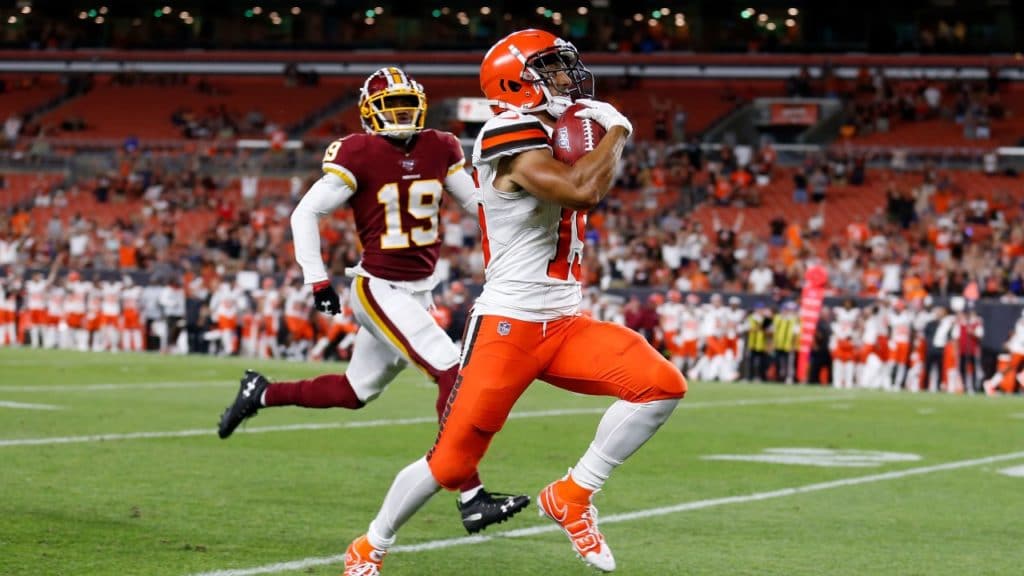 Even better? On Thursday night, Sheehy-Guiseppi misplaced his cleats, so he was running in star teammate Odell Beckham Jr.'s cleats when he made that play. His teammates cleared the sideline to mob him on the field and celebrate. No matter what happens next, that is some serious true grit right there, and inspiration for us all.
Baseball's Field of Dreams becomes a reality
This week Major League Baseball announced that the New York Yankees and Chicago White Sox will play a game in Iowa next summer at the site of Field of Dreams, the 1989 film starring Kevin Costner. The match-up on Thursday, August 13, 2020, at a newly constructed ballpark near the site of the film in Dyersville, Iowa, will count as a regular-season game. This will be the first MLB game in the state of Iowa, and the park will seat 8,000 fans. Tickets are not yet on sale, but you can get more info here.
Tom Brady is moving
In other sports news heading into the week of August 11, 2019, New England Patriots star quarterback Tom Brady signed a two-year extension this week. He'll earn $23 million this season, making him the sixth-highest paid quarterback in the league. There's chatter about every element of this deal – some say he got taken to the cleaners, others say he's the one who made out like a bandit. Just the usual.
But it turns out that Brady is moving – to a new house. Brady and wife supermodel Giselle have listed their home in Brookline for $39.5 million. The mortgage comes out to just over $147,000 a month. Let's start the bidding. The family is rumored to be looking for a new home in either Alpine, New Jersey or Greenwich, Connecticut. On behalf of New Yorkers everywhere, we'd like to say "Come on down!"
ya gotta ask for what you want
In the Annals of True Love file, here's a new addition. Wednesday night, on The Late Show with Stephen Colbert, actress Tiffany Haddish announced to the world just how attractive she thinks New York Yankees slugger Giancarlo Stanton is. And how she feels that it's inevitable that they will date each other. Why do that on national television? Because "it'll be in his subconscious. And then, it will attract me to him!" Good luck, girl! He'd be lucky to have you.
Top Sports Headlines heading into the week of August 11, 2019
Now that we're warmed up, here's everything else you need to know about sports heading into the week of August 11, 2019:
1. MLB
Must Know:
Speaking of fields of dreams, Camden Yards in Baltimore is definitely that for the New York Yankees. This week, they won their 14th game in a row there. That's a new record for the most consecutive wins in an opponent's ballpark. The Yanks' previous record was set in 1940.
They have a perfect 10-0 record in games at Camden Yards this year, and the Yankees hit a record 52 home runs against Baltimore this year (38 of them at Camden Yards), which is the most ever for a team against one opponent in a single season (the second-highest is the 1956 Yanks, who hit 48 against the A's). Thirty-eight is a new record for home runs in an opponent's ballpark (the existing record of 29 was set in 1957). Finally, the pinstripes have played 4 games with 5 or more home runs against the Orioles – which is also a record.
More in Sports
the best new books about baseball 2019
And if you really want to geek out, here is one more fun fact for you. In terms of the MLB slugging percentages of all time, the Yanks' record against the Orioles this year is second only to Babe Ruth's .690.
The Yanks' bats remained hot as they won their 9th in a row against the Toronto Blue Jays on Thursday night. They set an MLB record that night of hitting 19 home runs in 4 games. Perhaps the most remarkable fact of all is that this record-breaking home run production is happening without the team's star sluggers. Giancarlo Stanton, Edwin Encarnación, Aaron Hicks, Gary Sánchez, and Luke Voit are all out with injuries. And star slugger Aaron Judge is in a slump. Their leaders are DJ LeMahieu, Gio Urshela, and Mike Tauchman. Who had ever even heard of them before now?
Sadly for fans of the Bronx Bombers, the Blue Jays snapped the Yanks' winning streak this weekend. With a 5-4 win by Toronto yesterday, the Yankees have now lost two in a row.
Nice to Know:
Speaking of underdogs, across town the New York Mets – who had been left for dead before the trading deadline – are suddenly on fire. On Friday night, they put together a four-run, ninth-inning comeback. Their 7-6 win over the Washington Nationals extended an improbable streak that has seen the Mets win 14 times in 15 games.
They did it again last night with a 4-3 win over the Nationals, stretching their run to 15 wins in the last 16 games. That's their best roll since 1990, when they went for 16-1.
With that win, the Mets sit within half a game of the wild-card-leading Nationals. A big driver of the team's surge has been the contributions from rookie Pete Alonso. Through Friday, he had lodged 38 homers and 85 runs batted in. Some are even comparing him to Aaron Judge. Notably, Alonso won the Home Run Derby this year, just as Judge did his rookie season.
Extra Credit:
Heading into the week of August 11, 2019, the sports news summary is that MLB is sitting with three runaway divisions. In the AL East, the New York Yankees are up 8.5 on the Tampa Bay Rays and 15 on the Boston Red Sox. In the AL West, the Houston Astros are up 11 on the Oakland A's (they beat the Baltimore Orioles 23-2 last night). And in the NL West, the LA Dodgers are up 18 on the Arizona Diamondbacks.
Meanwhile, the other three MLB divisions are locked in a series of dog-fights. In the NL Central, the Chicago Cubs are 1.5 ahead of the Milwaukee Brewers, and 2.0 ahead of the St. Louis Cardinals.
The Minnesota Twins are only 1 game ahead of the Cleveland Indians in the AL Central. Finally, the Atlanta Braves are 6.5 ahead of the Washington Nationals and 7.0 ahead of the newly-resurgent New York Mets in the NL East. The Nats and Mets will be in a fight for a wildcard slot.
bonus round
In a show of support for the fellow home team, Cleveland Browns quarterback Baker Mayfield was at the Cleveland Indians baseball game last weekend. When he was shown on the big screen, he shotgunned a beer — by using his teeth to puncture the can. Dude! Perhaps purely coincidentally, the Indians scored five runs almost immediately afterward.
2. NFL
Must Know:
The NFL preseason started in earnest this week, with almost a dozen games on Thursday night. All three quarterbacks selected in the first round of the 2019 NFL Draft had their preseason debuts. And Kyler Murray, Daniel Jones and Dwayne Haskins all made a good first showing. Jones, rookie quarterback of the New York Giants, was 5 for 5 for 67 yards plus a touchdown. Our Sports Desk notes that starter Eli Manning "looked old" by comparison.
Murray, the No. 1 overall draft pick, was sharp in his first outing for the Arizona Cardinals, completing six of his seven passing attempts for 44 yards (the seventh one was caught but received a penalty). Local sports writers praised him for his "poise, confidence and comfort" on the field.
Haskins took the field for the Washington Redskins and held his own. He made a laser throw for a 32-yard gain on his first series. He went 8-for-14, 117 yards, no touchdowns, and two interceptions.
Nice to Know:
There are strange goings-on at Oakland Raiders training camp. New Oakland Raiders wide receiver Antonio Brown (AB), traded during the off-season from the Pittsburgh Steelers, has not participated at training camp because of . . . frostbite. Reports are that he used a cryotherapy machine without the proper footwear and was badly burned.
Subsequently, a second story about the player emerged days later. He is strongly opposed to the new NFL policy banning the old helmets from last season. AB refuses to wear his new helmet. He's even been caught sneaking the old helmet onto the field a couple of times (including having his old Steelers helmet painted with the Raiders colors and taking it on the field). In a further escalation, on Friday, AB declared that if he has to wear the new helmet then he won't play. Watch this space for further updates.
Extra Credit:
There's also disharmony in Dallas, as the Cowboys' Ezekiel "Zeke" Elliott has still not reported to training camp. He says he won't play without a new contract. If the two sides can't resolve their differences, it could have real impact on the team this year. As our Sports Desk notes, "Zeke makes Dak Prescott, the quarterback better. But Dak doesn't make Zeke better." Which potentially gives Elliott some actual leverage in this standoff. We'll see.
Bonus Round:
While preseason games don't count, and star players frequently sit them out, reigning NFL MVP Patrick Mahomes played the entire first quarter of the Chiefs' opener against the Bengals last night. The Chiefs won handily, 38-17.
Meanwhile, in Patriots Nation, people are feeling pretty good about quarterback Jarrett Stidham. The 23-year-old fourth round pick out of Auburn completed 14 of 24 passes for 179 yards and a touchdown this week.
And in what was perhaps actually just a media-stoked non-event, New York Jets quarterback Sam Darnold refused to wish Pats quarterback Tom Brady "Happy Birthday," because he didn't want to give Brady a competitive edge. Wut??? Sam, bro, we don't think you have quite that much power in the universe – at least, not just yet. If we were you, we'd leave the big dog alone.
3. NBA
Must Know:
There's not a lot of sports news in basketball heading into the week of August 11, 2019. The biggest headline is that the NCAA has announced a change to the criteria for agents hoping to represent college basketball players testing the NBA Draft process.
Dubbed the "Rich Paul rule" by many who oppose it, it requires agents to have certain academic achievements before representing student-athletes. Including a college degree. The Lakers' LeBron James immediately registered a protest. Rich Paul, who represents Anthony Davis, Ben Simmons, Draymond Green, John Wall and James, among others, has no degree. Critics say this is an attempt to squelch the growing power of the players in the league.
Nice to Know:
Vince Carter has agreed to a one-year deal with the Atlanta Hawks. When he takes the court for the first time next season, Carter will become the first player in NBA history to play in 22 different seasons.
Extra Credit:
Unfortunately, not every player gets the longevity on the court that they hope for. Carmelo Anthony's farewell tour received another blow this week. He can't seem to land on an NBA team. And now Team USA has said "thanks but no" as he tried to get spot on the team.
This Week in Sports News – August 11, 2019
That's it. You're good to go with the top headlines and coming attractions heading into the week of August 11, 2019. Have a good one, and see you next week.
Join our Community
For access to insider ideas and information on the world of luxury, sign up for our Dandelion Chandelier newsletter here. And see luxury in a new light.
Join our community
For access to insider ideas and information on the world of luxury, sign up for our Dandelion Chandelier newsletter. And see luxury in a new light.