Inside Tips on the Best Luxury Autumn Vacation in Paris
All products are independently selected by our editors. If you buy something, we may earn an affiliate commission.
Planning a luxury vacation to Paris this fall? Looking for advice on how to experience Paris in the autumn like a luxury insider? Our correspondent Julie Chang Murphy has done the work to identify the inside tips on the best luxury autumn vacation in Paris this year.
the joy of an autumn luxury vacation in Paris
Spring time in Paris has been glorified and implanted in our collective consciousness as the perfect backdrop for romance. The vivid colors and blooms in iconic parks. The impossibly chic couples walking hand in hand amidst the classic Belle Epoque architecture. Sitting at a sidewalk cafe for hours people watching.
[white_box]
Join our community
For access to insider ideas and information on the world of luxury, sign up for our Dandelion Chandelier newsletter. And see luxury in a new light.
sign up now >
[/white_box]
We get it. It's no wonder that Cole Porter starts his chorus with, "I love Paris in the spring time" in the classic, "I Love Paris." Nor why "April in Paris" is a treasured tune.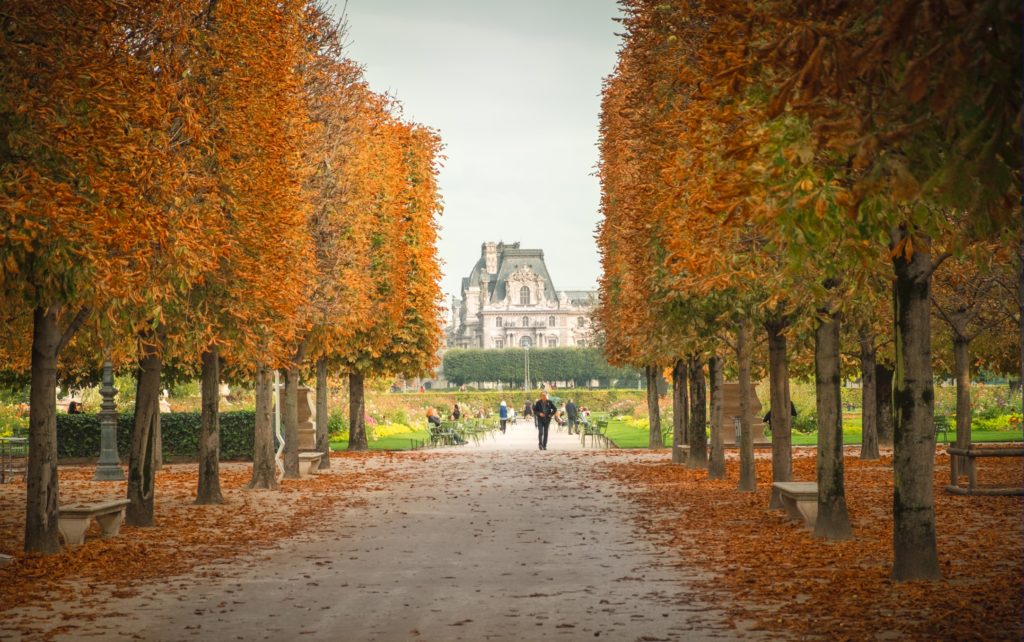 But if you ask us, autumn in Paris is a wonderful time to visit the City of Lights. September marks la rentrée, when Parisians are back from their August holidays. The boulangeries, cafes and restaurants are all re-opening. And there's a sense that this is the real Paris.
There's an electricity in the air and a hustle and bustle as the city awakens again. And like other cities that experience all four seasons, autumn gives us extra motivation to seize the day before the cold temperatures clip our wings and makes staying in a much more appealing proposition.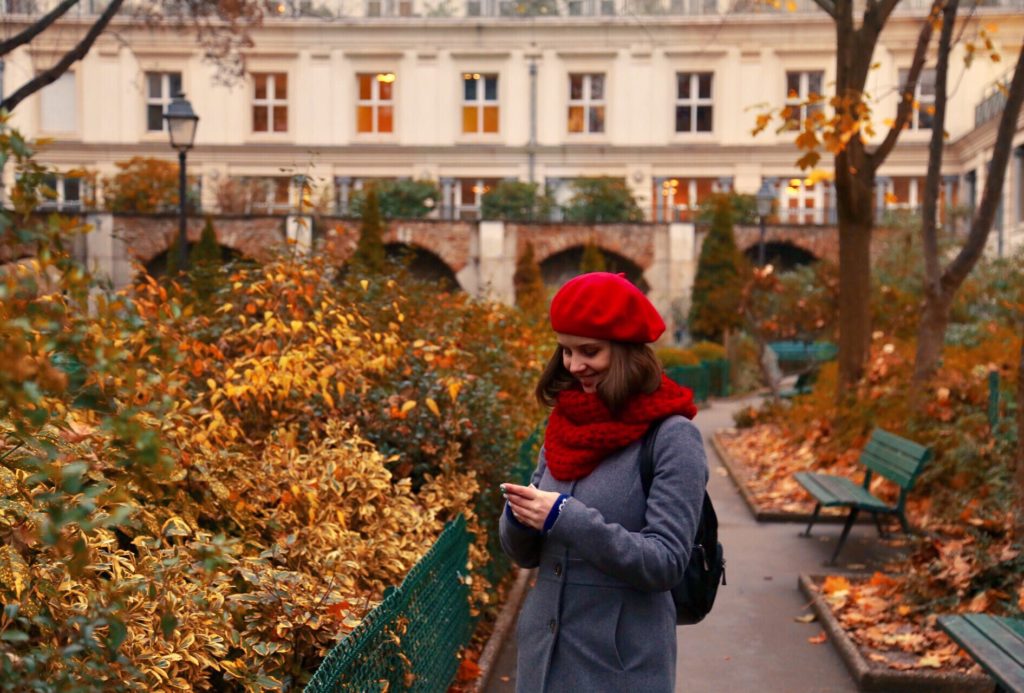 how to experience autumn in Paris like a luxury insider
So carve out a long weekend (or more!) somewhere in the months of September, October and November. And prepare to do autumn in Paris like a luxury insider.
Here are our top 10 essential luxury experiences in Paris in autumn that will have you remembering that "La vie est belle."
1. Fall Foliage
Where's the best place to view fall foliage in Paris? We've got a few favorites. Stroll along the long allées and take in the golden glows of the plane trees of the Jardin des Tuileries across from the Louvre.
Parc Monceau is filled with specimen trees that turn spectacular colors. And it's the most extra on our list, featuring a strange but enchanting mix of architectural features like a miniature Egyptian pyramid, temple, windmill, and grotto.
You'll be able to snap some iconic photos at the Parc des Buttes Chaumont, where you'll find local and exotic trees ablaze in color combined with sweeping views of the city. And the Luxembourg Gardens are Paris' largest public park with over 22 hectares. So you'll have no trouble finding a pile of leaves to kick through.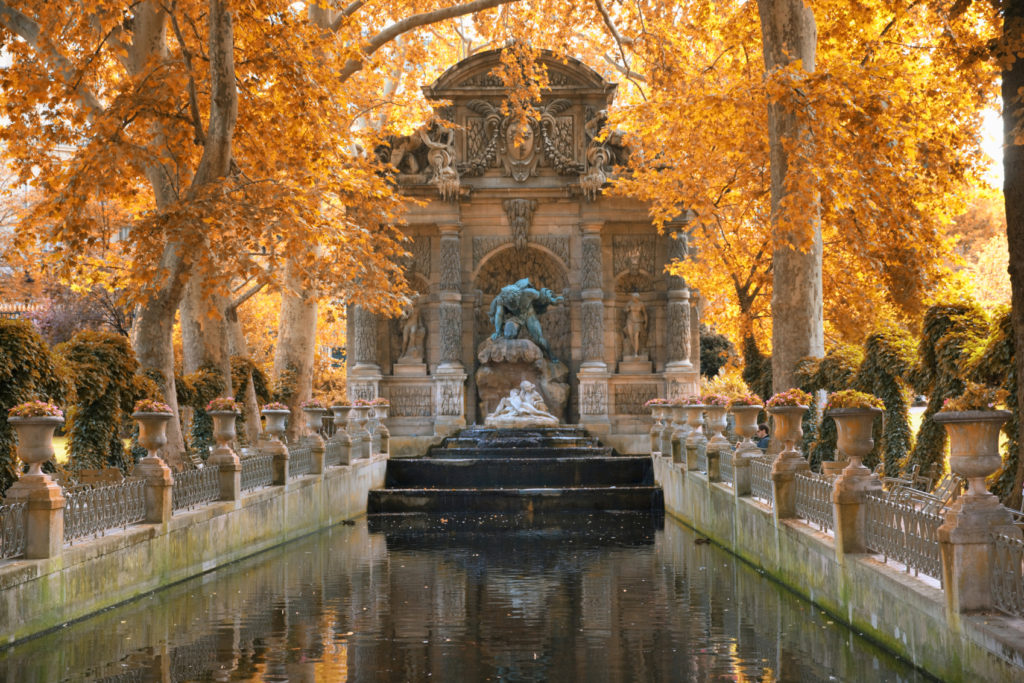 2. Nuit Blanche (White Night)
Ready to pull an all-nighter? Nuit Blanche occurs on the first Saturday of October (that would be October 5, 2019 this year). The museums of Paris invite the public to experience the city in a new and original way from dusk 'til dawn.
Since 2001, it has become the can't miss event of the fall calendar. Parisians roam the streets from 7:00P to 6:00A, enjoying interactive art exhibits, theater, live music and athletic activities. This year, the theme is Movement. And so, fittingly, there are two free 10 km races that take place from 10:00P to 2:00A. Participants can run through the streets of Paris, from the Louvre to the Théâtre du Châtelet. And everyone can enter the most beautiful museums, theaters and monuments in the world (by walking, of course).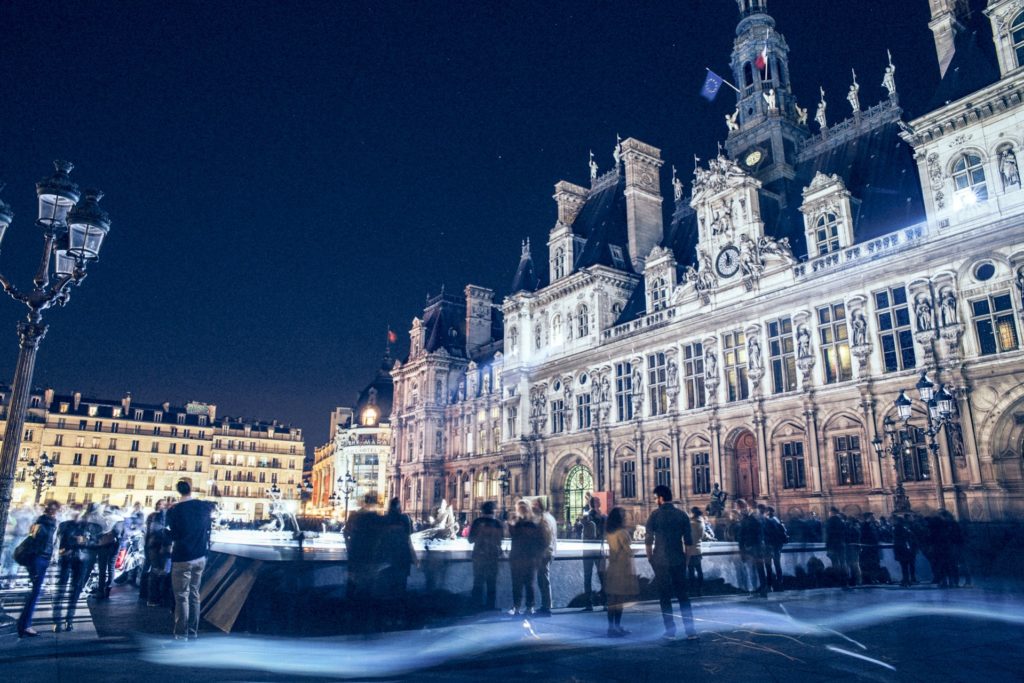 3. The Chanel au Ritz
After the all-night revelry of Nuit Blanche, you will have earned a day at the spa. And luckily, you will have arrived in time to enjoy the first of its kind Chanel Spa at the recently renovated Ritz-Carlton Paris.
The jaw-dropping aesthetic and refined elegance is inspired by Coco Chanel's former apartment at the Ritz. The attention to detail is exceptional; rooms are beige with black and gold accents. And numbered after iconic numerals in Chanel's storied history. Every treatment is customized using Chanel products, and includes specialized juices to drink after your appointment.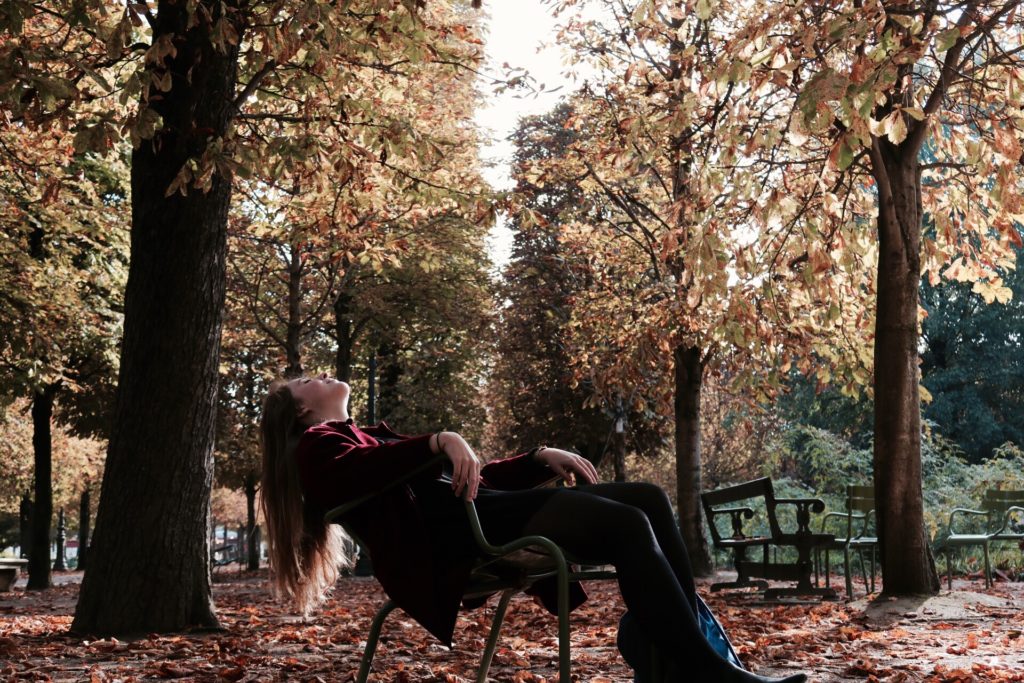 4. Fête des Vendanges de Montmartre (Montmartre's Grape Harvest Festival)
Though many are familiar with the wine regions of Bordeaux, Loire Valley and Champagne, it's a little known fact that Paris is also home to one of the last remaining working vineyards. It's Le Clos Montmartre.
Every fall, the winery hosts a festival. This year's festival, from October 9 to 13, 2019, marks the 18th anniversary. The theme this year is "A Celebration of Colors." In addition to traditional wine-making activities, the 5-day event includes a parade with music and folk dancing. Plus, over 20 concerts, a fashion show, and a public potluck picnic. The grand finale is a Rainbow Ball at the foot of the steps of the Sacré-Coeur.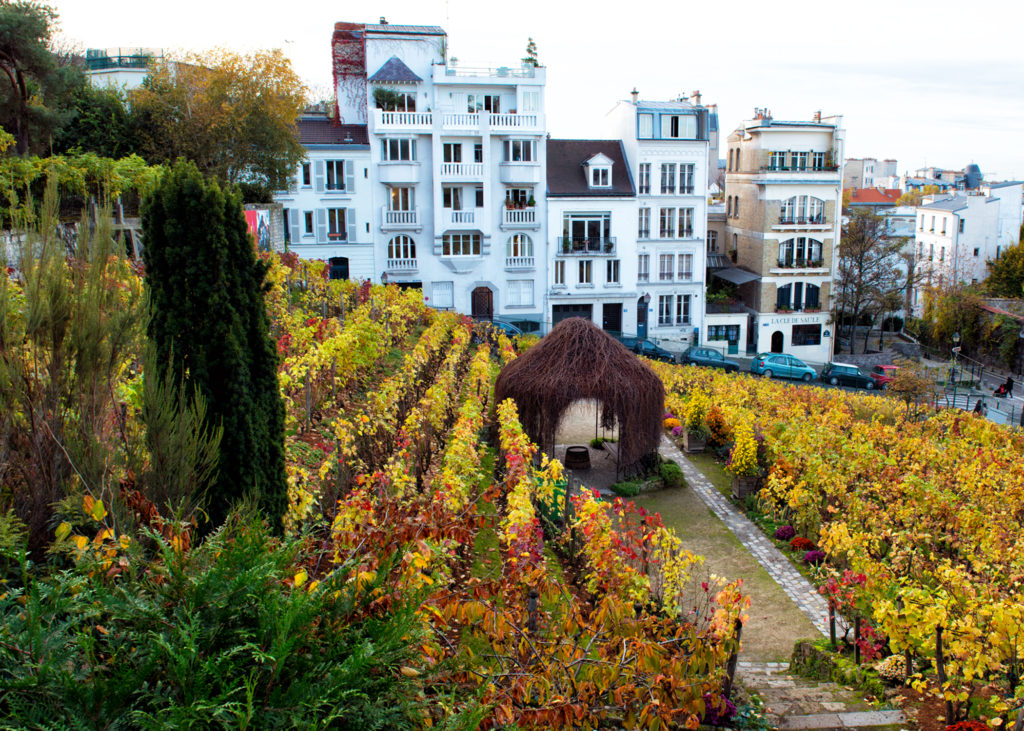 5. Musée National Gustave Moreau
Ducking into a museum as the weather chills is perhaps the coziest way to spend an afternoon while on an autumn luxury vacation in Paris.
In particular, we think the Musée National Gustave Moreau, located in the 9th arrondissement, captures the mood of autumn perfectly. It's located in the former home of Symbolist painter Gustave Moreau. The decor includes rich terracotta walls and deep turquoise damask wallpapers. His numerous paintings are dusky and jewel-toned. And they're surrounded by various curiosities and collectibles and intricate textiles. Don't miss the beautiful spiral staircase (which is understandably highly popular on Instagram).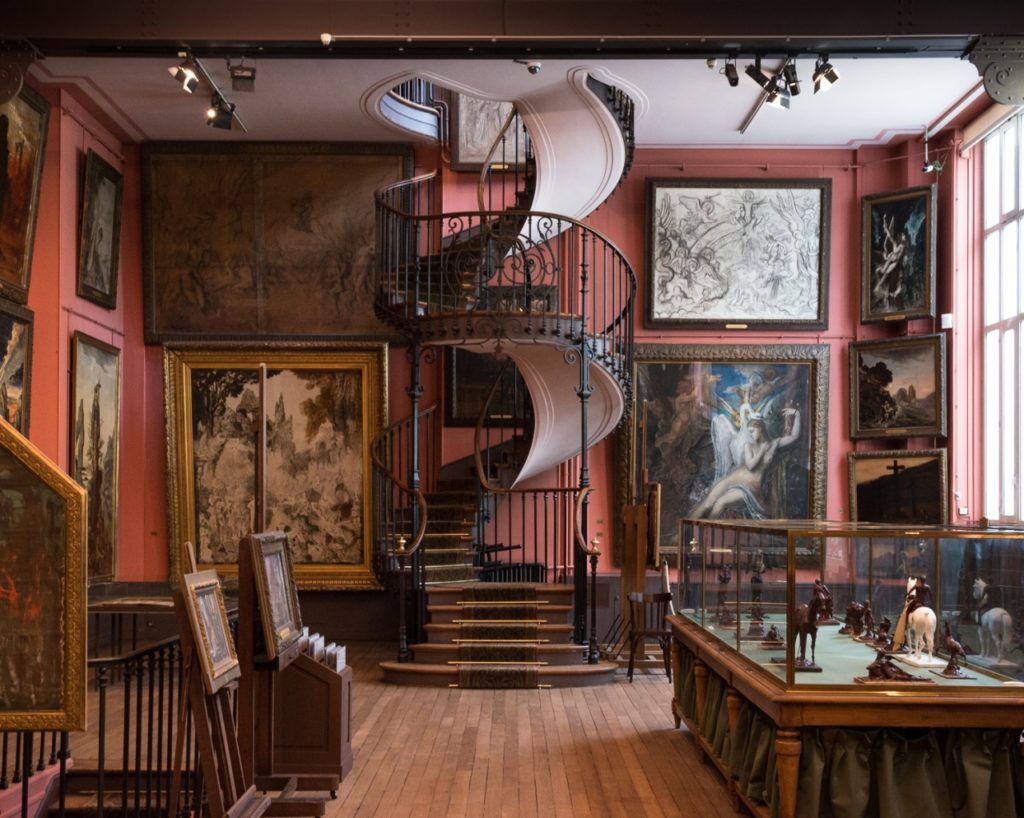 6. La Cite des Morts – The City of the Dead
Though the French don't celebrate Halloween (Pourquoi pas??), you can still get into the spooky fall spirit during an autumn luxury vacation in Paris by visiting the Père Lachaise Cemetery. The grande-dame of Parisian cemeteries, it was built in the 1800's. The ornate tombs and sculptures will be covered in colorful fall leaves if you visit during a luxury vacation Paris in the fall. If you listen closely enough, you just might hear the ghost of Oscar Wilde making a quip. Or Jim Morrison singing; or Frédéric Chopin playing the piano.
If you're feeling particularly brave or have a taste for the macabre, you might want to descend underground into Paris' catacombs. This veritable labyrinth of bones occupies 175 miles of former mining tunnels underneath the city. Once closed off to the general public, and only open to the privileged few, now members of the general public can book a tour.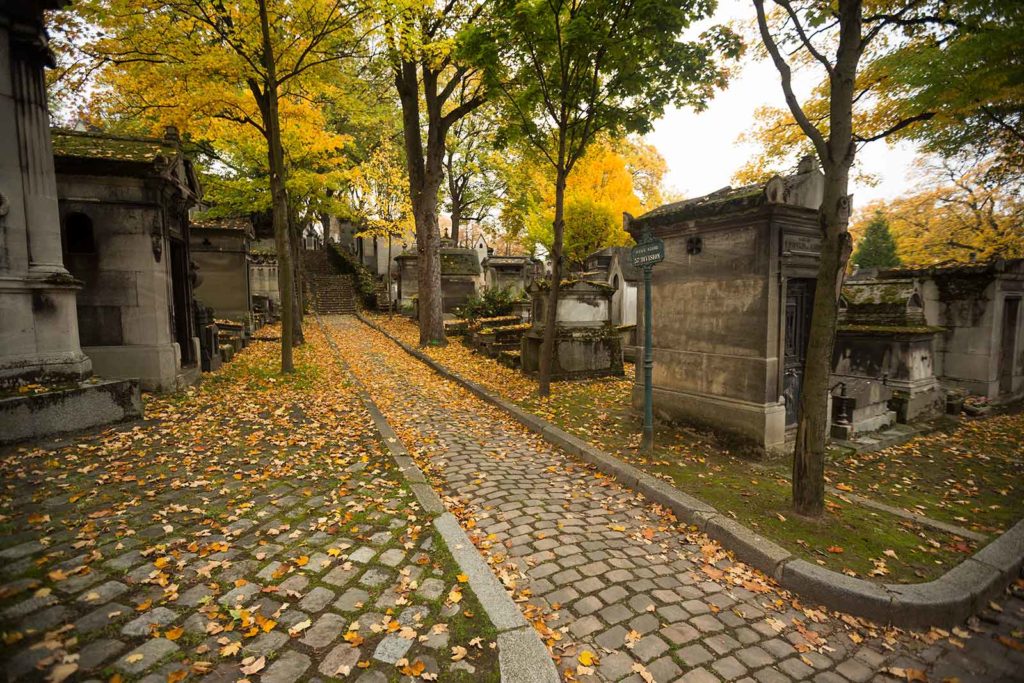 7. Chocolat chaud
Although chocolate is a year round (ahem, daily) treat, Autumn is prime hot chocolate season. One of the most legendary spots in the city for a chocolat chaud is Angelina Paris. There is often a queue out the door but their specialty – a thick 'African' chocolate blend served with fresh whipped cream – is totally worth it.
Another favorite of ours is Jacques Genin, a master chocolatier who has developed a cult following. His hot chocolate is decadently thick and made simply by melting Araguani de Valrhona chocolate in whole milk, accompanied by a bowl of vanilla-infused whipped cream.
For die-hard chocoholics, consider checking out the annual Salon du Chocolat (The Chocolate Fair) from October 30 – November 3, 2019. Paris is host to the world's most prestigious chocolate event at the Porte de Versailles, with over 500 exhibitors from throughout the world.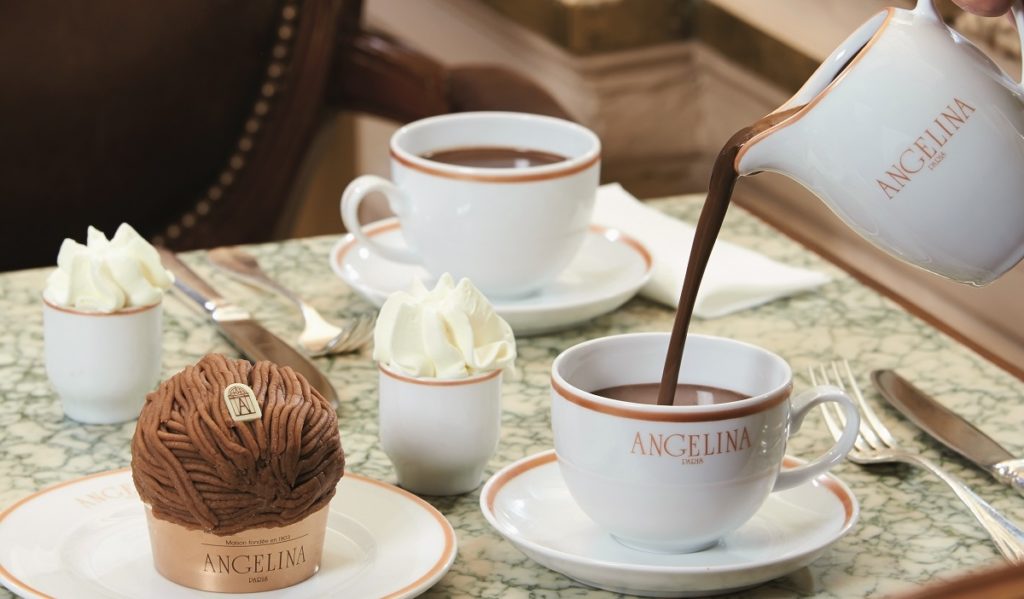 8. Fall Fashion Week
Paris Fall Fashion Week (September 23- October 1, 2019) sees the most important of all of the world's luxury designers. Unfortunately, the shows are by invitation only. But that doesn't mean you can't partake in the glamour that spills into the streets that week. The people-watching is incredible by day and by night.
We recommend staying at the 5-star, luxury Hôtel Plaza Athénée. That's where all of the "It girls" like Sara Sampaio, Aimee Song and Negin Mirsalehi stayed last year. If you're in search of street style stars and inspiration, definitely hang out at the Place Vendôme. At night, party with the fashion elite at Le Carmen, an opulent, rococo nightclub with top-notch DJs and creative cocktails.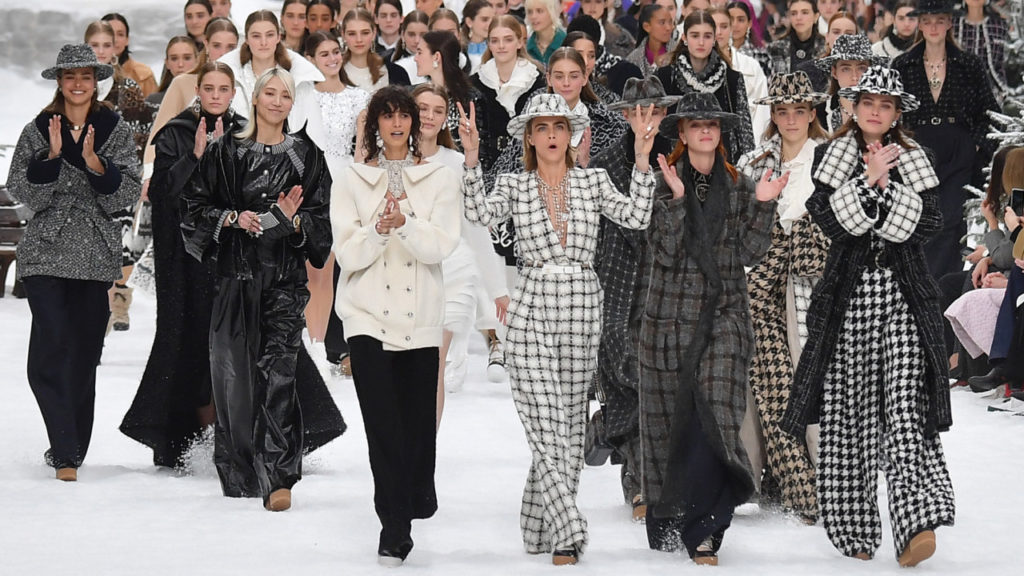 9. Epicure at Le Bristol
In 2019, Eric Frechon celebrates his 20th year at his 3-Michelin star restaurant, Epicure, at the luxurious Le Bristol Hotel. There is still time to sample from his commemorative tasting menu which includes many of his signature dishes. Expect the works: crab in green zebra tomato water jelly; large langoustines with lemon-thyme; and stuffed macaroni with black truffle, artichoke and duck foie gras. There will also be line-caught whiting fish in a crust of bread with almonds; and hen breast with yellow wine, crayfishes, royal of giblets and chanterelles. Salivating yet?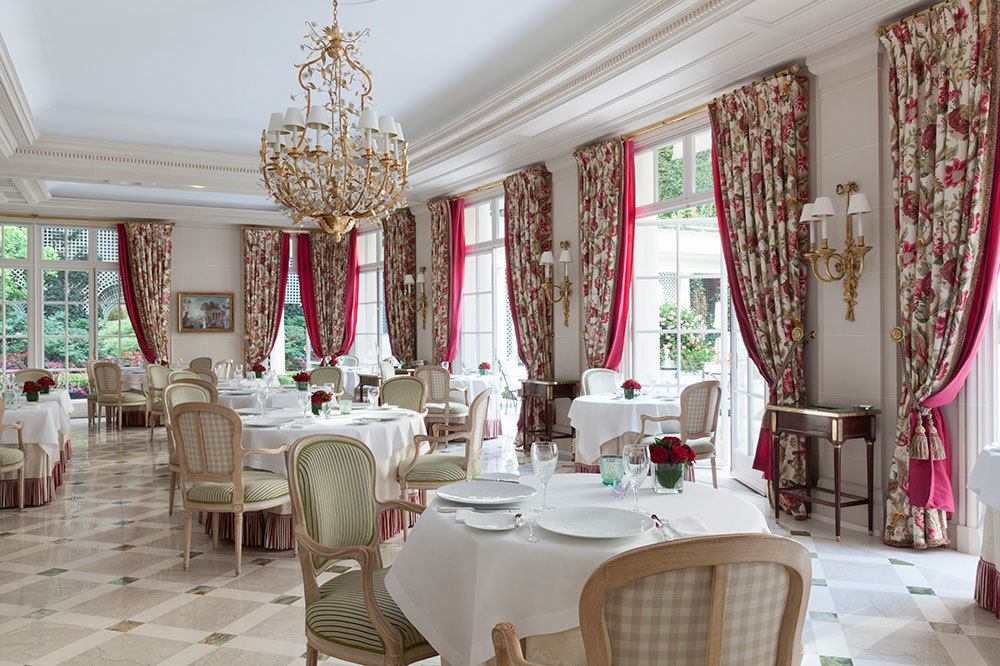 10. ATP Rolex Paris Masters
You might have thought you missed your chance to watch this generation's male tennis greats play in Paris. After all, the French Open at Roland Garros happens over the summer.
However, if you're on a luxury vacation in Paris in the fall, be sure to grab tickets to The Rolex Paris Masters. It takes place from October 28 – November 3, 2019. As the final tournament of the regular men's tennis season, the Palais Omnisports in Bercy showcases the cream of the crop players. The stadium is located in the 12th arrondissement, and while we're there, we love taking a stroll through Bercy Village. It's an open air, cobblestone street shopping district housed in historic wine warehouses.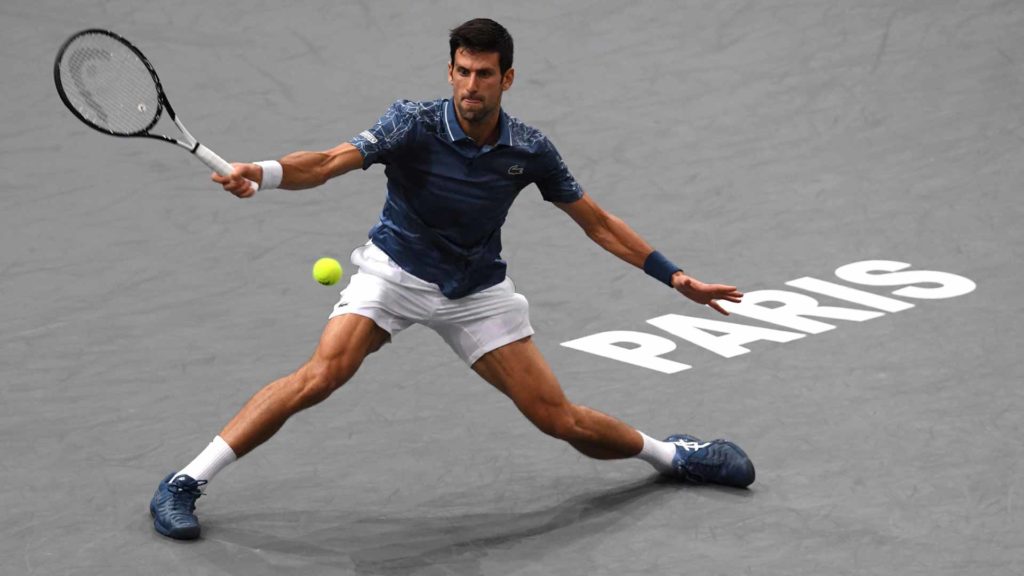 11. Pitchfork Music Festival
For those in the know, this music festival has been showcasing ambitious line ups from the indie scene for the past 9 years. This year, an entire day will also be dedicated to hip hop, rap and R&B artists.
It takes place right in the heart of the Grand Halle de la Villette in Paris' 19th arrondissement, from October 31 – November 2, 2019. Headliners include Skepta, Chromatics, Belle and Sebastian, Mura Masa and Charli XCX. And with over 50 other established and up and coming artists, you'll be able to tell your friends that you saw them first- in Paris.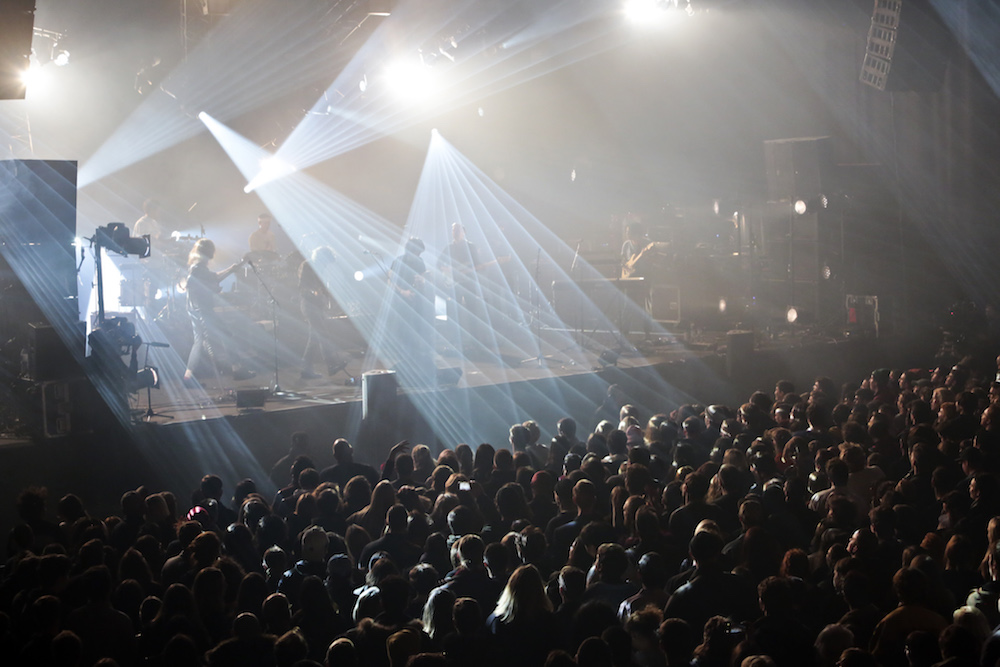 how to experience autumn in Paris like a luxury insider
That's it! A mix of classic and modern events, outdoor and indoor sites. It's always a good time to visit Paris. But especially in the fall. Are you in?
join our community
For access to insider ideas and information on the world of luxury, sign up for our Dandelion Chandelier newsletter here. And see luxury in a new light.
Crediting her training as a cultural anthropologist at Wellesley College, Julie has immersed herself in various industries in the last 15 years including fashion design, event planning, fitness and even investigating police misconduct. Julie lives in NYC where she loves trying every ramen and dumpling restaurant with her husband and three children. She finds joy in bold prints, biographies of fierce women, kickboxing and spending way too long finding the perfect polish color to express her mood.