What Are the Best New Books Coming in October 2019?
All products are independently selected by our editors. If you buy something, we may earn an affiliate commission.
New month, new books! Book Light is our Dandelion Chandelier curated list of the most-anticipated new releases for October 2019. The perfect October read is as crisp and bracing as an autumn breeze. So what are the best new books coming in October 2019? Our intrepid team has been exploring and here's what we found.
what are the best books coming in October 2019?
There are a lot of great new book releases coming in October 2019, and they are surprisingly varied.
fiction
Among the most-anticipated books of October 2019, Elizabeth Strout and Zadie Smith have new works of fiction. There's a sequel to Call Me by Your Name; and the prequel to Leaving the Atocha Station.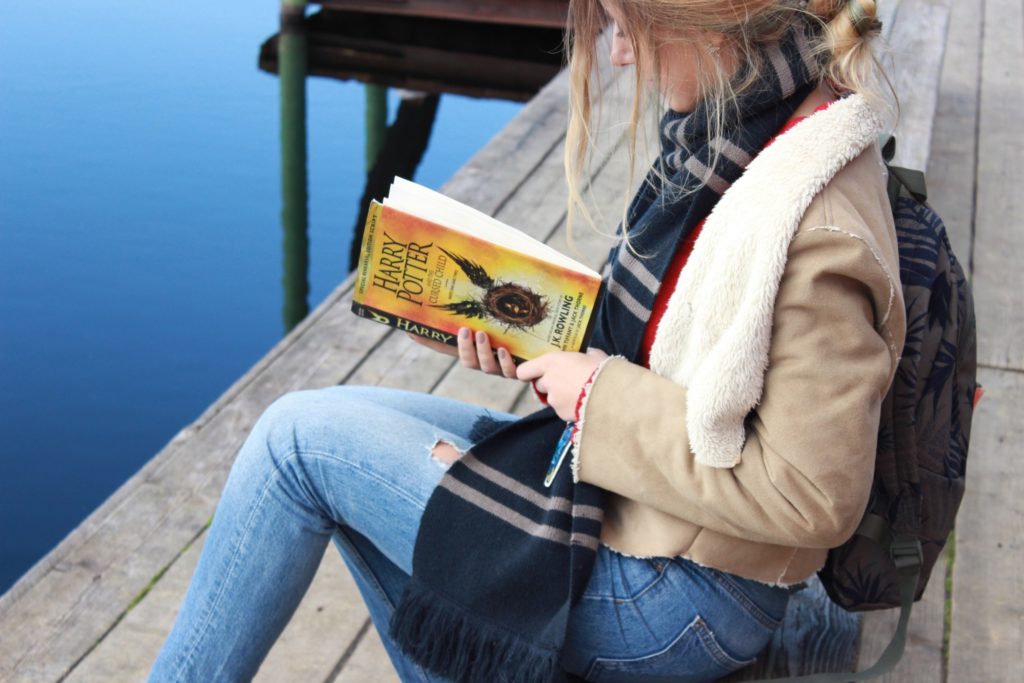 non-fiction
Several rock and roll icons have penned memoirs, including Debbie Harry. Prince (posthumously). And Sir Elton John. There are also memoirs from the icon of the LGBTQ+ movement Edie Windsor, and a recounting of what it was like growing up black and gay by Saeed Jones.
We found several books that are smart, comedic and gently satirical, including love poems for parents of little kids and a manual on the modern etiquette of hugging.
Longtime Hearst CEO Frank Bennack is sharing his life lessons, and event planner to the stars Bronson van Wyck has inside tips on entertaining, just in time for the holiday party season.
Vanity Fair has published a series of essays written by women about other women. And the New York Times' Gail Collins shares the heroic role of older women in history and society. Gloria Steinem's collected quotes are the perfect bookend for these.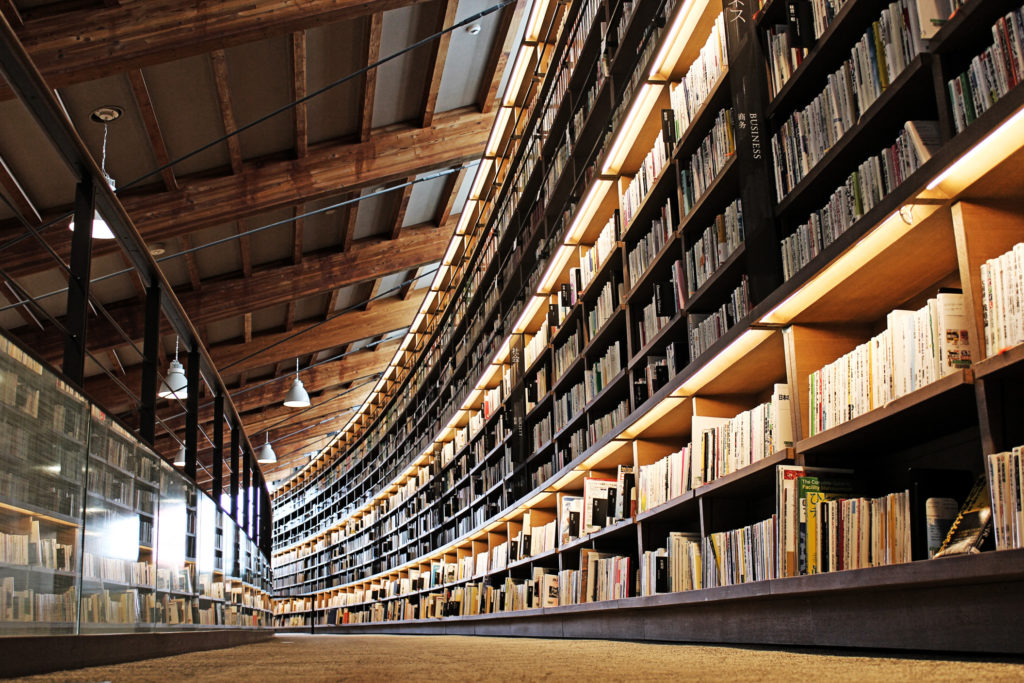 cookbooks
There are lots of great cookbooks among the most-anticipated books October 2019, some with extremely inventive themes. Plus a highly-anticipated book of real estate porn.
its gonna be a great month to read
We didn't set out to do this, but we found so many great new reads for our list of the most-anticipated books of October 2019 that we have more than one for every day of the month. It's a fantastic list of 40. So we can read straight through to Halloween with no stops. Spooky.
new books coming out in October 2019
Here's our pick of the top new releases – novels, essay collections, and non-fiction – that are the most-anticipated books October 2019. You can pre-order them now if you like. We'll love you whether or not you buy them via our site, dear reader. But if you choose to do that, we get a little pocket change to keep the lights on here at Dandelion Chandelier. Just wanted to be sure you knew.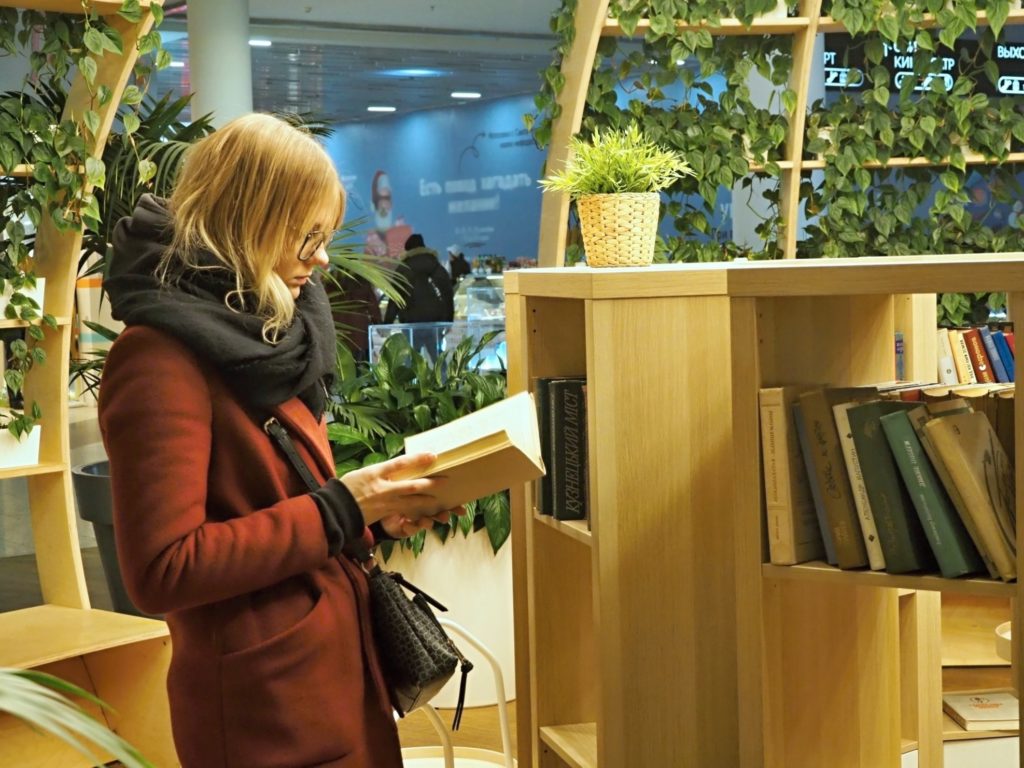 best new book releases October 1, 2019
1.
The Topeka School by Ben Lerner. From the award-winning author of 10:04 and Leaving the Atocha Station, this new novel is a family drama set in the American Midwest at the turn of the century. And a prequel to both of those books. A teenager brings a fellow high-school loner into his social circle with disastrous results. Meanwhile, his parents are facing marital issues and finding it hard to raise a good son in a culture of toxic masculinity – Publication Date: October 1, 2019
2.
Country by Michael Hughes. In this re-imagining of Homer's Iliad set in mid-1990's Northern Ireland, the IRA and the British have agreed to an uneasy ceasefire as a first step toward lasting peace. But after 25 years of violent conflict, those on the ground in the border country question whether it really is time to pull back—or quite the opposite – Publication Date: October 1, 2019
3.
Cilka's Journey by Heather Morris. The author of the 2018 bestseller The Tattooist of Auschwitz returns with a new novel set in the same milieu. At Auschwitz-Birkenau, 16-year-old Cilka survives the war and killing because the commandant is attracted to her. After liberation, though, the authorities charge her with collaboration for sleeping with the enemy. And she has to fight for survival again – Publication Date: October 1, 2019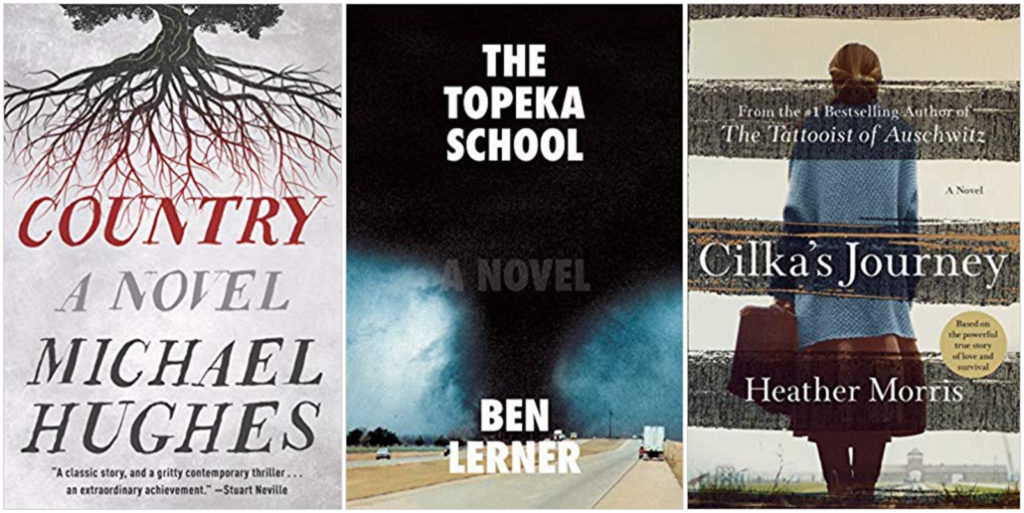 4.
Le Corbuffet by Esther Choi. It all started with a series of dinner parties that the author –artist, architectural historian, and self-taught cook–hosted for friends after she stumbled across an elaborate menu crafted for Walter Gropius in 1937. Now she's sharing a conceptual cookbook with art-inspired recipes. Think Frida Kale-o salad, or Rhubarbara Kruger Compote. Each one is presented as an edible sculpture – Publication Date: October 1, 2019
5.
How to Cook Everything—Completely Revised Twentieth Anniversary Edition: Simple Recipes for Great Food by Mark Bittman. For twenty years, Mark Bittman's classic How to Cook Everything has been the definitive guide to simple home cooking. This new edition has been completely revised for today's cooks, and includes color photographs – Publication Date: October 1, 2019
6.
Face It: A Memior by Debbie Harry. In this long-awaited publication from the musician, actor, activist and front woman of Blondie, we hear the raw stories of her rise to the top. As Harry writes: "I wasn't submissive or begging him to come back, I was kicking his ass, kicking him out, kicking my own ass too. My Blondie character was an inflatable doll but with a dark, provocative, aggressive side" – Publication Date: October 1, 2019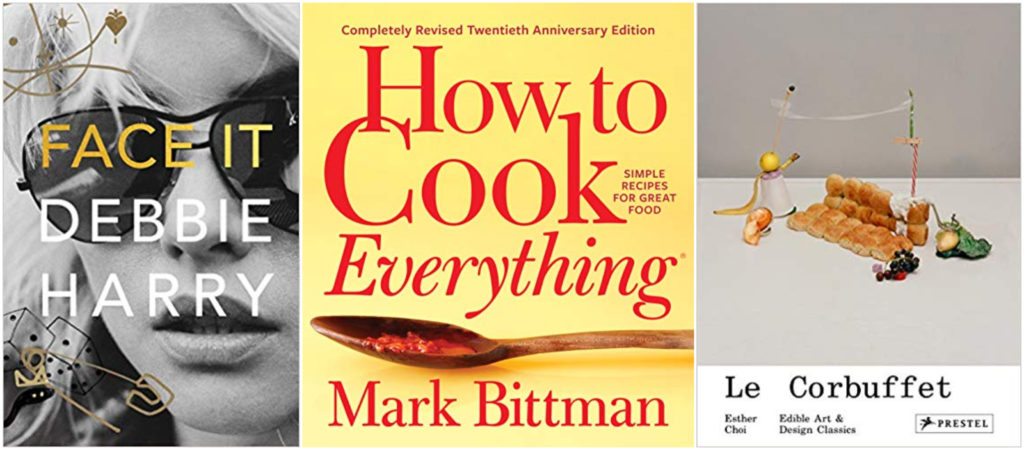 7.
Cabin Porn: Inside by Zach Klein with Freda Moon. The best-seller Cabin Porn has become a lifestyle movement synonymous with unplugging from a tech-obsessed world to find peace amid nature. In this new extension of the Cabin Porn series, the creators give their fans what they ask for most: a look inside the most beloved cabins they have featured over the past ten years – Publication Date: October 1, 2019
best new book releases October 8, 2019
8.
Grand Union by Zadie Smith. The stories in Smith's first collection range from historic to vividly current and slyly dystopian. There are eleven new and unpublished stories included, along with some of her best-loved pieces from The New Yorker and elsewhere – Publication Date: October 8, 2019
9.
The Giver of Stars by Jojo Moyes. The author of Me Before You returns with a new novel set in Depression-era America. It's the story of five women and their journey through the mountains of Kentucky and beyond – Publication Date: October 8, 2019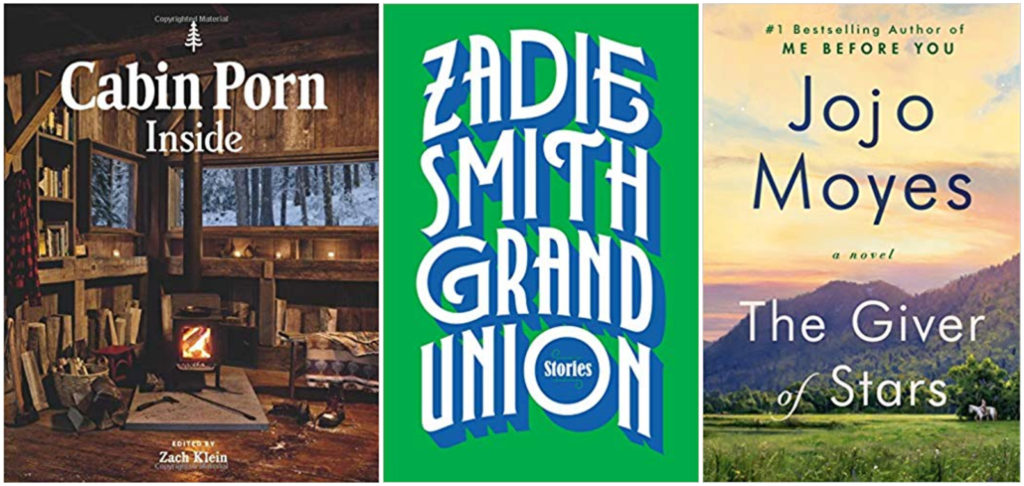 10.
The Girl Who Reads on the Métro by Christine Féret-Fleury. In this modern fairy tale, a French woman's life is turned upside down when she meets a reclusive bookseller and his young daughter. Before she realizes entirely what is happening, she agrees to become a passeur, the man's name for the booksellers he hires to take stacks of used books out of his store and into the world, using their imagination and intuition to match books with readers – Publication Date: October 8, 2019
11.
Horror Stories: A Memoir by Liz Phair. From the two-time Grammy-nominated singer-songwriter behind the groundbreaking album Exile in Guyville, this is a memoir in stories. For Phair, horror is in the eye of the beholder—in the often unrecognized universal experiences of pain, guilt, and fear that make us human – Publication Date: October 8, 2019
12.
Music to My Years: A Mixtape of Growing Up and Standing Up by Cristela Alonzo. The comedian, writer, and producer shares her personal stories of growing up as a first-generation Mexican-American in Texas and following her dreams to pursue a career in comedy – Publication Date: October 8, 2019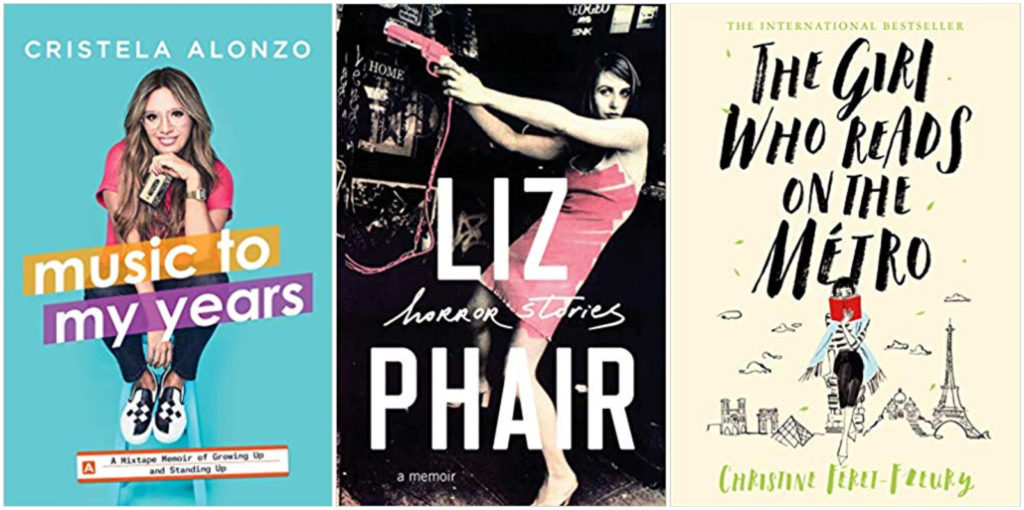 13.
Passing: A Memoir of Love and Death by Michael Korda. The legendary editor at Simon & Schuster shares an unflinching love song about his radiant wife, Margaret, and her battle with cancer – Publication Date: October 8, 2019
14.
How We Fight for Our Lives by Saeed Jones. Mixing prose and poetry a la Claudia Rankine's seminal Citizen, this memoir from the co-host of Buzzfeed's AM2DM and author of the devastatingly beautiful collection Prelude to a Bruise details his coming of age as a gay Black boy in the South – Publication date: October 8, 2019
15.
A Wild and Precious Life by Edie Windsor, with Joshua Lyon. Edie Windsor became internationally famous when she sued the US government, seeking federal recognition for her marriage to Thea Spyer, her partner of more than four decades. In a landmark victory, the Supreme Court ruled in her favor, setting the stage for full marriage equality in the US. This memoir is a lively retelling of her eventful life story – Publication Date: October 8, 2019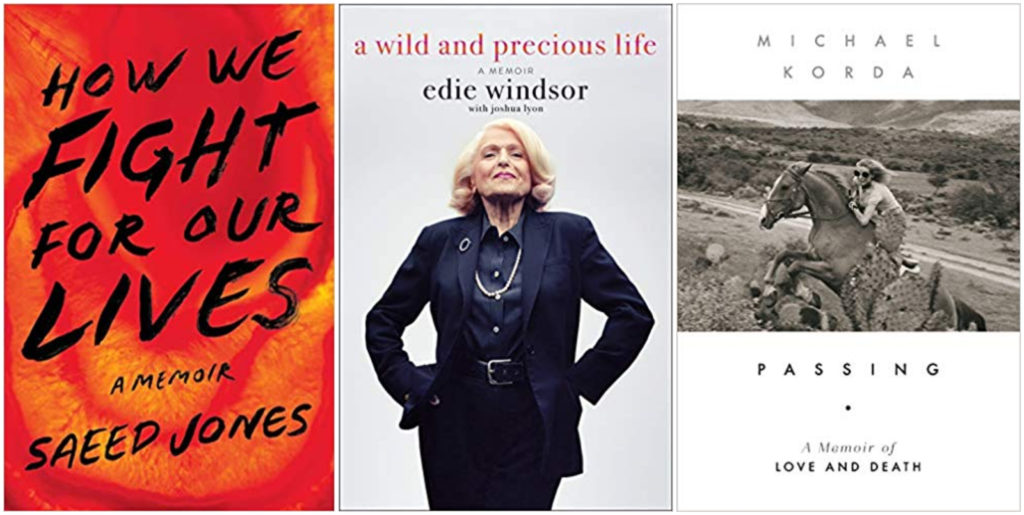 best new book releases October 15, 2019
16.
Divide Me by Zero by Lara Vapnyar. Katya Geller, approaching 40, is in the middle of a divorce and has just discovered her mother, a renowned mathematician, is dying. For solace she turns to her mother's notes for an unfinished book and is transported back to her life's trajectory, beginning with her childhood in Soviet Russia. – Publication Date: October 15, 2019
17.
Olive, Again by Elizabeth Strout. Olive Kitteridge was first introduced in the author's 2009 Pulitzer Prize–winning collection of short stories set among the working-class residents of Crosby, Maine. She remains the most beloved and unforgettable character of all. Olive is a mediocre mother, loathed middle-school math teacher, and long-suffering wife of a philanderer—but she always demonstrates an unassailable core of decency. This is the story of Olive's second marriage and her twilight years, in which we see her wrestling with the beauty and brutality of growing old – Publication Date: October 15, 2019
18.
Your House Will Pay by Steph Cha is a "page-turner about murder, repentance, and forgiveness." Drawing on the fraught history of Los Angeles, the novel is set and illustrates the ongoing tensions between new immigrants and the legacy of racism in America – Publication Date: October 15, 2019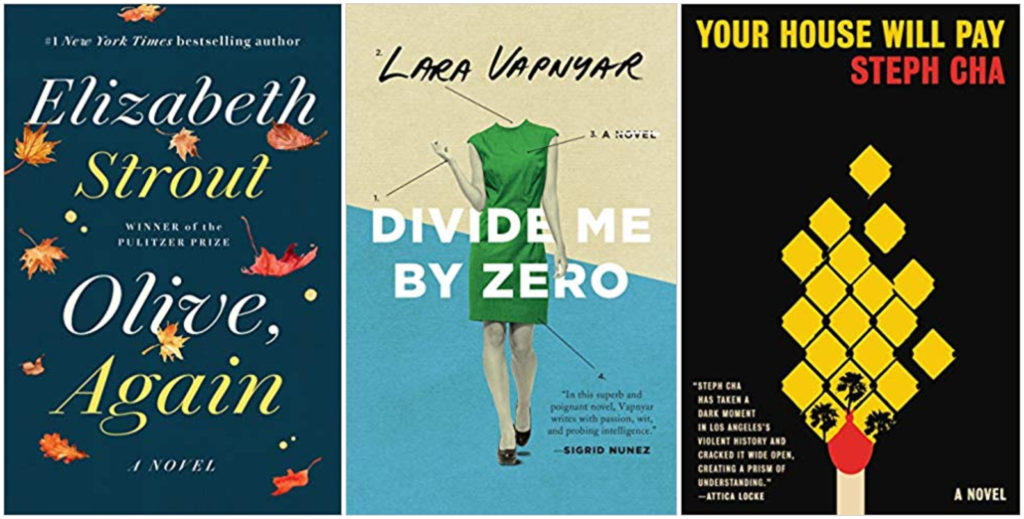 19.
No Stopping Us Now: The Adventures of Older Women in American History by Gail Collins. Americans have always had a complicated relationship with aging, and women have always been on the front lines of the battle, willingly or not. In her lively social history of American women and aging, the New York Times columnist illustrates the ways in which age is an arbitrary concept that has swung back and forth over the centuries – Publication Date: October 15, 2019
20.
Me: the Official Biography by Elton John. In his first and only official autobiography, the music icon reveals the truth about his extraordinary life. Christened Reginald Dwight, he takes on his journey, including his wild lifestyle as shown in the film Rocketman, from shy London suburbanite to living musical legend. – Publication Date: October 15, 2019
21.
The Body: A Guide for Occupants by Bill Bryson. The bestselling author of A Short History of Nearly Everything takes us on a head-to-toe tour of the marvel that is the human body: how it functions, its remarkable ability to heal itself, and the ways it can fail– Publication Date: October 15, 2019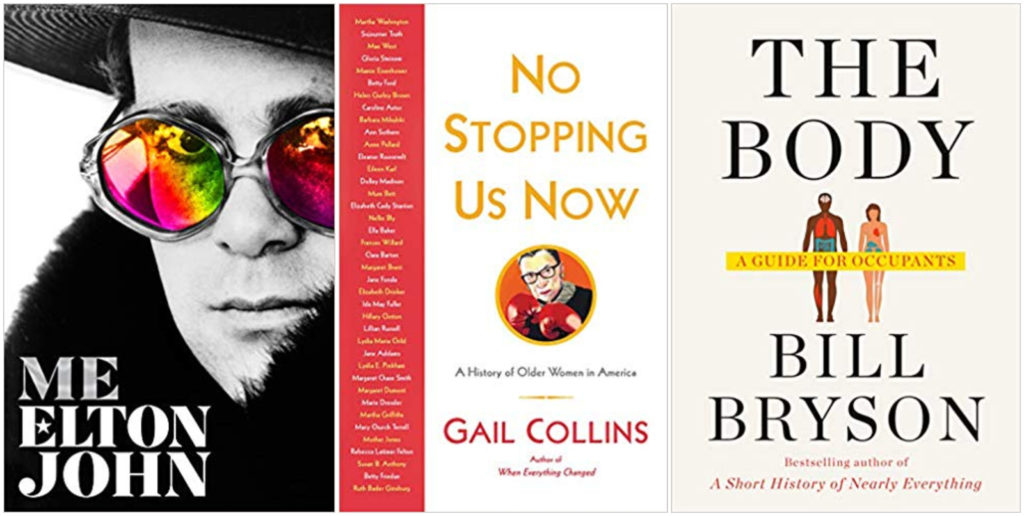 22.
Atlas Obscura, 2nd Edition by Joshua Foer, Dylan Thuras and Ella Morton. Praised as "a joy to read and reread," Atlas Obscura is a phenomenon in the world of travel books. This revised and updated second edition includes 120 new entries that offer readers even more of the most unusual, curious, bizarre, and mysterious places on earth – Publication Date: October 15, 2019
23.
Mixtape Potluck Cookbook: A Dinner Party for Friends, Their Recipes, and the Songs They Inspire by Questlove. What if Questlove threw a potluck dinner, and everybody came? He picked the guests. The guests picked the recipes. The result is the ultimate potluck cookbook. How. Much. Fun – Publication Date: October 15, 2019
24.
American Cuisine: And How it Got This Way by Paul Freedman. Are the hot dog, the hamburger and the grilled cheese sandwich the sum total of authentic "American" cuisine? Not so, says the author. In this sweeping history, the food historian demonstrates that there is an exuberant and diverse American cuisine that reflects the history of the nation itself.– Publication Date: October 15, 2019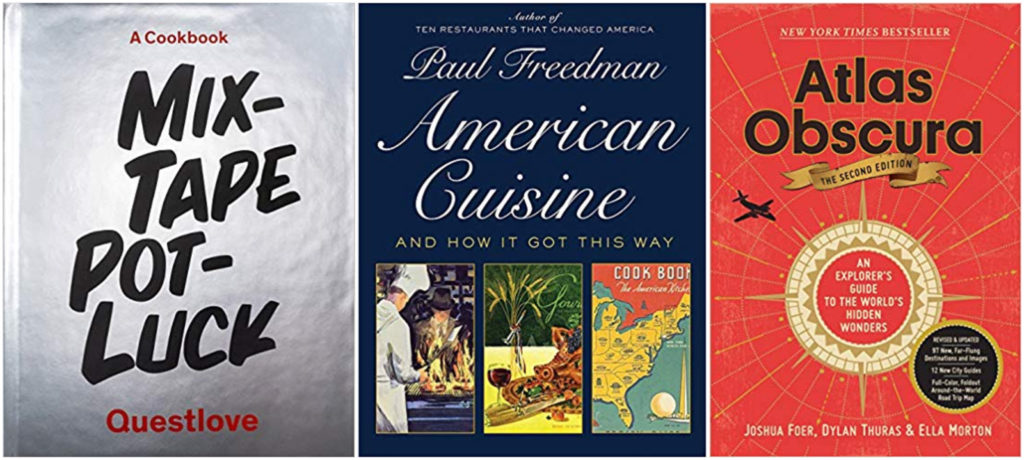 25.
Dear Girls: Intimate Tales, Untold Secrets & Advice for Living Your Best Life by Ali Wong is a collection of letters addressed to her two young daughters. Motherhood is tied closely with Wong's public image; during her Netflix special, Baby Cobra, the comic—then seven-and-a-half months pregnant—ponders aloud: "I don't know what kind of mother I'm gonna be…" – Publication Date: October 15, 2019
26.
Medallion Status: True Stories from Secret Rooms by John Hodgman. In this wry memoir, a man once powerful in Hollywood has to get used to life after fame. He's dealing with issues like how, when your television gig is canceled, you can console yourself with the fact that you still have platinum medallion status with your airline. It's a thoughtful examination of status, fame, and identity–and about the way we all deal with those moments when we realize we aren't platinum status anymore and will have to get comfortable in that middle seat again. – Publication Date: October 15, 2019
27.
That Was Awkward: The Art and Etiquette of the Awkward Hug by Emily Flake. The New Yorker humorist has written a witty and oddly enlightening book of illustrations, observations, and advice that embraces the inescapable awkwardness of two human beings attempting to make physical contact with each other – Publication Date: October 15, 2019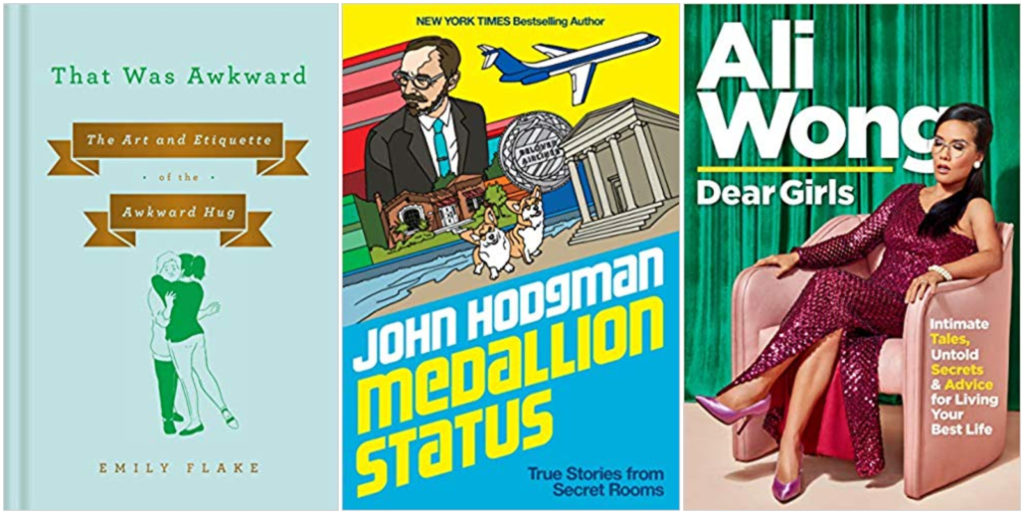 28.
Love Poems for People with Children by John Kenney. In the spirit of his wildly popular New Yorker pieces and the New York Times bestseller Love Poems for Married People, the Thurber-prize winner returns with a new collection of poetry – Publication Date: October 15, 2019
29.
Leave Something on the Table by Frank Bennack. From his start as a paperboy in Texas to his over 30 years as the CEO of Hearst, the author has spent most of his life in publishing. And he's got some great stories – Publication Date: October 15, 2019
best new book releases October 22, 2019
30.
Edison by Edmund Morris. From the late Pulitzer Prize-winning author, this is a revealing new biography of Thomas Alva Edison, arguably the most prolific genius in American history – Publication Date: October 22, 2019
31.
Do You Mind If I Cancel?: (Things That Still Annoy Me) by Gary Janetti is a book chronicling the pains and indignities of everyday life as seen by a young adult at the beginning of his career and recounted later in life. Its full of relatable vignettes, like when the author fantasizes about who to tell off when he finally wins an Oscar. As he puts it: "These are essays from my childhood and young adulthood about things that still annoy me" – Publication Date: October 22, 2019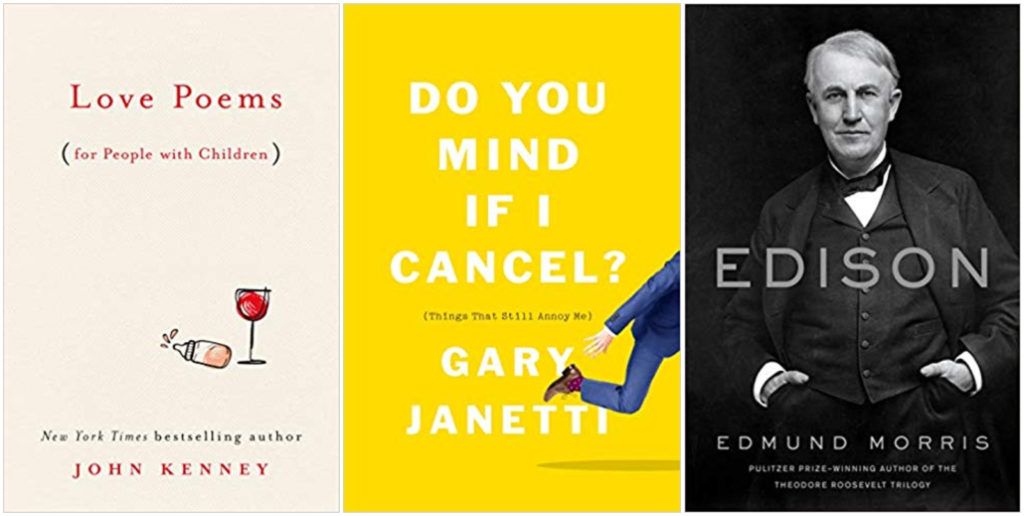 32.
Morning Glory on the Vine: Early Songs and Drawings by Joni Mitchell. In 1971, as her album Blue topped charts around the world, Joni Mitchell crafted one hundred copies of Morning Glory on the Vine as a holiday gift for her closest friends. The artist hand-wrote a selection of her own lyrics and poems, and illustrated them with more than thirty of her original pictures. Now the same collection is available to all for the first time – Publication Date: October 22, 2019
33.
All This Could Be Yours by Jami Attenberg. The family of Victor Tuchman—a power-hungry real estate developer and, by all accounts, a bad man – has wrestled with his influence over them for decades. Now Victor is on his deathbed, and they have to confront buried questions. Like what it means to be caught in the web of a toxic man who abused his power. And how to break free – Publication date: October 22, 2019
34.
Born to Party, Forced to Work by Bronson van Wyck. The event planner to the stars, whose client list includes Madonna and the Queen of Jordan, shares his inside tips on entertaining. Just in time for the holiday season! – Publication date: October 23, 2019
best new book releases October 29, 2019
35.
Nothing to See Here by Kevin Wilson. In this fanciful novel, single Lillian is summoned to help her childhood best friend, who has a truly unusual challenge before her. She's just re-married and has learned that her twin step-kids spontaneously combust when they get agitated. Seriously. Roped in as their caregiver, Lillian and the twins learn to trust each other—and stay cool—while also staying out of the way of their father, a seemly polished politician – Publication Date: October 29, 2019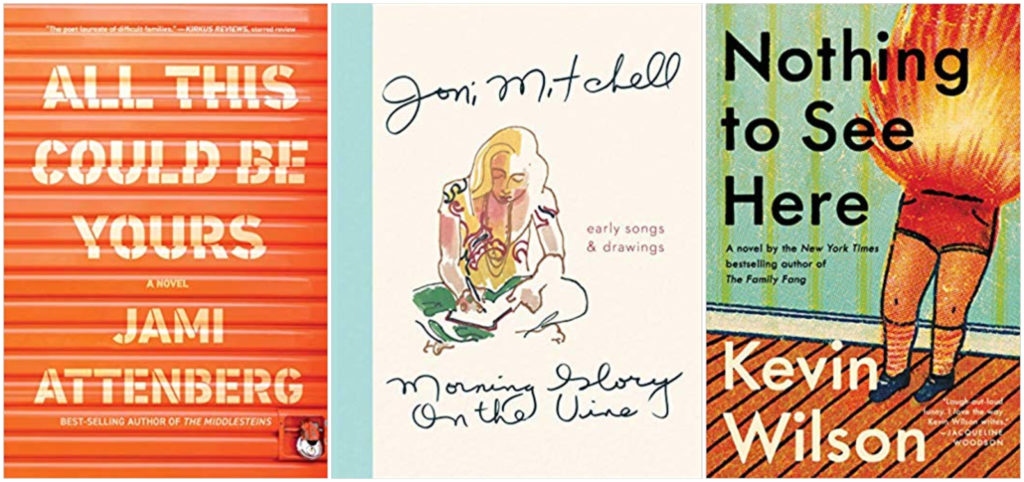 36.
Find Me by Andre Aciman. In this sequel, the novelist revisits the characters in Call Me by Your Name two decades after their first meeting. Elio moves to Paris and has a life-changing affair, while Oliver, now a New England professor with a family, contemplates a trip back across the Atlantic. – Publication Date: October 29, 2019
37.
The Beautiful Ones by Prince. One of the most-anticipated books of October 2019 is from Prince himself. Posthumously, his estate has published the memoir he began writing before his tragic death. It's the brilliant coming-of-age story of one of the greatest artists of all time, featuring never-before-seen photos, original scrapbooks and lyric sheets. It's how Prince Rogers Nelson became Prince – Publication date: October 29, 2019
38.
The Truth Will Set You Free, But First It Will Piss You Off!: Thoughts on Life, Love, and Rebellion by Gloria Steinem, illustrated by Samantha Dion Baker. Covering topics from relationships ("Many are looking for the right person. Too few are trying to be the right person.") To patriarchy ("Men are liked better when they win. Women are liked better when they lose. This is how the patriarchy is enforced every day.") And activism ("Revolutions, like trees, grow from the bottom up.") This is the definitive collection of Steinem's words on what matters most – Publication date: October 29, 2019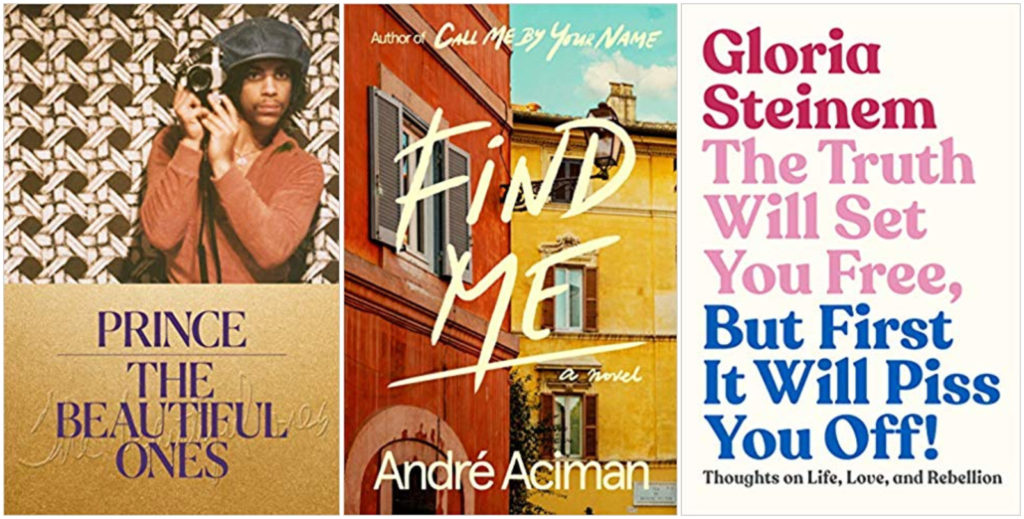 39.
Vanity Fair's Women on Women, edited by Radhika Jones with David Friend. Gail Sheehy on Hillary Clinton. Ingrid Sischy on Nicole Kidman. Jacqueline Woodson on Lena Waithe. Leslie Bennetts on Michelle Obama. And two Maureens (Orth and Dowd) on two Tinas (Turner and Fey). This volume features thirty of the best profiles, essays, and columns on female subjects written by female contributors to the magazine over the past thirty-five years – Publication date: October 29, 2019
40.
When the Earth Had Two Moons: Cannibal Planets, Icy Giants, Dirty Comets, Dreadful Orbits, and the Origins of the Night Sky by Erik Asphaug. An astonishing exploration of planet formation and the origins of life by one of the world's most innovative planetary geologists. – Publication date: October 29, 2019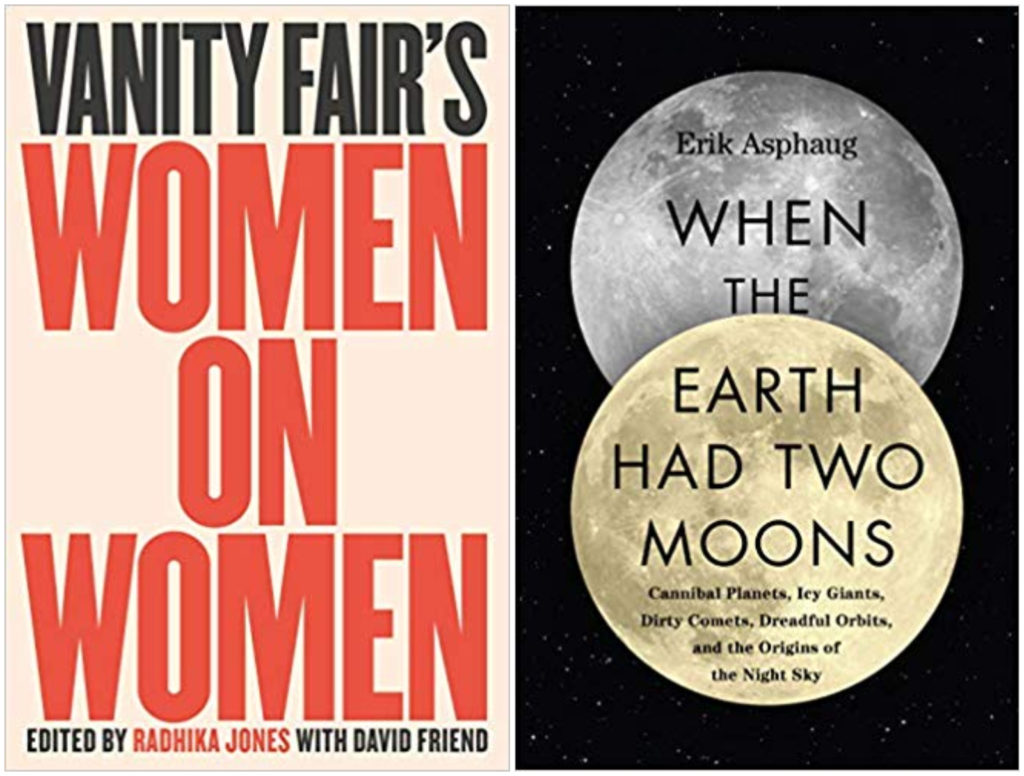 the best new books coming in October 2019
Those are our picks for the best and most-anticipated books coming in October 2019. What's at the top of your list?
join our community
For access to insider ideas and information on the world of luxury, sign up for our Dandelion Chandelier newsletter, here. And see luxury in a new light.