Forty Five Ten is the Best New Cool Luxury Store in NYC
All products are independently selected by our editors. If you buy something, we may earn an affiliate commission.
Going retail shopping in New York City anytime soon? You need to have Forty Five Ten Hudson Yards on your list – it's one of the best new cool luxury stores in NYC right now. In our new series "J+J Shop," our intrepid correspondents Julie Chang Murphy and Jillian Tangen took a trip to the new Forty Five Ten in Hudson Yards. Here's their report.
J+J Shop Forty Five Ten Hudson Yards NYC
Few things are more delightful than spending an afternoon shopping with an equally fashion-obsessed girlfriend. Especially in New York! Fellow Dandelion Chandelier correspondent (and friend), Jillian Tangen and I took an afternoon shopping trip to check out Dallas-based luxury retailer, Forty Five Ten at Hudson Yards.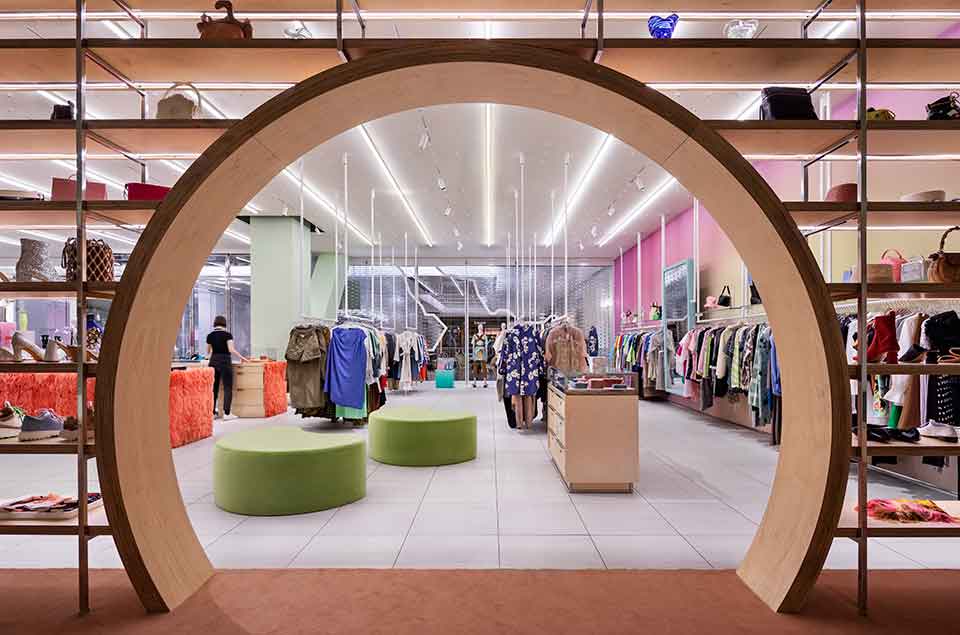 The brand was new to us. But the emerging designers listed on their website made it clear even before our visit that this place could fill a void in the NYC luxury shopping sphere.
[white_box]
Join our community
For access to insider ideas and information on the world of luxury, sign up for our Dandelion Chandelier newsletter. And see luxury in a new light.
sign up now >
[/white_box]
With names like Marine Serre, Sies Marjan, Lemaire and Ellery, mixed in with edgy stalwarts like Comme des Garcon, Rick Owens, and Maison Margiela, we felt excited to see the potential for something that had been missing. Namely, eclectic and unconventional high fashion in an upscale, artistic environment. Especially now with the future of Barneys New York unclear, this is just what we need!
where is forty five ten NYC?
Situated on the fifth floor of Hudson Yards, next door to the swanky new Neiman Marcus, you'll find the first outpost of Dallas specialty retailer Forty Five Ten.
Spanning four distinct storefronts totaling 16,000 square feet, the New York City store opening marks Forty Five Ten's seventh location in the U.S. overall. Each of the four spaces is grouped into a particular category: women's and men's designer, a selection of vintage products from the '70's to '90's. And 4510/SIX, a platform for emerging and independent fashion designers and home goods.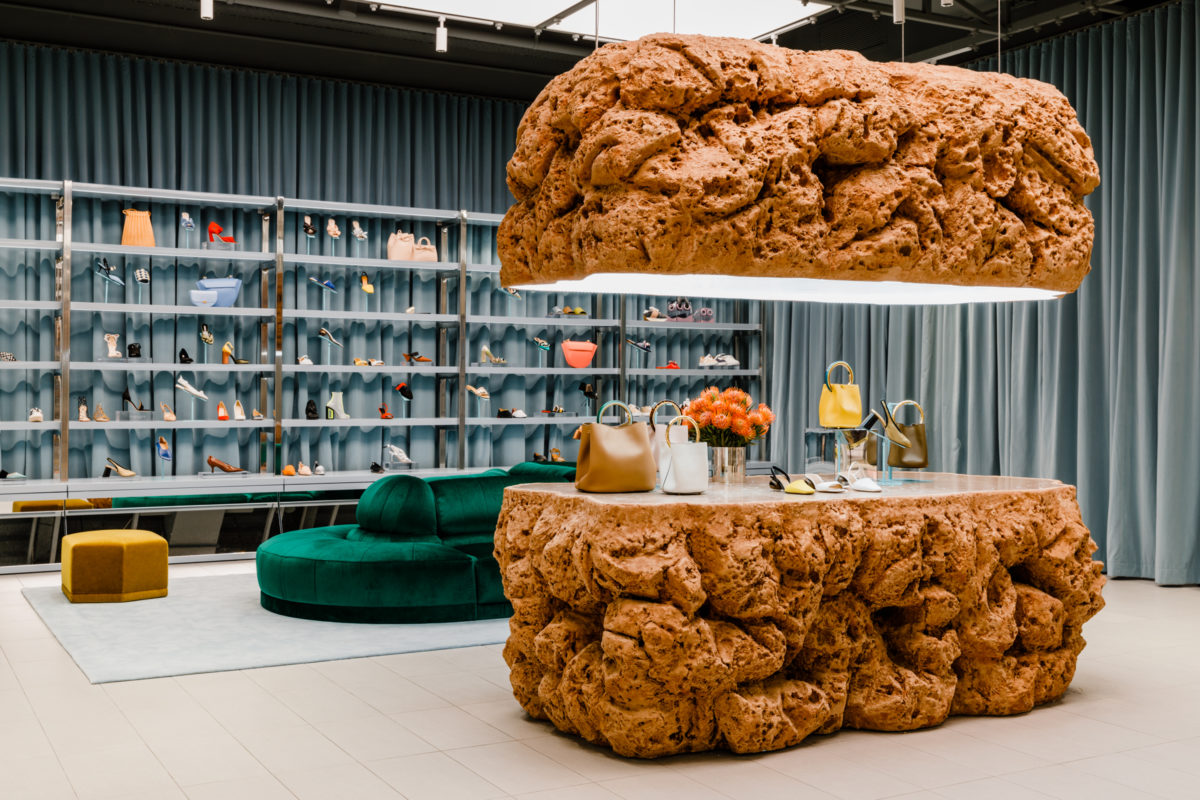 One of the most noteworthy elements of Forty Five Ten is the contemporary art on display throughout the space and how it flows seamlessly through the products. Throughout you will find a Jose Dávila sculpture, Al Freeman soft sculptures, a Lars Fisk sphere, Katie Stout sculptures and Greg Bogin furniture and eye-catching retail display fixtures.
As they say, a picture speaks a thousand words. Here is our visual feast of what is easily one of the best cool new luxury stores (and one of our new favorite places to shop) in New York City.
[white_box]
Related Post
where is the best luxury shopping in New York City?
read more >
[/white_box]
why we think forty five ten is one of the best new cool luxury stores in NYC
start with the emerging designer section
4510/SIX is the best point of entry to get the best feel of the store's cool factor. Front and center? Lower East Side fashion darling, Sandy Liang's exclusive collaboration with the store.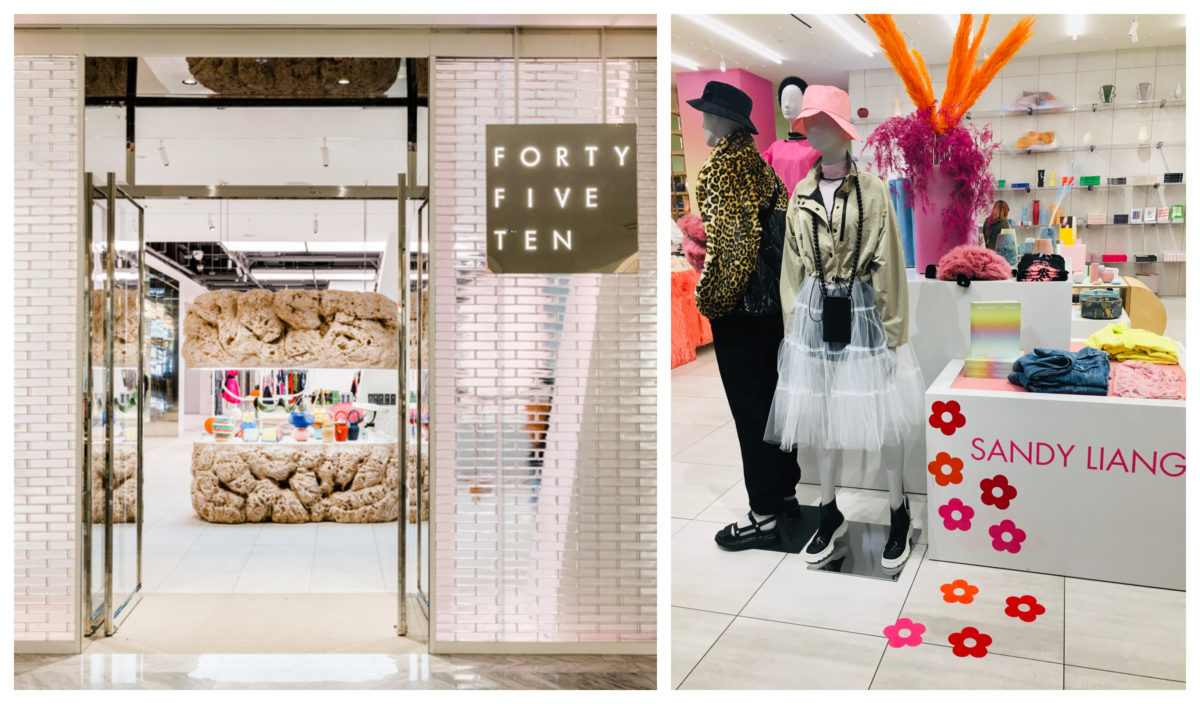 Is it our predominant right brain that always makes me turn right? Jillian and I couldn't resist exploring the home goods and gifting section. We probably spent the most time here, touching and picking up all the candy-colored inspired objets.
Luckily, this isn't one of those stuffy stores where you kind of look around before handling something. The stores are known for hiring friendly, respectful and cool reps who are happy to casually chat.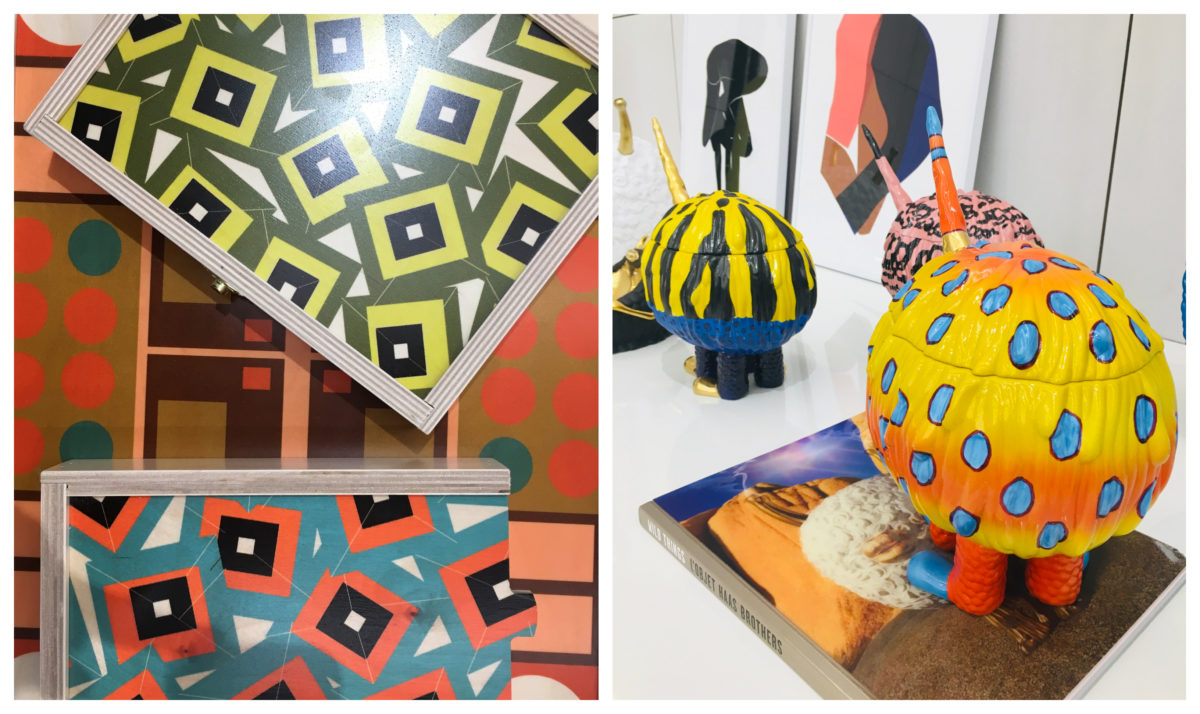 cool-girl clothing
On to the clothing racks! Strong and inspiring edits cater to a young arts patron crowd. I tell Jillian that I imagine their dream customer is a model-beautiful aristocrat named Imogen or Pippa.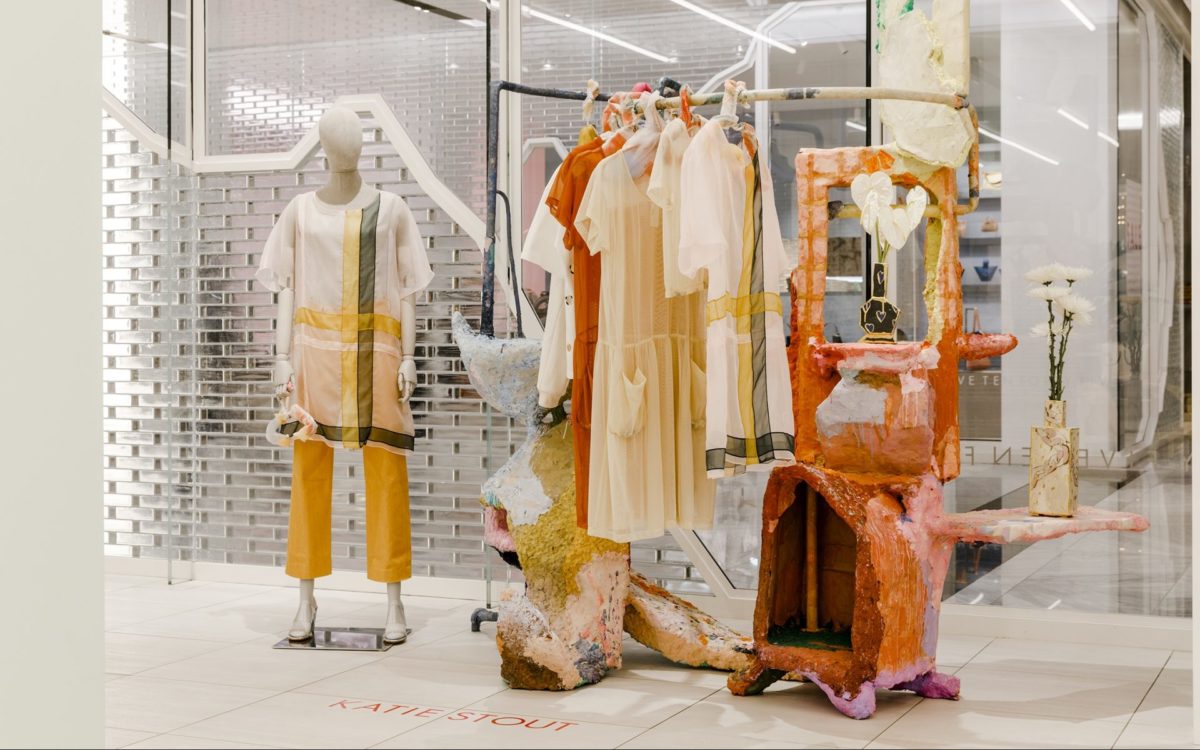 I try on some super glamorous leather coats from Copenhagen-based brand, Saks Potts. I post on social media and a follower responds: "Buy it. Adventure will follow wherever you go."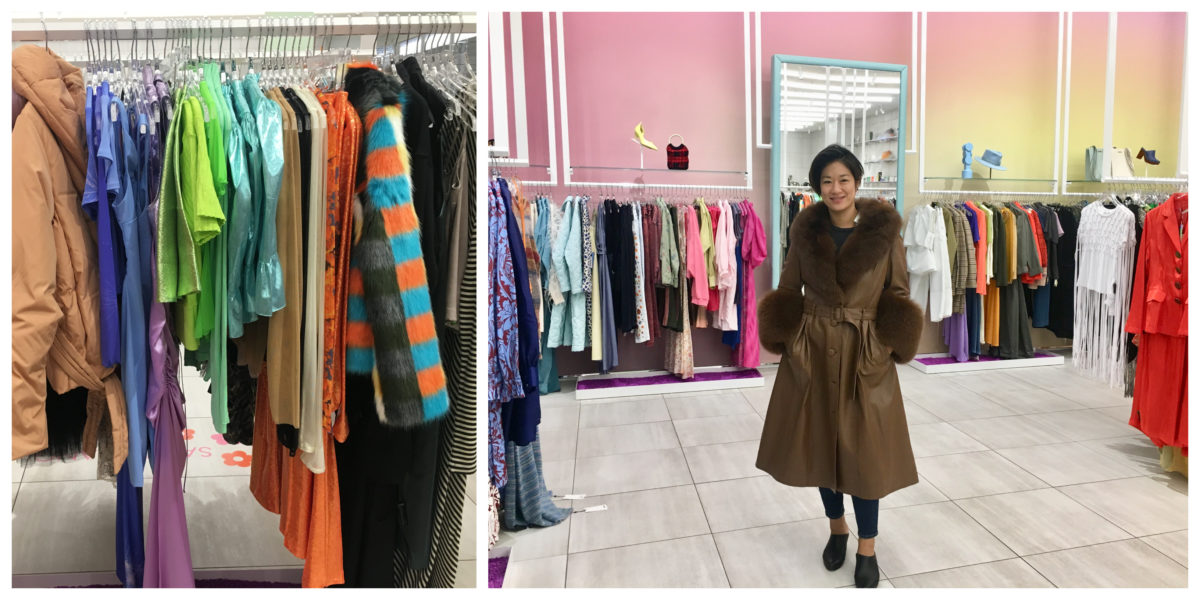 [white_box]
Related Post
Chic cozy luxury at Queensyard at Hudson Yards
read more >
[/white_box]
the accessories salon
Next up- handbags and shoes in the Accessories Salon! We loved the mini capsule collections on the shelves.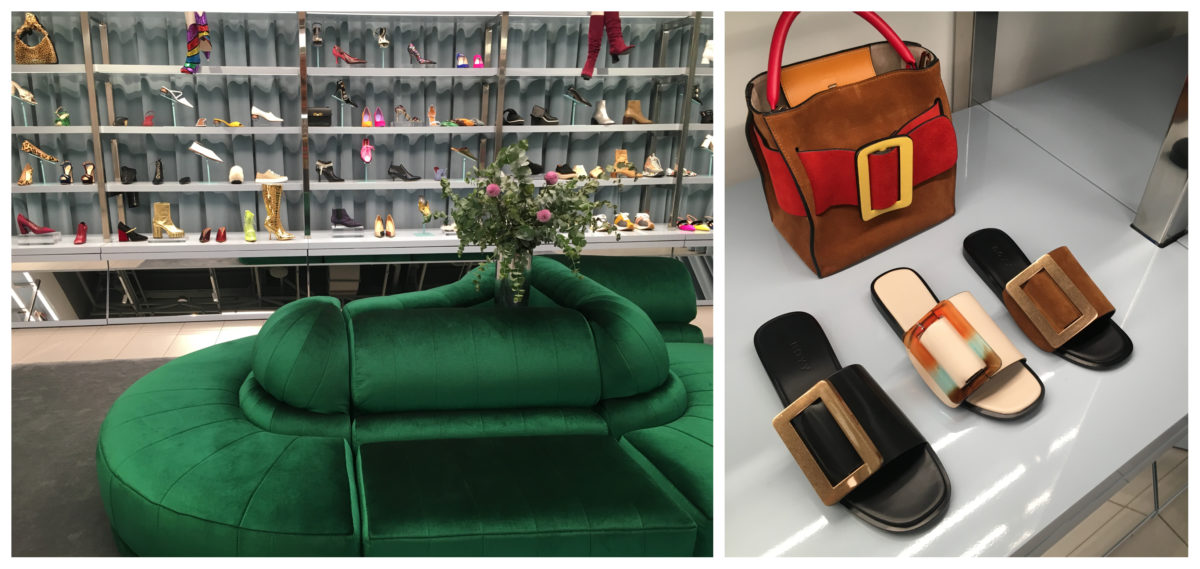 the menswear edit
The Men's Designer section reminds us of artsy ex-boyfriends. Wonder where they are now? Probably shopping here if they became successful!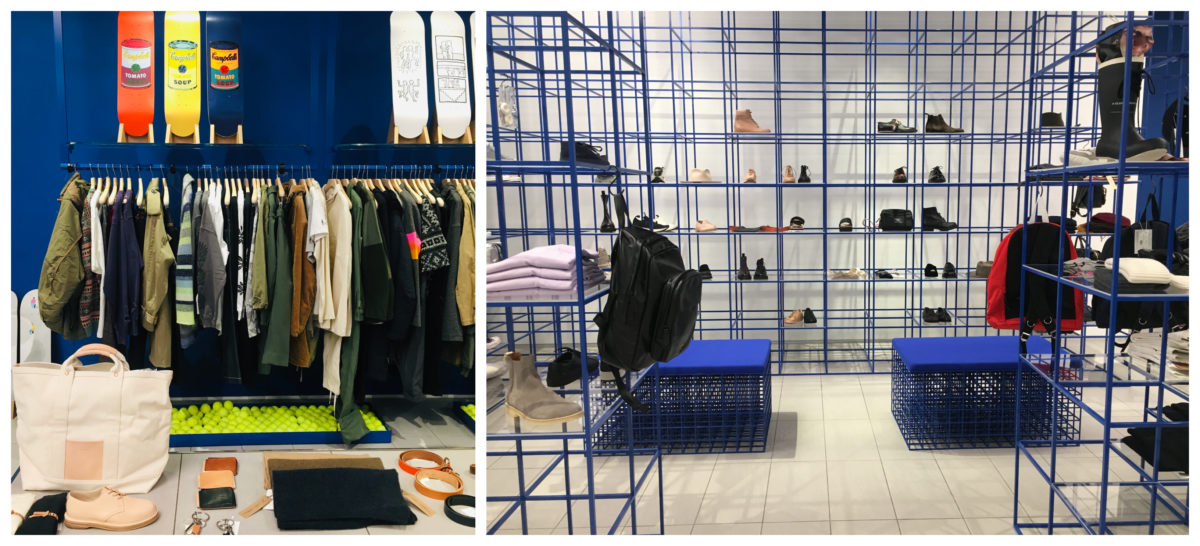 the women's designer edit
Across the way is the Women's Designer area, with a distinctive opulence – lots of bold colors in luxurious sateen, velvets and silk.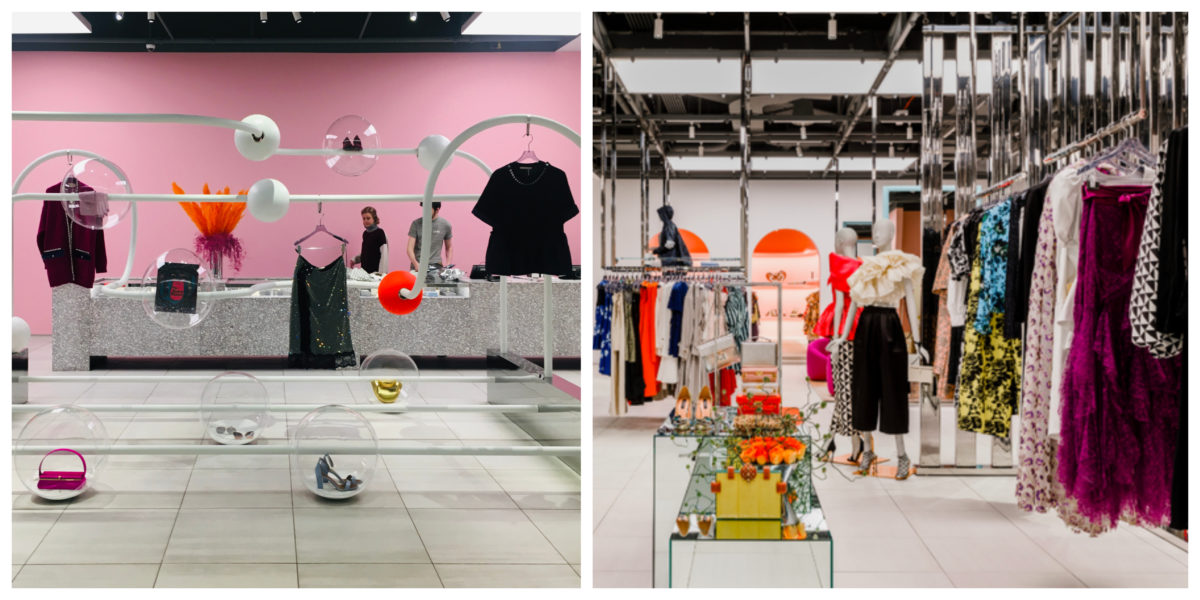 vintage, too!
Last stop- Vintage. This isn't your musty, diamond in the rough second hand store. It's the dream closet of Bianca Jagger and Grace Jones.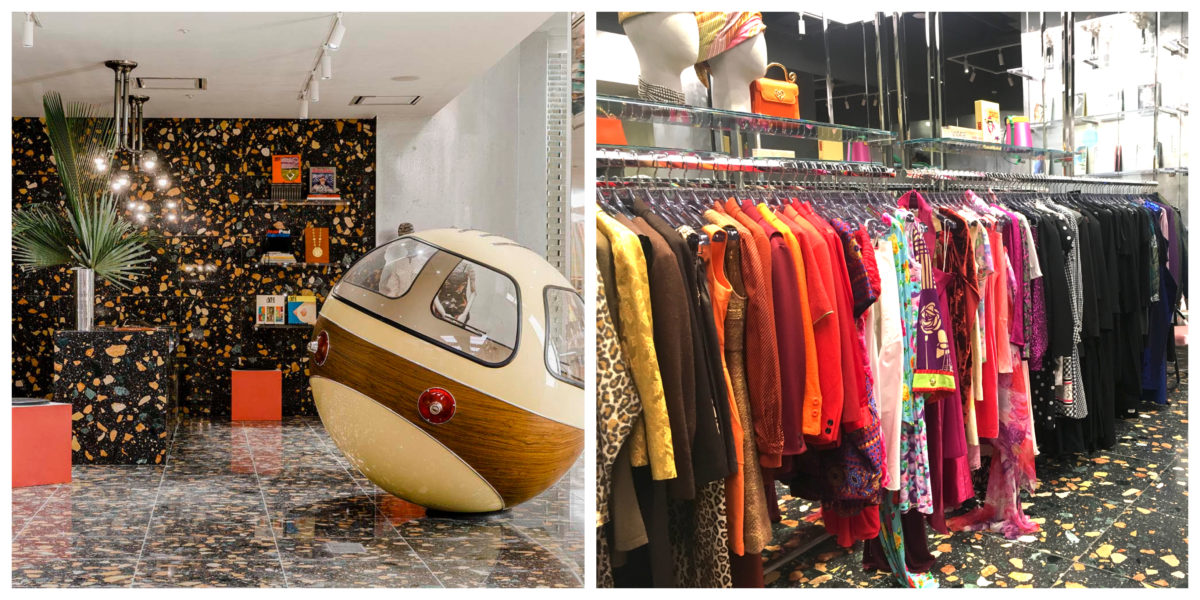 the J+J Verdict
Julie's takeaway:
I absolutely loved Forty Five Ten. It felt like shopping in Soho before it became the site of every luxury brand's flagship. It was transformative in a way– like the feeling of shopping while traveling abroad in a foreign land. What might have been too unconventional is reconsidered. You see a heightened version of yourself here – someone who is a little more daring, creative and fun.
What Julie's coveting:
I'm seriously considering the Saks Potts leather coat as a gift to myself for my 40th birthday!
Jillian's takeaway:
This series of stores felt a little bit out of my comfort zone but I am so happy we went and checked it out because there was really a treasure trove of brands to be found there. Including ones like Batsheva and Khaite which I have heard a lot about on social media but had never seen in person before. Sometimes stores heavily infused with contemporary art and design elements feel more like museums to me – places where you can look but not touch. In the end though, together with a little prodding from Julie and the help of some friendly staff members I got more comfortable in the space and eventually into some trying pieces on.
What Jillian's coveting:
I'm still thinking about the buttery soft Veda leather jackets we saw for both women and kids. I'd love to have one for me and each of my daughters.
J+J Shop Forty Five Ten Hudson Yards NYC
That's it! It's two thumbs up from J+J. Let us know what you think if you go. Happy shopping!
join our community
For access to insider ideas and information on the world of luxury, sign up for our Dandelion Chandelier newsletter here. And see luxury in a new light.
Crediting her training as a cultural anthropologist at Wellesley College, Julie has immersed herself in various industries in the last 15 years including fashion design, event planning, fitness and even investigating police misconduct. Julie lives in NYC where she loves trying every ramen and dumpling restaurant with her husband and three children. She finds joy in bold prints, biographies of fierce women. Also kickboxing and spending way too long finding the perfect polish color to express her mood.
Jillian Tangen is the Head of Research at Dandelion Chandelier. Formerly, she was a Senior Research Analyst at McKinsey & Co and Analyst at Shearman & Sterling. She is an avid fan of Nordic design, having owned an independent lifestyle store and sales agency focused on emerging Scandinavian design. Jillian lives in NYC and is married with three young children. She loves cross country skiing, the New York Rangers, reading, travel and discovering new brands.