What are the best luxury gifts for fashion-forward men this season? Our correspondent Julie Chang Murphy has curated our ultimate luxury gift guide with the best gifts for homme male fashionistas right now. And if you find something here that you like for yourself, well . . . that's OK too!
what's on the luxury gift wish lists of fashion-forward men this season?
Almost all of us have a fashionista or two in our lives. And buying the perfect gift for them is always a bit of a challenge. Like if you have a brother who claims he started the cropped beanie look, or a best friend who lives in tie-dyed tees or extremely cool eyeglasses, then you've got a certified trendsetter on your hands. And this gift guide is for them!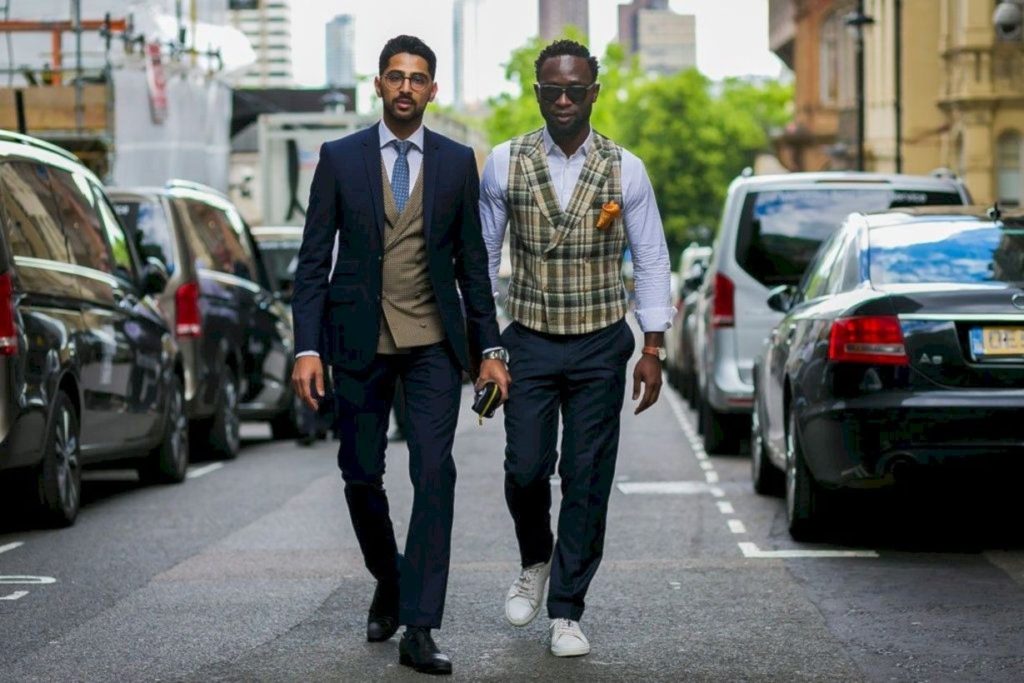 If you know he loves sneakers, you might want to just add to his collection. But if you want to do something different, or if they're not a sneakerhead, we've got some other ideas.
Here are some of the biggest fashion trends this season, along with our luxury picks in each category. Just don't forget to get a gift receipt! Just in case . . .
The Luxury Gift Guide: the Best for Fashion-Forward Men
1. Draped Elegance
We're nearly 20 years into the millennium- isn't it time to embrace a new masculinity? Fashion designers think so. For the elegant gentleman who is unafraid of his romantic and feminine side, here are some sensual finds.
Dior's tuxedo jacket ($2,400) comes in black technical cotton moiré taffeta with a stunning shawl collar and draped scarf. This Our Legacy button down ($200) is given the pin tuck treatment for a languid and relaxed mood. Balenciaga is always subversive and this 80's shoulder coat ($2,990) is slightly oversized in a dark fuchsia for that cool, androgynous look.
2. Animal Prints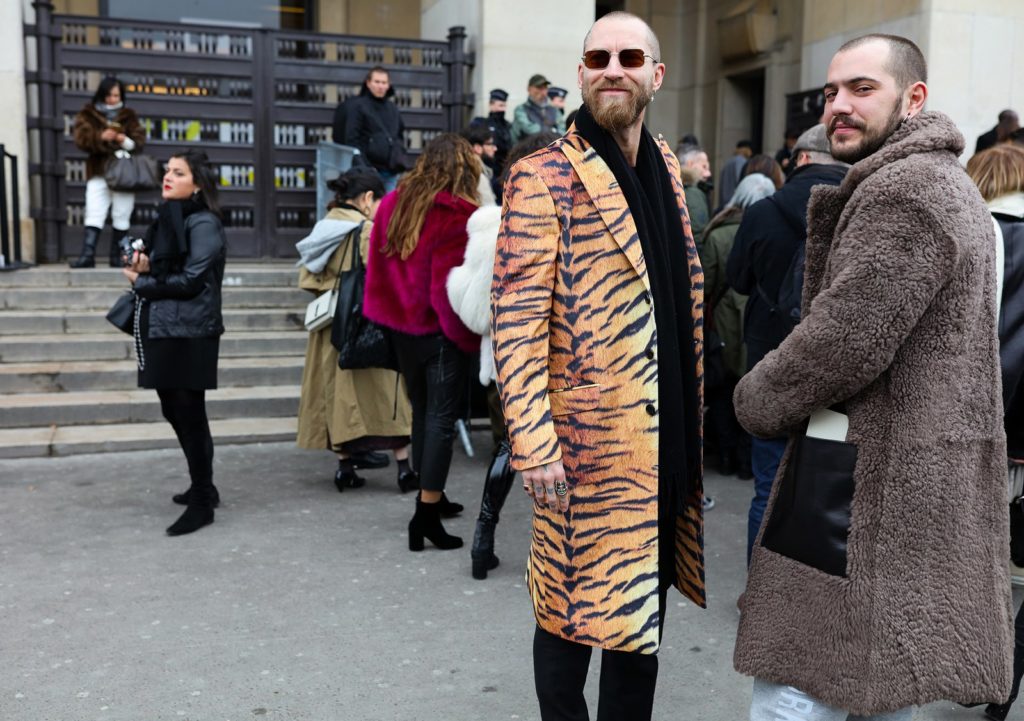 Your fashion-forward guy will be deeply flattered that you consider him bold enough to rock an animal print.
The casual windbreaker gets a high fashion leopard print update from Sacai. We love the youthful and utilitarian look of this fresh jacket ($1,278). These Dior sneakers ($1,100) are for any guy willing to take a walk on the wild side. Marni's multicolored mohair/wool sweater ($1,320) features an asymmetric silhouette and unpredictable distressed pattern work for the man who loves color and standing out from the crowd.
3. Head-to-toe Leather
Head to toe leather looks were all over the Fall runways for both women and men. He might already have a jacket but does he have a leather shirt and shorts? If not, you know what to do.
The Row's meticulously crafted leather shirt ($4,950), made in Italy, is the result of two years worth of development. And it shows. This Givenchy trench = style cred for life. Made of iridescent black patent leather and mother of pearl buttons, it doesn't get more opulent than this ($7,785). These leather walking shorts from Loewe ($2,650), are true to the Spanish house's rich tradition of leather craftsmanship and nautical themes.
4. Statement Plaids and Checks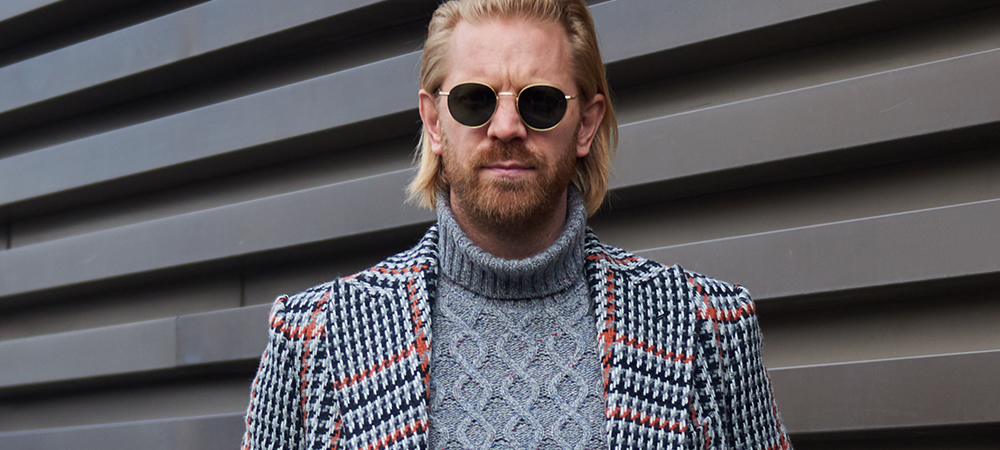 Plaids and checks are a perennial fall favorite but for the fashion forward gentleman, a more unconventional twist on the classic is needed.
This oversized tonal Burberry plaid ($390) has a fresh graphic feel. The relaxed fit makes it less stuffy and more street. The heritage houndstooth of this cashmere Prada scarf ($780) gets a bright pop of youthful, collegiate spirit. R13's plaid cotton flannel puffer ($1,495) is part blanket, part coat – but all style.
5. Punk Painter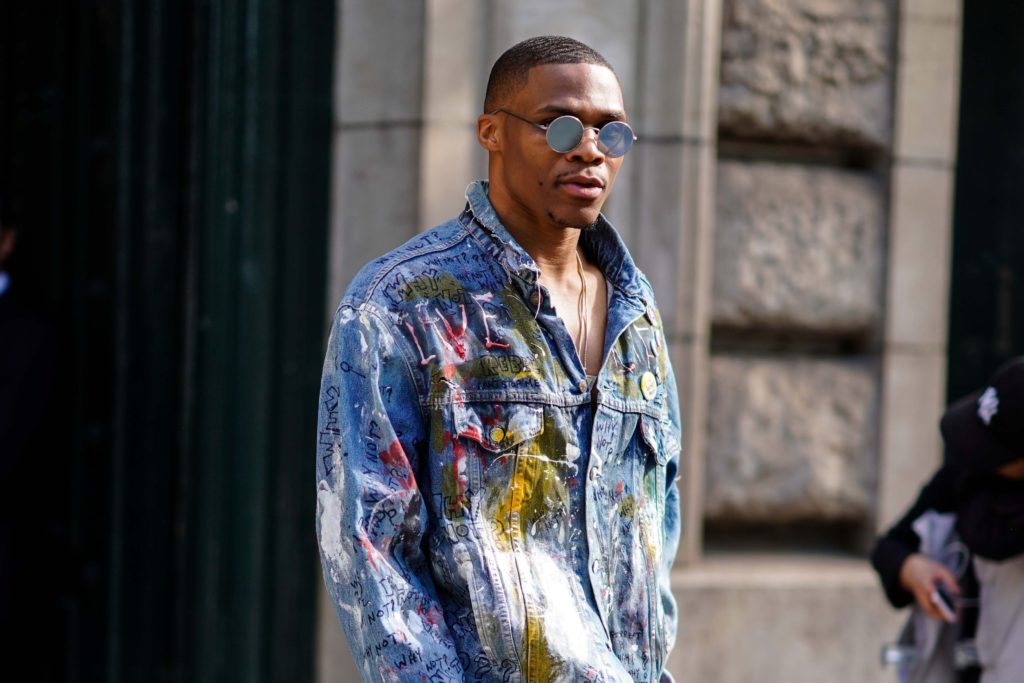 Grafitti-like paint splatter is always a signifier that the wearer doesn't take himself too seriously. He's a creative spirit and sees the perfection in the imperfect.
His rebellious spirit will feel cozy and comfy in this Balmain hooded sweatshirt ($995). The splatter pattern is made of flocked-velvet on top of a herringbone weave for an extra luxurious touch. For Fall, Off-White continued its subversive approach to fashion by splattering paint on everyday staples like these white jeans ($710).
Comme des Garçons Homme did the same with a cool-kid black tailored jacket ($1,080) and office-appropriate navy trousers ($515). Perfect for trendy dads with toddlers! Dries Van Noten elevates this trench coat ($1,775) with a multicolored shibori-style effect. It also reverses to a black technical fabric but where's the fun in that?
If your dude just wants to dip a toe in the water with the spray-paint trend, Alexander McQueen's black and white sneakers ($740) or Maison Margiela's off-white and black pair ($670) are an easy way to start.
6. Uggs
Who says high fashion and comfort can't go hand-in-hand?
This week the Wall Street Journal Style section reported that Uggs are now being rocked by fashion-forward men all across America as an alternative to Timberlands, Merrills, and sneakers. The paper reports that the brand has made significant investments in its men's line. The result? More male influencers are wearing Uggs, and rapper Lil Wayne modeled in his pair in Ugg's ads.
For gifting, check out the current Ugg boot collab with designer Heron Preston ($500). Or these cool green and black loafers in collaboration with Eckhaus Latta ($295).
If your gift recipient is a collector, the limited-edition Ugg collaboration with A Bathing Ape is probably a notable addition to his stash. Grab a pair on Stockx while you can. Surely your fashion-forward dude would approve of a pair in his stocking this year.
The Luxury Gift Guide: the Best for Fashion-Forward Men
There you have it! Our top luxury gift picks for the male fashionistas in your life. Happy Shopping!
join our community
For access to insider ideas and information on the world of luxury, sign up for our Dandelion Chandelier newsletter here. And see luxury in a new light.
Crediting her training as a cultural anthropologist at Wellesley College, Julie has immersed herself in various industries in the last 15 years including fashion design, event planning, fitness and even investigating police misconduct. Julie lives in NYC where she loves trying every ramen and dumpling restaurant with her husband and three children. She finds joy in bold prints, biographies of fierce women. Also kickboxing and spending way too long finding the perfect polish color to express her mood.
Join our community
For access to insider ideas and information on the world of luxury, sign up for our Dandelion Chandelier newsletter. And see luxury in a new light.