You're surely already aware that it seems to be the 1970's all over again in many ways – some of which we love, and others of which we cannot wait to see disappear again. One of the most prominent '70's designer fashion trends right now is the smiley face. It's cropping up everywhere. So if you love it, here are some the best high-fashion luxury smiley faces right now.
what's with all the smiley faces all of a sudden?
The 1970's are back with a vengeance in the world of fashion. From bohemian prints to disco jumpsuits and platform shoes, that Studio 54 vibe is making its presence felt everywhere.
One recurring motif that we can no longer ignore is the return of the smiley face. We see it all over the place – once you notice it, you'll start seeing it everywhere, too. So we decided to investigate.
How you feel about this trendlet, of course, probably has a lot to do with whether you were around and sentient the first time the smiley face made its appearance.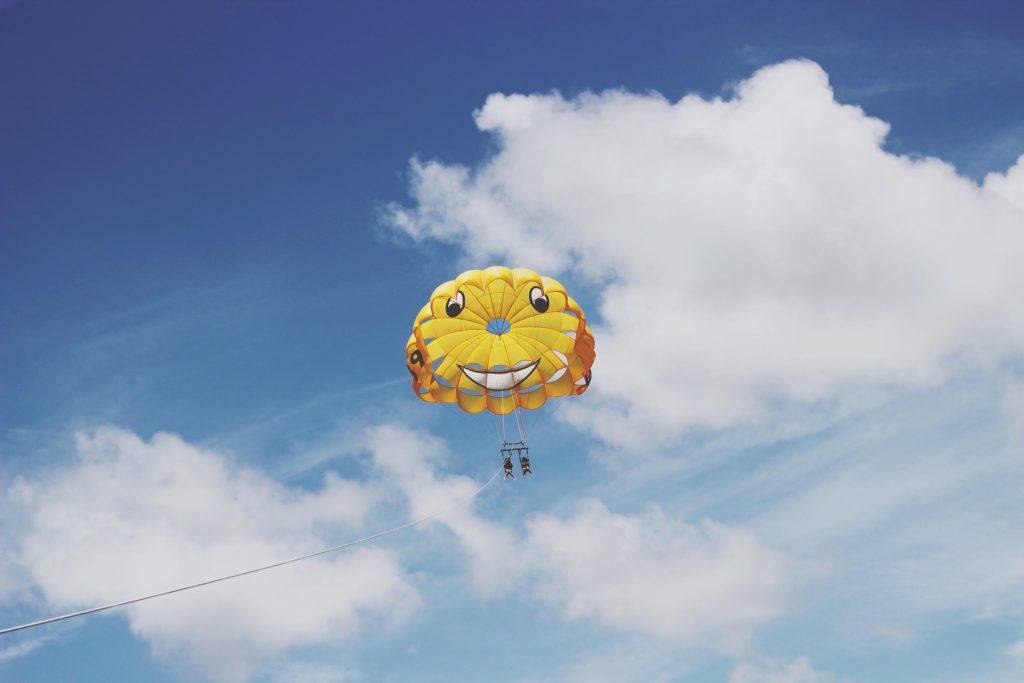 Whether you loved it the first time, or missed it the first time, you can definitely still get in on this. Dear reader, smiley faces are everywhere right now, including in the realm of high fashion.
Here are some of the best ones we found – some are straight-up. And some a just a little bit twisted.
the best High-Fashion luxury Smiley Faces
Alexander Wang's coat for fall-winter 2019-20 is "a celebration of American hustle;" it's printed with a dripping spray paint-effect smiley face ($1,295).
Anya Hindmarch's new navy blue tote has a more subtle and traditional version of the smiley ($650). Bella Freud's grey Happy sweatshirt ($240) is inspired by the rave culture of the 1990's.
Balenciaga's Market Happy Printed tote bag ($1,575), Gelareh Mizrahi's Have a Nice Day python tote bag ($1,500) and her Smiley Face coin purse ($200) are all fashionable ways to spread cheer (or ironic eye-rolls) to everyone who sees you sporting one of these bags.
These mirror-image smiley face sweaters from Joos Tricot ($915) are equally silly-70's and fun.
The best high fashion luxury designer smiley faces
That's it! The best of what we found in the realm of designer fashion with a circa 1970's smiley face. Are you in on this? Which one's your favorite?
join our community
For access to insider ideas and information on the world of luxury, sign up for our Dandelion Chandelier newsletter here. And see luxury in a new light.