The Favorite Sneaker of the Rich and Powerful Right Now
All products are independently selected by our editors. If you buy something, we may earn an affiliate commission.
A true status signifier is often extremely subtle. A baseball cap from an exclusive club. A toiletry kit from first class on Emirates or Cathay Pacific. Or a humble sneaker that just happens to turn up on the feet of tech moguls from coast to coast. If you haven't heard of the footwear brand On, then you might want to read up on it – because it's the favorite sneaker of the rich and powerful right now.
What's the favorite sneaker of the rich and powerful right now?
A somewhat strange episode occurred in our lives a few months ago. We reported for duty at a big meeting with a number of tech executives and investors. Also in the room were some higher-ups at a global advertising agency. As is sometimes the case, almost everyone was male.
And the dudes who were the most senior were, in every case, wearing the exact same brand of sneaker.
We didn't recognize the brand name, which is rendered on the side of the shoe in a way that makes it difficult to read. Suffice it to say, we were taken aback. It would be as if every power woman in the room was wearing Louboutins. Not impossible, but unlikely.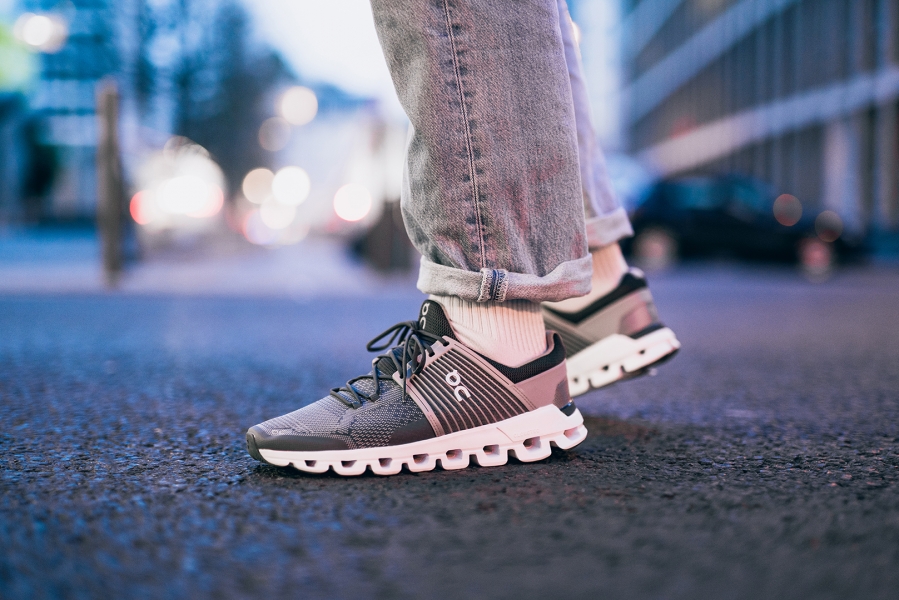 So what's going on? What's up with this shoe?
The mysterious brand is called "On," and it's the insider sneaker that tech and creative bosses are wearing in boardrooms and on the street all over America right now. Is it the new Allbirds? Could be.
[white_box]
Join our community
For access to insider ideas and information on the world of luxury, sign up for our Dandelion Chandelier newsletter. And see luxury in a new light.
sign up now >
[/white_box]
Back in the day, a luxury watch was the carefully selected accessory of top male bosses to convey maximum power and exclusivity. Fast forward, and today for the tech and creative crowds, that trademark accessory is the right pair of kicks.
After all, such leaders often pride themselves on being "anti-fashion," with their uniform of jeans and basic tees or hoodies. It may be different than a decade or so ago – but they definitely have a work dress code, just like everyone else.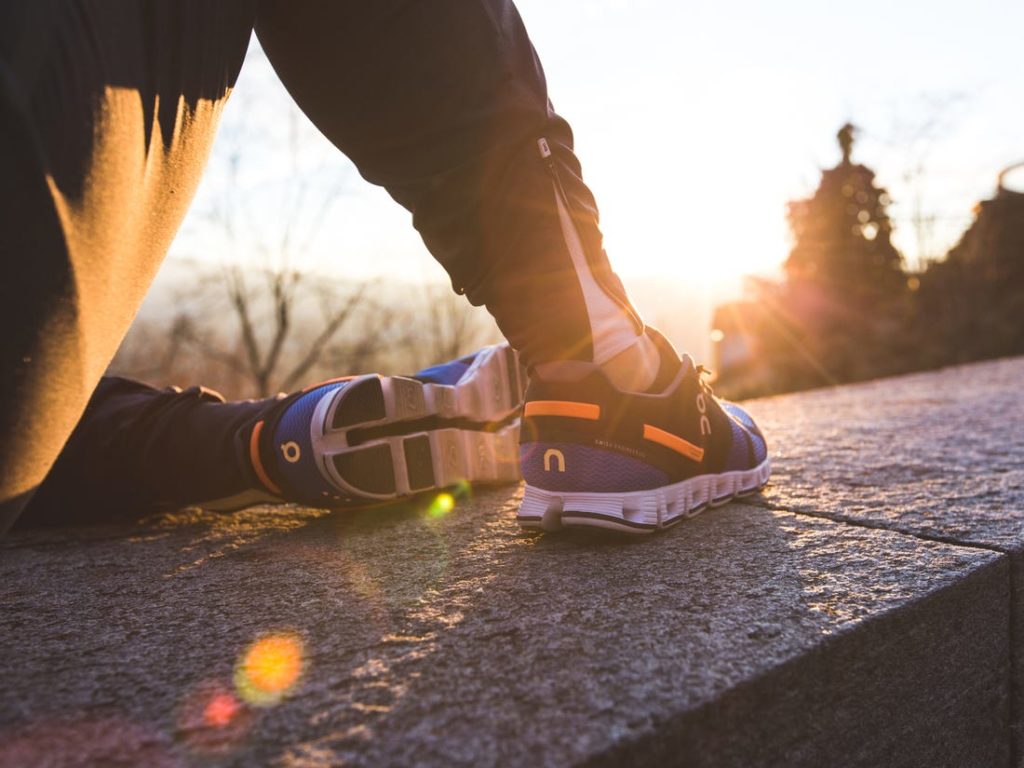 And it kind of makes sense that a sneaker would be the iconic power accessory of the current age. After all, there is a stunning amount of technology and design built into a sneaker. From the latest performance materials and fabric, to years of research and engineering, it's kind of easy to geek out on all the details.
But even so, with the market saturated with so many established sports brands with much larger brand recognition, what makes On the world's fastest-growing running shoe brand? And what makes it the favorite sneaker of the rich and powerful right now?
Dear reader, we decided to investigate.
[white_box]
Related Post
what you need to know about expensive luxury sneakers
read more >
[/white_box]
the origin story of the footwear brand On, the favorite sneaker of the powerful
On was founded by a trio of friends in Zürich, Switzerland: Olivier Bernhard, duathlon and nine time Ironman champion, and David Allemann and Caspar Coppetti.
Bernhard had been struggling with a very painful Achilles tendon and could not get the inflammation to go away completely. After a few sessions with a prototype shoe, his problem disappeared completely. The friends then spent the next four years tweaking the design.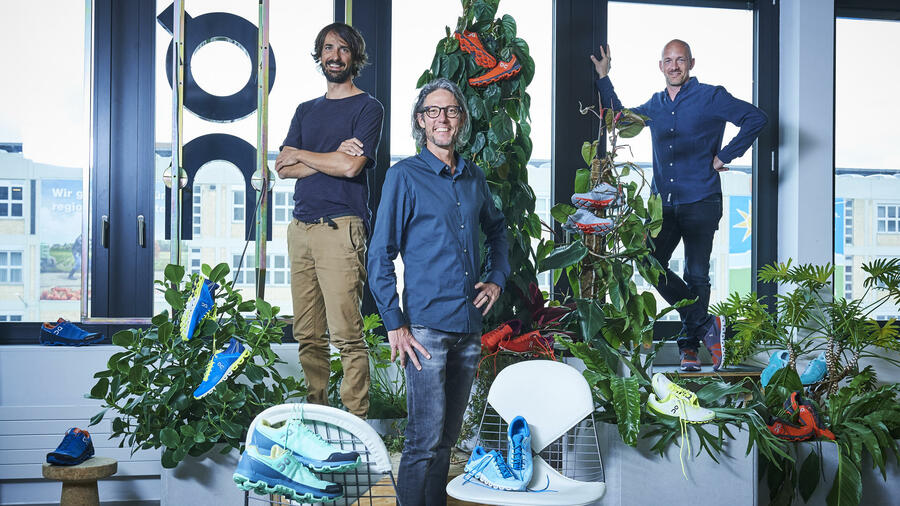 The results of their tinkering was Cloud Technology, perfected and patented in 2010. The cushioning construction consists of open tubes of rubber foam across the outsole, designed to compress with each stride and absorb vertical and horizontal impact forces, and then lock in place to create a firm platform for an explosive take off.
[white_box]
Related Post
the best gifts for fashion-forward men
read more >
[/white_box]
As for the aesthetics, the sneaker's minimalist design and sophisticated color stories make it perfect for everyday wear. For a millionaire who doesn't want to be showy, wearing these sneakers is the perfect inside baseball maneuver. Like Bottega Veneta and other "quiet luxury" brands, this is an aesthetic favored by those who prize discretion and want to make just a small nod to overt branding.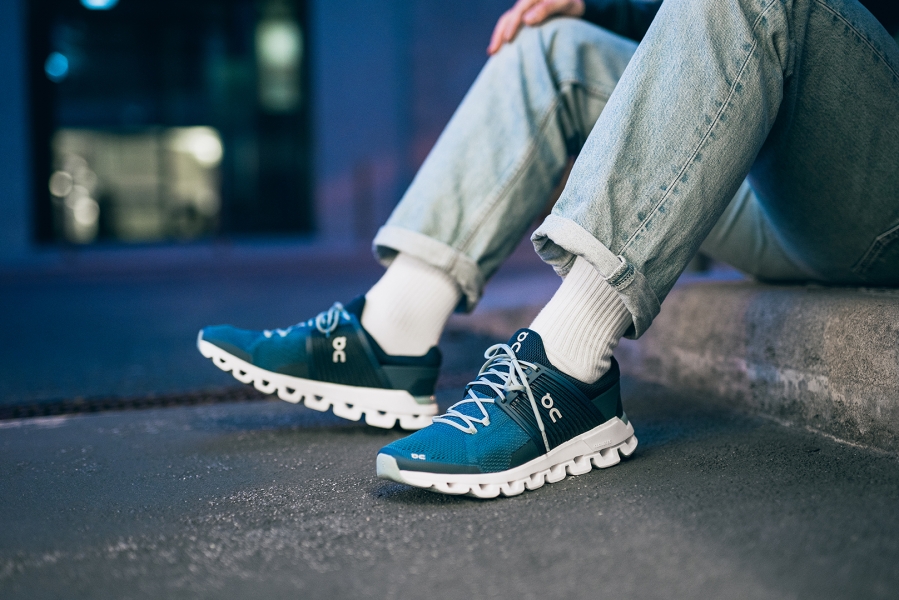 Further, as a practical matter it also makes sense that busy moguls would opt for footwear like this. The boundaries in modern life have gotten really blurry: people are constantly switching between activity and environment, private and business. Putting a premium on versatility and comfort.
On running shoes turn out to be a perfect adaptation to this reality. 2019 is the first year the company has purposefully delved into the fashion space with a few new, exclusive products in its collection. The results are stylish enough for even the fashionably anti-fashion crowd.
Which probably means that the days of this brand as an insider secret and quiet status signifier are definitely numbered. Already, its available in more than 6,000 specialty running stores across 50 countries. You might want to get yours now.
[white_box]
Related Post
luxury brands get into the game with VR and video
read more >
[/white_box]
current On brand collections and best-sellers
Check out these best-selling styles, as well as this year's newest editions, and you'll see what we mean.
Classic best-sellers
Cloud and Cloud 50/50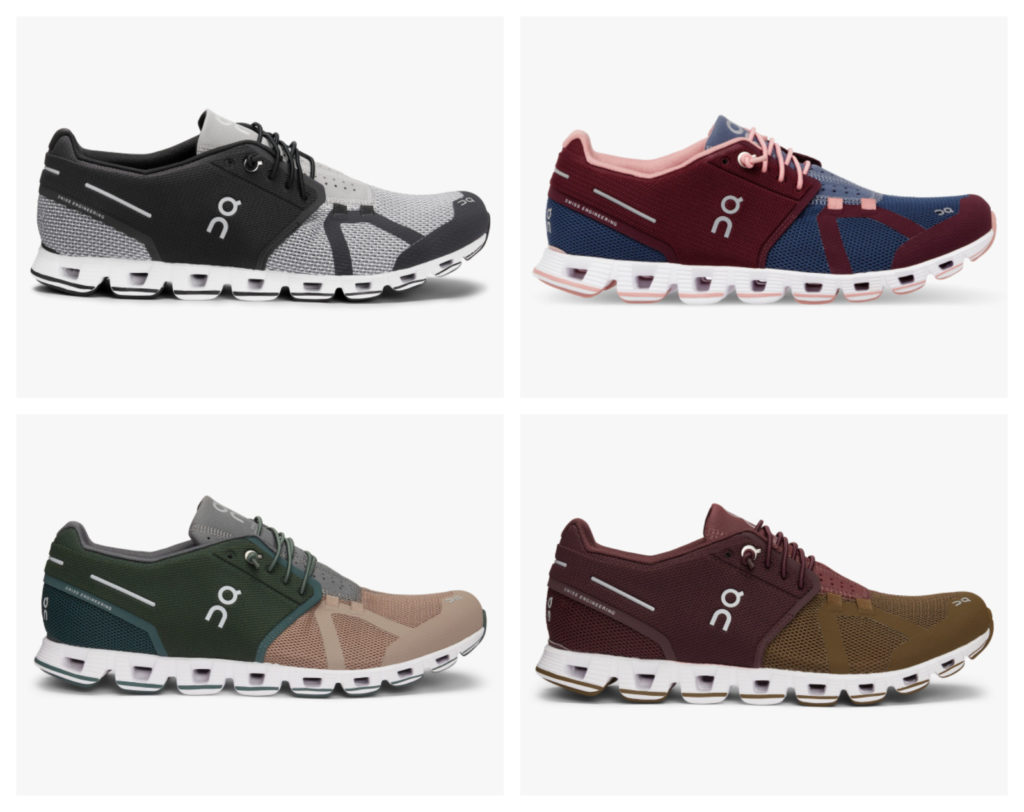 Since launching in 2014, this shoe is the best-selling On. Built for everyday active wear, it is the lightest fully cushioned running shoe with Zero-Gravity foam and CloudTec® in the outsole provide soft, cushioned landings. Breathable, antimicrobial mesh provides all day comfort. The Cloud 50/50 is the same shoe but with bold, fashion forward color-blocking. ($129.99)
Cloud Terry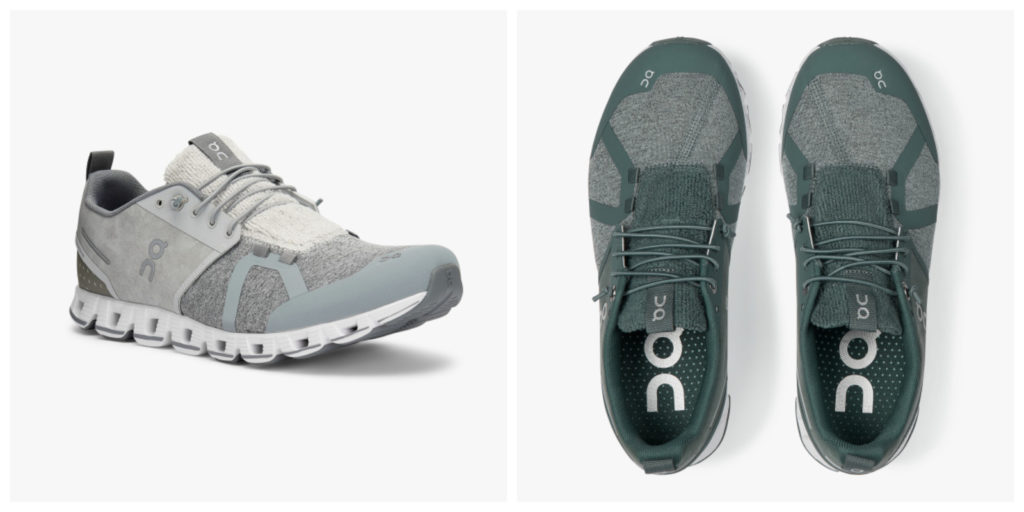 This fastest-selling model is is geared for urban performance. Blending athletic fabrics with vegan leather and city colors, there's no reason you can't be comfortable and put together. ($149.99)
[white_box]
Related Post
how luxury brands are embracing new codes of masculinity
read more >
[/white_box]
Fall-winter 2019-20 collections
Cloud Flow
New this year, Cloud Flow has been designed to be even more lightweight and fully cushioned for racing. The Swiss-engineered mesh upper is primed for race pace and ventilation. The shoe also offers advanced traction for superior grip on wet roads. ($139.99)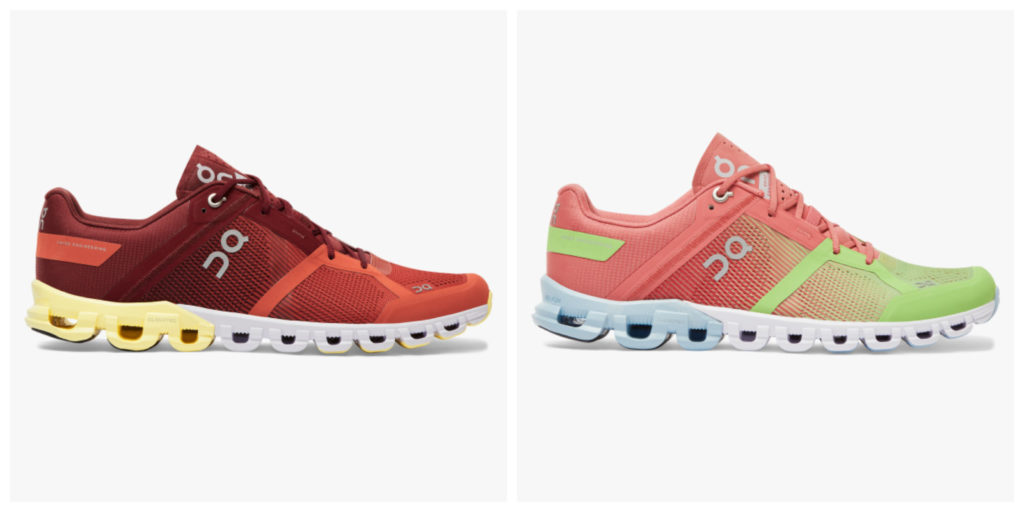 Cloud Hi
This high-top is our personal favorite. It combines all the patented On technology into an urban-styled shoe with vegan leather and suede good looks. ($169.99) The Cloud Hi Edge is the same shoe in limited edition colorways. ($159.99)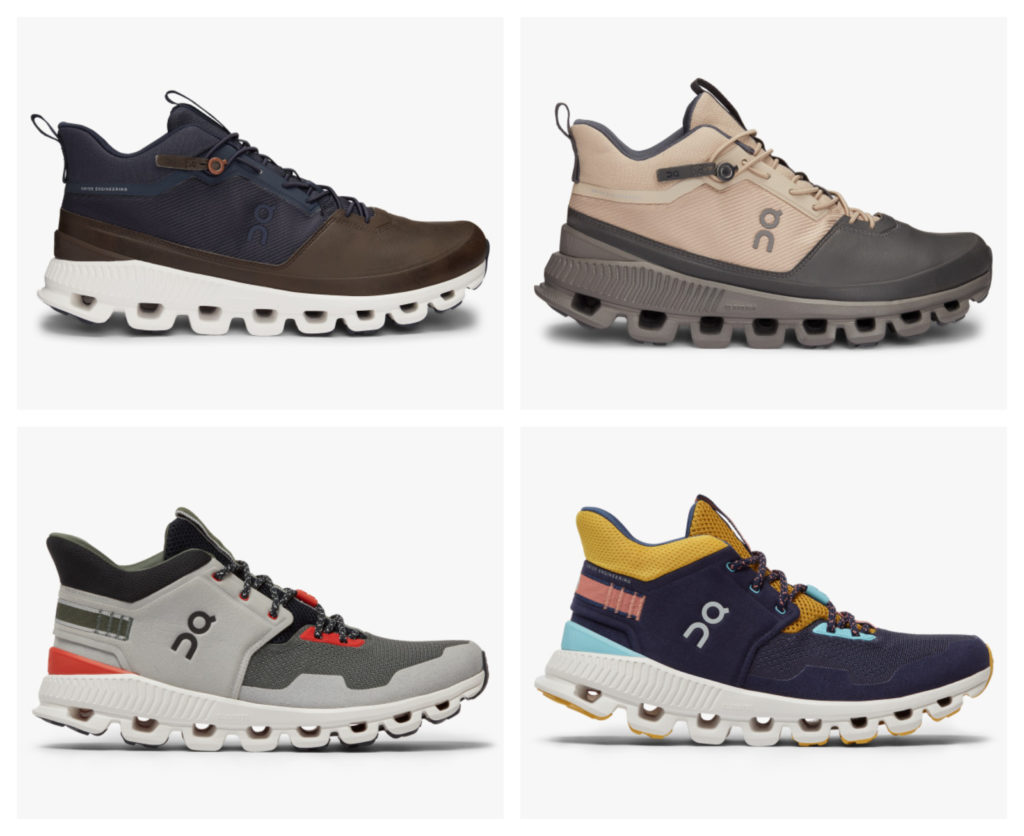 Cloudventure
For a brand born in Switzerland, a shoe inspired by Swiss Alps trails is a definite requirement. This variation features The Missiongrip™ outsole which combines multiple grip patterns to keep you in control on the trail. Propelling you to the summit and providing enough cushion as you go downhill. ($149.99)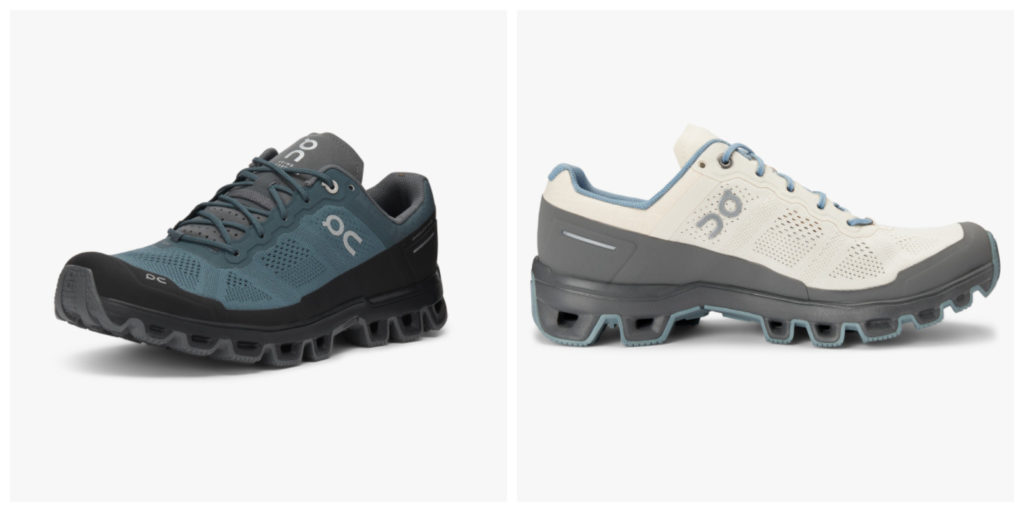 [white_box]
Related Post
the luxury gift guide: the best new tech gadgets we love
read more >
[/white_box]
Cloud Stratus
On's latest offering is their highest performance shoe with double the cloud cushioning. The anatomically engineered mesh upper is made soft and strong, optimized for comfort and breathable for airflow. ($169.99)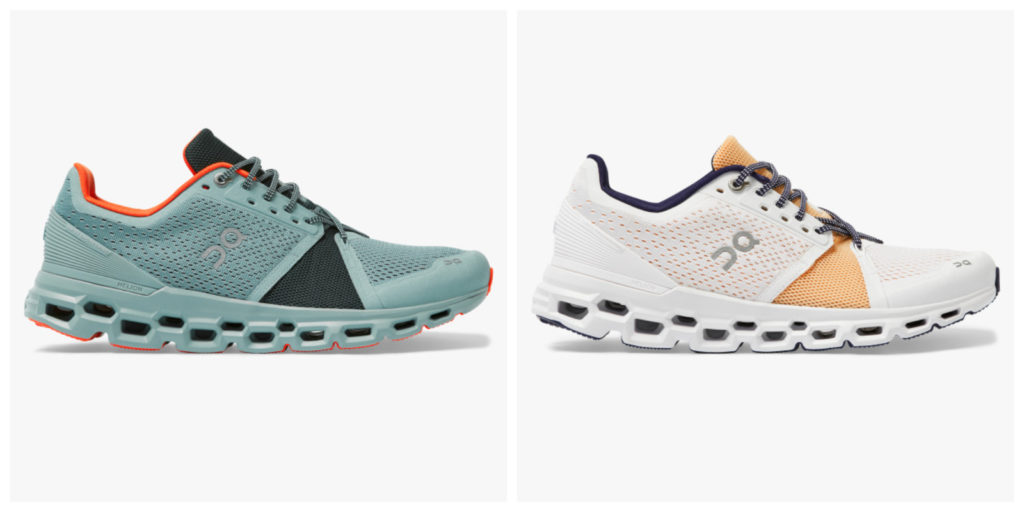 But wait, there's more: On High Socks
We're always on the lookout for distinctive socks. And these not only score style points for their chic color blocking, but are backed by Swiss engineering to keep the sock firmly in place. They're lightweight and combine a polyamide and elastane blend with technical mesh paneling that balances your foot temperature to keep those kicks looking (and smelling) fresh.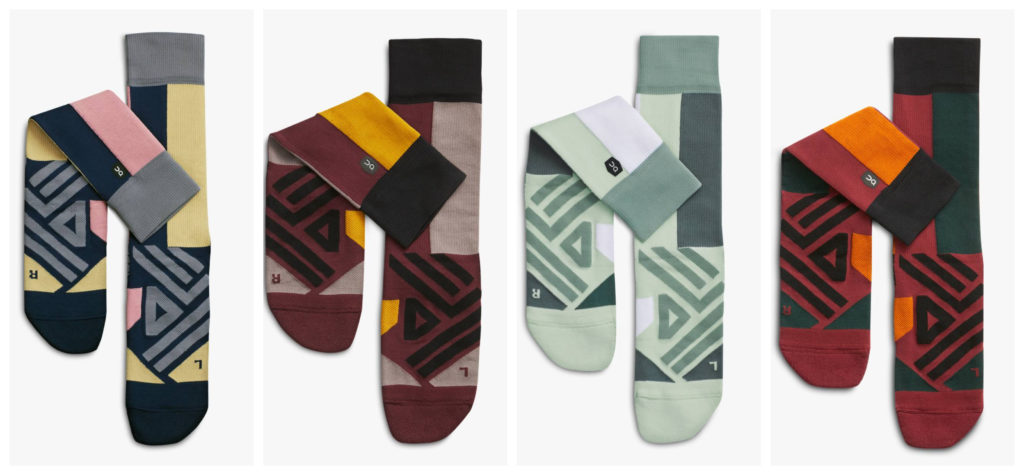 the summer 2019 on mountain hut
This year, the three co-founders returned to the place where it all began. While hiking in Switzerland in 2010, Bernhard, Coppetti, and Allemann hammered out a business plan for On footwear.
This past summer, high above the Engadin Valley, a new On Mountain Hut honored that start and celebrated the brand's latest collection. Over the course of a year the company's in-house design team created and built a sustainable hut at 8,200 feet above sea level.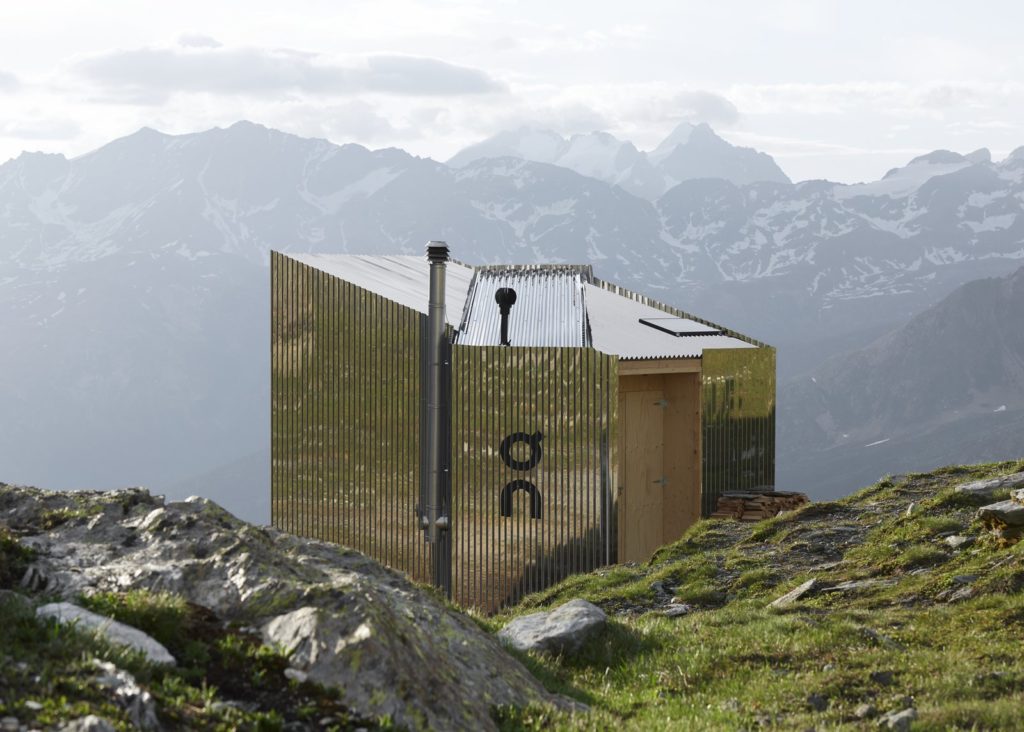 The austure interior made the surrounding peaks the focal point. The co-founders say the aesthetic is an intentional exercise in "Reduction as the ultimate luxury." Which could easily be the mantra of tech and creative executives everywhere.
Accessible only by foot, the structure was sited on Piz Lunghin, "the roof of Europe." Water from this site ultimately flows into the Danube, Rhine, and Po rivers. A metaphor for the company's growth, perhaps? Your call. At a minimum, we give them props for an extremely clever branding and marketing effort. The hut was dismantled in late September, leaving only a series of stunning photos and surely some incredible memories behind.
On: the favorite sneaker of the rich and powerful
It seems like these tech guys and gals might be on to something. Hope they don't mind if we join the club! Are you in?
join our community
For access to insider ideas and information on the world of luxury, sign up for our Dandelion Chandelier newsletter here. And see luxury in a new light.
Crediting her training as a cultural anthropologist at Wellesley College, Julie has immersed herself in various industries in the last 15 years including fashion design, event planning, fitness and even investigating police misconduct. Julie lives in NYC where she loves trying every ramen and dumpling restaurant with her husband and three children. She finds joy in bold prints, biographies of fierce women. Also kickboxing and spending way too long finding the perfect polish color to express her mood.