Whether its for the family photo, a big vacation, a holiday or birthday gift or just because, lots of people really love dressing as Mommy and Me with their little ones. Can it be done with style, though? Our correspondent (and mother of three) Julie Chang Murphy has the answers to this pressing question: what are the best chic luxury Mommy and Me (or Daddy and Me) designer fashion brands right now?
the eternal appeal of Mommy and Me dressing
If the words "Mommy and Me dressing" conjures up rather un-hip images of Laura Ashley floral dresses or shabby chic homemade Etsy outfits, think again.
You might be surprised to learn that luxury brands like Burberry, Fendi, Gucci, Givenchy and Balenciaga all have mini-me runway looks for the progeny of well-dressed and well-heeled parents.
Icons like Beyonce, Kim Kardashian, Chanel Iman, Katie Holmes, Gabrielle Union and Jennifer Lopez have been photographed out and about twinning with their children in designer duds.
As much as it is adorable, it's also very clearly a status symbol. Toddler Gucci loafers? $370. Moncler Kids Jacket? $980.
The hashtag #mommyandmefashion produces 146,000 posts of photogenic mothers and their cute kids embracing and smiling in matching dresses, coats, graphic tees and pajamas. While it's obviously a cohesive and attractive visual statement for social media influencers, it also brings a lot of joy and excitement to these dynamic duos. Kids only love dressing up like their parents for a short window. So why not get a few adorable photos and moments out of this fleeting phase?
is it possible to look chic while dressing like mommy and me?
Still, as a mom of three elementary school age kids, I have never bought clothes for the express purpose of matching them with me.
I checked with my fellow correspondent, Jillian Tangen, who has three daughters. Surely she is the prime target for this trend. But she, too, has never matched with her daughters citing, "It's not a very New York City thing to do." Even for holiday photos, we, like many families, prefer coordinating (not matching) clothing.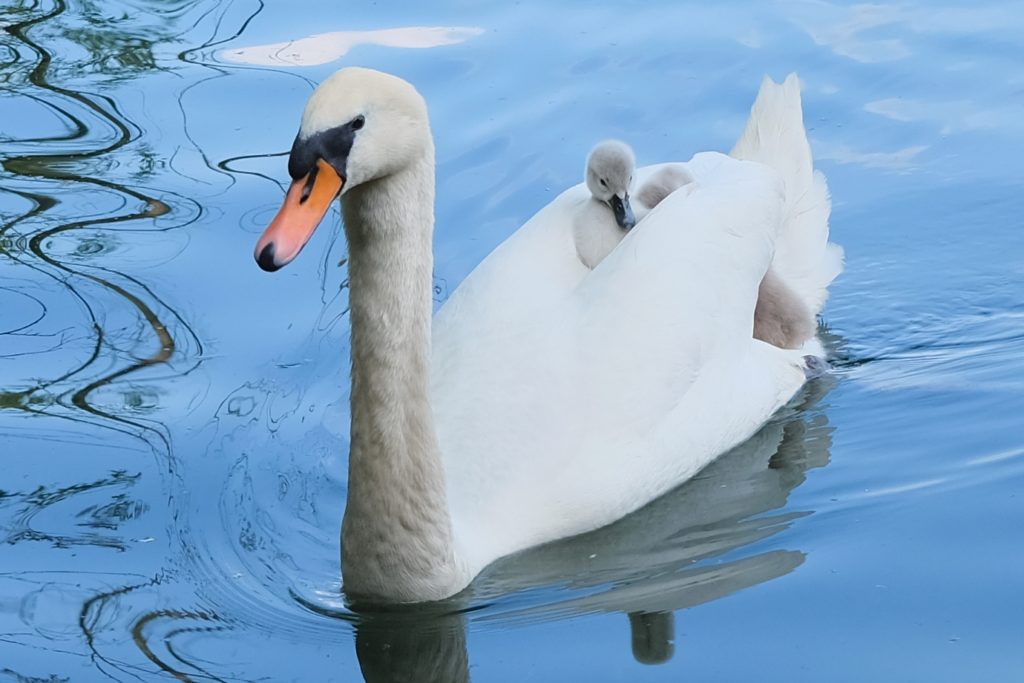 what are the best sources for mommy and me designer fashion brands?
In an effort to see if this is really something we could get behind- never say never (like I did with skinny jeans back in the day), I went searching for the most stylish Mommy and Me (and Daddy and me) brands and outfits. From brands to e-commerce to brick-and-mortar – and all of the above – I wanted to see how hard it is to find Mommy and Me apparel and accessories that are actually city-chic.
Spoiler alert: I'm in love. Maybe I won't match with my kids around the city for fear of running into Jillian. But when we go to the Midwest or a beach resort for the upcoming holiday season – get ready to see double!
1. Maisonette
This luxury children's lifestyle brand was started by two Vogue alumnae, offering clothing, toys and gear by brands like Stella McCartney, Bobo Choses and Elephantito. As well as exclusive collaborations with other trendy established and emerging designers. Their "Maman & Mini" section makes Mommy and Me dressing a cinch. The items cross over into the realm of being keepsake-worthy.
Left to Right (women) : Brock Collection floral jacquard top ($1,140) Cesta Collective leather and handwoven basket ($395) and Veda leather jacket ($998)
Left to Right (children): Brock Collection Paquita floral jacquard dress ($498) Cesta Collective mini handwoven basket ($195) and Veda kids leather jacket ($398)
2. Dôen
Dôen is a collective based in LA with strong vintage roots and Cali vibes. Fashion veterans and sisters Margaret and Katherine Kleveland are the founders. Their clothing is flattering, with easy silhouettes in luxe fabrics. And its all made by women-owned factories. Making it a great natural fit for the Mommy and Me market. We love these romantic and feminine styles for wear at home and outdoors.
Left to Right (women) : Solaris Nightgown ($228) Amoret Top ($198)
Left to Right (children): Luna Dress ($74) Little Isla Dress ($72)
3. Pink Chicken
Bright and boho, Pink Chicken makes Mommy and Me dressing look natural and effortless. The Indian cotton fabrics and warm color palettes feel good on the body and look like you're on a carefree vacation. Even if that's hardly true in real life with little ones, at least you can look the part!
Left to Right (women): Indira Dress ($198) Kit Dress ($226) Fione Dress ($242)
Left to Right (children): Penelope Dress ($76) Amy Bubble ($80) Coralee Dress ($76)
4. LoveShackFancy
LoveShackFancy's clothing is the stuff of fairy tales: unabashedly pretty, whimsical and charming. After designing the ideal bridesmaids' dresses for her wedding, Creative Director Rebecca Hessel Cohen launched the brand for modern day princesses– big and little.
Left to Right (women): Brady Shawl ($525) Posy Suit ($225) Sabina Dress ($395)
Left to Right (children): Mini Angel Cardigan ($230) Nettle Suit ($85) Scarlett Dress ($195)
5. Zimmermann
This iconic Australian brand founded by sisters Nicky and Simone Zimmermann is always a favorite of ours at fashion week. The clothes are sophisticated, modern and feminine, with an emphasis on color and prints. The brand also has a cult celebrity following- from Kate Middleton, Margot Robbie, Kendall Jenner to Beyonce. Who knows- you may even find yourself twinning with the Queen Bey herself!
Left to Right (women): Goldie Plunge Dress ($695) Zinnia Sundress ($895) Honour Chevron Dress ($640)
Left to Right (children): Goldie Short Dress ($170) Zinnia Short Dress ($170) Honour Stripe Flip Dress ($170)
6. Sophia Webster
If you're not ready to start matching head to toe, maybe just try the toe part first? British luxury accessories designer Sophia Webster designs fanciful footwear that is bold and playful. They're impossible to resist.
Left to Right (women): Chiara sandal ($675) Butterfly flat ($375) Evangeline ($675)
Left to Right (children) Chiara infant ($190) Bibi Butterfly ($150) Evangeline Mini ($195)
Unisex Styles
For all family members and parent-child combos who want to get in on the matching action, have no fear. There are plenty of stylish inclusive and unisex options to choose from, whether its Daddy and Me dressing, or outfits for everyone in the family.
7. Lingua Franca
Founded by Rachelle Hruska Macpherson, Lingua Franca is a line of sustainably-sourced, fair trade luxury cashmere sweaters, all hand-stitched with phrases of the moment by women in New York City. If you don't find a phrase you like, you can always make a custom request.
Left to Right (adult): "I've got this" ($380) "Who run the world" ($380)
Left to Right (children): "I've got this" kids ($160) "Who run the world" kids ($160)
8. Ingrid and Isabel
This luxury maternity brand might be familiar to some for their famous Bellaband, as well as fashionable and non-dowdy clothing options for pregnant women. We love these matching gender-neutral options that don't need to be saved for a special occasion. Cue the awwww's!
Left to Right (adult): Mama Camo Jacket ($128) Mama Sweatshirt ($78)
Left to Right (children): Babe Camo Jacket ($68) Babe Sweatshirt ($48)
9. Boden
Daddy and Me families, this one is for you! This colorful British brand is a staple for preppy and print-happy styles. While there are plenty of Mommy and Me options, we had to highlight these handsome outfits for the fellas.
Left to Right (men): Middleham Tweed Blazer ($320) Festive Crew Neck ($90) Fair Isle Half Zip ($125)
Left to Right (children): Party Blazer ($80) Festive Fair Isle ($60) Chunky Festive Crew Neck ($60)
10. Vilebrequin
Major brownie points go to luxury swimwear brand, Vilebrequin, who pioneered father and son swim shorts. And now offers matching outfits for the entire family. Going beyond mom and daughter and daddy and son combinations, Vilebrequin also offers colorful, wearable matching opportunities if your son wants to match his mom or your daughter wants to match her father. Fun for the entire fam!
Left to Right (adults): Bikini Coral and Fish ($140 top/$120 bottom) Shirtdress Coral and Fish ($280) Swim Trunks Coral and Fish ($260)
Left to Right (children): Girls One Piece Coral and Fish ($140) Girls Dress Coral and Fish ($95) Boys Swim Trunks Coral and Fish ($135)
the best mommy and me (and Daddy and Me) designer fashion brands
As I was researching this piece, my children peeked over my shoulder and pointed at the matching outfits saying, "I want to have the same clothes and match with you, Mommy." My heart is still melting but once I'm ready, I think I may be making a few purchases!
join our community
For access to insider ideas and information on the world of luxury, sign up for our Dandelion Chandelier newsletter here. And see luxury in a new light.
Crediting her training as a cultural anthropologist at Wellesley College, Julie has immersed herself in various industries in the last 15 years including fashion design, event planning, fitness and even investigating police misconduct. Julie lives in NYC where she loves trying every ramen and dumpling restaurant with her husband and three children. She finds joy in bold prints, biographies of fierce women. Also kickboxing and spending way too long finding the perfect polish color to express her mood.