Pearls Are Now for Men, too, Thanks to a New Luxury Line
All products are independently selected by our editors. If you buy something, we may earn an affiliate commission.
Are pearls passé ? Not even close, dear reader. We've previously written about how to wear pearls in a way that's fresh and modern. Now comes word of Mikimoto x Comme des Garçons, a luxury capsule collaboration on a new unisex collection of pearl necklaces. Not only can cool girls rock pearls – in case anyone was wondering, anyone can. In fact, one of the prominent fashion trends for spring-summer 2020 is men wearing pearls. Here's a peek at the new collaboration from two prominent Japanese luxury brands to create modern gender-neutral luxury pearls for men (and women).
Now trending in designer luxury: men in pearls
Back in the day, it was common for men of high status and wealth to be as bedecked with jewels as their female consorts. That image of masculinity and power disappeared for quite a while, replaced by rough and rugged soldiers and cowboys and austere all-business captains of industry who would rather be caught dead than seen sporting anything sparkly and decorative. All that frippery was just for women, right?
[white_box]
Join our community
For access to insider ideas and information on the world of luxury, sign up for our Dandelion Chandelier newsletter. And see luxury in a new light.
sign up now >
[/white_box]
Happily, luxury brands are embracing the new codes of masculinity that people around the world are defining for themselves. We've previously reported on three luxury categories where luxury brands are making explicit moves to market their traditionally female wares to men: cosmetics and makeup; handbags and small leather goods; and jewelry.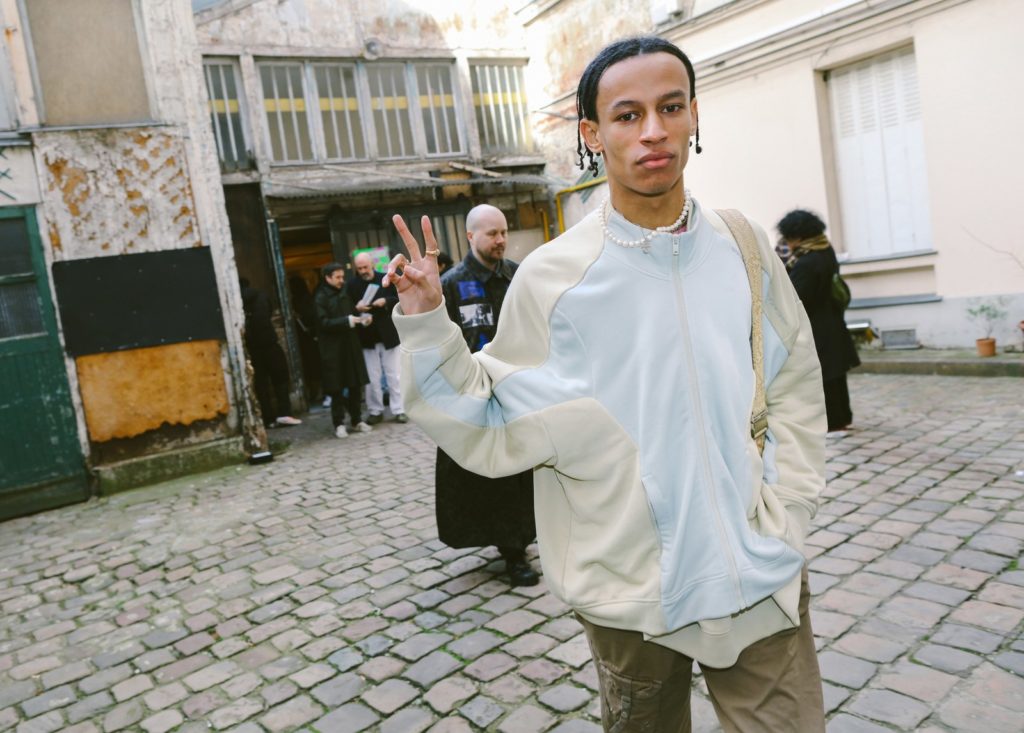 Now trending? Men in pearls. The look began – as all trends do – with street style. Photos from various Men's Fashion Weeks in the past couple of seasons start to percolate with them.
Around the same time, more male celebrities began sporting pearl earrings, necklaces and chokers on the red carpet at events like the Met Gala this past May.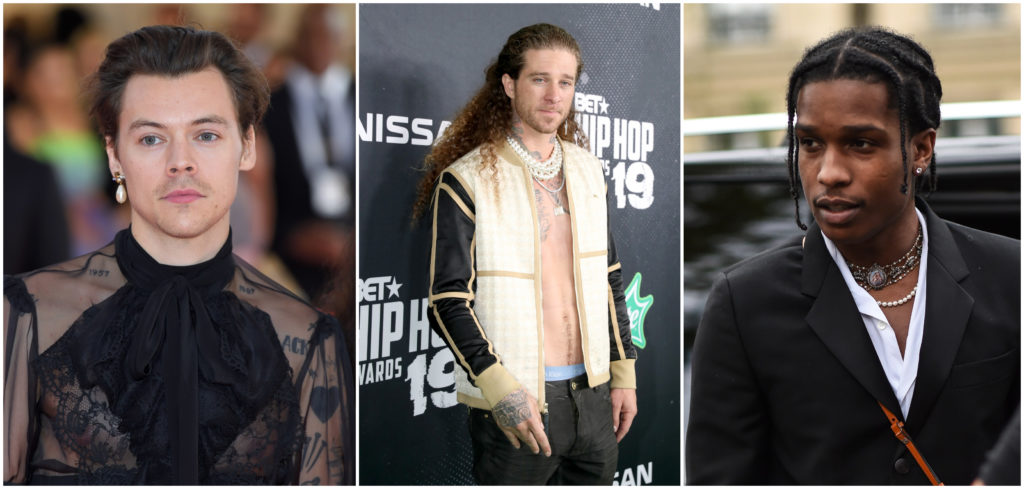 It accelerated when designers like Ryan Roche sent models down the runway in pearl necklaces and chokers for spring-summer 2020.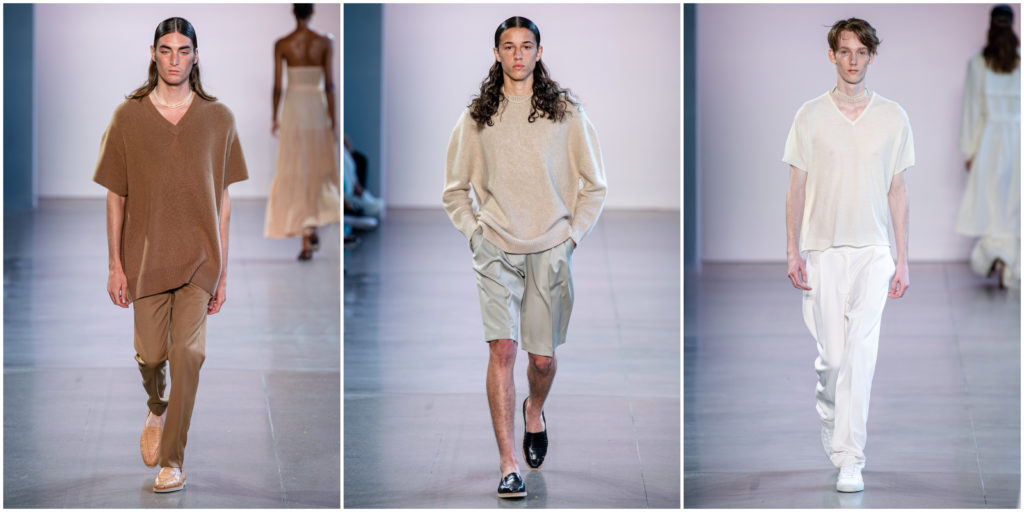 Then at last week's Paris haute couture shows, one of the many newsworthy moments was the launch of a 2-year collaboration between Japanese jeweler Mikimoto and edgy fashion label Comme des Garçons. It's focus? Pearls for men.
[white_box]
Related Post
how to wear pearls right now to look chic and fresh
read more >
[/white_box]
Mikimoto x Comme des Garçons
Fashion designer Rei Kawakubo, mastermind of the Comme des Garçons label and Dover Street Market concept stores, and subject of a Costume Institute exhibit at the Met, has created a fine jewelry capsule collection for the first time in Comme des Garçons history. Using Mikimoto pearls.
In some ways, it's the perfect mash-up of the deeply traditional and wildly experimental.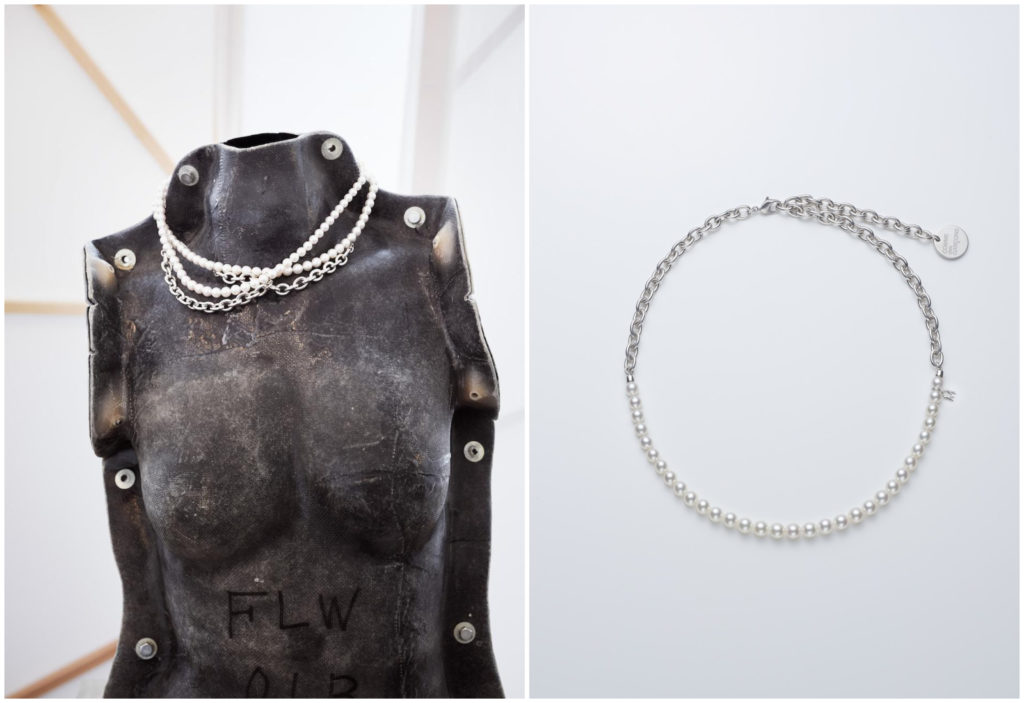 "Pearls line up alongside diamonds in terms of value. Myriad stories spring to mind concerning pearls," Kawakubo noted at the launch. For the designer, the perfectly round orbs represented an iconic classicism that needed to be turned on its head.
After all, what better way to challenge the status quo than by making something associated with the feminine into something worn by men?
"Recently, I've noticed how men also look good when they wear pearls," the designer said. Having now done a bit of research, we have to say – in selected cases, we cannot disagree.
[white_box]
Related Post
how luxury brands are embracing new codes of masculinity
read more >
[/white_box]
The Mikimoto x Comme des Garçons capsule collection includes seven pearl necklaces, all featuring strands of white South Sea or Akoya pearls set in sterling silver.
The fact that Mikimoto is the partner in this venture is particularly noteworthy, given the brand's deep heritage and traditional brand positioning. Mikimoto is the ne plus ultra of luxury pearls, in no small part because founder Kokichi Mikimoto cultured the first pearls in 1893. That was a hugely disruptive change to a market that had previously relied solely on rarefied natural pearls. It democratized pearls in a way that hasn't been done since – perhaps until now.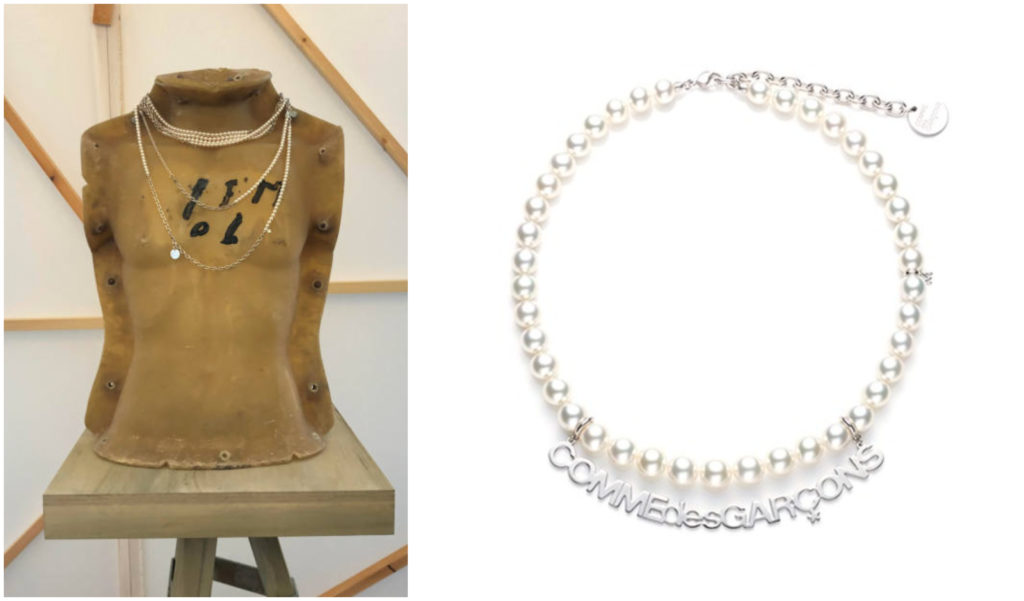 Of course, potentially doubling the addressable market for expensive jewelry is also a smart business move. The Financial Times reports that "Mikimoto's journey began with a vision to 'adorn the necks of all women around the world with pearls', but the invitation to pair up and 'challenge the norms of beauty, and explore a sense of originality free from tradition and boundaries – to adorn the necks of all, regardless of age or gender' was too potent to resist."
where to find the Mikimoto x Comme des Garçons capsule collection
Prices for the necklaces in the collection range from $2,800 to $39,000. The line will be available in mid-February 2020 at Comme des Garçons and Dover Street Market stores internationally, as well as Mikimoto's two flagship locations in Tokyo.
luxury pearls for all
For those in search of a romantic gift, this could be a sign. You can never go wrong with pearls.
join our community
For access to insider ideas and information on the world of luxury, sign up for our Dandelion Chandelier Newsletter here. And see luxury in a new light.