With air waves and elbow bumps the new normal in our work and social interactions, our collective anxiety level is understandably rising rapidly. To help us all take a deep breath and regain our purpose and focus, we went in search of ways to effectively nest and cocoon during these difficult times. Our ace correspondent (and working mother of three) Julie Chang Murphy has curated a list of the best luxury lounge wear and books to cozy up with right now.
Coping in the era of Coronavirus
Spring usually means shedding our layers, getting outside again, attending some public gatherings and of course, traveling for spring break. Well, it looks like all that might be on hold for now due to Coronavirus (aka COVID-19).
We hope that you and yours are well and safe. And that they'll stay that way, even if they get restless and bored with the changes in routine that some of us will experience. But hey – chin up, dear reader. While we know it's better to be safe than sorry, there's no rule that says being safe can't be as agreeable as possible.
[white_box]
Join our community
For access to insider ideas and information on the world of luxury, sign up for our Dandelion Chandelier newsletter. And see luxury in a new light.
sign up now >
[/white_box]
As many of us across the country are already working from home or facing the possibility of staying home for the next few weeks, perhaps there is a silver lining. Telephonic meetings in sweatpants! Finally reading some books! No more FOMO!
Take a break from the constant news refreshing. There's still a lot we don't know. In the meantime, recharge with a new book and take it easy in some of the coziest and cutest stay-at-home ensembles inspired by these new book releases. And don't forget to wash your hands.
the best luxury lounge wear and books to cozy up with right now
1. Merry Mood
In need of something inspiring and uplifting? Check out New York magazine's senior art critic, Jerry Saltz's How to Be an Artist or The Girl with the Louding Voice by Abi Daré. Both books, the former sharing advice and inspiration to struggling artists, and the latter about a young Nigerian protagonist facing adversity and shaping her own future, will raise your spirits.
And what better way to channel the hopeful and empowering mood than with a wild spectrum of color and bold hues? Madeleine Thompson's rainbow cashmere cardigan ($550) has us feeling like a kid again. When you're at home, nothing is too much. So double down on the rainbow brights and pair with these Gucci Psychedelic print shorts ($980).
This cherry red pajama set from Eberjey ($120) is as optimistic as it is soft and luxurious. Don't neglect those toes. We love these ebullient, polka dot socks ($14) from the appropriately named company Happy Socks.
Only Hearts is one of our go-to lingerie brands. And this sweet and innocent rainbow hearts pajama set ($67 for top and $92 for bottoms) has us feeling safe and cozy – like being tucked into bed. And that's a feeling we can use more of right now!
For those who can never keep still, something more active might be in order. Hop on your Peloton wearing Terez's vibrant floral print leggings ($110). They're comfortable, and tough enough to support any activity you need to engage in. Pair them with Outdoor Voice's lightweight terry hoodie ($75) in a calming shade of lavender.
[white_box]
Related Post
the best chic looks for spring summer 2020 in sky blue
read more >
[/white_box]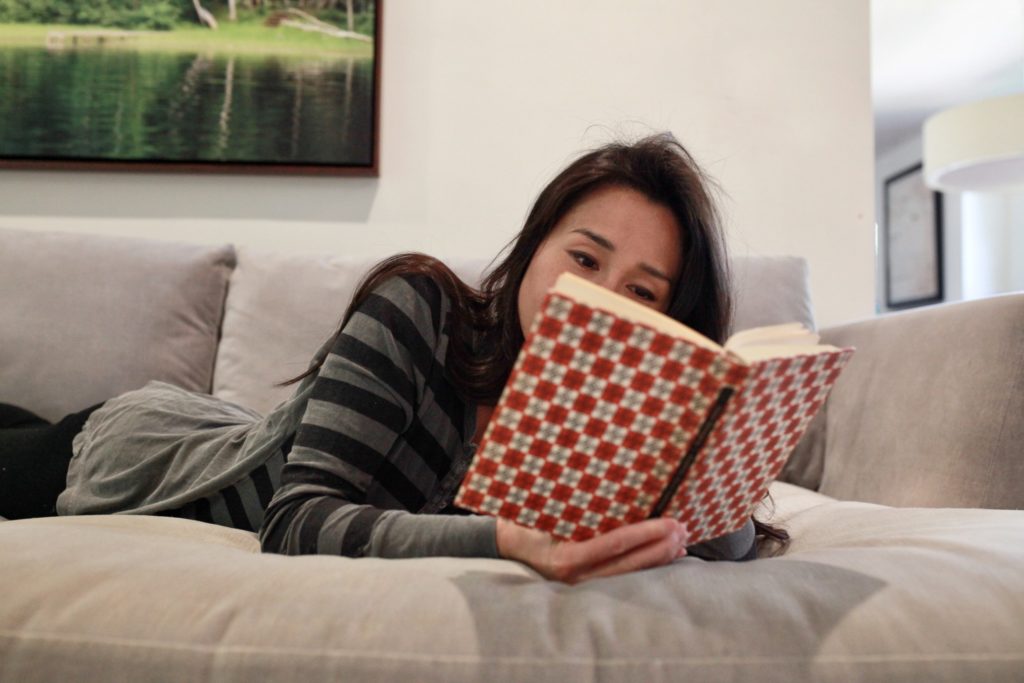 2. Singing the Red, White and Blues
What a year for the political junkies among us! These new releases are politically based and entertaining reads. You Never Forget Your First by Alexis Coe looks at the life of George Washington through a fresh lens while Enter the Aardvark by Jessica Anthony is an uproarious novel about a Republican Congressman struggling to save his career after a stuffed aardvark appears on his doorstep.
No matter what side of the aisle you're on, red and blue unite in Sundry's flattering abstract dot sweatpants ($138). Pair with Everlane's blue indigo plush fleece sweatshirt ($48) which is a no-brainer for comfort and versatility.
There's loungewear of all stripes. Madeleine Thompson's red and white cashmere silk pullover and short ($370 for top and $320 for bottoms) will add an extra pep to your step. While Morgan Lane's silk blend pajama set ($248) in true blue stripes is a classic for any sleepwear collection. A clean, white robe is an overlooked luxury and this soft, cotton pique Hanro version ($180) is one of our favorites. Ditto for Lauren Manoogian's brushed alpaca wool mules ($393).
If social distancing is cramping your campaign style, check out this new board game- Campaign Trail ($87) which pits you and your opponents in a game of resource management and area control for the office of President of the United States.
[white_box]
Related Post
what are the best new books coming in March 2020?
read more >
[/white_box]
3. Flower Power
Flowers are synonymous with spring. And even if we can't be outside as much as we'd like, we can bring the spirit of flowers in. Hex by Rebecca Dinerstein Knight explores the illicit relationships and obsessions surrounding Nell Barber, a researcher studying poisonous plants. Or if you're in the mood for non-fiction and a hilarious approach to self-help, check out Buy Yourself the F*cking Lilies: And Other Rituals to Fix Your Life, from Someone Who's Been There by Tara Schuster.
Inspired by these beautiful covers, we love Dolce & Gabbana's silk-blend crepe camisole ($859) and shorts ($535) which showcase an explosion of exuberant blooms. More of a minimalist when it comes to florals? We love the simple graphic and vintage quality of Free People's daffodil tee ($48).
We'll never pass up the opportunity to lounge around in a caftan. They're glamorous and extraordinarily comfortable. This stunning Natori gown ($3,900) features metallic cherry blossoms over vibrant, color-blocked silk.
Florals strike a mod mood with Boutique Moschino's knit cardigan ($422) with daisy accents. Equally playful are Year of Ours Daisy leggings ($99) which offer moderate compression and contouring waistband.
Finally, candles do wonders for making our homes fragrant and intimate. La Double J's wax candle ($120) features graphic florals and notes of frankincense, ylang ylang, and labdanum.
[white_box]
Related Post
the best new shoes and boots for spring summer 2020
read more >
[/white_box]
4. Moody Mysteries
We'll happily be distracted by a fictional mystery while in the throes of a real-life one.
The Glass Hotel by Emily St. John Mandel tells the collapse of a Ponzi scheme and a seemingly unrelated woman's disappearance. The Tenant by Katrine Engberg follows two Copenhagen detectives as they investigate the troublesome relationship between an eccentric landlady and her tenant, a young woman brutally murdered in her own apartment.
The evocative, deep green of this Lunya silk nightdress ($199) is as moody as they come. Settle in with a glass of red and dim the lights. Or midnight blue might match your witching hour ways. This satin Ona lounge set ($150 for top and $275 for bottoms) is elegantly languid.
For us, mysteries always conjure smoke and fog. This Stateside army green tie dye sweatshirt and sweatpants ($130 for top and $130 for bottoms) and Theory's ombre linen blend cardigan ($295) capture that deliciously spooky feeling.
Let's face it- we might be hosting game nights these next few weekends instead of partying it up. Versace's Medusa print t-shirt ($795) in acid green tie-dye paired with About's linen blend pajama trousers ($112) look sharp and stylish while solving Mysterium ($25.88) – a gorgeously illustrated murder mystery game.
[white_box]
Related Post
the best of the chic new designer handbags for spring 2020
read more >
[/white_box]
5. Travel Bug
Canceled vacations have us feeling the travel bug hard.
If you're in limbo, escape with The Falcon Thief: A True Tale of Adventure, Treachery, and the Hunt for the Perfect Bird by Joshua Hammer. It will take you from the volcanoes of Patagonia to Zimbabwe's Matobo National Park, and from the tundra near the Arctic Circle to aviaries in the deserts of Dubai. Need more visuals? Check out Dame Traveler: Live the Spirit of Adventure by Nastasia Yakoub, which features 200 striking photographs of brave women backpacking in Peru to artists in Berlin to storytellers in Morocco.
And bring the global style to home sweet home. Natori's lush pink nightgown ($120) features Asian style dragons for a dose of fierceness. Throw on Parisian favorite, Iro's loosely knit cardigan ($695) for that morning and evening chill.
Earth-tone colored lounge wear that reflects the hues of desserts, sunsets, and forests feels right for this mood. Check out LNA's gradient sweats ($138) of lagoon, rose and terracotta. Or this moss green knotted sweatshirt and pants from Stateside ($126 for top and $198 for bottoms). Tropical colored hair and home accessories remind us of sunnier days like Eugenia Kim's satin scrunchie ($115) in marigold and coral or Anthropologie's saffron and tangerine pillows ($88)
We are always fans of ethnic prints and tribal motifs. Chufy's lounge shirt ($280) and trousers ($300) feature a vibrant graphic print inspired by the Peruvian Andes. Pippa Holt's embroidered caftan ($690) looks good and does good- improving the social condition of garment workers in Mexico and uses low-impact non-toxic dyes.
the best luxury lounge wear and books to cozy up with right now
We hope this makes the thought of social distancing and hibernating feel at least a little more enticing. Stay healthy and safe out there.
join our community
For access to insider ideas and information on the world of luxury, sign up for our Dandelion Chandelier Newsletter here. And see luxury in a new light.