One of the many worries in these frenzied times, along with elbow-shakes and stocking up on junk food and paper products is this one: how can you be sure that your kids stay on track academically when schools are closed? Is there help for parents whose kids are suddenly doing distance learning? Our correspondent (and mother of three) Julie Chang Murphy has answers. Here are some of the best online academic programs and educational websites for at-home learning right now.
coping in the time of coronavirus: the best ways to ensure your kids keep up academically
Approximately 1.7 million American students are home-schooled and if you told me a week week ago that I would be joining their ranks (temporarily), I would have had a pretty good laugh. Although one of my first job offers out of college was from Teach for America, I know that I never would have survived. You see, I lack a vital trait called patience.
But here we are. According to a new U.N. report, nearly 300 million students worldwide are being affected educational disruptions because of Coronovirus. And that includes my three elementary school aged kids. We are on Day Two of Mommy School. Which has centered around highly intellectual experiments such as: "How many times can we ask for snacks in one hour?" and "How many times can we ask to watch TV in one hour?"
You've got to know your strengths and weaknesses, and I know that home schooling is definitely not one of mine. So I did some research on the best educational websites to enrich and supplement our children's learning. And equally important, these will all help bring structure to the day. And give us parents some much-needed free time away – even if we can't go very far – to our own grown-up stuff, like working for a living.
the best online academic programs for at-home learning
Here are the best self-directed learning platforms that require minimal support from parents.
1. Khan Academy
Very popular with home-schoolers, Khan Academy is a non-profit educational organization that offers expert-created content and resources for all ages.
For preschool, there are interactive activities featuring adorable characters and traditional reading and math classes for elementary school students. High school students can choose from a variety of AP classes like Calculus, Art History and Economics. One standout feature is that the site is available in 40 different languages and it is always free of charge.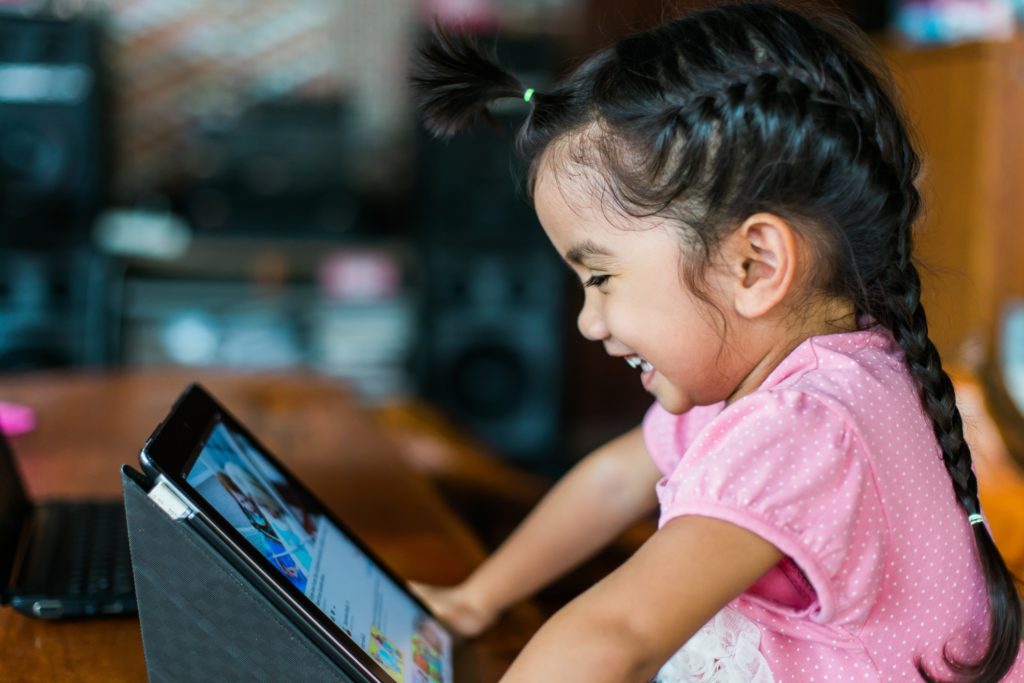 2. BrainPOP
BrainPOP offers over 1,000 short animated movies for students in grades K-12, together with quizzes and related materials. Subjects covered include science, social studies, English, math, engineering and technology, health, and arts and music.
There are even topics under historical figures that address social emotional learning. The site is currently offering free access for schools closed due to the COVID-19 virus.
3. PBS Learning Media
THIRTEEN and PBS hardly need an introduction but did you know they offer curated standards-aligned videos, interactive activities and lesson plans for distance learners via PBS Learning Media?
In addition to all the common school subjects found in pre-school up to high school, what makes this platform stand out are the lessons based around their collection of timely and topical award-winning series. Think Ken Burns' historical documentaries, NOVA science series, Finding Your Roots by Henry Louis Gates Jr and Great Performances. Access is free.
4. Laurel Springs School
Laurel Springs School is a very well-regarded accredited online private school offering courses for grades K-12. If you have a student who really needs to earn course credit during this uncertain time – or over the summer – this is an excellent option.
There are standard online courses for grades K-12, as well as gifted and talented programs for grades 6-12. A visiting committee composed of peer educators visited Laurel Springs for the first time in 2012 and again in 2015 to evaluate all aspects of the program, and ensured that the school is meeting accreditation guidelines. That means online Upper School students receive reciprocity of credits, courses, and grade-level placements with schools and universities around the world.
5. PenPal Schools
With social interaction at a minimum, PenPal Schools might appeal to children yearning for contact with the outside world. The site connects students around the world through exciting, authentic projects to learn about cultures and global challenges.
Groups of 3-4 pen pals use weekly sessions to connect and collaborate on a selected topic, which might include climate change, French Art or mythology. PenPal Schools currently supports English, Spanish, French and Mandarin.
6. Outschool
Outschool offers LIVE, unique online classes with independent teachers who may be certified teachers, artists, scientists, or other adults with an expertise or interest to share.
Students join the class at a specified date and time via Zoom- the group video chat app. Learn how to write a limerick, draw a dinosaur, crochet, and even make fudge. Some classes meet weekly while others are one-time only. Prices vary from $8 for one class to $15 per week for weekly classes.
7. Mystery Science
Why do birds lay eggs? And why do I have a shadow? Also, why do trees grow so tall? Instead of being flummoxed all the time, check out Mystery Science.
The site offers ready-to-go videos and grade appropriate lesson plans. The engaging "mysteries" help nurture each child's burning curiosity, guide them as they explore their world, and ensure they develop the most important skill of all: the ability to figure things out for themselves.
8. HippoCampus
The Bill and Melinda Gates backed academic website HippoCampus delivers rich multimedia content on general education subjects to middle-school and high-school aged students.
It was designed as part of a worldwide effort to improve access to quality education for everyone free of charge. There are over 7,000 videos in 13 subject areas to keep your tween or teen busy.
9. Curriki
For more comprehensive lesson plans, Curriki offers free learning resources for preschool children through college and beyond.
Even a potentially "fluffy" topic like a "Frozen 2 Movie Study" will guide learners through lessons about Norwegian architecture and costume, influences from the Ashanti empire (now Ghana, West Africa) and the science behind fjords, ice and blizzards. Hunker down, potential students- you've got nothing but time.
10. Mangahigh
Pepper in some games to break up the monotony. Mangahigh is a game-based learning site in which students play math games as a fun way to learn new concepts.
They are based on the Common Core and designed to adapt in difficulty to the ability of the students. Created by experienced mathematicians and game specialists, the site strikes a good balance between game playing and learning. Access is free for schools impacted by COVID-19.
11. Population Education
For students who are questioning and grappling with the implications of this worldwide disease, Population Education might have the answers. It is a national program with a strong emphasis on social science issues like human population, natural resources and the environment for grades K-12.
For example, in a course titled "Catch it if You Can," high schoolers can mimic the spread of disease by exchanging liquids in test tubes and then graph and analyze data from the Ebola outbreak in Sierra Leone in 2014-2016. In "To Our Health," students explore how stresses to our global environment affect public health and nature's potential to cure human disease.
the best online academic programs for at-home learning
There you have it. Some of the best ways to avoid brain drain and keep everyone sane during these uncertain times! Stay safe and healthy out there, dear reader.
join our community
For access to insider ideas and information on the world of luxury, sign up for our Dandelion Chandelier Newsletter here. And see luxury in a new light.
Crediting her training as a cultural anthropologist at Wellesley College, Julie has immersed herself in various industries in the last 15 years including fashion design, event planning, and fitness. Julie lives in New York where she loves trying every ramen and dumpling restaurant with her husband and three children. She finds joy in bold prints, biographies of fierce women, kickboxing. And spending way too long finding the perfect polish color to express her mood.