What are the Best Beach Books of Summer 2020?
All products are independently selected by our editors. If you buy something, we may earn an affiliate commission.
What are the best beach books of summer 2020? So many choices, and only a precious few weeks of summer. What to do? To lend a hand, we've rounded up the most-anticipated new releases since the last time we compiled a list of the best beach books. You might also enjoy the best books of 2019, most of which are now out in paperback. These are our picks for the best beach reads of summer 2020.
What are the best beach books of summer 2020?
Like a lovely glass of rose or a perfect romantic comedy, one of the great joys of summer is a light and refreshing new novel. Call it a "beach read," or just call it your perfect summer companion.
[white_box]
Join our community
For access to insider ideas and information on the world of luxury, sign up for our Dandelion Chandelier newsletter. And see luxury in a new light.
sign up now >
[/white_box]
The best summer books 2020 will take you to Block Island, Nantucket, Martha's Vineyard, the Hamptons, Big Sur, Paris and beyond. Even if only in your mind.
The summer beach reads 2020 are arriving now, so its time to start stocking up. Apply sunscreen, then kick back and relax. Here are our picks for the best beach books for the summer of 2020.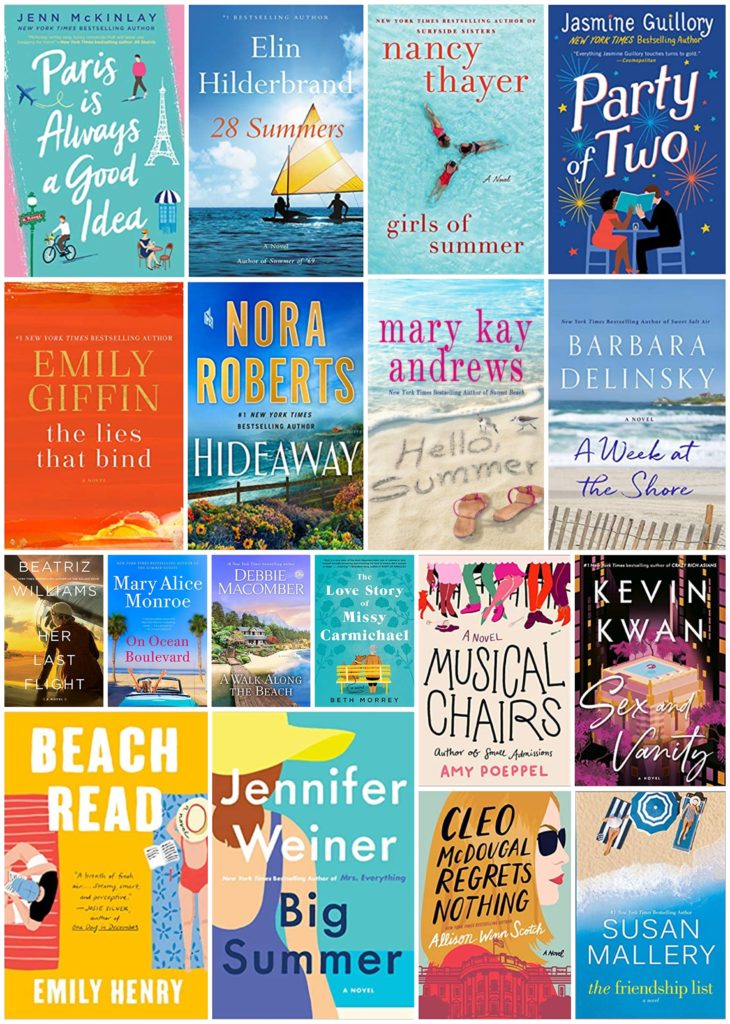 the best beach reads for the summer of 2020
1.
The Love Story of Missy Carmichael by Beth Morrey. Missy once led a bustling life driven by two children, an accomplished and celebrated husband, and a Classics degree from Cambridge. Now her husband is gone, her daughter is estranged after a shattering argument, and her son has moved to his wife's native Australia, taking Missy's beloved only grandchild half-a-world away. But then two perfect strangers and one spirited dog named Bob begin to break through her prickly exterior and show Missy just how much love she still has to give – Publication Date: April 7, 2020
2.
Hello, Summer by Mary Kay Andrews. Conley Hawkins left her family's small town newspaper, The Silver Bay Beacon, in the rearview mirror years ago. When a promised new job goes up in smoke, Conley finds herself right back where she started, working for her sister, who is trying to keep the paper afloat. She's assigned to cover gossip, but uncovers a much more interesting story about a local politician. The more she digs into the story, the more dangerous it gets. As an old heartbreaker causes trouble and a new flame ignites, soon their sleepy beach town is the most scandalous hotspot of the summer – Publication Date: May 5, 2020
3.
Big Summer by Jennifer Weiner. Six years after the fight that ended their friendship, plus-size social media influencer Daphne Berg is shocked when Drue Cavanaugh walks back into her life and asks her to be maid-of-honor at the society wedding of the summer. Letting glamorous, seductive Drue back into her life is risky, but it comes with an invitation to spend a weekend in a waterfront Cape Cod mansion. Exploring the complexities of female relationships and the pitfalls of living out loud and online, this is the perfect summer cocktail – Publication Date: May 19, 2020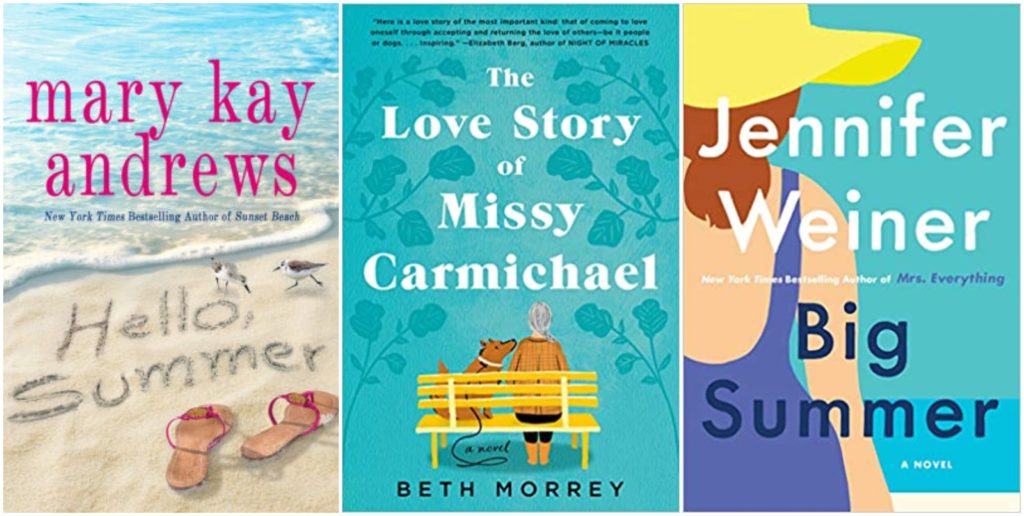 4.
A Week at the Shore by Barbara Delinsky. One phone call is all it takes to lure real estate photographer Mallory Aldiss back to her family Rhode Island beach home. It's been twenty years since she's been gone―running from the scandal that destroyed her parents' marriage, drove her and her two sisters apart, and crushed her relationship with her first love. In just seven watershed days on the Rhode Island coast three women will test the bonds of sisterhood, friendship and family, and discover the role that love and memory plays in defining their lives – Publication Date: May 19, 2020
[white_box]
Related Post
what are the best books about friendship?
read more >
[/white_box]
5.
Beach Read by Emily Henry. Augustus Everett is an acclaimed author of literary fiction. January Andrews writes bestselling romance. The only thing they have in common is that for the next three months, they're living in neighboring beach houses, broke, and bogged down with writer's block. One hazy evening, they strike a deal designed to force them out of their creative ruts: Augustus will spend the summer writing something happy, and January will pen the next Great American Novel. Everyone will finish a book and no one will fall in love. Really – Publication Date: May 19, 2020
6.
Girls of Summer by Nancy Thayer. The owner of a popular boutique on Nantucket, where she was raised, Lisa Hawley starts a summer fling with Mack Whitney, a local contractor 10 years her junior. Her grown children, Juliet and Theo, become entangled in summer romances of their own on the golden island. As the season unfolds, a storm threatens to shatter the peace of Nantucket Island, forcing all three of them to decide whether their summer romances are destined for something more profound – Publication Date: May 26, 2020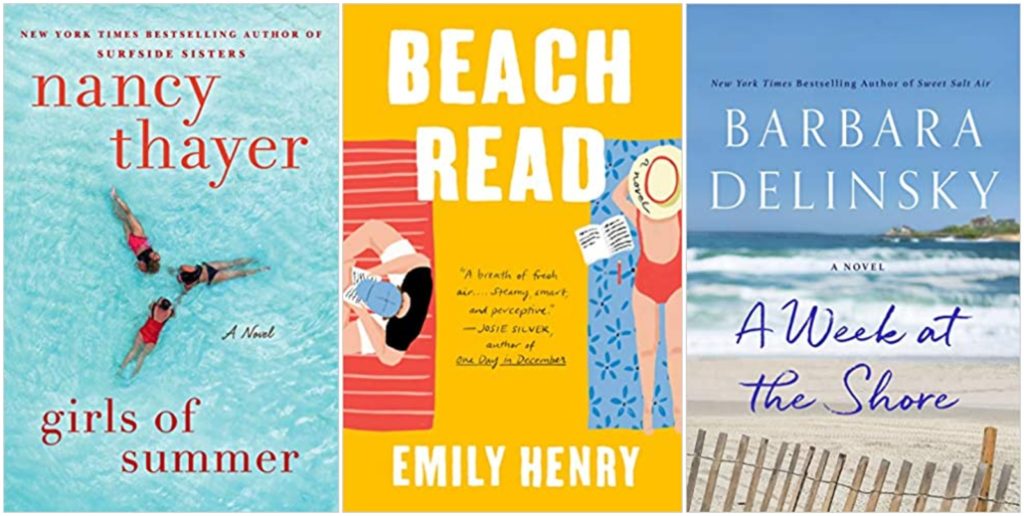 7.
Hideaway by Nora Roberts. A family ranch in Big Sur country and a legacy of Hollywood royalty set the stage for emotion and suspense in this summer thriller. Caitlyn Sullivan was a precocious nine year-old child actress when she was kidnapped. She escapes her abductors and the teenaged Dillon Cooper helps her reunite with her family. After a sojourn in Ireland she returns to Los Angeles as an adult – where the seeds planted the night of her abduction come into full flower – Publication Date: May 26, 2020
[white_box]
Related Post
the best beach books of summer 2019
read more >
[/white_box]
8.
The Friendship List by Susan Mallery. Thirty-something widow Unity Leandre creates a list of challenges to push her divorced BFF Ellen Fox out of her comfort zone. Unity will complete The Friendship List, too. It all begins as a way to make others believe they're just fine. But somewhere between "wear three-inch heels" and "have sex with a gorgeous guy," the two friends discover that life is meant to be lived with joy and abandon, in a summer of humor, heartache and regrettable tattoos – Publication Date: May 26, 2020
9.
The Lies That Bind by Emily Giffin. A young woman falls hard for an impossibly perfect man before he disappears without a trace in this thriller. Twenty-eight-year-old Cecily Gardner and Grant meet in a dive bar in New York's East Village and make an instant connection. But when Grant disappears in the chaos of 9/11, Cecily fears the worst. Then she spots his face on a missing-person poster, and realizes she is not the only one searching for him. How well did she really know Grant? Did he ever really love her? And is it possible to love a man who wasn't who he seemed to be? – Publication Date: June 2, 2020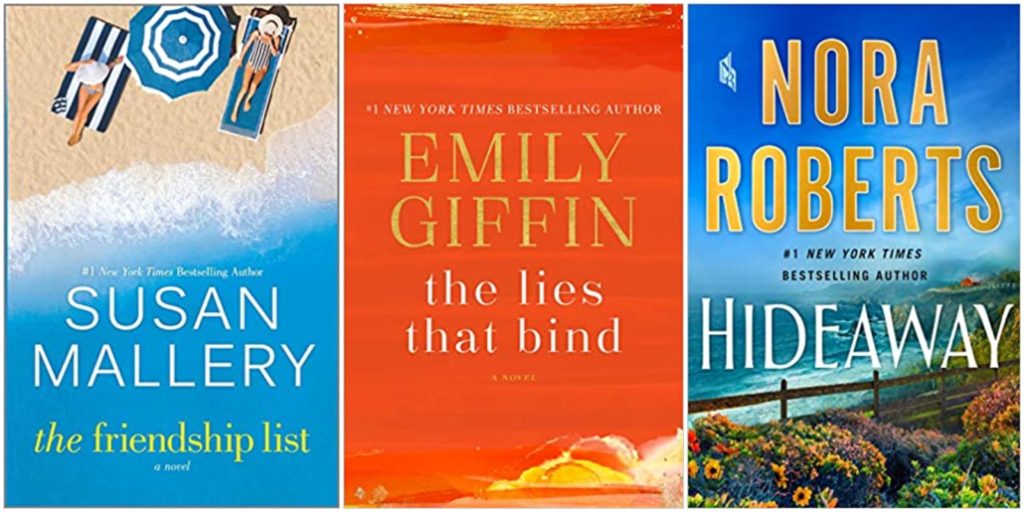 10.
28 Summers by Elin Hilderbrand. In the summer of 1993, Jake and Mallory form a bond that will persevere — through marriage, children, and the stratospheric political rise of Jake's wife Ursula. Until Ursula emerges as the frontrunner in the upcoming Presidential election – and Mallory learns she's dying. Based on the classic film Same Time Next Year, this novel explores the agony and romance of a one-weekend-per-year affair and the dramatic ways the relationship complicates and enriches their lives, and the lives of the people they love – Publication Date: June 16, 2020
[white_box]
Related Post
the best books of the year of 2019
read more >
[/white_box]
11.
Party of Two by Jasmine Guillory. Dating is the last thing on Olivia Monroe's mind when she moves to LA to start her own law firm. But when she meets a gorgeous man at a hotel bar and they spend the entire night flirting, she discovers too late that he is none other than hotshot junior senator Max Powell. Because of Max's high-profile job, they start seeing each other secretly, which leads to clandestine dates and silly disguises. But when they finally go public, the intense media scrutiny means people are now digging up her rocky past and criticizing her job, even her suitability as a trophy girlfriend– Publication Date: June 23, 2020
12.
Her Last Flight A Novel by Beatriz Williams. In 1947, photographer and war correspondent Janey Everett arrives at a remote surfing village on the Hawaiian island of Kauai to research a planned biography of forgotten aviation pioneer Sam Mallory, who joined the loyalist forces in the Spanish Civil War and never returned. When she interviews the woman who turns out to be his long-lost flying partner, the two ultimately end up in a duel. To whom does Mallory's story rightfully belong? And can we ever come to terms with the loss of those we love, and the lives we might have lived? – Publication Date: June 30, 2020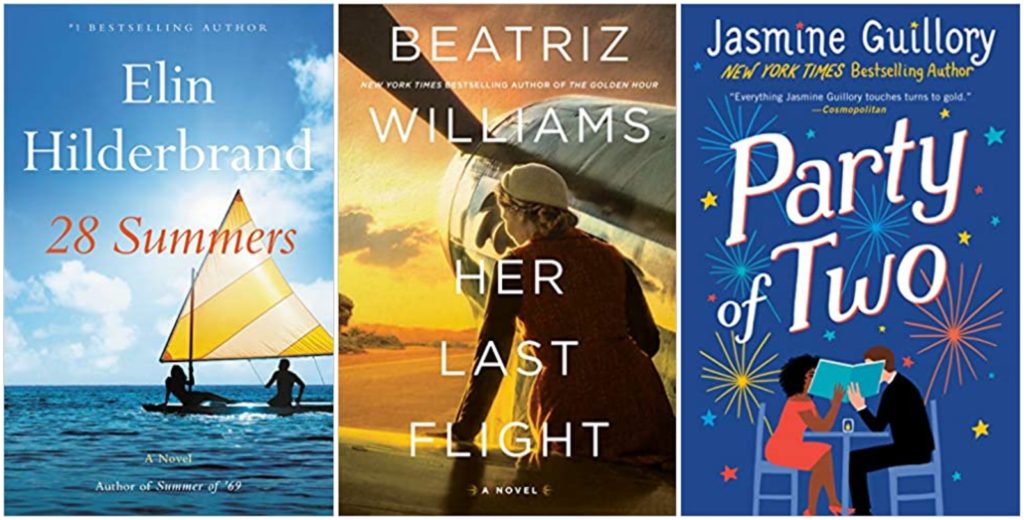 13.
A Walk Along the Beach by Debbie Macomber. As adults, the orphaned Lakey sisters are perfect opposites. Willa has realized her dream of running her own bakery and coffee shop, bringing her special brand of caretaking to the whole community. Harper, on the other hand, is always on the go, a daredeveil mountain climber. But when the cautious Willa falls for a charismatic freelance photographer whose assignments take him to the ends of the earth, their roles are reversed. Ultimately both sisters will discover that even in the darkest moments, family is everything – Publication Date: July 14, 2020
[white_box]
Related Post
the best seashore and shell luxury jewelry summer 2020
read more >
[/white_box]
14.
Sex and Vanity by Kevin Kwan. The author of the bestselling phenomenon Crazy Rich Asians returns with the glittering tale of a young woman who finds herself torn between two men: the WASPY fiancé of her family's dreams and George Zao, the man she is desperately trying to avoid falling in love with – Publication Date: July 14, 2020
15.
On Ocean Boulevard by Mary Alice Monroe. It's been sixteen years since Caretta "Cara" Rutledge has returned home to the beautiful shores of Charleston, South Carolina. Over those years, she has weathered the tides of deaths and births, struggles and joys. And now, as Cara prepares for her second wedding, her life is about to change yet again. Like the sea turtles that come ashore annually on these windswept islands, three generations of the Rutledge family experience a season of return, rebirth, and growth – Publication Date: July 14, 2020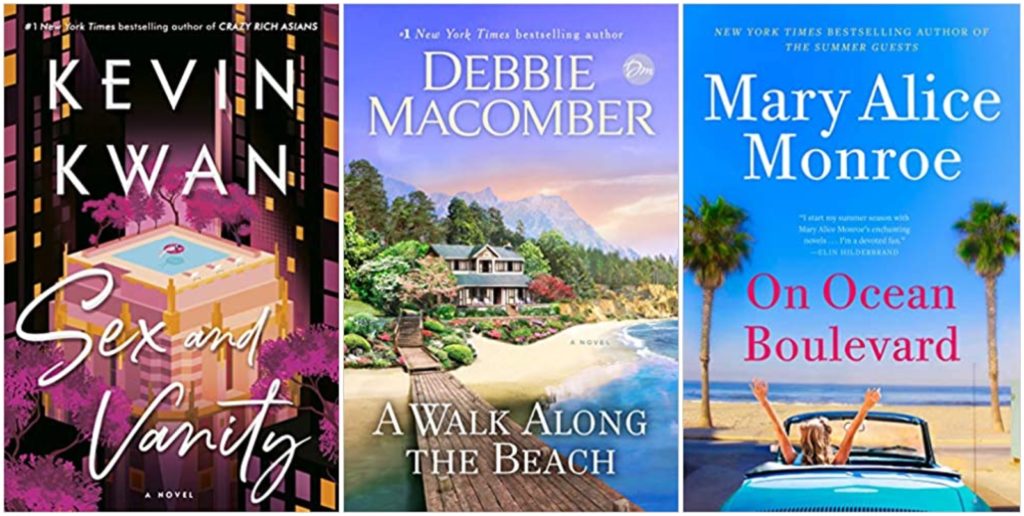 16.
Musical Chairs by Amy Poeppel. The Forsyth Trio is a chamber group created by Bridget and Will as students, along with their Juilliard classmate Gavin Glantz. Thirty years later, it's summer and Bridget's boyfriend breaks up with her over email the same day her twin twenty-somethings arrive unannounced at her Connecticut home. In a twisted tale of modern family, what unfolds is a romantic story of role reversals, reinvention, and sweet synchronicity – Publication Date: July 21, 2020
17.
Paris is Always a Good Idea By Jenn McKinlay. A thirty-year-old woman retraces her gap year through Ireland, France, and Italy to find love—and herself. When her introverted mathematician father announces he's getting remarried, Chelsea is forced to acknowledge that her life stopped after her mother died and that the last time she can remember being happy, in love, or enjoying her life was on her year abroad seven years ago – Publication Date: July 21, 2020
18.
Cleo McDougal Regrets Nothing by Allison Winn Scotch. With seven words—"Cleo McDougal is not a good person"—the presidential hopeful has gone from in control to damage control, and not just in Washington but in life. When Cleo shares her "regrets list" of 233 and counting, her chief of staff suggests a plan. Pick the top ten, make amends during a media blitz, and repair her reputation. But there are regrets, and there are regrets: like her broken relationship with her sister, her affair with a law school professor…and the regret too big to even say out loud – Publication Date: August 1, 2020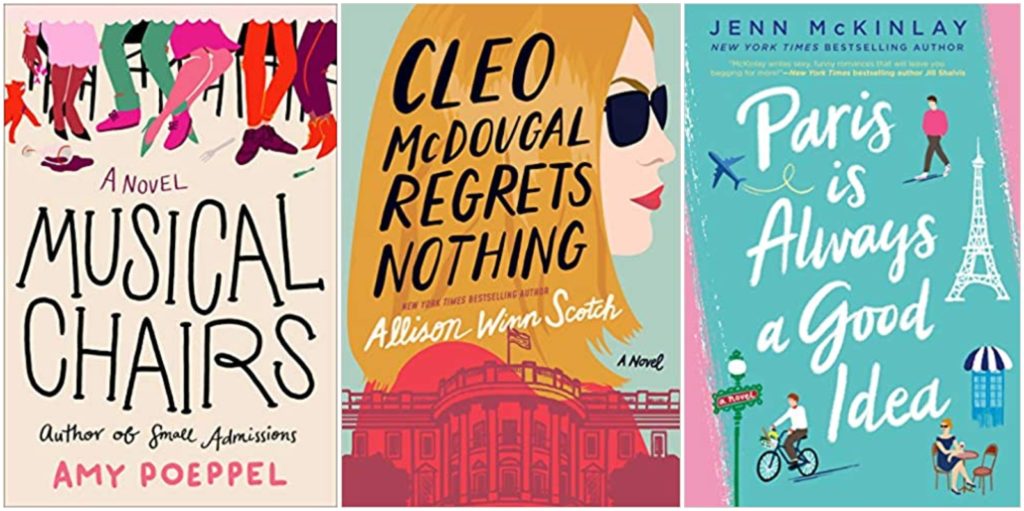 the best beach books of summer 2020
That's it! Our top picks of the best beach books of summer of 2020. What's at the top of your list this season?
join our community
For access to insider ideas and information on the world of luxury, sign up for our Dandelion Chandelier Newsletter here. And see luxury in a new light.