Just about everyone is looking for ways to stay calm and focused right now.. Could there be any better time for some home comfort food cooking? Whether it is your old time favorite or something completely new, grab some pots and pans, and let's do this! Our correspondent Julie Chang Murphy is sharing a list of 12 favorite cookbooks with some of the best comfort food cooking and best-loved recipes available right now.
now is the moment for comfort food – and comfort cooking
If you're suffering from a broken heart or didn't get the promotion you were hoping for, it's comfort food to the rescue. Or maybe it's just a cold, wet and rainy day with a raging pandemic outside your front door? Well, comfort food can certainly help there, too.
Those nostalgic and satisfying foods from our childhood are a little different for everyone. But the end result is the same: a sense of well-being and resilience.
[white_box]
Join our community
For access to insider ideas and information on the world of luxury, sign up for our Dandelion Chandelier newsletter. And see luxury in a new light.
sign up now >
[/white_box]
Usually we talk about comfort food as an act of consumption. It's savoring your mom's chicken soup with the perfect ratio of vegetables, noodles and chicken. Or enjoying a thick and crispy topped mac & cheese side from the neighborhood barbecue joint.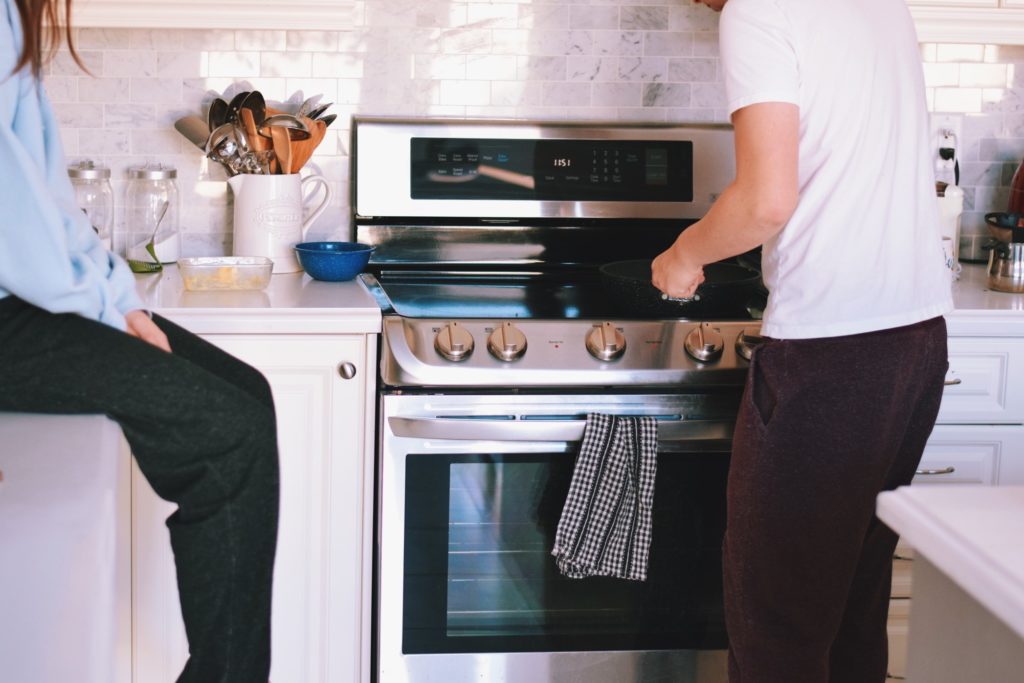 But setting aside an hour or two to cook a meal can also be a soothing and fulfilling task. While recipes abound on the internet, there's something special about an old-fashioned cookbook – especially when it comes to the theme of comfort food.
There's an undeniable human connection to a chef's intimate stories and personal history that makes cooking their recipes even more life-affirming.
[white_box]
Related Post
Get Comfort Baking With One of These Beautiful Cookbooks
read more >
[/white_box]
The Best Cookbooks for Comfort Cooking Right Now
In this round-up, we've included our top 12 favorite comfort food cookbooks from a diverse group of chefs and cuisines. Pick one, stock up on your kitchen tools and start cooking your way to calm.
1.
New Yorker Deb Perelman is the celebrated home cook behind Smitten Kitchen. Her first cookbook is chock full of unpretentious and down-to-earth comfort food that she makes from her small apartment kitchen. Dishes like Maple Bacon Biscuits, Braised Short Ribs, and Wild Rice Gratin are served up with an elevated- but achievable- twist.
BUY NOW $19.69.
2.
Brown Sugar Kitchen was established as a soul-food restaurant and a community gathering spot in the heart of West Oakland, California. It has since been converted from a full-time restaurant to a test kitchen and pop-up space. But its spirit lives on in this wonderful cookbook filled with comfort food recipies. It features 86 recipes with everything from thick Shrimp Gumbo to incredible Macaroni & Cheese, and a show-stopping Caramel Layer Cake with Brown Butter–Caramel Frosting. And these aren't all stick-to-your-ribs recipes: many of them star locally grown, seasonal produce, too.
BUY NOW $20.41.
3.
The Pioneer Woman, Ree Drummond, is practically synonymous with country home cooking. The famous food blogger and Food Network star covers gratifying comfort foods that can be made quickly and easily by combining pantry staples and fresh ingredients for breakfast, lunch, dinner and dessert. We're partial to her recipes for Pumpkin Spice Oatmeal and Fried Tomato Sandwiches!
BUY NOW $20.95.
4.
With intimate, illustrated essays by some of America's most well-regarded literary luminaries, this unique collection explores how comfort food can help us cope with dark times. Learn to prepare multicultural dishes from the likes of Chimamanda Ngozi Adichie, Alexander Chee, Claire Messud, Colum McCann and Lev Grossman, among others. The book contains many short recipes – not just complicated and laborious ones – for when you need something soothing, pronto.
BUY NOW $15.69.
[white_box]
Related Post
The key Kitchen Tools Now for the Best Comfort Cooking
read more >
[/white_box]
5.
How to make the art of ramen accessible to beginners and seasoned cooks alike? Through a comic book, of course! This fun and inviting cookbook to one of Japan's most popular and iconic dishes contains over 40 mouthwatering recipes, including how to make your own Shio, Shoyu, Miso, and Tonkotsu broth bases. Any slurping is forgiven.
BUY NOW $16.67.
6.
There are few things that can't be made better by a bowl of warm, flavorful pasta. Rolando Beramendi, founder of Oakland-based Manicaretti Italian Food Importers, shares 120 authentic and easy-to-master recipes with short ingredient lists. It's an approachable book waiting for its pages to be stained with classic dishes like Spaghetti Cacio e Pepe, Risotto in Bianco and Gran Bollito Misto.
BUY NOW $19.99.
7.
Jubilee: Recipes from Two Centuries of African-American Cooking is a treasure trove of down-home Southern black family recipes. Food historian Toni Tipton-Martin provides a vibrant history of the forgotten and unsung cooks of black America, from enslaved chefs to middle- and upper-class writers and entrepreneurs. With more than 100 recipes, from classics such as Sweet Potato Biscuits, Seafood Gumbo, Buttermilk Fried Chicken, to lesser-known decadent dishes like Spoon Bread and Baked Ham Glazed with Champagne, this is a wonderful wasy to learn about the techniques, ingredients, and dishes that showcase the roots of African-American cooking.
BUY NOW $23.25.
8.
Soup's on! This volume from Louis P. De Gouy, founder of Gourmet magazine, is considered the soup bible. Be forewarned that there are no crisp, beautiful photos. And the recipes are written in paragraph form. But those up to the endeavor will be rewarded with over 700 soup recipes for any occasion.
BUY NOW $18.84.
[white_box]
Related Post
The Best Cooking Shows to Binge Watch Right Now
read more >
[/white_box]
9.
Plant based foodies (and omnivores) know the comfort of fragrant and filling Indian food. Meera Sodha's second cookbook focuses exclusively on 130 vegetarian dishes – from fruit lassi beverages to daals, chutneys and of course, curries. The recipes use ingredients that are easy-to-find: for example, Mushroom and Walnut Samosas, Roasted Cauliflower Korma and Coconut Potatoes. No intimidating ingredients here, just fresh and practical recipes for the modern home cook.
BUY NOW $20.81
10.
Sean Brock is the chef behind the game-changing restaurants Husk and McCrady's, and whose thoughtful recipes preserve the heritage foods of the South. He puts his own signature high-end interpretation on classic fare like Pickled Shrimp, Slow-Cooked Pork Shoulder with Tomato Gravy, and Cracklin' Cornbread. Suddenly cooking and eating every meal at home doesn't seem so bad…
BUY NOW $23.84
11.
I wish I knew about this book when I was pregnant and trying (and failing) to cook my favorite Chinese comfort foods based off of childhood memories. Food journalist and cooking instructor, Hsiao-Ching Chou, guides the home cook step-by-step through the fundamental techniques necessary to create favorite homestyle Chinese dishes. Like red-braised pork belly, green onion pancakes, her famous potstickers and even a perfect bowl of rice.
BUY NOW $16.59.
[white_box]
Related Post
The Most Famous and Provocative works of art about food
read more >
[/white_box]
12.
Even the most seasoned home cooks are intimidated by making their own pizza. But Emily and Matt Hyland, the husband-and-wife team behind one of New York City's and Nashville's favorite pizza joints share over 100 recipes. There is no wood-fired oven or fancy equipment required. Check out their famous Detroit pan pizza recipe. Along with other Americana comfort foods like Lobster Salad Sandwich, Hot Wings with Ranch Dip, and a Killer Colada cocktail.
BUY NOW $18.49.
Best Cookbooks for Comfort Cooking Right Now
We hope you find your version of comfort food in these palate-pleasing and soul-satisfying cookbooks! What's your favorite?
join our community
For access to insider ideas and information on the world of luxury, sign up for our Dandelion Chandelier Newsletter here. And see luxury in a new light.
Crediting her training as a cultural anthropologist at Wellesley College, Julie has immersed herself in various industries in the last 15 years including fashion design, event planning, and fitness. Julie lives in New York where she loves trying every ramen and dumpling restaurant with her husband and three children. She finds joy in bold prints, biographies of fierce women, kickboxing. And spending way too long finding the perfect polish color to express her mood.