Which Luxury Vintage Handbags are the Best Investments?
All products are independently selected by our editors. If you buy something, we may earn an affiliate commission.
Looking for something to invest in besides the stock market? Fashion to the rescue. It turns out that a luxury designer handbag can be a sensible investment. But as with any other asset class, you have to do your homework first. How to properly invest in designer handbags that will ultimately perform on the resale sites? Our correspondent Julie Chang Murphy has curated a list of the 10 best buys for your money in luxury vintage designer investment handbags.

how to invest in designer handbags
Back in the days of yore when we could go shopping with girlfriends, one might support a friend's splurges by saying, "It's an investment piece."
[white_box]
Join our community
For access to insider ideas and information on the world of luxury, sign up for our Dandelion Chandelier newsletter. And see luxury in a new light.
sign up now >
[/white_box]
Seldom did that mean an actual true calculation using some kind of appraisal index or looking at a comprehensive database to determine which brands have the highest resale value. Instead, it was a testament to the power of timeless style and design that transcends seasons. Or, it was a instinctive judgement based on passion and that "have to have it" feeling. And a conviction that in return, the price-per-wear would justify the eye-popping purchase price.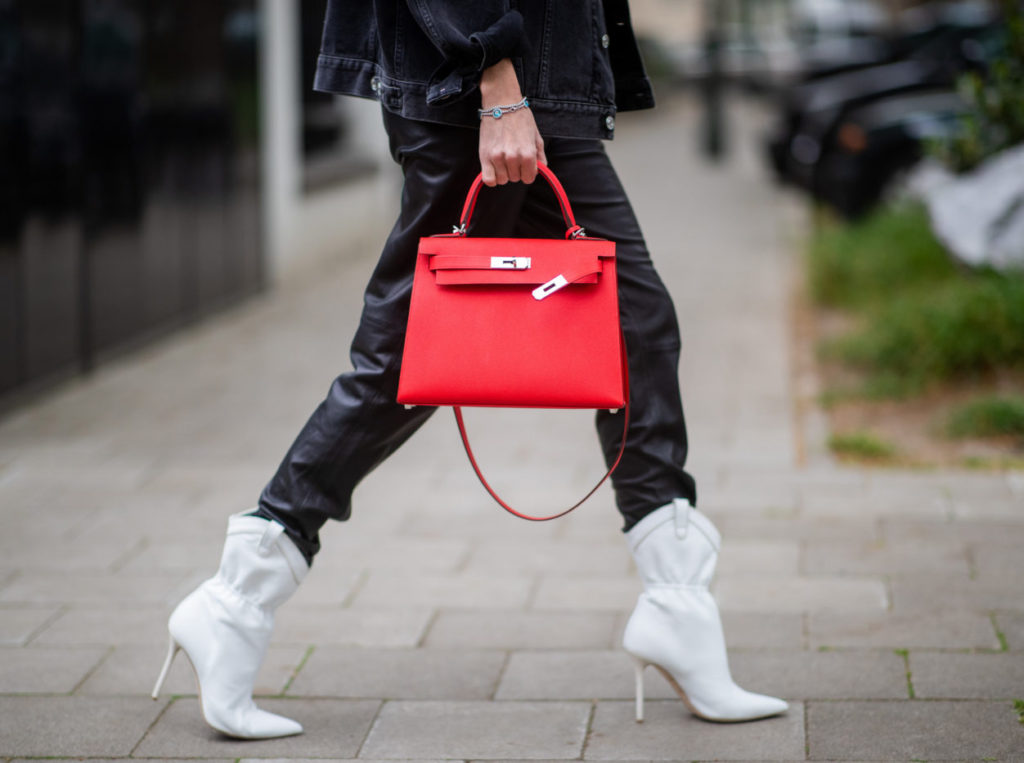 Now, we know that researching an investment piece as you might research a stock purchase might feel a bit silly at first. And try convincing any non-fashion lover that buying a four or five figure handbag is a smart financial decision. They're likely to look at you like you have two heads.
But have you looked at the stock market recently??
We don't know about you, but diversifying into fashion investment pieces right now doesn't seem any crazier than trying to figure out what the market will do next.
[white_box]
Related Post
What wardrobe items are really worth investing in?
read more >
[/white_box]
shrewd investments in handbags can have a high return
The infamous Hermès Birkin Bag has gone up in value by 500 percent in the last 35 years — a figure that outpaced the price of gold.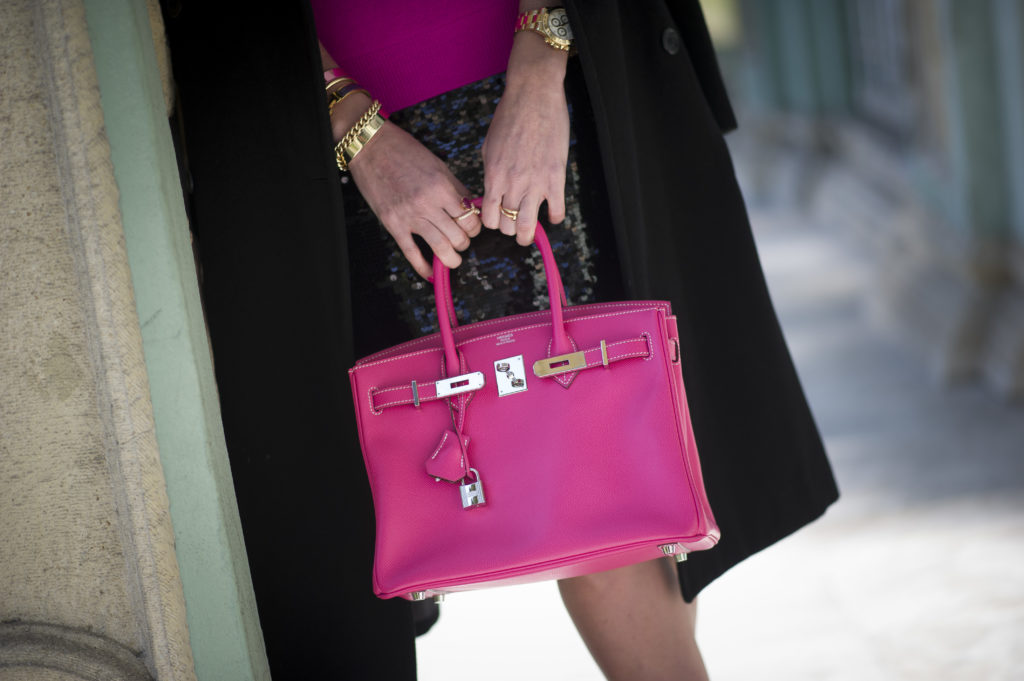 Of course, not all investments are as spectacularly successful but as Charles Gorra, President of ReBag, a luxury handbag buying and resale destination states, certain brands and styles can resell for nearly as much as (or perhaps more than) you originally paid for it.
If you're thinking what I'm thinking….that means that classic quilted Chanel flap bag which retails for $5,000 might cost you the bargain price of $2,000. At the time of this posting, that's equivalent to just one share of Amazon. And it goes without saying that possessing a Chanel bag is unequivocally more fun!
[white_box]
Related Post
Its Easier to be Chic With the Right Hair Acessoires
read more >
[/white_box]
a guidepost to smarter shopping
Even if you have no intention of playing the market, we think it's really smart to know the ultimate value of any expensive item you purchase. Like a car or a house, designer fashion and accesories have resale value.
When you're choosing between one expensive handbag or another, it's smart shopping to know which brands and models hold their value the best. In times like these, you may opt to err on the side of classic investment pieces rather than the newest latest hot novelty. Even if you go for new brands and new models, you'll be doing it eyes-wide-open. Which is always a good idea.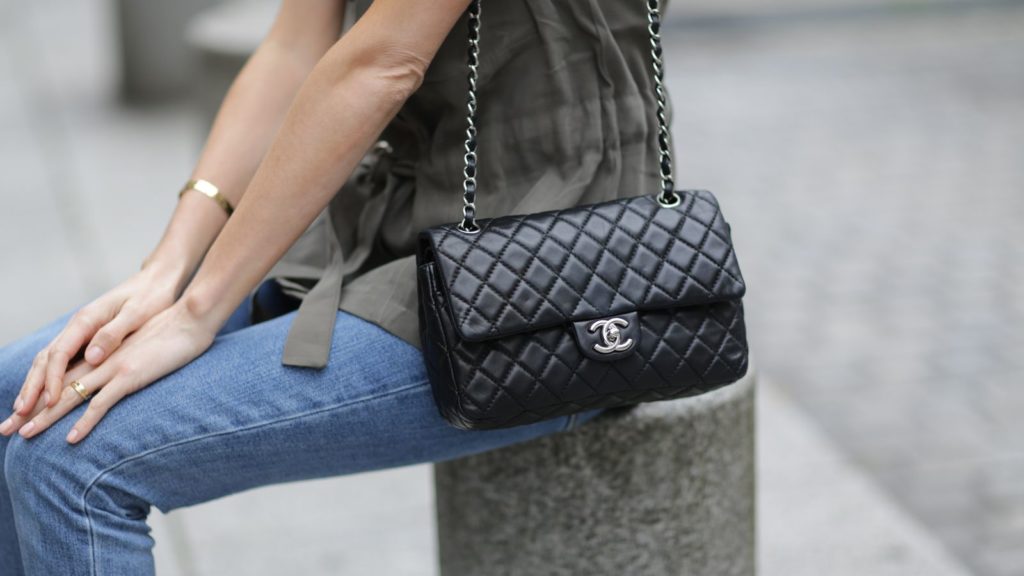 Which Luxury Vintage Handbags are the Best Investments?
So let's get to it! In the first installment of our look into the best fashion investments, we explore my personal favorite category: handbags.
According to the Knight Frank Luxury Investment Index, in 2019, handbags were a far better investment than art. While art had an overall return of 5%, handbags clocked in at a 13% gain.
Which are the best handbags for the resale sites? Well, dear reader, in addition to the "holy trinity" made up by Hermès, Chanel and Louis Vuitton, there are several other designer handbags that retain their value exceptionally well.
Here are the 10 best buys for your money according to fashion industry insiders and resale market experts.
The Sure Bets in luxury designer handbags
1. Hermès Birkin
It's the ultimate status symbol, and among the perpetual best selling handbags for resale sites – which comes as no surprise. Hermès has created an unparalleled level of exclusivity and scarcity when it comes to the Birkin. Not only is the production limited but the distribution is only reserved for especially loyal clients who often have to wait years to become "eligible" for one. Luckily for us mere mortals, the resale market is thriving.

Left to right: 2013 Togo Birkin 35 ($11,000), 2019 Epsom Birkin 30 ($16,500), Niloticus Crocodile Birkin 30 ($27,00).
2. Hermès Kelly
Another classic from this luxury house is the Kelly, popularized in the 50s by Princess Grace Kelly of Monaco. The Kelly has one handle and a shoulder strap compared to the Birkin's two handles and is slightly smaller in depth. As with the Birkin, it has historically seen an increase in value from the moment of purchase due to the limited supply and huge demand.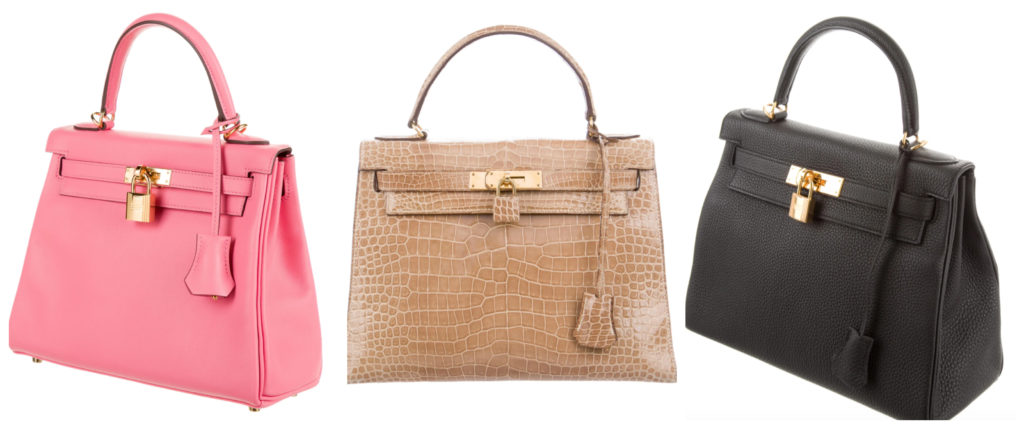 Left to right: 2019 Swift Kelly Retourne 25 ($15,000), Vintage Shiny Crocodile Kelly Sellier 28 ($24,000), 2016 Togo Kelly Retourne 28 ($14,200).
3. Chanel Medium Classic Flap Bag
This iconic bag first released in 1955 has had a rapid value increase of over 70% since 2010. It has impressively outperformed housing prices and the S&P 500 in the last six years. The lambskin or caviar leather versions are a classic wardrobe staple that elevate any ensemble.

Left to right: Vintage Mint Classic Medium Double Flap Bag ($3,400), Vintage Black Classic Medium Double Flap Bag ($4,300), 2019 Medium Red Double Flap Bag ($5,400).
[white_box]
Related Post
Stand out in one of these chic statement necklaces
read more >
[/white_box]
4. Louis Vuitton Neverfull
Perhaps the world's most recognizable tote, the Neverfull lives up to its name and was designed to hold up to 200lbs of weight. The Monogram and Damier versions are known to retain at least 85% of its resale value. And the limited editions and special artists collaborations can often go for double the resale value.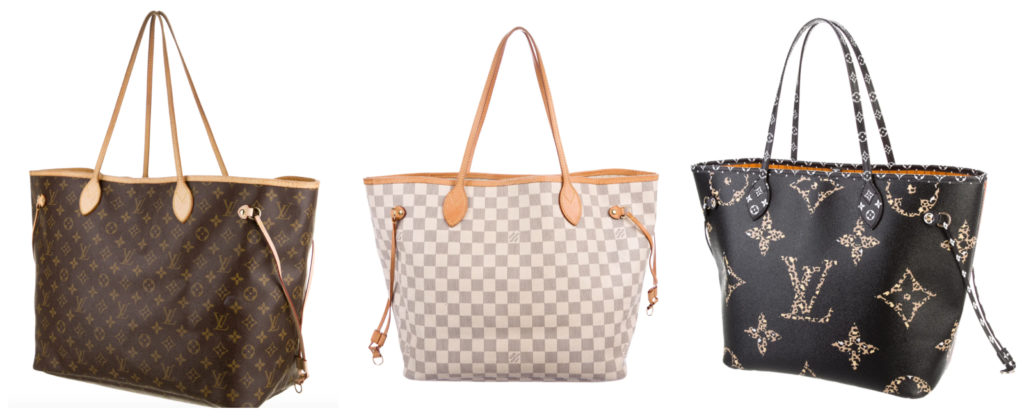 Left to right: Monogram Neverfull GM ($1,295), Damier Azur Neverfull MM ($1,195), 2019 Monogram Giant Jungle Neverfull MM w/Pouch ($3,700)
The Solid Buys in luxury designer handbags
5. Chanel Boy Bag
A baby by heritage bag standards, the Chanel Boy Bag was released in 2011 as an alternative to the traditional lady-like elegance of the majority of Chanel's offerings. Its downtown, androgynous vibe has made it fly off the shelves ever since. Resale outlets like LePrix estimate that it retains 90% of its value.

Left to right: 2018 Small Caviar Boy Bag ($4,150), Quilted Large Boy Bag ($3,900), 2016 Crest Boy Bag ($3,983)
6. Gucci GG Marmont
Though this style was only launched in 2016, Creative Director Alessandro Michele's must-have bag of the fashion set is backed with substantial history and a timeless, yet modern and often quirky design that he is celebrated for. The distinctive GG gold hardware has been an iconic symbol of the Italian house since the '70s. Combined with sophisticated chevron quilting and a myriad of colors and materials, it typically retains 85% of its value.

Left to right: Large GG Marmont Shoulder Bag ($2,000), GG Marmont Matelassé Velvet Mini Bag ($1,345), GG Marmont Matelassé Small Top Handle Bag ($1,695).
[white_box]
Related Post
The Best of the New Chic Designer Spring 2020 Handbags
read more >
[/white_box]
7. Louis Vuitton Dauphine
LV Monogram fans and those looking for an emerging investment bag have a lot to bet on in the luxury house's Dauphine line. Inspired from their 1970 archives, this style combines heritage looks with a sense of contemporary design. It's versatile with a hexagonal chain strap and adjustable leather strap allow for the bag to be worn two ways. And signature branded logo hardware will keep this item in demand for years to come.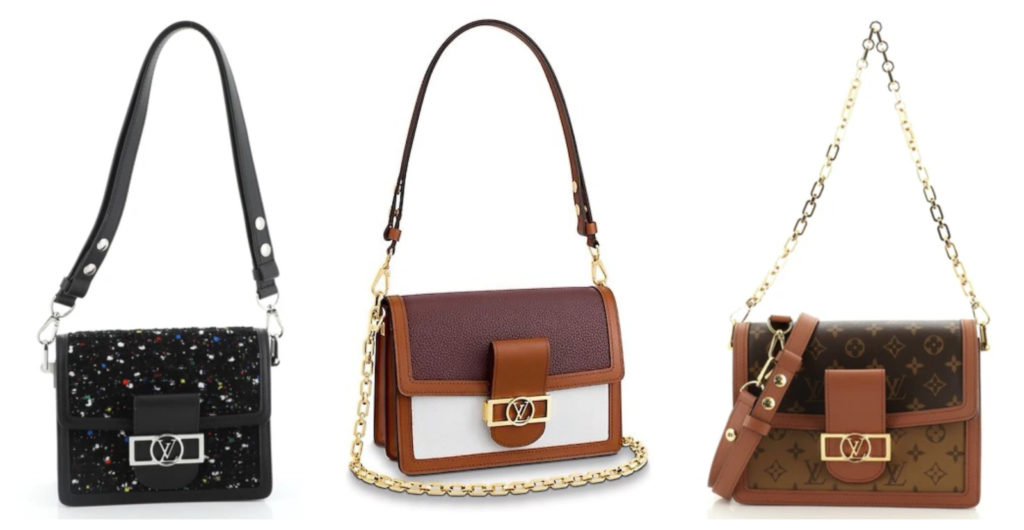 Left to right: Dauphine Shoulder Bag Tweed Mini ($2,730), Dauphine MM Brown Leather ($3,341.60), Dauphine Shoulder Bag Reverse Monogram Canvas MM ($3,155)
8. Lady Dior
Faithfully carried by Princess Diana in the '90s, this fashion icon continues to be a symbol of timeless elegance. It is made from soft lambskin topstitched with the iconic Cannage motif – a network of lines stitched vertically and diagonally to create cushions of quilted leather that emerge like a "scattering of shimmering, faceted diamonds." Between 2014-2016, the value of the bag has increased by over 14% and with the continued success and visibility of Maria Grazia Chiuri's Dior, we expect it to retain its value.

Left to right: 2014 Large Lady Dior Bag w/ Strap ($1,995), 2019 Mini Lady Dior KaléiDiorscopic Bag ($3,200), 2008 Medium Lady Dior Bag ($1,595)
9. Dior Saddle Bag
Another '90s style is making a comeback. The global fashion search engine, Lyst, named this style the "Hottest Woman's Product" last year due to a spike in online searches increasing 957 percent in 48 hours. True vintage versions on sites like Vestiare Collective and The Real Real also quickly sold out when Dior reintroduced the bag in its FW18 runway show. Not much of the original design has changed: the curvy, asymmetric shape remains the same and the embellished gold-toned signature hardware. If you have one from the '90s, you might consider cashing in…or wait another decade.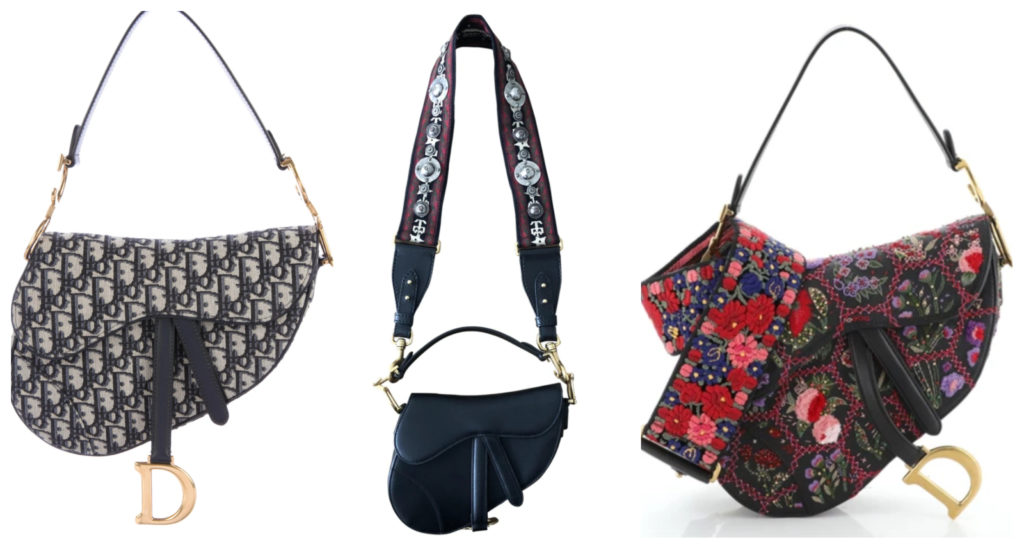 Left to right: 2018 Oblique Saddle Bag ($2,850), Saddle Bag Embroidered and Beaded Leather ($3,990), 2018 Black Leather ($3,954).
[white_box]
Related Post
You may be really smart, but how high is your fashion IQ?
read more >
[/white_box]
10. Bottega Veneta's The Pouch
Despite all the logomania, last year, the 'It' bag status belonged to Bottega Veneta. Creative Directer Daniel Lee struck a cord with his minimalist but incredibly luxe design. They were consistently sold out via online retailers like Netaporter and MyTheresa and it is currently being sold on ReBag for over the retail price. Sounds like the makings of a good investment to us!

Left to right: Nappa Maxi Intrecciato ($2,600), Large Brown Pouch ($2,890), 2019 Metallic Violet ($2,200)
the best "investment grade" designer handbags
If you are currently in possession of one of these styles or plan on making an investment, take good care of that arm candy! And it may take care of you on a rainy day in the future.
join our community
For access to insider ideas and information on the world of luxury, sign up for our Dandelion Chandelier Newsletter here. And see luxury in a new light.
Crediting her training as a cultural anthropologist at Wellesley College, Julie has immersed herself in various industries in the last 15 years including fashion design, event planning, and fitness. Julie lives in New York where she loves trying every ramen and dumpling restaurant with her husband and three children. She finds joy in bold prints, biographies of fierce women, kickboxing. And spending way too long finding the perfect polish color to express her mood.