The Best Pajamas for Kids That Look Cute All Day Long
All products are independently selected by our editors. If you buy something, we may earn an affiliate commission.
It is hard enough being a parent under a mandatory social distancing edit, with distance learning the norm for your little ones. Add the chore of getting everyone dressed for the day – which is hard even under normal circumstance – and you've got a recipe for maximum morning stress. The solution? Pajamas all day! Our correspondent Julie Chang Murphy has the scoop on the best luxury pajama sets for kids that will look cute and presentable all day long, and into the night.
Pajamas all day long?
Despite our initial best efforts, household rules have loosened somewhat a month into social distancing. Never has the phrase "pick your battles" been more pertinent. Gone are the strict screen time limits, bed times, and reasonable snack allotments. No more tiger moms or dads here. Say hello to panda parents! Is that a thing?
[white_box]
Join our community
For access to insider ideas and information on the world of luxury, sign up for our Dandelion Chandelier newsletter. And see luxury in a new light.
sign up now >
[/white_box]
One of our goals is to emerge from this lockdown still liking each other, thank you very much. And if it's not too much to ask- some warm and cozy memories of quality family time together. One battle we're happy to let go of is forcing the little ones out of their pajamas and into "real" clothes.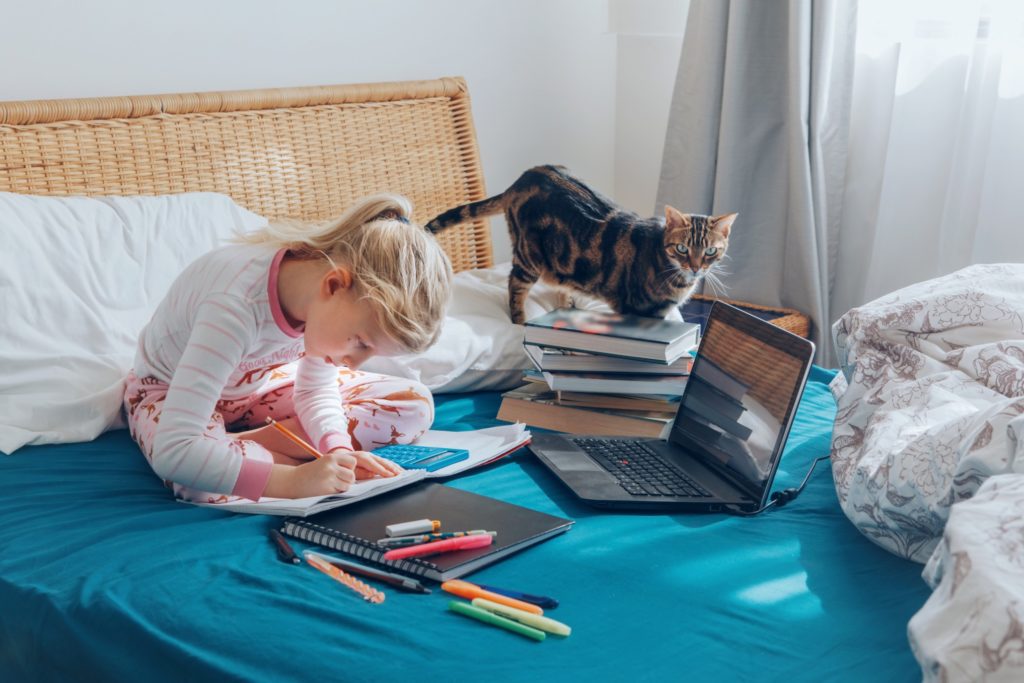 After all, one of the first articles we wrote when this all started was a feature on women's loungewear. Since the fam is all lounging around together, here are our picks of the cutest children's pajamas that do double duty for sleep and play. These adorable sets are comfy and soft but still look put together and coordinated for a quick walk around the block. Crisis averted!
The Best Pajamas for Kids That Look Cute All Day Long
1. Solids and Stripes
Thoughtfully coordinating separates win the day (and night.) This linen pajama set with a jaunty decorative striped pocket and matching shorts ($84) combines style and comfort. For another timeless combo, consider this soft cotton jersey tee and pants in clean and crisp white and khaki stripes ($85). Keep little ones warm and snug with Swedish brand, Geggamoja's organic cotton blue stripe tee and loose-fitting trousers with trendy banded cuffs ($46).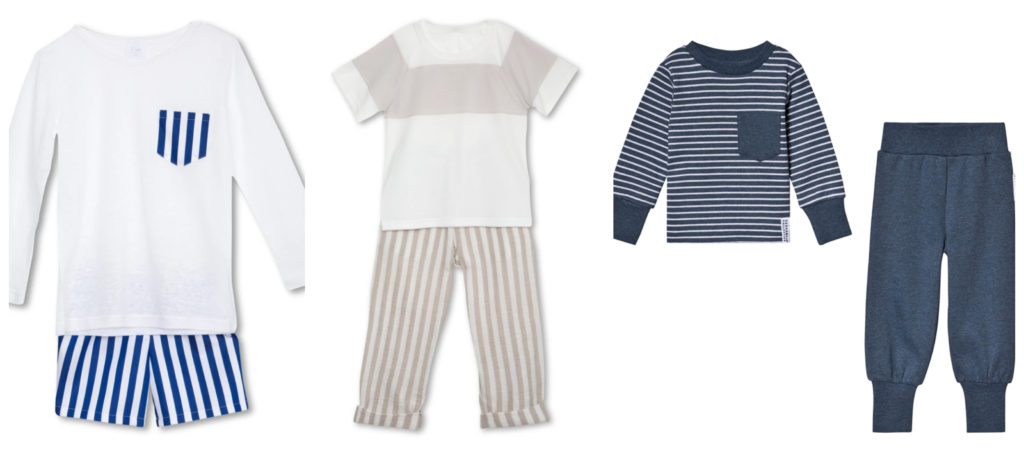 2. Sleep and Play Dresses
No one will ever know that these pretty dresses are actually nightgowns. Mia + Finn's cotton gauze dress with summery yellow stripes ($60) is inspired by Victorian fashions and handcrafted in India. We love the throw-on style of Hatley's garden print nightdress ($32), featuring a sweet bow and gathered skirt. Fruity and fun, this adorable printed dress ($45.50) from Tea Collection is a must have for the summer.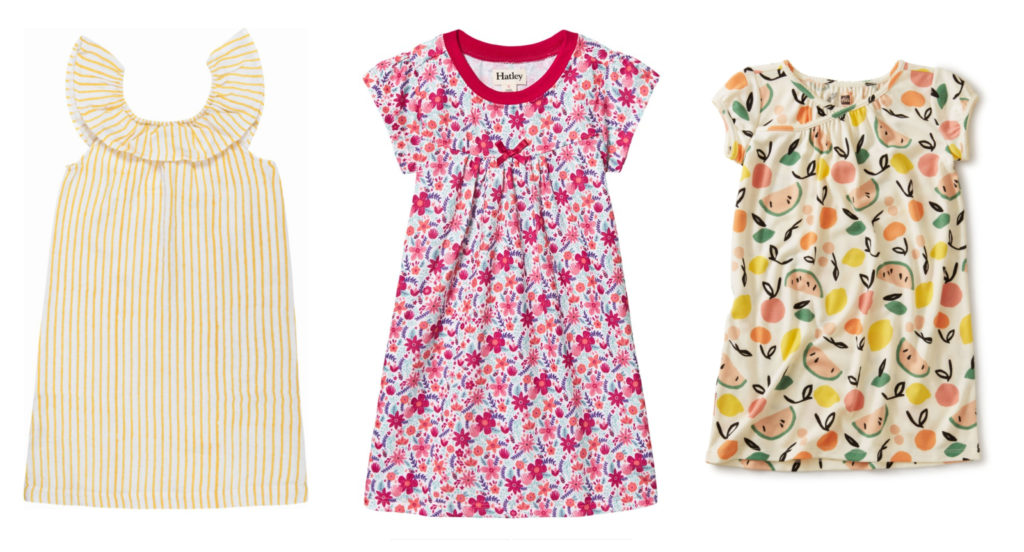 [white_box]
Related Post
What are the Best Sleep Technology Products Right Now?
read more >
[/white_box]
3. Graphic Tees and Coordinating Shorts
Matching tops and bottoms are a dead giveaway that your kid is still wearing pajamas at 2pm. Trick everyone, including yourself with this sunny, surf-inspired set ($31) made of jersey and cotton percale. Frugi's organic cotton top with a cheeky bat appliqué and drawstring star shorts ($41) are a delightful combo for your nocturnal creature. We didn't know Paul Smith made children's pajamas but one look at this set ($113) with the brand's iconic colorful stripes and it's easy to see why it's a perfect fit.

4. Woven Tops and Shorts
Ditch the jersey and go for lightweight woven fabric for an instantly elevated look. Petite Plume's ruffle sleeve design ($48) is brushed for added softness and like summer cherries, irresistible. Made from cotton voile, Scotch & Soda's quirky citrus printed sleep set ($77) make us wonder if they make one in adult sizing. Navy and white gingham never goes out of style and this collared shirt and short set ($48) even comes with a monogram option for extra luxury.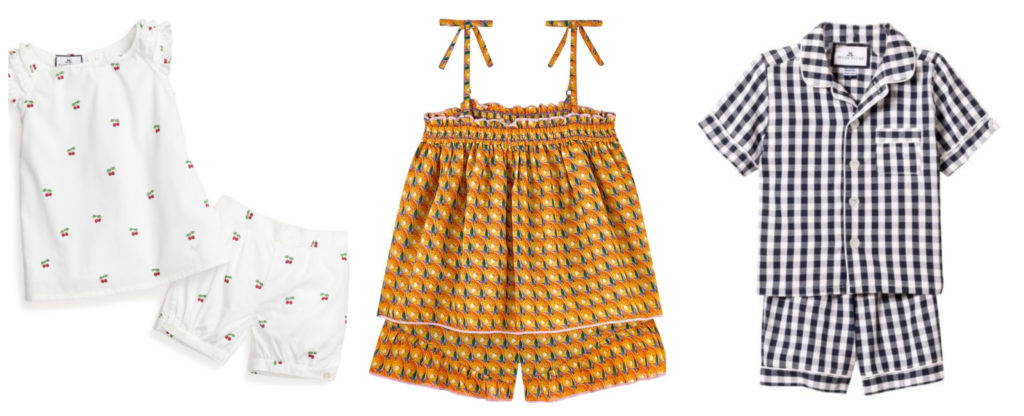 [white_box]
Related Post
The Best New Story Books to Read to Your Little Ones
read more >
[/white_box]
5. Monochrome Outfits
Solid head-to-toe color was a hit on the runways for several seasons but we just call it easy dressing. Pick a bright and happy color like this organic cotton set in yellow ($22) or our favorite, red. You can't go wrong with a solid night dress ($16) in their favorite color. A Happy Brand makes them in every color under the sun.

6. Chic Graphic Prints
These easy and chic prints are ready for anything. Nununu's star print loungewear ($83) features the brand's signature drop-crotch leggings to allow for room to wriggle. May this soft and serene sage green outfit ($45) inspire calm days and nights. We can dream, right? The dreamy hand drawn stylings of Goumi's pajamas ($50) feature thoughtful details like peek-a-boo heels to warm the feet, thumb pockets to keep hands cozy and a front pocket.

[white_box]
Related Post
The Creative Off-Line Activities Best for Little Kids
read more >
[/white_box]
7. Sugar, Spice and Everything Nice
Only silk and lace will do for aspiring sleeping beauties. This graceful silk top and pants ($190) with soft lace detailing is the stuff of fairy tales. We dare anyone to ask why your child is still in their pajamas in this outfit featuring fanciful embroidered flowers on tulle sleeves ($82). We love the vintage quality of these pajamas ($115) that seem like something an adorable cherub might wear in a Renoir painting.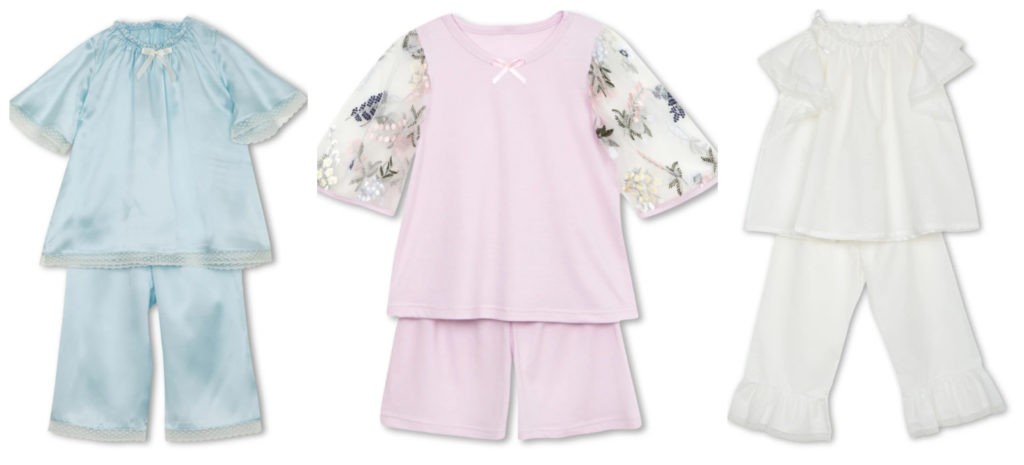 8. Bold Stripes
Bright and bold stripes make a sartorial statement all their own. Petit Bateau's mismatched sorbet stripes ($45) bring smiles all day long. These super kawaii panda pajamas from one of our favorite children's wear brands, Whistle and Flute ($46) are made from temperature regulating bamboo. Swedish brand Molo's graphics and color ways are always on point like these rainbow stripe long sleeve tee and pants ($70).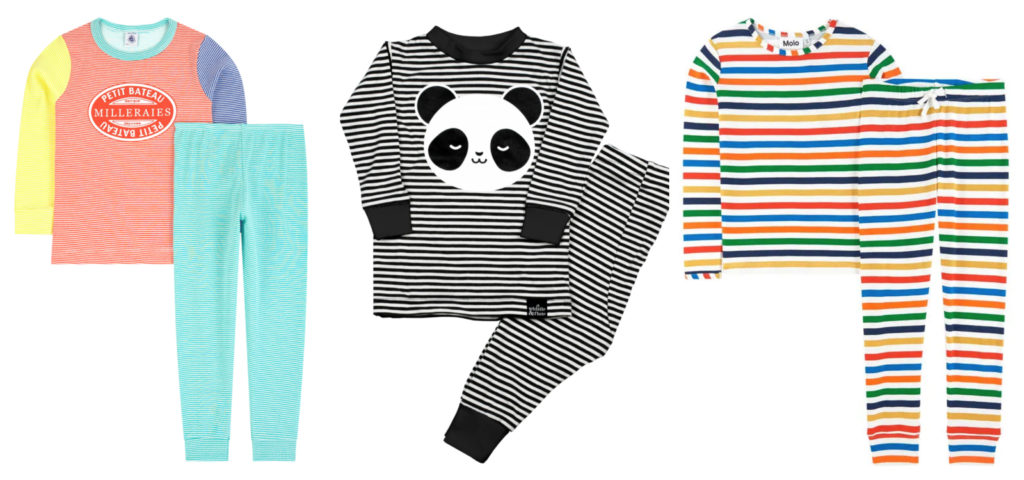 The Best Pajamas for Kids That Look Cute All Day Long
There you have it! Night to day, day to night– who can tell anymore? As for all the other battles, we wish you luck! But at least you can put this one to rest.
join our community
For access to insider ideas and information on the world of luxury, sign up for our Dandelion Chandelier Newsletter here. And see luxury in a new light.
Crediting her training as a cultural anthropologist at Wellesley College, Julie has immersed herself in various industries in the last 15 years including fashion design, event planning, and fitness. Julie lives in New York where she loves trying every ramen and dumpling restaurant with her husband and three children. She finds joy in bold prints, biographies of fierce women, kickboxing. And spending way too long finding the perfect polish color to express her mood.